Have you heard of caffeinated chocolate? It's the art of merging the world's greatest indulgences into one.
We went to find some delicious (and energy-boosting!) chocolate bars with caffeine and shared the best ones we like.
Our posts may contain affiliate links. As an Amazon Associate I earn from qualifying purchases.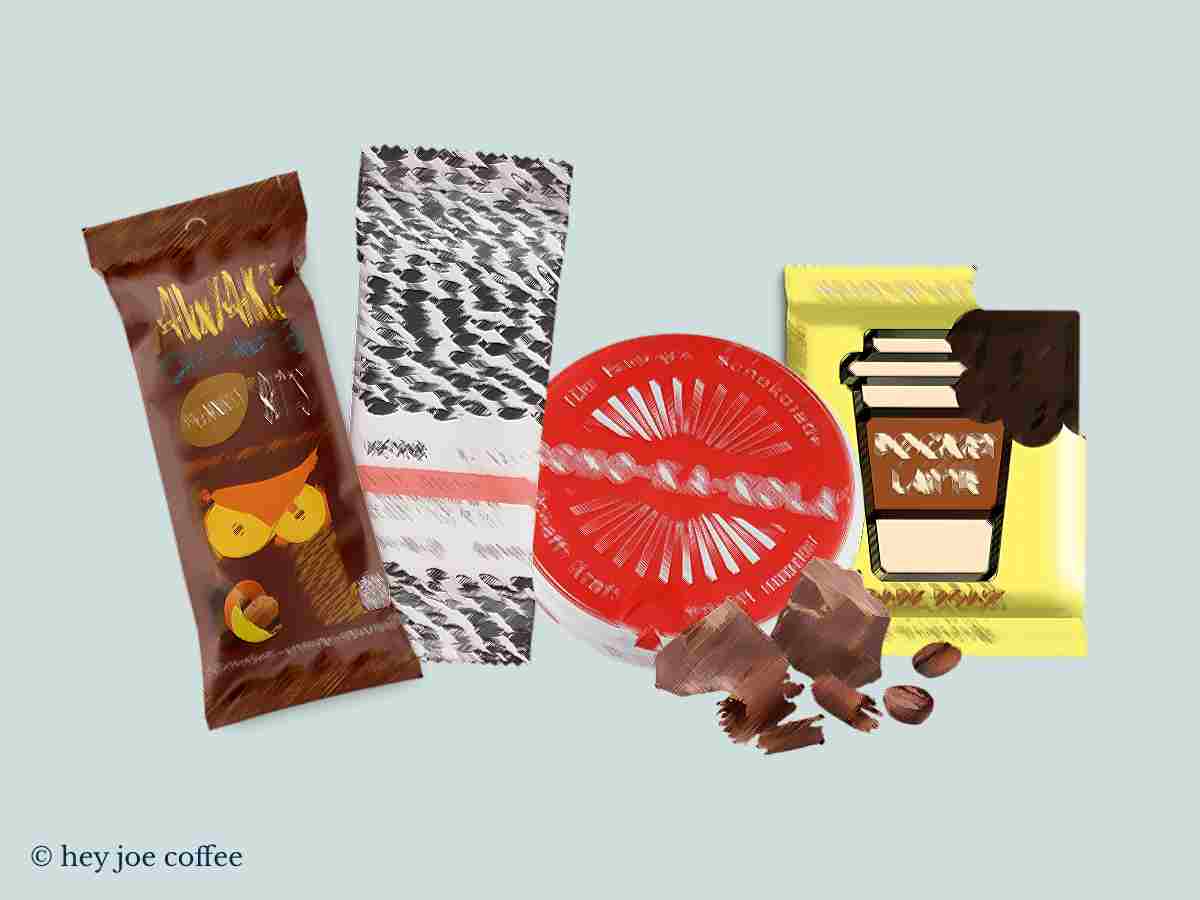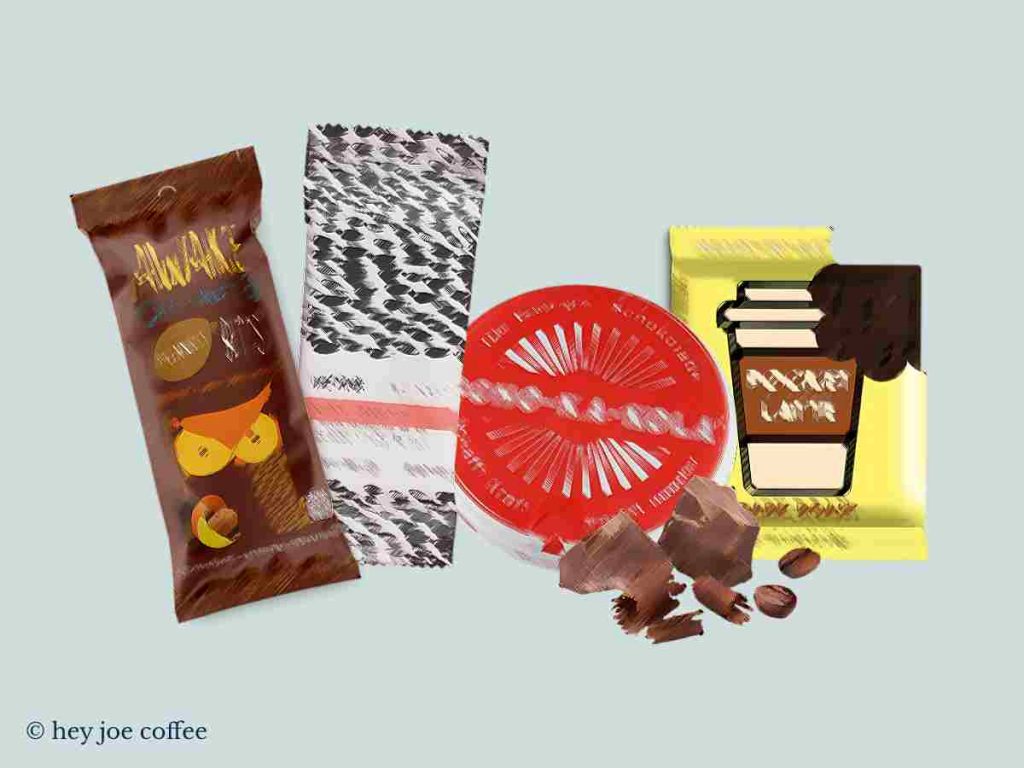 Topics Explored
Wait, What's Caffeinated Chocolate?
Chocolate itself has trace levels of caffeine, not enough to be defined as having caffeine.
So, chocolate with caffeine are chocolate bars or snacks containing added caffeine.
You don't many have of these bars; however, there are many benefits to combining these two energy-boosting ingredients.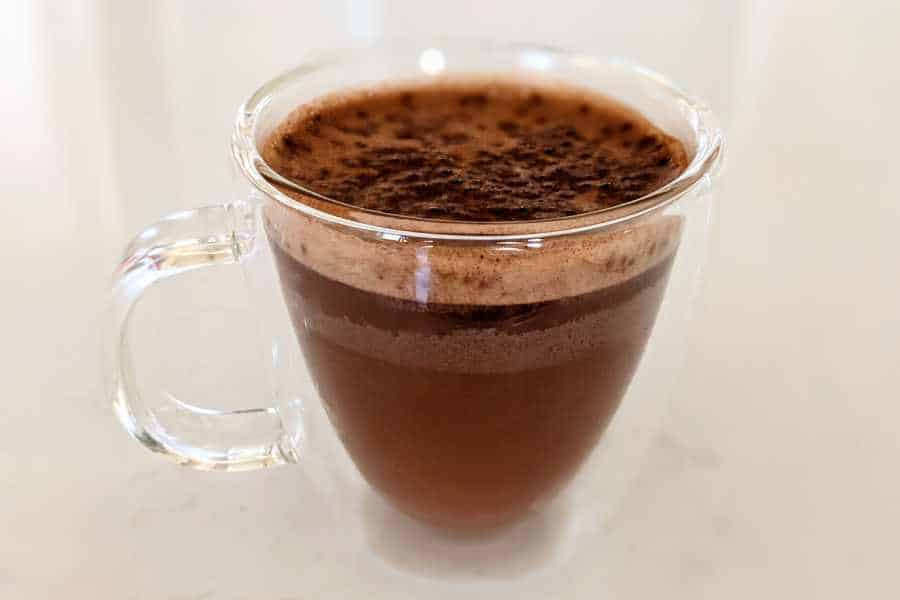 What Has More Caffeine, Coffee, Or Chocolate?
Coffee has significantly more caffeine than chocolate. A single ounce of espresso has 3 times the caffeine of an ounce of dark chocolate.
Milk chocolate has 5.6 mg of caffeine per ounce, while an espresso shot has 60mg.
Despite the low caffeine content, experts advise having chocolate earlier in the day, especially if you're caffeine-sensitive.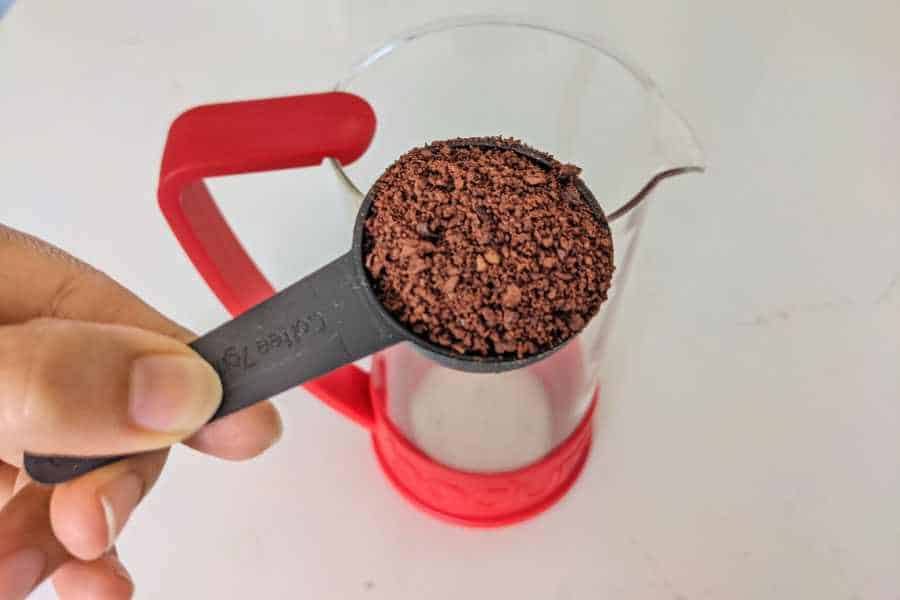 So, Is There Caffeine In Chocolate?
Cacao beans are the essence of chocolate, and they contain small quantities of caffeine.
The amount of cacao solids in a bar of chocolate defines the total caffeine content.
The most caffeine-rich chocolate contains 22.7 milligrams of caffeine per 1 oz.(1) On the other hand, white chocolate is made with cocoa butter, not solids, so it's caffeine-free.
Can The Caffeine In Chocolate Keep You Awake?
On its own, chocolate is not likely to keep you awake unless you're sensitive to caffeine. A whole bar of dark chocolate equals a little more than a shot of espresso.
But chocolate contains other stimulants that may disrupt your sleep, and the added caffeine will definitely keep you awake.
---
8 Best Caffeinated Chocolate Bars
These bars are ideal for those looking for a midday pick-me-up but who don't want to drink coffee.
The options below are perfect as a pre-workout, to help you focus on studying, or as a snack to satisfy your sweet tooth and caffeine addiction!
1. Awake Caffeinated Chocolate Energy Bar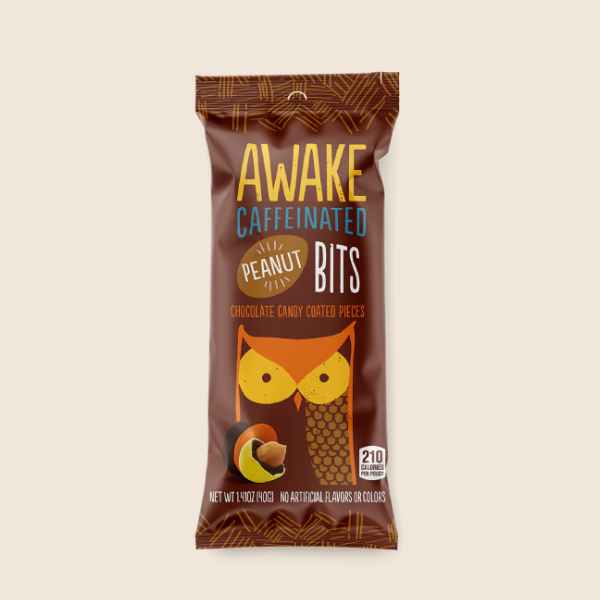 Awake is a gluten-free milk chocolate bar available in several flavors, classic, peanut butter, and caramel. It comes in convenient packaging to throw in your bag and always have it on hand.
Why We Like It:
The greatest perk of Awake to me is the lack of bitter aftertaste. This bar has caffeine equivalent to a cup of coffee, and you can feel it soon after consuming it.
The ingredient list is short and simple, and the energy jolt is clean.
Key Ingredients:
Milk chocolate
Caffeine
Caramel
Natural vanilla
Caffeine Content:
100 mg per bar or

a cup of coffee
2. Eat Your Coffee Energy Bar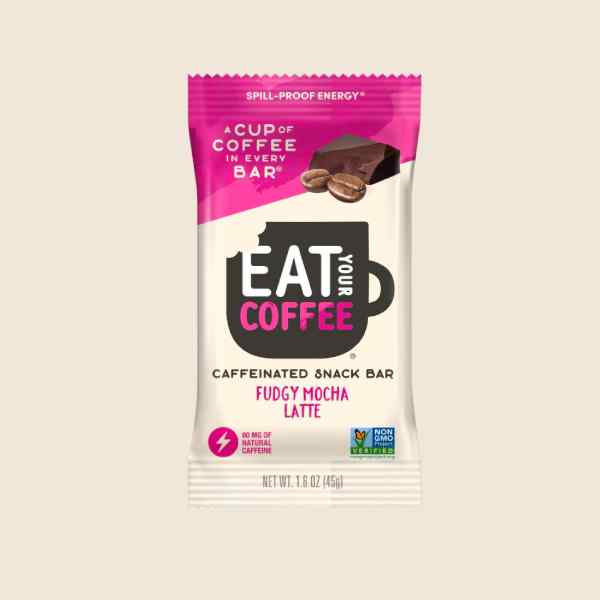 Eat Your Coffee comes with no sugar added and a friendly calorie count. There's a good choice of flavors, including mocha mint, peanut butter mocha, almond coconut, cocoa espresso, and almond mochadamia.
Why We Like It:
Eat Your Coffee Cocoa Espresso bar claims it's equivalent to a single shot of espresso. And that makes keeping count of my caffeine consumption plain easy.
The ingredient list is chock-full of hearty and healthy ingredients, and you can taste it.
Key Ingredients:
Organic dates
Organic cocoa
Almonds
Roasted coffee beans
Caffeine Content:
3. Verb Chocolate Caffeinated Energy Bars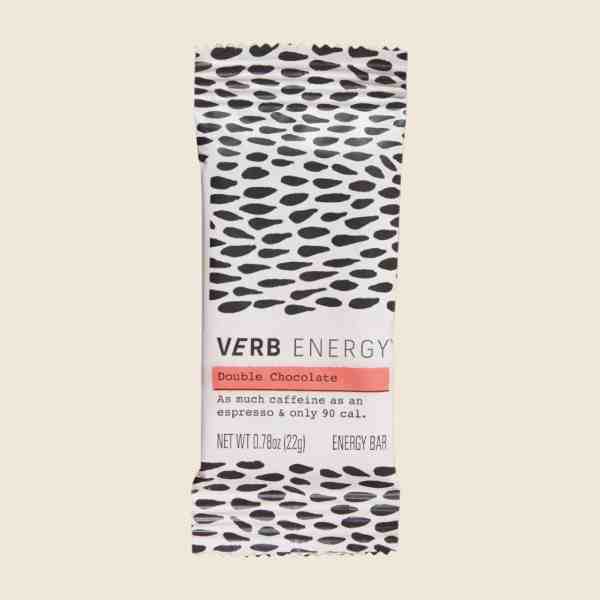 Verb bars are gluten and dairy free, made with oats, brown rice, green tea, and organic sweetener. It's available in 12 flavors ranging from lattes to cookies and cakes.
Why We Like It:
Verb bars come in unique flavors that are dupes for some of my favorite coffees, like pumpkin spice latte.
Since they're made with green tea, I don't feel the jitters after consuming them.
As a bonus, they're also vegan which is great news for our vegan friends.
Key Ingredients:
Gluten-free oats
Organic green tea
Organic brown rice
Almond butter
Caffeine Content:
65 mg per bar or

1 shot of espresso
4. Pure Chocolate Energy Chews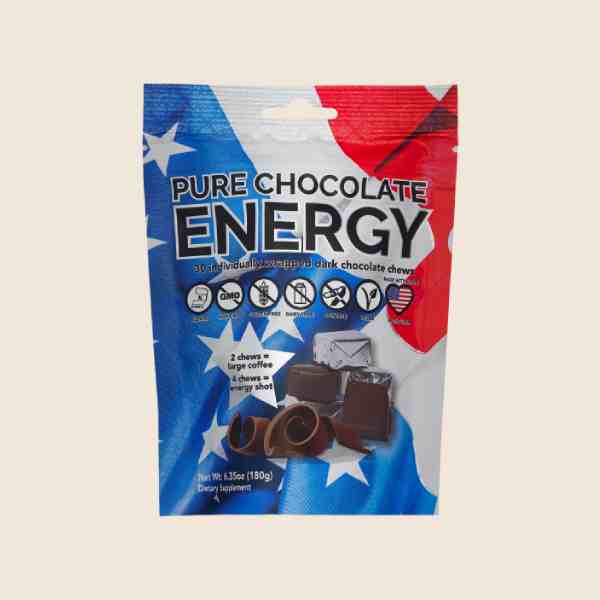 Pure Chocolate Energy Chews come in a pack of 30, and 2 chews equal a cup of coffee. They're vegan, kosher, gluten-free, and perfect for athletes as they deliver great jolts of energy.
Why We Like It:
The Pure Chocolate energy chews contain caffeine from green tea but also have vitamin B12 and acai berry, which contribute to a clean energy boost.
I found them to be really light. I tried them out as a pre-run snack and feel a boost in energy without feeling weighted down.
Key Ingredients:
Dark chocolate
Natural caffeine
Acai extract
Apple extract
Green tea extract
Caffeine Content:
50 mg per square or

1 shot of espresso
5. Pocket Latte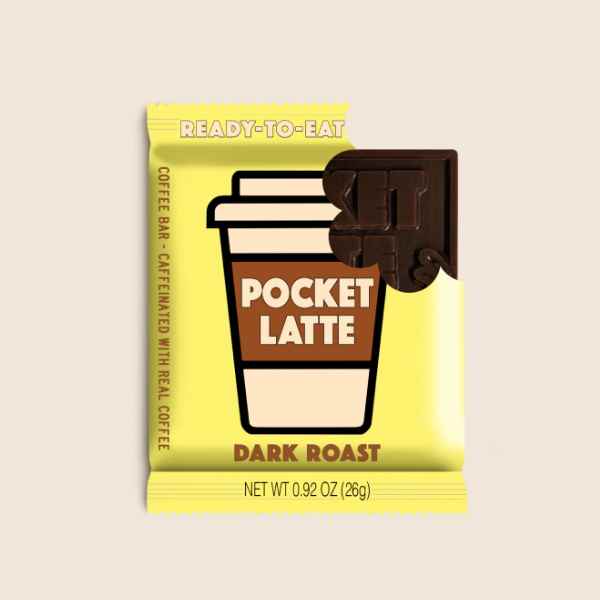 Pocket Latte claims to be coffee you can eat. It's made with French roast coffee and comes in 4 delicious flavors: cream + sugar, dark roast, hazelnut, and lavender vanilla.
They're also vegan and gluten-free!
Why We Like It:
Pocket Latte is one of the chocolates with the most caffeine per bar on our list. We sampled the dark roast, cause why not!
It has a strong coffee flavor because it contains 100% pure arabica coffee, not synthetic coffee. And as coffee lovers, we really love that intense flavor.
Key Ingredients:
Natural caffeine
Arabica coffee
Cocoa butter
Cashew
Organic lavender
Caffeine Content:
130 -150 mg per bar or

1.5 cups of coffee
6. SCHO-KA-KOLA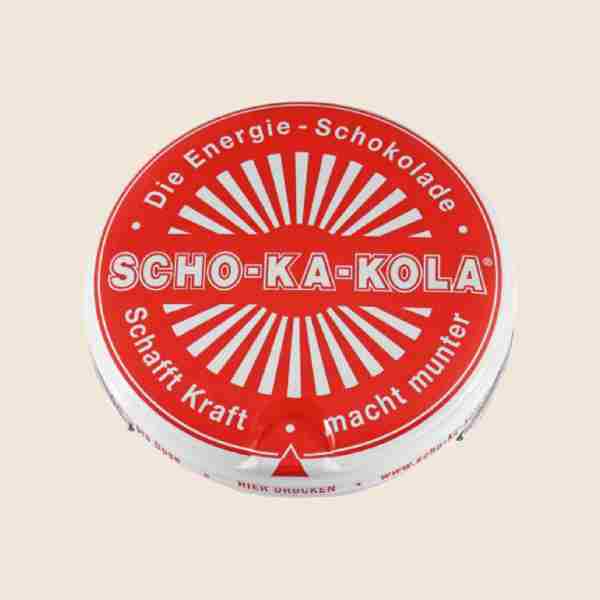 SCHO-KA-KOLA is a German brand of caffeine-infused chocolate once popular among athletes.
They're made with cola beans and come packaged as 16 pieces in tins. SCHO-KA-KOLA is available in 2 versions, milk, and dark chocolate.
Why We Like It:
Honestly, these old-school candies took us by surprise. Even though they've been on the market for decades, they work and that's why they're going strong.
The smaller size makes it easier to track the caffeine amounts, and you can taste the quality of german chocolate.
Key Ingredients:
Cocoa mass
Cocoa butter
Coffee
Cola-nut powder
Caffeine Content:
7. ZenEvo Dark Chocolate Energy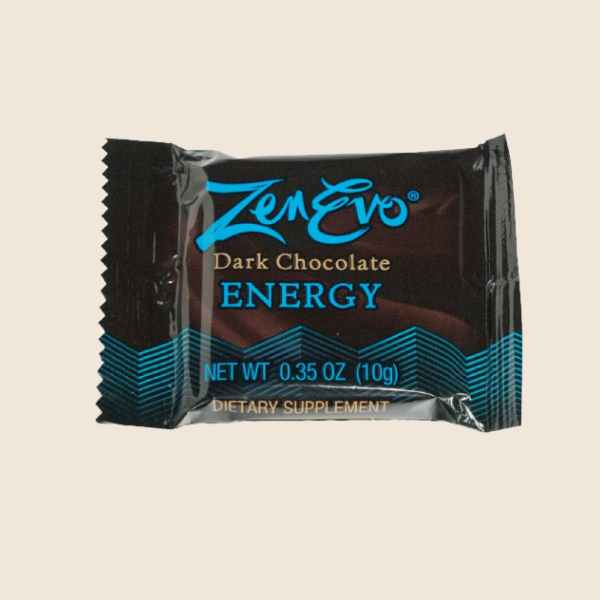 ZenEvo are hand-made, gluten-free chocolate squares packaged in a pack of 30.
Besides the french chocolate and caffeine, they also feature ashwagandha, ginseng, and maca which provide additional benefits.
Why We Like It:
Zen Evo are the perfect chocolates for tracking your caffeine intake as 1 square = 1 espresso. They're not too sweet and contain 58% cocoa solids.
I'm never one to shy away from superfoods like maca, ginseng, and ashwagandha, adding even more reasons for me to like them!
Key Ingredients:
Chocolate
Ginseng
Ashwagandha
Maca
Caffeine
Caffeine Content:
75 mg per bar or

1.5 shots of espresso
8. Numa Coffee Candy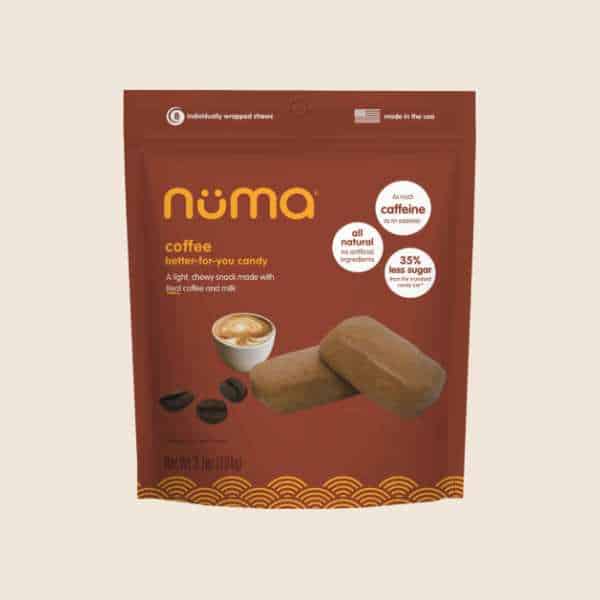 Numa candies are nougat-like, gluten-free, and come in 8 individually packaged candies per bag
There are available in 5 delicious flavors: original creme, coffee, creamy coconut, chocolate milk, and strawberries and cream.
Why We Like It:
Numa are actually creamy nougat which is a nice difference from the rest of my list. We tried the coffee-flavored one and were pleasantly surprised it's made with real coffee too.
My partner and I both agree the coffee pairs wonderfully with the creaminess of the nougat.
Numa has a chewy and satisfying texture compared to other bars, so if you are into that, I recommend it.
Key Ingredients:
Green coffee bean extract
Maltose
Milk powder
Egg whites
Caffeine Content:
32.5 mg per piece or

1/2 a shot of espresso
---
Summary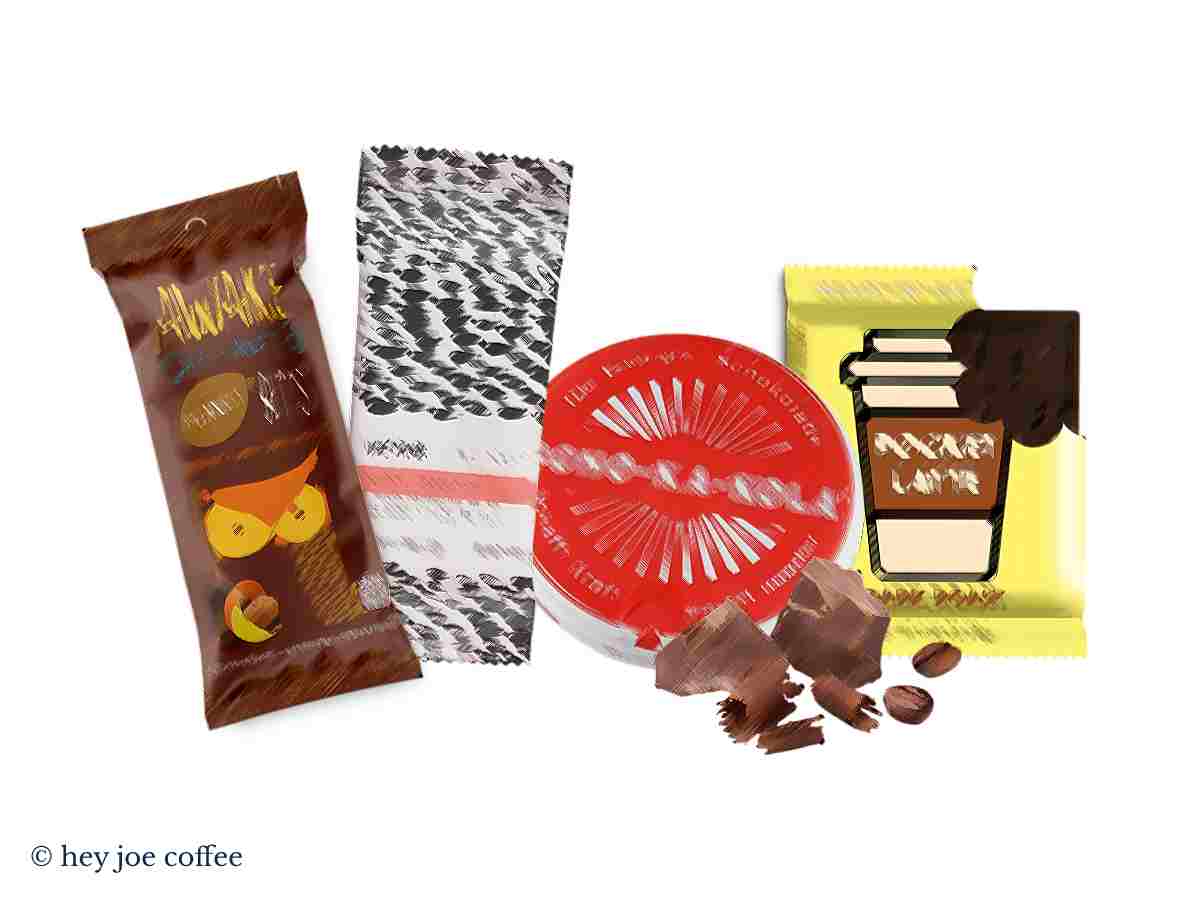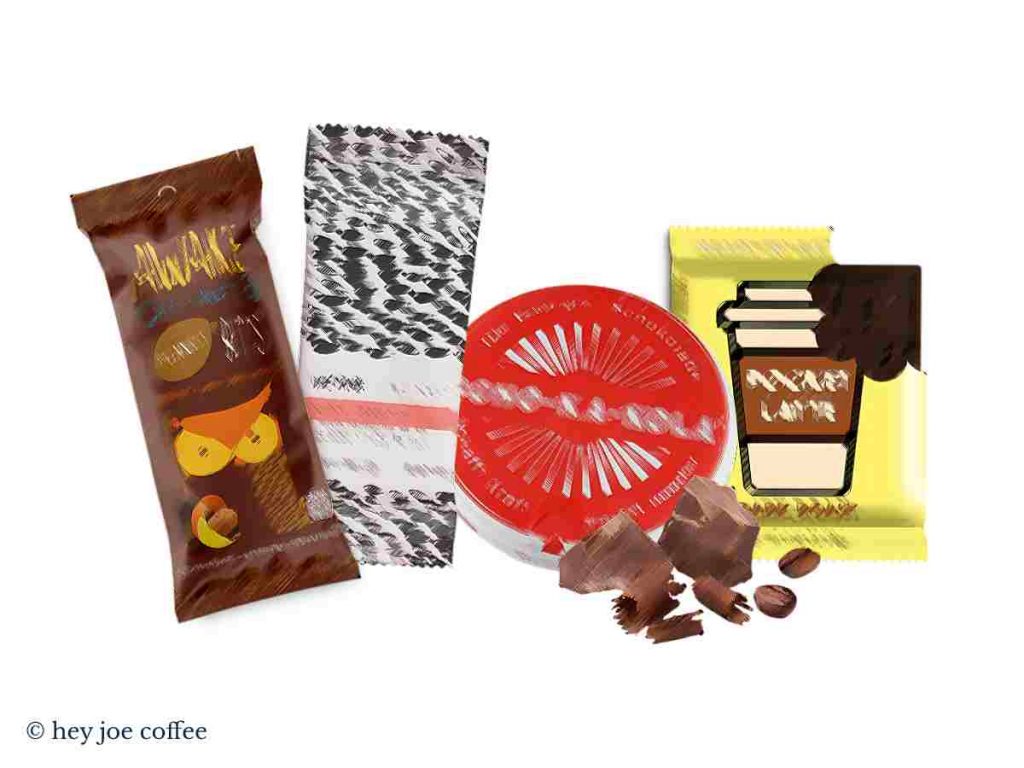 Reaching for a caffeinated chocolate bar might not be your daily habit, but we suggest you try one as a midday snack.
We found most of these bars have a satisfying coffee flavor, but some provide much more energy than others. And when it comes to flavor, the options are endless!
---
FAQs
Does real chocolate have caffeine?
Real chocolate is made with parts of cocoa beans like cocoa butter and cocoa solids. 

The cocoa butter has no caffeine, while the cocoa solids pack a small amount. 

The caffeine in chocolate depends on how much cocoa solids one bar of chocolate has. For example, milk chocolate has the least amount of cocoa solids, so it has only 5.6mg of caffeine per ounce.
Does Ferrero Rocher have caffeine?
Ferrero Group, the producers of Ferrero Rocher, haven't disclosed whether their product has caffeine. 
But since chocolate has trace amounts, and Ferrero Rocher packs a lot of chocolate, you can assume each piece has trace amounts of caffeine.

If you're caffeine sensitive, avoid consuming the chocolates late at night.
What candy has the most caffeine?
The bars with the most caffeine are Pocket Latte and SCHO-KA-KOLA. Pocket Latte has 130mg of caffeine per bar which weighs 0.92oz.

SCHO-KA-KOLA has 200mg of caffeine per tin, but each container weighs 3.5 oz. It all depends on how much you eat.
Verified Sources
Wondering where your info comes from? We totally understand. Hey Joe only obtains our information from reputable sources. Contents from this article are sourced from the following publications: