Once in a while, we want to spice up our regular cup of joe and look for unique coffee recipes. The cardamom coffee is one of them, a comforting yet exciting cup full of flavor and aroma.
Cardamom is a warming, versatile spice that works perfectly with your daily brew. Read on to find out where this combination comes from and how to make it at home!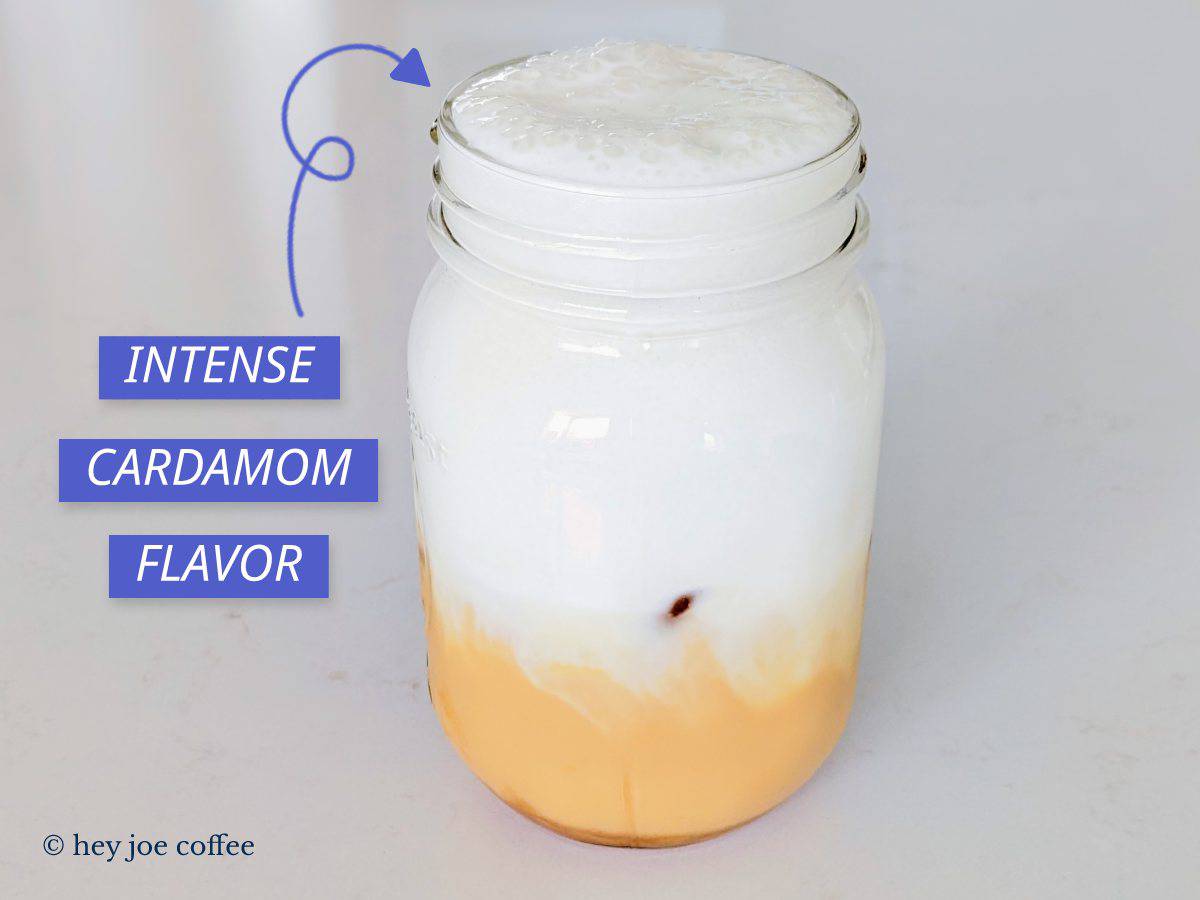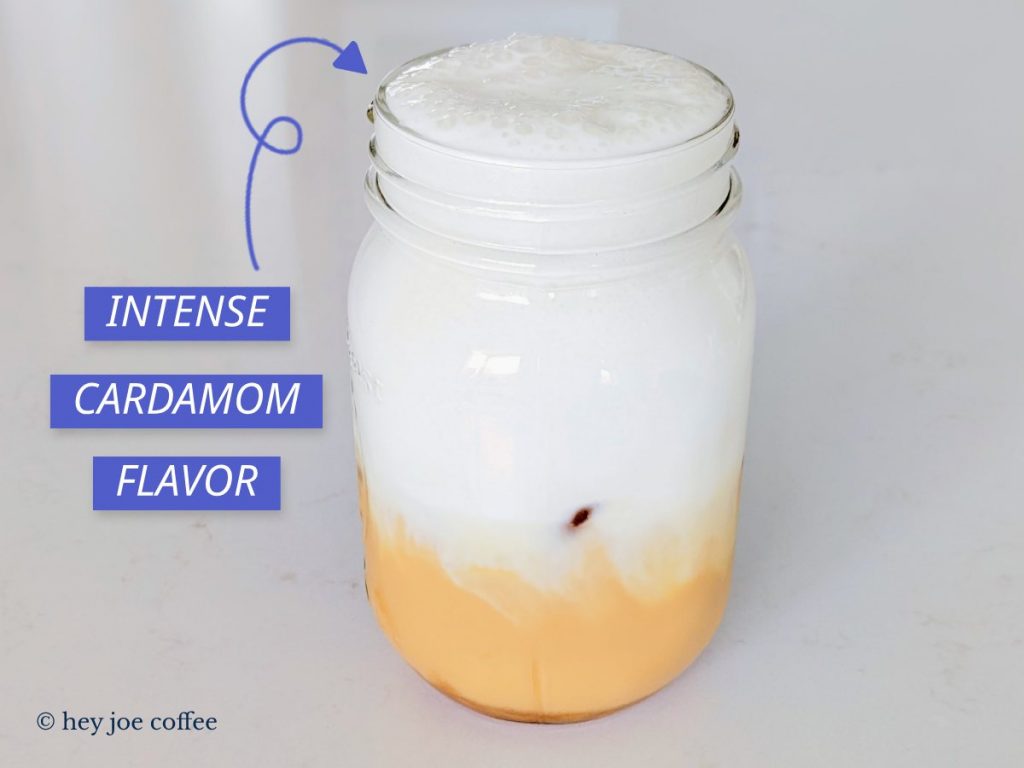 Topics Explored
What is Cardamom Coffee?
This spiced brew refers to all types of coffee made with a blend of cardamom and coffee grounds. You can find lattes, espresso, macchiatos and similar drinks with the spice.
Usually, the pods are crushed and brewed together with the coffee grounds. This way, they release most of their aroma.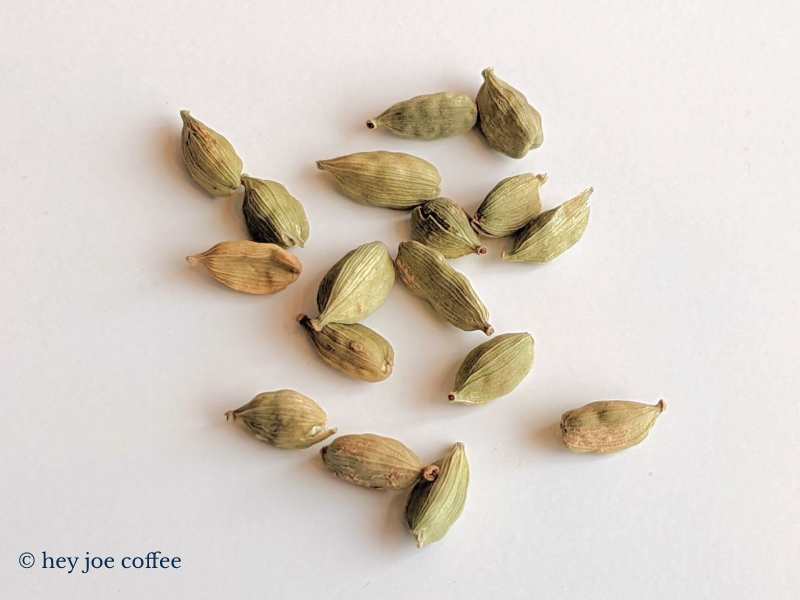 This spiced coffee is a traditional Middle Eastern brew and can also be found in parts of Asia.
Cardamom grows in the south Indian forests, so it's heavily included in many dishes and beverages in this part of the world.
Traditionally, the pods are crushed with a pestle and mortar, combined with the coffee grounds or brewed in a mixture of water and milk.
---
Cardamom Coffee Variations
There are a handful of variations to this spiced coffee. Different countries took their own approach to this combination and developed some delicious beverages.
Some make it a sweet treat, others add more spices. Let's meet all the different cardamom-infused brews.
Arabic Coffee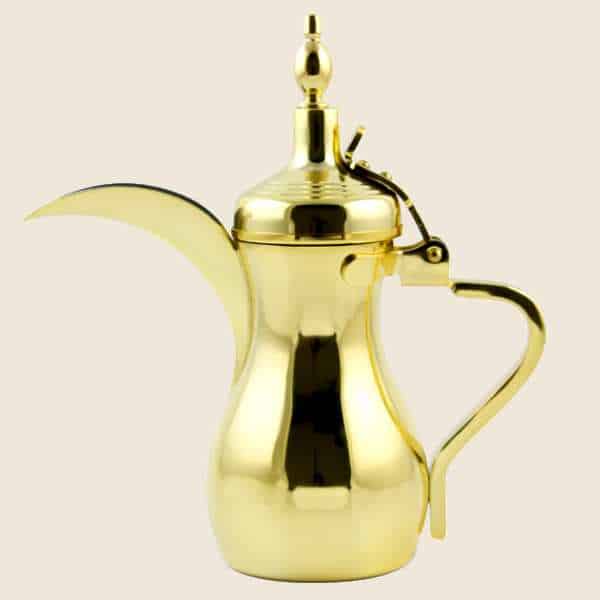 Arabic coffee(1) is strong and bitter, made from light or dark roasted beans and cardamom. Both ingredients are ground up before brewing. The result is an unfiltered, fragrant but potent brew.
It's served in small cups on a tray with dried fruits. Originally it's unsweetened, but you can add sugar after brewing.
Turkish Coffee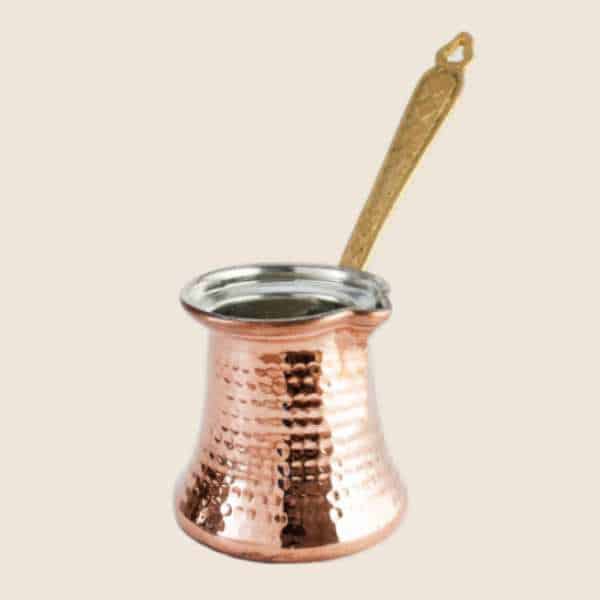 Turkish coffee is made similarly to the Arabic version. The only difference is cardamom is not mixed into the grounds. Instead, it's just brewed from freshly ground beans and served unfiltered. Cardamom can be added afterward to enhance the brew. It's strong, so it's often sweetened.
Turkey adapted to adding cardamom in their beverages following the Middle Eastern habit.
Indian Milk Coffee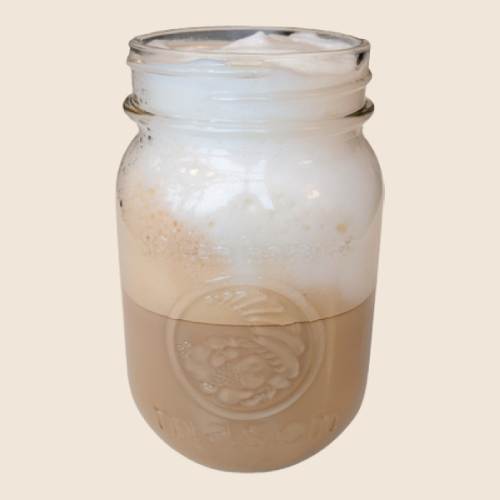 The land of spices nurtures a special connection with cardamom. The Indian version(2) is somewhat similar to chai lattes. It's made with coffee beans, chicory, milk and sweetened with palm sugar.
The milk is simmered with the cardamom pods for a while to release all their aroma. Then it's combined with the coffee and sugar.
---
How To Use Cardamom In Coffee
When looking into how to use the spice in coffees, we came across some interesting recipes. Some are too demanding and include special ingredients, but our choice is simple and easy.
You don't even have to look for cardamom pods since you can use the ground version.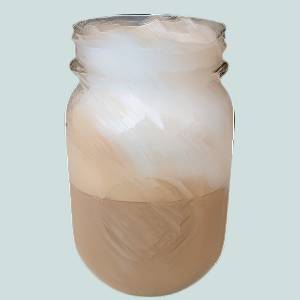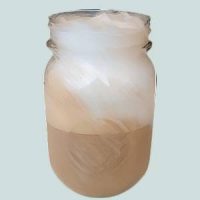 Mind-Blowing Honey Cardamom Latte
Additional Time:
30 minutes
Creamy and fragrant are just a few words to describe this 'mind-blowingly' good honey cardamom latte. Spice up your morning cup with this recipe.
Ingredients
Espresso: 2 shots
Milk: 1 cup
Cardamom: ¼ teaspoon ground or 2 cardamom pods (crushed)
Honey: ½ tbsp (more if you like it sweeter)
Instructions
Place your milk, honey, and cardamom in a saucepan over medium heat. If you use whole pods, crush them before with a mortar and pestle. Add more honey if you have a sweet tooth.
Simmer until small bubbles start to appear on the surface*. Remove from heat and let the milk sit for 10 to 30 minutes. The more it sits with the cardamom, the stronger the aroma.
Pull two shots of espresso using your favorite method. An espresso machine or Moka pot would be best as they produce strong coffee.
Strain your cardamom milk using a fine sieve or cheese cloth. Then reheat the infused milk by bringing it to simmer on the stovetop.
Froth cardamom milk using a handheld frother or French press. If you use the steam wand of your espresso machine, the cardamom flavor will linger in it for a while.
In a large cup, add the espresso shots. Take your cardamom milk and pour it, scooping out the foam. Finish with a tiny pinch of ground cardamom on top.
Notes
*Alternatively, you can use your microwave to infuse the milk. Fill a cup with milk, honey, and ground cardamom. Heat for 45 seconds on high, mixing it once. Strain it, and it's ready to use.
---
What Does It Taste & Look Like?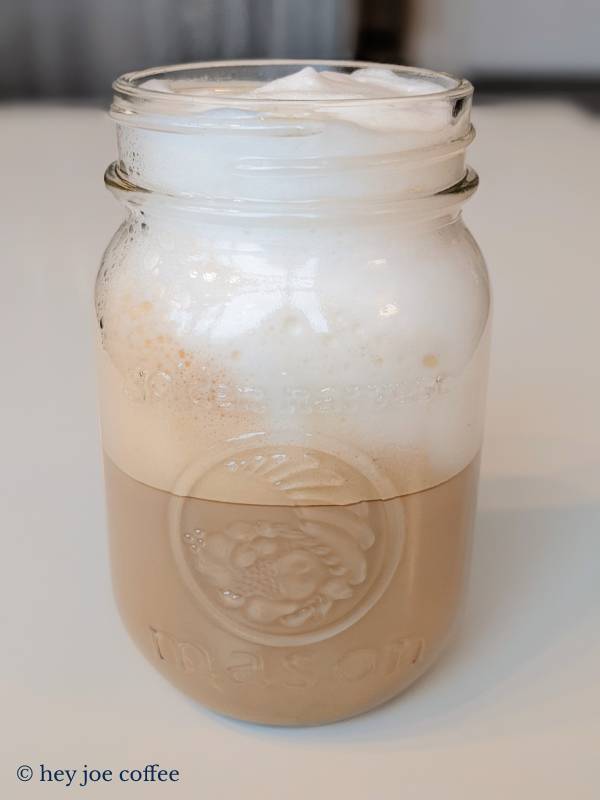 Apperance
The appearance of the brew depends on your preparation style. If you make it the middle-eastern way, it's black with a thin layer of crema. It has a bit of sediment since it's not filtered.
If you make it latte style, following our recipe, you'll have a tan-colored coffee with froth. See image above.
Flavor
The middle eastern style of this coffee is fragrant but bitter and robust. It's rarely sweetened, but it's served with dates or other dried fruits to tone down the bitterness.
When made with milk, the flavor is more rounded and sweet. The milk reduces the bitterness without offsetting the pronounced flavor of cardamom.
---
Dessert Pairing
Cardamom is a versatile spice that works well with more ingredients than just drinks. It's often the star of many cakes, puddings, and ice cream.
Here are some desserts that goes well with your cardamom brew. Beware, they're utterly delicious!
Cardamom Cake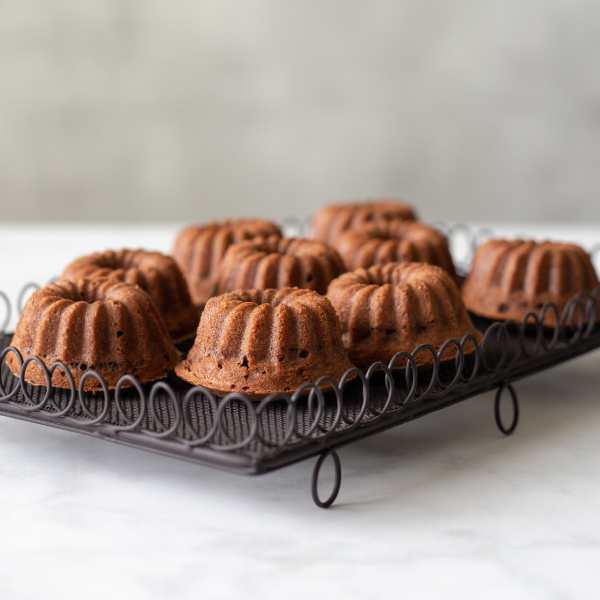 This Swedish recipe calls for 5 teaspoons of freshly ground cardamom, which results in a moist, spongy, and fragrant cake.
It's one of the top Swedish desserts made with simple ingredients, a bundt pan, and no more than an hour and a half.
Brew your coffee, take a slice and enjoy!
Cardamom Espresso Cookies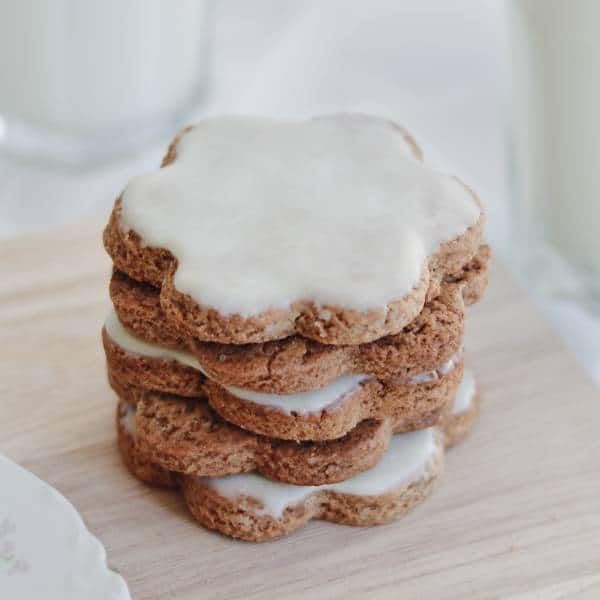 Cookies and coffee are a winning combination, but when you add this spice to the mix, it's a rich gourmet experience.
These sugar cookies(3) combine this intoxicating spice, ground coffee, and cinnamon.
They're easy to make and bake for no more than 13 minutes. Finished with royal icing, they're sweet, crunchy, and make a great addition to your afternoon cup.
Chocolate Babka Cake
If you're a fan of both espresso and chocolate, you absolutely have to try Babka Cakes! And when you pair it with cardamom infused coffee, it's a flavor explosion in your mouth!
Personally, I'm a big fan of the Babka recipe from Cultured Table's. It's super easy to make with just a few simple ingredients, but the end result is seriously delicious. Give it a try.
---
Final Words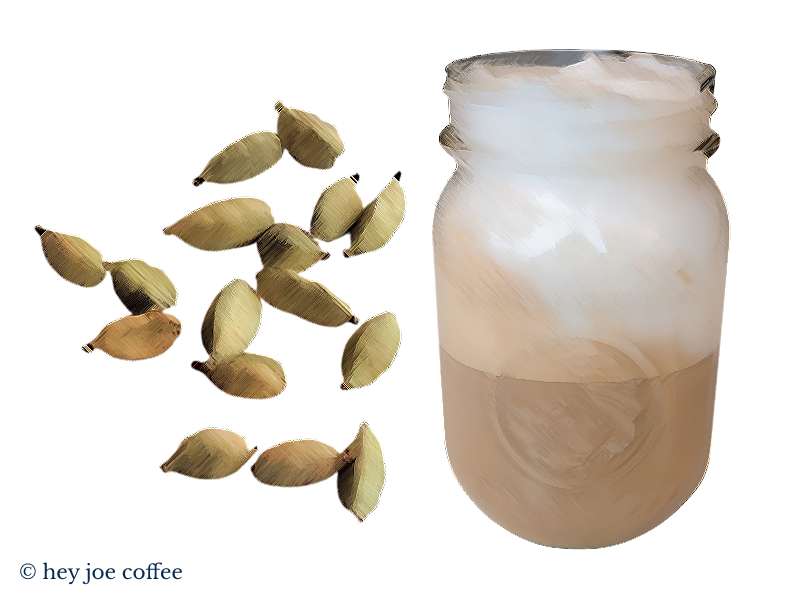 Spices are not for tea only, and the flavorful cardamom coffee is proof. Introduced centuries ago in the Middle Eastern desert as a bedouin's pick me up, this coffee packs an irreplaceable aroma.
If you're not into strong black brews, you can make it latte-style which is equally fragrant but with a milder taste.
Pair your cup with a slice of cardamom cake for a real exotic experience.
---
More Questions
Is cardamom good in coffee?
When it comes to specific flavors, it all depends on your palate. If you're a fan of middle eastern and Asian spices, this coffee might be your next go-to.
If chai and chai lattes are something you enjoy, then you'd love the spice-infused coffee.
How much ground cardamom should you use in coffee?
The amount of cardamom depends on the serving size or method of preparation.

For a single serving, we used a ¼ teaspoon. If you want a stronger cardamom aroma, increase it to ½ teaspoon per serving.
Does Turkish coffee have cardamom in it?
Originally, Turkish coffee doesn't come with cardamom. It's just boiled coffee grounds, served unfiltered in small cups. The fragrant spice is something people started adding later, following the footsteps of Arabic coffee.

So don't expect all Turkish coffee to have a spiced aroma. You can, however, try to add cardamom to your grounds when brewing it yourself.