The Strawberry Dragonfruit Refresher from Dunkin is one of their most popular refreshers, and my personal favorite.
I can't always go to Dunkin for a refresher so I found a way to make them from home. You'd be surprised how easy it is.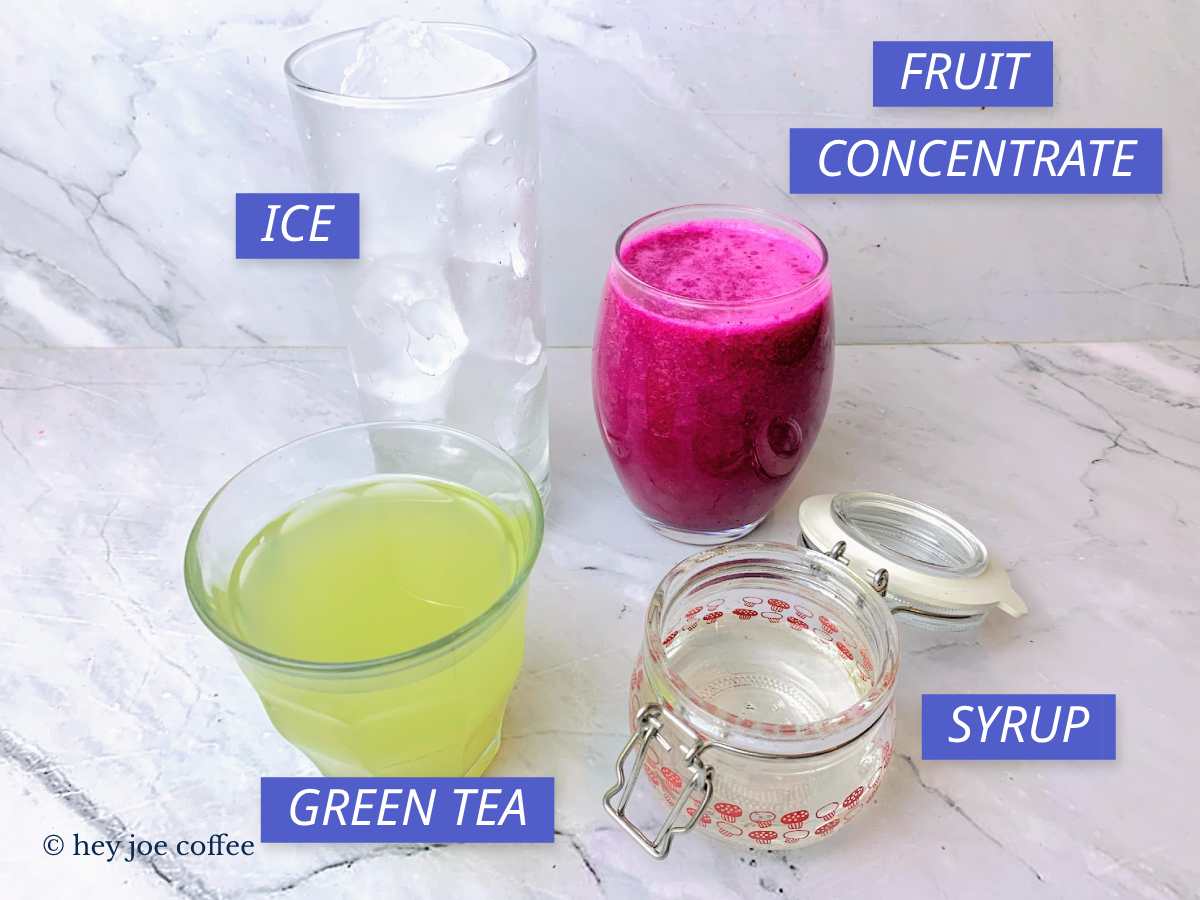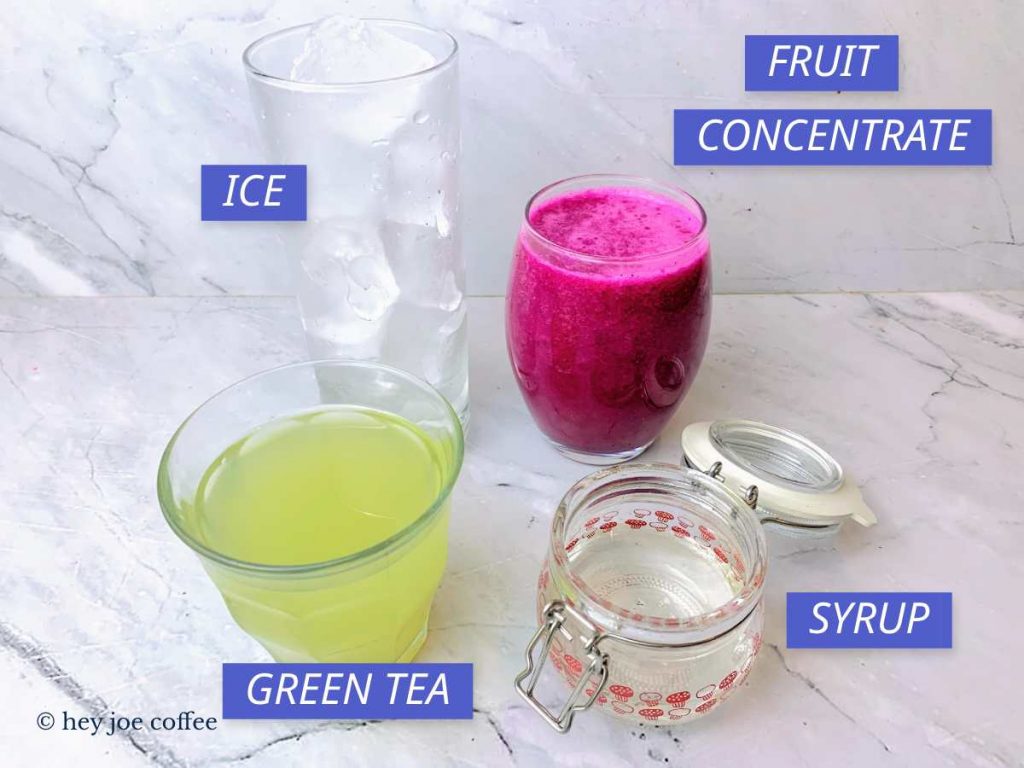 Topics Explored
Strawberry Dragonfruit Refresher
The strawberry dragonfruit refresher is very similar to the Starbucks strawberry acai or pink drink.
But, the biggest difference is that Dunkin's refreshers provide caffeine through green tea(1) while Starbucks uses green coffee extract.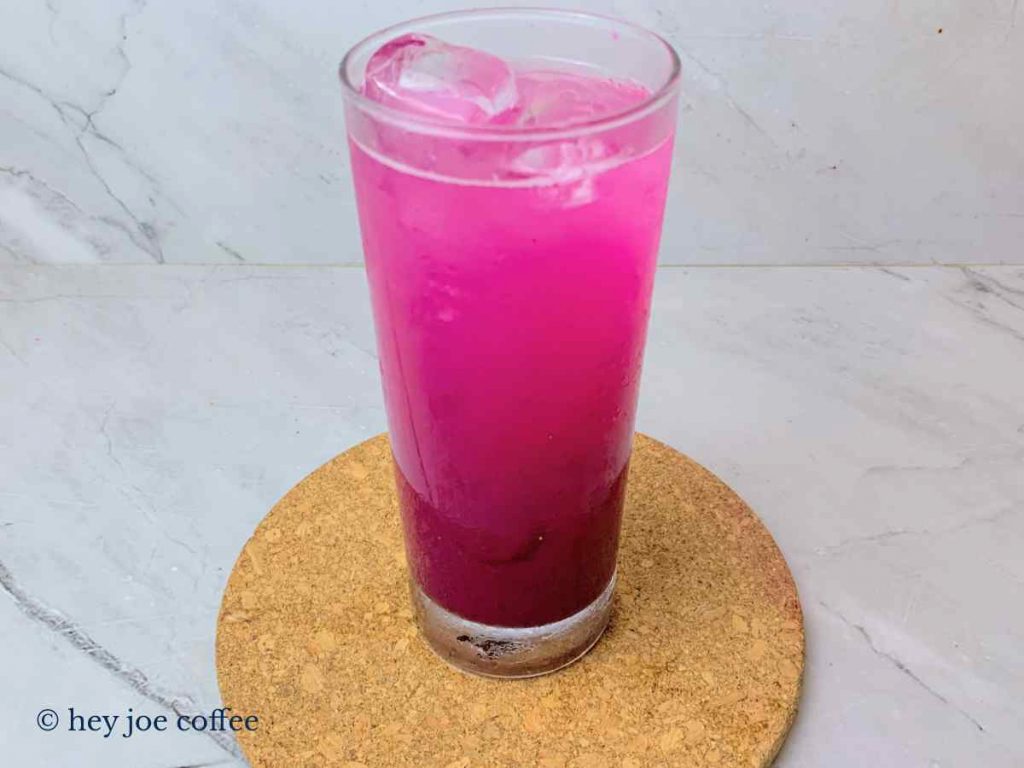 Dunkin's Refreshers were introduced to the menu in the summer of 2020 as a fresh and uplifting new option during the pandemic.
Since then they have introduced various seasonal flavors to brighten customers' palates and moods.
Dunkin Strawberry Dragonfruit Refresher Ingredients
To make a strawberry dragonfruit refresher at home, you only need a few ingredients.
It comes down to brewed green tea and homemade fruit concentrate. To make the concentrate, you need water, sugar, strawberries, and dragonfruit.
You can add B vitamins and food coloring but I usually skip this step.
---
Strawberry Dragonfruit Profile
To recreate Dunkin's strawberry dragonfruit refresher, we need to do some sleuthing to crack its flavor profile, nutritional content and visual appearance.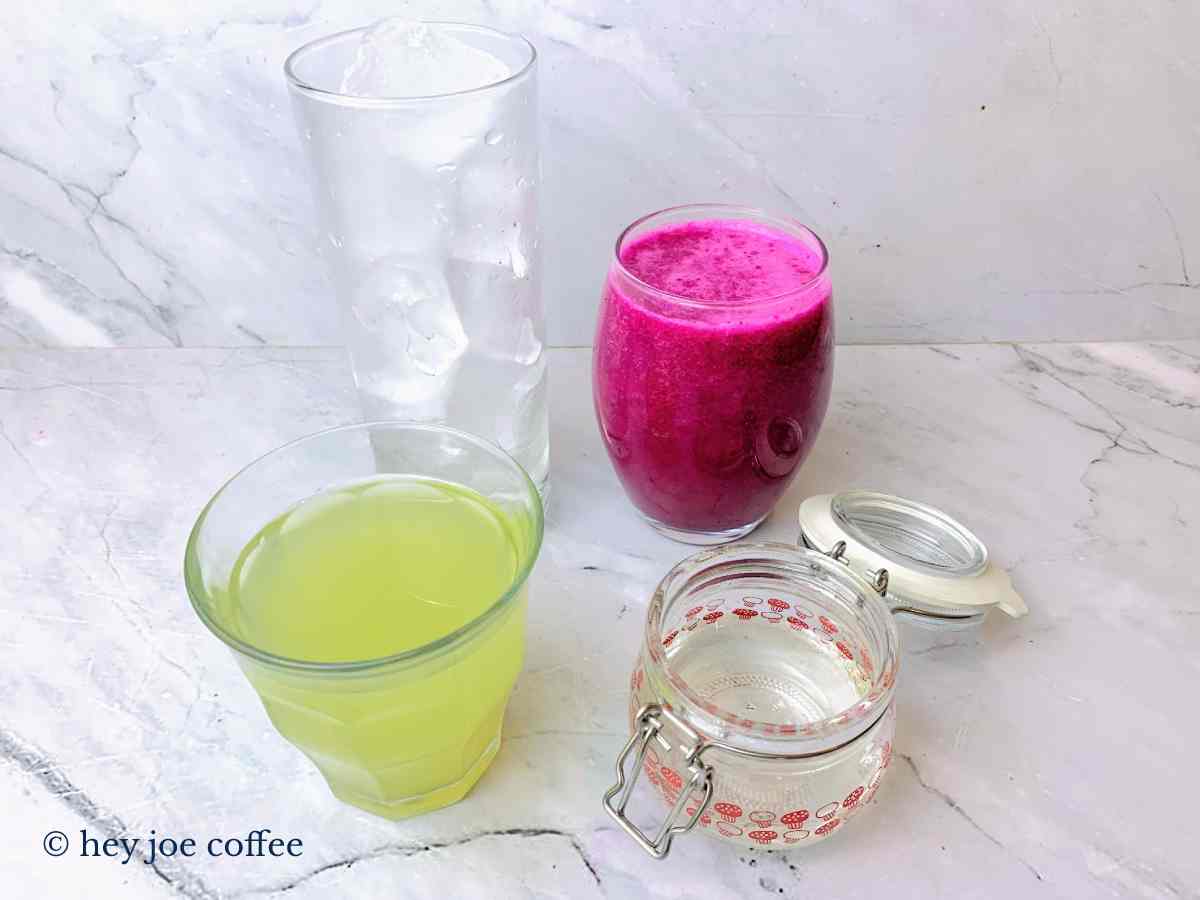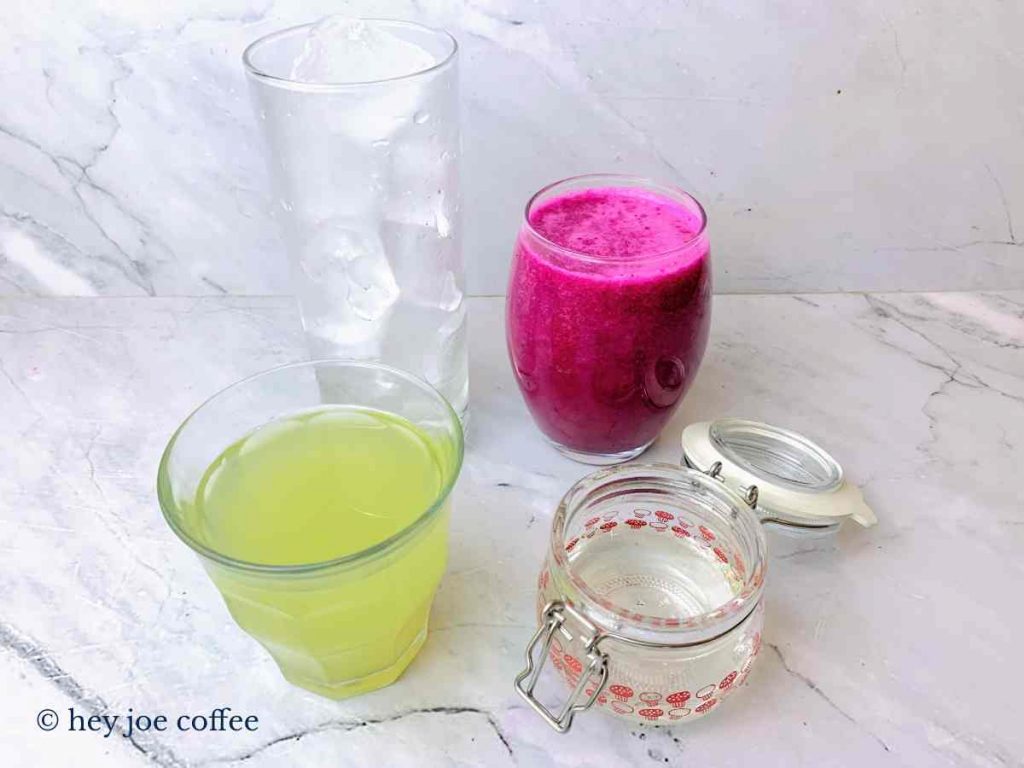 Taste
The strawberry dragonfruit refresher is a light and refreshing beverage.
I find it to be sweet and fruity with a green tea aftertaste. The first flavor I taste is strawberry with only subtle notes of dragonfruit that balances out the sweetness.
Appearance
Dunkin's refreshers look like colorful iced brewed fruit tea. If you are expecting fruit inclusions, don't, none are included in Dunkin's version of the drink.
However, there is a lot of ice and beautiful color that makes them camera ready.
Calories
The number of calories in the Dunkin strawberry dragonfruit refresher can be between 80 and 170 calories, depending on the size.
Keep in mind that Dunkin's cup sizes are larger with the small being 16 oz vs the standard 12 oz elsewhere.
---
Dunkin vs. Starbucks Refresher
Refreshers got their start at Starbucks in 2012 and they became a staple drink on hot days year-round.
In 2020, Dunkin introduced their own versions of the popular drinks, with a few differences.
Dunkin Refresher
Starbucks Refresher
Energy Source:
Green tea extract
Energy Source:
Green coffee extract
Cost (16 oz):
$2.59
Cost (16 oz):
$4.45
Ingredients:
– Strawberry Dragonfruit Base
– Green Tea
– Simple Syrup
Ingredients:
– Strawberry Acai Base
– Lemonade
– Freeze-dried Strawberries
1. Energy Source
Dunkin uses green tea from the Camellia sinensis plant. Green tea contains loads of antioxidants and caffeine. It supports the cardiovascular system and metabolism.
Starbucks uses green coffee extract from unroasted coffee beans. It contains caffeine and chlorogenic acids which support weight loss.
2. Ingredient Variation
At Starbucks, strawberry, and dragonfruit are separated into two different drinks, the Dragon Drink, and Strawberry Acai.
At Dunkin, they mix the two flavors together.
Starbucks is also known for adding fruit inclusions which Dunkin does not include.
3. Cost
Before comparing prices Ineed to note the size differences. A small at Dunkin is 16 oz which is the same as a grande at Starbucks.
So for a 16 oz refresher, you pay $2.59 at Dunkin and $4.45 at Starbucks. That's a big difference!
---
How To Make Strawberry Dragonfruit Concentrate
The most time-consuming part of making your own strawberry dragonfruit refresher at home is making the fruit concentrate.
It's not difficult though and I've broken down the process for you.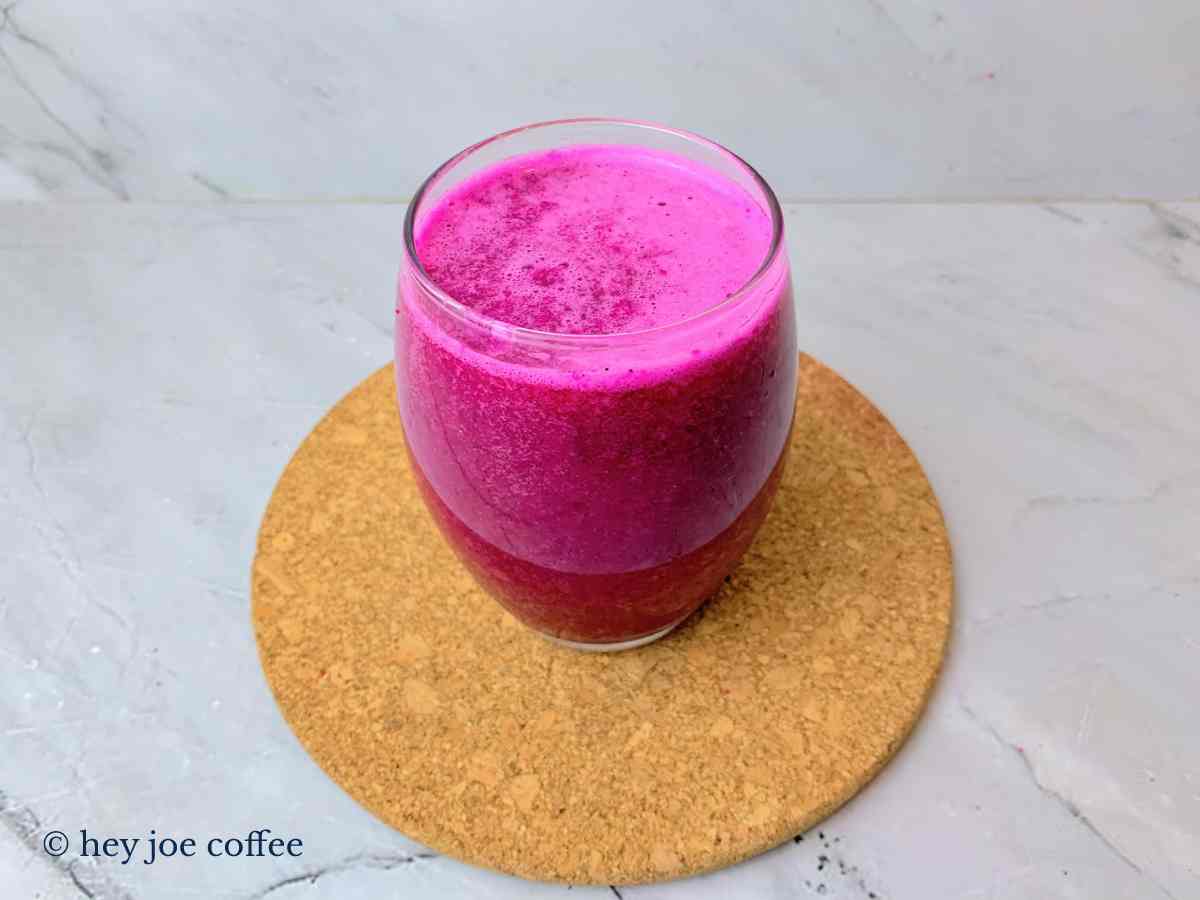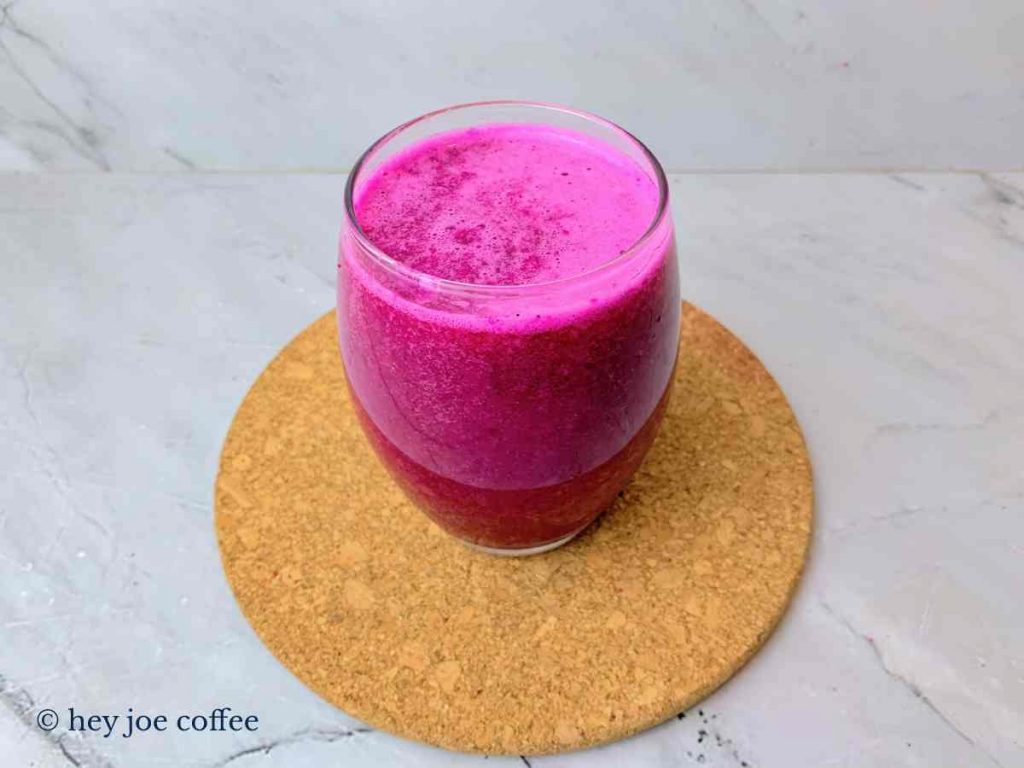 What You'll Need:
1 cup red dragonfruit
1 cup strawberry
1 cup sugar
Water
Step 1:
Make simple syrup by adding equal parts sugar and water to a saucepan and apply to medium heat.
Bring the mixture to a boil, slowly stirring until the sugar is completely dissolved.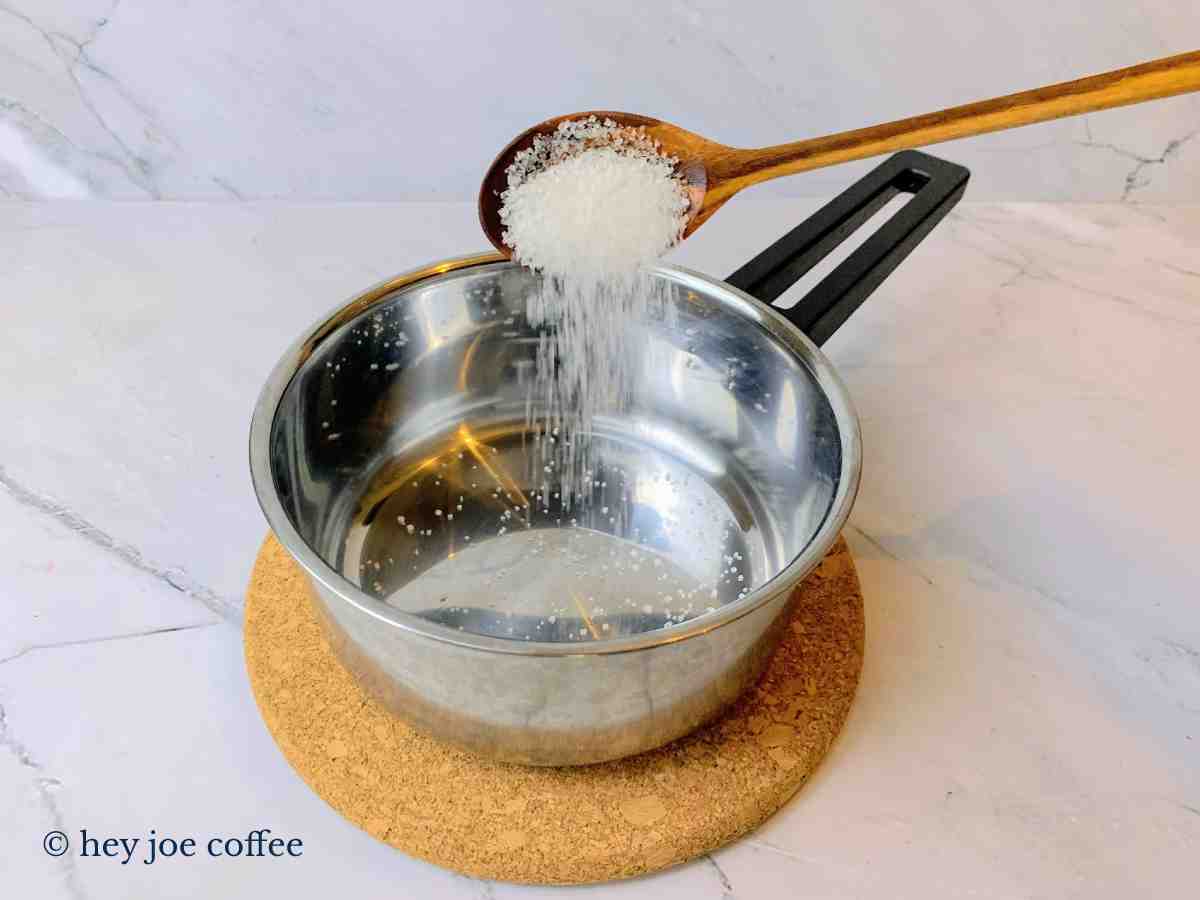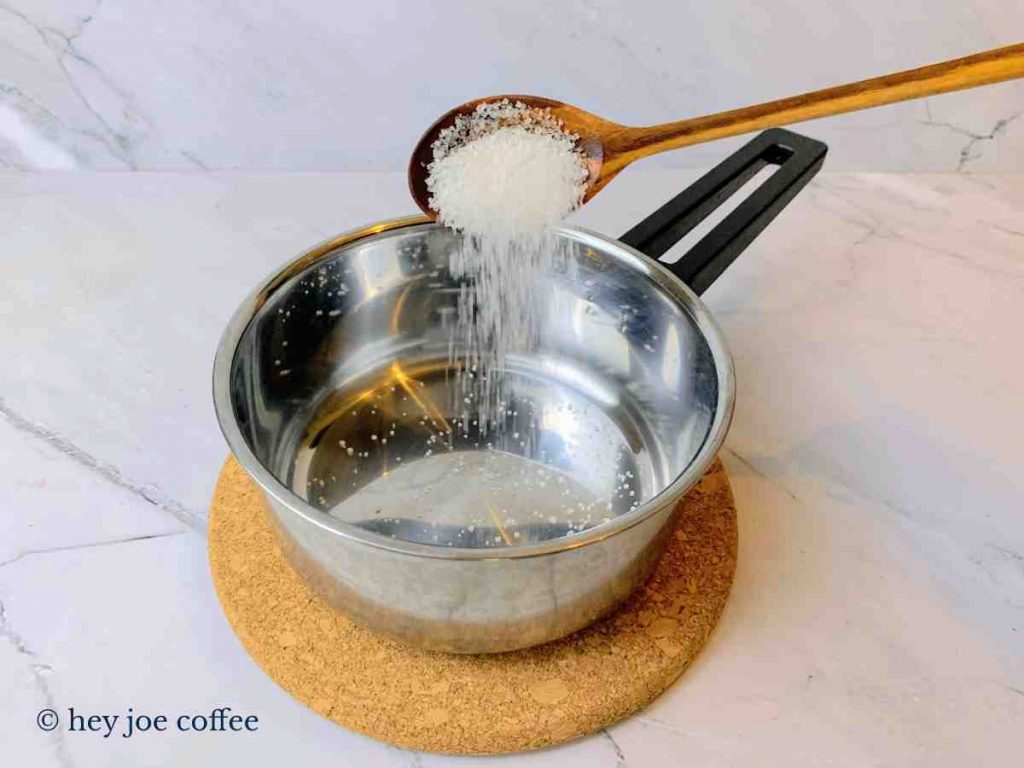 Step 2:
Allow the hot syrup to cool then pour into a clean jar. Seal the jar with a tight-fitting lid. It will keep for up to 1 month if stored in the refrigerator.
Step 3:
Grab your fruit. Fresh fruit is best but frozen is ok as well. If you are using frozen fruit make sure you thaw them before moving on to step 4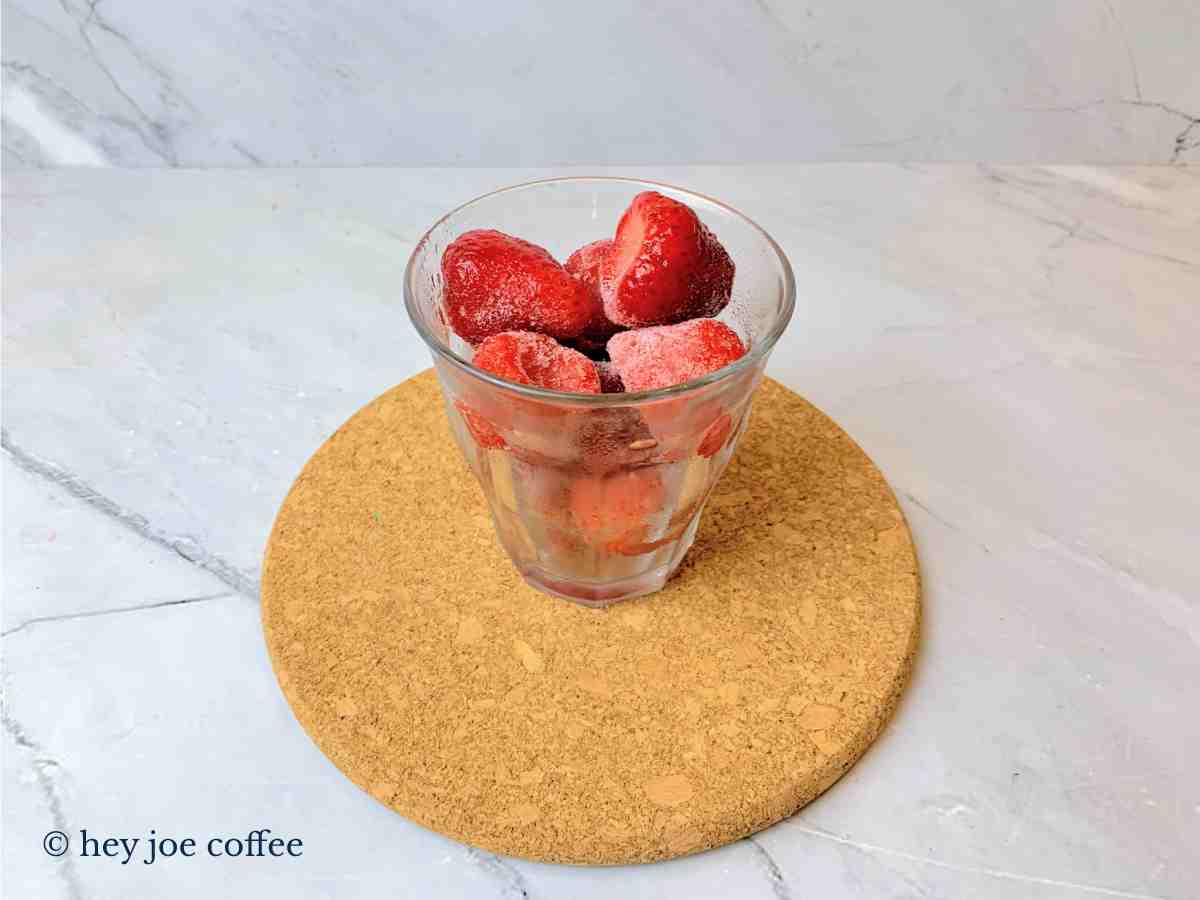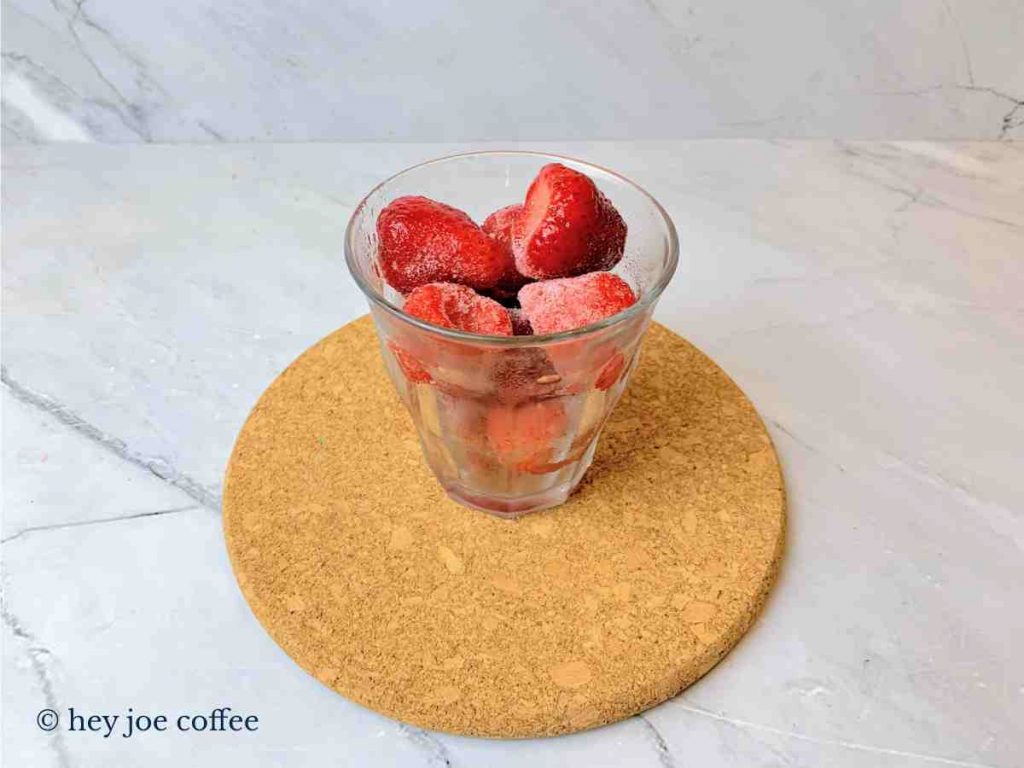 Step 4:
Next you will need to add all your fruit to a blender. Top off the fruit with 1 cup of water.
Blend on high until they are thoroughly combined.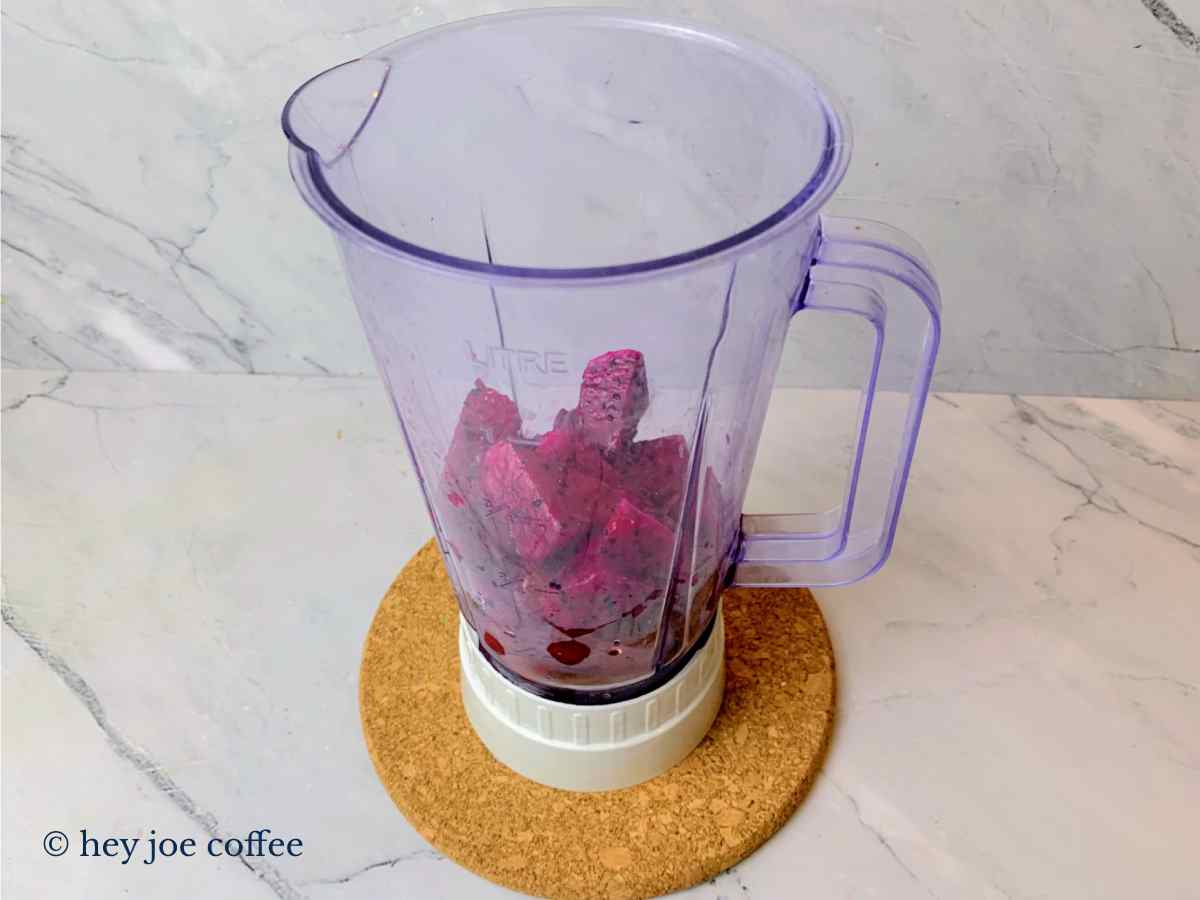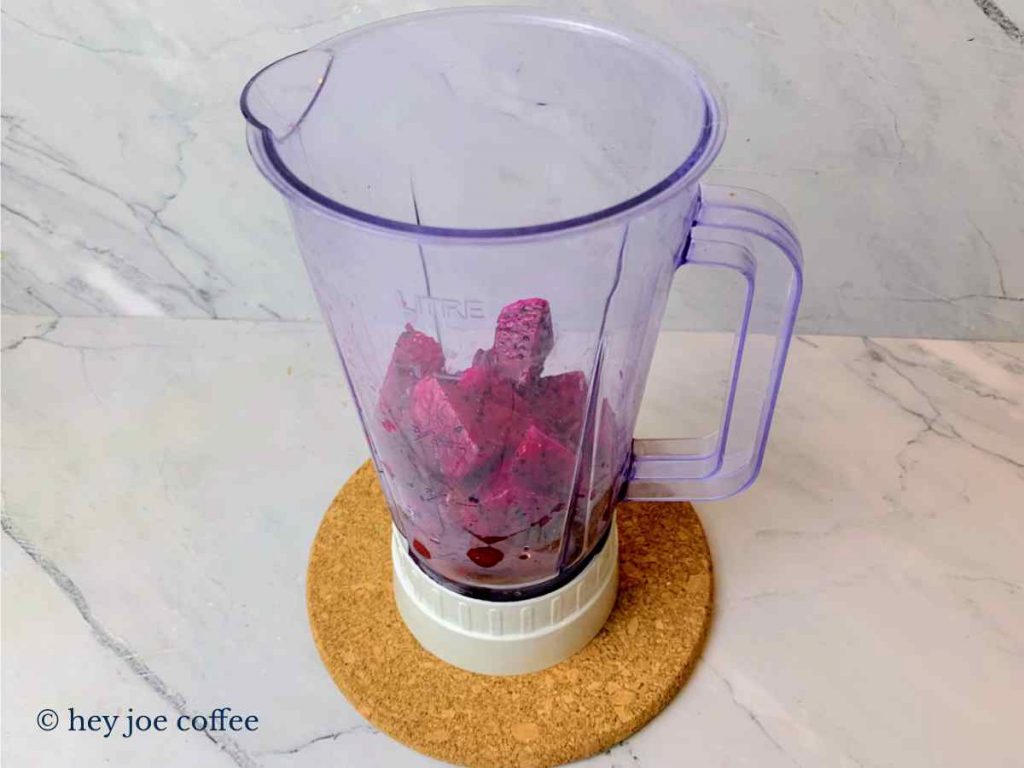 Step 5:
Using whatever straining method you have available, remove the pulp from the blended fruit.
You will need to repeat the straining process a few times to completely remove all the pulp and seeds.
Step 6:
Once the pulp is completely removed you are left with a fruit concentrate. Add ½ a cup of simple syrup to the concentrate.
Mix it well and store it in the refrigerator.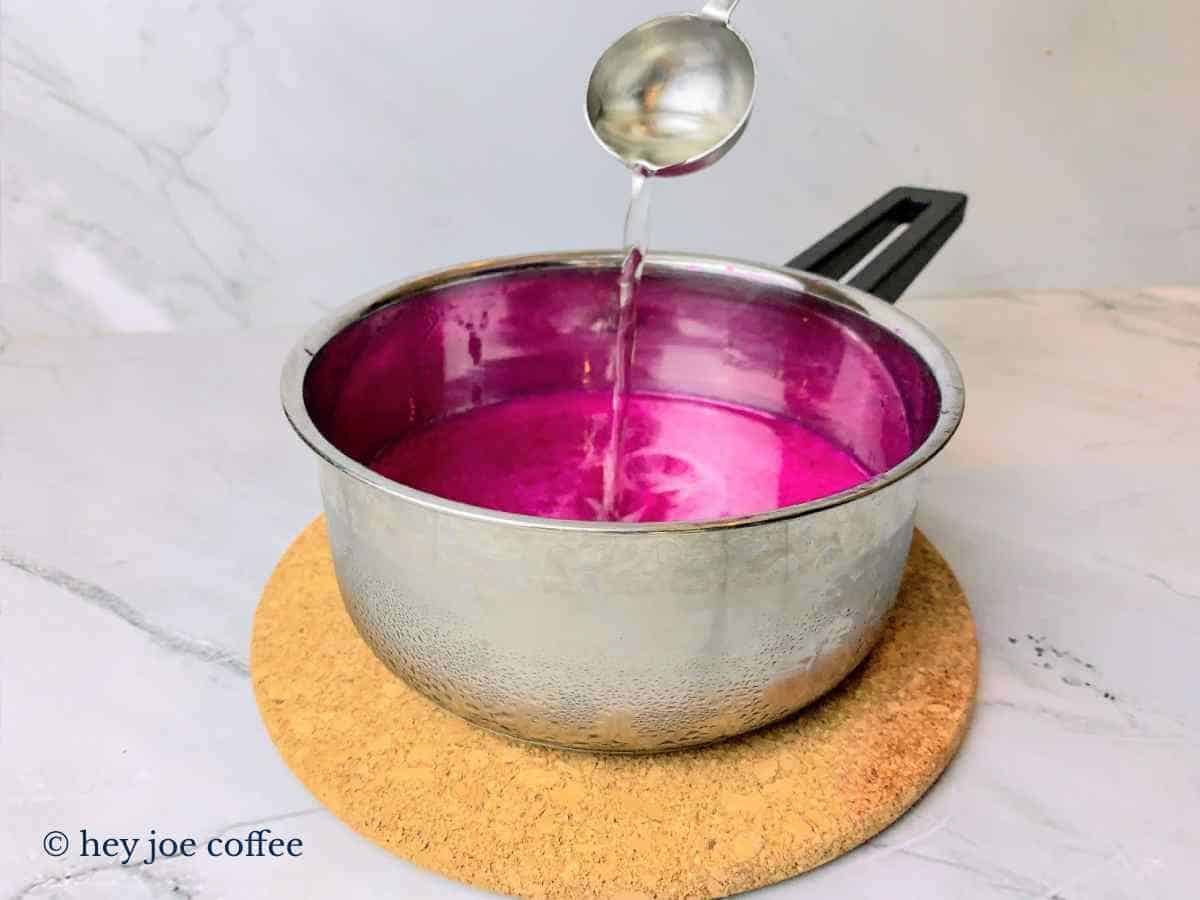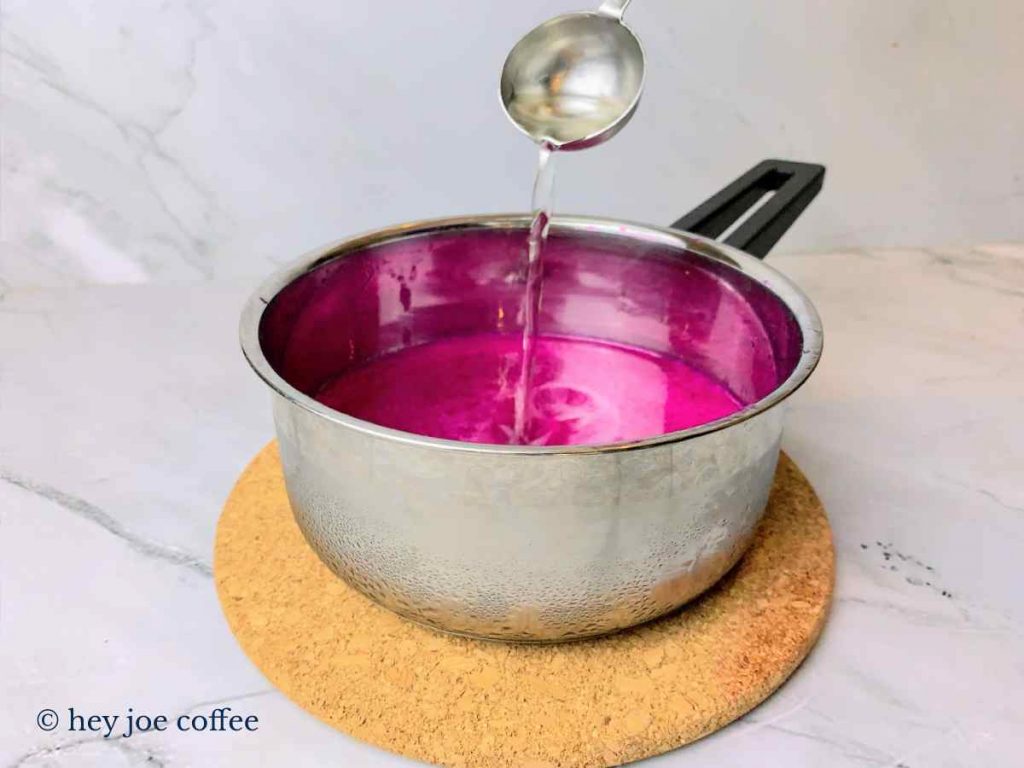 How Long Will The Concentrate Last?
The concentrate will last up to 48 hrs in the refrigerator and up to 3 months if frozen. If you end up with extra concentrate, you can freeze it in ice trays.
---
Dunkin Strawberry Dragonfruit Refresher Recipe
Once you have made your fruit concentrate, you are ready to make yourself a delicious strawberry dragonfruit refresher.
All the hard work is done and now you just have to assemble and drink!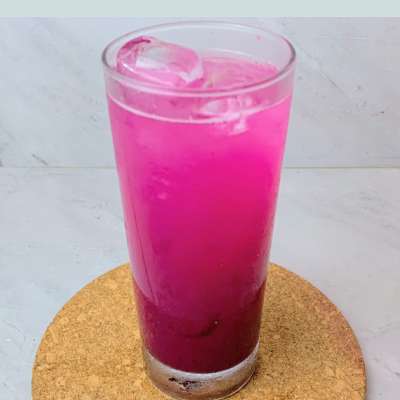 Dunkin Strawberry Dragonfruit Refresher Recipe
With this simple Dunkin strawberry dragonfruit refresher recipe, you can make your favorite Dunkin Refresher in no time. 
Ingredients
Strawberry Dragonfruit Concentrate: 4 oz
Brewed Green Tea: 1 cup
Ice
Simple Syrup (optional)
Instructions
To start, you will need to brew 1 cup of green tea and let it cool. Feel free to make it as strong as you like.
While your green tea is cooling down, grab a tall glass. Fill your glass to the brim with ice.
Pour 4 oz of your pre-made concentrate into your cup. It should fill about half the cup, leaving room for the green tea.
Finish by pouring your cup of green tea, that is now cooled down, over the ice and fruit concentrate. Using a straw or spoon, stir to combine.
---
Summary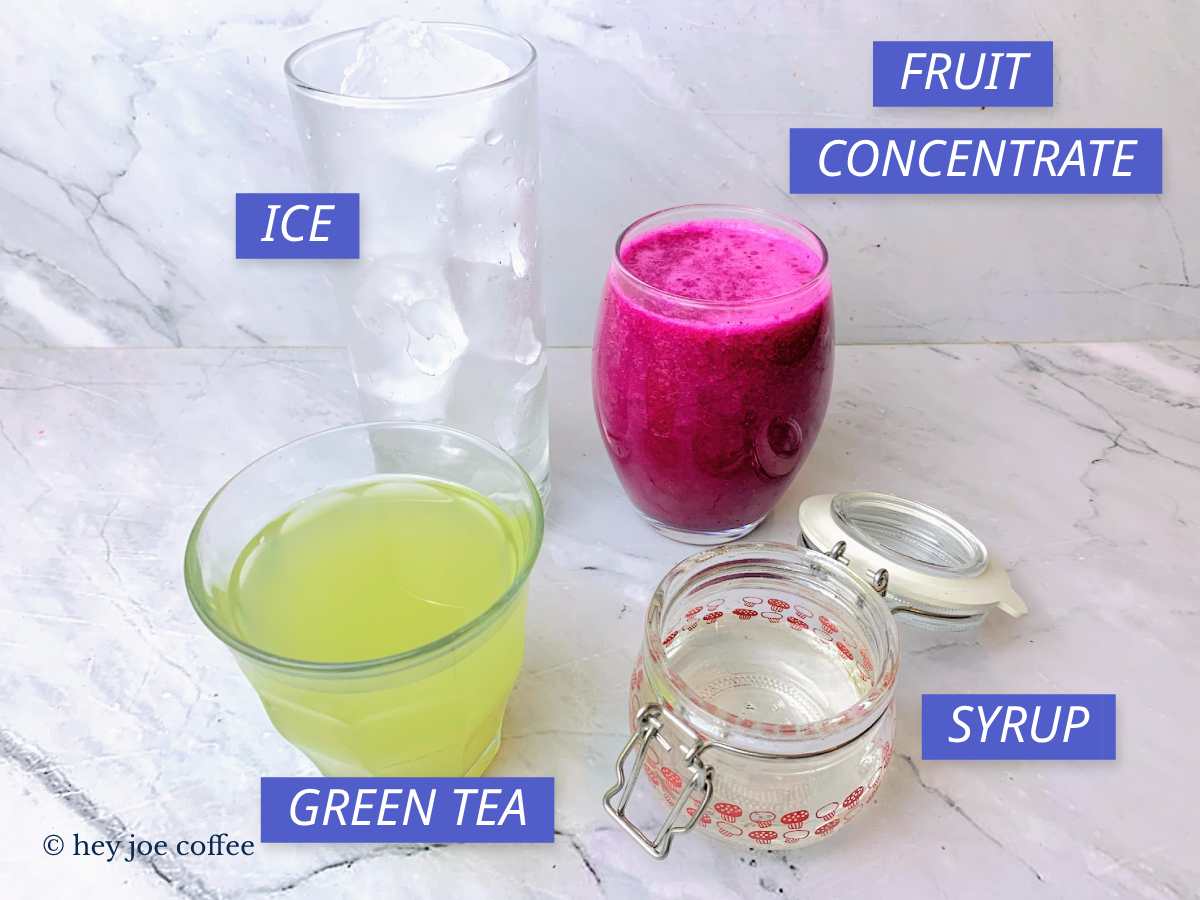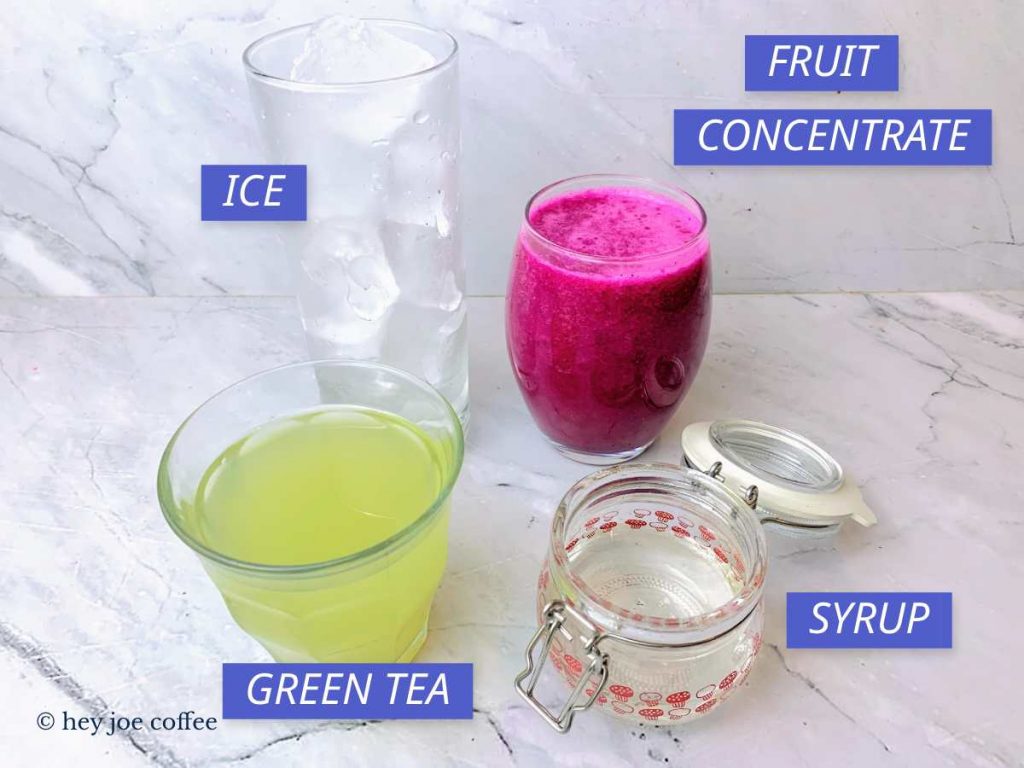 I love Strawberry Dragonfruit refreshers! When I discovered how easy they were to make from home I was completely thrilled.
Now, we can enjoy them whenever we want by simply following the steps above.
---
FAQs
Is the Strawberry Dragonfruit refresher from Dunkin good?
The strawberry dragonfruit refresher from Dunkin has mixed reviews. Some say it's the best. While others say it's too sweet or tastes watered down. 
We think it is a good drink but could use more fruit flavor so we use real fruit in our recipe above.
How to make the Dunkin Strawberry Dragonfruit Refresher at home?
The drink itself is easy to put together. It is simply fruit concentrate and green tea. 
The challenging part is replicating the fruit concentrate. If you follow our copycat recipe you will get a close replica. 
How much sugar is in a Strawberry Dragonfruit Refresher?
The Dunkin' strawberry dragonfruit refresher has between 20 g and 39 g of sugar. (2)
Overall, considering the fact that Dunkin's drinks sizes are larger than some of its competitors, the sugar levels are not that high.
In your homemade version you can adjust the sweetness to your liking.