Get ready to explore the ultimate list of Dutch Bros strawberry drinks that are guaranteed to blow your socks off!

From secret menu items to fan favorites, I'll take you on a whirlwind tour of strawberry goodness you won't want to miss.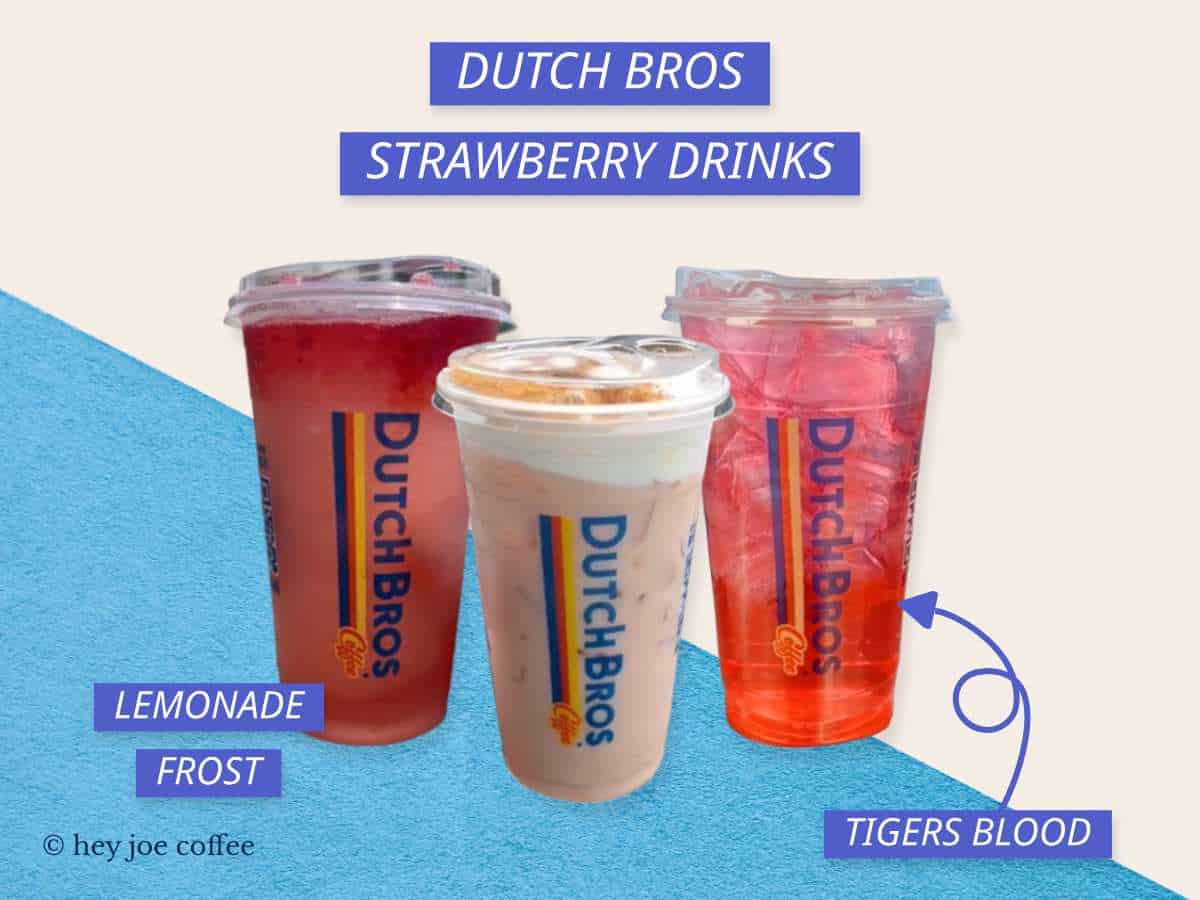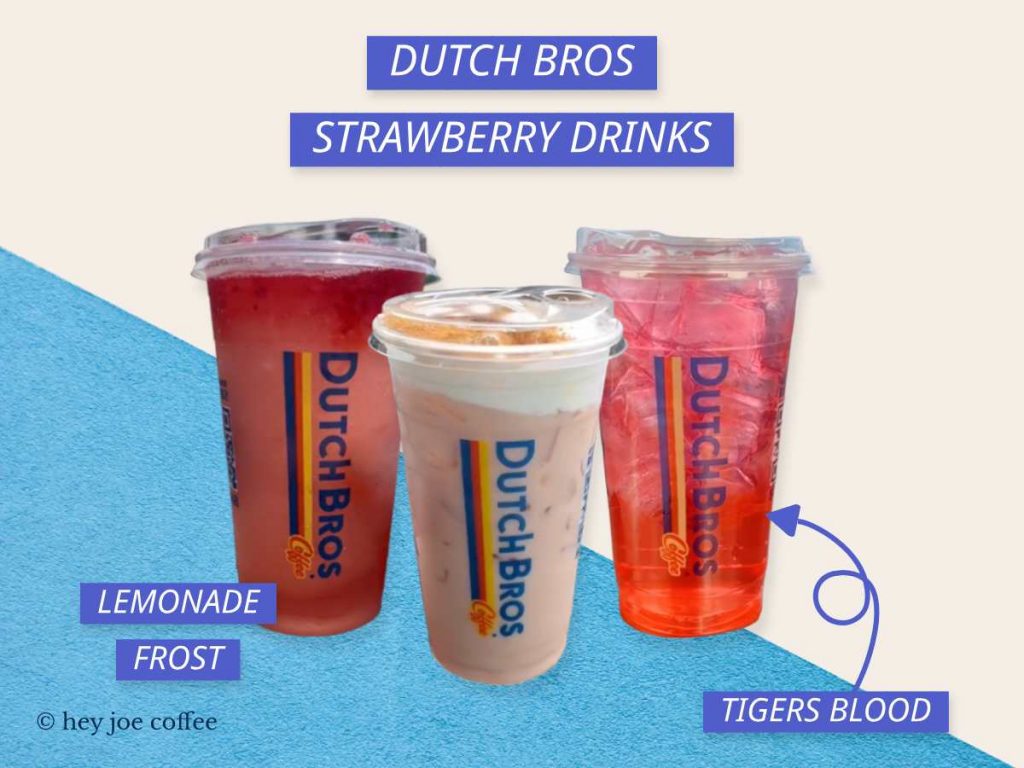 Topics Explored
Does Dutch Bros Have A Strawberry Drink?
You bet! A whole lineup of Dutch Bros strawberry drinks that you'll want to try exists.

The newest kids on the block are frosted lemonade featuring real fruit strawberry and a delightful strawberry horchata.

And let's not forget the classics like strawberry smoothies and Rebels. With such a variety, you're sure to find something that tickles your fancy.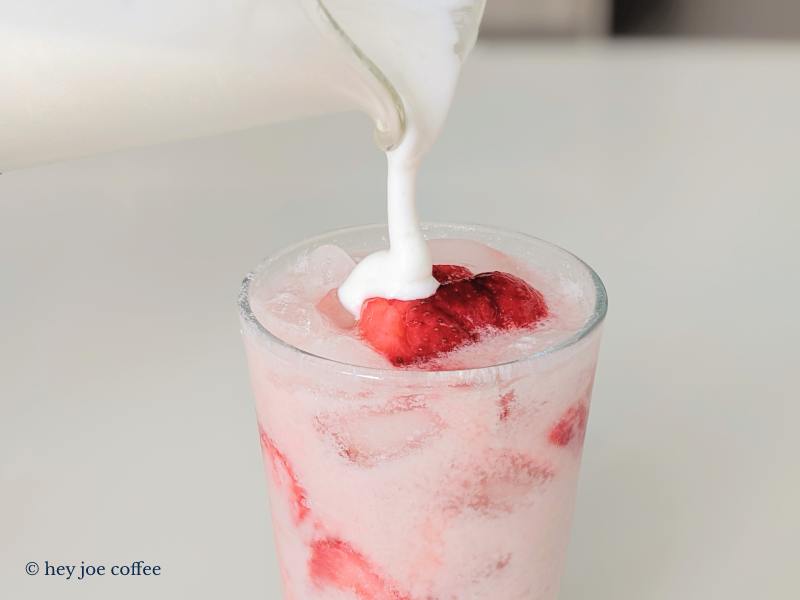 ---
Dutch Bros Strawberry Drinks
If you're a strawberry lover like me, you'll be thrilled to know that Dutch Bros has a whole menu section dedicated to strawberry drinks.

From the classic to the adventurous, there's something for everyone. Whether you're a fan of smoothies or lemonades, you won't be disappointed.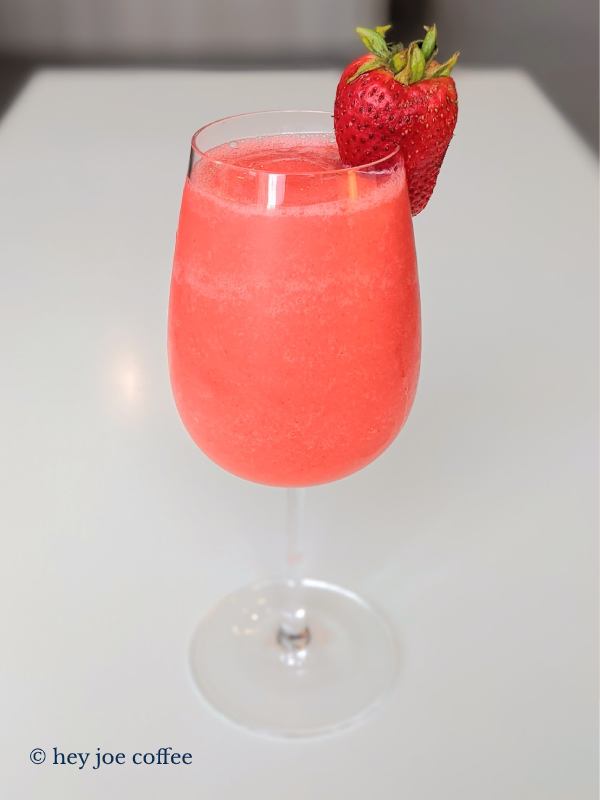 Dutch Bros Strawberry Lemonade
Recently, Dutch Bros strawberry lemonades have been flying off the menu. Prepared with their lemonade and a generous helping of strawberry syrup, this drink has become the #1 choice for summer sipping.

Honestly, it's perfect for any time you need a lift or when you're craving something refreshing.
1. Tiger's Blood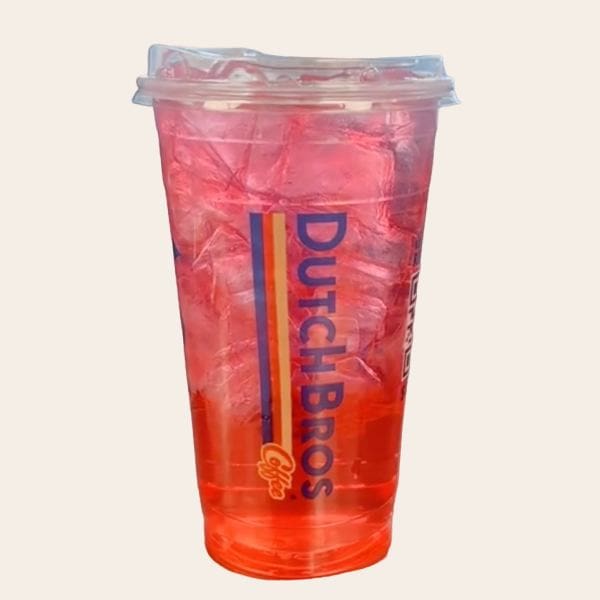 Tiger's Blood, a unique blend that combines strawberry and coconut flavors in a lemonade base.

Some folks add coconut milk to give it a 'Starbucks pink drink' vibe, but I enjoy it as is.
My Recommendation:
For a smoother experience, I'd go for the blended version (double-blend it if you like). The drink transforms, offering a texture that goes down easy.
Ingredients:
Strawberry syrup
Coconut syrup
Dutch lemonade
2. Strawberry Pineapple
Dutch's strawberry pineapple lemonade isn't your average drink; it's got a tropical twist.

Dutch Bros combines their classic lemonade with strawberry and pineapple syrups. You can get it iced or blended, and either way, it's delicious.
Nutrition-wise, a medium has 230 calories and 54 grams of sugar.
My Recommendation:
I wholly recommend adding a soft top and some strawberry real fruit to take it to a whole new level.
Ingredients:
Strawberry syrup
Pineapple syrup
Dutch lemonade
Soft top
Strawberry real fruit
Dutch Bros Strawberry Coffee
Who would have thought that combining coffee and strawberry would be a good idea? It turns out it can taste pretty darn good.

Here are my top two recommendations for Dutch Bros strawberry coffee drinks.
3. Strawberry Mocha Tuxedo (Secret Menu)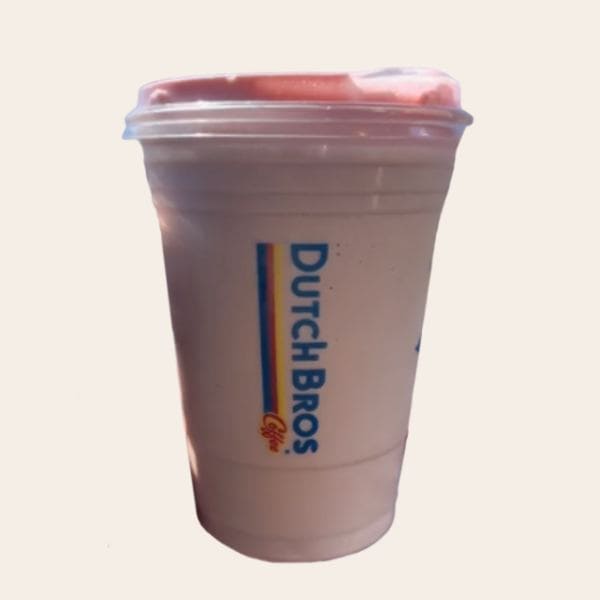 If you're a coffee aficionado with a sweet tooth, the Strawberry Mocha Tuxedo is your secret menu drink.

It's a blend of white coffee, white chocolate, and chocolate syrup—that's the tuxedo part.
But wait, there's more: add strawberry syrup to the mix.
My Recommendation:
For an extra layer of flavor, ask for strawberry and chocolate walls to line your cup. And if you're really in the mood for a strawberry overload, go for a strawberry soft top.
Ingredients:
Iced mocha with white coffee
White chocolate sauce
Chocolate sauce
Strawberry syrup
Strawberry & chocolate drizzle
Soft top
4. Strawberry Iced Coffee Breve (Secret Menu)
This drink is a tasty surprise, especially if you're fond of Neapolitan ice cream.

Regular syrup is recommended to capture the full essence of the drink. The result? A beverage that evokes the flavors of that iconic three-layered ice cream.
My Recommendation:
Opting for white coffee is the way to go here, as it allows the strawberry flavor to shine.
Ingredients:
Iced white coffee breve
Strawberry syrup
Chocolate drizzle
Soft top
Strawberry Dutch Frost
If you're craving a milkshake, Dutch Bros has you covered with their Strawberry Dutch Frost.

It's a blend of their creamy ice cream mix and strawberry goodness. Perfect for when you need an indulgent fruity pick-me-up.
5. Blackberry Dutch Frosted Lemonade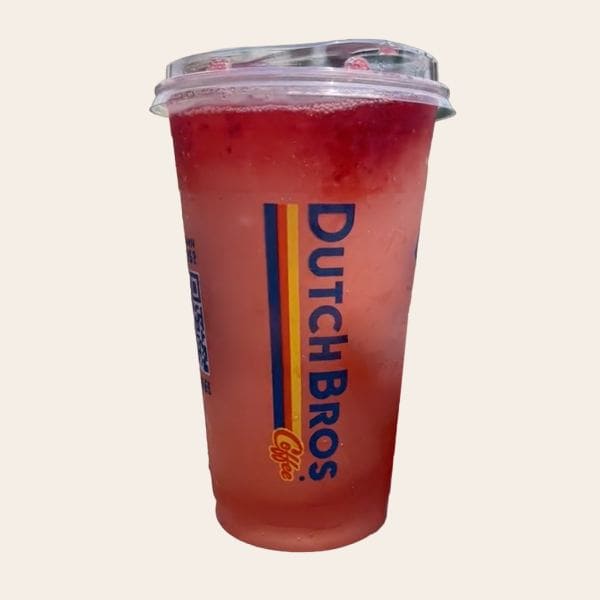 Is this technically a frost or a lemonade?

Either way, this one's a twist on your classic drink. It mixes the tartness of lemonade with the sweetness of blackberries and real strawberry fruit but in a frosted form.

It's a great option if you're looking to try something a bit different but still want that tangy kick.
My Recommendation:
If sweet drinks aren't up your alley, consider asking for it 1/2 sweet. I've found that this creates the right balance of tart and fruity flavors.
Ingredients:
Blackberry syrup
Dutch lemonade
Ice-cream mix
Strawberry real fruit
6. Strawberry Lavender Frost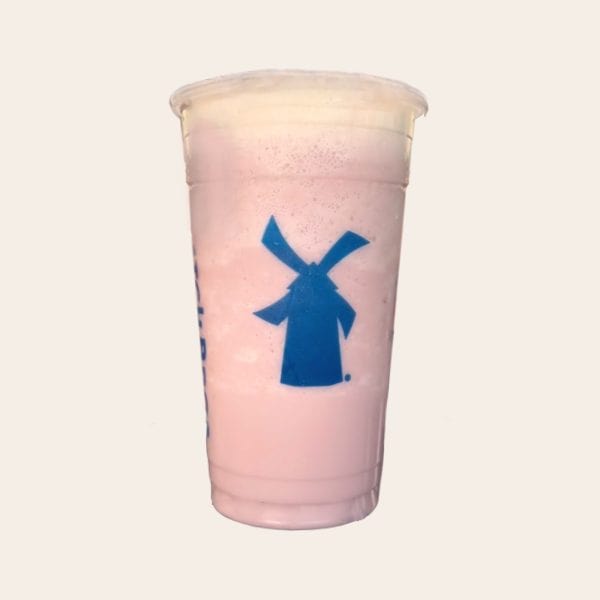 Strawberry Lavender Frost is more than just a drink; it's an experience.
The strawberry brings a sweet, refreshing element, while the lavender adds a touch of sophistication.

It's almost like having a fancy afternoon tea but in a more casual, sip-able form. If you're in the mood for something a bit more 'refined', this is your go-to.
My Recommendation:
This drink also shines as a chai version, capturing the essence of the strawberry horchata we all know and love.
Ingredients:
Strawberry syrup
Lavender syrup
Ice-cream mix
Strawberry Rebels
Not a fan of coffee? Then Dutch Bros Rebels are your go-to for a quick energy fix.

You'll be thrilled with their strawberry-infused options. These aren't your average energy drinks either; the strawberry versions bring a burst of fruity punch to the mix.
7. Double Rainbro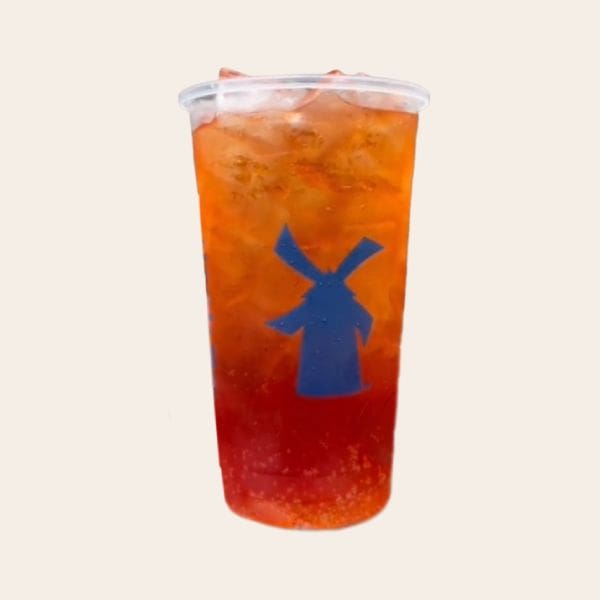 You can't overlook a classic Rebel! Double Rainbro (1) is a vibrant energy drink that blends strawberry, peach, and coconut syrups.

A medium-sized drink contains 250 calories and 58 grams of sugar, which isn't too bad compared to other Dutch Bros drinks.
To cut down on calories, you can always request part of the drink to be sugar-free.
My Recommendation:
I usually go for the iced option, but I've heard rave reviews about the blended version, especially if slushies are your thing.
Ingredients:
Strawberry syrup
Peach syrup
Coconut syrup
Dutch Rebel
8. Coconut, Raspberry & Pineapple Rebel (Secret Menu)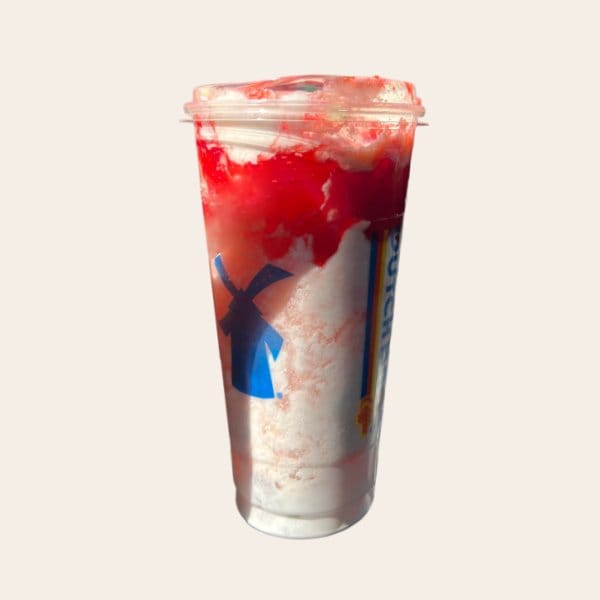 This one's a secret menu recommendation from a Dutch fan. Ready for the recipe? It's long…
Order a blended Rebel with coconut milk. Add pineapple, coconut, and red raspberry but make it parfait-style. For toppings get it with a soft top and more red raspberry and pineapple drizzle. And finally, add strawberry real fruit.

The result? A few eye-rolls and a drink that's dangerously delicious and tastes like a tropical cocktail.
My Recommendation:
Seriously though, it's a complicated drink. So it's best to order it when the line isn't too long.
Ingredients:
Coconut milk
Pineapple syrup
Coconut syrup
Raspberry syrup
Soft top
Strawberry real fruit
Other Dutch Bros Strawberry Drinks
9. Strawberry Horchata Chai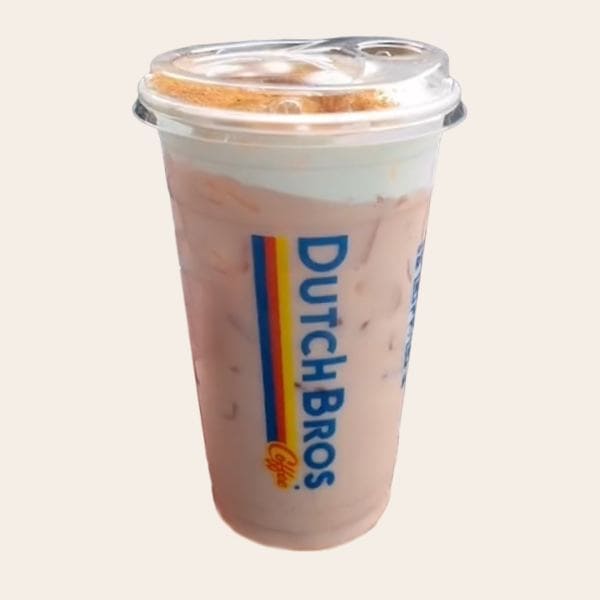 The Strawberry Horchata Chai has a special place in the hearts of Dutch Bros fans. It's a unique drink that's even better when you get it blended—making it extra cold and creamy.

And if you're watching your calorie intake, there's a sugar-free option available. This drink is a sinful twist on traditional chai, and it's worth giving a try.
My Recommendation:
If you're a strawberry enthusiast like me, asking for extra strawberry syrup is a good move.
Ingredients:
Oregon chai
Milk
White chocolate sauce
Caramel sauce
Cinnamon syrup
Strawberry syrup
Soft top
Cinnamon sprinkles
10. Lava Flow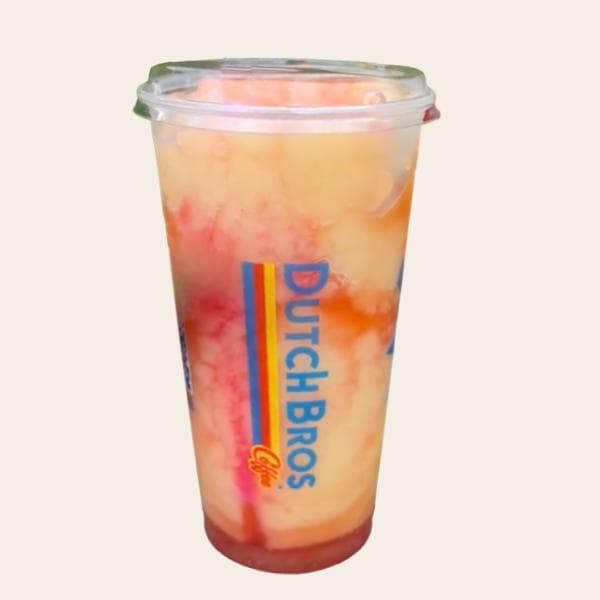 Lava Flow is what I'd call a Dutch Bros OG that makes a comeback every so often.

It starts with a mango smoothie base and is finished off with a vibrant strawberry drizzle.

Not only does it look stunning, but it also tastes amazing. It's a great choice when you're in the mood for something tropical and Insta-worthy.
My Recommendation:
How about adding a shot of coconut flavor to give it a tropical twist? The coconut blends well with the existing mango and strawberry flavors.
Ingredients:
Mango smoothie
Whipped cream
Strawberry drizzle
---
What Strawberry Syrup Does Dutch Bros Have?
The secret sauce—or should I say syrup? Dutch Bros relies on Torani for that authentic strawberry flavor.

They even use Torani's smoothie mix for that extra kick. Now, if you're into the real deal, they've recently added an option with actual strawberry fruit, more like a puree.

And for those counting calories or sugar grams, they've got you covered with a sugar-free version.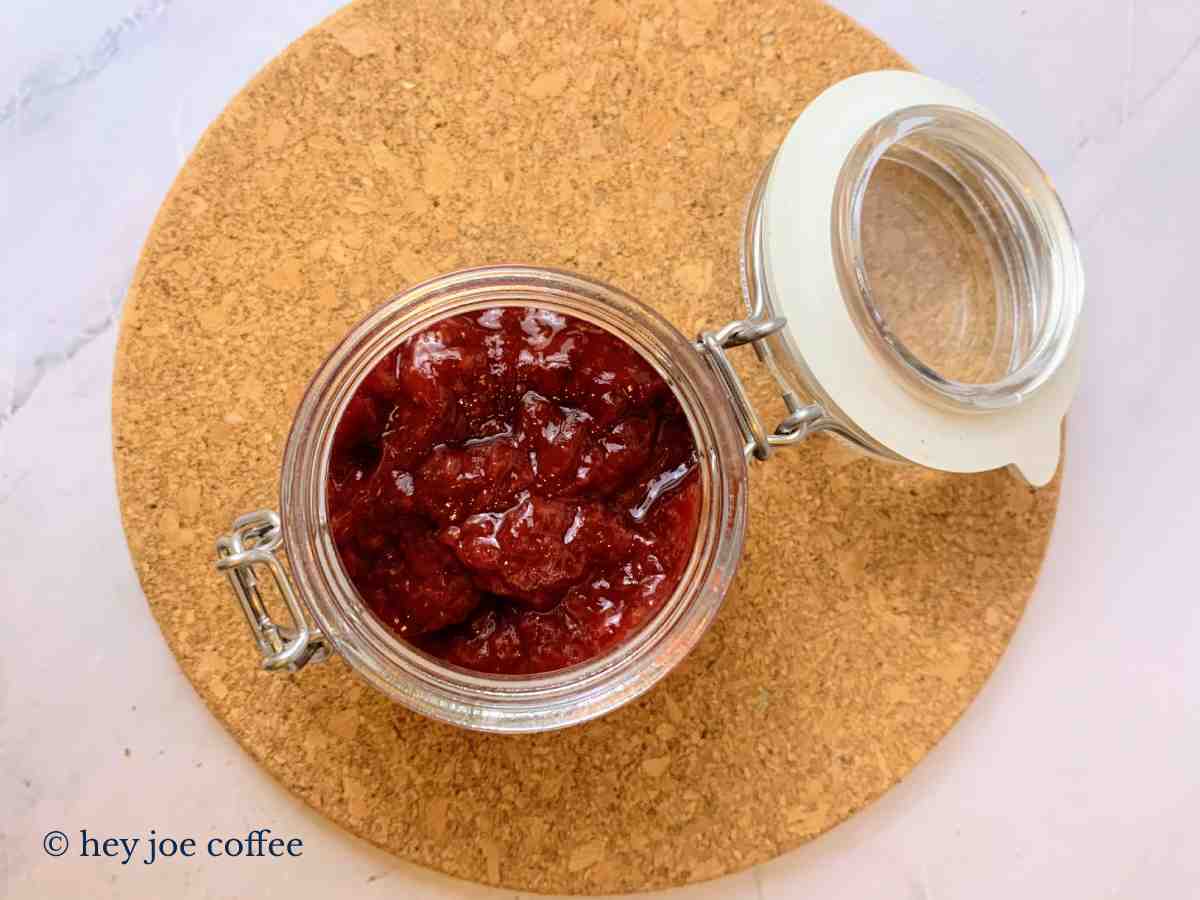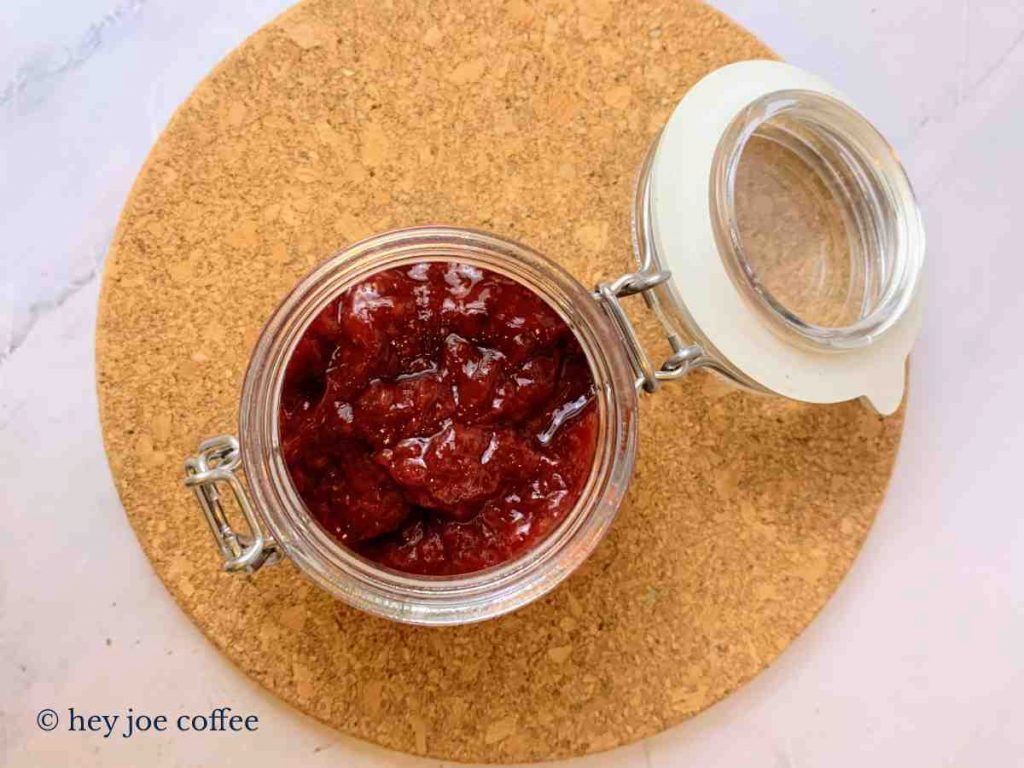 ---
Summary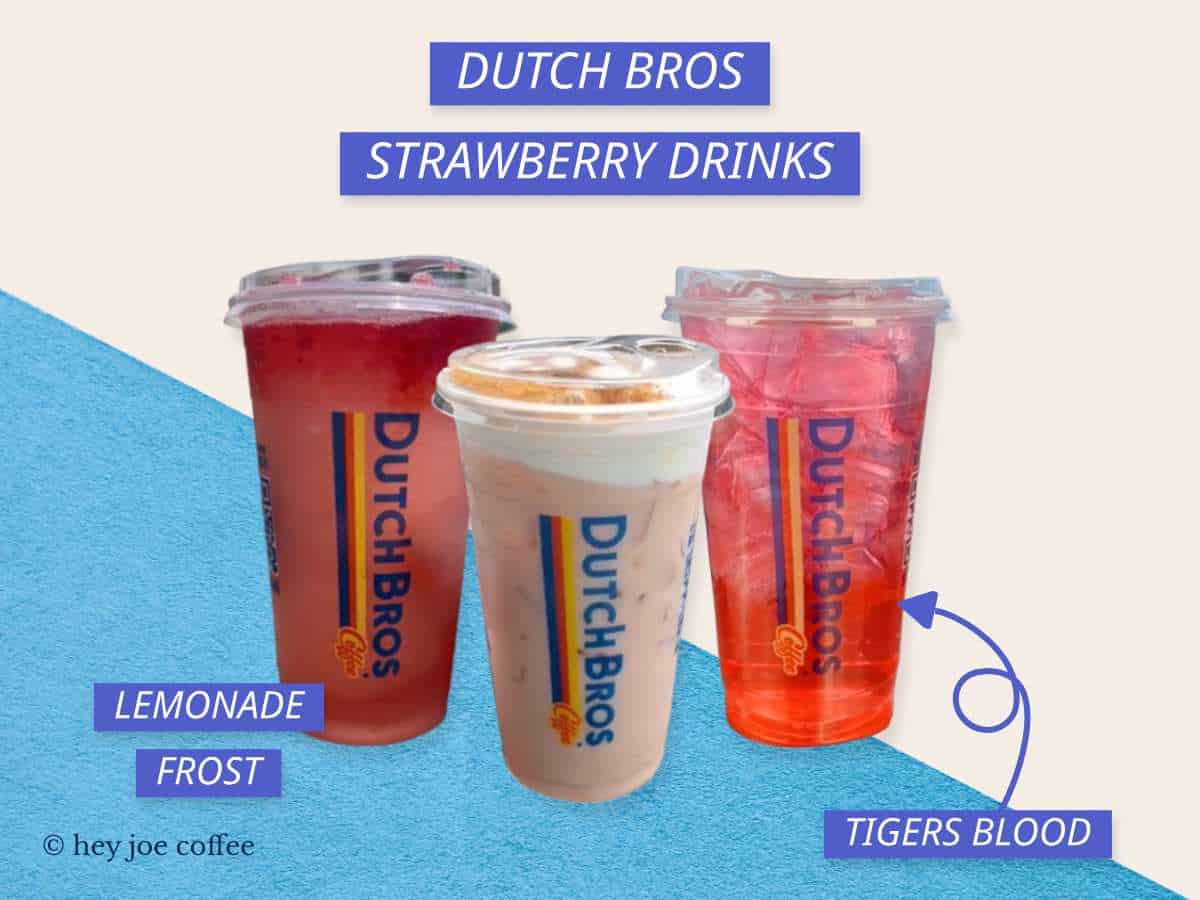 If you've been following along, you know we've covered a lot of ground in the Dutch Bros strawberry drinks department.

From the refreshing lemonades to the energy-packed Rebels and even a coffee twist, there's a strawberry option for almost every palate.

Personally, I can't get enough of the Strawberry Pineapple Lemonade. It's the kind of drink that makes you pause and savor each sip.

Whether you're a strawberry purist or like to mix it up with other flavors, Dutch Bros has a lineup that won't disappoint.
Verified Sources
Wondering where your info comes from? We totally understand. Hey Joe only obtains our information from reputable sources. Contents from this article are sourced from the following publications: