We all have a favorite drive-through, and if Dutch Bros is your favorite, you probably know of their extensive coffee menu. The most questionable addition from a few years back is their Dutch Bros White Coffee.
Is it a new coffee species or type of sauce? Here's what we discovered.
Our posts may contain affiliate links. As an Amazon Associate I earn from qualifying purchases.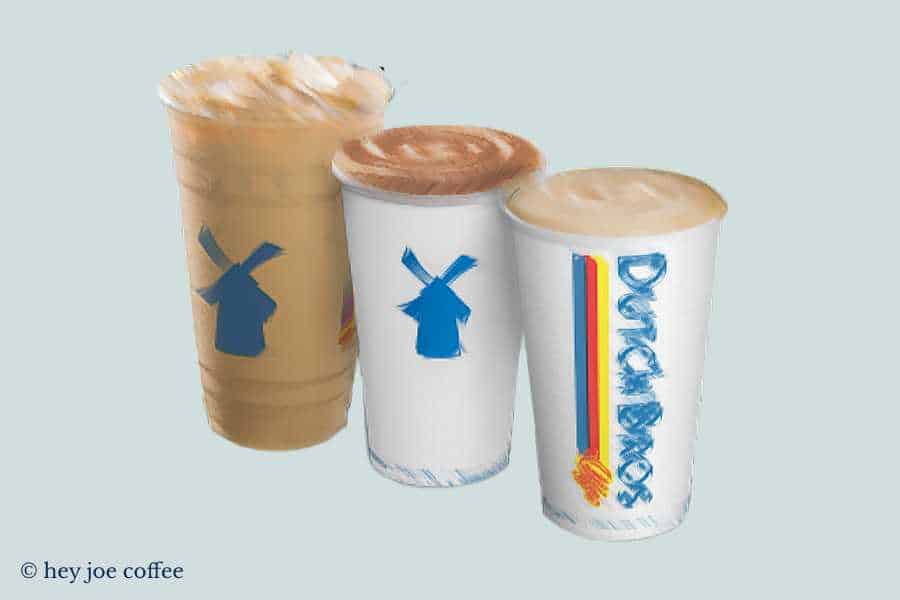 Topics Explored
What is White Coffee?
White coffee is an espresso made from beans roasted at a lower temperature and at half the roasting time.
The beans are initially green, turn golden-white, and then brown as the roasting process advances.
Dutch Bros white coffee is made with slightly roasted coffee beans that lend an earthy flavor and packs a caffeine punch.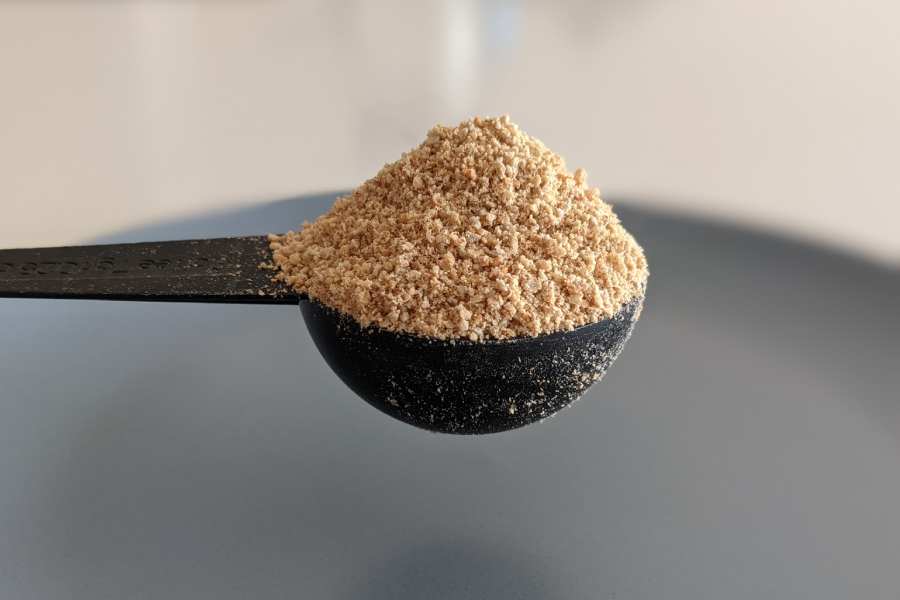 Dutch Bros is a privately owned drive-through coffee chain that has operated for almost 30 years in over 11 states(1). They have an expansive menu with unique drinks, and white coffee is one of their special items.
Where does Dutch Bros get their white coffee from?
Dutch Bros haven't specifically disclosed what's their exact source. However, they source all their beans from Brazil, Colombia, and El Salvador(2).
It's not certified organic, as they claim organic production takes a massive toll on farmers.
Instead, Dutch Bros support coffee trade organizations that help farmers find innovative resolutions to challenging agricultural problems.
---
How to order white coffee at Dutch Bros?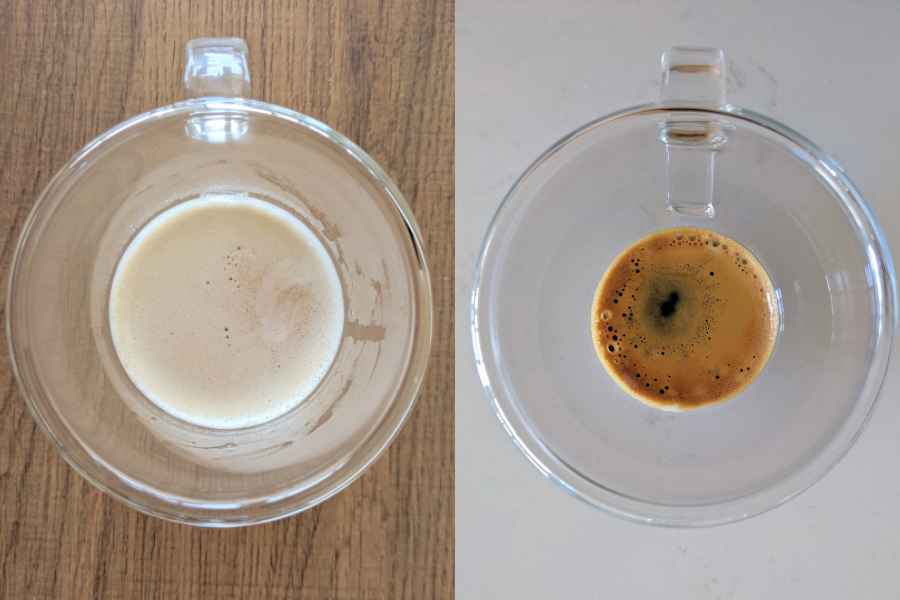 To order one at Dutch Bros, simply ask your friendly bro-ista if you can swap regular espresso for white coffee shots. If white coffee is available at your location, it should be pretty straightforward.
Can you buy Dutch Bros white coffee?
Check if the location you're at sells white coffee. If they do, you can get white coffee as part of a finished beverage.
You might ask the barista if they're willing to sell you a straight shot of white coffee. Dutch Bros sells their reserve coffee beans online, but that's not the case with their white roast.
---
How Much Caffeine Is In White Coffee?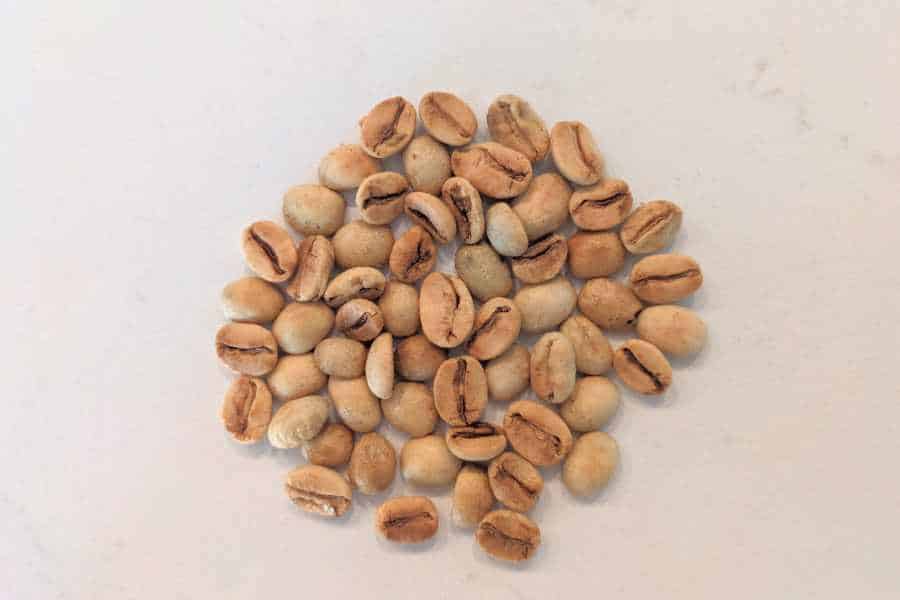 The amount of caffeine in their white coffee is not disclosed.
Since we roast our own beans and are familiar with the process, I can estimate that it contains more caffeine than regular coffee.
The longer the beans are roasted, the more caffeine is burnt off, so dark roasts are less caffeinated than light ones. On average, white coffee contains 5.4% more caffeine.
White Coffee vs. White Drink(s)
White coffee is a particular type of espresso made from lightly roasted beans. You can have shots of white coffee added as a base to other Dutch coffee beverages.
White drinks are just a generic name for beverages. They're usually a creamy or milky drink that includes white chocolate sauce or a whipped cream topping.
---
White Drinks at Dutch Bros
White coffee is not the only white drink you can get if you want to try their coffee. If you're not a purist and don't stick to espresso only, their white drinks menu will impress you. Here are some of our suggestions.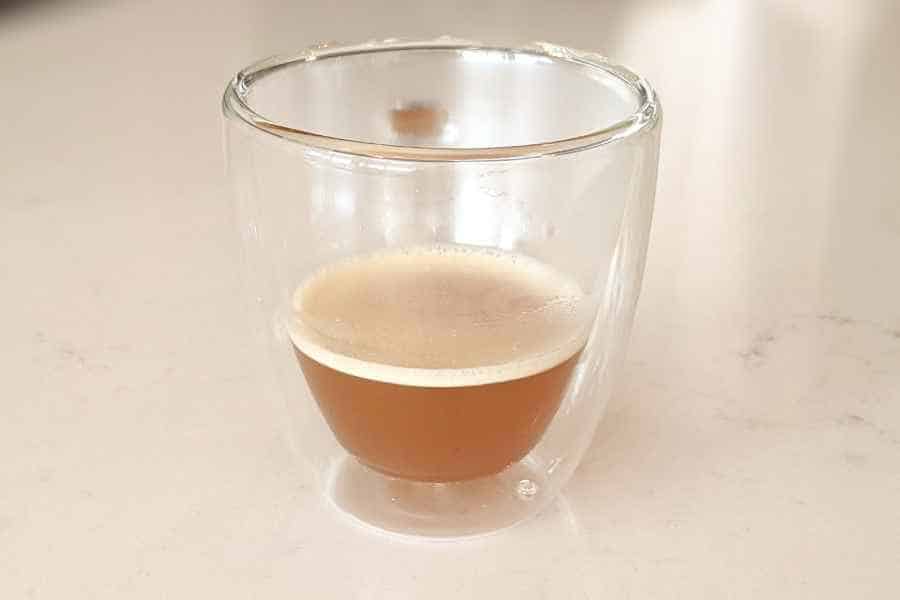 1. White Coffee Cookie
Who doesn't love cookies and combining them with coffee? The white coffee cookie is an item from secret menu that's sweet, nutty, with a coffee hint.
It's made with white espresso, which gives it an earthy flavor. There's also white chocolate sauce, chocolate macadamia nut syrup, and half and half, which work great with this unique espresso roast.
How It's Made:
White chocolate sauce
Chocolate macadamia nut syrup
Half & half
White espresso
2. White Mocha Cold Brew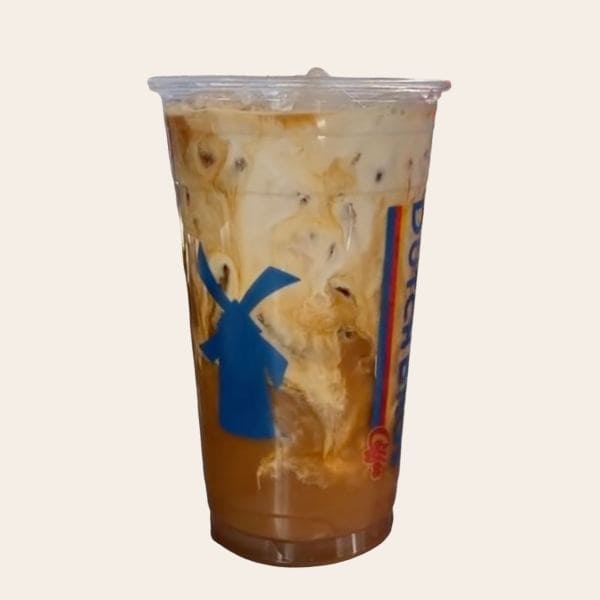 The white mocha cold brew is a well-balanced coffee drink with the perfect amount of sweetness. For cold brew fans that love the taste of mocha, Dutch Bros makes the ideal combination.
White chocolate sauce and chocolate milk to their signature cold brew. Perfect for when you need a delicious caffeine dose.
How It's Made:
White chocolate sauce
Chocolate milk
Cold brew
3. Oat Milk White Chocolate Lavender Latte
Lavender-infused coffee drinks are not just fragrant and aesthetic, but they taste great too.
Dutch Bros Oat Milk White Chocolate Lavender Latte combines espresso, oat milk, lavender syrup, and white chocolate sauce(3).
You can get it iced or hot, whatever your preference.
How It's Made:
White chocolate sauce
Oat milk
Lavender syrup
White espresso
4. White Zombie or White Angel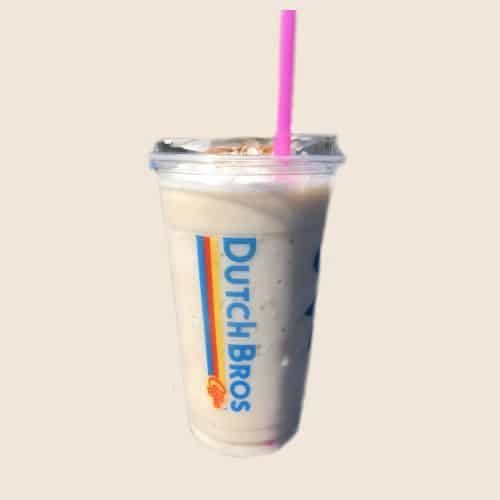 White Zombie and White Angel are delightful ways for you to get into the white coffee craze. Both drinks are made with their signature white espresso.
They're almost identical, combining coffee, white chocolate, vanilla syrup, and half and half, but the White Angel comes with the addition of coconut syrup. You can also get them iced.
How It's Made:
White chocolate sauce
Vanilla syrup
Coconut syrup (White Angel)
Half & half
White espresso
5. The Nutty Irishman
Dutch Bros spin on Irish coffee is one of a kind. The Nutty Irishman is made with their own nitro cold brew, which is pretty strong and ideal for this drink. Then it's combined with Irish cream and hazelnut syrup.
Pour this 'boozy' cream and strong coffee over ice to make a fancy and delicious drink.
How It's Made:
Irish cream
Hazelnut syrup
Nitro cold brew
6. Golden Eagle with Whipped Cream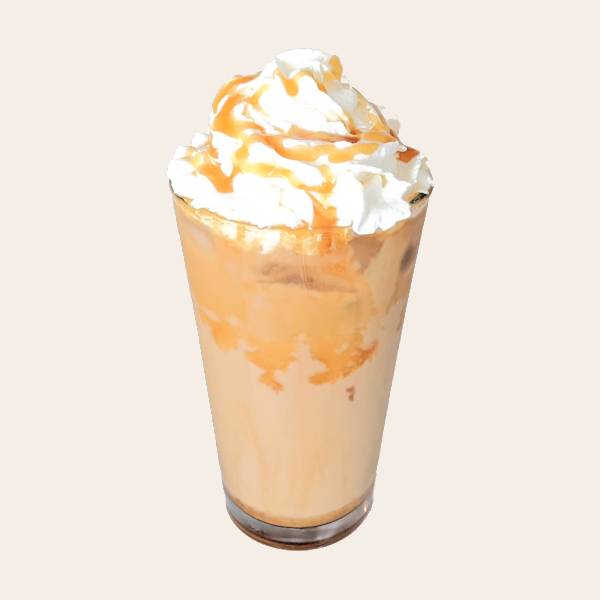 Golden Eagle is one of the most popular drinks at Dutch Bros. It's an all-seasons drink as you can get it hot, iced, and blended.
The base is bold espresso with the addition of half and half, vanilla syrup, and caramel sauce. The creamy drink is then topped with whipped cream and more caramel sauce.
How It's Made:
Caramel sauce
Vanilla syrup
Half & half
White espresso
Whipped cream
---
Other Dutch Bros White Drinks (No Coffee)
White drinks don't have to contain coffee. So even if you're caffeine-sensitive or pay attention to your intake, you can enjoy some of Dutch Bros's signature white drinks. Here's our pick when it comes to non-coffee white beverages.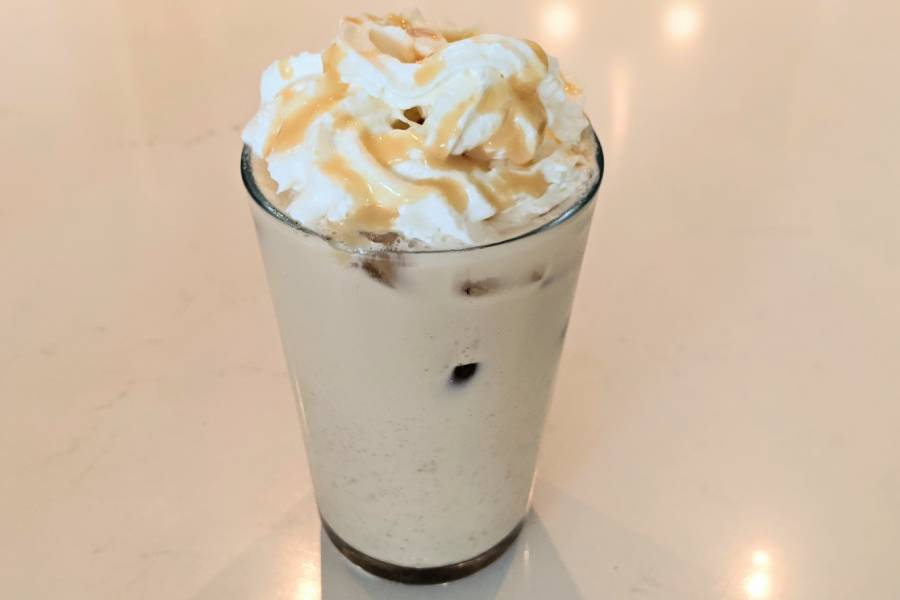 White Chocolate Cocoa
Warm up with a cup of Dutch Bros hot white chocolate cocoa. Unlike the classic hot cocoa that we're used to, this special drink is a mix of their in-house chocolate milk and white chocolate sauce.
It comes topped with whipped cream, but you're free to add some extra flavor too.
Horchata Chai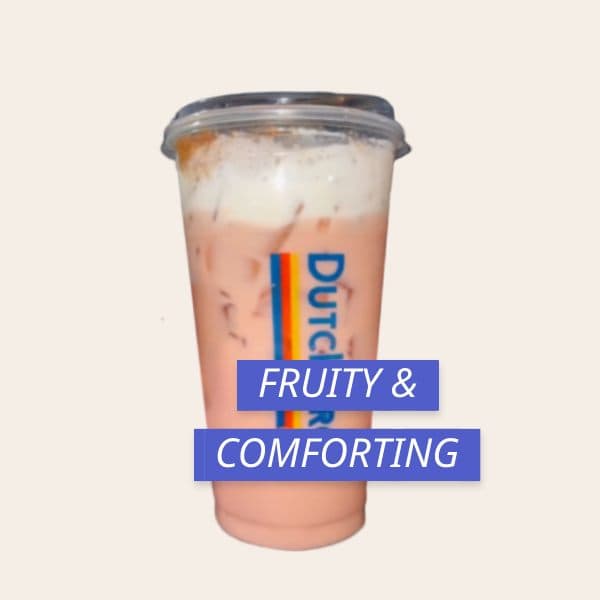 Horchata is a Spanish plant-based milky drink made from tiger nuts or rice. As it enjoys worldwide popularity, Dutch Bros use it to make horchata chai. They combine horchata with their specialty chai blend, add some extra cinnamon, white chocolate mocha, and caramel sauce on top.
You can get it hot, iced, or blended with some vanilla whipped cream.
White Chocolate Dutch Frost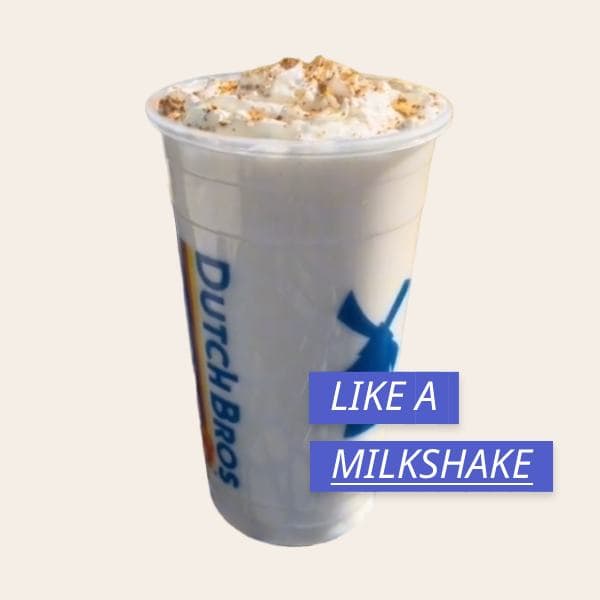 Are you looking for Dutch Bros interpretation of milkshake? This is the one. Their White Chocolate Dutch Frost is a simple combination of white chocolate sauce and whipped cream, making it very sweet.
However, if you're not looking for a dessert in a cup, get the Freeze version that comes with an added caffeine kick.
---
The Final Word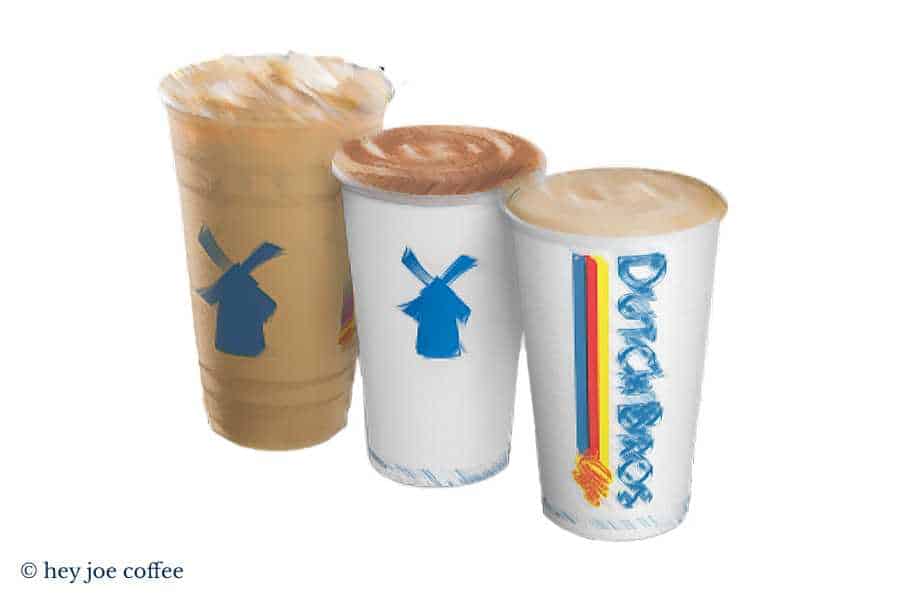 White coffee has a different interpretation anywhere in the world. For some it is a unique bean; for others, it doesn't include coffee beans at all. Dutch Bros white coffee is made from lightly roasted coffee beans with an earthy aroma more than a characteristic coffee one.
Since caffeine burns out the longer the beans are roasted, white coffee beans have one of the highest caffeine content.
---
Verified Sources
Wondering where your info comes from? We totally understand. Hey Joe only obtains our information from reputable sources. Contents from this article are sourced from the following publications:
Dutch Bros: https://www.dutchbros.com/our-story