With the fall of the first autumn leaf, the pumpkin spice is out of the drawer. It is often bashed for its 'basic-ness', but pumpkin flavoring is warm, comforting, and the perfect blend of seasonings. This fall, let's lean into that cozy feeling by learning how to make pumpkin cold foam.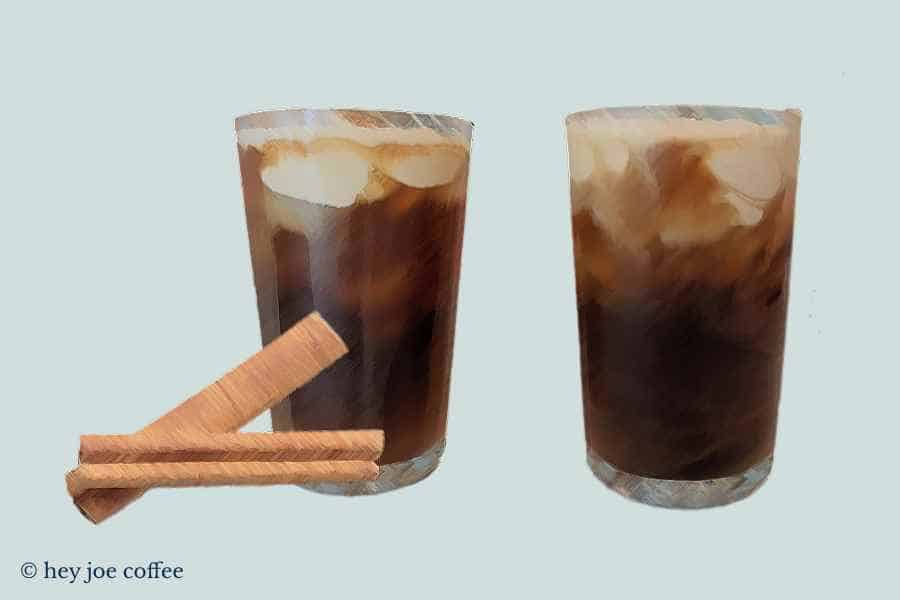 Topics Explored
What is Pumpkin Cold Foam?
Pumpkin cold foam is regular cold foam infused with spices, pumpkin puree, and other additions. It's designed to be used with cold beverages, unlike the warm pumpkin spice lattes.
Since cold drinks make 50% of the menu and sales at Starbucks, introducing a fall flavoring for them was a great decision.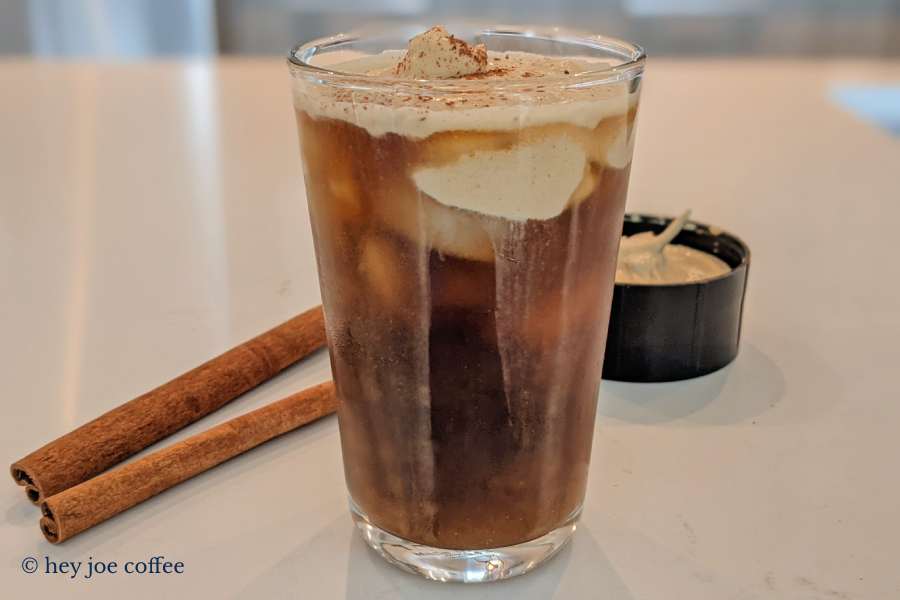 While pumpkin spiced lattes have been on the market for over 18 years, pumpkin cold foam was introduced just 3 years ago. It's intended to please the tastebuds of those who love pumpkin spice but want strong coffee.
It's used with cold drinks, so even those living in warmer climates can enjoy a pumpkin spiced coffee.
---
What Is In Starbucks' Pumpkin Cold Foam?
The original Starbucks pumpkin cold foam is made with cream, milk, pumpkin sauce, vanilla syrup, and a dash of pumpkin spice(1).
The pumpkin sauce is a mix of condensed skim milk, pumpkin puree, sugar, natural color, and flavors. The spice blend includes cinnamon, ginger, nutmeg, and cloves.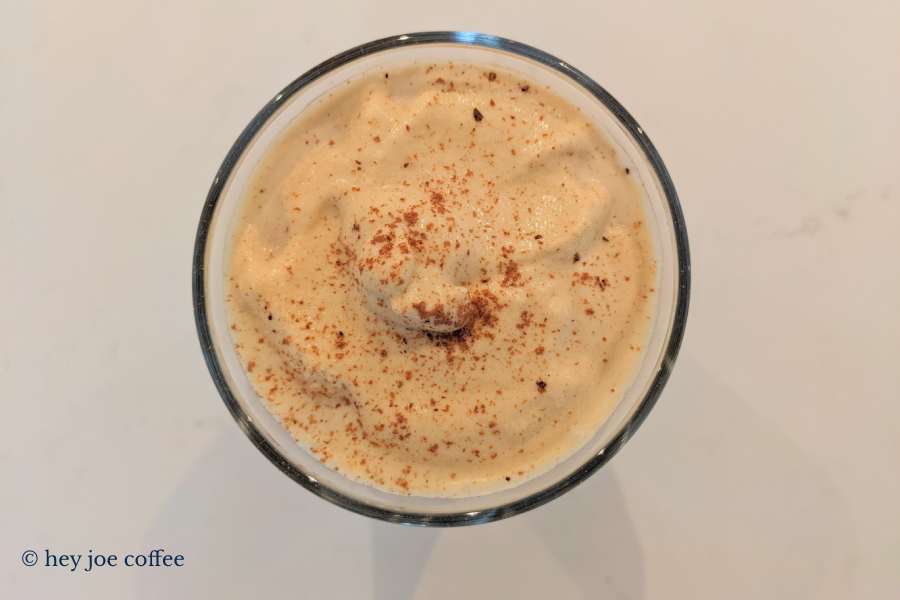 How many calories is in the cold foam?
On its own, the pumpkin cold foam has around 210 calories and 21 grams of sugar in a grande size. The tall version has 120 calories and 13 grams of sugar.
A finished grande pumpkin cream cold brew contains a total of 250 calories. For comparison, a grande pumpkin spice latte has 390 calories and 50 grams of sugar.
These are only ballpark figures based on the Starbucks nutritional guide.
---
How To Make Pumpkin Cold Foam
If all these features seem tempting and you're in for a new favorite fall drink, why not try and craft it at home? We have a comprehensive guide to help you how to make pumpkin cold foam and the best way to enjoy it.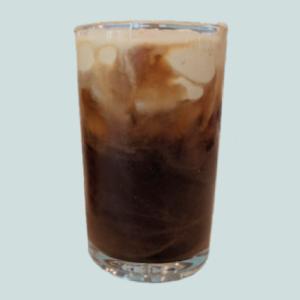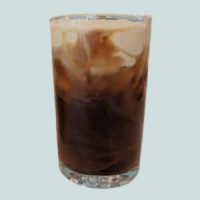 Pumpkin Cold Foam Recipe (Legit!)
Love pumpkin cold foam but want to make it at home? We got you covered. Learn how to make pumpkin cold foam from anywhere with this simple recipe.
Ingredients
Heavy whipping cream*: ½ cup
2% milk: 3 tbsp
Pumpkin puree: 1 tbsp
Maple syrup: 1 tsp
Vanilla extract: ½ tsp
Salt: 1 pinch
Pumpkin spice blend**: ½ tsp
Pumpkin Spice Blend (Makes 4 - 6 servings):
Ground cloves: ½ tsp
Ground ginger: ½ tsp
Ground cinnamon: 2 tsp
Ground nutmeg: 1 tsp
Instructions
Start by mixing the spices. In a small bowl, place ground cinnamon, ground nutmeg, and ground cloves and the same amount of ground, dry ginger.
To prepare the pumpkin cold foam, prepare your food processor or use a handheld frother. Pour 1/2 cup of heavy whipping cream and 3 tbsp of milk into it.
Add 1/2 teaspoon of the pumpkin spice, maple syrup, pumpkin puree, vanilla extract, and a pinch of salt into the mix.
Turn on your food processor to whip the cream and fuse all ingredients. If using a handheld frother, start by submerging it right under the surface and move it up and down slowly,
We're aiming for a foamy consistency that matches whipped cream. Once you reach that level turn off the food processor. Your pumpkin cold foam is ready.
Get two tall glasses and fill them up to ¾ with your favorite cold coffee. Carefully spoon the pumpkin cold foam on top and sprinkle the fragrant spice blend you prepared at the beginning. Enjoy!
Notes
* Make sure you use heavy cream straight out of the fridge for the best consistency
** Store-bought pumpkin spice blend works just as well
You can keep the cold foam for up to 24 hours in the fridge.
---
Milk Alternatives
The heavy amount of dairy milk might be a turn-off if you're vegan or suffering from lactose intolerance. There are some alternatives you can try to make it less calorie dense or vegan, but it might take some trial and error as they all deliver different consistency.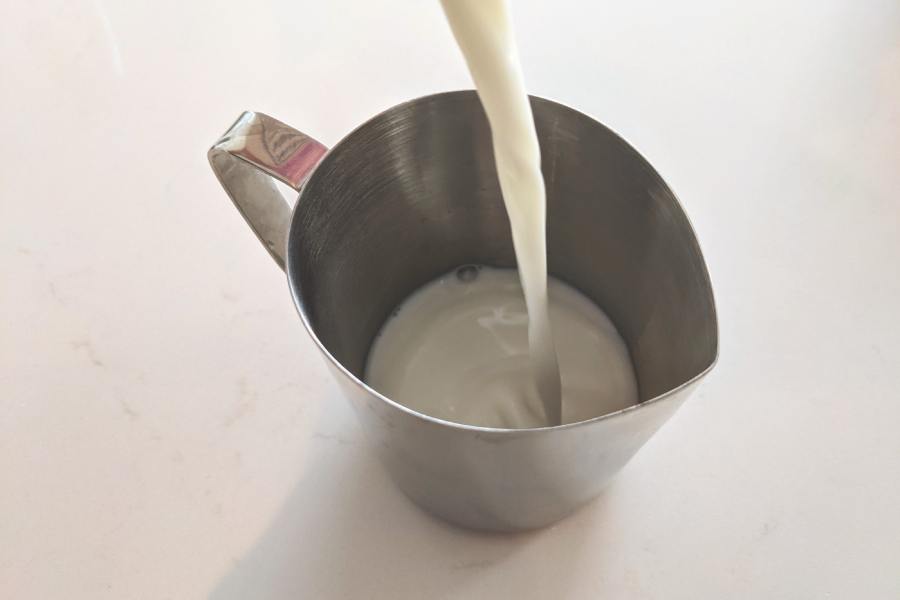 Skim milk
Skim milk holds best, but it's less creamy.
Due to the high protein content of 3.4%, skim milk produces more foam than fattier milk versions(2). It produces large bubbles when frothed and has a dry, neutral taste.
Whole milk
Whole milk acts almost the same as skim milk when it comes to foam density and consistency, but it tastes better.
The foam whole milk produces is creamier, softer, and thicker. It floats easily on the surface of the drink and becomes firmer as you drink your coffee.
Plant-based milk
Plant-based milks have a lower protein content but can deliver surprisingly good foam. Especially if you use the barista blends, which are formulated to foam better, you'll end up with an excellent dairy-free foam.
It might be a bit more delicate and not as lasting.
---
Tips for Dairy-Free or Vegan Versions?
Starbucks doesn't offer dairy-free or vegan versions, but you can always experiment at home with different milk alternatives.
Some plant-based milk can act the same as regular milk, producing a nice cold foam that looks good, tastes great, and fits in your lifestyle.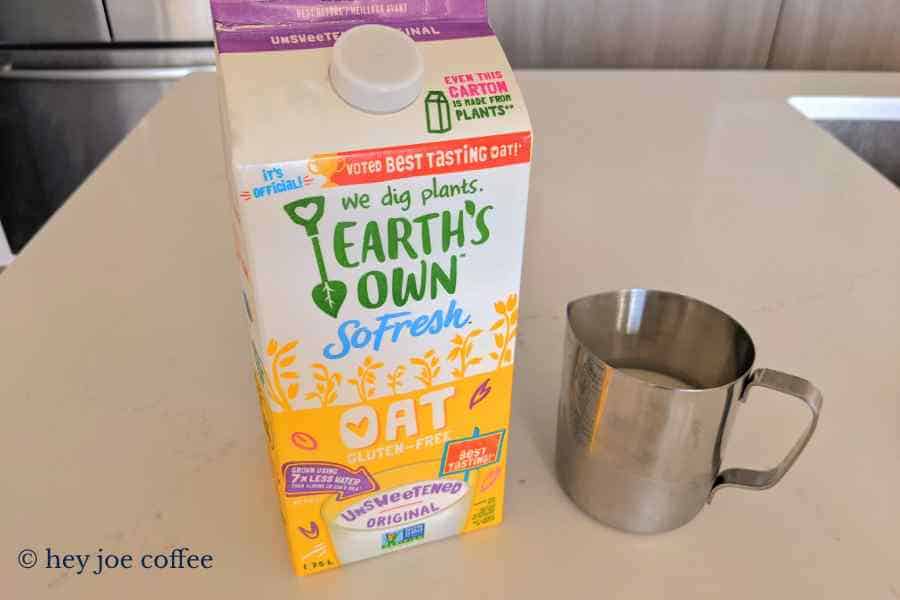 1. Oat Milk
Oat milk has a neutral taste, good protein content and works great with different coffee-based drinks. It's easy to source and relatively cheaper than other plant-based milk.
If you use it in this recipe, you'll notice it comes close to dairy milk when it comes to foaming.
2. Coconut Milk
Making a pumpkin flavored foam with coconut milk is a little more challenging. The coconut milk doesn't get foamy, so to make the cream float on top, you'll need to chill the mixture for a while in your fridge.
The taste of coconut milk can be a bit overpowering and tone down the pumpkin puree.
3. Almond Milk
Almond milk is a little hard to incorporate with hot coffees, but it can work great with cold brew.
Make sure to pick up a barista blend, and you'll get a good quality foam. There's still a chance of the foam curdling due to the acidity of the coffee, so be prepared.
---
Summary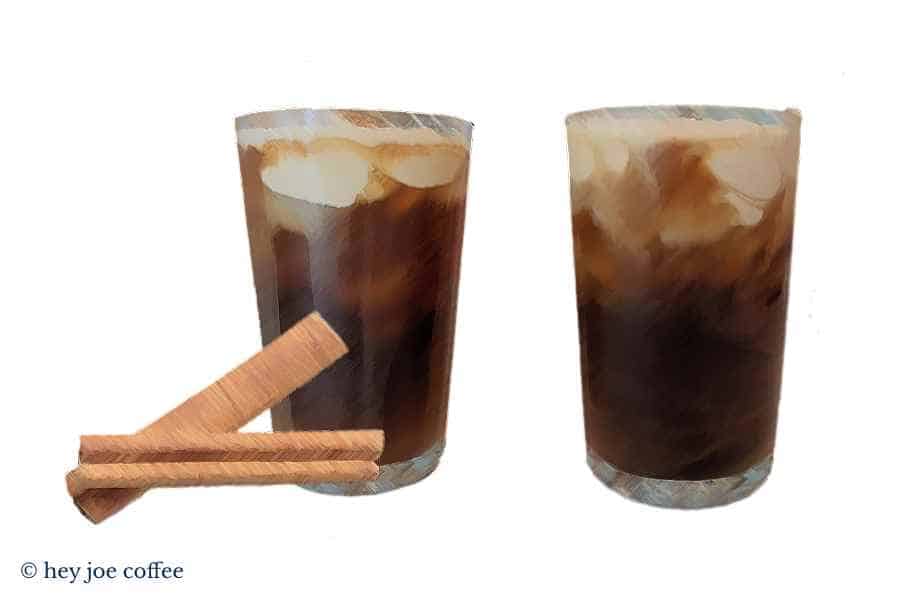 Fall is a wonderful season for comforting, spicy drinks – but they don't always have to be warm. By introducing pumpkin cold foam, Starbucks has made it possible for cold coffee lovers to enjoy the taste of fall without switching their order.
If you're wondering how to ace it at home, just follow our foolproof guide on how to make pumpkin cold foam.
---
FAQs
Does Starbucks have Pumpkin Cold Foam?
Yes, Starbucks is one of the first coffee houses to offer pumpkin foam. After the massive success in the first two seasons, other brands started taking notes. This year Dunkin Donuts has joined the pumpkin game. They introduced Pumpkin Cream Cold Brew as part of their fall menu, sprinkled with cinnamon sugar instead of spice.
Can you add Pumpkin Cold Foam to other drinks?
If you love the taste and want to know if you can add cold foam to other drinks too, we have good news. Starbucks has confirmed that you can add it to other cold coffees, the Nitro Cold Brew. But don't just stop there. Now that you know how to make pumpkin cold foam from home, add it to your iced latte and even your smoothie. The world is your oyster!
Is the Pumpkin Cold Brew returning in 2021?
For the third season in a row, the Pumpkin Cold Brew is back at Starbucks' fall menu. It's available at the US and Canada locations starting from the 23rd of August for a limited time only. If you haven't tried it yet, now is your chance!
Verified Sources
Wondering where your info comes from? We totally understand. Hey Joe only obtains our information from reputable sources. Contents from this article are sourced from the following publications: