If you've missed the rave about the Pink Drink these last 2 years, you must've been living under a rock. Is it the best thing since sliced bread?
But wait, there's an upgrade. Meet the Pink Drink with vanilla cold foam, more delicious and equally tempting.
Let's dive into the details and share our recipe!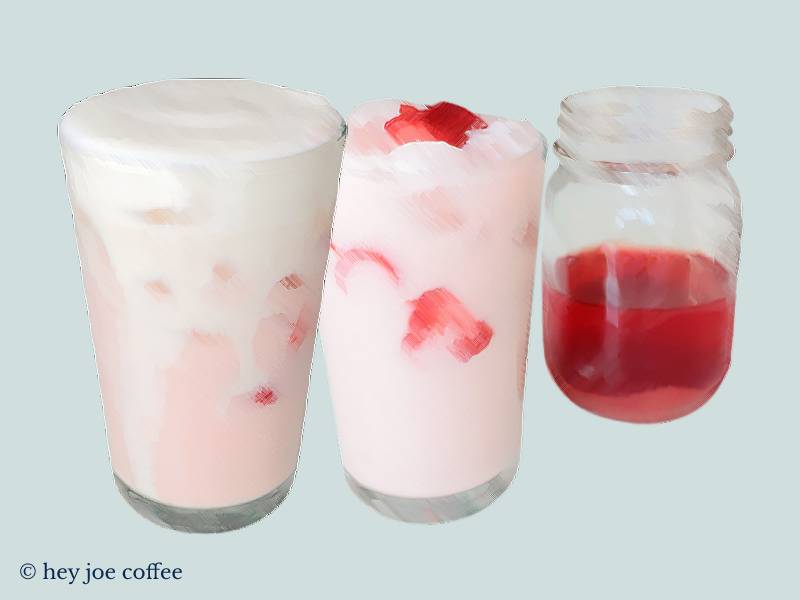 Topics Explored
What Is The Pink Drink With Vanilla Cold Foam?
The base is the Pink Drink, a strawberry acai refresher made with coconut milk and fresh or freeze-dried strawberries. The topping is frothed cold milk infused with vanilla, known as vanilla cold foam. Together, they become the delicious Pink Drink With Vanilla Cold Foam!
The Pink Drink regularly comes with no foam, so you have to specify the addition with your barista.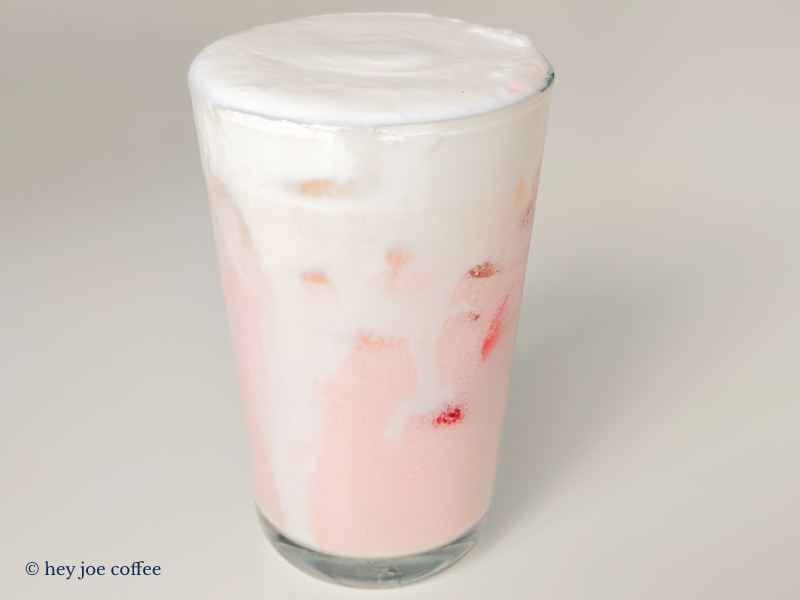 For a long time, the Pink Drink was a secret menu item. You had to know the exact recipe to order it since many baristas weren't familiar. Then, due to popular demand, it became part of Starbucks' regular menu.
The upgrade with vanilla cold foam came quickly after and allowed for many colorful combinations. Some even add matcha to make it green!
How To Order The Pink Drink With Vanilla Cold Foam
Want to try this popular drink at Starbucks but are anxious about ordering it? We have a foolproof guide.
Order the Pink Drink in the size that you want.
Ask the barista if they have vanilla cold foam available. If they do, top it up with the vanilla cold foam.
If they don't already have it, ask for a cup with a slip lid. This way, you get a taste of both flavors within each sip.
---
Ingredient List: Pink Drink With Vanilla Cold Foam
If you're puzzled about what makes the Pink Drink so superior, you're not the only one. This drink melds acai, passion tea, sweet vanilla, and strawberries into a refreshing, energizing, and sweet sip.
The Pink Drink ingredients are simple but work perfectly when brought together.
1. Strawberry Acai Base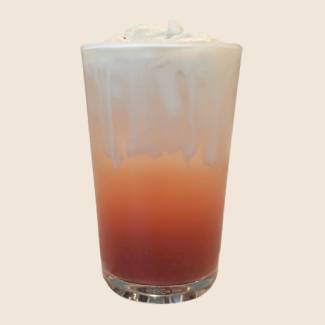 The strawberry acai base is made with white grape juice, green coffee extract, strawberry powder, and passion tea. It's further flavored with sugar, fruit, and vegetable juice.
Starbucks uses this base in a few refreshers and lemonades, like the Pink Starburst.
If you want something a bit simpler to flavor your Pink Drink, grenadine is a great option too. You can use store-bought but I highly recommend making your own. Trust me, you'll taste the difference.
2. Coconut Milk
Coconut milk is the second main ingredient. However, regular, store-bought coconut milk can be too thick for this drink. If you want to make it at home, dilute the milk with water to thin it out.
The coconut milk gives a rich, slightly creamy mouthfeel, but it's not overpowering the fresh taste.
3. Cold Foam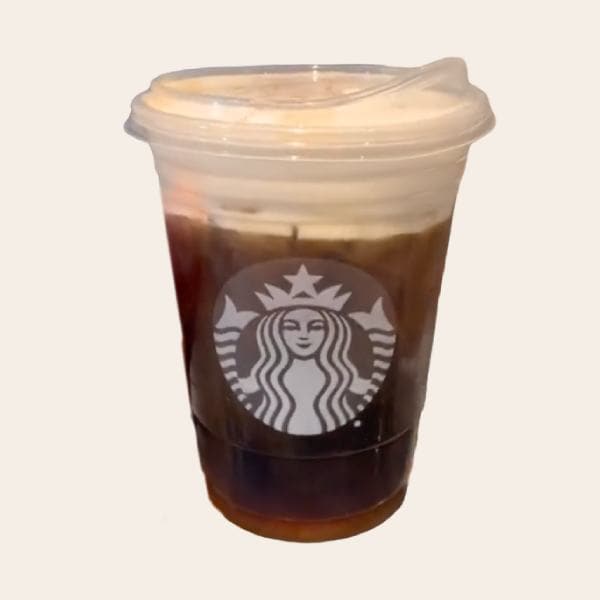 Cold foam is to cold drinks what steamed milk is to the hot ones. The sweet vanilla cold foam is made with cold skim milk, simple syrup, and a drop of vanilla extract.
You can make it at home with a handheld frother in less than a minute.
4. Simple Syrup
Simple syrup is used to sweeten the drink as it's thin enough to dissolve into the cold drink, unlike sugar.
The strawberry acai base is already sweet, but the original Pink Drink recipe calls for more syrup. If you want to make it healthy, skip the added syrup.
5. Strawberries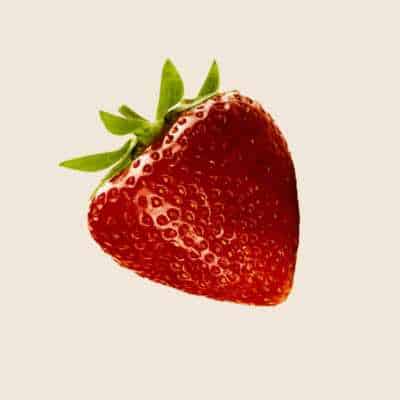 Starbucks uses freeze-dried strawberries for its Pink Drink. They don't add any flavor but contribute to the aesthetics of the drink. They're fun to eat too.
When making the drink at home, you can use fresh or frozen strawberries.
---
Pink Drink With Vanilla Cold Foam Recipe
Not sure you're willing to pay a few bucks for a popular drink? You don't have to, as we have the best recipe for you to make it at home. And once you get hooked, you can have it anytime you like!
Read along for the best pink drink with vanilla cold foam recipe.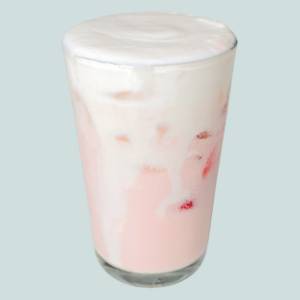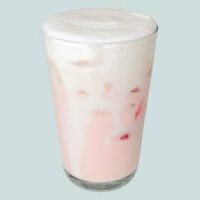 Pink Drink With Vanilla Cold Foam
Yield:
1 serving (~16 oz or a grande)
Add a 'flavor cloud' to the old favorite with this Pink Drink with vanilla cold foam recipe.
Ingredients
Strawberry Acai Base (see below for link): 5 oz
Coconut Milk: 4 oz
Water: 1 oz
Freeze Dried Strawberries: 1 scoop
Ice
Simple Syrup (optional)
Cold Foam Ingredients:
Non-Fat Milk: ¼ cup
Simple Syrup: ½ tbsp (more if you like it sweeter)
Vanilla Extract: a small splash
Instructions
Gather your ingredients and make the strawberry acai base (recipe here). Since this recipe yields more than we'll use now, store the rest in the fridge.
Pour water and coconut milk into a cocktail shaker*. Shake vigorously to mix it up well.
Add simple syrup at this step if you want the drink to be sweeter.
Now, add the strawberry acai base to the mixture followed by a scoop of strawberries. Shake to combine all ingredients once more.
Fill a tall glass with ice and pour the shaken pink dink into it. Set the drink aside.
Vanilla Cold Foam Instructions
In a tall pitcher or jar, add the milk, simple syrup, and a few drops of liquid vanilla extract. Skip the syrup or add more, depending on your preference.
Grab your handheld frother** and submerge it just an inch or two under the milk. Froth for 20 to 30 seconds, moving the pitcher upwards.
The foam is done once it becomes thick and forms soft peaks. Carefully pour and scoop the cold foam over the ready drink. Sip and enjoy!
Notes
* If you don't have a cocktail shaker, you can use any jar with a lid.
** You can also use a french press or any other cold frothing method. If using a french press, pull and push the plunger rapidly until the milk expands.
---
Pink Drink Variations
Like every homemade drink, you can also customize the pink drink with vanilla cold foam.
So whether you're looking to cut the calorie or adjust the drink to your diet restrictions, here are our tried versions.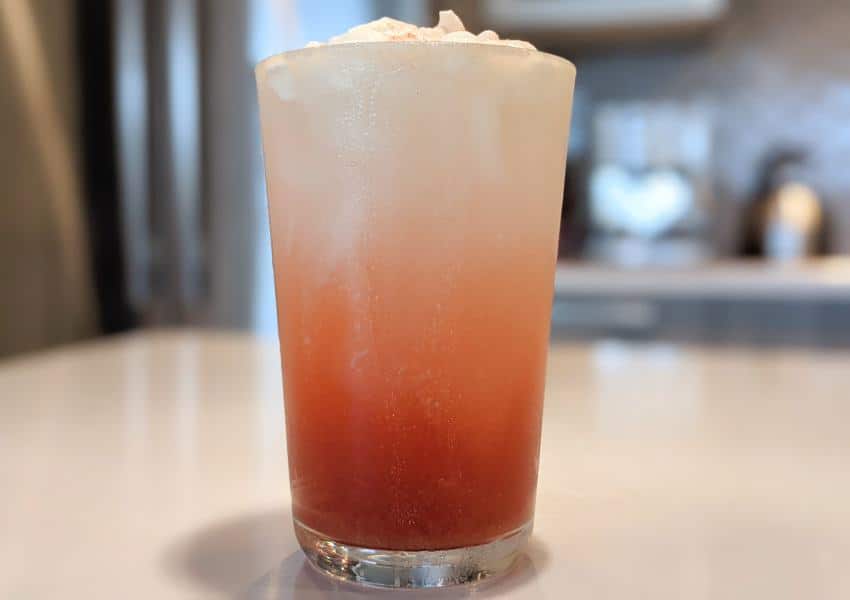 1. Vegan/ Vegetarian/ Dairy-Free Version
You can substitute the skim milk for the cold foam with alt milk for a vegan version. The taste won't change since most of the drink is made with coconut milk.
In fact, the oat milk works well in cold foams as it holds up better than low or nonfat dairy milk.
2. Caffeinated Version
Unlike the Starbucks version, our strawberry acai base doesn't include any caffeine source. But you can add green coffee bean extract(1) to the drink if you need that extra boost.
It doesn't alter the flavor, but it will provide more energy. You can purchase it online, and it comes in powder form.
3. Sweet Cream Version
Instead of cold foam, you can use sweet cream to top the drink. Sweet cream is made with whipping cream, which has a high fat content.
Unlike the cold foam which sits on top, some of the sweet cream sinks and merges with the drink. It's naturally sweeter and creamier.
---
Summary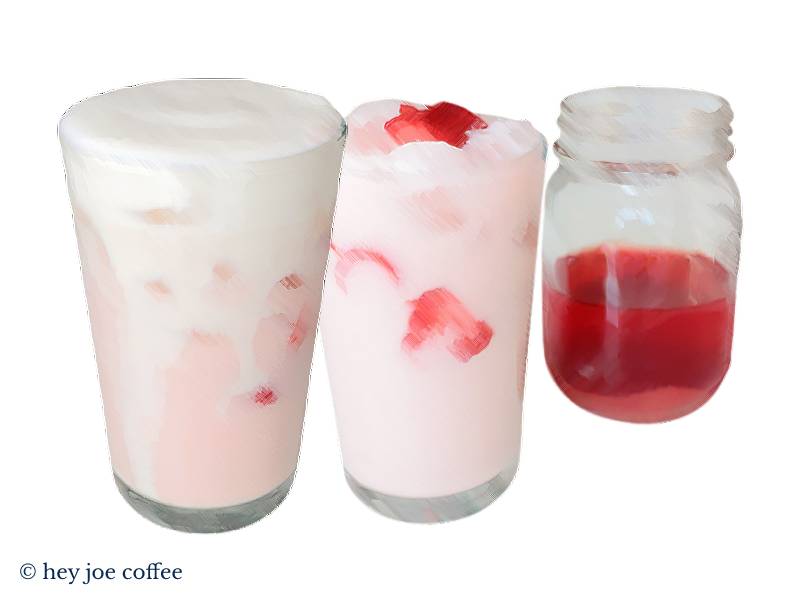 If there's a drink you shouldn't miss out on this year is the pink drink with vanilla cold foam. Thanks to social media, the Pink Drink was all the rage, but topped with cold foam is a totally different drink.
The sweet vanilla and slight tartness from the strawberries blend perfectly, resulting in a refreshing drink. And you can get it for a fraction of the price with our recipe.
---
More Questions
Does the pink drink taste good with cold foam?
The first thing you taste when sipping this drink is the cold foam. It has a subtle taste, nothing overwhelming. 

When stirred in, it changes the texture of the drink, making it creamier instead of watery. The cold foam alone has a hint of vanilla, especially our homemade version.
How many calories is a pink drink with cold foam?
The cold foam itself has 20 to 30 calories per serving. The total calories of the Pink Drink depend on the size. A tall one has 110 calories, while a grande has 140 calories(2).
If you add cold foam to a tall Pink Drink, the total calories will be 140, or 170 for a grande.
Verified Sources
Wondering where your info comes from? We totally understand. Hey Joe only obtains our information from reputable sources. Contents from this article are sourced from the following publications:
Medical News Today: https://www.medicalnewstoday.com/articles/318611