Ever thought of dunking a peanut butter cup in your espresso? You're not alone. Many of us have, which stirred the demand for Reese's coffee creamer years ago.
The hype was short-lived, and the product was quickly discontinued. If you're among the many missing this creamer, read on for our copycat recipe!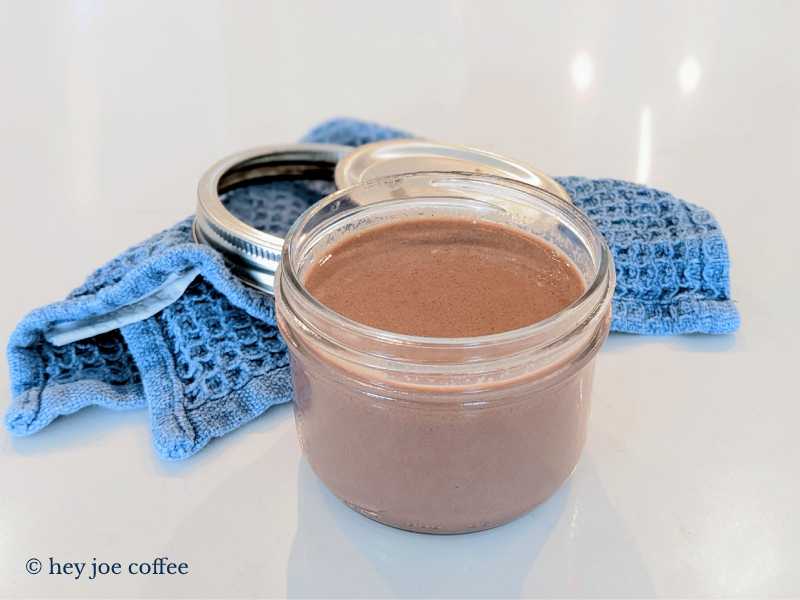 Topics Explored
What Is Reese's Coffee Creamer?
In 2018, International Delight produced the famous coffee creamer. This creamer packed a sweet chocolate and peanut butter flavor like the candy itself.
Although it's calorie-dense, this creamer turns your coffee into a liquid peanut butter cup which sounds delightful if you have a sweet tooth.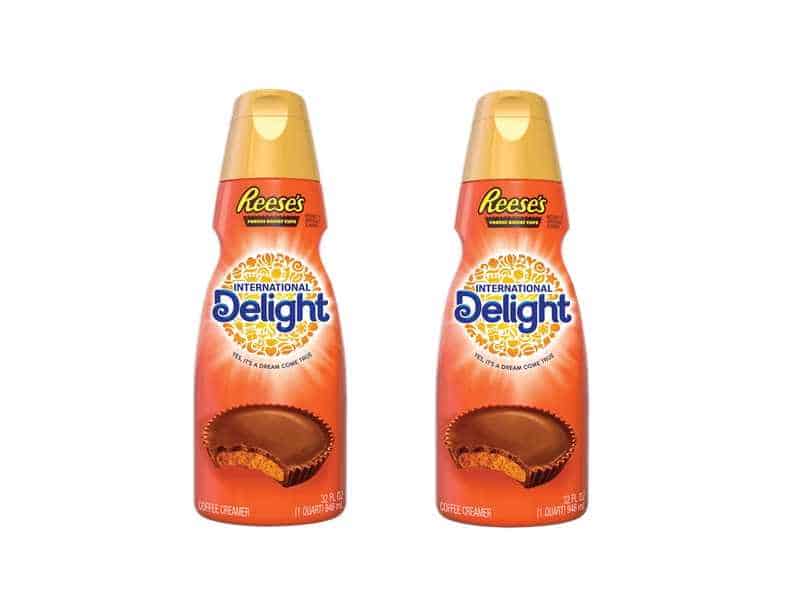 Unfortunately, this product got discontinued. Many customers complained that the creamer was out of stock for a long time.
Later on, International Delight officially confirmed that they discontinued the creamer.
We don't know the exact reason for cutting the production, but we have the perfect copycat recipe so you can still enjoy it.
What Is In It?
So what makes this coffee creamer taste like liquid candy? As much as the taste convinced us, it doesn't include melted Reese's cups.
The original recipe included water, cane sugar, cocoa, a milk derivative, palm oil, natural and artificial flavors. The peanut butter flavor is a result of a large number of flavorings.
---
How Many Calories Does Reese's Coffee Creamer Have?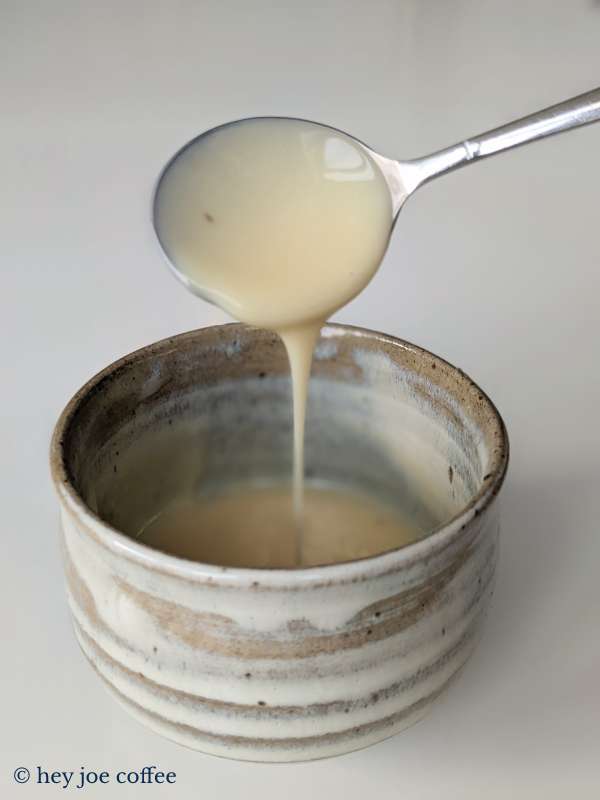 A single tablespoon of Reese's creamer has 35 calories. It also includes 1.5 grams of fat and 5 grams of sugar.
To get the full flavor, you'd need to use 3 to 4 tablespoons per cup of coffee. This drives the calories to at least 100 per cup.
---
Homemade Reese's Creamer: Taste & Appearance
If you've never had Reese's you are probably wondering if peanut butter has a place in coffee.
Surprisingly it works great, especially if you're a fan of sweets.
However, the creamer comes with a lot of calories, and here's what else you can expect.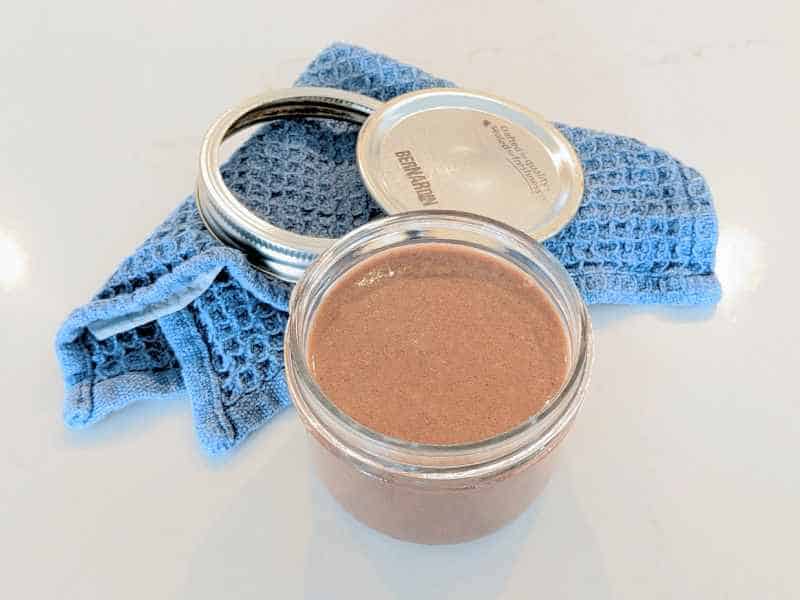 Appearance
Thanks to the cocoa powder and peanut butter, the creamer has a medium brown color.
At first glance, it's easy to confuse it with chocolate milk.
The consistency is thick, almost like a yogurt drink. However, when combined with the less viscous coffee, it creates a creamy and soft drink.
Taste
The sweetness of the creamer comes mainly from condensed milk. Add more condensed milk or sweetened peanut butter and cocoa powder if you like it sweeter.
The chocolate and peanut butter flavors come through since we were generous with the amounts.
Of course, you are free to adjust them to your liking.
---
Reese's Coffee Creamer Recipe (Copycat)
Maybe the lack of demand or the number of calories brought the end of the Resee's creamer. Nevertheless, we managed to create a copycat recipe that's easy to make and almost equally delicious.
Save this recipe if you're among the many missing this guilty pleasure.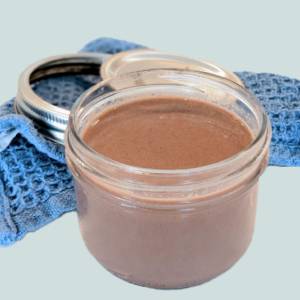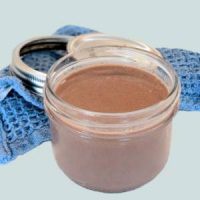 Reese's Coffee Creamer Recipe (Copycat)
Our Reese's coffee creamer recipe includes ingredients that are a staple in your pantry. Preparation takes less than 15 minutes, but the taste lingers for a while!
Ingredients
Half and Half: 1 cup
Sweetened Condensed Milk: 1/3 cup
Creamy Peanut Butter: 3 tbsp
Cocoa Powder: 2 tbsp
Vanilla Extract: 4 tsp
Instructions
We suggest using smooth peanut butter as a crunchy one won't blend well. Opt to use unsweetened cocoa powder, as all other components are very sweet.
Combine the half and half, sweetened condensed milk, cocoa powder, and peanut butter in a saucepan. Place the saucepan on low to medium heat.
Cook the mixture for 5 to 10 minutes, stirring occasionally. Wait until all the ingredients are well combined and remove from heat.
Mix to incorporate it and let the creamer cool down at least to room temperature. Meanwhile, prepare an airtight glass bottle.
Once the mixture has cooled down, add the vanilla extract. Stir once more to incorporate.
Pour the chilled creamer into the bottle and store it in the fridge for up to 2 weeks. These ingredients yield a little more than 32 servings**.
Notes
* Approximately 1 tbsp per serving
** To use it right away, brew a cup of your favorite roast and add 3 to 4 tablespoons depending on your preference. Or add ice for a refreshing drink. Enjoy!
---
Ingredient Substitutions
The best thing about homemade versions of popular products is that we can substitute troubling ingredients.
Maybe you want to cut the calories per serving or make the creamer vegan. We have suitable suggestions.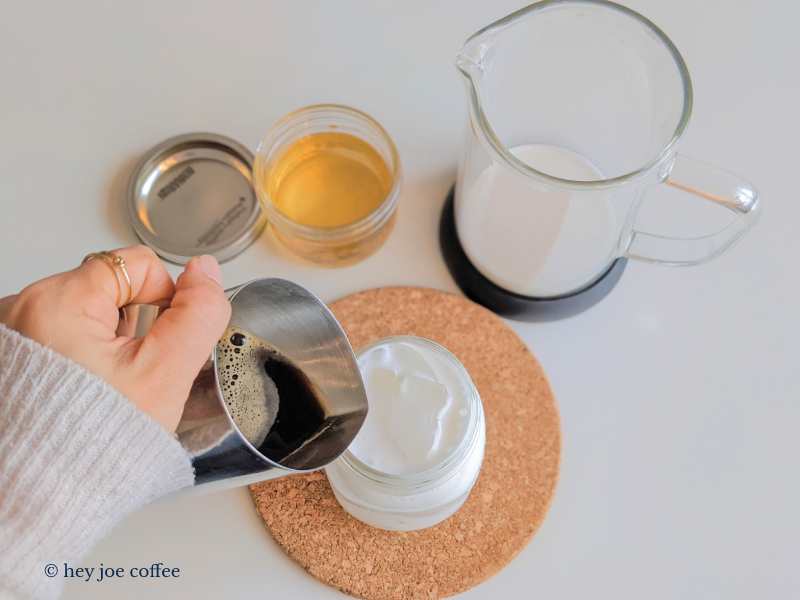 Lower Calorie Version
The number of calories in this creamer is the first thing that might turn you away.
However, you can still enjoy the taste by swapping the half and half with whole or skim milk. (1)
The final product might be less creamy but will contain half the calories.
Half and half has 20 calories per tablespoon, while whole milk has around 9 calories.
Vegan Version
You can substitute the half and half with oat milk or coconut milk for a vegan version.
You can even make vegan sweetened condensed milk by simmering coconut milk and sugar.
These swaps will alter the taste, especially the coconut milk. The creamer might taste more like Almond Joy than peanut butter cups.
Low Sugar Version
To cut the sugar content in the creamer, swap all milk-based ingredients with coconut milk.
Make it even less sweet by swapping the peanut butter and the cocoa powder for their unsweetened versions.
Gluten-Free Version
Most of the ingredients in their natural state should not contain gluten. To play it safe, always look for a 'Gluten-Free' label.
Alternatively, you can also try out these vetted gluten-free creamer recipes.
---
Final Words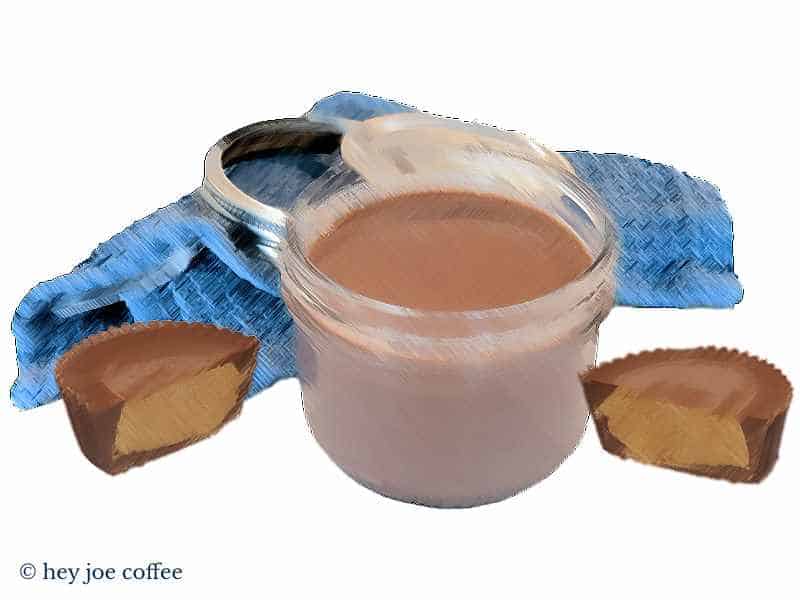 A few years back, a chocolate and peanut butter coffee creamer entered the market, only for a while. It drew so much attention, but it was quickly discontinued.
If you missed Reese's coffee creamer while it was available in stores, we got your back.
Making it yourself is simple and leaves enough space for adjustments. It's a calorie-dense creamer but tastes just like the real deal.
---
More Questions
Does Reese's Coffee Creamer have peanuts?
Reese's coffee creamer doesn't contain peanuts and other common allergens. The taste comes from natural and artificial flavorings.
However, due to the processing facilities, cross-contamination is a real possibility. Therefore, the creamer might contain trace amounts. The homemade version contains real peanut butter, so skip it if you're allergic.
Where can I find Reese's Coffee Creamer?
Reese's creamer used to be available at Walmart and on Amazon. But since it got discontinued, you can't find it anywhere.
We have the homemade recipe that will cost you a fraction of the price and no more than 20 minutes of your free time. Plus, it stores well, so you can have it for days.
Verified Sources
Wondering where your info comes from? We totally understand. Hey Joe only obtains our information from reputable sources. Contents from this article are sourced from the following publications: