Imagine a fusion of Piña Colada, espresso, and chocolate. Or a Bounty candy bar in liquid form, but better. That's how we would describe the Dutch Bros Cocomo drink!
Coconut lovers have a new favorite, and it's not short on variation. Hot, iced, or blended, this drink is a treat to your taste buds; and that's why we sourced the recipe!
Our posts may contain affiliate links. As an Amazon Associate I earn from qualifying purchases.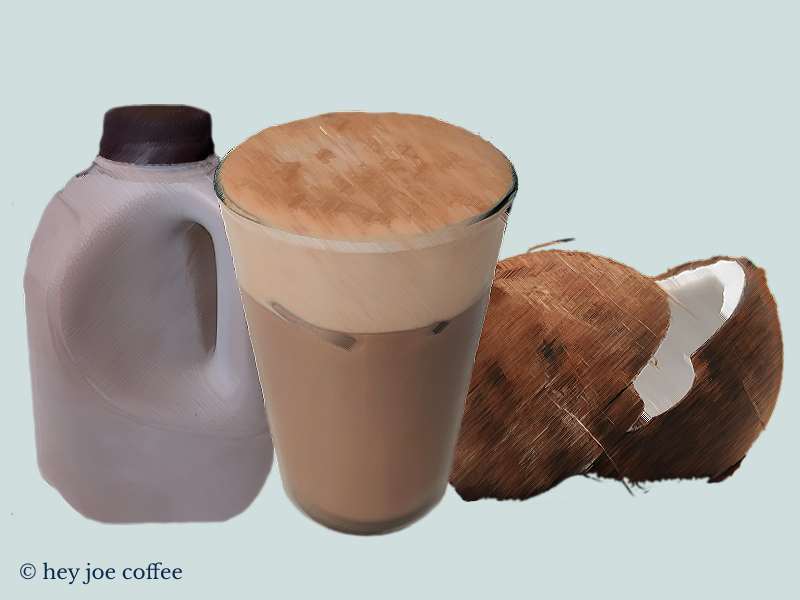 Topics Explored
Dutch Bros Cocomo
Dutch Bros Cocomo is a flavorful combination of espresso, chocolate milk, and coconut syrup. You can get it as a freeze, hot or cold.(1)
It might seem strange at first, but chocolate and coconut work perfectly, as well as chocolate and coffee. This drink fuses them together into a delicious blend.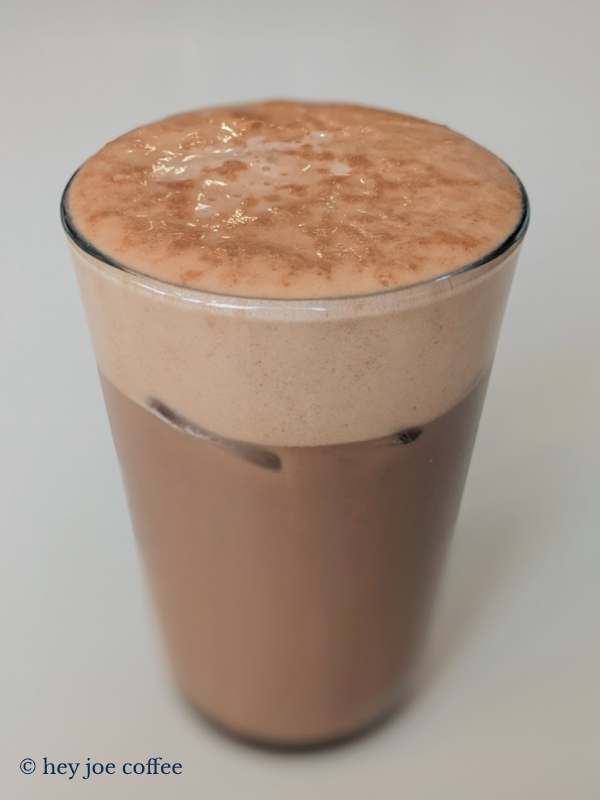 How Many Calories Is In A Dutch Bros Cocomo?
The calorie count in a Cocomo depends on the size and the style you choose. It's available iced, blended, or hot, but each version comes at a different caloric value.
A medium-size hot Cocomo has 540 calories, while the same size iced is 420 calories. The blended Cocomo is most caloric at 730 per medium cup.
Medium (Hot): 540 cals per 16 fl oz
Medium (Iced): 420 cals per 24 fl oz
Medium (Blended): 720 cals per 24 fl oz
---
What Does It Taste & Look Like?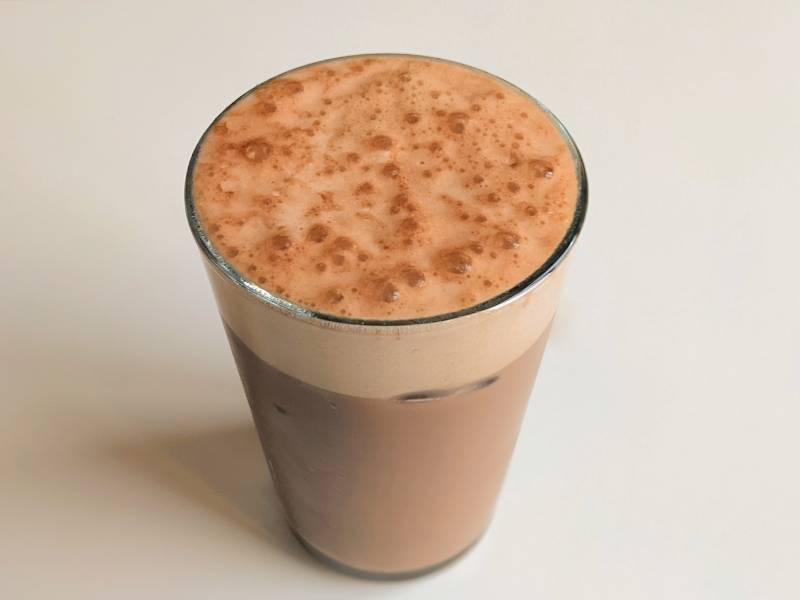 Flavor
The Cocomo is a lot like Mocha with a coconut twist. As I sip, it reminds me of a Bounty candy bar, like rich milk chocolate with sweet coconut flavor.
The iced or blended version is the way to go, as it's more refreshing. But if you're a fan of comforting drinks, make it hot.
Appearance
At first glance, the Cocomo looks just like an iced mocha. You can add a splash of coconut milk to give a lighter color and to intensify the coconut flavor.
You can use this recipe to make the blended version too. Just blend up all the same ingredients. To amp up the decadence, add whipped cream on top!
---
Cocomo Customizations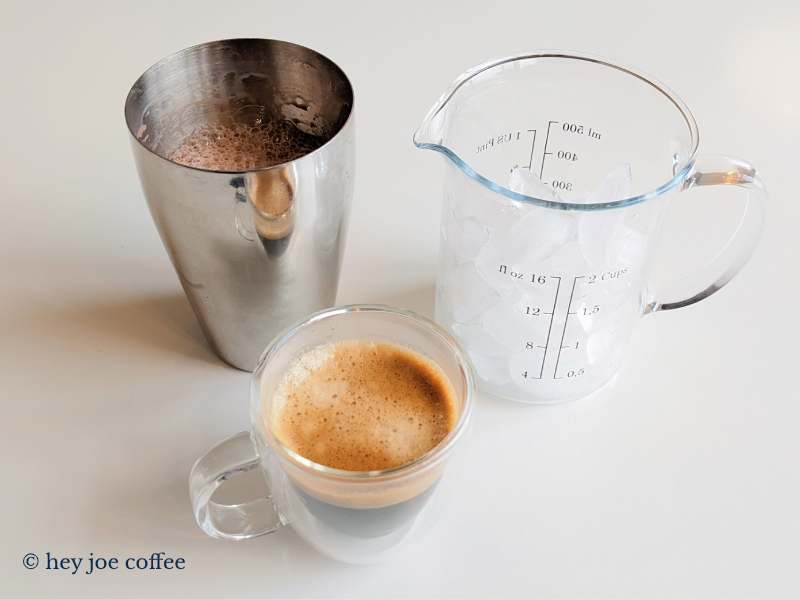 Dairy-Free
The Cocomo on its own is not dairy-free. The base is mocha which is made with Dutch's own chocolate milk.
You can ask the bro-ista to suggest alternative milk if that's an option. I found that oat milk is a good substitute.
To replace their chocolate milk, the bro-ista will use the alt-milk of your choice and add chocolate syrup.
If you have a dairy sensitivity, please let the barista know. They will try to prevent cross-contamination.
Vegan Version
Again, the base of the Cocomo is chocolate milk which contains dairy. So, the Cocomo is not vegan.
However, you can still ask the bro-ista if they can make it vegan.

They will substitute the chocolate milk for plant-based milk and chocolate syrup.
---
Love Dutch Bros Cocomo? You May Love These Too
Once you get used to the coconut chocolate flavor, there's no turning back. A whole new world of coconut-infused coffee is ahead of you.
We've listed some other Dutch Bros coffees that come with a suitable amount of tropical flavor.
1. The Bob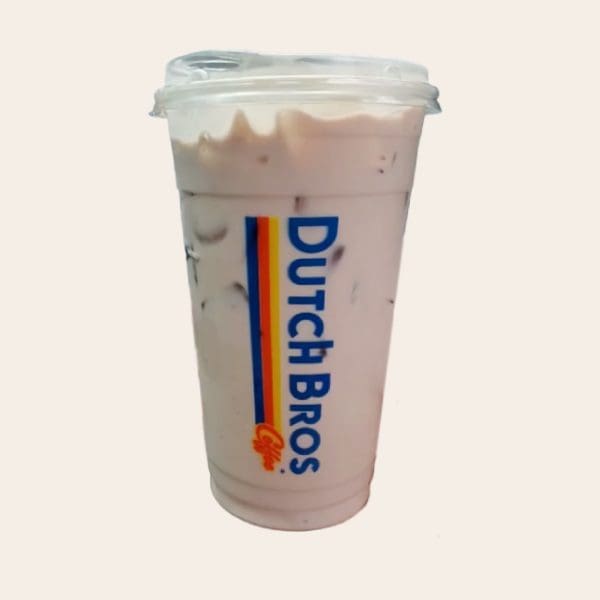 The Bob, also known as The Bob Marley, was once a secret menu item but quickly made its way to the regular menu. And it truly packs some Jamaican flavors.
This drink includes chocolate mocha, coconut, and banana. It's available in several styles, hot, iced, blended, or breve.
Dutch Bros Bob Marley (Ingredients):
2. White Angel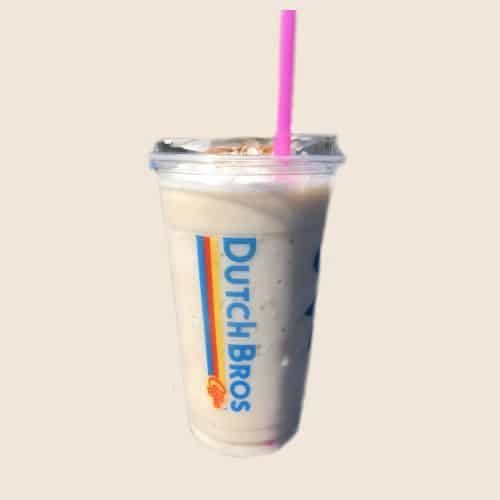 The White Angel is made with white coffee, where the beans are roasted a bit differently. It's mixed with a blend of syrups: vanilla, white chocolate, and coconut syrup.
It usually comes with a breve base, but you can substitute it with a mocha base. Splurge a little and have it with a soft top.
Dutch Bros White Angel (Ingredients):
White Coffee
Vanilla Syrup
Coconut Syrup
White Chocolate Sauce
3. Islander
The Islander also features a mocha base, completed with chocolate macadamia nut, vanilla, and coconut syrup. And it can be ordered sugar-free, unlike most coconut coffees.
You can make a switch and have it done the Kick-Me mix, which is breve, instead of the mocha base.
Dutch Bros Islander (Ingredients):
Chocolate Mocha
Vanilla Syrup
Coconut Syrup
Chocolate Macadamia Nut Syrup
4. German Chocolate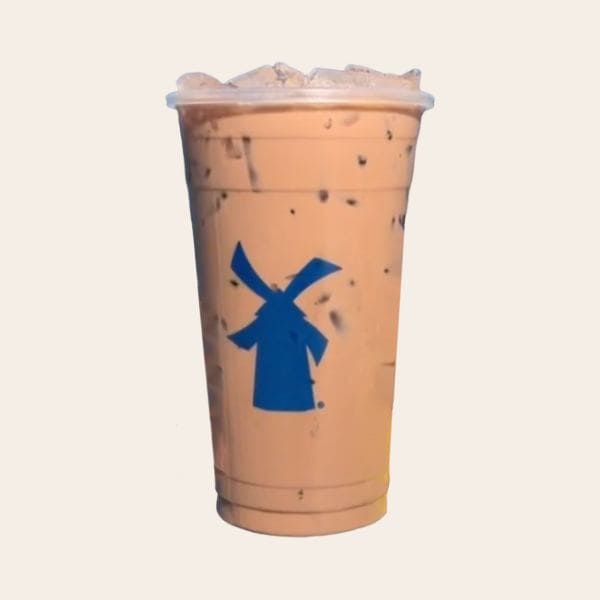 The German Chocolate is made with mocha as the base drink. Then it's mixed with caramel, dark chocolate, and coconut syrup. It's a very rich taste that you can make at home too.
In an 8 oz cup of milk, add 1 tablespoon each of Torani dark chocolate sauce, crème caramel, and coconut syrup.
Dutch Bros German Chocolate (Ingredients):
Chocolate Mocha
Caramel Syrup
Coconut Syrup
Dark Chocolate
5. Coconut Cold Brew Mocha
The coconut cold brew mocha is like a lighter version of a Cocomo. There's less chocolate milk, and there's cold brew instead of espresso. Coconut syrup is added like in the Cocomo.
It's a good choice if you want to tone down the calories. You can switch to sugar-free syrup for an even lighter drink.
Coconut Cold Brew Mocha (Ingredients):
Chocolate Mocha
Cold Brew
Coconut Syrup
6. The Fleck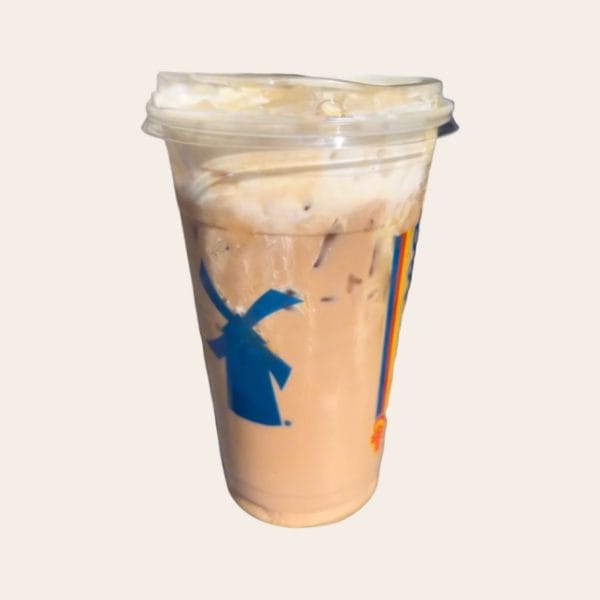 The Fleck is among the most popular secret menu items.
Here's how to order it: ask for the breve base, add white chocolate, hazelnut, and coconut syrup.
We prefer it hot, as the taste lingers more towards a comforting winter drink, not a fruity one. Add whipped cream to make it even more indulging.
The Fleck (Ingredients):
Breve
White Chocolate Sauce
Hazelnut Syrup
---
How to Make Dutch Bros Cocomo
We loved this drink, so we took up a quest to find the perfect Dutch Bros Cocomo recipe. Surprisingly it was easy to make and hits the right spot, just like the original.
It's a must-try, especially if you're a coconut lover.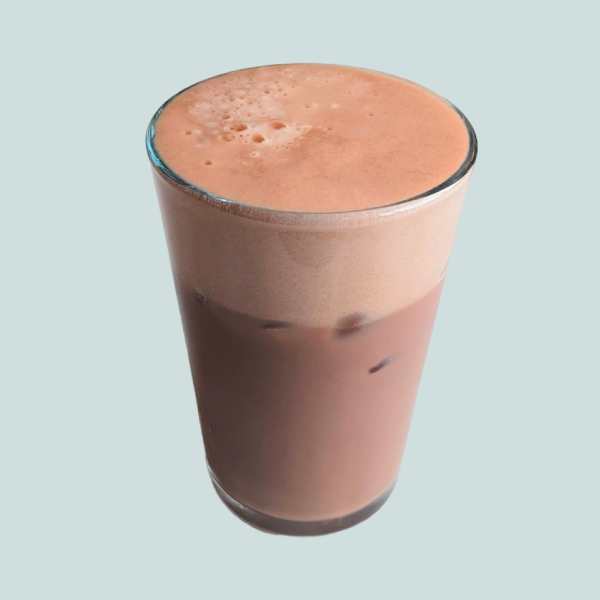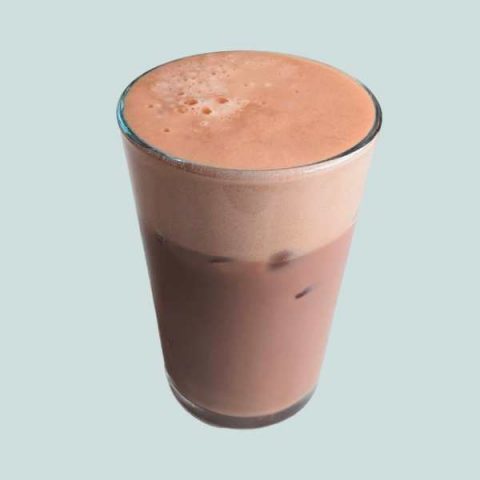 Copycat Dutch Bros Cocomo Recipe!
Learn how to make the Dutch Bros Cocomo from home! This recipe is for the iced version of the Cocomo. If you want it hot, ditch the ice and warm up the milk.
Ingredients
Instructions
Start by preparing 2 shots of espresso using an espresso maker. Don't use brewed or drip coffee as we need a strong brew that will push through the other ingredients.
Once the espresso is done, set it aside to cool. Next, prepare a cocktail shaker, mason jar, or bottle with a lid. We'll use this to mix the beverage.
Take your chocolate milk out of the fridge and add 9 oz to the shaker of choice. Next, add the coconut syrup to the shaker.
Make sure the shaker seals tight. To combine the coconut syrup and chocolate milk, close the shaker, and shake for a minute.
Open the shaker and add the cooled espresso and ice. Shake up the mix a little longer so the ice can chill the liquids.
Get your favorite tall glass and pour the Cocomo. Add the ice so the drink will stay chilled until you finish it. Enjoy!
Notes
* I'm using a homemade coconut syrup but I recommend using the Torani syrup as it's the same one that Dutch Bros uses.
** Try to use Horizon chocolate milk; it works great with coffee.
Copycat Cocomo: Items You'll Need
---
Final Words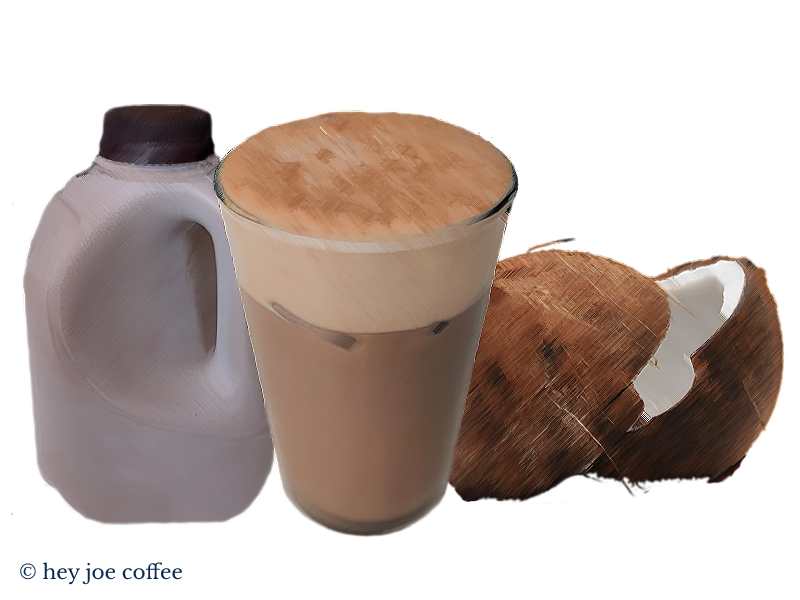 Coffee flavors are our favorite subject to explore and sometimes we're left a little disappointed. But that's not the case with the Dutch Bros Cocomo.
The espresso keeps it potent while the sweet chocolate milk and coconut make it feel like a treat. It's perfect as a refreshment on a hot day or a cozy drink in winter.
---
Verified Sources
Wondering where your info comes from? We totally understand. Hey Joe only obtains our information from reputable sources. Contents from this article are sourced from the following publications:
Dutch Bro's: https://www.dutchbros.com/menu/dutch-classics/cocomo