Although it's not as famous as their chicken sandwich, the Chick-fil-A iced coffee is something you shouldn't sleep on. An arabica blend served over ice and topped with creamy milk? Sign us up!
We're on the hunt for the best iced coffee, so here's the verdict on the Chick-fil-A's version.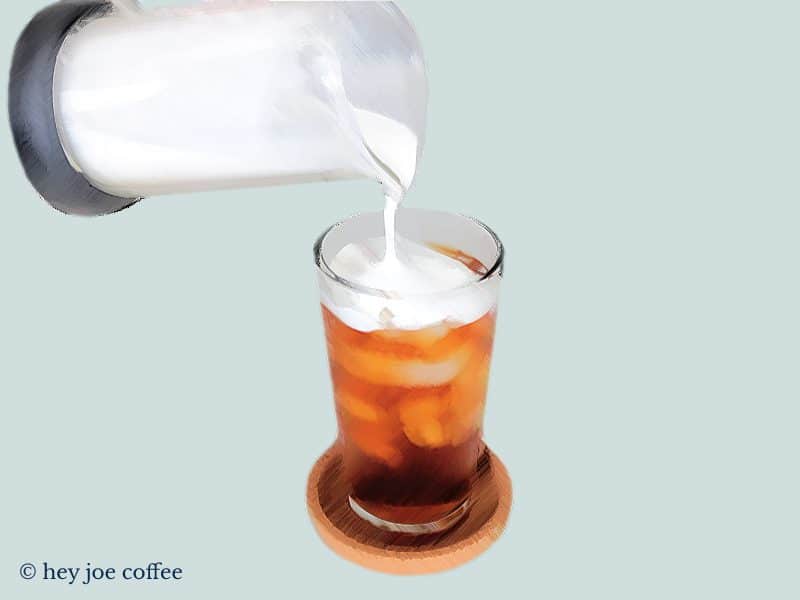 Topics Explored
What is Chick-Fil-A Iced Coffee?
This iced coffee is a cold brew arabica blend with 2% milk. You can optionally sweetened it with pure cane syrup.
It's served over ice, and you can add different sweeteners or creamer. It's available in the original version or vanilla-flavored.
The coffee is available throughout the whole day and is ethically sourced via Thrive Farmers.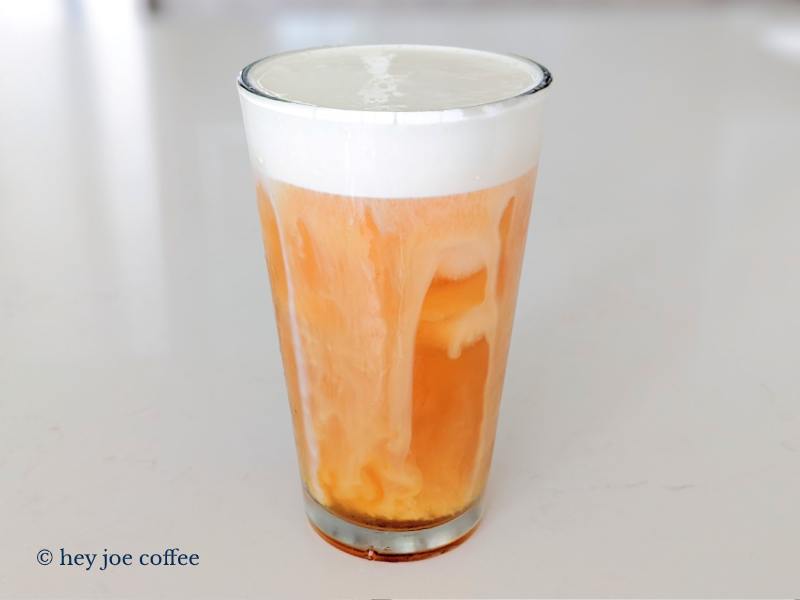 In 2014 Chick-fil-A partnered with THRIVE Farmers, a company dedicated to ethical coffee bean sourcing. According to the brand, they created a unique blend just for Chick-fil-A.
In February of 2015, they did a promotional free cup of coffee, even without a purchase, to push their new coffee. They've been serving the same blend ever since.
Chick-Fil-A: Hidden Gem for Coffee Lovers
We were surprised to find out that Chick-fil-A coffee tastes excellent for a fast food joint. So we went to investigate why.
Chick-fil-A offers a premium blend and brewing method that's typical for specialty coffee shops. They use cold brew, which requires up to 24 hours per batch, and high-quality milk and cane syrup.
The result is evident, a great cup of iced coffee.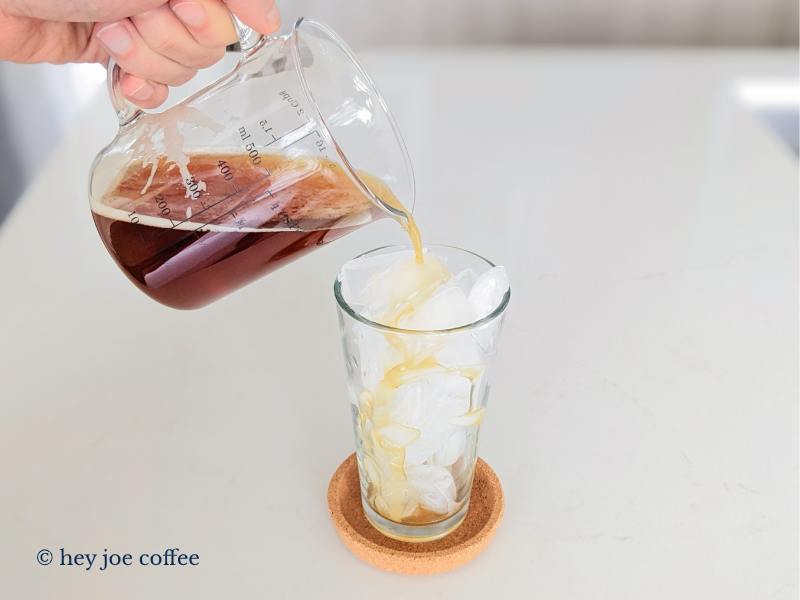 ---
Taste & Appearance
Buying a cup of coffee from anywhere but the coffee shop comes with a risk. But the Chick-fil-A coffee exceeds the minimum expectations and provides a flavorful cup that's easily mistaken for a specialty coffee.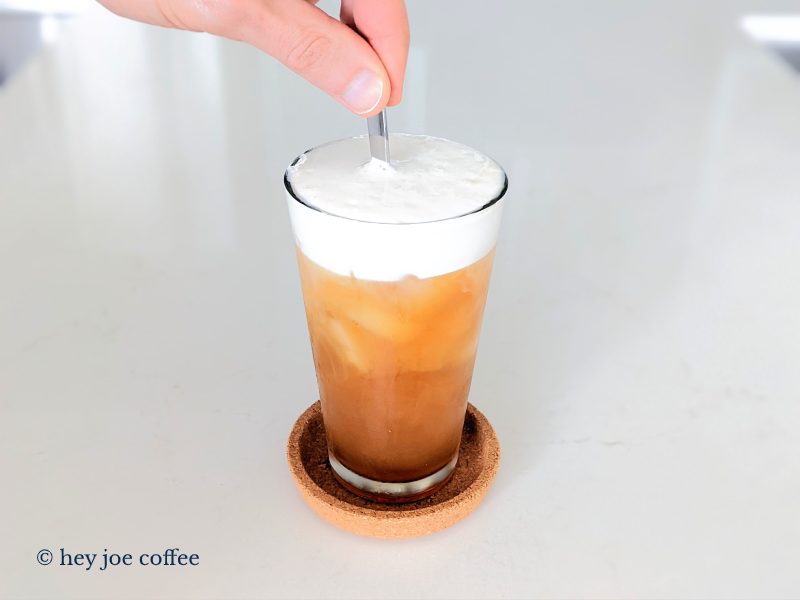 Appearance
The cold brew supplied to the chain doesn't contain any add-ons, so the drink is finished in the restaurant. 2% is poured into the cold brew, and you can clearly see beautiful cascades of milk.
The cane syrup might settle at the bottom, so give it a good stir before drinking.
Flavor
When it comes to flavor, you can taste the rich coffee and the creaminess of the milk. It's smooth and not watered down like many iced coffees. The milk balances out the acidity of the coffee.
If you're getting the vanilla flavor, there's a gentle, not overwhelming taste of vanilla.
---
Chick-Fil-A Iced Coffee Ingredients
So what's in a cup of this iced coffee that makes it so good? The ingredients are simple; coffee, milk, sweetener, and ice.
However, their quality is what brings out the best flavor.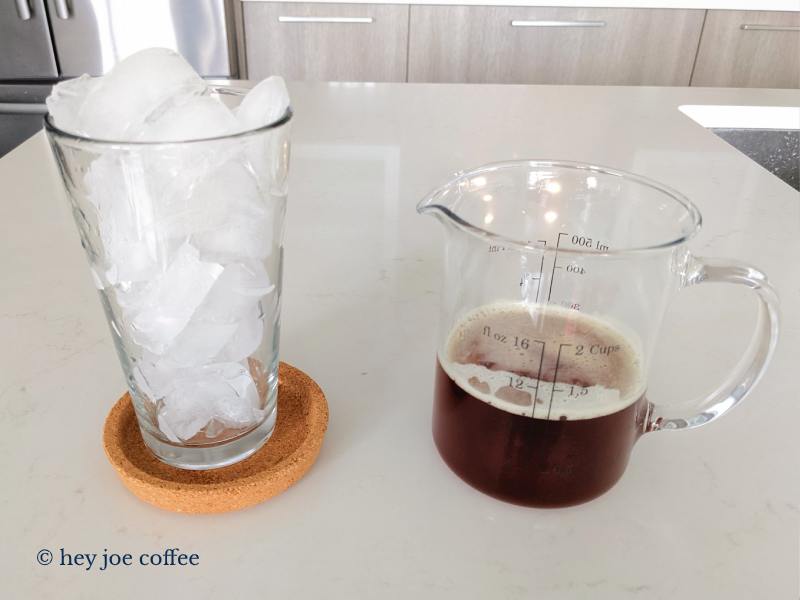 1. Cold Brew
The cold brew is made by soaking coarsely ground Arabica coffee beans in cold water for 24 hours. The liquid is then strained and bottled.
Each batch is made to order, so it's always fresh.
2. Pure Cane Syrup
Chick-fil-A sweetens their coffee with pure cane sugar. They use Monin pure cane syrup which has the perfect sweetness level and is quick to dissolve once added to the icy drink.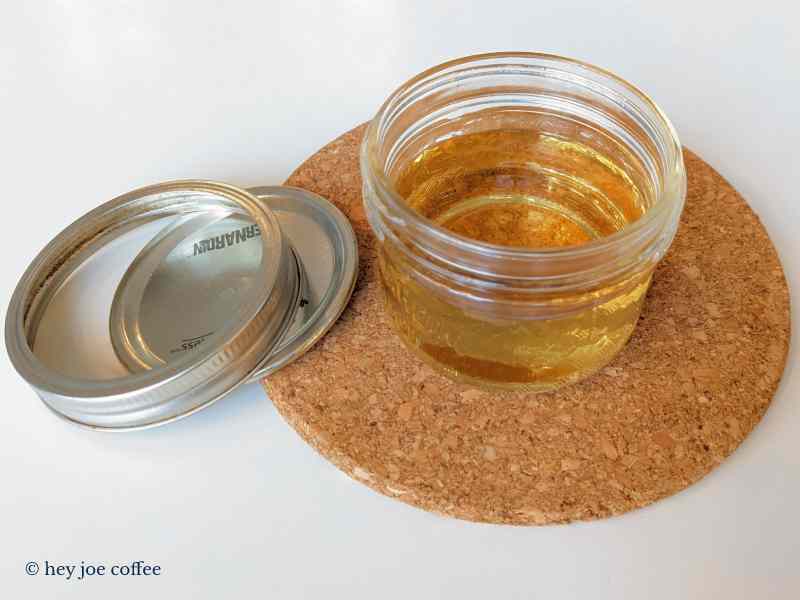 3. Milk
Chick-fil-A officially uses 2% milk for their coffee. However, some locations might use half and half for added creaminess.
Both versions are delicious, and when making it at home you can use whichever you find better.
---
Chick-Fil-A Coffee Calories
The Chick-fil-A's calories are not too bad when compared to other coffee chains. A 14 oz cup contains 150 calories(1), close to the Starbucks Iced Coffee with milk.
If you are making the iced coffee from home, you can also cut back on calories with these substitutions: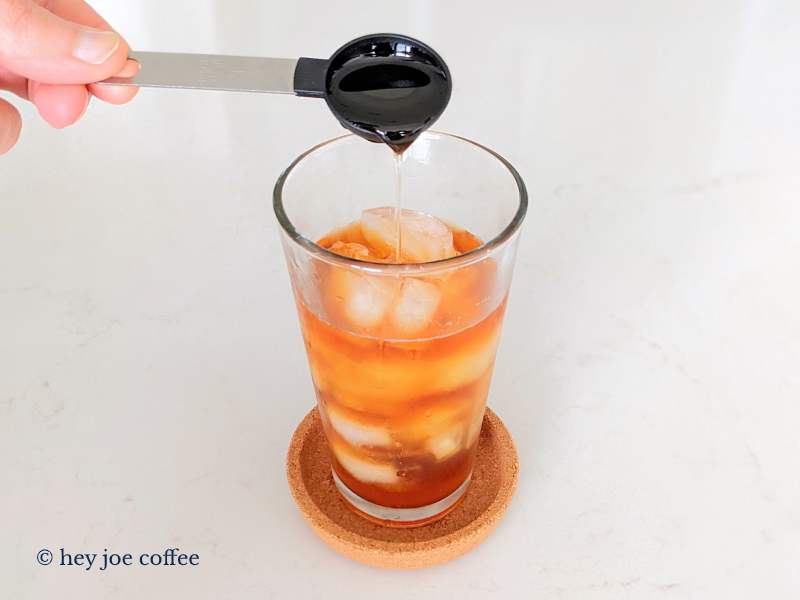 Use Non-Fat Milk
You can cut a significant portion of the Chick-fil-A coffee calories by substituting the milk for 1% instead of 2% or opting for skim milk.
Skim milk has ⅓ less calories compared to 2% milk, while the low fat has ¼ less calories.
Use Sugar-Free Syrups
The pure cane syrup has 2 calories per 1/4 oz, so you can cut a good amount of calories by substituting it with sugar-free syrup.
Torani has a sugar-free syrup made with monk fruit, stevia, and erythritol that tastes just as good.
Avoid Add-Ins & Toppings
Additional topping and flavors increase the calories, so we suggest resisting the urge to add some.
Chick-fil-A offers a few types of sweetener and 2% creamer for free, so it might be tempting. Stick to the base ingredients even when making it at home.
---
How to Make Chick-Fil-A Iced Coffee At Home
If you don't have a Chick-fil-A location nearby, or don't want to take the trip, we have your back. We formulated the perfect Chick-Fil-A recipe that's simple yet equally flavorful. All you need is a good coffee blend and a few minutes of your day.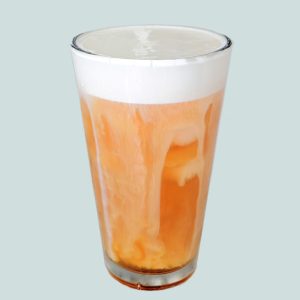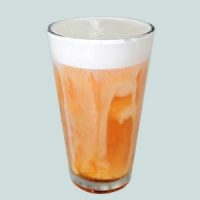 Chick-Fil-A Iced Coffee (Perfect Copycat)
Yield:
1 serving (~16 oz)
For this Chick-fil-A iced coffee recipe, you'll need premade cold brew. It makes one serving, so double the amounts if you're sharing!
Ingredients
Cold Brew: 1 cup*
Cane Syrup: 3 Tbsp**
2% Milk: ½ cup
Ice
Instructions
Take a tall 16 oz glass and fill half of it with ice. Make sure the glass is big enough to fit the ice and 1 ½ cups of liquid.
Pour 1 cup of cold brew over the ice. The cold brew can be homemade, but you have to soak the grounds a day in advance.
Add the pure cane syrup or the sugar-free version, whichever you find best. Adjust the amount to your liking; 3 tablespoons provides a mildly sweet coffee.
Take the chilled milk and add ½ a cup to the glass, or until the liquid reaches close to the rim of the glass.
Add a straw or use a spoon to mix the sweetener, milk, and cold brew. And your Chick-fil-A dupe iced coffee is ready.
Notes
* You can always make your own cold brew or purchase a ready-made version
** Chick-Fil-A uses Monin pure cane syrup in their iced coffees
*** Prepare right before serving so the ice won't melt and dilute the coffee. Any adjustments might alter the taste.
---
Summary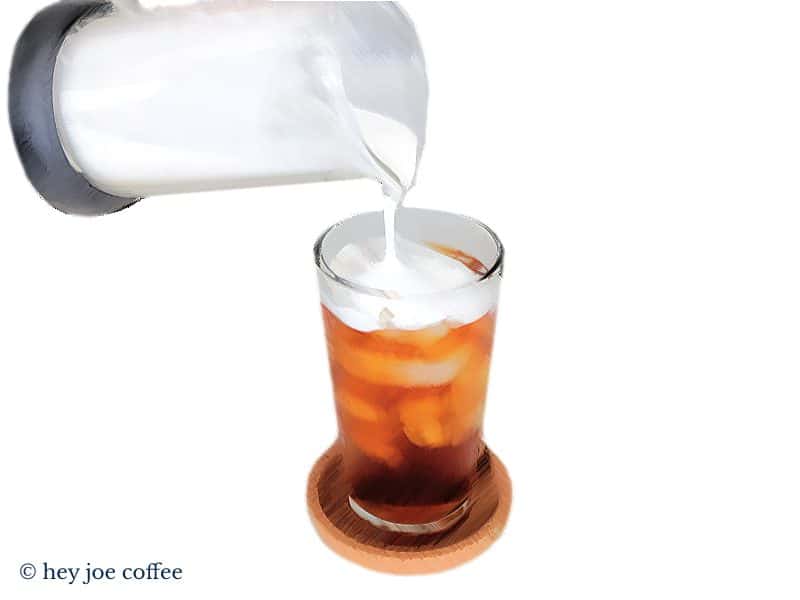 The Chick-fil-A iced coffee was nothing like we expected. The coffee blend tastes amazing, and the cold brew quality is up to par with some great coffee chains.
Each cup comes with a moderate amount of calories and is worth the trip!
---
More Questions
Does Chick-Fil-A have iced coffee?
Chick-fil-A has two iced brews, original and vanilla. They're made following the same recipe, using cold brew made from arabica grounds, 2% milk or half and half and pure cane syrup.

The coffee is served over ice. The vanilla has added vanilla flavor and 10 calories less per cup.
Does Chick-Fil-A carry decaf?
No, Chick-fil-A doesn't have decaf. Their coffee menu is pretty limited. The available coffees may vary from location to location, but none of them has decaf coffee.

Chick-fil-A uses a special blend of Arabica beans that's not decaf, but you can always ask for more options.
How much caffeine is Chick-Fil-A's iced coffee?
A 15 oz cup of Chick-fil-A iced coffee has 80 mg of caffeine. A 20 oz serving has 100 mg. For comparison, one shot of espresso has around 60 mg of caffeine.

The smaller size of their iced coffee corresponds to 1½ shots of espresso, caffeine-wise.
Verified Sources
Wondering where your info comes from? We totally understand. Hey Joe only obtains our information from reputable sources. Contents from this article are sourced from the following publications:
Chick-Fil-A: https://www.chick-fil-a.com/nutrition-allergens