Known across the nation for its iconic box-shape and handle, the Dunkin Donuts Box of Joe is one of the chain's most unknown products.
This article talks about the Box of Joe in detail, and how it changed America's morning coffee culture.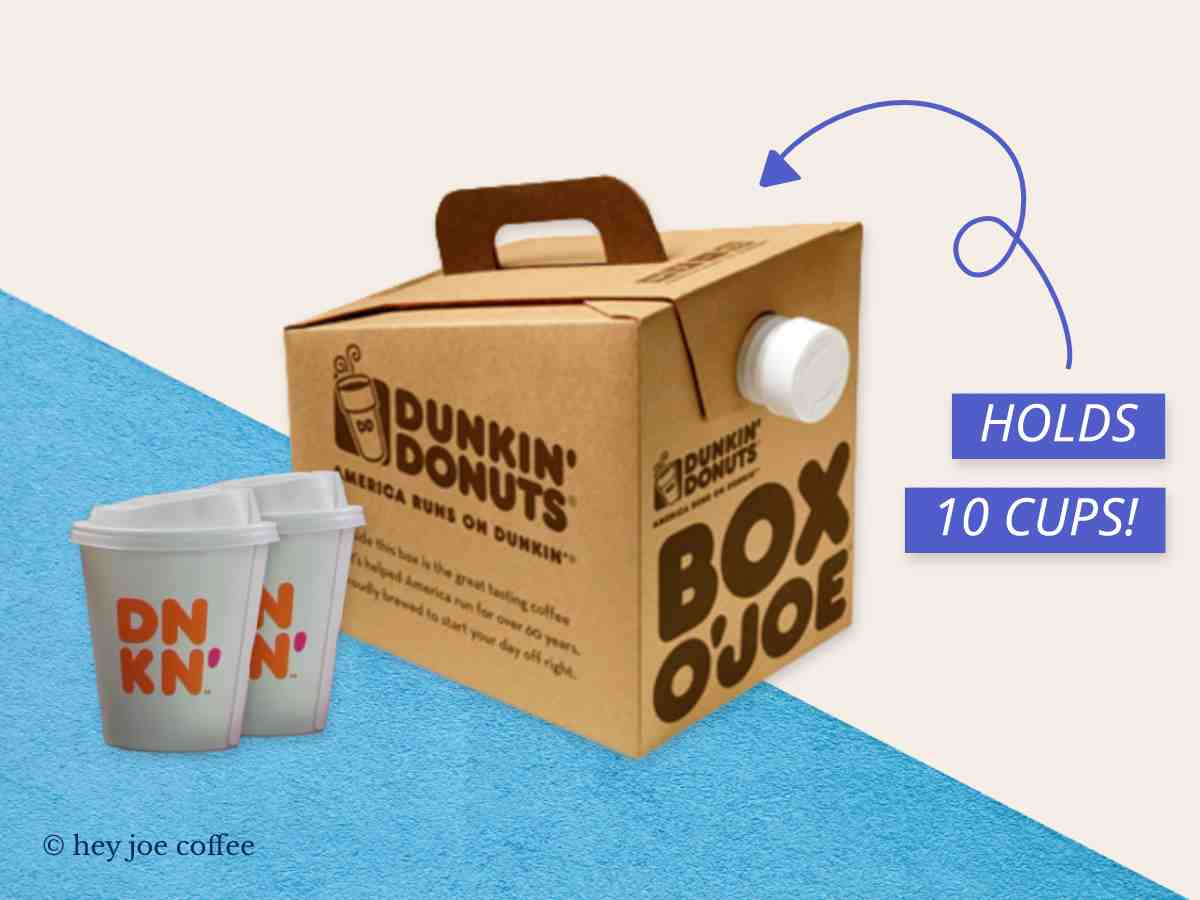 Topics Explored
What Is The Dunkin Donuts Box of Joe?
The Box of Joe is a 10-cup carton of coffee, akin to a milk carton with a handle.
You can order the Box of Joe with any type of coffee blend and flavor shot of your liking. Those of you who aren't keen on caffeine can also get a box filled with decaf.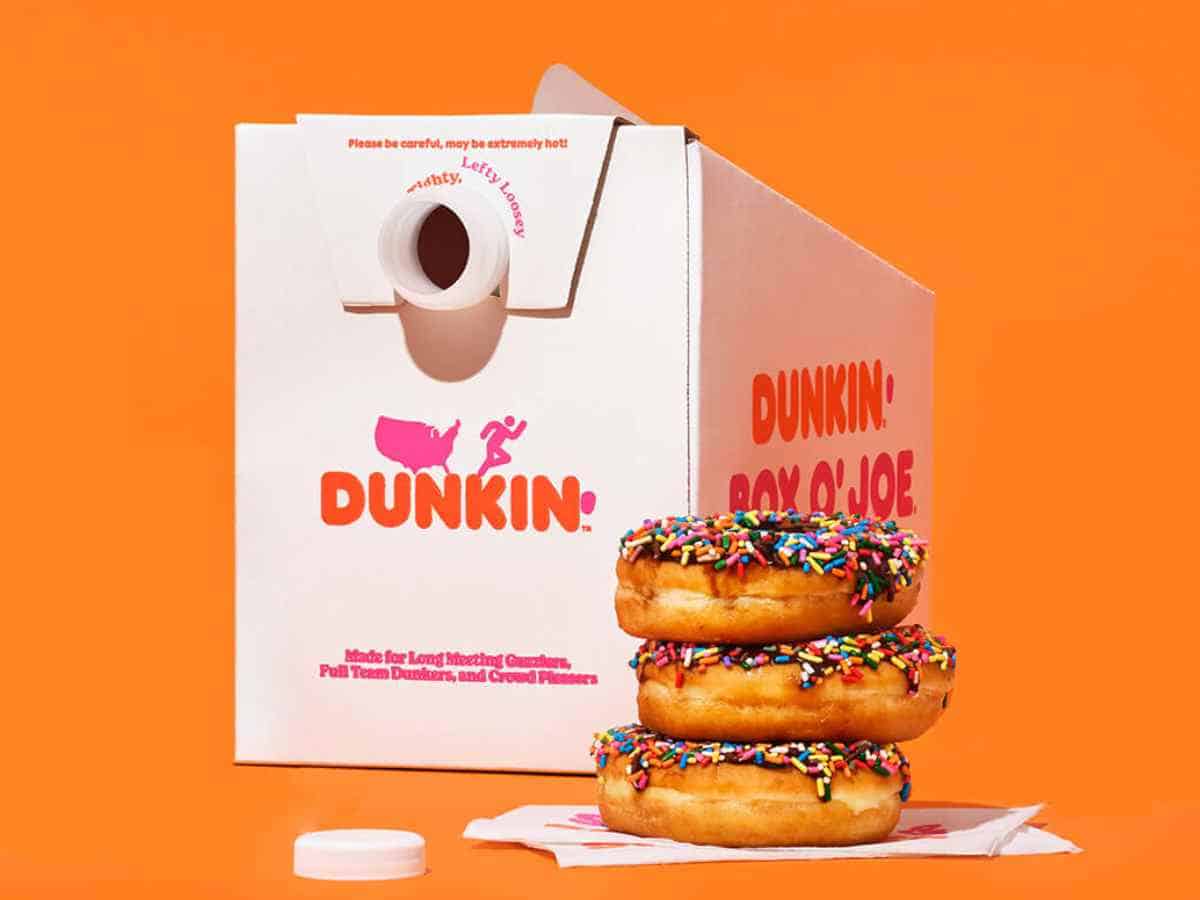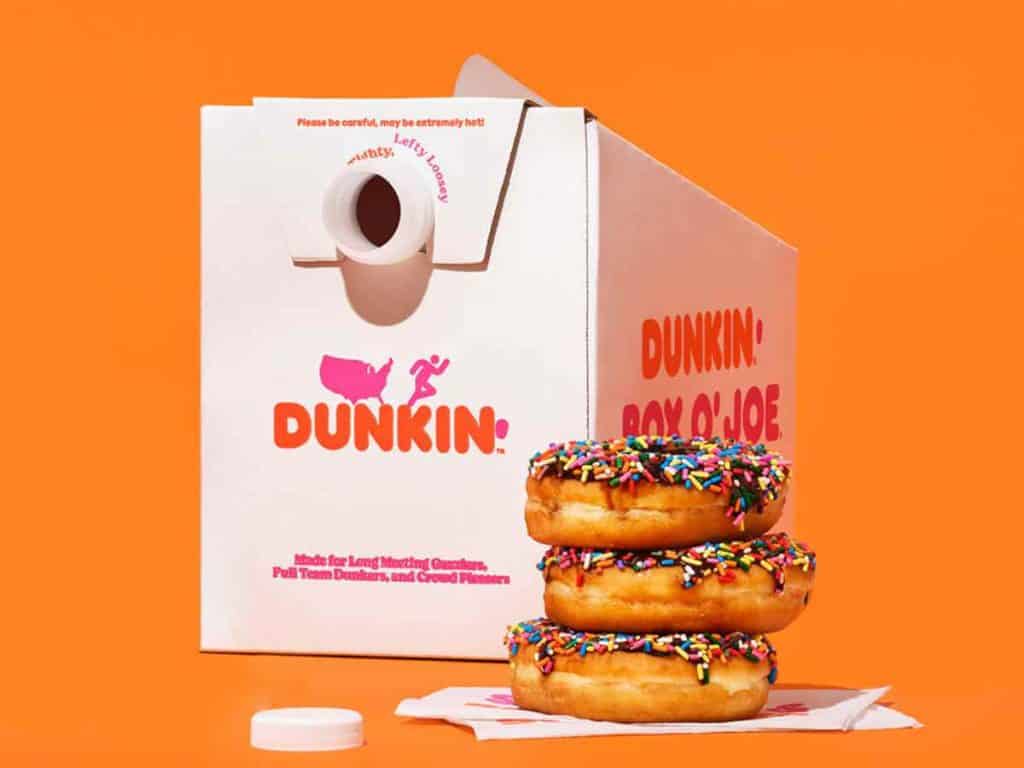 The Box of Joe was first invented in 1999, after the chain noticed that customers had trouble carrying multiple cups of coffee.
Technically, the product's correct name is 'Box O' Joe', but it's often referred to as 'Box of Joe'.
By utilizing a box-shape and integrating a handle, Dunkin had successfully made the process of getting coffee more enjoyable and convenient.
Does Dunkin' Still Have The Box O' Joe?
Yes, it's still available in-stores today, and remains one of Dunkin's most unknown items.
Apart from the classic hot coffee, people can now order the Box of Joe with iced coffee, iced mocha, or even hot chocolate!
---
Box of Joe – What You'll Get
Today, the Box of Joe remains the same as its original version and still serves its primary purpose.
Here, we talk about the product's size, price, and efficiency.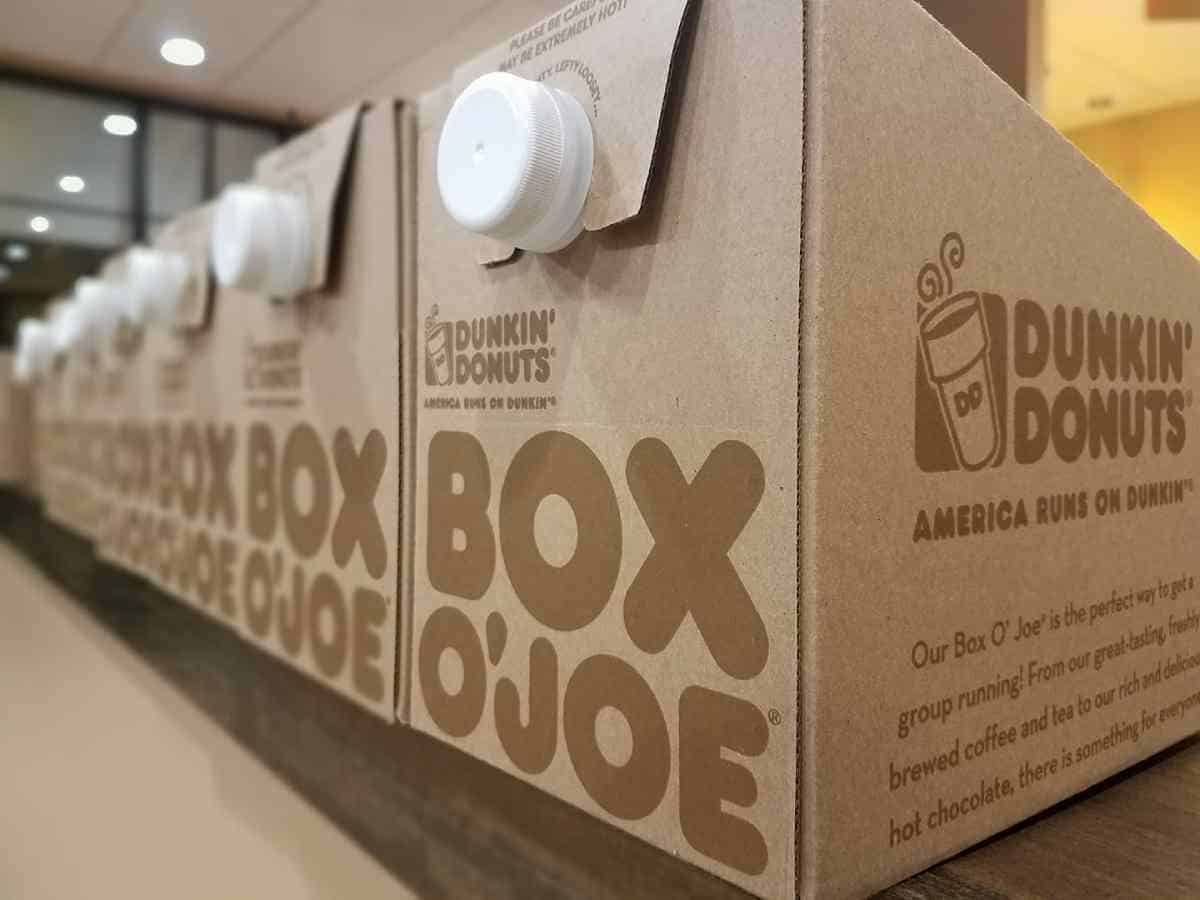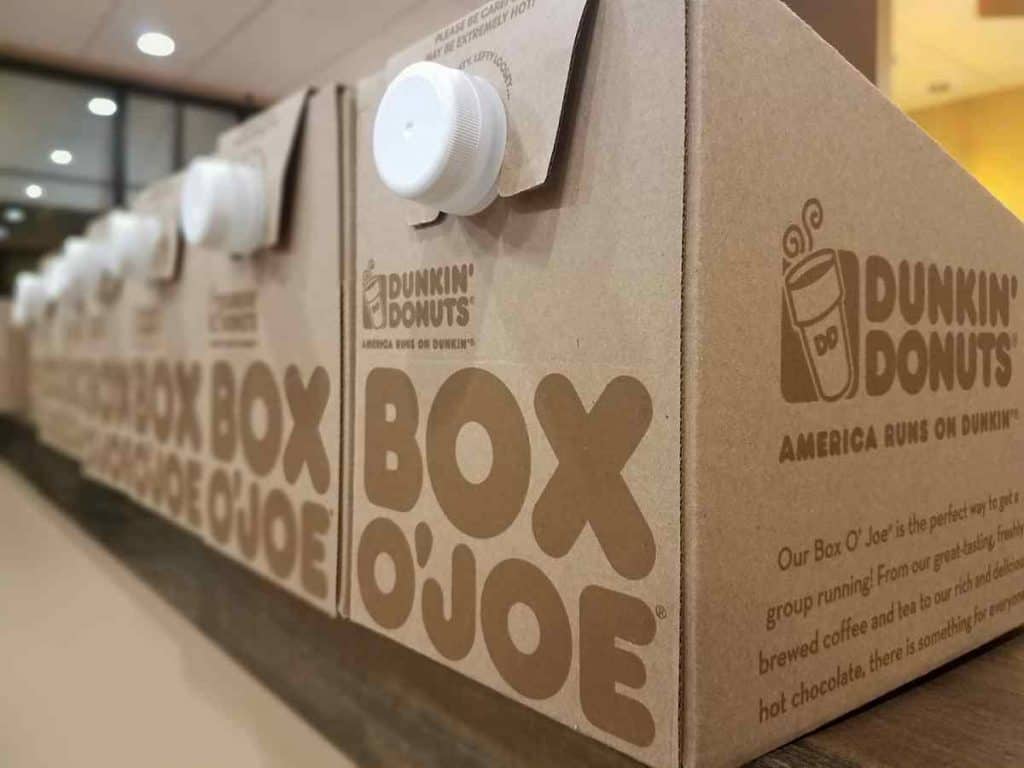 How big is a Dunkin Donuts Box Of Joe?
The Box of Joe is fairly large. It holds 64 fluid ounces, or 10 small cups of coffee.
Since the boxes hold a reasonably large amount of liquid, the top edge of each carton is slightly slanted to make for a more ergonomic pouring experience.
How much is a Box Of Joe?
The Box of Joe was originally designed to make buying coffee easier and cheaper.
Today, the classic Box of Joe is $17.99, therefore a cup of coffee from the carton costs around $1.80.
Prices may change over time, so it's best to call and double-check with your store.
What does it come with?
When you order a Box of Joe, you'll also get the following things: dairy creamer, sweeteners, stirrers, cups, and lids.
This is so that everyone sharing the carton can customize their individual coffees to their preferred flavor combo.
How long does it stay hot?
Generally, the box will stay hot for approximately 2-3 hours when kept indoors at room temperature.
Since the Box of Joe is made from cardboard, factors such as the weather and storage method will dictate how long the coffee remains hot.
---
Dunkin' Box of Joe vs. Dunkin' Cambro
If you ever want to buy a larger volume of coffee at Dunkin Donuts, the Cambro of Coffee may be a better choice – unless you want to carry multiple Boxes of Joe all at once.
Here, I compare the Box of Joe with the Cambro.
Box of Joe
Dunkin' Cambro
64 oz
390 oz
Servings:
10 cups
Servings:
60 cups
Price:
~$15.99
(subject to change)
Price:
~$85.00
(subject to change)
Stays Warm:
~2 to 3 hours
Stays Warm:
~12 hours
Volume
The Cambro is significantly larger than the Box of Joe in that it holds up to 390 fluid ounces, or 60 cups of coffee!
If you're not looking to feed that many people, there is also an option to get a half Cambro of coffee, which contains 30 cups.
Price
The half Cambro of Coffee costs $40, so a cup of coffee comes to $1.3 – slightly cheaper than one from the Box of Joe(1).
Strangely, the full Cambro currently costs $85, meaning that each cup of coffee is around $1.42.
It may be better to order two half Cambros for better value, however, it would be way harder to carry out of the store.
Freshness
The Cambro is an insulated container, so the coffee inside will stay warm for up to 12 hours.
This makes it a better choice for those who don't intend to drink their coffee immediately.
---
How To Order Box Of Joe From Dunkin Donuts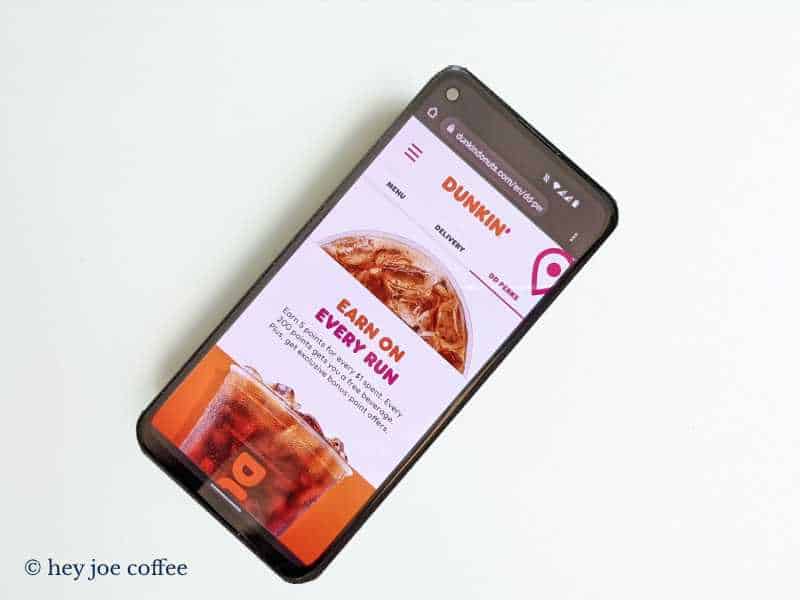 1. Call Ahead
It may be best to order your Box of Joe ahead of time. This will give the staff ample time to prepare it, and prevent them from feeling overwhelmed, especially during rush hour.
For larger orders of 3 or more boxes, call 24 hours ahead of time and be sure to specify your pickup time. This ensures the coffee you get is freshly poured.
2. Order In-store
For smaller orders, try to avoid the drive-through if possible. This is because picking up your Box of Joe from the drive-through can prolong wait time for other cars.
The best way to get your cartons is inside the store, at the cashier.
3. Delivery Partners
The most convenient way to get your Box of Joe is via delivery. You can make your order online, directly on Dunkin's official website.
You also have the choice to order online via one of their delivery partners, such as Doordash, GrubHub, or Uber Eats. (2)
---
Summary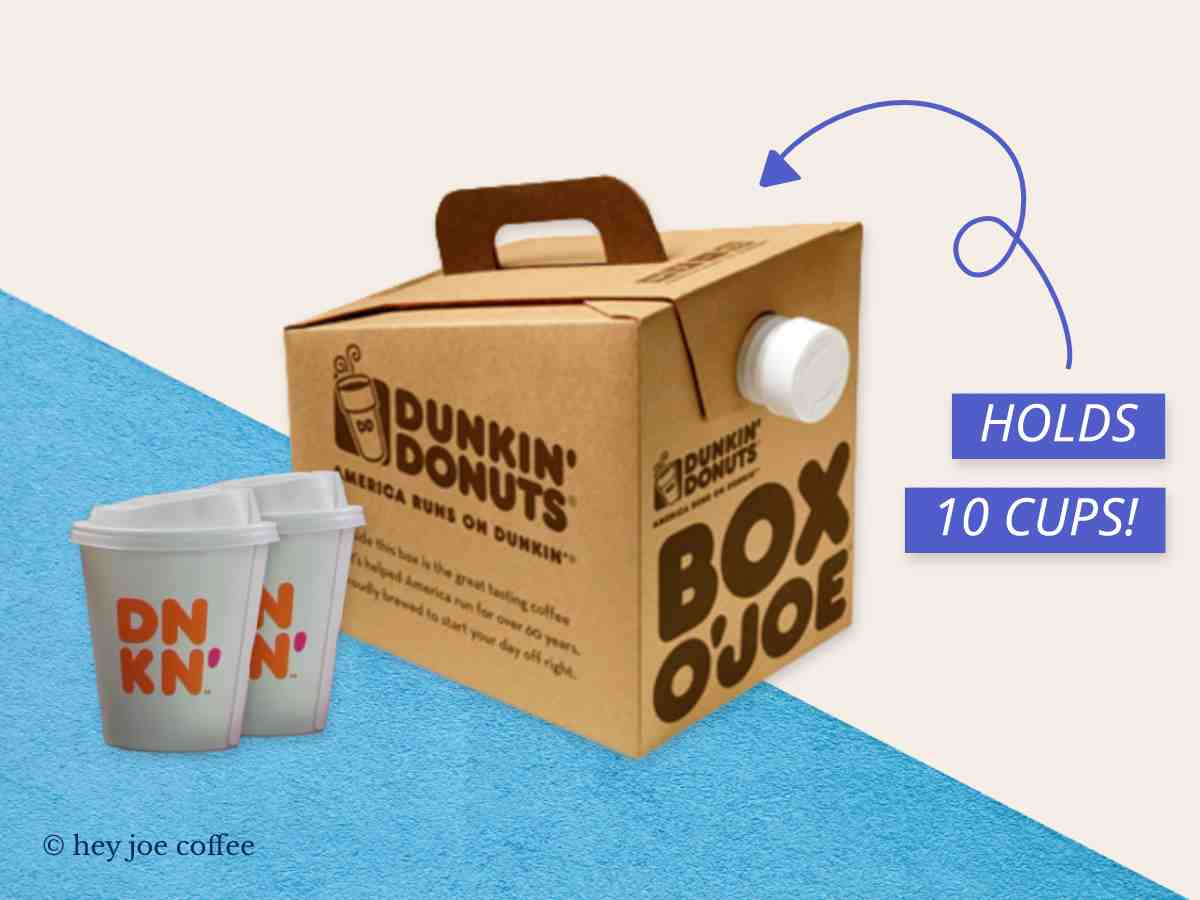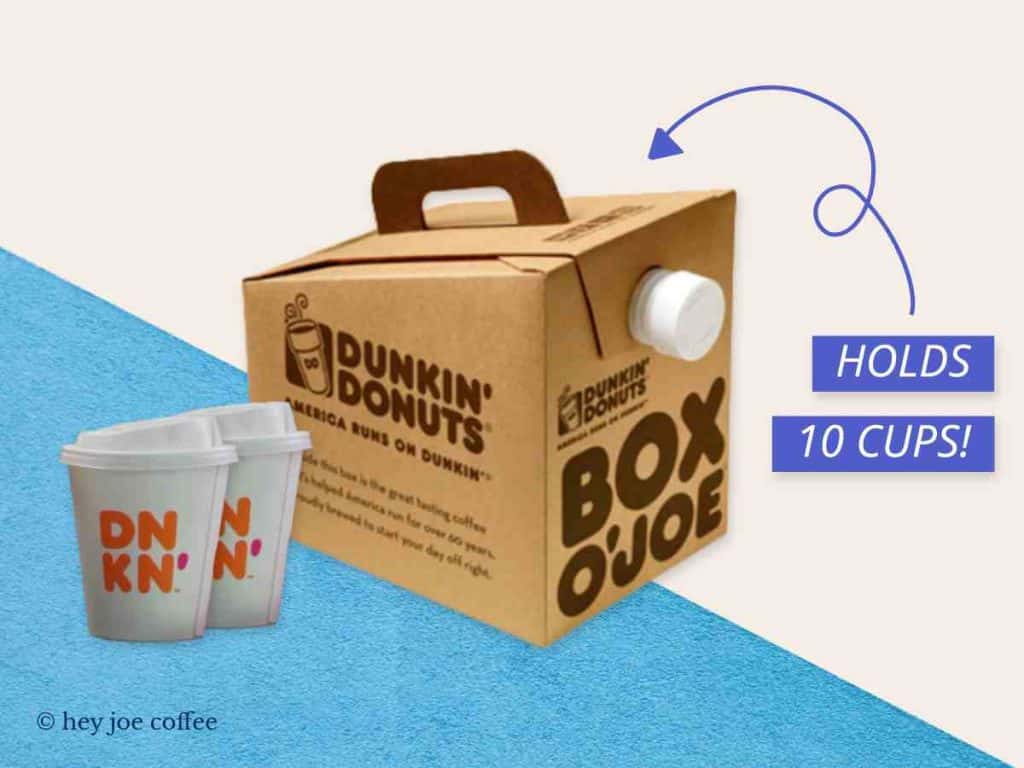 The Dunkin Donuts Box of Joe is a great way to order a larger volume of coffee without needing to go through the struggle of carrying multiple cups.
It's cheaper and more efficient, which is perfect for today's fast-paced lifestyle.
---