I'm a huge fan of watching social media trends hack fast food menus and the Starbucks Strawberry puree is no exception.
The Strawberry puree is an add-in to many pink drinks, especially the Strawberry Crème Frappuccino.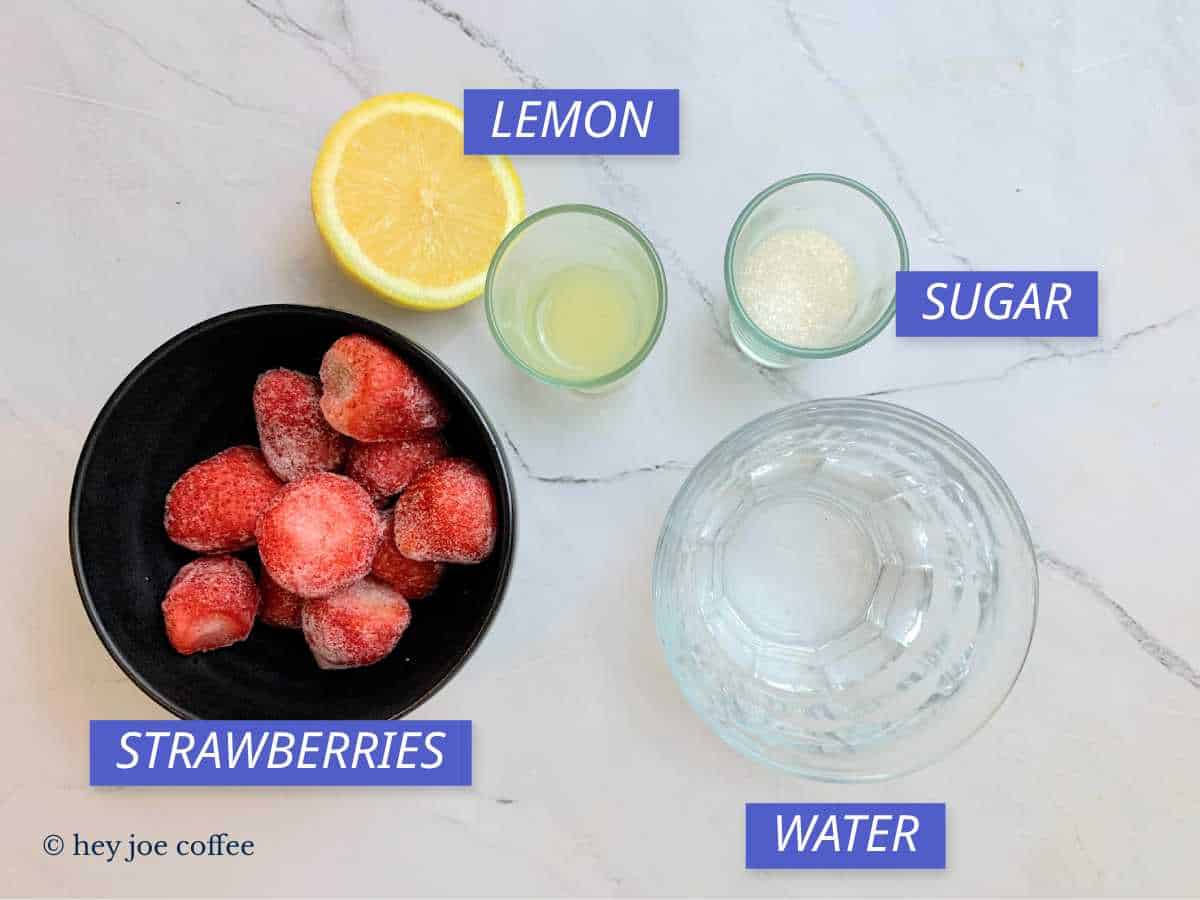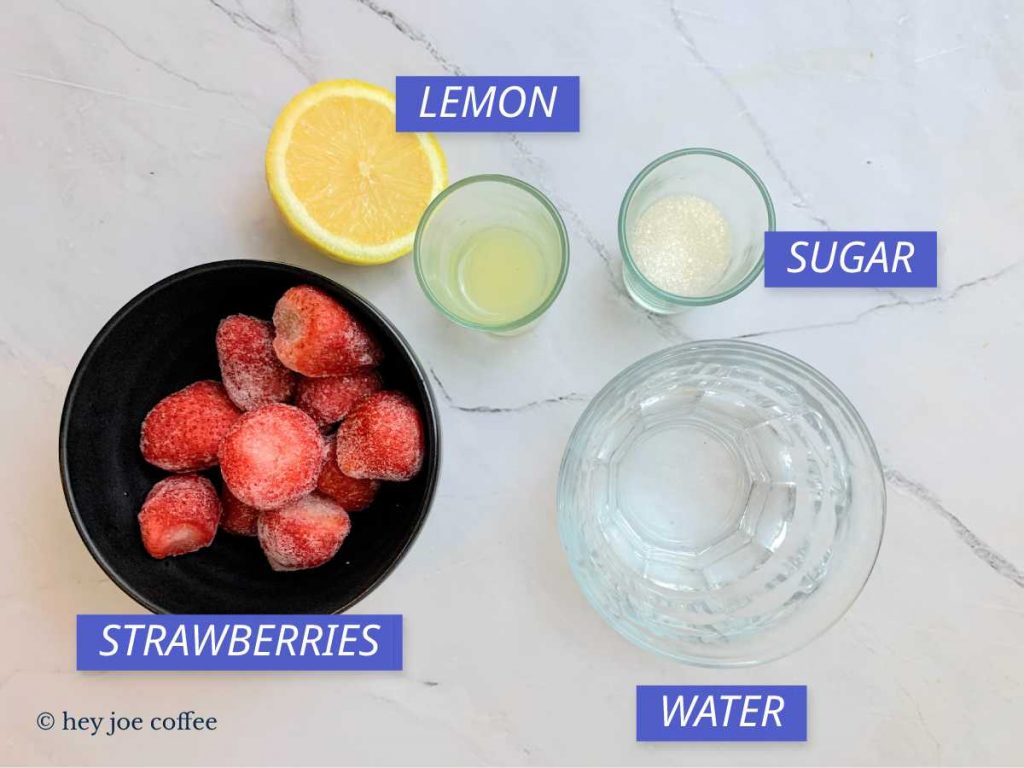 Topics Explored
Starbucks Strawberry Puree 101
Starbucks strawberry puree is a topping or flavoring component that adds extra fruitiness to any drink.
It costs between $1.00 to $1.25 to add this topping to any drink. Here's the secret…it's so easy to make you don't even have to pay or go into Starbucks to have it!
All you need are strawberries, sugar, lemon, and, the optional, xanthan gum or cornstarch.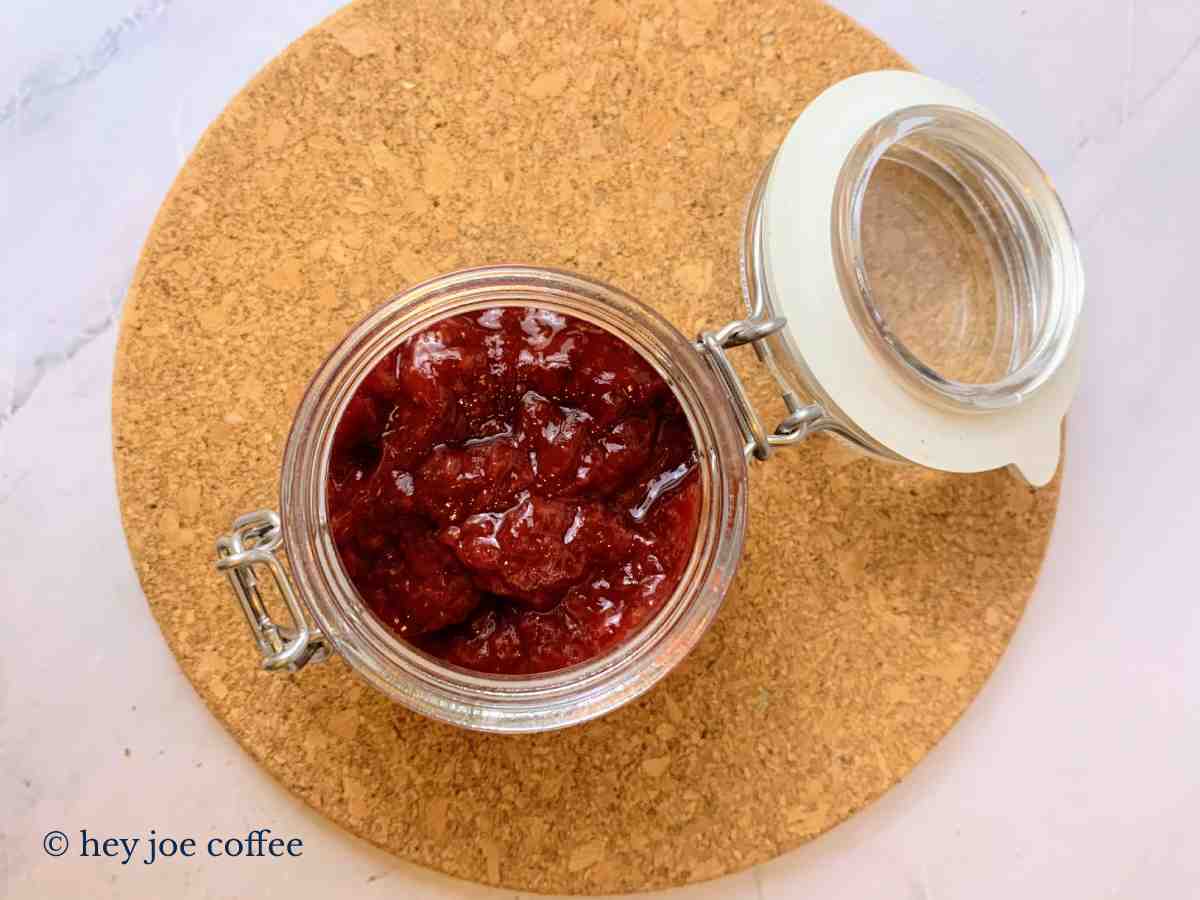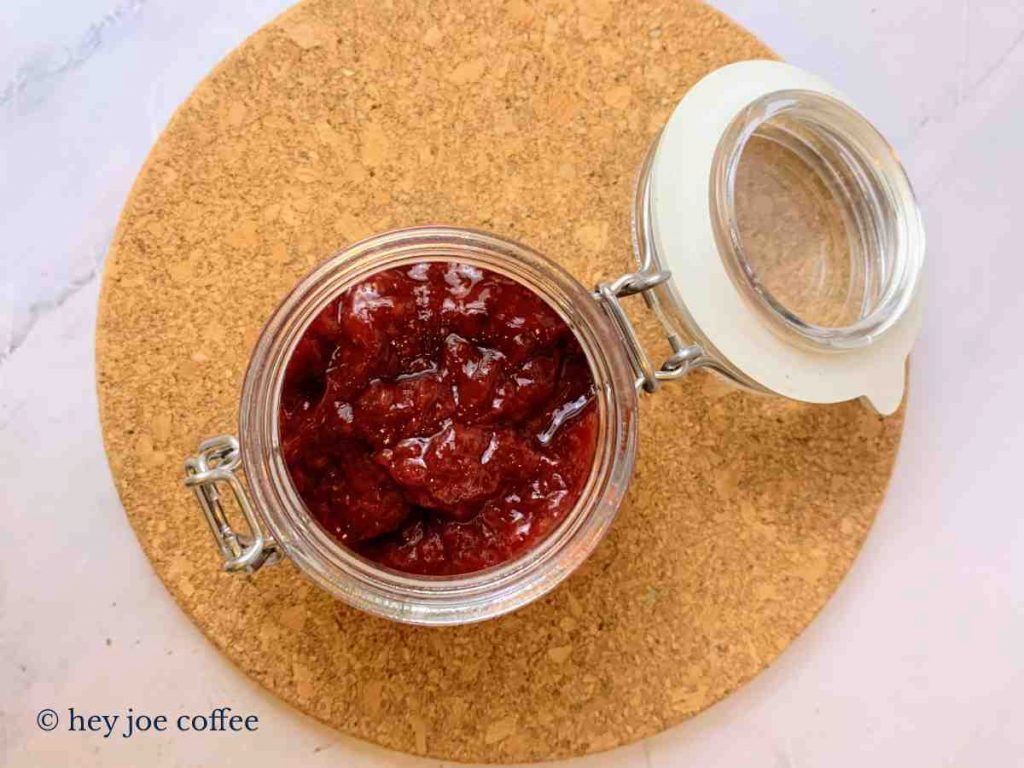 What does Starbucks strawberry puree taste like?
You may be expecting an artificial, candy-like flavor, but the strawberry puree tastes like actual strawberries. It's just a little on the sugary side.

The sweet puree blends in seamlessly with almost any drink.
---
Starbucks Strawberry Puree Tools & Ingredients
This easy-to-make add-in will only cost you three to four ingredients. You may be surprised to find that all the ingredients are already in your fridge.
All you need is strawberries, sugar, lemon, and the optional xanthan gum or cornstarch.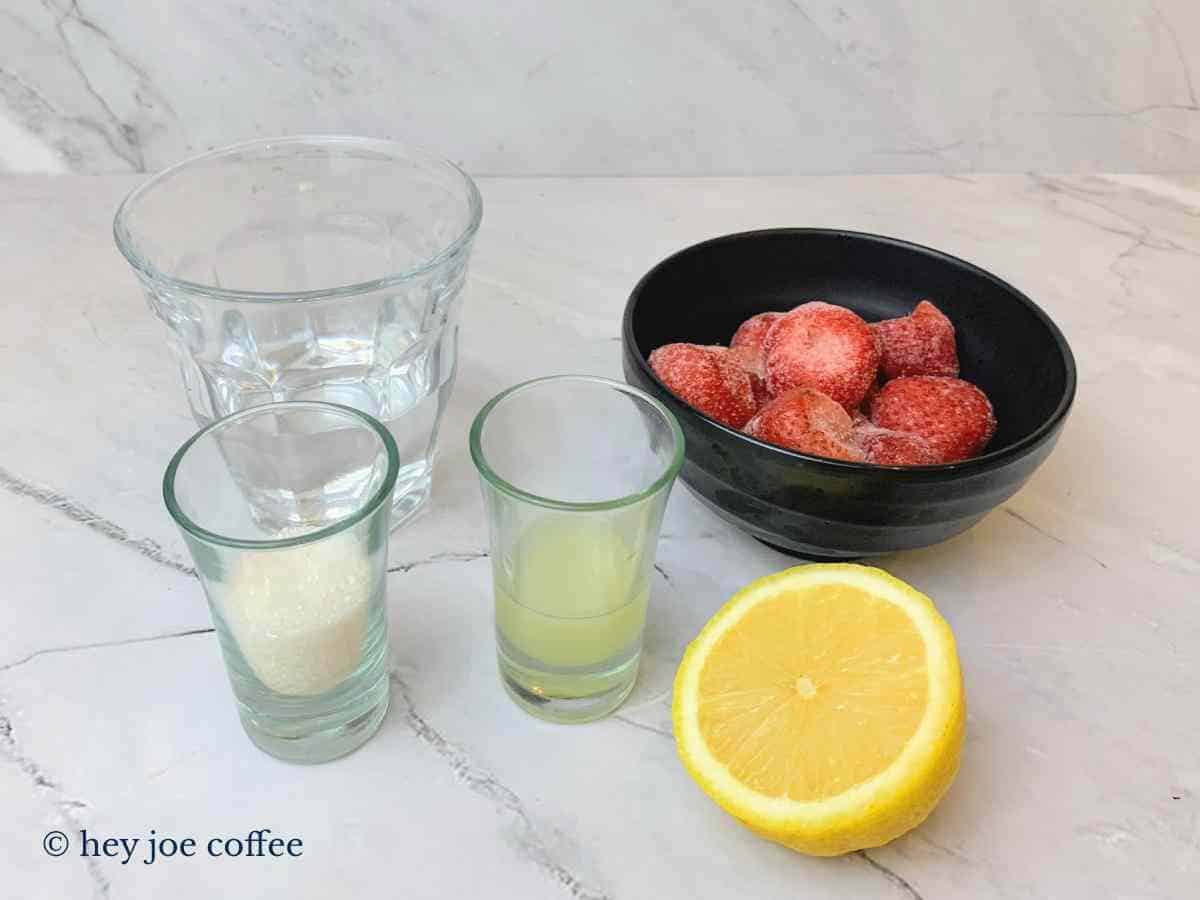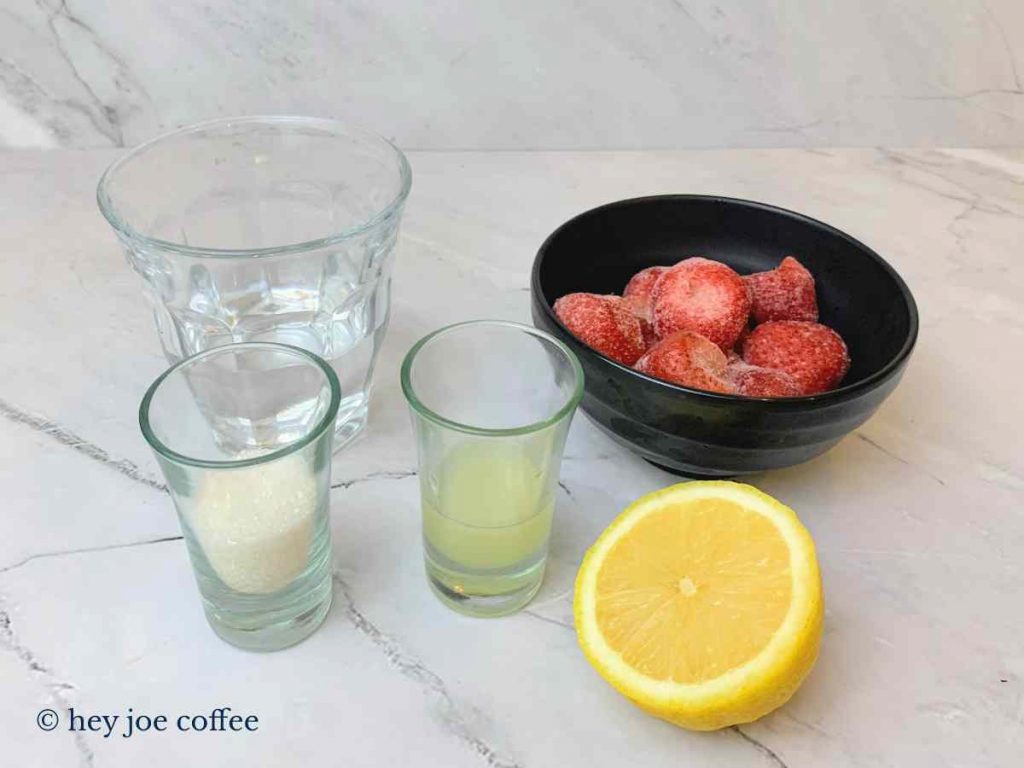 Strawberries
Fresh is best! No one likes the freezer-burnt taste of a strawberry that's been shipped from miles away.
Of course, strawberries can't grow all year round in North America, so we work with what we've got.
Sugar
Strawberries are super sweet, but for any fruity puree, sugar is needed. Sugar not only thickens the sauce but also brings back the sweetness frozen strawberries lose in the freezer.
White sugar best replicates the Starbucks flavor and texture, but I would recommend the healthier alternative raw cane sugar without added preservatives.
Lemon
The lemon not only gives the puree a little tangy snap but will help thicken the strawberry sauce.
The pH levels in the lemon bring the natural pectin together to create a thicker texture and prevent the puree from turning brown with age.
Optional: Xanthan Gum or Cornstarch
Depending on your personal preference, using xanthan gum or cornstarch will create an even thicker jelly-like sauce. This will help create the most authentic homemade Starbucks puree.
However, if you want to keep the recipe simple, or prefer a runnier sauce, opt out of using these thickening agents.
Blender
After chopping up your strawberries and cooking them down, there will still be large chunks.
Using a handheld blender or a regular blender will break up the chunks and smooth out your puree.
---
How To Make Starbucks Strawberry Puree
A lot of your homemade pink drinks would be lifeless without this Starbucks strawberry puree recipe.
This handy-dandy little recipe is easy to make yourself and can level up any drink.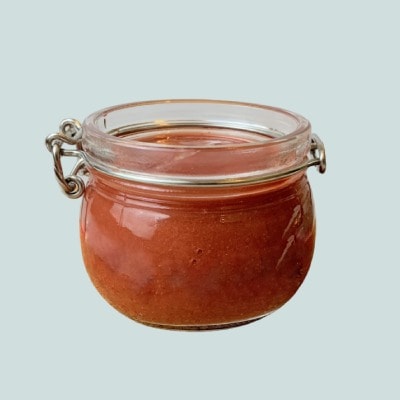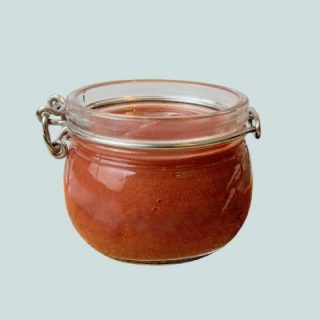 Starbucks Strawberry Puree Recipe
No recipe is easier than this Starbucks strawberry puree recipe. Throw them in a pot and watch as your strawberries melt into ooey-gooey goodness.  
Ingredients
Strawberries (Fresh or Frozen): 1 cup
Sugar: 1/3 cup
Xanthan Gum (Or Cornstarch): 1/4 tsp (optional)
Water: ¼ cup
Lemon Juice: 1 - 2 tsp
Instructions
If you're using fresh strawberries, remove stems and leaves and wash it well. If you're using frozen strawberries, allow them to thaw completely.
Cut the strawberries into halves or quarters if large so that it gets broken down easier during the cooking process.
Add the chopped strawberries into a saucepan along with the sugar and ¼ cup of water. Set the stove to medium low.
Let it cook for 15 minutes, stirring occasionally. If you're using xanthan gum or corn starch, add it now. Mash the strawberries using the back of a spoon to help it along.
Turn off the heat and let it cool to room temperature. Scoop out the strawberry puree to a blender* and add 1 teaspoon of fresh lemon juice. Add 1 more teaspoon if you like it tart.
Blend the strawberries until it's completely pureed. Transfer the finished strawberry puree to an airtight jar. Use when needed.
Notes
* You can also use an immersion blender to puree the strawberry mixture directly in the pot.
---
Starbucks Drinks With Strawberry Puree
Before we get into the recipe, let's look at some of your favorite strawberry drinks that would not be the same without their sweet-saucy counterpart.
Some of these drinks are available in the standard menu while the others are secret menu items.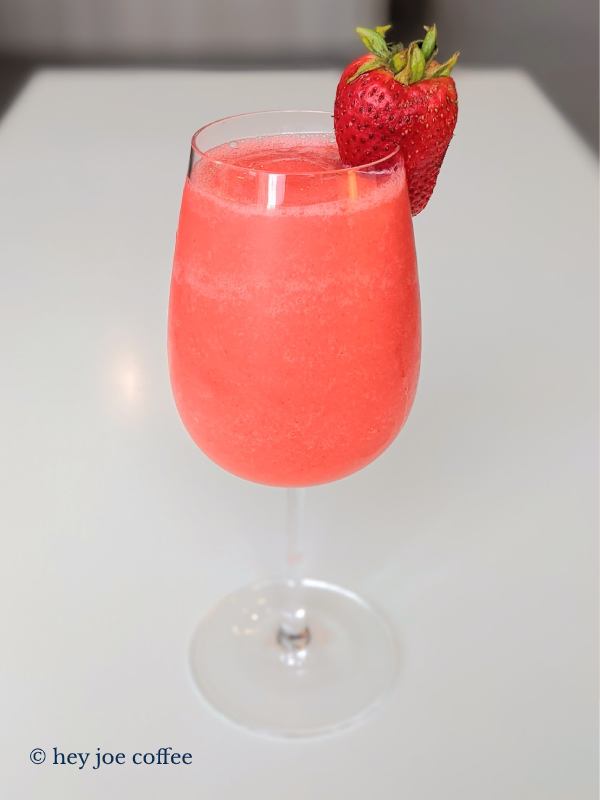 1. Strawberry Creme Frappuccino
A sweet blend of strawberries and creamy milk. This non-caffeinated drink is layered with strawberry puree, milk, and whipped cream. (1)
Flavor Profile:
You're hit with an immediate taste of sweet, pure strawberry on the first sip. This drink knocks back any relation to strawberry milk.
It's pure strawberry sweetness with a slight tang of the actual fruit.
Ingredients:
Creme Frappuccino Syrup
2% Milk
Ice
Syrup
Strawberry Puree
Whipped Cream
2. Strawberry Shortcake Frappuccino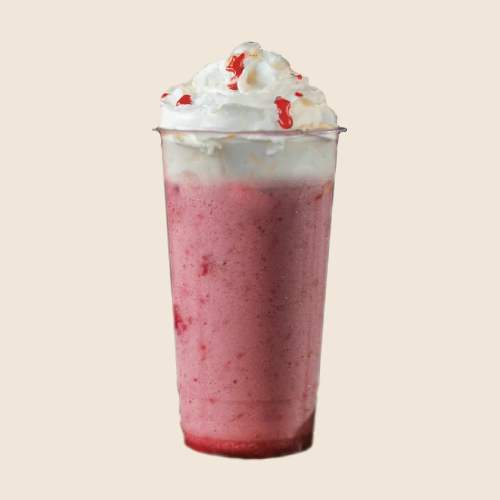 Strawberry Frappuccino is the base of this special drink.
To recreate the "shortcake" flavor, Starbucks adds vanilla, mocha, and toffee sauce to your classic Strawberry Frappuccino.
Flavor Profile:
This treat can be a hit or miss with some people.
The drink retains its strawberry flavor. However, some people say there's no difference to the original Frappuccino, others say there's a cake-like flavor behind the strawberry.
Ingredients:
Creme Frappuccino Syrup
2% Milk
Strawberry Puree
White Mocha Sauce
Toffee Nut Syrup
Ice
Whipped Cream
3. Strawberry Funnel Cake Frappuccino
I think Strawberry Crème Frappuccino fans will fall in love with this upgraded version.
Starbucks added onto their Strawberry Creme formula Frappuccino Roast, funnel cake crumbs, and syrup.
Flavor Profile:
Coffee lovers won't find the usual bitter bite of coffee in this drink.
For those with a sweet tooth, this is everything you've dreamed of. Sugary, funnel cake flavor with a hint of sweet strawberry.
Ingredients:
Frappuccino Roast
2% Milk
Ice
Funnel Cake Syrup
Strawberry Puree
Whipped Cream
Funnel Cake Topping
Powdered Sugar
4. Blended Strawberry Lemonade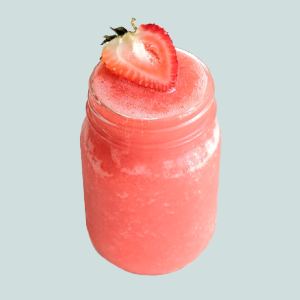 The name says it all. Topped with ice this sweet lemonade drink is blended with strawberry puree.
Flavor Profile:
This slushy treat is tart and tangy.
The strawberry puree add-in balances out the lemon's bite and gives the drink an immensely refreshing flavor.
Ingredients:
Creme Frappuccino Syrup
Lemonade
Ice
Strawberry Puree
5. Strawberry Cold Foam Iced Coffee (Secret Menu)
Half coffee, half strawberry. This icy brew is made using iced coffee and vanilla syrup as a base with milk and strawberry syrup whipped afloat.
Flavor Profile:
It's a strong coffee flavor accented by a sweetness from the vanilla and whipped cream.
A lighter roast is recommended if coffee lovers wish to have a stronger, fruitier flavor.
6. Strawberry Dream Matcha Latte (Secret Menu)
Anti-coffee drinkers everywhere are going to love this secret menu item.
The Strawberry Dream has a beautiful ombre effect from the green matcha tea base and the Strawberry Frappuccino on top.
Flavor Profile:
Any matcha lover knows the bitter pick-me-up taste of this green tea drink.
But with that added sweetness of the strawberry puree, caffeine lovers will find this foamy, sweet drink a fun alternative.
Ingredients:
Base: Iced Matcha Latte
Add: Cold Foam with Strawberry Puree
---
Thinking About Buying The Puree Instead?
Still not convinced about making the strawberry puree and want to purchase it instead. Here are a few things to note.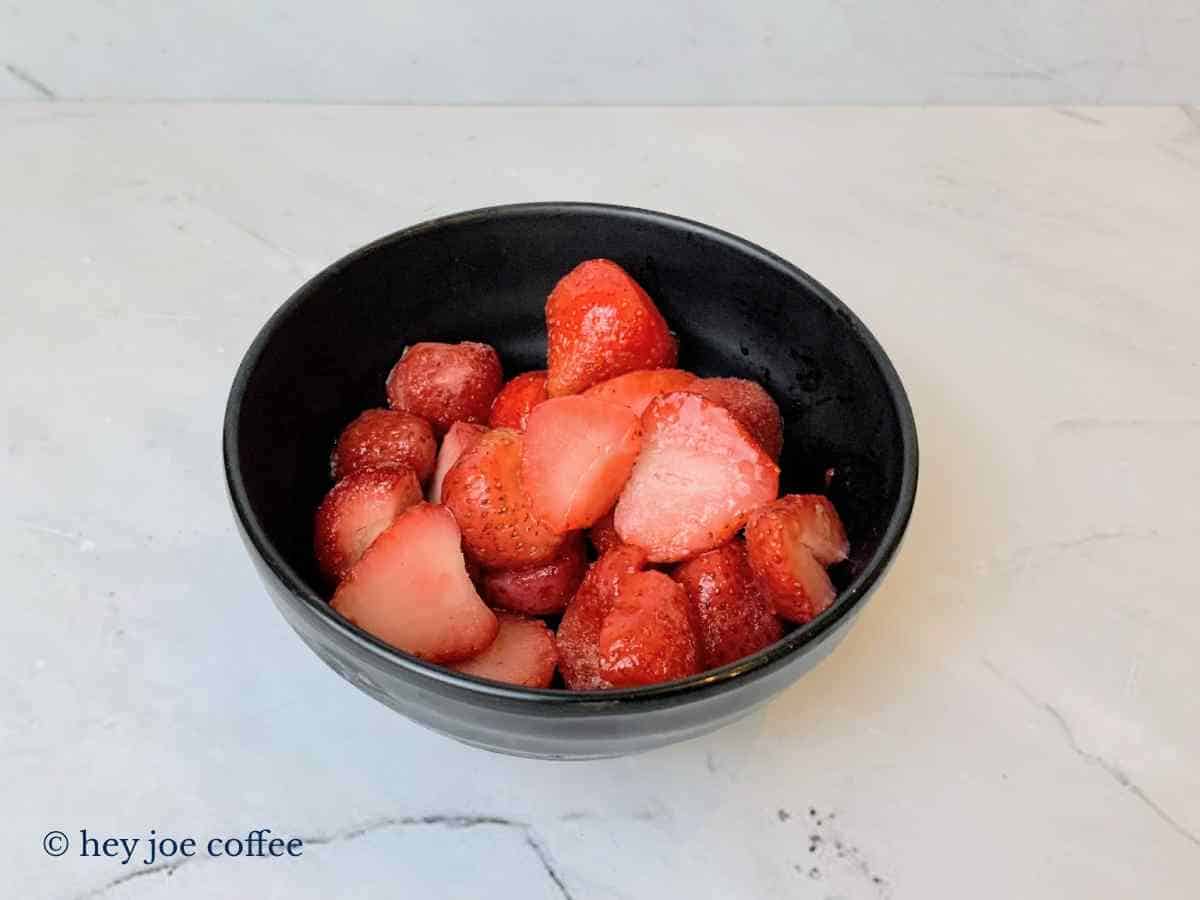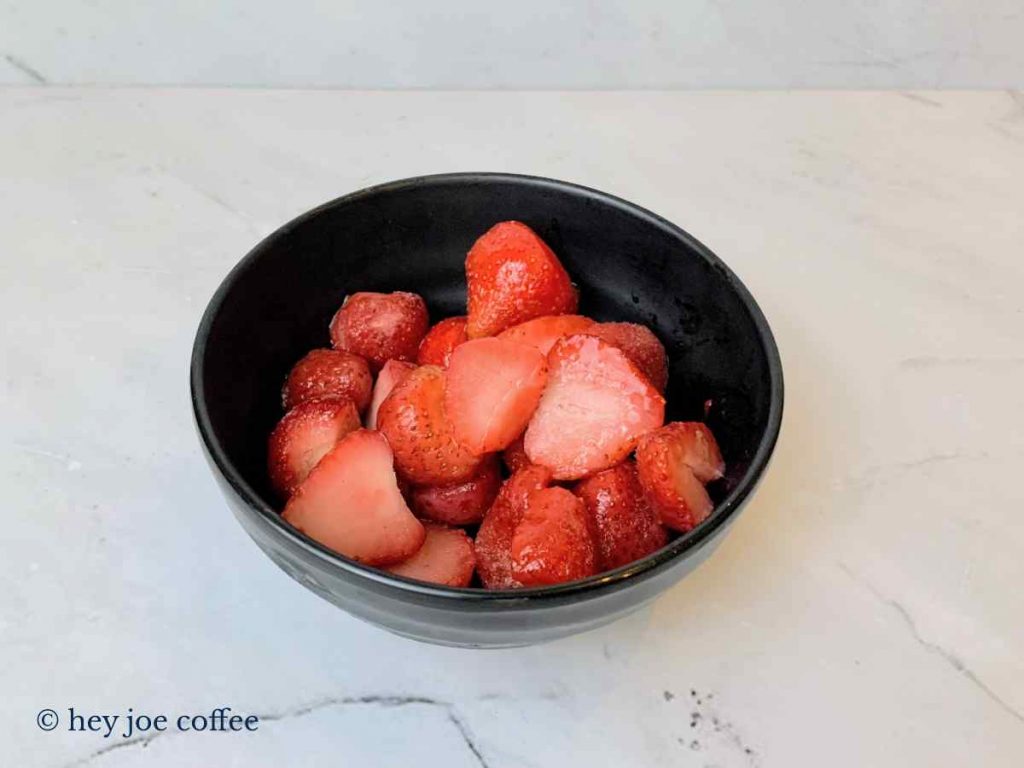 Starbucks doesn't have the strawberry puree all the time
Like everyone, I love that extra pop of strawberry flavor in all my Starbucks drinks. Sadly, Starbucks doesn't always have their strawberry puree in every outlet.
So, when the strawberry puree runs out, cut out the middleman and use these easy-to-follow instructions I'll share below.
You can't buy it easily on the Starbucks app
To add strawberry puree on the Starbucks app, you need to order a drink that has it as an ingredient. Drinks that have puree will let you pick the quantity.
This means you can't purchase the puree on its own using the app.

And if you'd like to add the puree to other drinks, you can only do it in a store.
What about buying their strawberry puree anywhere?
Starbucks does not sell any strawberry products separate from their drinks.

You can buy strawberry puree at any grocery store; however, there are no Starbucks brands.
Torani Strawberry Puree is a good alternative, but it will not taste as good as homemade!
---
Summary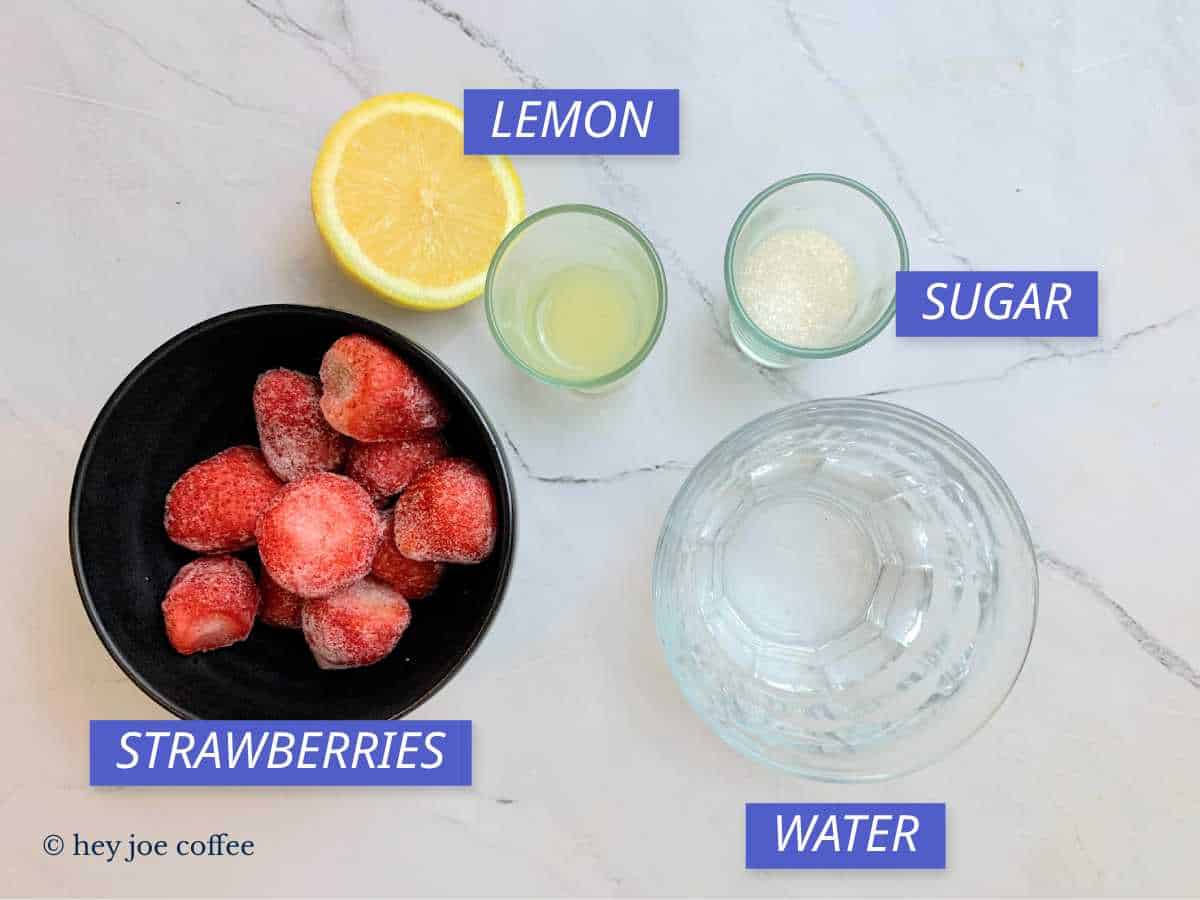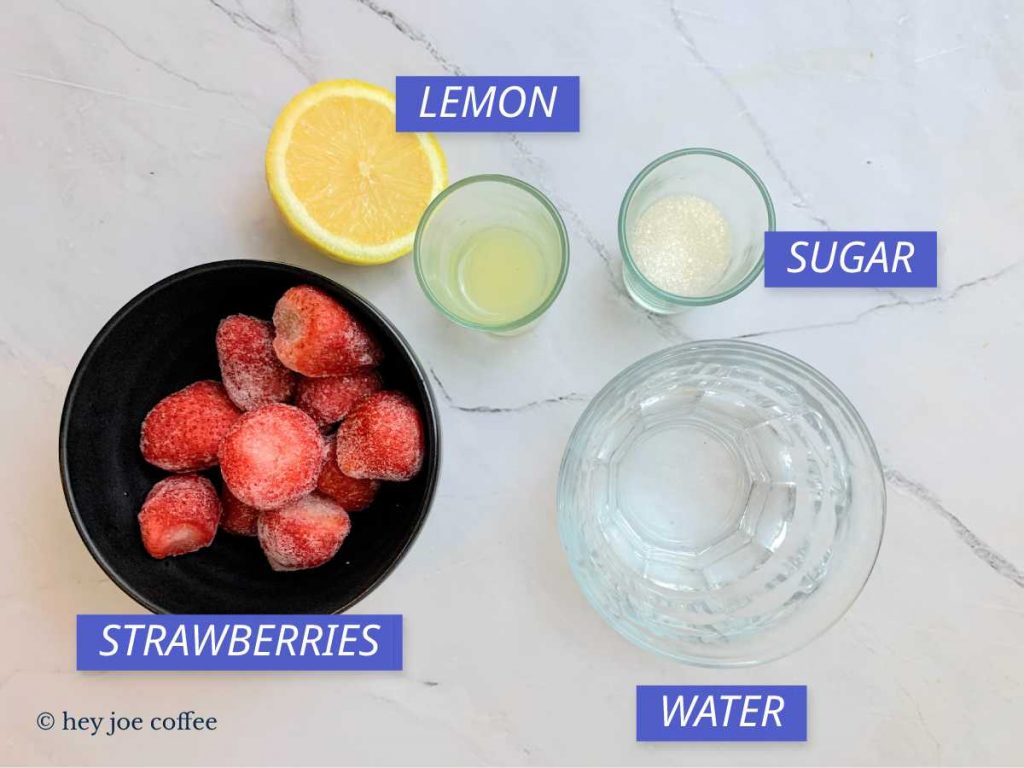 See, easy as pie! Or easy as puree, in this case.
Starbucks strawberry puree is a great add-in when you're going to Starbucks for a pick-me-up, but now you can do it just as easily at home.
Verified Sources
Wondering where your info comes from? We totally understand. Hey Joe only obtains our information from reputable sources. Contents from this article are sourced from the following publications: