When it comes to seasonal flavors, I'm not scared of introducing new combos to my palate. Dunkin Butter Pecan is one of the chosen this year, and to my surprise – it tastes as decadent as it sounds!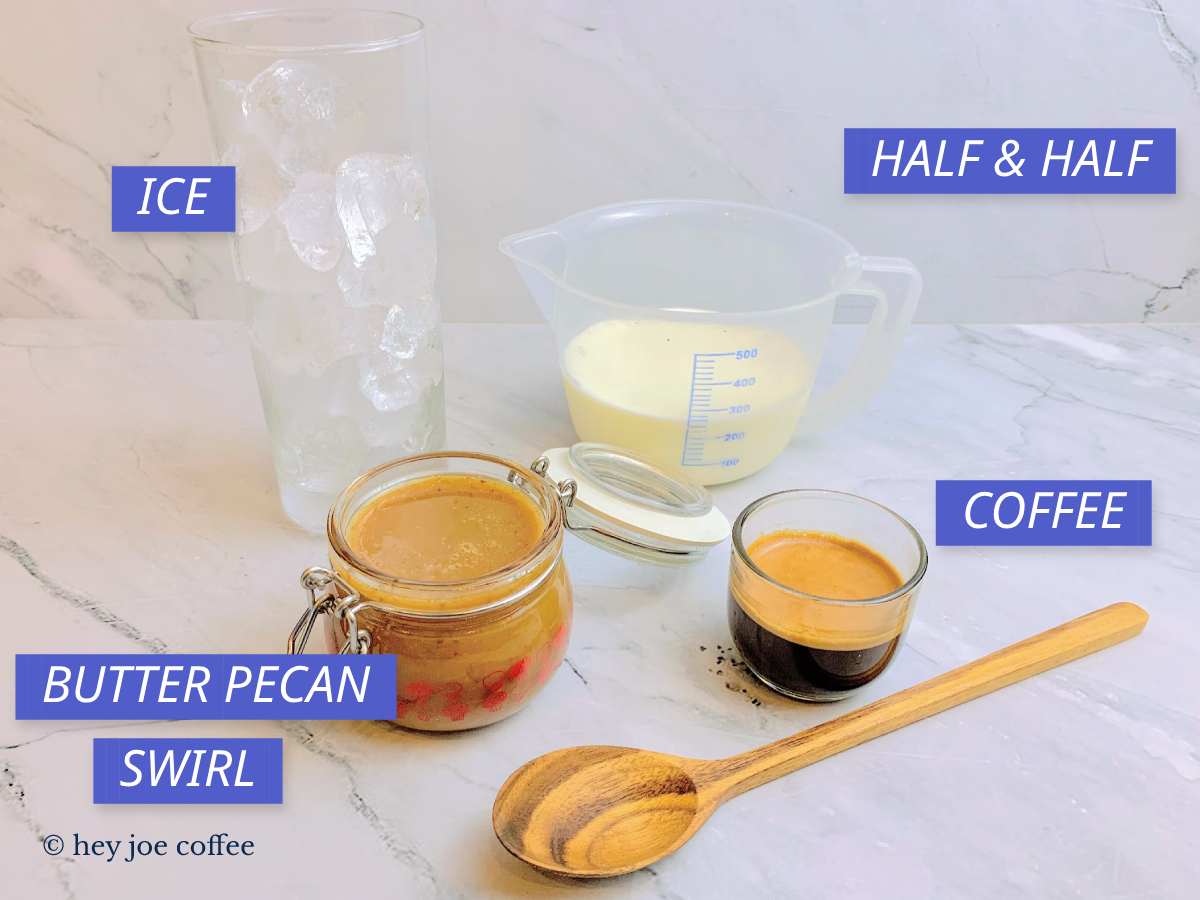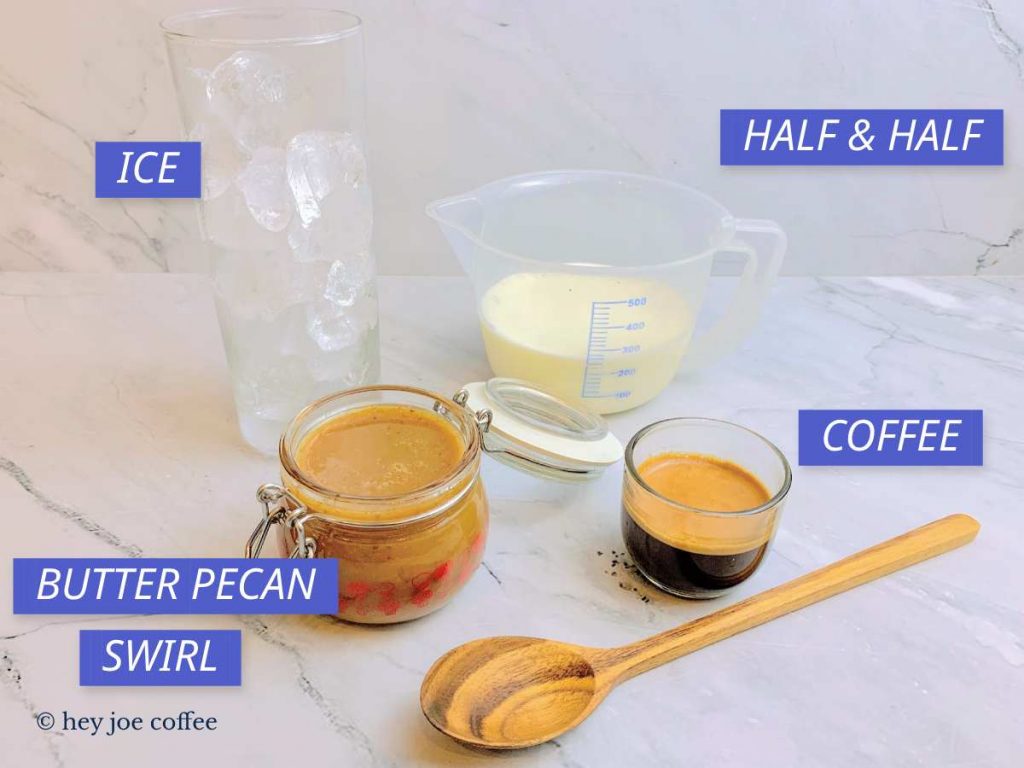 Topics Explored
What Is Dunkin Butter Pecan?
The Butter Pecan flavor was born at Dunkin's headquarters sometime in 2013 after a lengthy process of pairing different flavors.
It's a flavor swirl that's available for a limited time each year and goes well with most coffees at Dunkin. (1)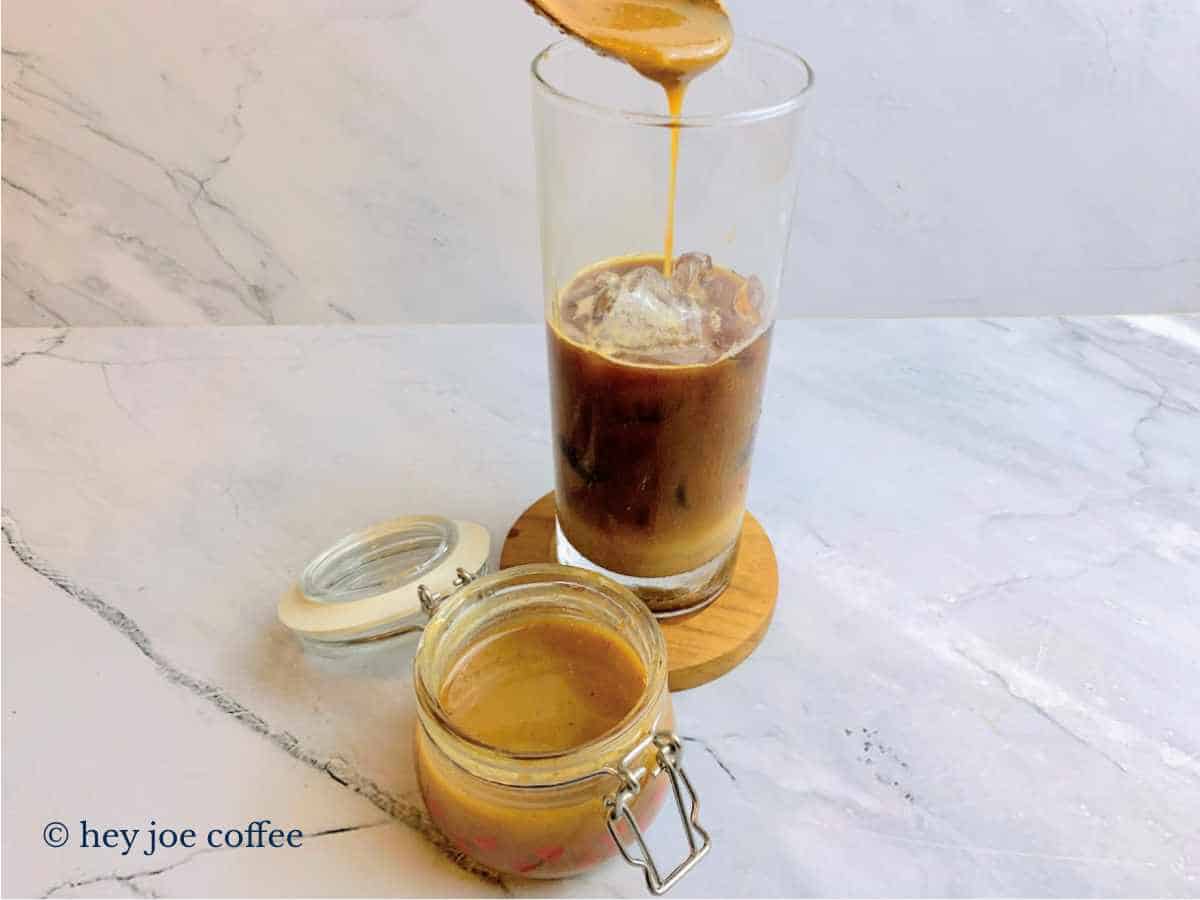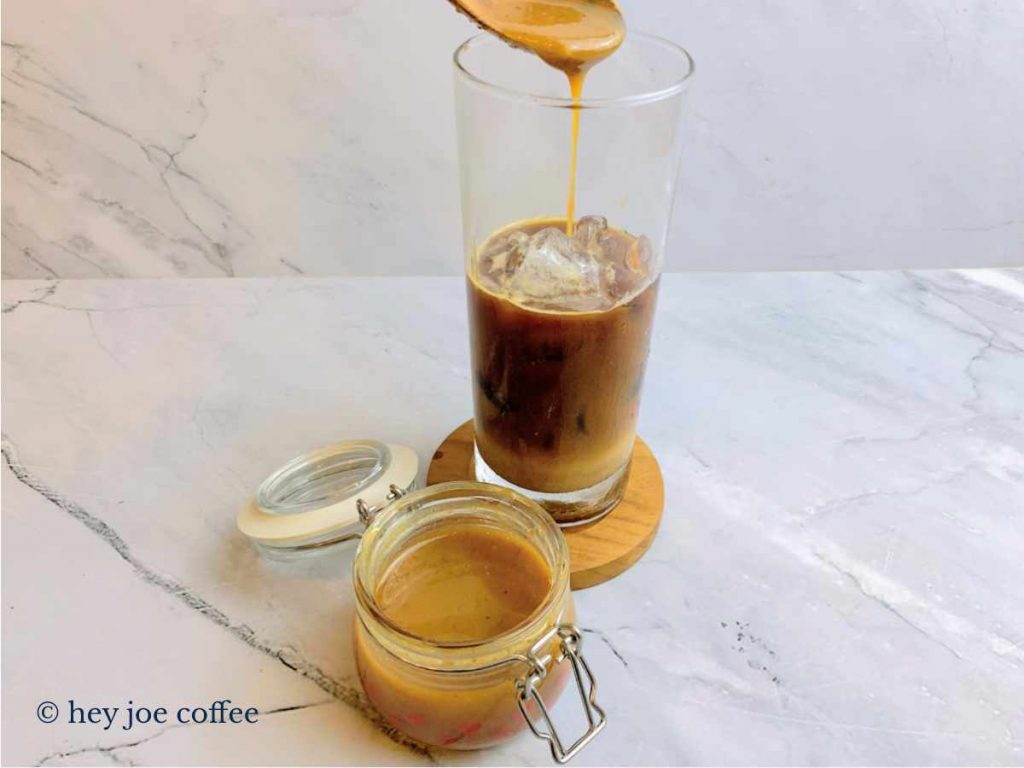 The Butter Pecan brings together the notes of a freshly roasted nuts and the softness of creamy butter.
It's a worshiped flavor, so much so that people started a petition for Dunkin to make it part of the regular menu. After tasting it for the first time, I understand the hype! (2)
When Does Dunkin's Butter Pecan Return In 2023?
To satisfy its fans, Dunkin added the Butter Pecan flavor swirl as a permanent addition to the menu in April.
This means that you can have this once elusive flavor on tap anytime you visit Dunkin.
---
Dunkin Butter Pecan Coffee: Taste & Appearance
Every Dunkin fan swears by the Butter Pecan flavor, so my expectations were high. And to my surprise, this flavor hit all the right spots. Here's what you can expect with each sip.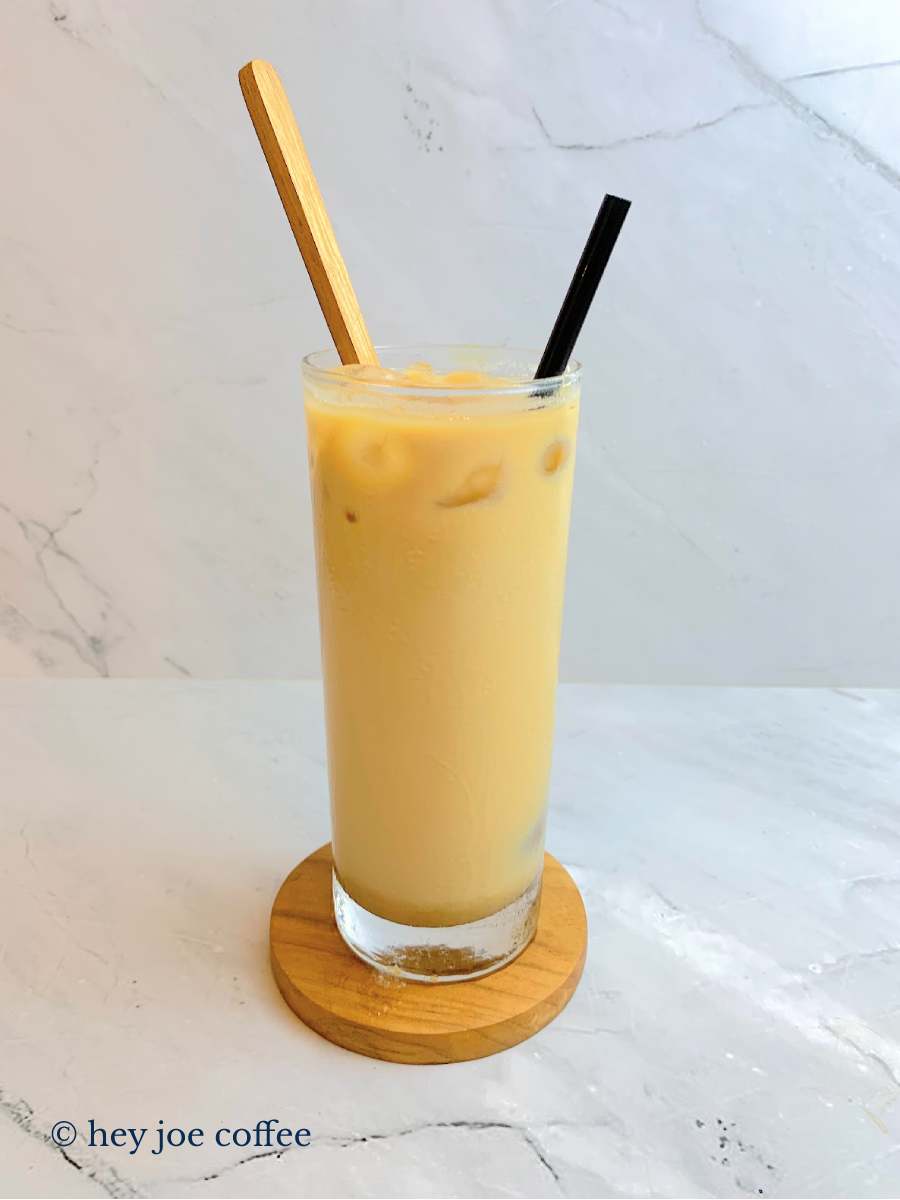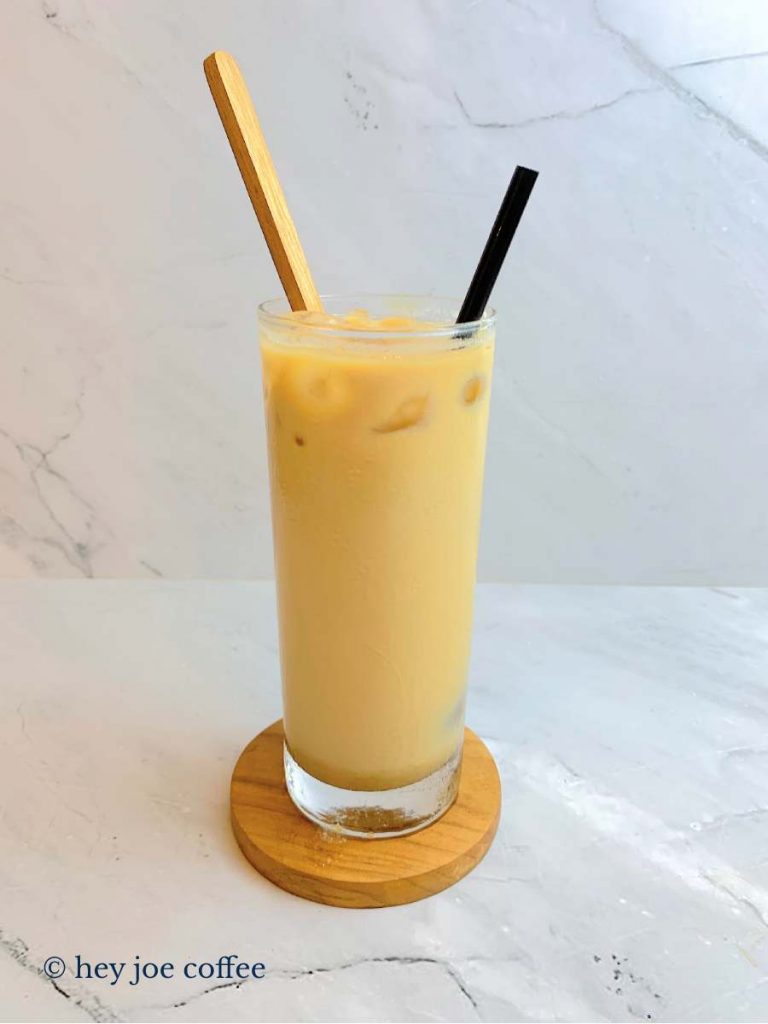 Appearance
The Butter Pecan is a swirl, and if you've ever had a swirl added to your coffee, you know that they're the middle ground between sauces and syrups.
Dunkin Butter Pecan is tan and viscous, it has the thickness of caramel sauce, but it's pliable enough to pump easily. As expected, once the swirl meets the coffee, it blends into the liquid and disappears.
Flavor
For me, the flavor of roasted pecans comes close to roasted hazelnuts, so I knew this flavor would complement the coffee beans.
The hidden smoky notes of roasted pecans pair well with the espresso roast while the cream flavor mellows down the acidity of the coffee.
Calories
I could guess that the Butter Pecan is an indulgence – nothing low-calorie tastes this good. This sweet treat will bump your coffee order by 50 calories per pump.
As a guide, a small drink packs 2 pumps of the swirl, a medium has 3 pumps, and the large one has whooping 4 pumps or 200 calories of flavoring!
---
Dunkin Butter Pecan Swirl Ingredients
The worst part about the Butter Pecan flavor? Its constantly sold out.
But nothing is stopping me from creating a Dunkin Butter Pecan swirl recipe. Raid your pantry and get in the kitchen with me!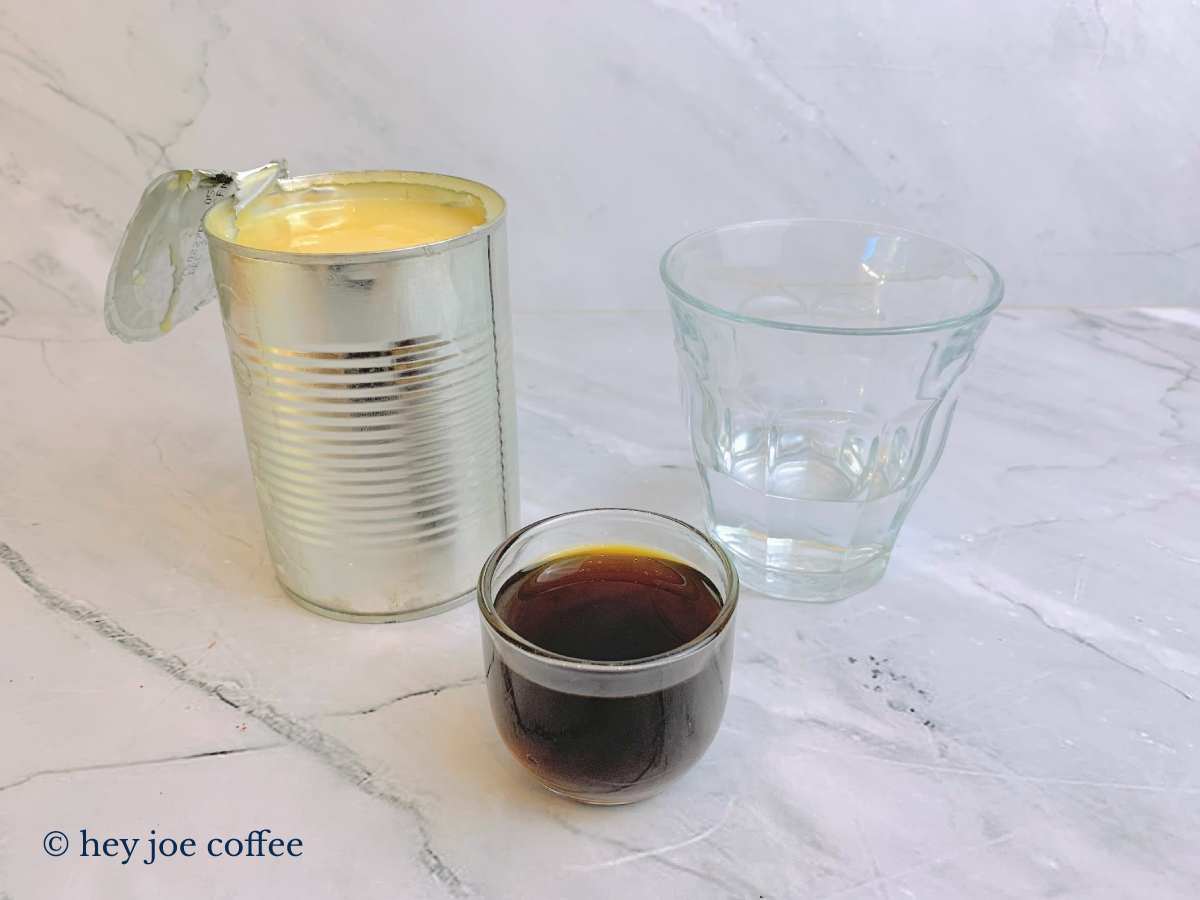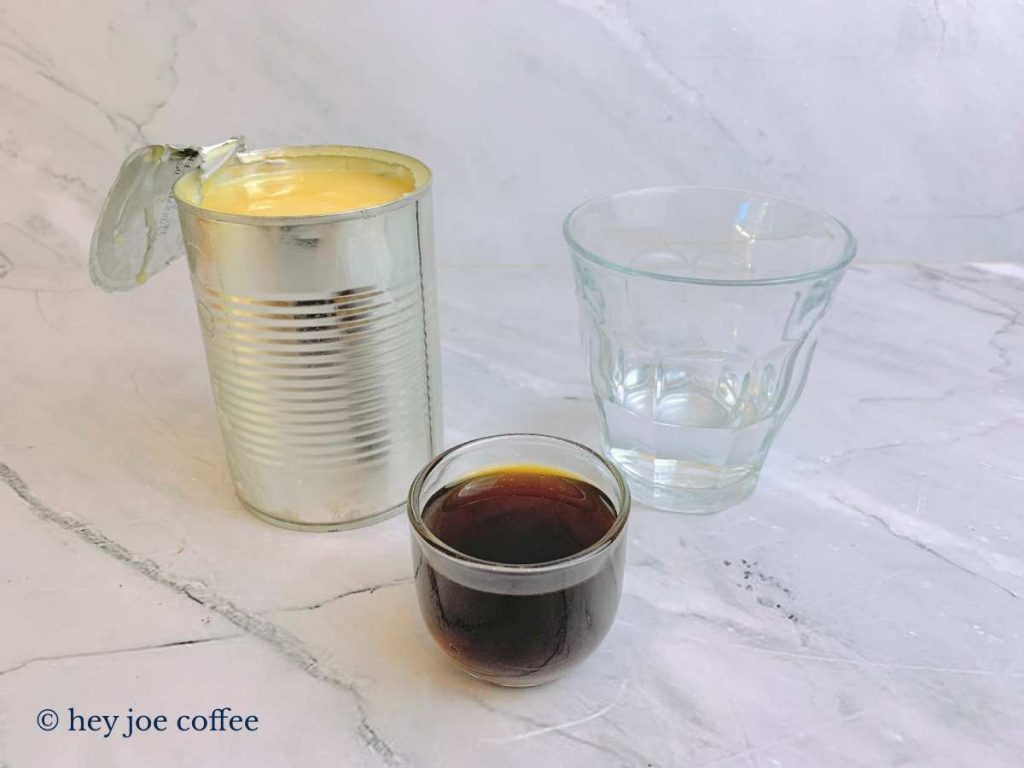 Butter Pecan Syrup
The first thing we need is butter pecan syrup. You need a barista coffee syrup, preferably by Torani or Monin.
I suggest you use unsweetened syrup if you want to control the final drink's sweetness (and calories!).
Sweetened Condensed Milk
The second crucial ingredient is sweetened condensed milk. I use Eagle Brand for this recipe as it's closest in texture and sweetness to the swirl.
And before you ask, no, you can't substitute condensed milk for cream or regular milk.
---
How To Make Dunkin Butter Pecan Swirl
After a few times of trial and error, I'm happy to share my foolproof Dunkin Butter Pecan swirl recipe.
Beware that this homemade version will taste more caramelized since it's heated on the stovetop.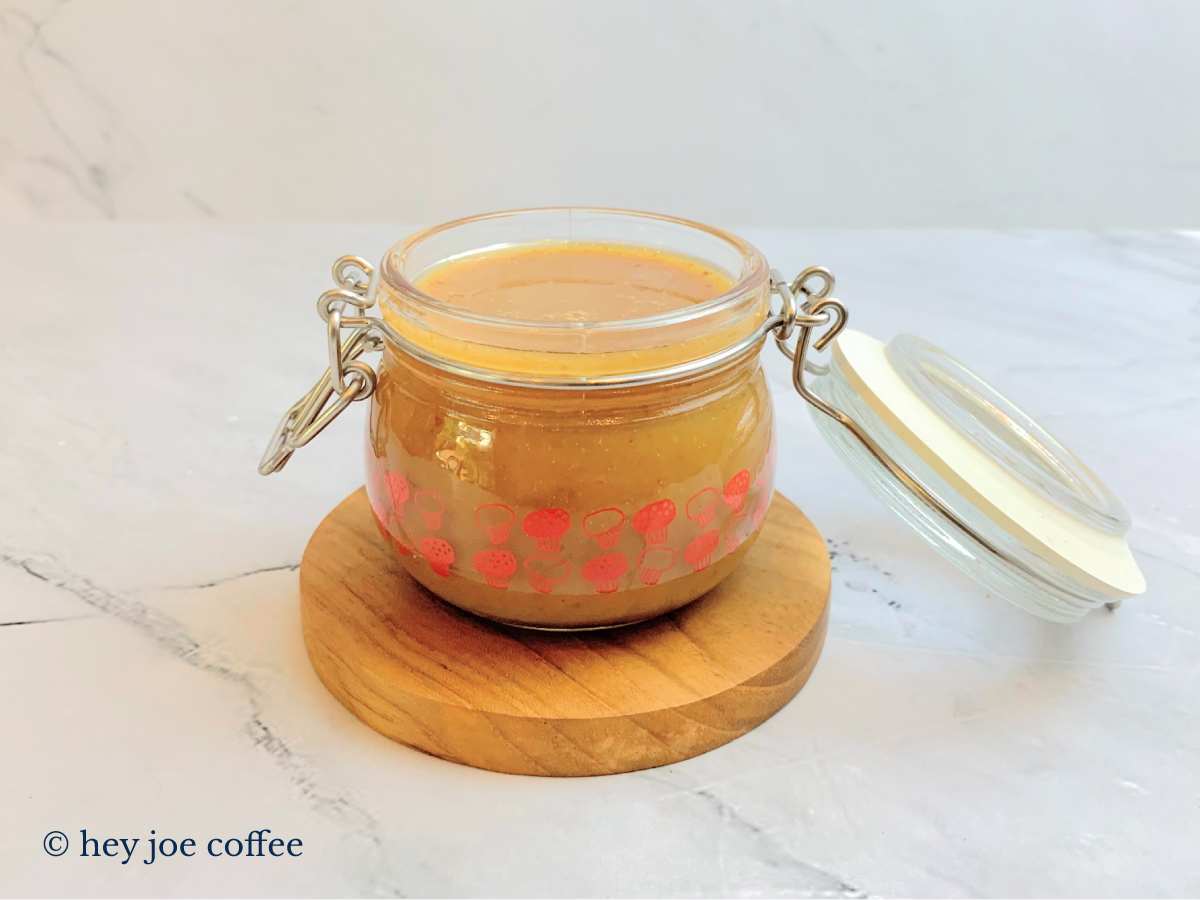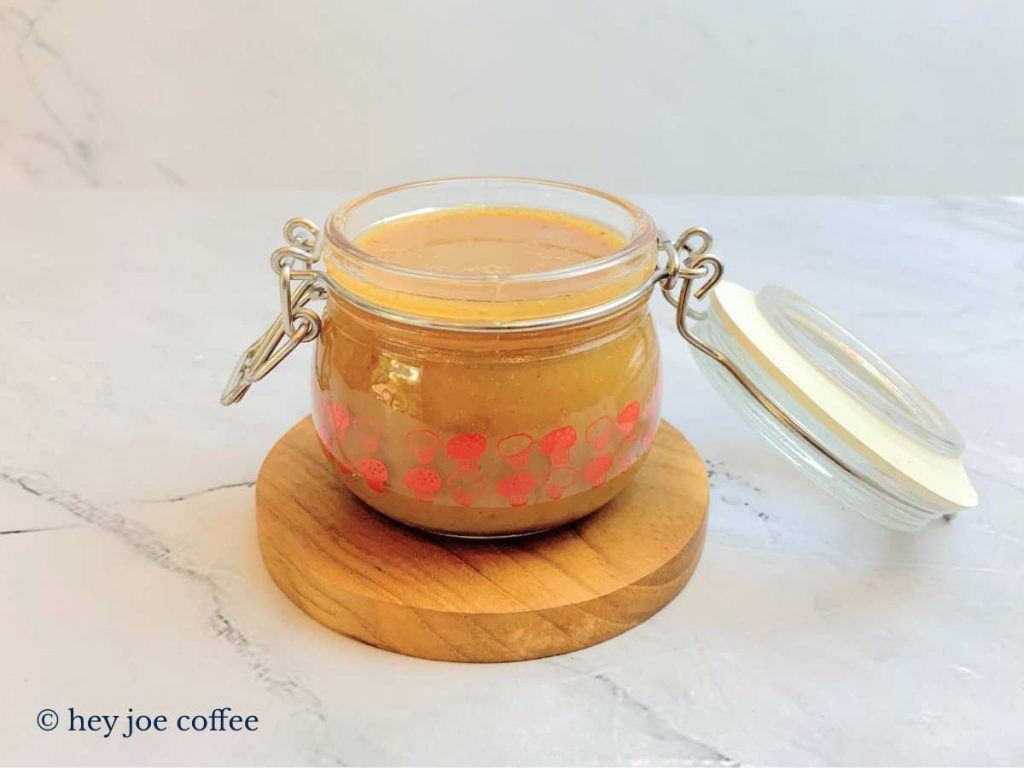 What You'll Need:
Sweetened Condensed Milk: 1 can (14 oz)
Water: 1/4 cup
Butter Pecan Syrup: 6 tbsp
Step 1:
Condensed milk is thick and viscous, so to make it easy to work with, we'll heat it a little. Set the burner on the lowest heat setting.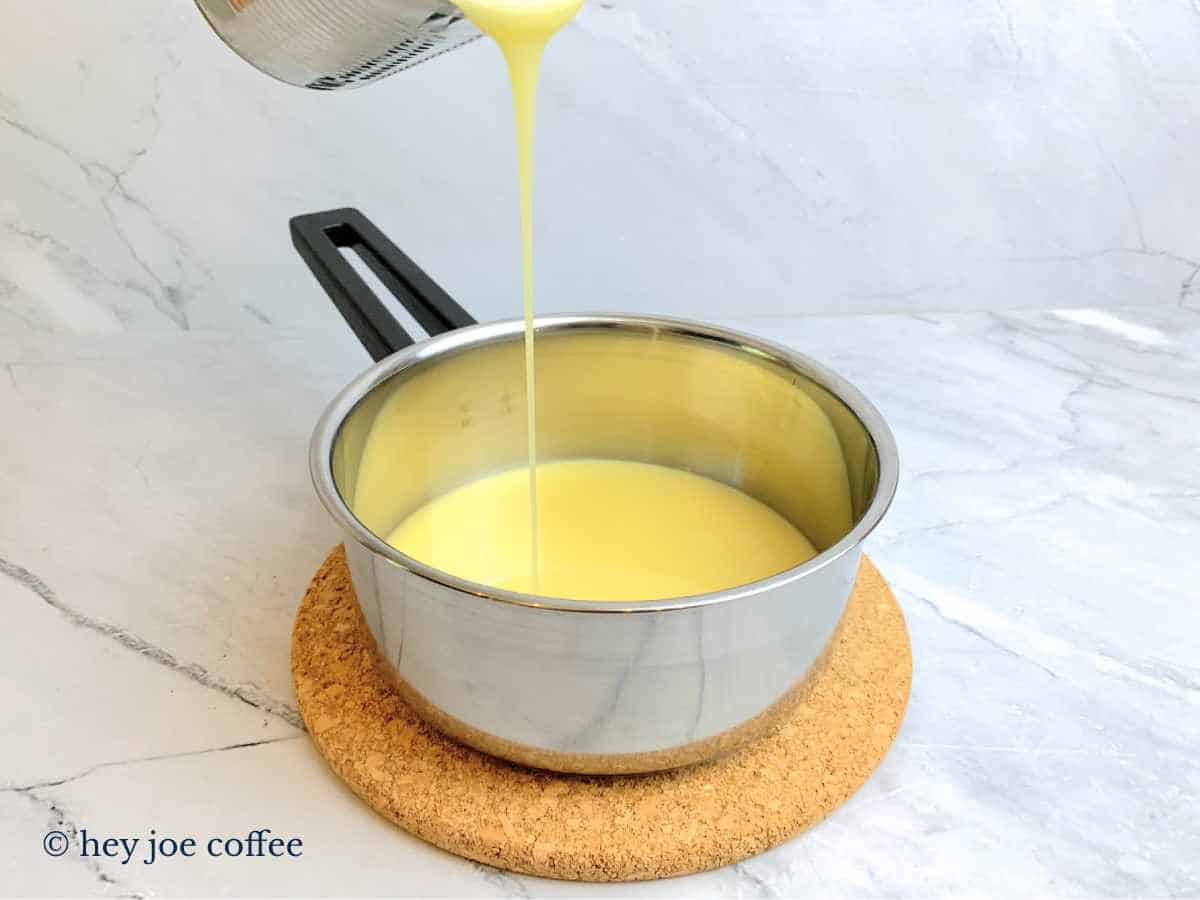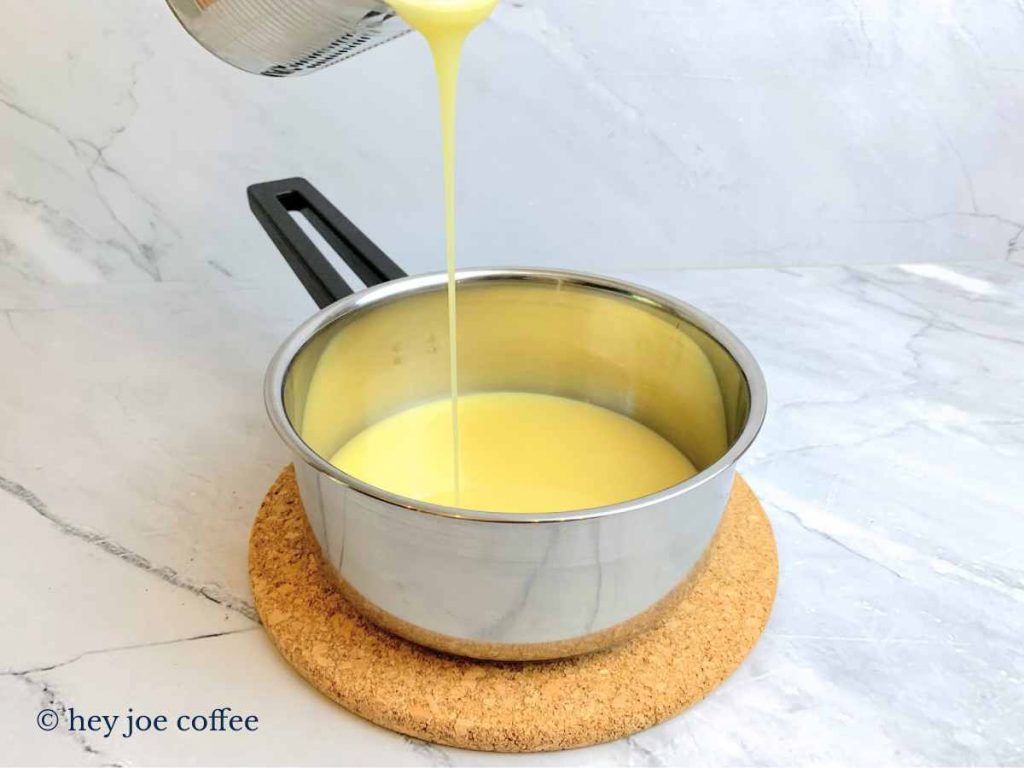 Step 2:
In a small saucepan, add ¼ cup water and empty the can of sweetened condensed milk. Place the pan on the burner and let it heat up.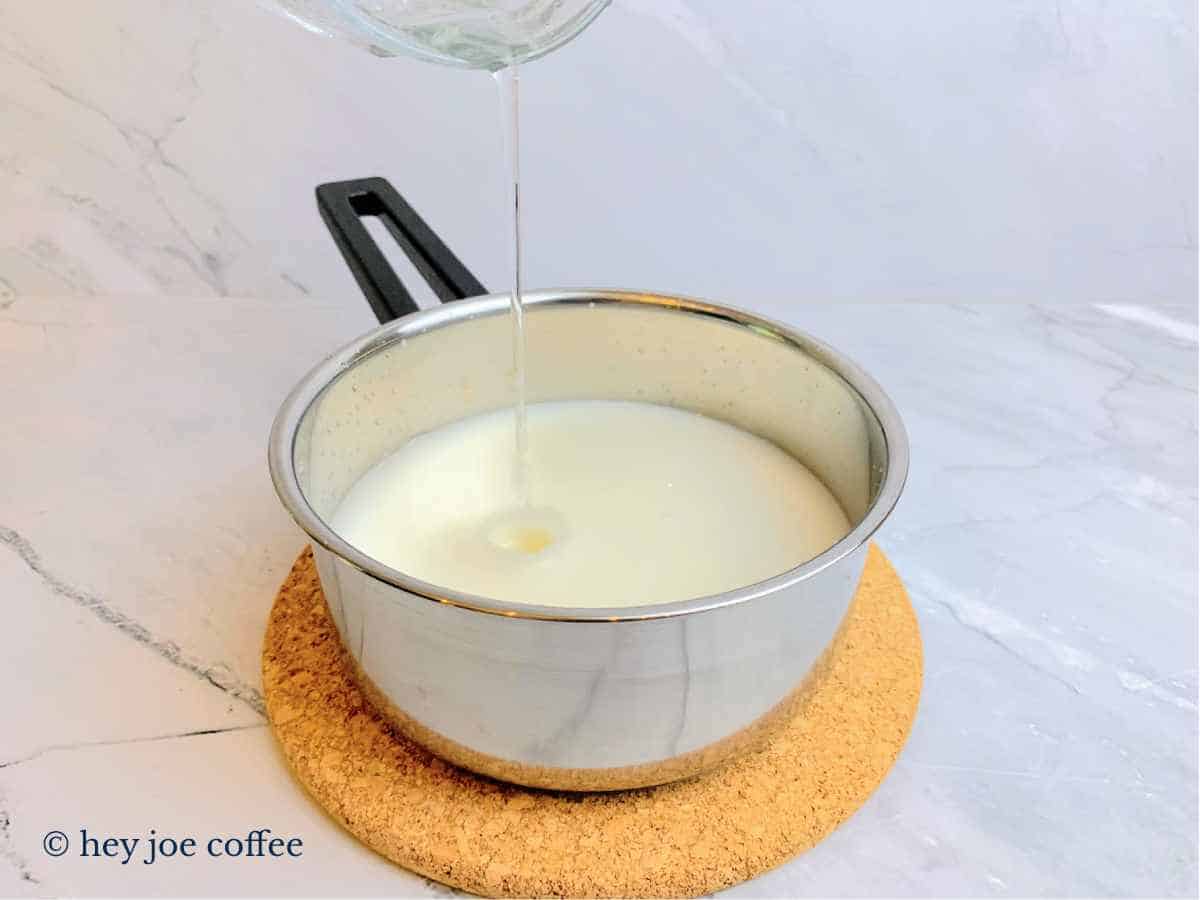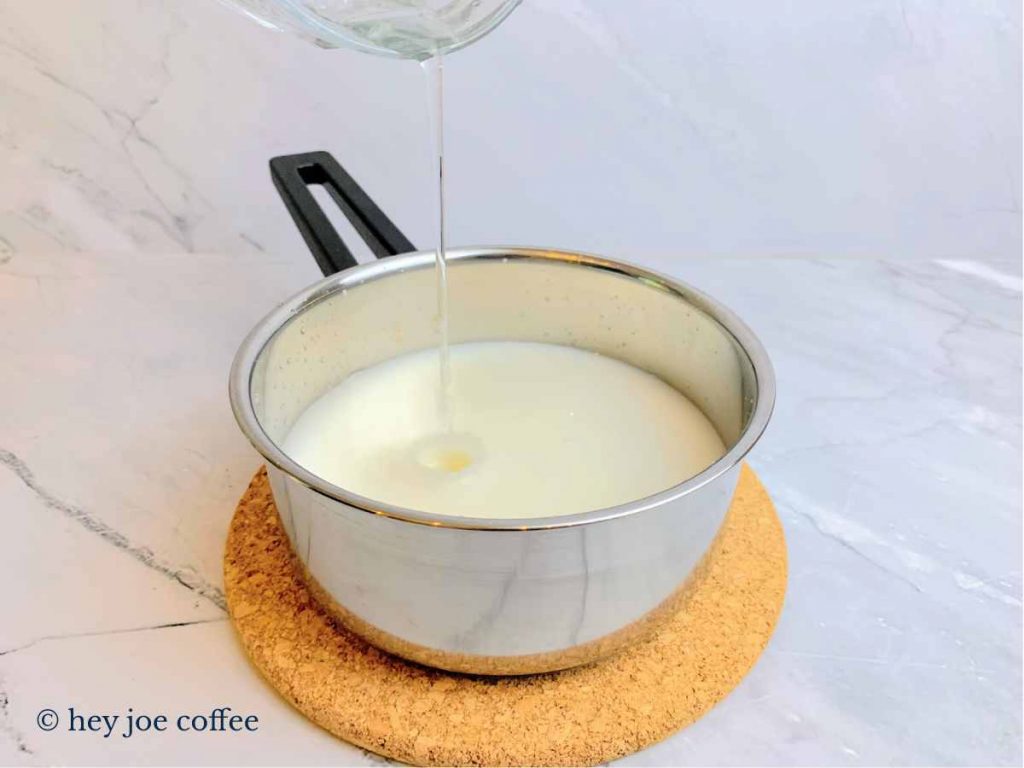 Step 3:
Cook the milk at a low temperature for 3 minutes, but be careful not to burn it. Stir occasionally to distribute the heat and prevent sticking.
Step 4:
Turn off the heat but let the saucepan sit on the stove. Add 4 to 6 tablespoons of syrup (to taste) and stir to combine with the milk.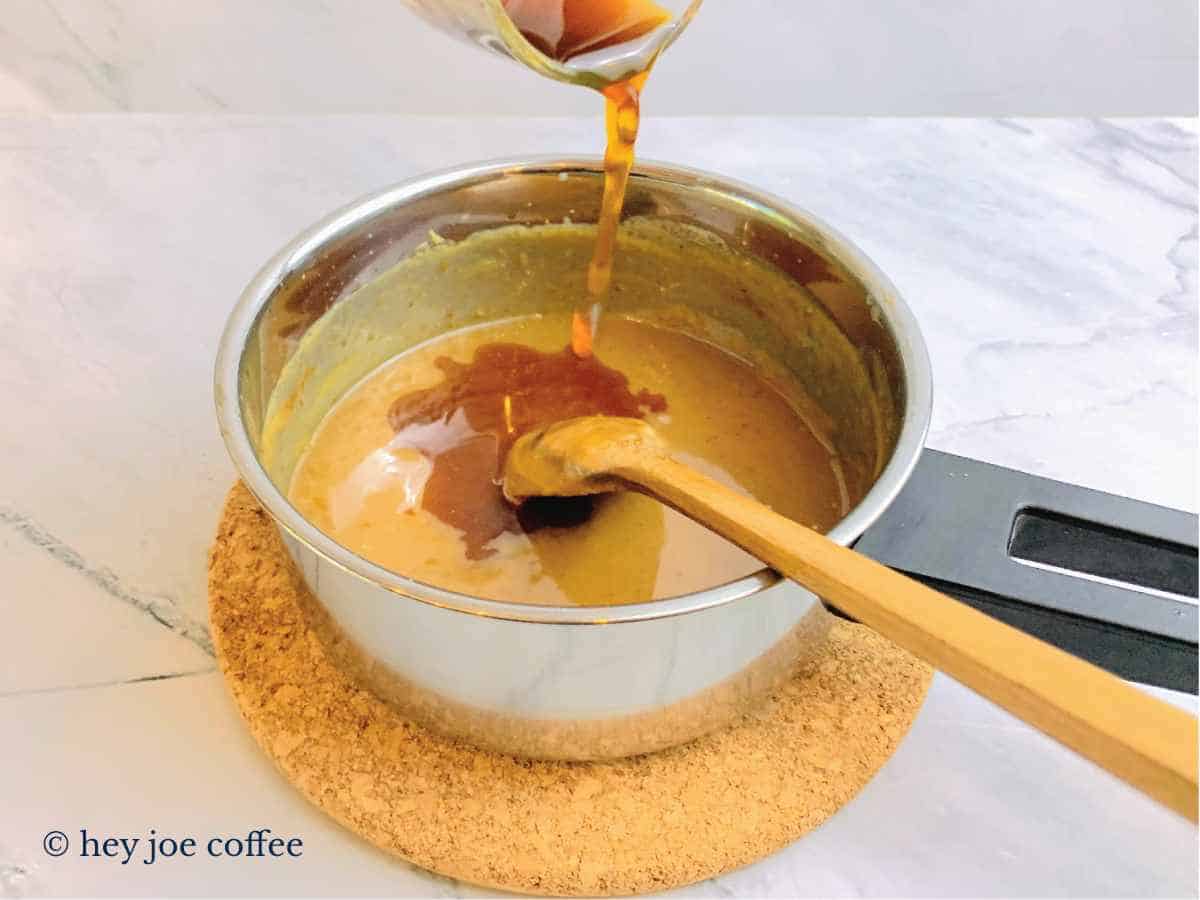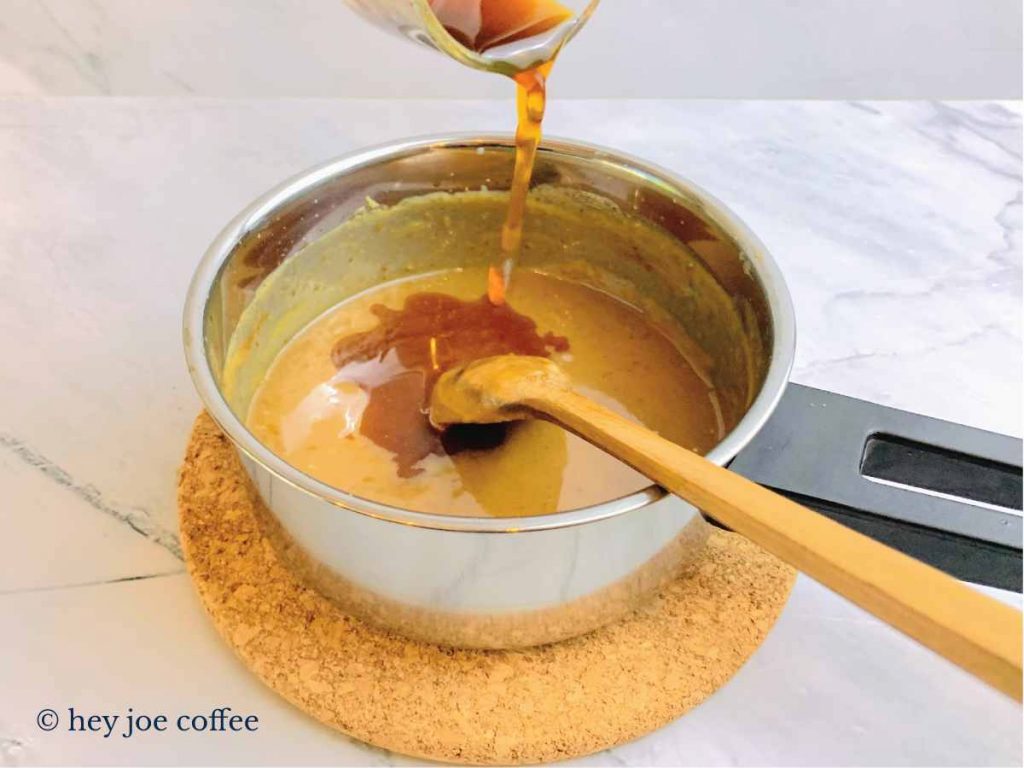 Step 5:
Let the mixture cool to room temperature, then transfer it into an airtight container. Store the swirl in the fridge until needed.
How Long Will The Butter Pecan Swirl Last?
The homemade butter pecan will last for 2 weeks when stored correctly in an airtight container and in the fridge.
This recipe yields 14 servings if you account for 2 tablespoons per drink.
---
Dunkin Butter Pecan Iced Coffee Recipe
Now we're ready for the Dunkin Butter Pecan iced coffee recipe. This is the latest version of a butter pecan drink at Dunkin, and if you've missed it, here's how to recreate it.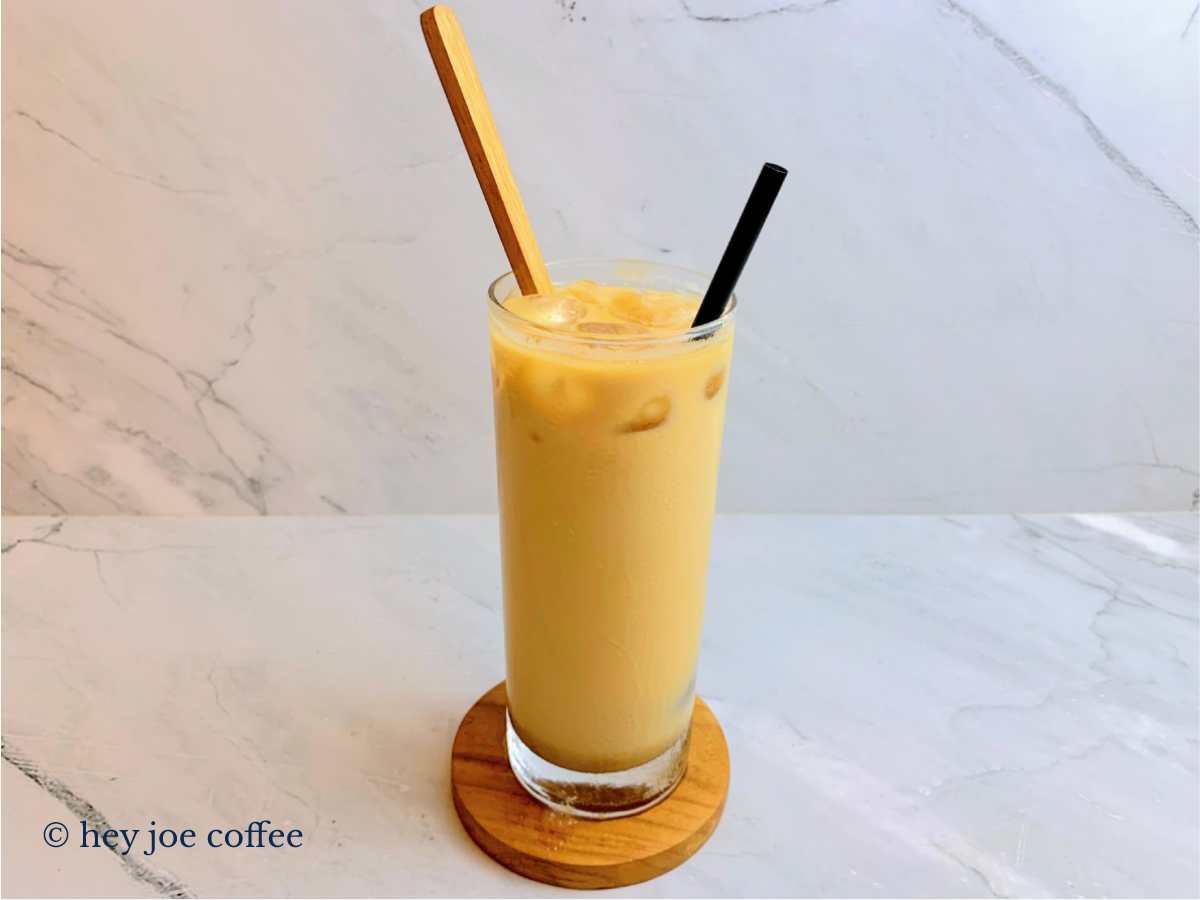 Dunkin Butter Pecan Iced Coffee Recipe
Yield:
1 serving (~16 oz)
You don't have to be a professional barista for this Dunkin Butter Pecan Iced Coffee Recipe; just get your favorite coffee and cup ready!
Ingredients
Homemade Dunkin Butter Pecan Swirl: 2 tbsp
Brewed Coffee: 1 cup
Half & Half: ½ cup
Ice
Instructions
Start by preparing a cup of your favorite coffee. I recommend using brewed coffee, as that's what they use at Dunkin for this drink. Set the coffee aside to cool off so it won't melt the ice and get diluted.
Fill about 3/4 of another tall glass with ice. Take your chilled cup of brewed coffee and pour it into the same glass.
Get your homemade butter pecan swirl from the fridge. Add 2 tablespoons to the glass with ice. If you want to add some extra sweetener, do it at this step.
We'll use half and half for the milk part in this iced coffee. Add it over the ice, coffee and butter pecan swirl.
Grab a tall spoon and stir the ingredients. Make sure it's combined well.
Add a straw or transfer this homemade Dunkin Butter Pecan to your favorite thermos and enjoy it throughout the day!
---
Summary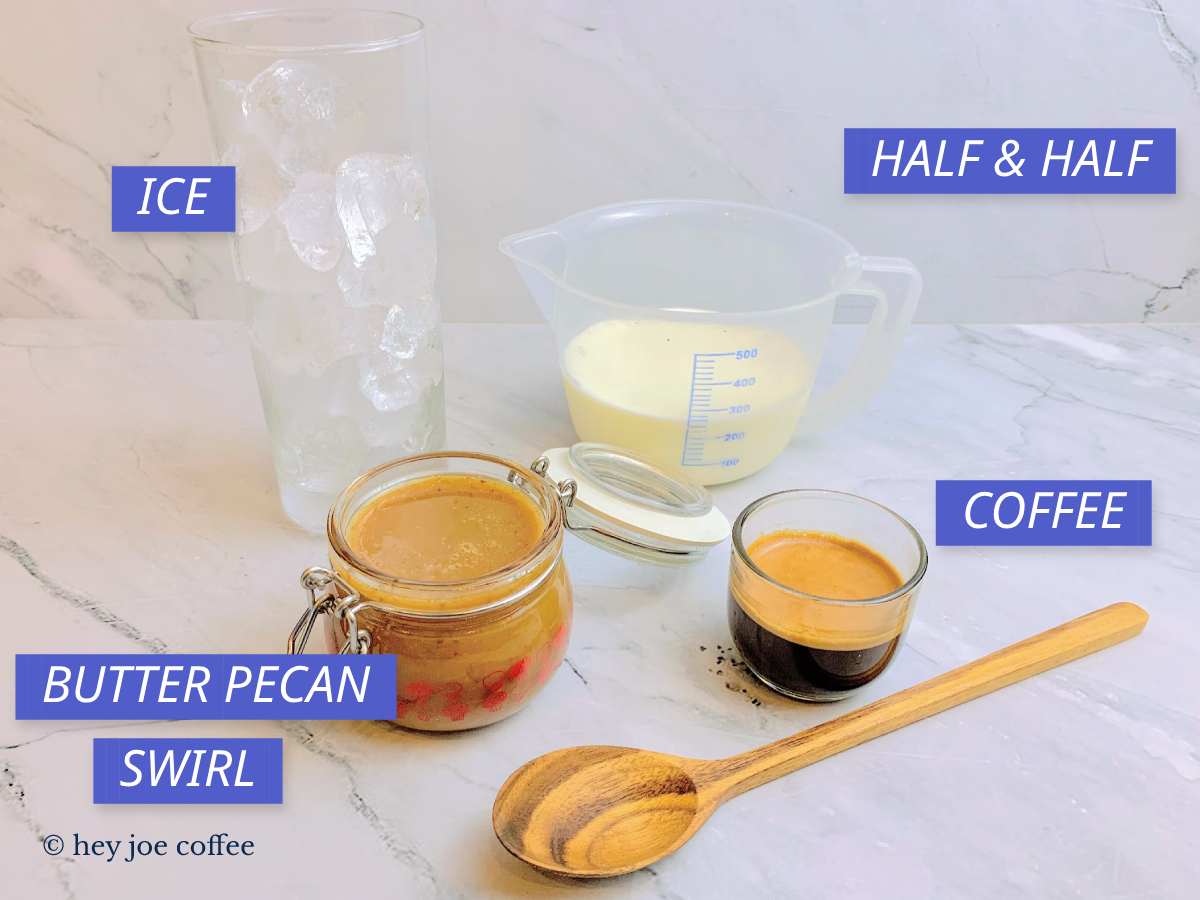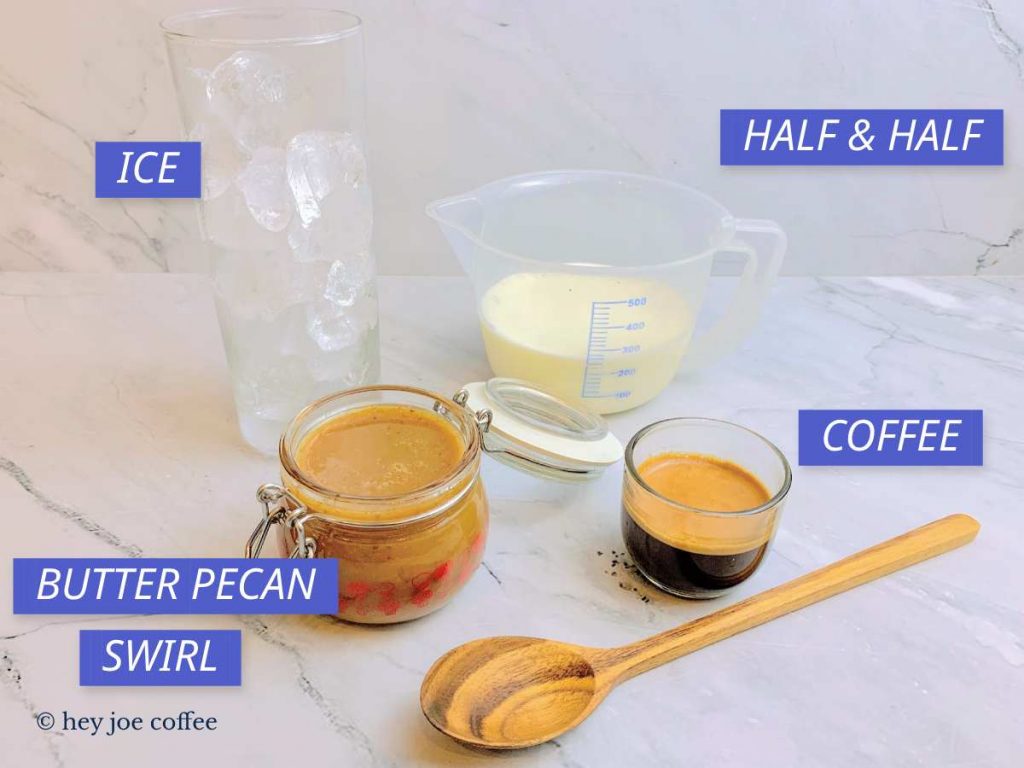 If you love smokey buttery flavors in your coffee, don't miss the Dunkin Butter Pecan swirl.
Since it's a seasonal drink, it's easy to miss it in store, but my homemade version comes very close to the real deal!
---
FAQs
Did Dunkin get rid of Butter Pecan?
Dunkin Butter Pecan has been part of the seasonal lineup for 10 years in a row. 
Customers went to the extent of creating a petition to make it a permanent item. Fortunately, Dunkin announced in April 2023 that the Butter Pecan has made it to its permanent lineup.
What is in the Butter Pecan Iced Coffee from Dunkin?
The Butter Pecan iced coffee at Dunkin comes with the signature butter pecan swirl, brewed coffee, and half and half. 
Optionally you can swap the half and half for another milk of choice, but it will alter the viscosity and flavor.
Is Dunkin's Butter Pecan swirl good?
Dunkin Butter Pecan is one of the chain's most popular flavors. It tastes good to me, so I can understand their die-hard fans POV. 
However, Dunkin still hasn't made it a permanent flavor, so maybe the scarcity is to blame for the great popularity of this flavor.
Verified Sources
Wondering where your info comes from? We totally understand. Hey Joe only obtains our information from reputable sources. Contents from this article are sourced from the following publications:
News Dunkin Donuts: https://news.dunkindonuts.com/blog/butterpecan