Caramel is a popular addition to coffee, Frappuccinos, and even ice cream. If you are partial to deeper flavors of caramel, the Starbucks Dark Caramel sauce delivers just the right balance of sweet and smoky.
You can also make dark caramel sauce at home and enjoy the tasty notes of caramel in your favorite cold or hot drinks.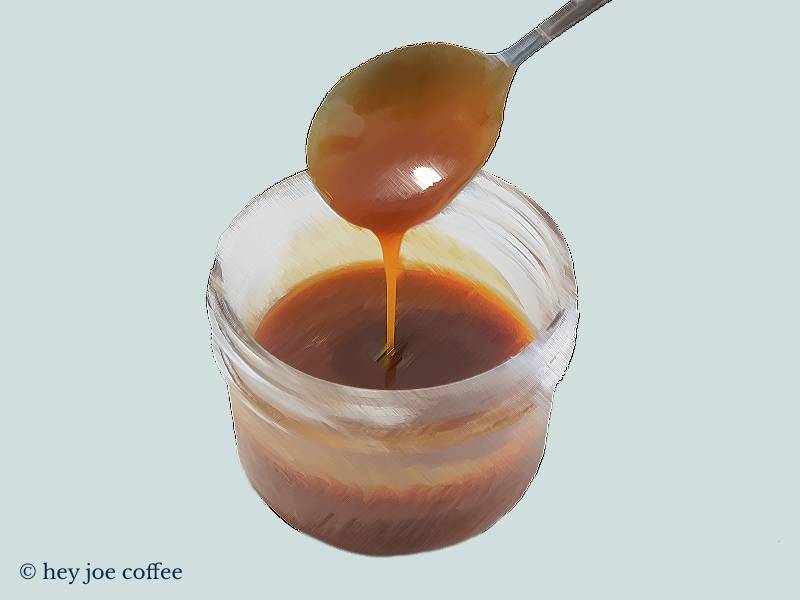 Topics Explored
What is Starbucks Dark Caramel Sauce?
The Starbucks dark caramel sauce is a rich sauce that combines caramel that is cooked longer than usual with cream. The dark caramel infuses the sweet and lightly smoky flavor of burnt sugar while the cream give the sauce its signature texture.
Popular Starbucks drinks like the Caramel Ribbon Crunch Frappuccino are made using dark caramel sauce.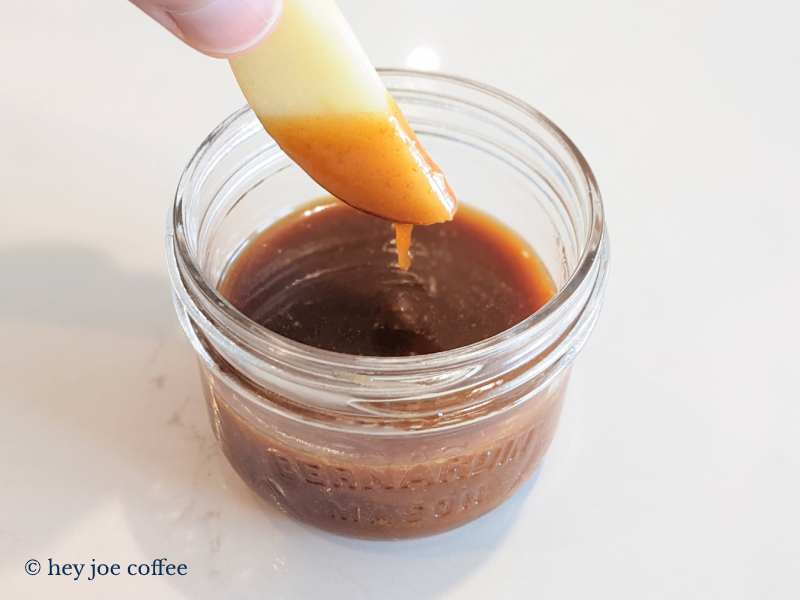 Wondering what the difference is between dark caramel sauce vs. regular caramel sauce? Dark caramel sauce has a deeper flavor than regular caramel sauce.
This is because dark caramel is made by cooking the caramel as long as possible during the cooking process. This infuses a deeper flavor into the caramel sauce. When compared to regular caramel, the sugar mixture is cooked into a light amber caramel.
Starbucks Dark Caramel Sauce Calories
A shot of dark caramel sauce in your favorite drink is a delicious treat for the taste buds but what about calories?
There is no exact calorie number given by Starbucks but, on average, a pump of Starbucks dark caramel sauce can contain 35-50 calories.
---
Other Starbucks Sauces
Starbucks has a wide range of sauces that you can choose from to infuse flavor into your drinks. If sweet caramel is not your style, here are some other flavorful Starbucks sauces you can try.
Pistachio Sauce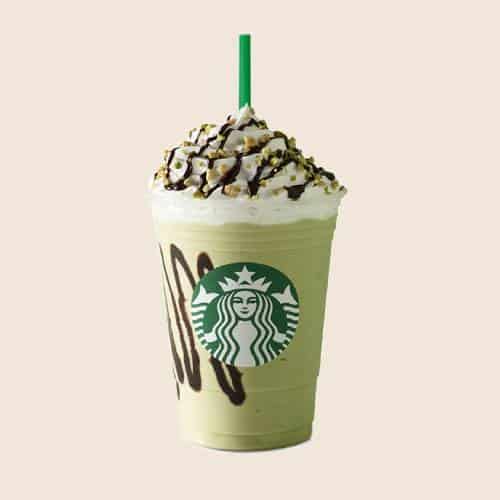 Flavor:
The Starbucks pistachio sauce has a rich nutty and creamy flavor that pairs well with coffee. It is commonly used in the Starbucks winter menu favorite Pistachio Latte.
Pistachio sauce works well in both hot and cold drinks. You can enjoy it in the Pistachio Latte, Pistachio Coffee Frappuccino or the Iced Pistachio Latte.
Used In:
Pistachio Latte
Pistachio Coffee Frappuccino
Iced Pistachio Latte
Mocha Sauce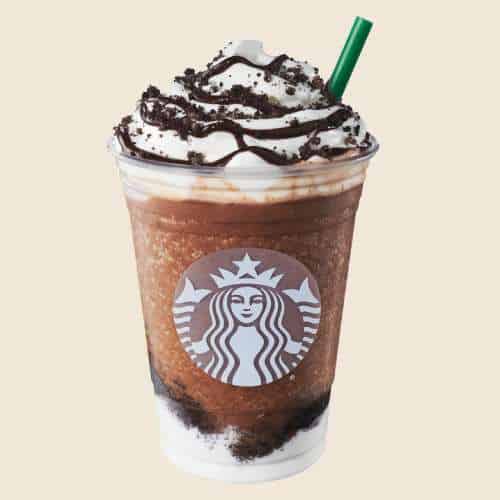 Flavor:
If you love the taste of rich chocolate infused with some coffee, mocha sauce will not disappoint. Mocha sauce works well in hot and cold drinks including popular.
Starbucks regulars like the Iced Caffè Mocha, Hot Chocolate, Mocha Cookie Crumble Frappuccino, and the Mocha Frappuccino.
Used In:
Iced Caffè Mocha
Hot Chocolate
Mocha Cookie Crumble Frappuccino
Mocha Frappuccino
Pumpkin Spice Sauce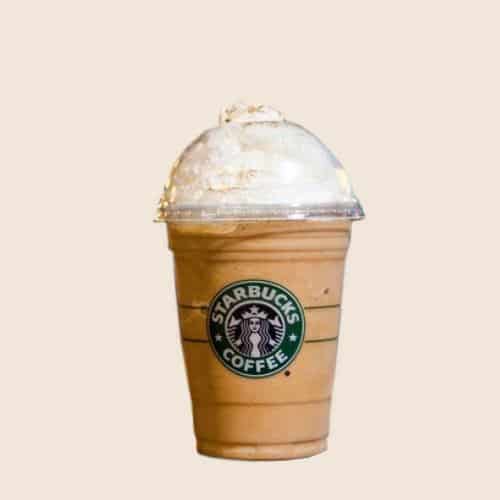 Flavor:
The warming tones of cinnamon, ginger, cloves, and nutmeg are the main ingredients in the pumpkin spice sauce.
You can enjoy its rich warming flavor in the fall season in Starbucks fan favorites like the Pumpkin Spice Crème, Pumpkin Spice Latte, or the Pumpkin Spice Frappuccino.
Used In:
Pumpkin Spice Creme
Pumpkin Spice Latte
Pumpkin Spice Frappuccino
Caramel Brulée Sauce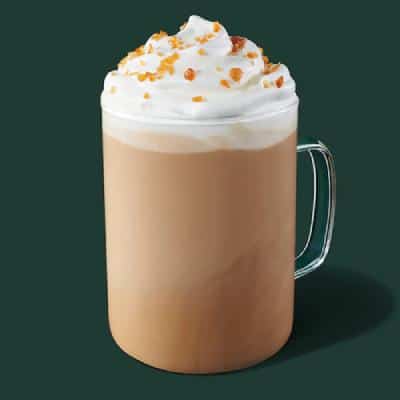 Flavor:
The Caramel Brulée sauce combines the sweet taste of caramel with smoky undertones. If you do not enjoy the buttery flavor of regular caramel sauce the caramel brulée sauce is a great alternative.
You can enjoy it in Starbucks holiday drinks like the Caramel Brulée Latte, Caramel Brulée Frappuccino, and the Caramel Brulée Crème Frappuccino.
Used In:
Caramel Brulée Latte
Caramel Brulée Frappuccino
Caramel Brulée Crème Frappuccino
White Chocolate Mocha Sauce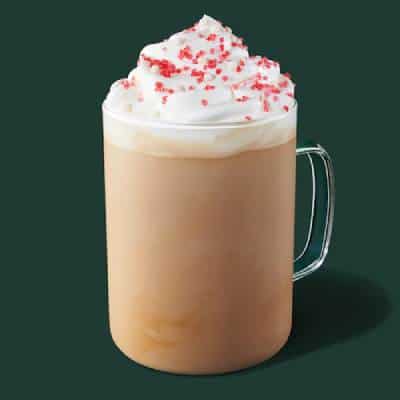 Flavor:
The White Chocolate Mocha sauce is reminiscent of sweet condensed milk with a chocolatey flavor. It is used in a variety of Starbucks drinks including the White Chocolate Mocha Frappuccino, White Hot Chocolate, and the White Chocolate Mocha.
Used In:
White Chocolate Mocha Frappuccino
White Hot Chocolate
White Chocolate Mocha
---
Starbucks Dark Caramel Sauce Recipe (Copycat)
You do not have to make the trip to Starbucks every time you crave the rich taste of dark caramel sauce. You can make your own dark caramel using the Starbucks dark caramel sauce recipe below.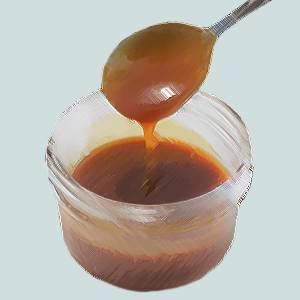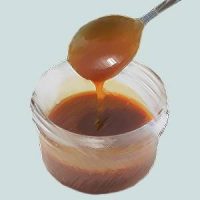 Copycat Starbucks Dark Caramel Sauce (With Photos)
Try this simple Starbucks dark caramel sauce recipe that you can whip up in a just few minutes with a few simple ingredients.
Ingredients
Granulated Sugar: 1 cup
Water: ¼ cup
Whipping Cream: ½ cup (room temperature)
Vanilla Extract: 1 teaspoon (optional)
Instructions
Start by pouring the water and sugar into a saucepan. Set the burner to cook on medium-high heat. Do not stir the mixture!
If you notice sugar crystals start to form, swirl the mixture in the pan to moisten the sugar but do not stir. The syrup should start to change color.
Once the syrup turns into a medium amber color, cook it for a further one minute watching it closely until it turns to a dark brown color.
As soon as the syrup turns into a dark brown color with tan bubbles, remove it from the heat immediately and slowly add in the whipping cream.
The mixture will bubble for a moment. Wait for the bubbling to stop then whisk the mixture into a smooth creamy consistency*.
Allow the sauce to cool to room temperature. Once it is cool, pour it into an air-tight container. You can refrigerate it for up to a month.
Notes
* You can add a teaspoon of vanilla extract to the mixture if you want or skip it.
** When you need to use the sauce simply reheat it in a microwave and add it to your drinks for a rich creamy caramel taste.
---
Important Tips On Making Your Dark Caramel Sauce
Making caramel as dark as possible gives it a richer depth of flavor. You can achieve this by cooking your caramel longer while ensuring it does not burn.
If you want your dark caramel sauce to turn out perfectly, here are some tips to keep in mind.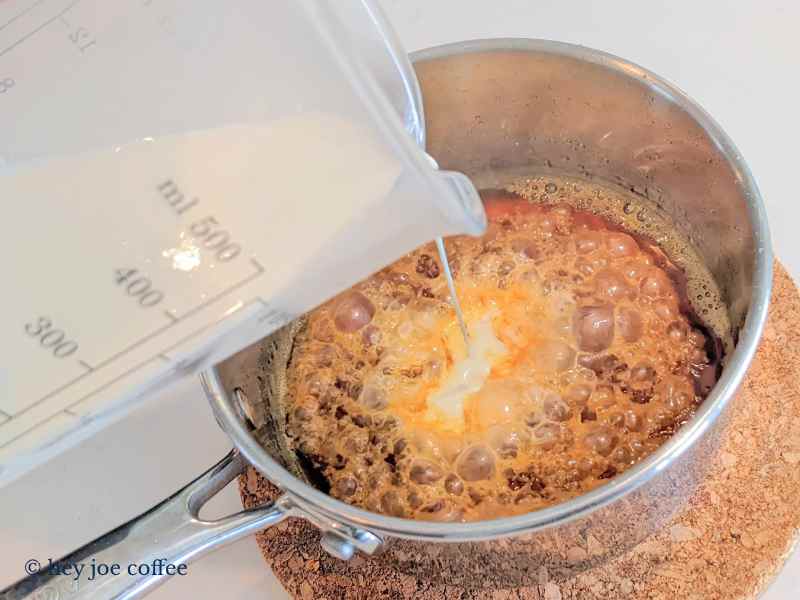 1. Watch It Like a Hawk
It only takes a minute for caramel sauce to go from dark amber to the deep mahogany brown.(1)
This means you need to keep a close eye on it while cooking to avoid burning it. Remove your sauce from the heat as soon as the color changes to a deep brown.
2. Don't Stir Until You Add Cream
When cooking your caramel sauce, avoid stirring the water and sugar mixture.
Simply moisten the sugar by swirling it in the pan. You should only stir the sauce when adding the cream after removing it from the heat.
3. Room Temperature Cream
When adding the cream to the sauce, stir it in slowly since the mixture will bubble furiously and may rise and sputter.
It is also best to use room temperature cream since cold cream will stop the cooking process making your caramel seize and you will need to reheat it.
4. Safety First
Always allow the caramel sauce to cool before pouring it into a jar to refrigerate.
Hot caramel sauce can crack glass so avoid pouring it into jars for storage until it has cooled down.
---
Final Words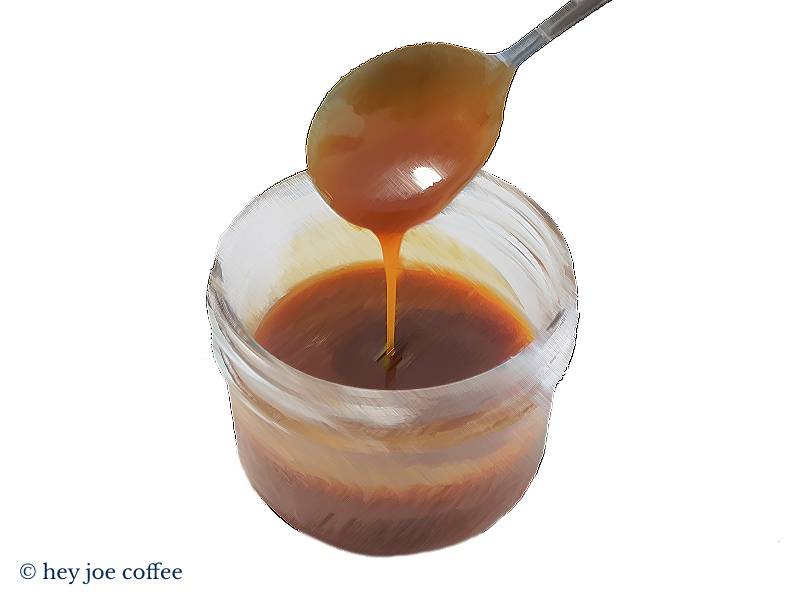 Starbucks Dark Caramel sauce is a Starbucks favorite and for good reason. The rich creamy flavor of dark caramel pairs well with both hot and cold drinks so there are plenty of ways to enjoy it.
You can enjoy it in the Starbucks Frappuccinos or make your own dark caramel sauce at home for drinks. It even works well on ice creams, pies, and of course, pancakes!
---
FAQs
Is caramel syrup the same as caramel sauce?
Caramel syrup is not the same as caramel sauce. The caramel sauce has a richer creamier texture and is typically made using cream, water, and sugar.

Caramel syrup has a thinner consistency and is made with just sugar, water, and flavoring.
Does Starbucks have dark caramel sauce?
Yes, Starbucks has dark caramel sauce in most of its outlets in North America and some outlets in other regions. It is commonly used in the Starbucks Caramel Ribbon Crunch Frappuccino. 

You can also enjoy the rich taste of dark caramel sauce in the popular Starbucks Coffee Frappuccino.
Does Starbucks sell their caramel drizzle?
Yes, you can buy the Starbucks caramel drizzle via the Starbucks-at-home line but they do not sell dark caramel drizzle. You can also buy flavors like hazelnut and vanilla online or at Starbucks outlets.

However seasonal flavors like pumpkin spice and cinnamon are not always available for sale.
Verified Sources
Wondering where your info comes from? We totally understand. Hey Joe only obtains our information from reputable sources. Contents from this article are sourced from the following publications: