Dutch Bros teas are probably one of the chain's most slept on drinks!
Sure, their coffees are great but what do you get when you're in the mood to mellow out?
We took a look at their most popular tea drinks to help you decide what's good when coffee is just not doing it anymore.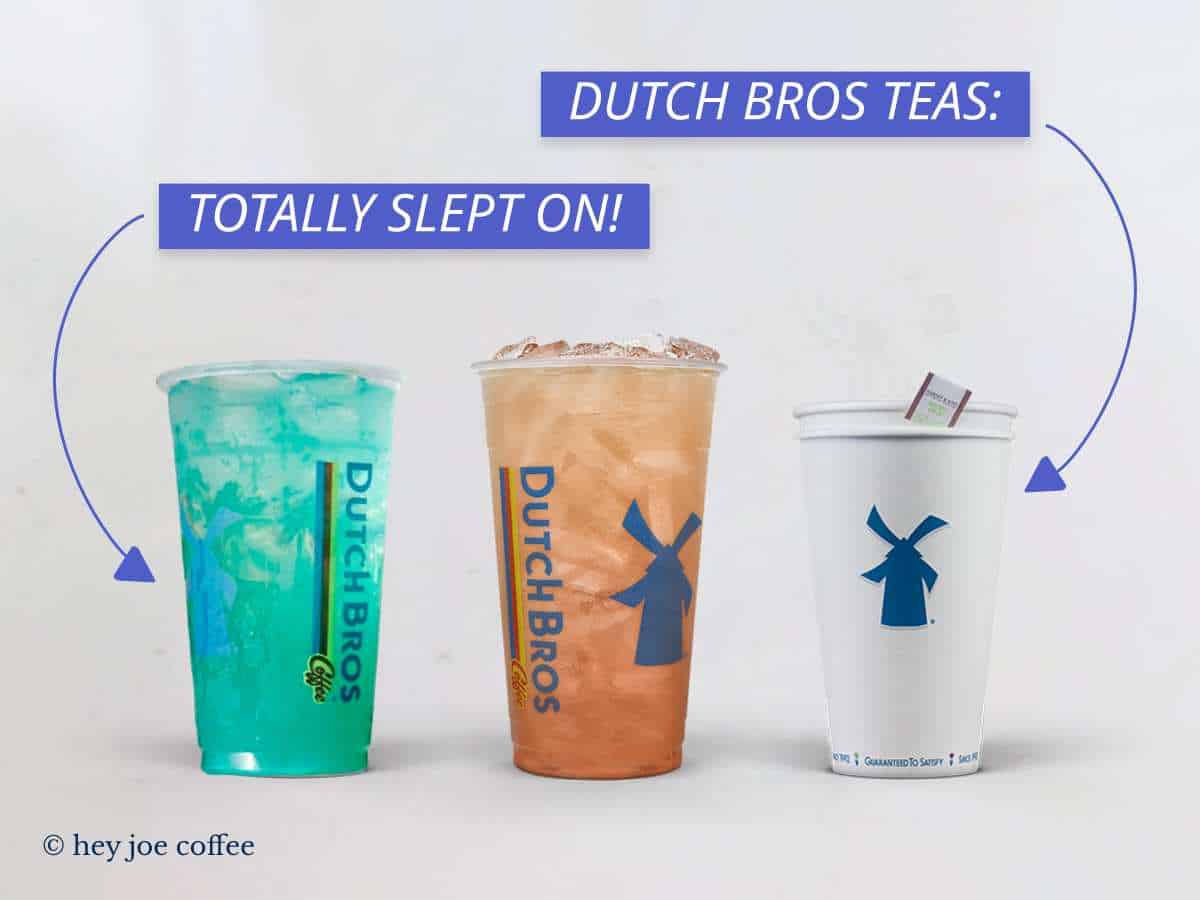 Topics Explored
Does Dutch Bros Have Tea?
While Dutch Bros is best known for their coffees, they do in fact serve tea drinks as well, though they are not as popular.
Regular tea as well as flavored teas are available on their menu.
The flavored teas come in a variety of flavor combinations.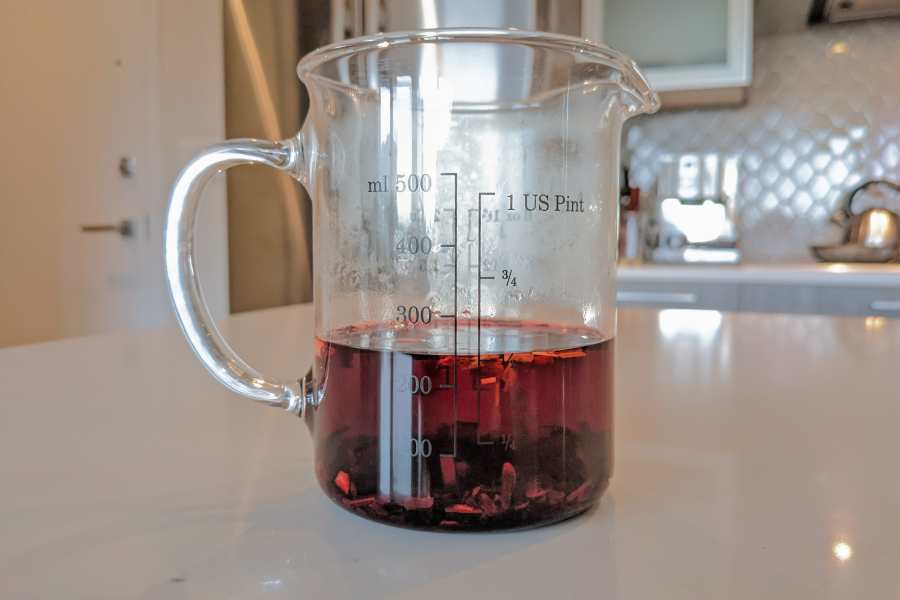 Normally, Dutch Bros is best known for two drink types: their crazy coffees and their Rebel energy drinks.
Many of the flavors used for their Rebels drinks, however, also actually work well in teas, perhaps somewhat surprisingly.
---
What Tea Does Dutch Bros Use?
What tea does Dutch Bros use in their tea-based drinks?
There are many flavors on the menu, but there are three in particular that make up the base of their tea beverages.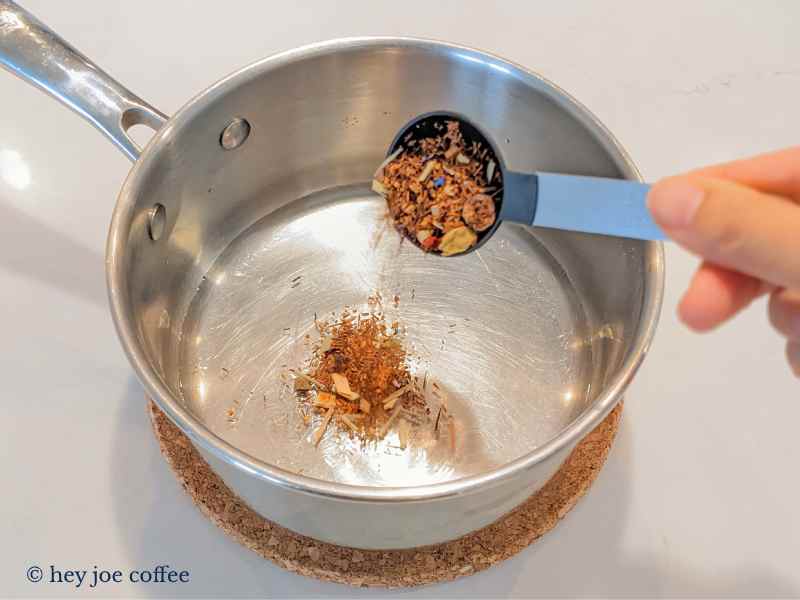 Organic Green Tea
Their organic green tea is sourced from Harney and Sons. The main green tea ingredient comes straight from China itself.
The tea itself is light, refreshing, and quite citrusy. It's easy-going and works well when combined with flavor syrups.
It's not what you'd expect from Dutch Bros, but that doesn't mean it's not delightful.
Paris Tea
Dutch Bros also serve black teas. In particular, the Paris tea is one of their finest.
To be specific, it's oolong tea.
One whiff of this tea will instantly give you hints of bergamot, which is one of the main ingredients in Earl Grey.
In terms of taste, there's a fruity note to it as well.
Chai Tea
The chai at Dutch Bros comes as a concentrate. It's a premix chai latte from Oregon Chai as opposed to loose tea leaves.
This concentrate can also be used as a base for Dutch Bros chai lattes (like the Christmas Morning) which come in multiple flavors, including vanilla and white chocolate.
---
Most Popular Teas From Dutch Bros
So, what are the most popular teas from Dutch?
As mentioned before, their teas(1) aren't as popular as their classics or Rebels, though there are still some very good ones available to order.
1. Golden Eagle Chai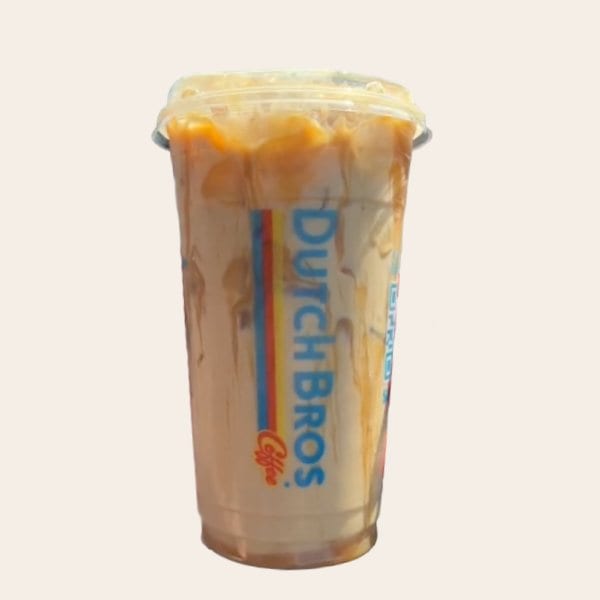 We mentioned the Dutch Bros chai lattes earlier and the Golden Eagle Chai is one of those flavors.
This beverage is not your regular extra chai. The addition of caramel sauce and vanilla flavoring makes it extra decadent.
We recommend adding whipped cream and caramel drizzle too.
How It's Made:
Oregon chai
Half and half
Caramel sauce
Vanilla syrup
Whipped cream (optional)
Caramel drizzle (optional)
2. Palm Beach
The Dutch Bros Palm Beach is a pomegranate and peach drink that really takes the taste buds away.
Due to the mix of pomegranate and peach syrups, the Palm Beach actually almost tastes like candy.
It goes great with black or green tea and is available iced or blended.
How It's Made:
Pomegranate syrup
Peach syrup
Green tea or black tea
3. Dragon Slayer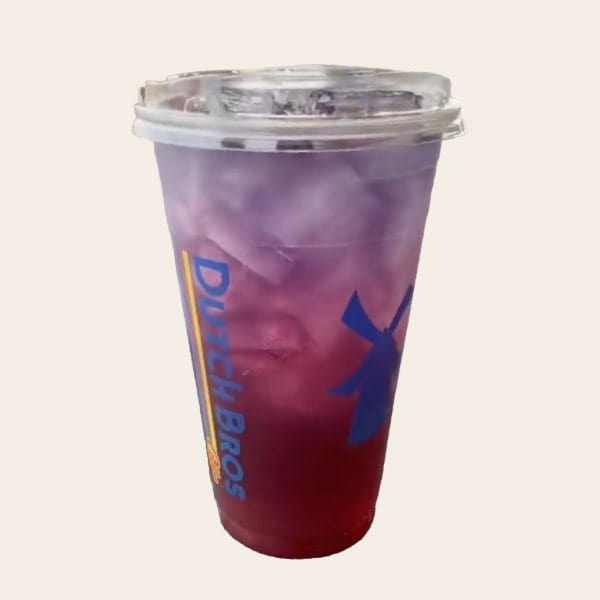 As much as it sounds like The Game of Thrones, the Dragon Slayer is less disappointing.
It has sweet berry flavors to it and also has an eye-catching bright purple appearance.
Though this flavor is more common as a Rebel energy drink, the tea version is just as good. The blackberry drizzle is what really sells it.
How It's Made:
Raspberry syrup
Blue raspberry syrup
Blackberry drizzle
Green tea or black tea
4. Gem Berry
The Gem Berry is best described as 'late summer' in a drink.
It's one of those berry flavor combinations that just work together. To give you an idea, think of mixed berry ice cream.
It goes best with black tea and it's recommended to have it finished with soft top.
How It's Made:
Blackberry syrup
Raspberry syrup
Black tea
Soft top (optional)
5. Ocean Water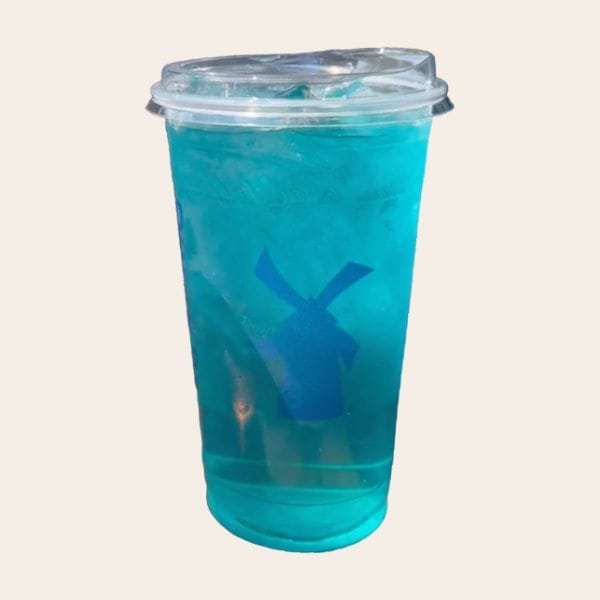 For something a little lighter on the palate, try the Dutch Bros Ocean Water.
Order this drink with green tea and you'll have a lightly sweet, citrusy combination. For an extra tropical spin, add coconut milk.
This refreshing and light-bodied drink is one of our personal favorites.
How It's Made:
Blue raspberry
Lime
Green tea
Coconut milk (optional)
6. Peach Tea
Peach works great with either black or green tea, whichever you prefer really.
It's a familiar flavor, so it's a safe bet for those looking to branch out further into the coffee world. It's similar to Arizona Iced Tea in many ways.
For lower calories, it's another drink that can be made sugar-free.
How It's Made:
Peach syrup
Green tea or black tea
7. Double Rainbro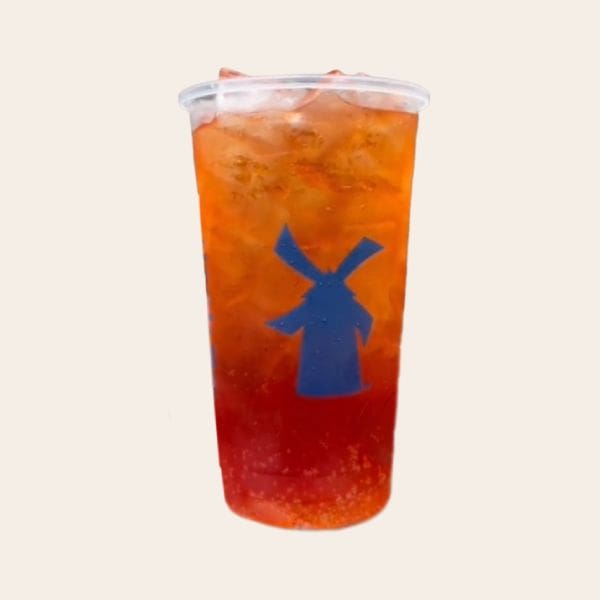 The Double Rainbro is a unique flavor and is one of the most popular Dutch Bros drinks.
The Double Rainbro is a great drink for those who like fruit smoothies. It goes well with black tea, specifically Paris tea.
For lower calories, it can be made sugar-free as well.
How It's Made:
Coconut syrup
Strawberry syrup
Peach syrup
Paris tea
8. Paris Tea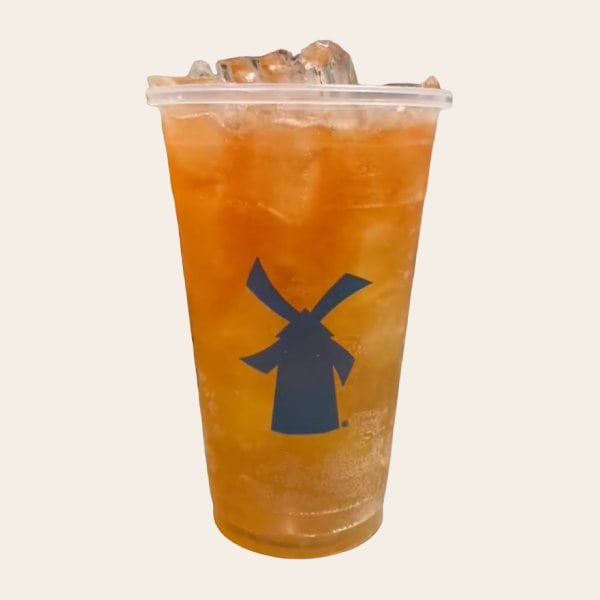 Straightforward and simple, the Paris Tea is just a great tasting black tea on its own for your pleasure.
Those who like earl grey tea will absolutely love this one.
Personally, we prefer piping hot tea, though Paris tea can also be served iced.
9. Vanilla Chai
The Vanilla Chai is a classic across the world in all coffee chains, not just Dutch Bros.
We prefer to have a hot vanilla chai, though you can have it served iced. It's a sweet comforting drink whichever way.
Any milk tastes good in it, though oat milk is the most sustainable.
How It's Made:
Oregon chai
Vanilla syrup
Milk
10. OG Gummy Bear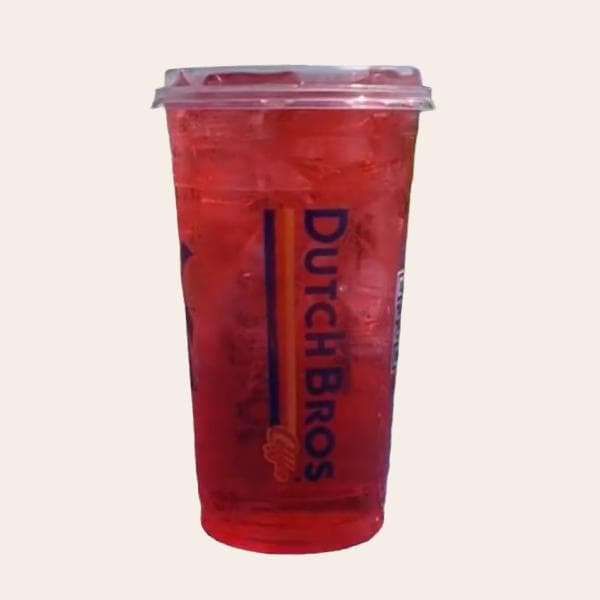 The flavor combo of the OG Gummy Bear is difficult to describe – Just trust us when we say that it really works.
Much like the Palm Beach, it has a candy-like taste to it and it's very sweet.
For us personally, we prefer the green tea version as it evens the sweetness out.
How It's Made:
Pomegranate syrup
Passion fruit syrup
Watermelon syrup
Grapefruit syrup
Green tea
---
Summary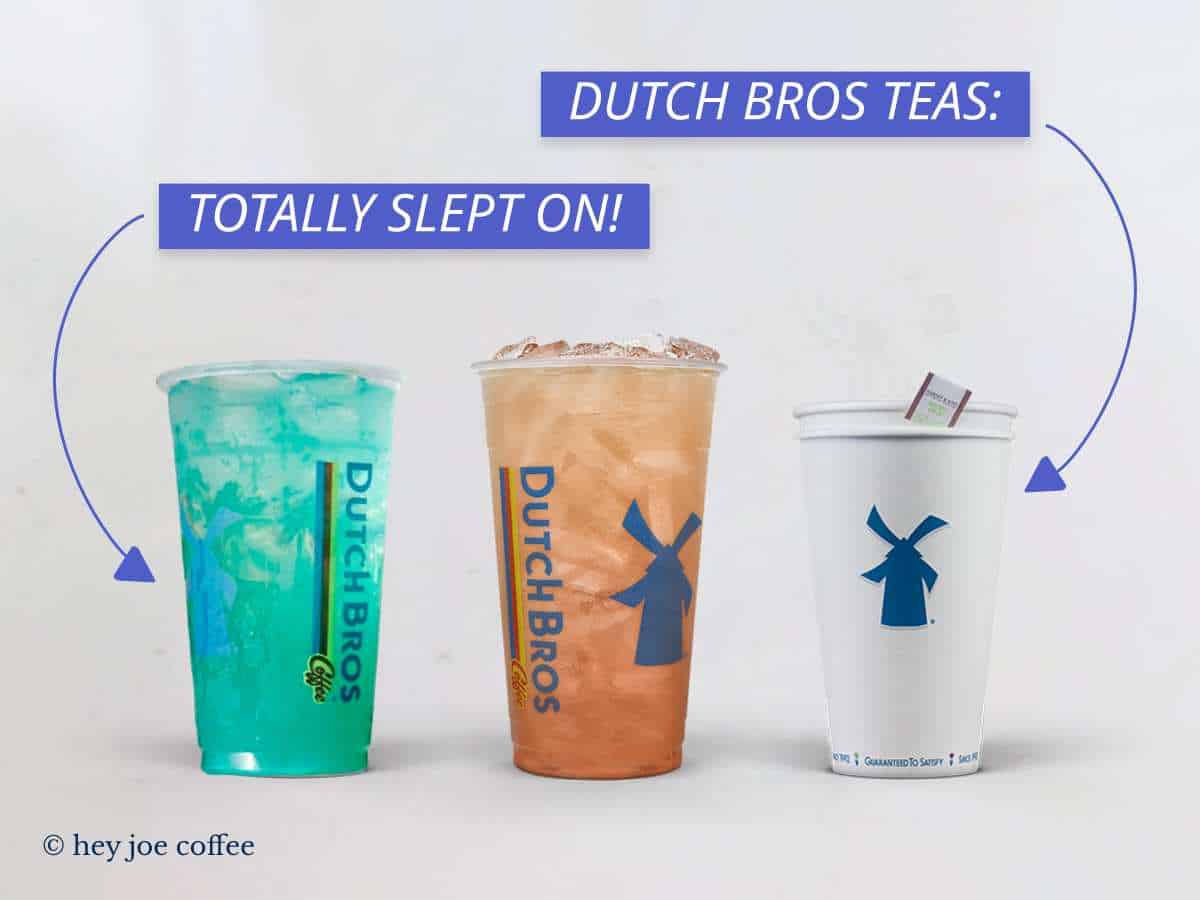 We've done our best to explore Dutch Bros teas, and hopefully you've found what you were looking for here in this article.
You may not have even known Dutch served tea before reading this, and maybe you'll now finish this article with a new craving.
---
Verified Sources
Wondering where your info comes from? We totally understand. Hey Joe only obtains our information from reputable sources. Contents from this article are sourced from the following publications:
Dutch Bros: https://www.dutchbros.com/menu/tea