Everything that's labeled as secret instantly raises our attention. The latest obsessions are the secret menus of chain restaurants and coffee shops. The Starbucks Red Drink is one of the discoveries. TikTok has brought attention to a whole world of secret menu drinks, and the Red Drink at Starbucks is one of them.
If you are game for trying out this novel drink from Starbucks, we can help you get the right one.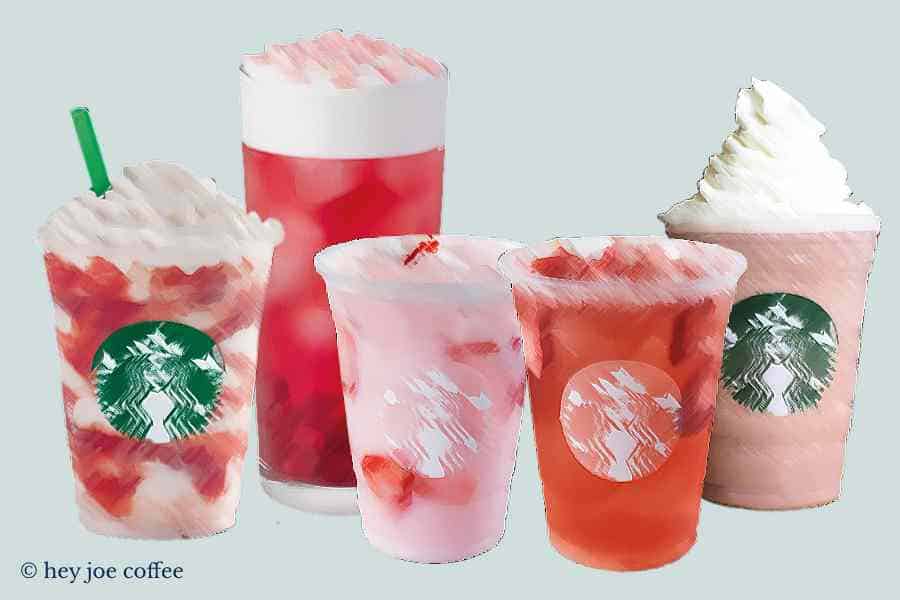 Topics Explored
What is the Red Drink from Starbucks?
The reason why you haven't seen this drink before is that it's not an official Starbucks drink but a secret menu item. There are two interpretations of it and people go for different ones.
The first one is a creation from Totally The Bomb. It's made with iced passion fruit tea, coconut milk, and strawberry inclusions and puree, and agave(1).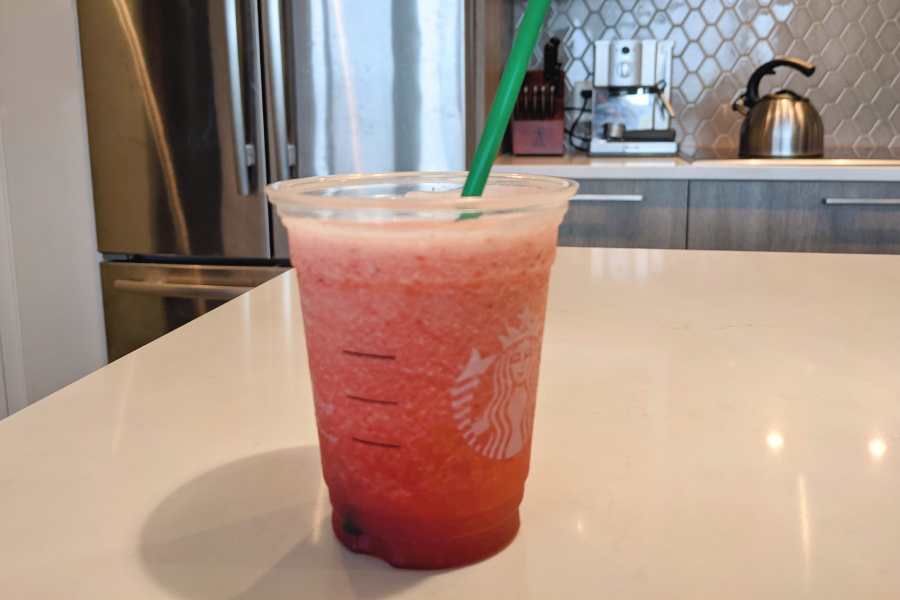 The Second Red Drink
Red Starburst is the second red drink you can get from the secret menu. If you like the taste of candy, you'd love this drink.
It's made with blended strawberry lemonade – a lemonade with strawberry flavoring, vanilla bean powder, and raspberry syrup. It's fresh, sweet, and fruity; no wonder it's a secret.
How to Order 'Secret Menu Drinks' From Baristas?
Secret menu drinks are new, so not every barista knows the recipes. If you have the recipe, explain it to them step by step.
If the store is busy, consider ordering a secret drink the next time. Since these drinks are made-to-order, it takes longer than usual to put them together.
Don't forget to always be courteous to the barista.
---
What Does The Red Drink Taste & Look Like?
Ordering off the secret menu means you'll get a unique flavor. But the Red Drink has two interpretations, so you need to know what flavor you're looking for before ordering. Both are sweet, fruity and refreshing, but taste completely different.
The Red Drink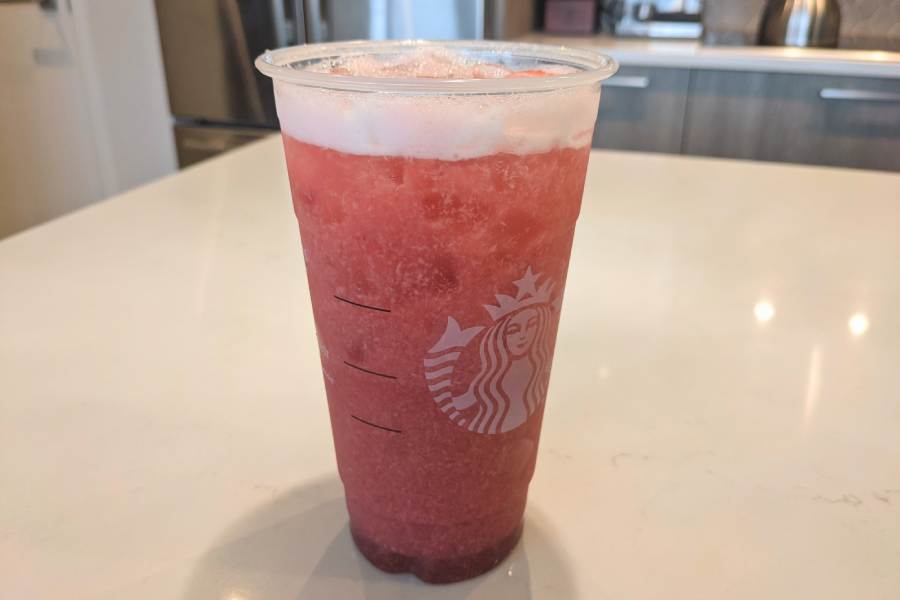 The first option tastes like a non-thick strawberry or berry smoothie with a deep strawberry flavor. The coconut milk adds body to the drink, but you can't taste it in the final product.
It's a little on the sweet side because of the agave and the strawberry puree. If you're keen on less sugary drinks, ask for less agave. There's slight tartness from the passion tea, but the coconut milk rounds it out.
Overall it's a very refreshing drink.
The Red Starburst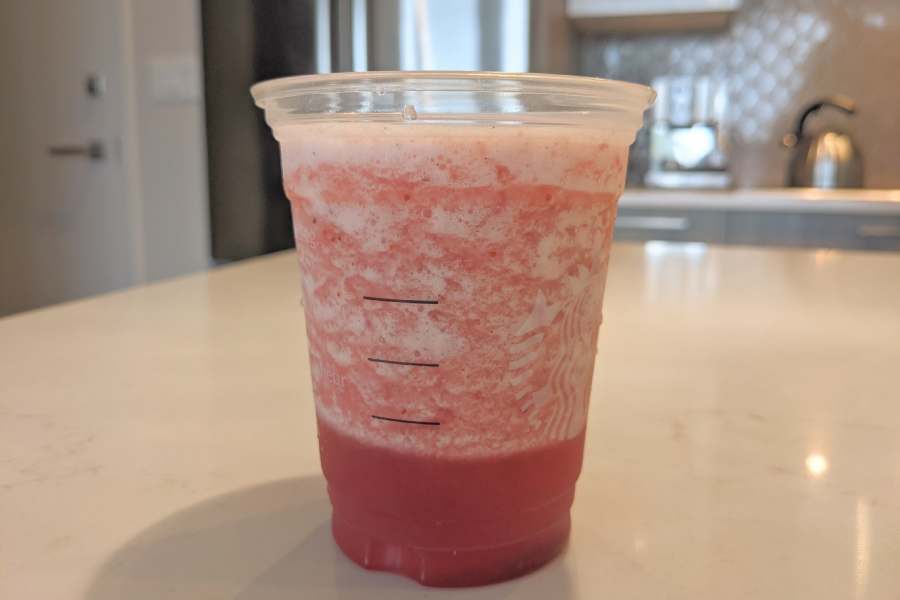 The second choice tastes like a cross between strawberry sorbet and ice cream.
It's sweet, slightly tangy, fruity, and creamy at the same time. As the name claims, it does taste a bit like the red starburst.
The taste kind of reminds us of a creamsicle, and the appearance resembles a red snow cone with speckles of white.
---
Other Red Drinks At Starbucks
You've probably seen a red drink at Starbucks before, and it wasn't even one off the secret menu. A Starbucks Red Drink might be a new trend, but some of the options below were part of the menu for years.
If you don't want to bother the barista to craft you the Red Drink Starbucks already has some tried and true options.
Strawberry Açaí Refresher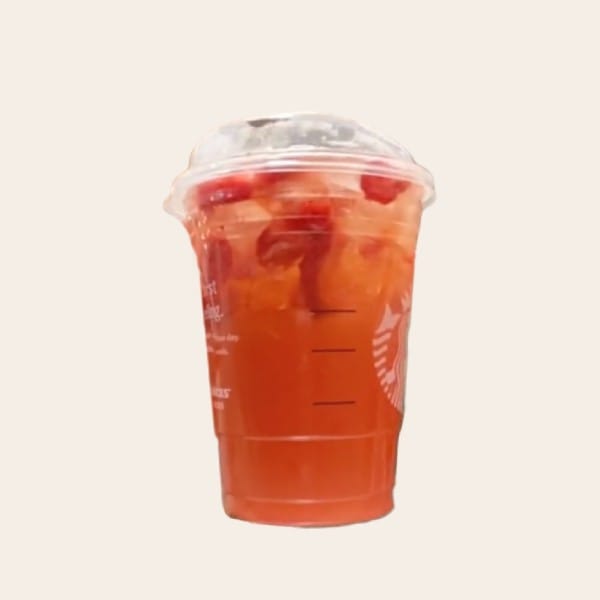 The Strawberry Açaí Refresher is made with freeze-dried acai powder, white grape juice concentrate, natural green coffee flavor, freeze-dried strawberry chunks, some natural flavors, passion fruit puree, water, and sugar.
It's seethrough with a pale red color that comes from the acai and strawberries.
Iced Passion Tango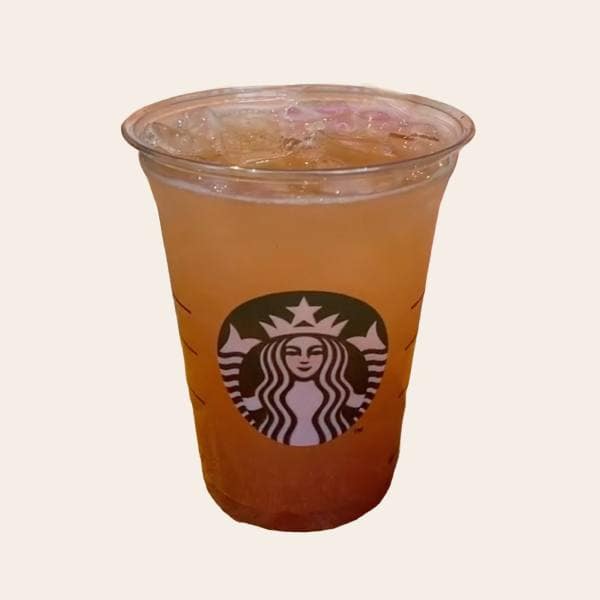 Iced Passion Tango is the only caffeine-free tea drink at Starbucks. It's essentially an iced combination of hibiscus, lemongrass, and apple.
The lemongrass and apple makes it fragrant and slightly sweet. And the characteristic red color comes from the hibiscus flower.
Strawberry Crème Frappuccino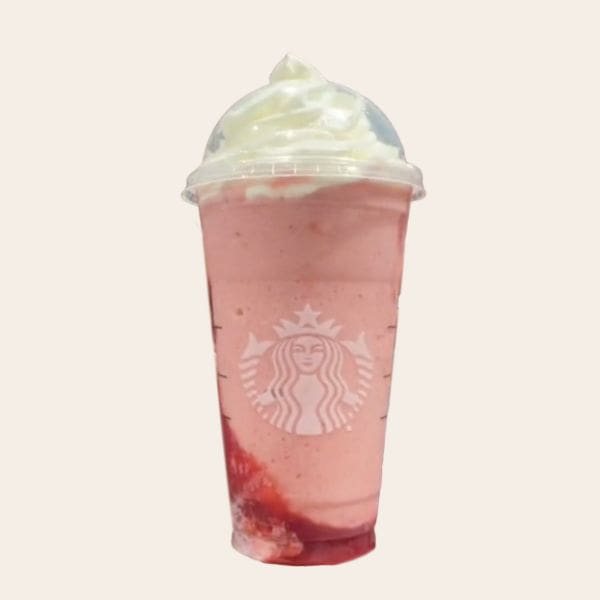 Strawberry Crème Frappuccino is a mix of creme frappuccino syrup, strawberry puree, milk, and ice, topped with vanilla whipped cream.
It's refreshing and desert-like at the same time. It tastes like a strawberry milkshake but not as thick and less creamy.
Blossoming Rose Tea Latte
The Blossoming Rose Tea latte is available only in certain countries, but you can always ask if your barista can make it.
It's made with Starbucks' rooibos tea base, steamed milk, rose syrup, and topped with rosy sprinkles. It's a warm blushing red drink that tastes like rose, strawberry, and rhubarb.
Red Velvet Frappuccino (Secret Menu)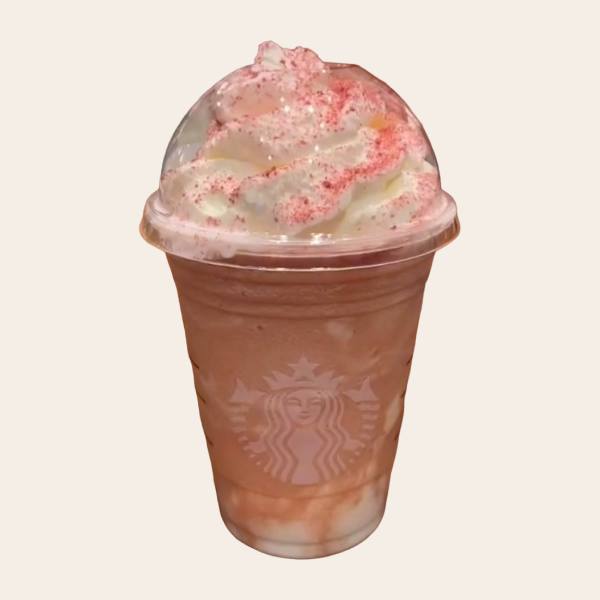 Another item from the secret menu is the Red Velvet Frappuccino. But, if you're a fan of red velvet cake, this drink is the one.
It combines a half white – half mocha frappuccino with raspberry syrup and whipped cream. The taste balances between the chocolate, vanilla, and hint of buttermilk.
Strawberry Cheesecake Frappuccino (Secret Menu)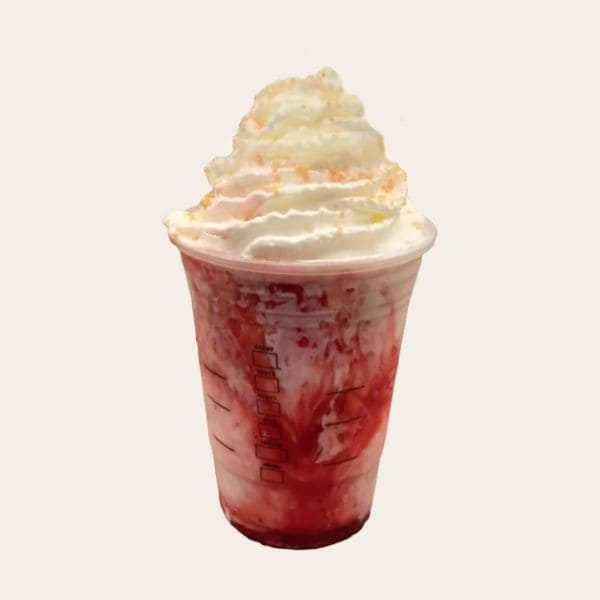 Who would turn down a piece of cheesecake? This drink starts with a strawberry frappuccino with an added pump of hazelnut syrup. An extra scoop of strawberry pumps up the flavor.
The bottom of the cup has a layer of crumbled graham crackers, and it's topped with whipped cream and extra strawberries.
Sakura Blossom Strawberry Tea
Sakura Blossom Strawberry Tea is a laborious but pretty Starbucks tea. It combines hibiscus iced tea with strawberry sauce and generous chunks of strawberry.
It's finished off with pillowy cold foam and sprinkled with pink chocolate petals. It may not be available all the time so get it while you can.
Neverland Sunset (Secret Menu)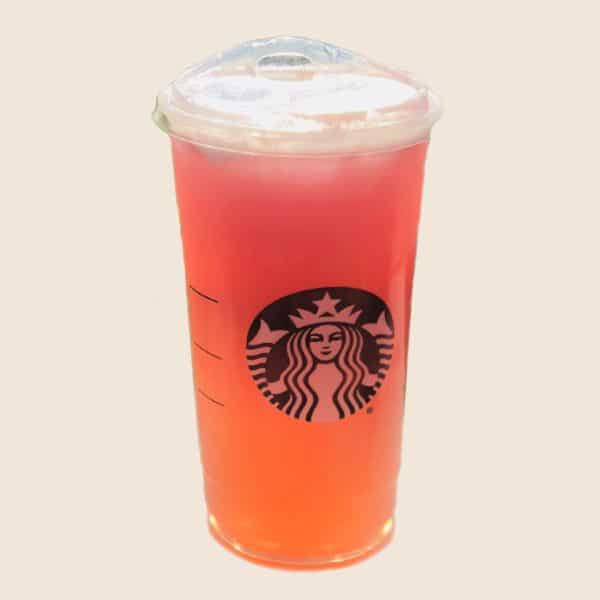 The Neverland Sunset is an iced lemonade with peach and passion fruit. It looks like a bright red sunset due to the splash of passion fruit tea at the top.
It's a Fantasyland-themed Starbucks drink that was promoted a few years ago but is now a secret menu item.
Red Eye Coffee (Secret Menu)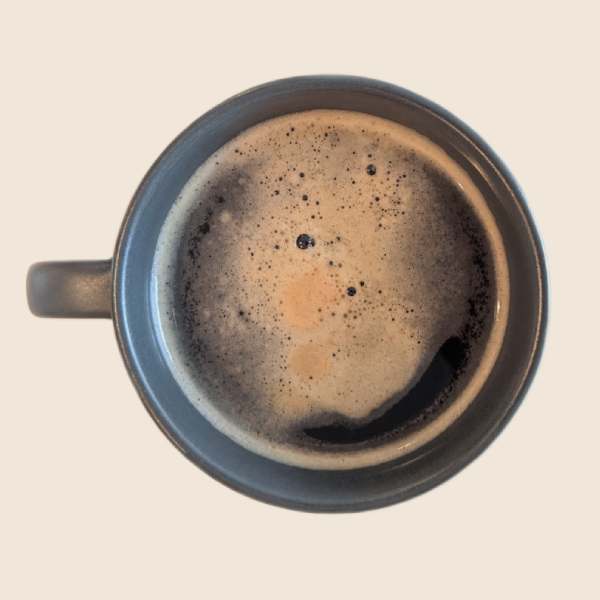 Red eye coffee is not red at all. The name comes from its target group – those catching the red-eye flights.
Similar to the black eye coffee, it's a caffeine-packed drink made with a cup of regular brewed coffee and a shot of espresso. It can be iced or hot and has a strong coffee taste.
---
Summary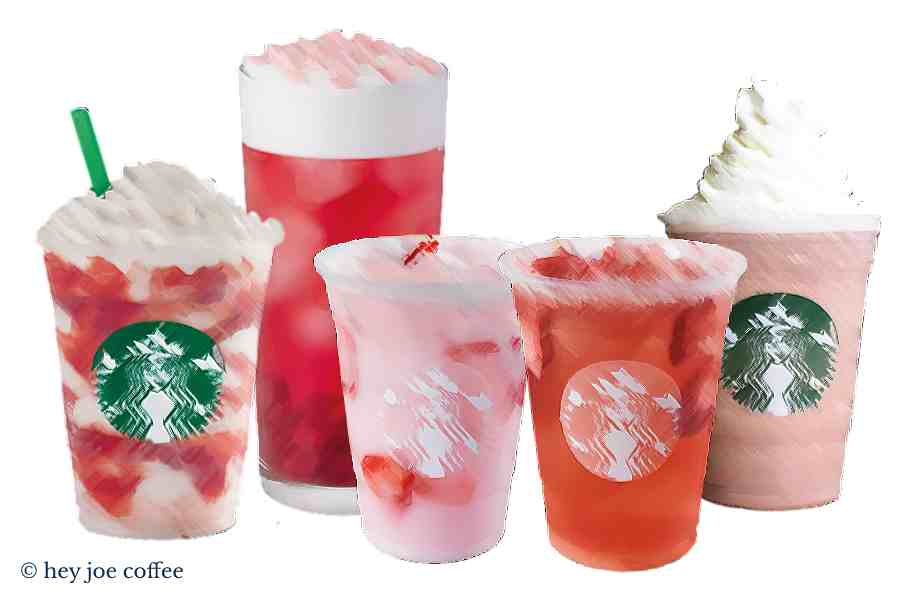 Social media made it easier for new drinks to crop up all the time. Colored drinks like the Starbucks Red Drink are eye-catching. It's hard to keep up with all the secret menu items, but credit is due to the creative people coming up with the drinks. The Red Drink at Starbucks is one of the few unique flavors.
The red drink Starbucks offers, along with so many others, is thanks to the baristas who tirelessly knock out even the most complex beverages.
---
More Questions
What is the Starbucks Secret Menu?
The secret menu is not a menu baristas hide somewhere, and only a few privileged customers have access to the drinks. Everyone uses the phrase for the drinks you can order but aren't part of the menu. The secret menu is just frequently ordered drinks crafted by baristas and some creative customers(2).
What is the Red Eye drink at Starbucks?
The Red Eye drink at Starbucks is not a red-colored drink but a mighty caffeine punch in a cup. It consists of one cup of brewed coffee and a shot of espresso. It originated as the drink of choice for those catching the red-eye flight from East to West Coast.
What is Starbucks Pink Drink?
The Pink Drink was a secret menu item, but it rose to popularity enough to become a part of the regular menu in 2017. It consists of a Strawberry Acai Refresher made from coconut milk and an extra scoop of strawberries. It's an iced drink with a light, refreshing and fruity taste.