The Disastrous Life of Saiki K is a fun, comforting anime that showcases the life of a sophomore student who loves coffee jelly. If you love anime, you know how satisfying it is to try and replicate the food. Since Saiki K coffee jelly is not something you can get at a shop, we got you a tried and true recipe.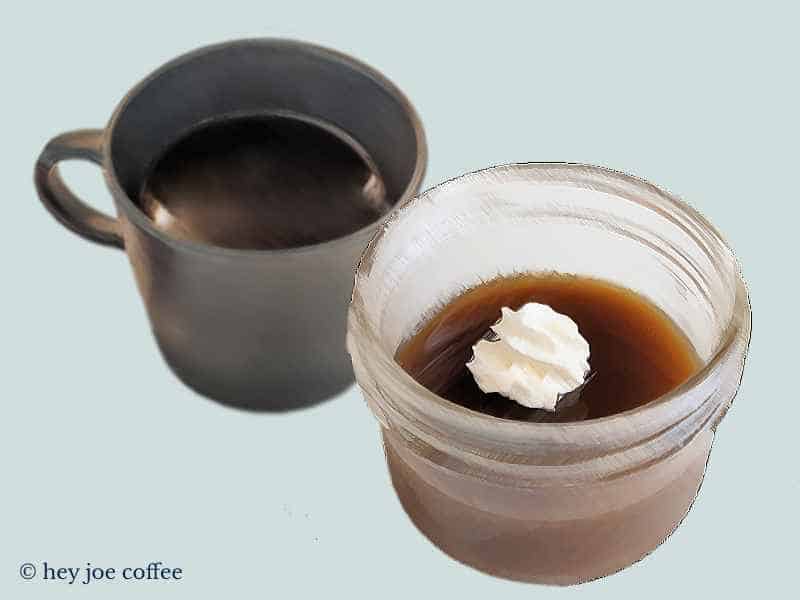 Topics Explored
What is Saiki K Coffee Jelly?
Coffee jelly is a caffeinated dessert the main character of the anime loves to consume on the regular.
The ingredients are basic: coffee, gelatin, and whipped cream. It's sweet, jiggly and with a strong caffeine punch. You can make it with brewed coffee, but the original features Japanese instant coffee.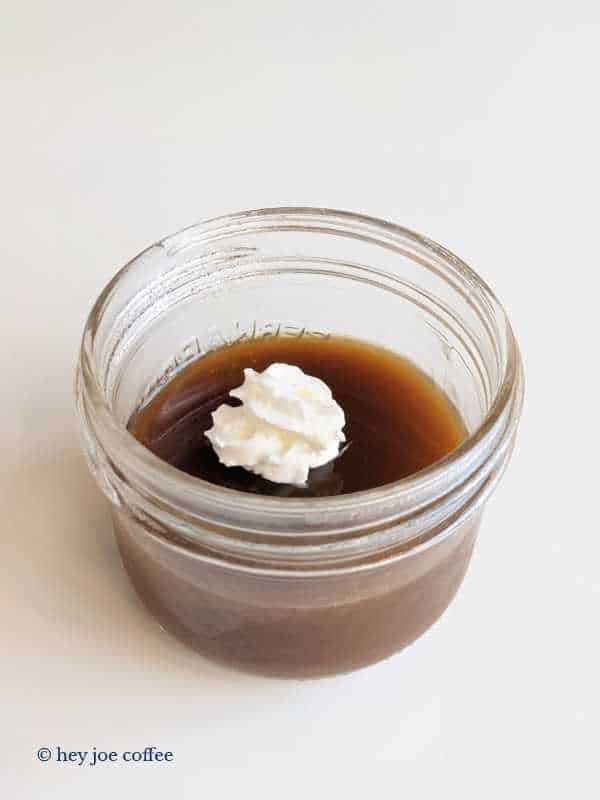 The coffee jelly has been around for decades, dating back to 1960. The main character of The Disastrous Life of Saiki K brought it back to life.
Throughout the whole series, he's eating sweets, with coffee jelly being his favorite. The dessert has found its place in Japanese pop culture, and even some cafes have it on their menu.
---
Saiki K Coffee Jelly Recipe
While it sounds intriguing and tasty, coffee jelly is not easy to find, especially outside Japan. So why not make it yourself? It's simple, uses staple ingredients, and you can impress your friends. Here's the Saiki K coffee jelly recipe.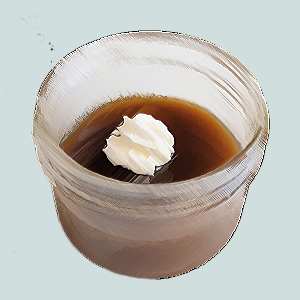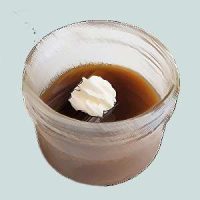 Saiki K Coffee Jelly Recipe (The Easiest Recipe!)
Total Time:
5 hours
15 minutes
This Saiki K Coffee Jelly recipe is so simple that you'd want to make it over and over again!
Ingredients
Brewed Coffee: 2 cups
Gelatin: 2 tsp
Sugar: 3 - 4 tsp (more if you like it sweeter)
Homemade Whipped Cream:
Heavy Whipping Cream: 1 cup
Sugar: 2 - 3 tsp
Vanilla Essence: 1/2 tsp (optional)
Instructions
Place the brewed coffee and sugar in a saucepan over medium heat. Warm it up until the sugar dissolves, and remove it from the stove before it boils.
Now add your gelatin to the pot and whisk until it fully dissolves. Let the mixture chill on the countertop for 10 to 15 minutes.
Pour the mixture in small mason jars or cups before transferring to the fridge. Let it chill for at least 5 hours before serving.
Place heavy whipping cream, sugar, and vanilla essence in a mixing bowl to make the whipped cream. Beat until soft peaks are formed.
Get the jelly out of the fridge and pipe a generous amount of whipped cream on top. You can also cut it up and transfer it to a bowl*. Enjoy!
Notes
*Optionally you can make a sauce with condensed milk and cream. Mix 2.5 oz of condensed milk and 8 oz of all-purpose or table cream. Chill and then pour over the jelly before serving.
---
What Does Saiki K Coffee Jelly Really Taste Like?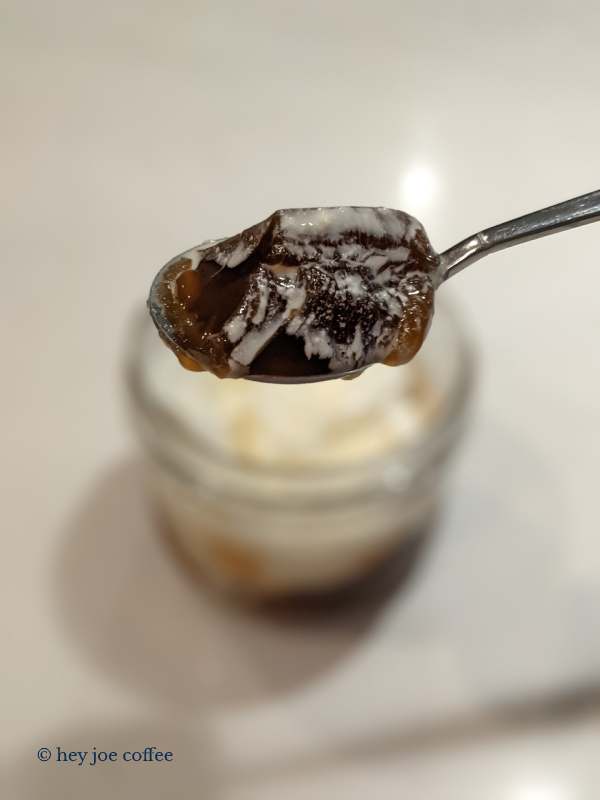 Appearance
You can either serve the jelly cut up in cubes or shaped in a serving vessel. Since Saiki K's coffee jelly is not cubed, we went for small mason jars.
The color of the jelly depends on the type of roast you use; it can be dark and dense like ours or paler. With the whipped cream on top, it reminds us of diner-style desserts!
Flavor
The coffee jelly has that characteristic coffee taste but is slightly diluted. Since we made it with sugar and topped it with whipped cream, it's sweet, creamy, and just a little bitter.
You can make it sweeter by adding more sugar or make it completely sugar-free. However, don't skip the whipped cream.
---
Coffee Variations
If you try to search for coffee jelly recipes, you'll find out that everyone uses a different type of coffee. For example, the original Japanese recipe relies on canned instant coffee while the western world prefers espresso. There's not a right or wrong choice, just different preferences.
Instant Coffee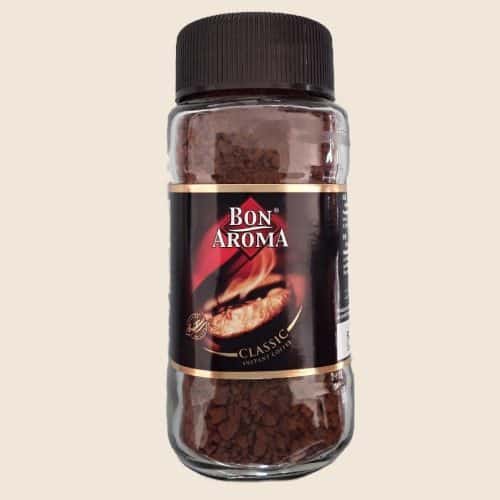 Instant coffee comes up as a first choice since it's the most convenient one of all. But it has the least amount of coffee flavor and aroma, so coffee lovers tend to avoid it.
However, it's completely acceptable when making coffee jelly. The amount of caffeine per serving comes at approximately 30 mg.
Canned Japanese Coffee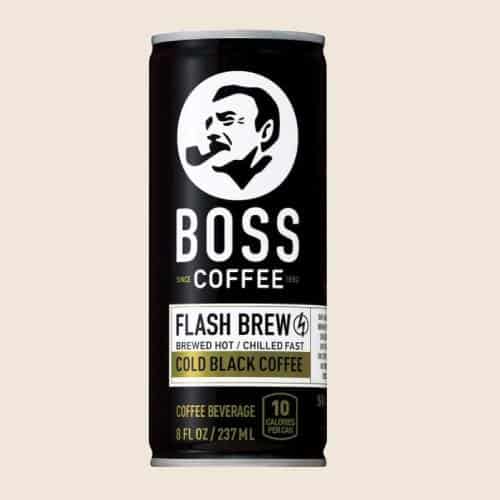 Canned Japanese coffee(1) is another type of instant coffee. It's available in Asian grocers or online retailers such as Amazon.
Always check the ingredients list to see if it comes with sugar since you might need to adjust the recipe accordingly. With canned Japanese coffee, a serving of coffee jelly will have 70 mg of caffeine.
Brewed Coffee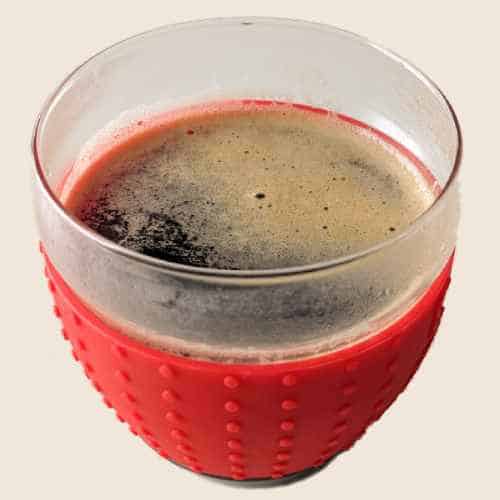 Brewed coffee gives great flavor to your coffee jelly, but it can be a little mild for those who are big coffee lovers.
You can use any roast and brew method of your choice, a french press, Aeropress, or drip machine. The amount of caffeine comes at approximately 47 mg per serving.
Espresso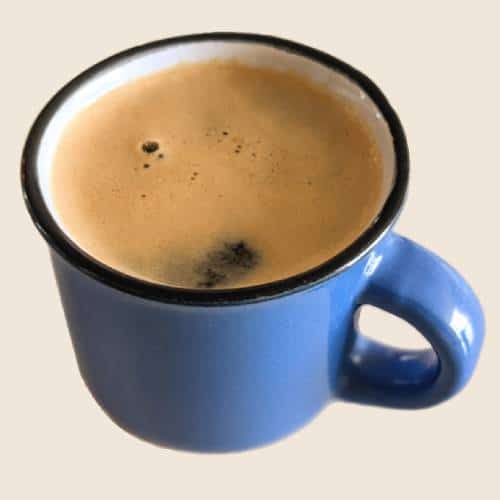 Using espresso for your coffee jelly means you'll have to dilute it. It's too strong but the most flavorful type of brew.
If you decide to go with espresso, use ¾ cup espresso + 1 ¼ water. A single serving of the jelly will have around 95 mg of caffeine!
---
Dietary Variations
We're aware that the Saiki K coffee jelly recipe is not a one-shoe-fits-all. Since many of the ingredients might not work with your dietary restrictions, we have a list of substitutes. You can still enjoy this fun anime dessert and stay true to your diet.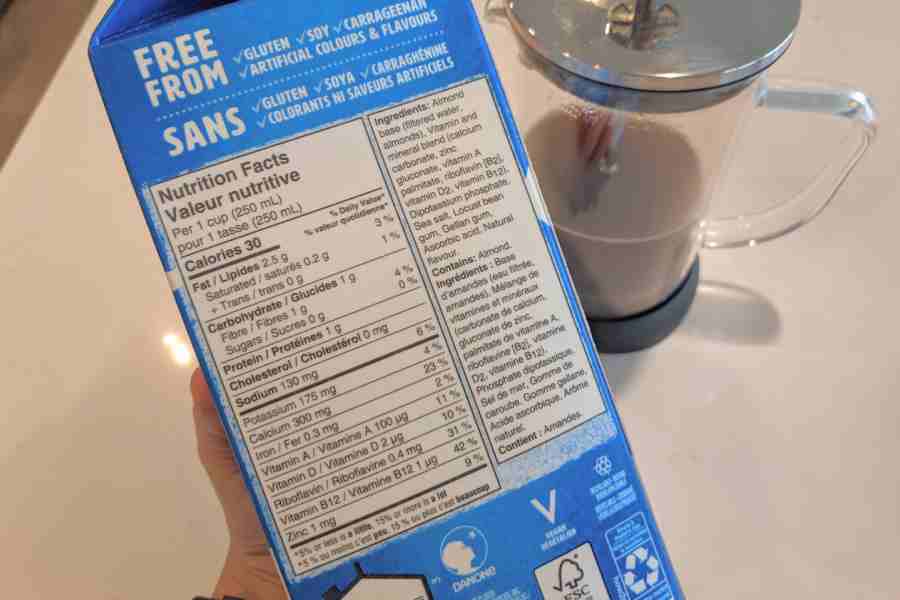 Caffeine Sensitivity
The caffeine content in the coffee jelly is significant. Therefore, if you suffer from caffeine sensitivity, opt for decaf coffee instead of regular coffee.
Decaf coffee still contains trace amounts of caffeine, but it's minimal compared to the real deal. We don't recommend using coffee alternatives like Dandelion Coffee or Lions Mane because it will alter the taste of the jelly.
Vegan/Vegetarian
Gelatin and whipped cream are not vegan-friendly. The best substitute for gelatin is agar powder. The ratios stay the same, as one tablespoon of agar replaces a tablespoon of gelatin.
The easiest way to replace whipped cream is to whip aquafaba – the water from canned chickpeas.
Non-Dairy
If dairy is your enemy, you can easily replace the whipped cream with vegan varieties. Even popular brands now carry dairy-free creams.
There are options for those suffering from lactose intolerance too! The cream doesn't have to be made from plant milk to be lactose-free(2).
Keto/Low-Carb
Coffee jelly can be made keto-friendly with some tweaks. First, use your own brewed coffee instead of instant coffee and sweeten it with Stevia.
For the topping, make your own cream by whipping heavy cream with no sugar. Agar is not only vegan but keto-friendly too, so use it as a substitute for gelatin.
---
Summary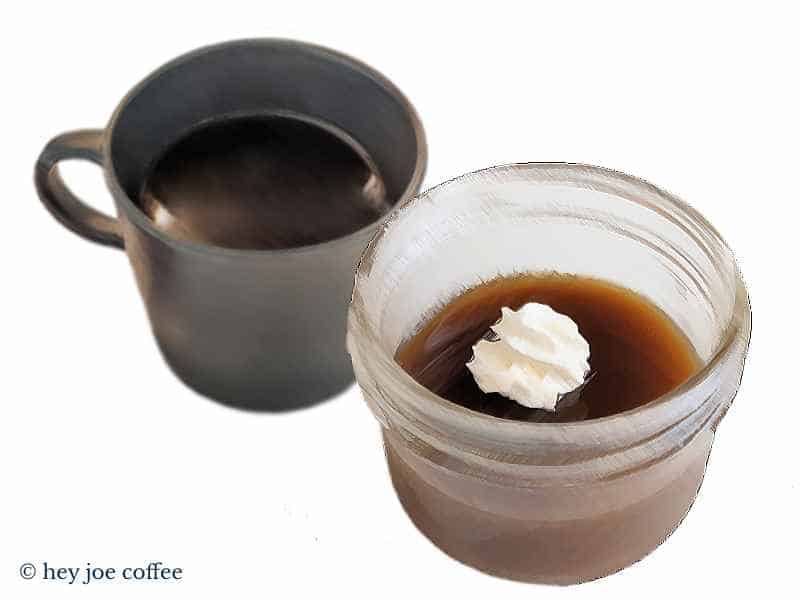 Anime is responsible for bringing Japanese culture closer to the west. This is the case with the Saiki K coffee jelly – a dessert dating back decades ago has gained traction again through an anime character.
It's fairly easy to make and looks just as delicious in real life. All you need is coffee, gelatin, and whipped cream. Use our recipe and surprise your friends next time you host dinner.
---
More Questions
Does coffee jelly have caffeine?
The caffeine content of coffee jelly depends on the type of coffee used. With espresso, you're looking at 95mg of caffeine per serving which is 1/4 of the daily recommended intake.
If you go for decaf, there will be trace amounts of caffeine in a single serving. Chose your type of coffee to regulate how much caffeine there will be in the final product.
How to make Saiki K Coffee Jelly?
Brew your coffee of choice and combine it with sugar or other sweeteners to taste. Mix in gelatin and pour it into serving molds or cups. Refrigerate for a couple of hours. Before serving, top each portion with whipped cream or pour over a sauce made from condensed milk.