Starbucks Caffe Misto is a popular menu item at the coffee chain. It is often confused with standard milk coffees and cappuccinos.
In this article, I talk about the components of the Misto in greater depth. I'll also reveal a few money-saving hacks and give you a copycat recipe to try at home.
– or scroll so you don't miss all the goods 🙂 –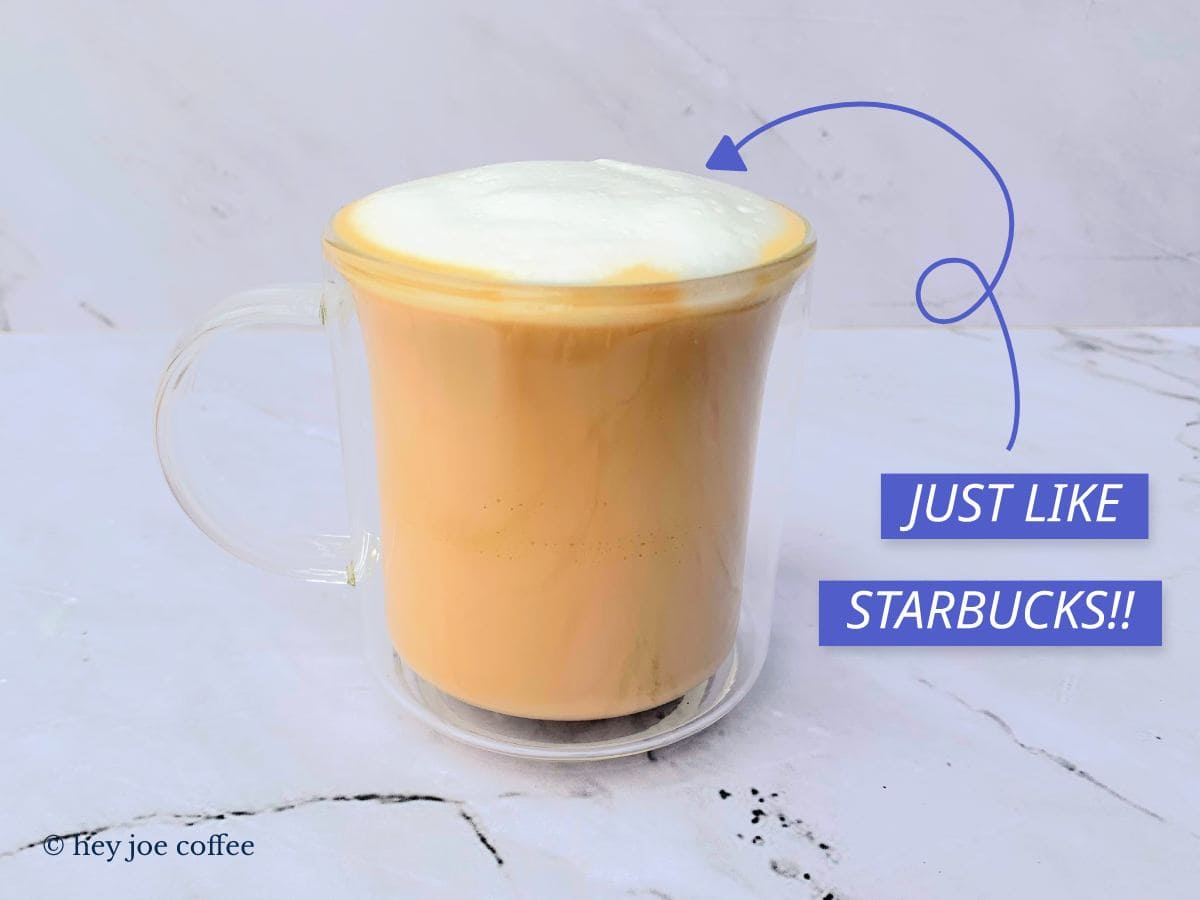 Topics Explored
What Is Caffe Misto At Starbucks?
The Caffe Misto is half a cup of brewed coffee topped with half a cup of steamed milk.
The flavors of this coffee drink will vary, depending on what type of coffee you use.
A darker roast will give off an intense and roasty flavor. On the other hand, a medium roast gives off a sweeter and more mellow notes.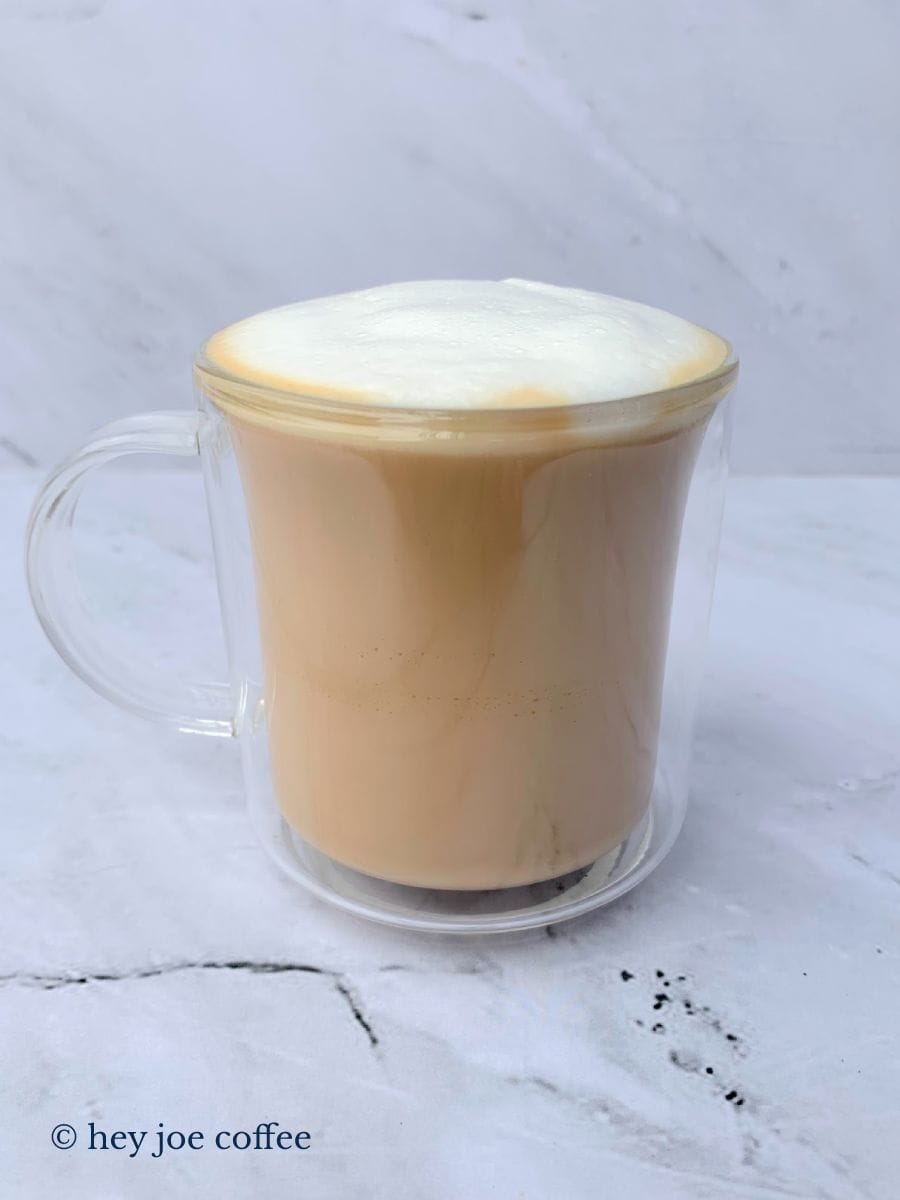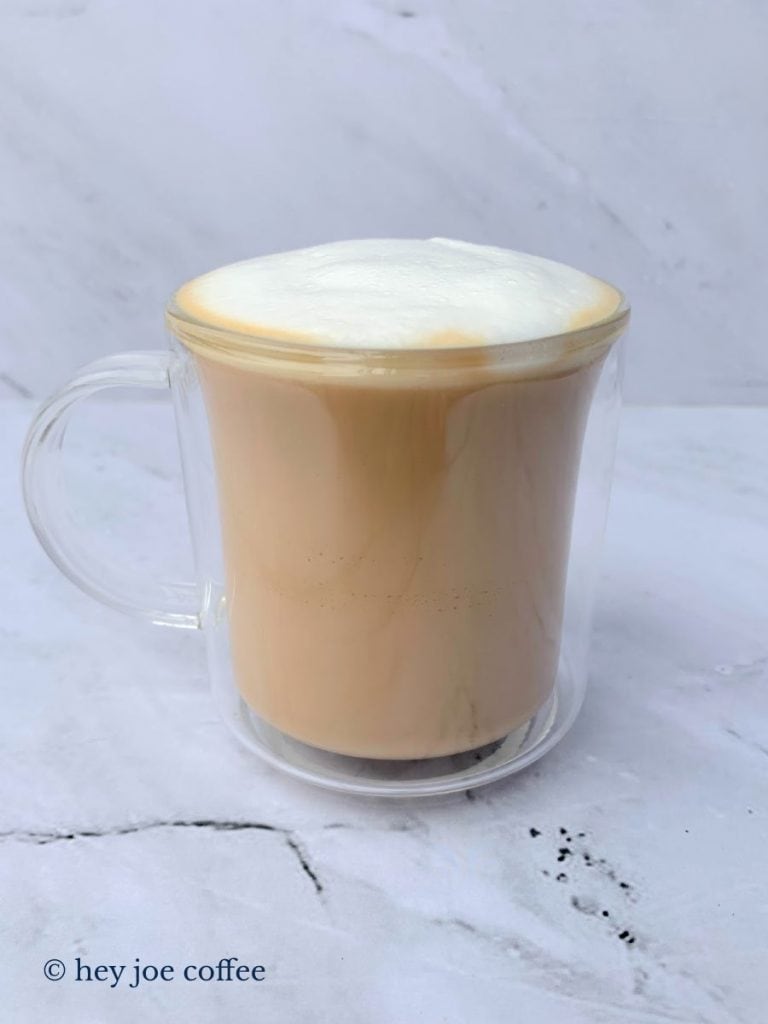 The Caffè Misto was invented in France. Its French name is cafe au lait, which basically means coffee with milk.
The drink was originally served in larger cups, so drinkers could dip their pastries into the coffee.
This drink is also popular in Germany and Poland.
What Is In A Starbucks Misto?
The drink is simple and easily customized by your choice of coffee, milk, and additional flavors. (1)
If you enjoy a thick, smoky and bitter mouthfeel, go for the darker roast such as the Sumatra with whole milk.
Otherwise, stick to the medium roast for a well-balanced taste.
---
Starbucks Misto Hack
A Caffe Misto costs $3.65 until you realize you can get it for way cheaper! Here's one loophole to get this drink for a lower price.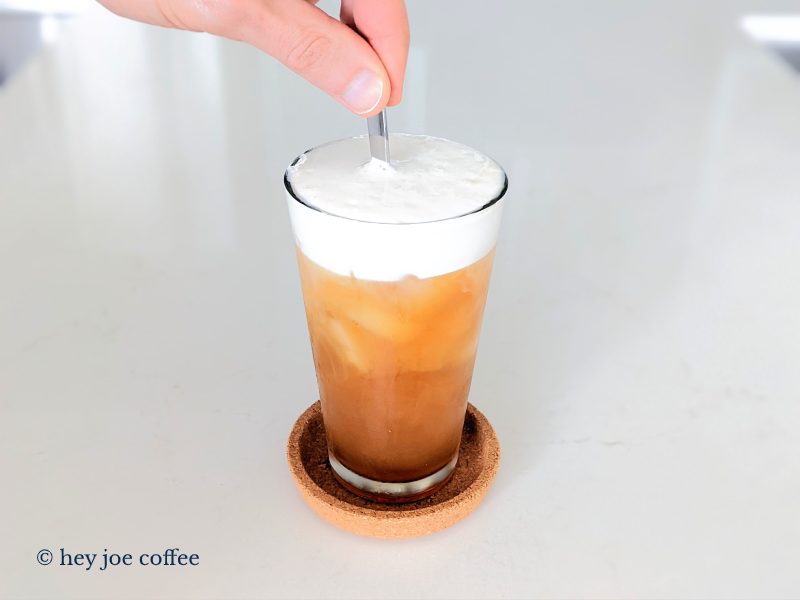 Step 1
A lot of people don't realize that Starbucks will give you 4 ounces of milk with every coffee order for no extra charge.
When it's your turn to order, ask your barista for a grande drip coffee with steamed milk.
Step 2
If your Barista tries to clarify your order, affirm that you would like a grande drip coffee with steamed milk and not the Misto.
Step 3
You can also use the above hack with the Tea Misto by ordering tea with steamed milk.
---
What Does A Caffe Misto Taste Like?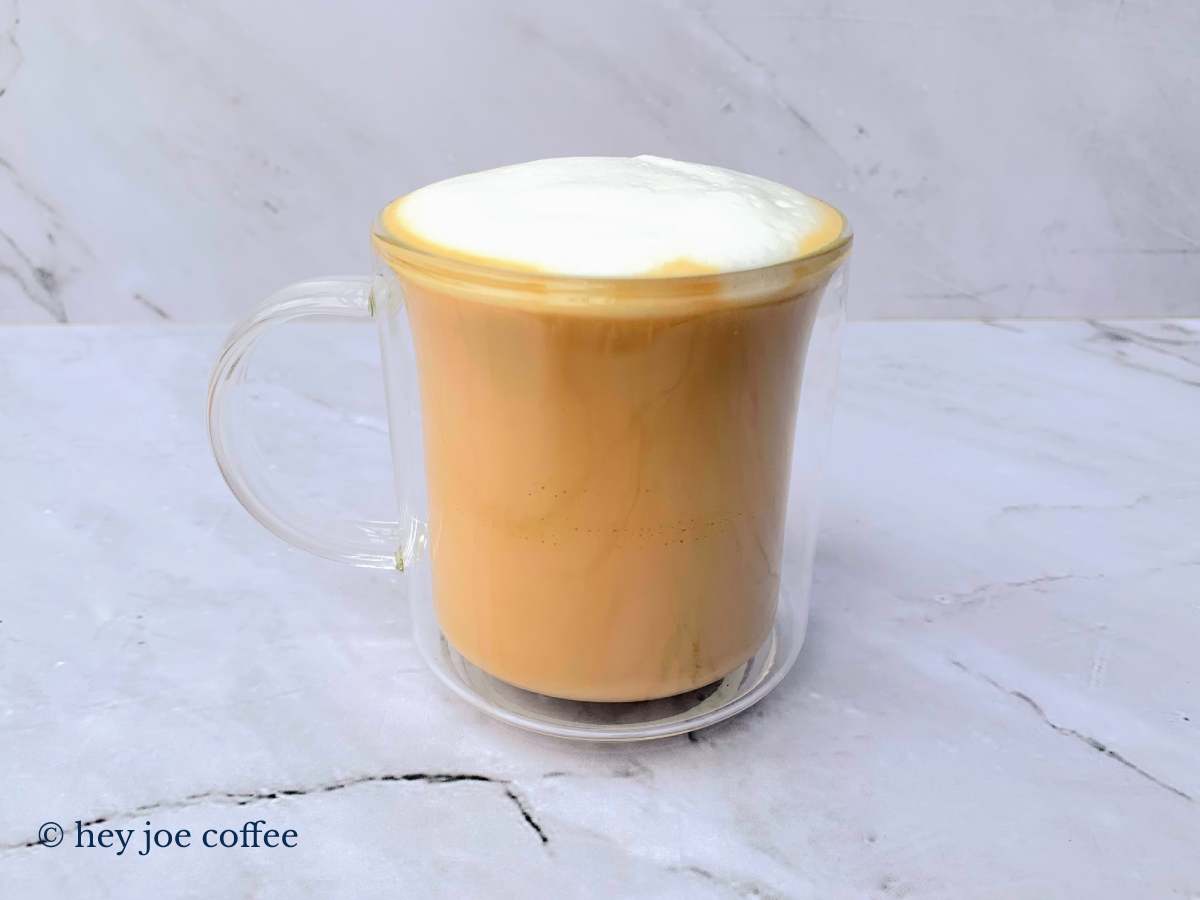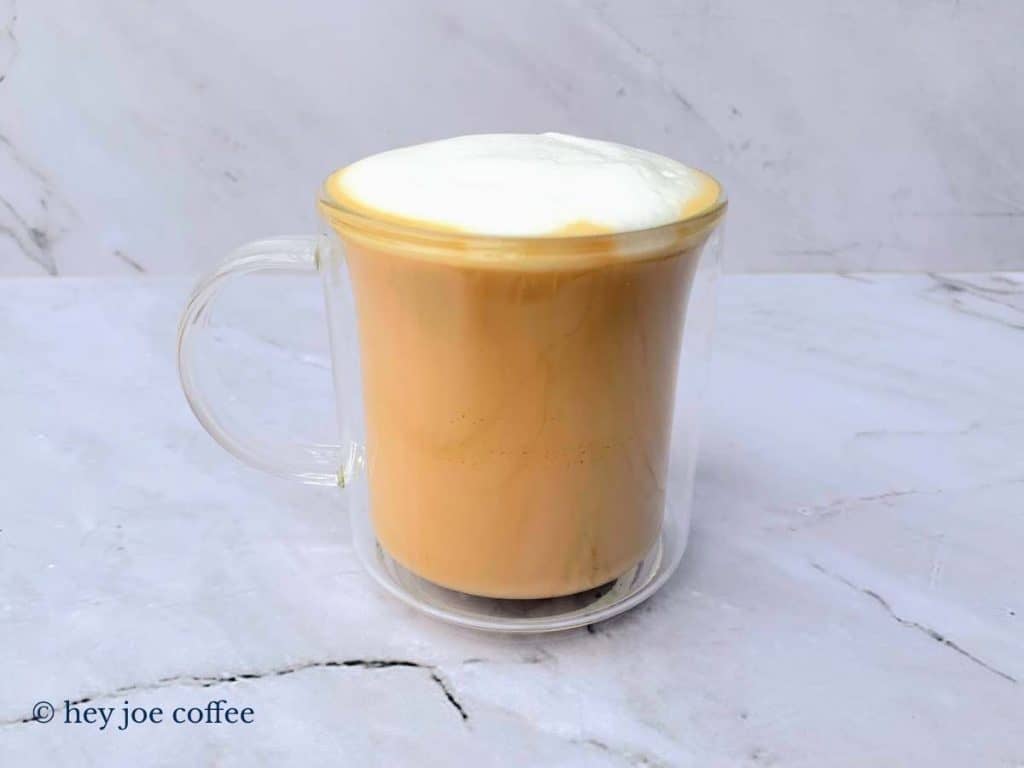 Nutrition
The Caffe Misto is one of Starbucks' lower calorie items, with a grande being only 110 calories. This could be lowered even further by opting for skim or almond milk.
Each grande cup also contains 10 grams of sugar and 4 grams of fat, with no additonal hidden calories.
Appearance
Its appearance isn't anything special, since the drink is just coffee and milk.
Contrary to regular coffee the drink has a velvety texture. This is due to the steamed milk and microfoam.
Unlike many of the other drinks at Starbucks, the Misto doesn't have a physical feature that stands out.
Flavor
As mentioned above, its flavor will largely depend on the type of coffee you use. I usually ask for medium roast, which, when combined with milk, makes a smooth taste with a hint of sweetness.
Caffe Misto is also a popular breakfast coffee. I recommend pairing it with a hearty homemade breakfast.
The drink isn't as milky as a latte, so skip this drink if you prefer your coffee creamier.
---
Tools & Ingredients
You can easily make a Caffè Misto at home. All you need is some brewed coffee, milk and the right tools.
Here are the tools and ingredients you'll need to make it at home.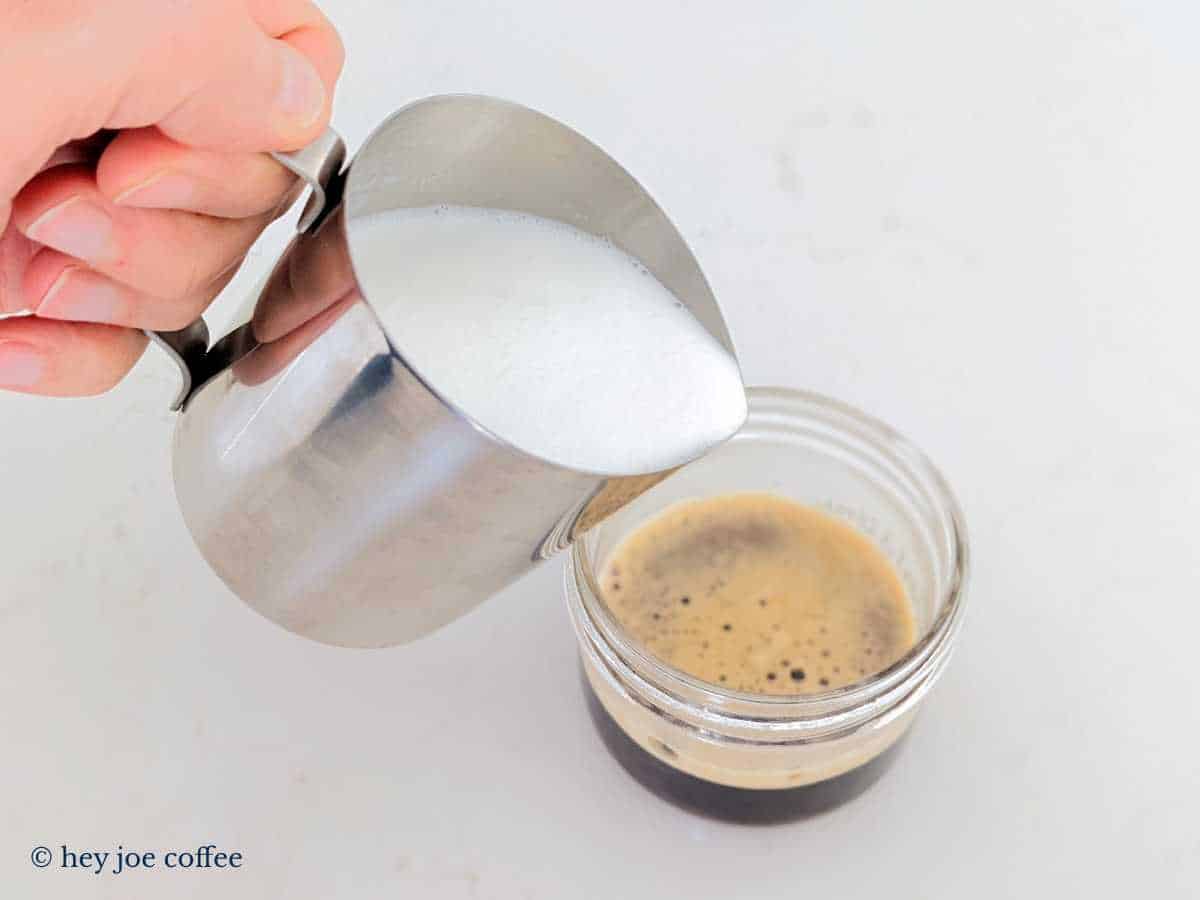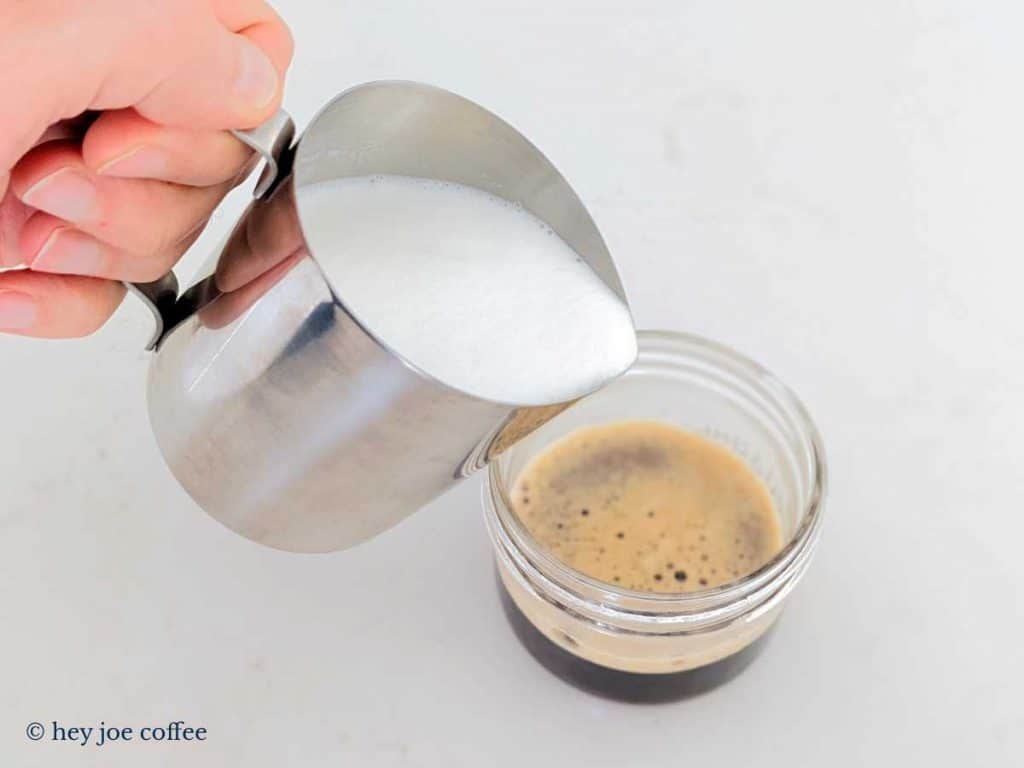 Steam Wand
A steam wand heats up milk by gently warming it up with steam. This allows the milk to expand and form a creamy texture.
If you don't have a steam wand, you can gently heat your milk over a stove and use a milk frother. This will result in a lighter and more watery texture.
Medium To Dark Roast
A Caffe Misto is usually made with medium or dark roast coffee. This is because a light roast tends to be more bright and generally doesn't pair well with milk.
Any coffee brand will work, but for similarity, I recommend any dark roast from Starbucks, or the popular Pike Place medium roast.
Milk
The original recipe for the Starbucks version calls for 2% milk. However, you can swap this for another type of milk you prefer.
At this stage, keep in mind that plant milk is much harder to steam and foam, so stay away from lighter variations such as nut or rice milk. I find that Oatly's Barista Blend is the easiest plant-based option to use.
---
Starbucks Caffe Misto Recipe
Now that the important equipment is covered, here is a good copycat Caffè Misto recipe.
Although the drink is easy to make, it takes practice to perfect. So don't be discouraged if your coffee doesn't taste right the first time.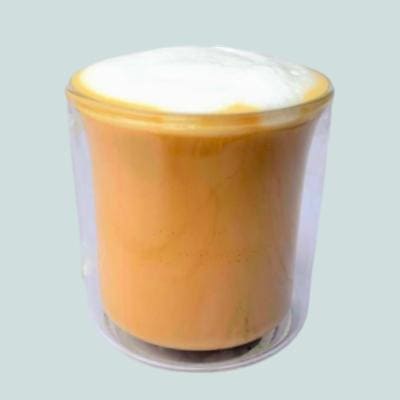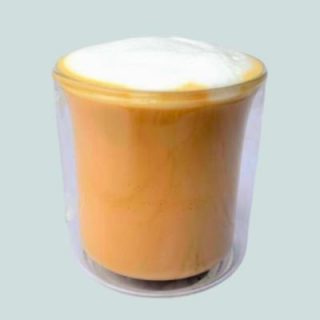 Copycat Starbucks Misto Recipe
Yield:
1 serving (~10 oz)
The Starbucks Caffè Misto recipe only requires two main ingredients and a sweetener of your choice. 
Ingredients
Brewed Coffee: ½ cup
2% Milk: ½ cup
Sweetener (optional)
Instructions
First brew ½ a cup of coffee using a method of your choice (you can use a coffee maker, Aeropress, Hario or even a French Press).
While the coffee is brewing, start prepping your espresso machine's steam wand. Remember to purge it before use.
Grab cold milk from the fridge. Measure out about ½ cup or 4 fluid oz of milk and empty it into a frothing pitcher.
Begin the steaming process to produce nicely textured milk with microfoam. Remember, we are trying to replicate Starbucks' quality!
Turn off the steam wand and pour the brewed coffee into your favorite glass or mug. If you prefer it sweet, now is the time to add your sweetener.
Lastly, top off the brewed coffee with freshly steamed milk (there should be a thin layer of microfoam on top). Your Caffe Misto is now ready.
Notes
I recommend splurging a little on the beans, since quality and type of coffee will dictate how your drink tastes.
---
Commonly Confused With The Misto
Since the Caffè Misto is just coffee and milk, it is commonly confused with other milk coffees such as the latte, cappuccino, and flat white.
Here, I highlight the differences between each drink.
1. Coffee With Milk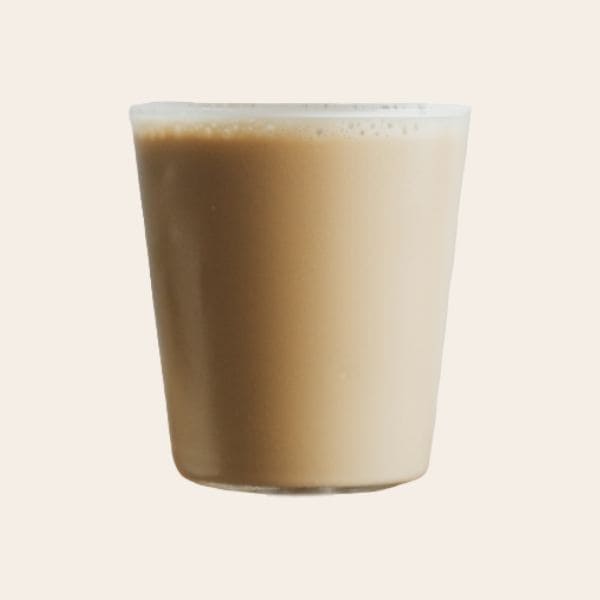 How Mistos Are Different:
All Caffe Mistos are coffees with milk, but not all coffee with milk are Caffe Mistos.
This is because a Caffè Misto requires a specific one-to-one ratio of brewed coffee and milk.
The milk in a Caffè Misto must also be steamed, which isn't the case for many milk coffees.
Recap:
One-to-one ratio of brewed coffee and milk
Must use steamed milk
2. Caffè Latte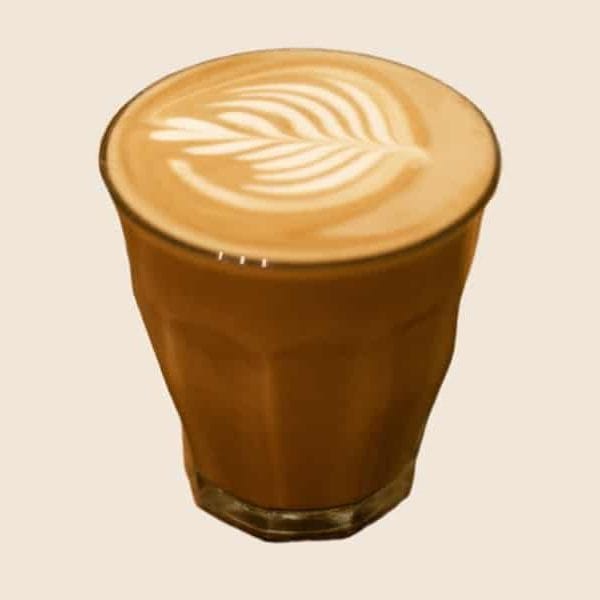 How Mistos Are Different:
Unlike the Caffè Misto, a latte is an espresso-based drink. Both coffee drinks have different textures and tastes.
When compared to the creamier and more potent latte, the Caffè Misto has a lighter and less viscous mouthfeel.
Recap:
Uses brewed coffee, not espresso
Lighter mouthfeel
3. Flat White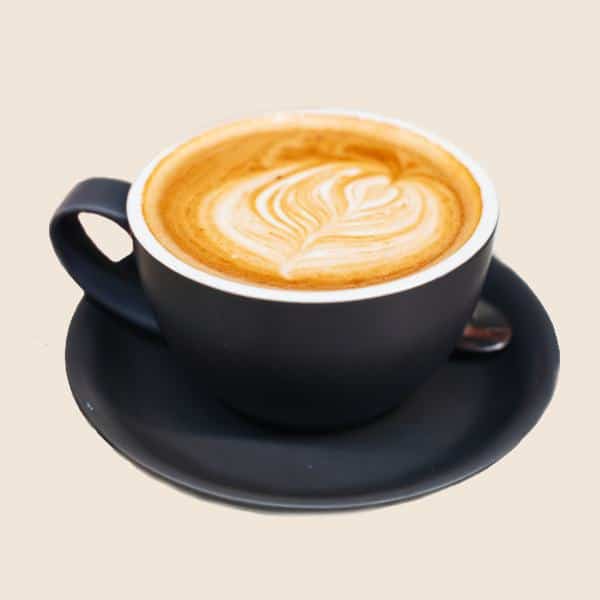 How Mistos Are Different:
The flat white and Caffè Misto contain very similar ingredients – coffee, steamed milk, and milk foam.
The only difference between the two is that the flat white is espresso based. The drink is prepared with at least a strong espresso shot, steamed milk, and milk foam.
Recap:
Uses brewed coffee, not espresso
4. Cappuccino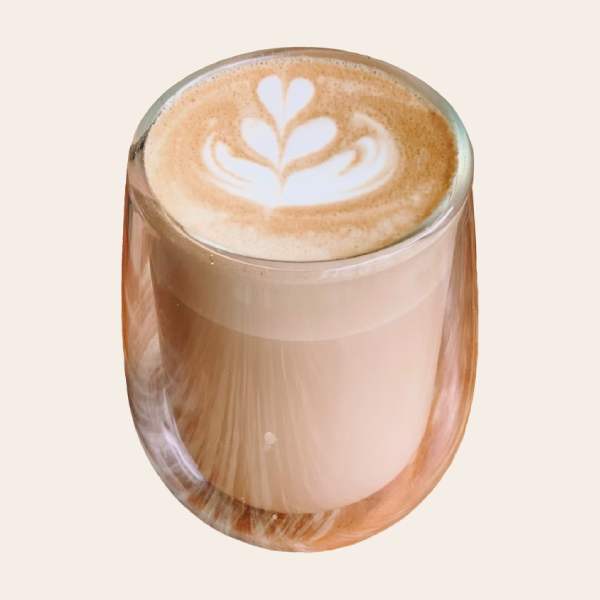 How Mistos Are Different:
The cappuccino is also espresso-based, so by default, it is much thicker than the Misto.
Also, since a cappuccino is generally made with two espresso shots, it contains a lot more caffeine than its brewed coffee counterpart.
Recap:
Uses brewed coffee, not espresso
Less milk froth
Tastes less strong
---
Summary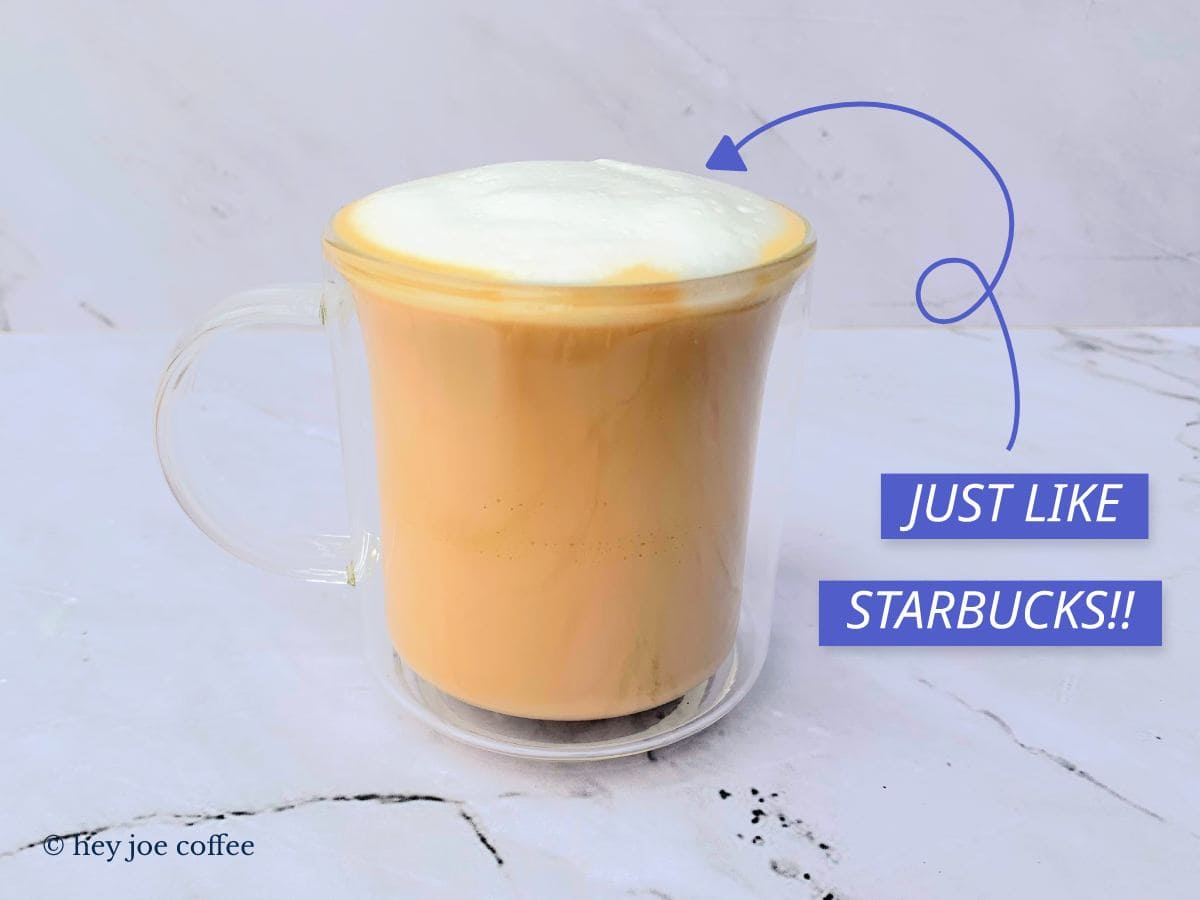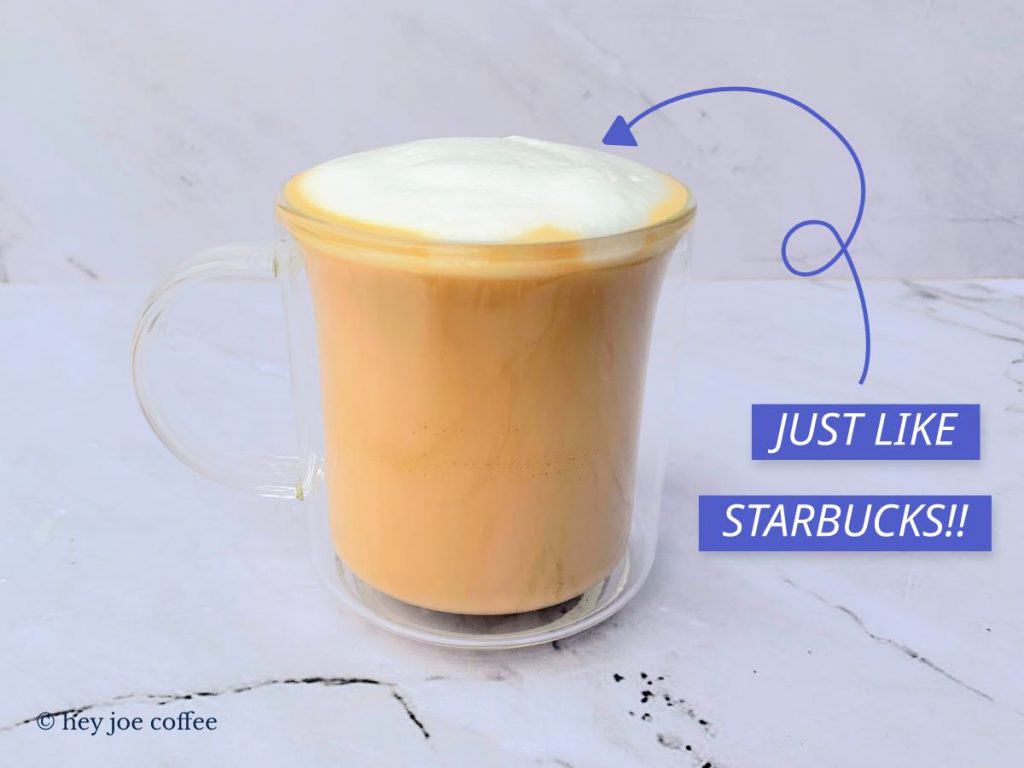 Although the Starbucks Caffe Misto is one of the simplest menu items, it is also one of the most specific.
The 1-1 ratio is the secret sauce to the coffee's taste and mouthfeel.
If you don't mind how your coffee is made but want a Caffe Misto, don't forget to use the hack above to save some money.
---
More Questions
Is Starbucks Caffe Misto healthy?
Since the Misto contains only two ingredients, it's one of the healthiest drinks offered by Starbucks.

The drink contains only 110 calories and contains a fairly low sugar and fat content. This only applies if you don't add any additional sugar or pumps of flavored syrup in your Misto.
Is Starbucks Caffe Misto good?
A Caffè Misto has a very plain and predictable taste. You'll be able to taste milk and coffee without any bells and whistles of additional ingredients or toppings.

I don't think you can ever go wrong with simple, since you do end up with what you expect.

The secret to making a good Caffè Misto is to use good quality brewed coffee. So when DIYing, be sure to use beans from a reputable roaster.
What coffee is in Caffè Misto?
A Caffè Misto is made with brewed coffee. The brewing method isn't important, so you can use a standard coffee machine, Chemex, V60, or even a French press!

While any type of brewed coffee works, I recommend using a medium to dark roast to reduce the drink's acidity.
Verified Sources
Wondering where your info comes from? We totally understand. Hey Joe only obtains our information from reputable sources. Contents from this article are sourced from the following publications: