Does your favorite seasonal drink come with a toasty caramel flavor with hints of nuts? That's toffee nut, a blend of chewy toffee and roasted nuts. We know what is toffee nut but what makes it so unique?
It combines two of the most sought-after flavors that fit perfectly with coffee. If you're a fan just like us, read along to find out which drinks feature the toffee nut flavor.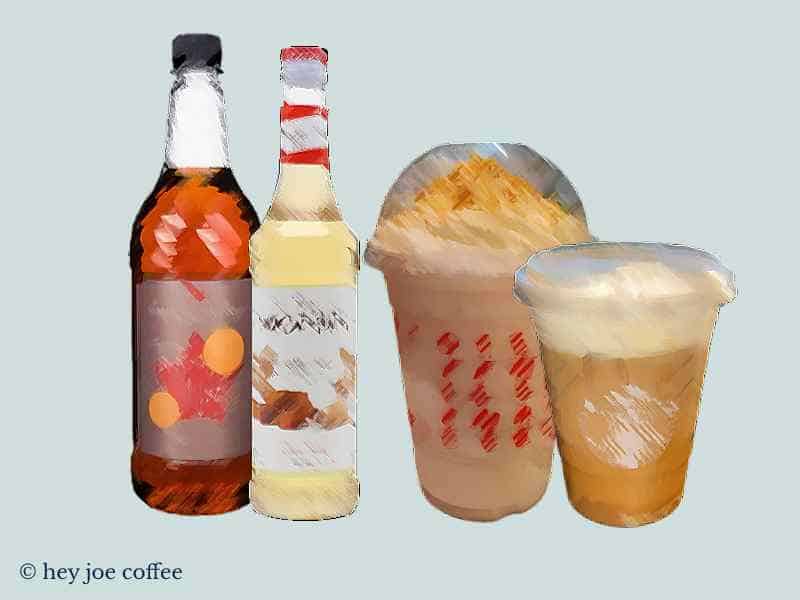 Topics Explored
What is Toffee Nut?
Originally, toffee is a chewy caramel treat made with sugar, butter, and milk. Macadamia, hazelnut, or almond can sometimes be added to this sweet snack.
Toffee nut, however, is a syrup that's mixed into drinks for that sweet and toasty flavor. The syrup combines the best notes from both the toffee and the nuts, creating a new unique flavor.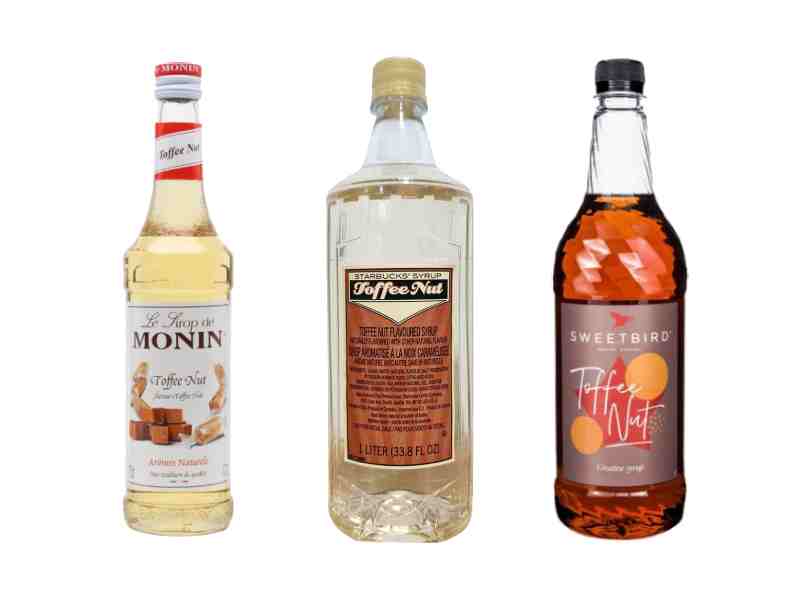 While toffee has been around for ages like roasted nuts, the toffee nut flavor gained rage a few years ago. It started with Starbucks introducing toffee nut flavored drinks as part of their holiday menu.
The syrup got widely accepted and mixed with other beverages ending in delicious combinations. So it quickly evolved into a year-round staple.
Does Toffee Nut Have Nuts?
Toffee nut syrup can contain traces of nuts. Monin's syrup clearly states that their product contains macadamia nuts.
But the toffee nut syrups from Fontana and Torani don't appear to contain any nuts. If you're allergic, it's best to let the barista know or check the label if you're using the syrup at home.
---
What Does Toffee Nut Taste & Look Like?
So what does toffee nut taste like? The flavor melds together caramelized nuts with chewy toffee. It's a sweet winter flavor, but it's not overwhelming.
In a nutshell, if you love caramel-flavored coffees and sweetened nuts, you'll be its biggest fan.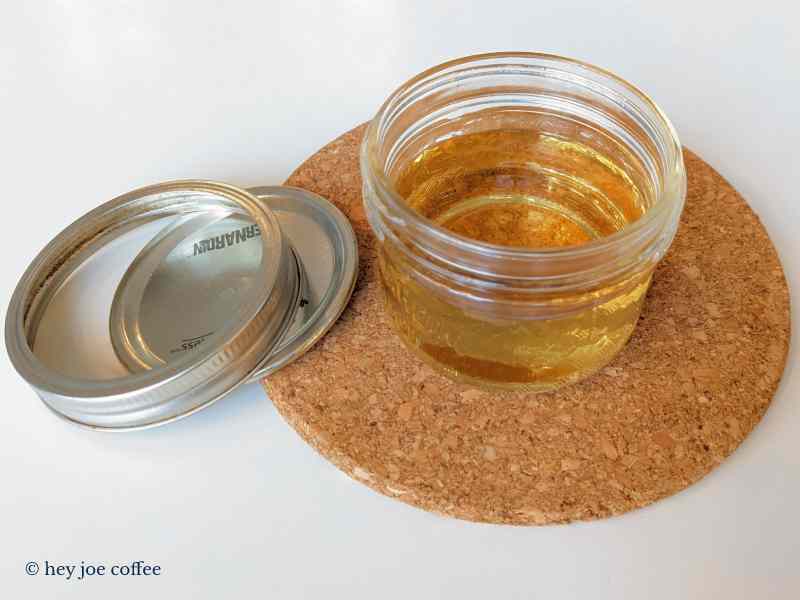 Appearance
The toffee nut syrup is golden-hued and clear. Unlike other syrups, this one is thicker and more viscous. However, it's not as thick as caramel syrup.
The main ingredient is sugar and water, so it's a familiar consistency. It doesn't contribute to the color of the drink, only the flavor.
Taste
The taste is rich with a noticeable buttery and nutty flavor due to the toffee element. It's a comforting flavor that works ideally in warm beverages.
It's best to use the toffee nut syrup alone. It can easily get overpowered since it's not as intense as some other syrups.
Pairings
Toffee and nuts are versatile and work great with a long list of food and drinks.(1) Add the syrup to hot chocolate, mocha, or plain latte. You can mix and match it with other nut syrups.
It works great with fall flavors like apple pie and cinnamon. You can also add it to frozen drinks, even though it's not the norm.
---
Toffee Nut Beverages
What does toffee nut taste like in different beverages? Depending on the amount of coffee, milk, and other ingredients, the flavor can be dimmed or more pronounced.
Try some of the flavored drinks below to see what's your favorite combo.
1. Toffee Nut Latte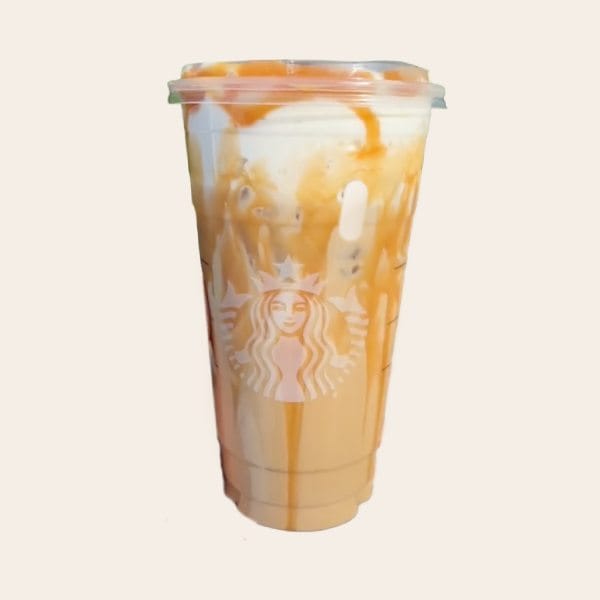 The most popular beverage is the toffee nut latte. It brings together 2 shots of espresso, steamed milk, and 1 oz of toffee nut syrup.
The syrup is mixed with the espresso, and the cup is filled with milk. Whipped cream and nut pieces are added as a final touch.
2. Toffee Nut White Mocha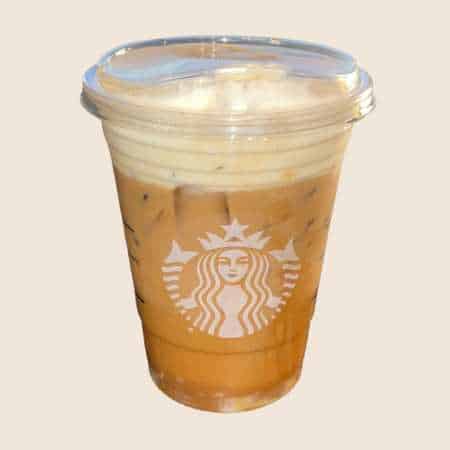 Toffee nut white mocha includes 1/2 oz of white mocha syrup and 1/2 oz toffee nut syrup. The syrups are mixed with 2 espresso shots, and the cup is filled up with steamed milk.
This is the best blend if you're a fan of chocolate and caramel. The drink is topped with whipped cream and toffee crumbs.
3. Salted Caramel Frappuccino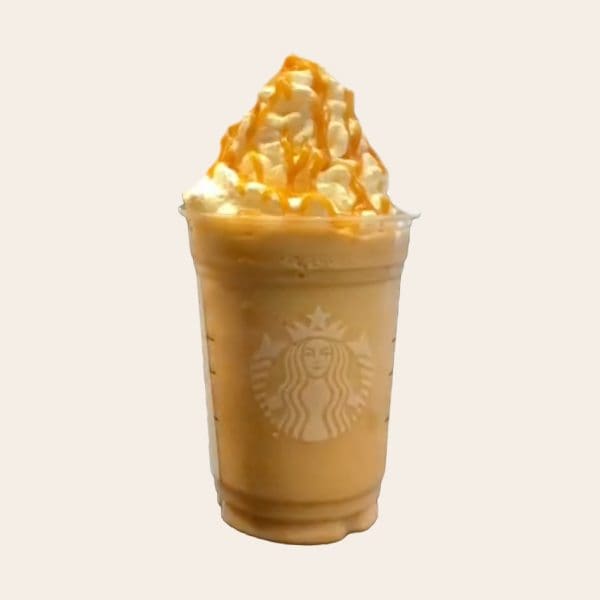 If you prefer iced drinks, try the salted caramel mocha frappuccino. It comes with 2 pumps of toffee nut syrup and 2 pumps of mocha sauce. The topping includes whipped cream, caramel sauce, and sea salt flakes.
This drink might not be your first choice, but it's guaranteed to give your taste buds a wild ride.
4. Caramel Nut Crunch Frappuccino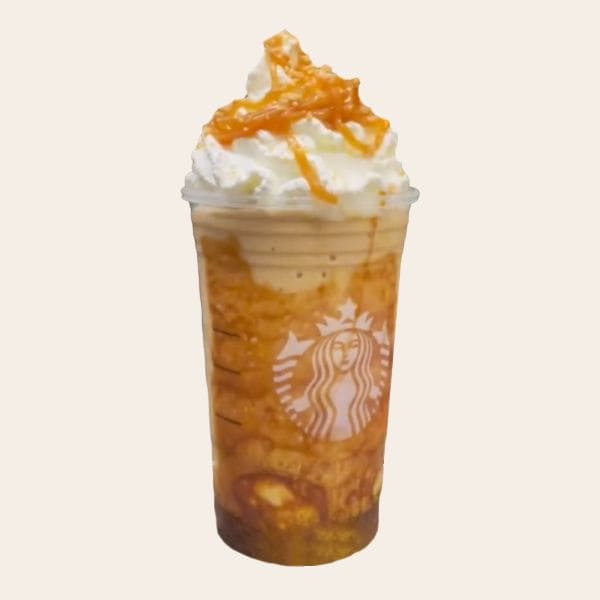 How about a drink out of the secret menu? Sweet and caramelly is how you can describe the Caramel Nut Crunch Frappuccino.
Ask for vanilla bean frappuccino with 2 pumps of caramel syrup and 2 pumps of toffee nut syrup. Add crunch bits at the bottom. Finish with whipped cream, caramel drizzle, and extra crunchy bits on top.
---
Toffee vs. Caramel vs. Butterscotch
So what's the difference between caramel and toffee? Isn't toffee the same as butterscotch? They're all made with sugar, water, and butter; but have a different consistency.
The toffee is hard, while the caramel is liquid. Toffee can come with added nuts or chocolate, while butterscotch is chewy and plain.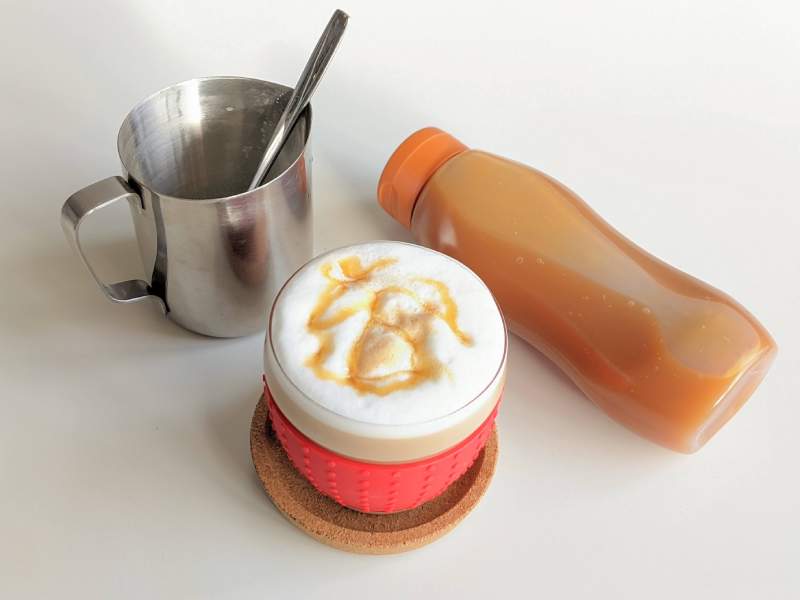 Caramel
Caramel is made by melting sugar until it liquifies and adding water, butter, or cream. The caramel can be dry or wet, depending on whether you add water.
Caramel is made with white sugar that's heated up until it reaches 340°F.(2) Optionally you can add vanilla or other flavorings.
Butterscotch
Butterscotch comes close to toffee, but it's chewier and softer. The butterscotch is made out of brown sugar and butter. Once it has a runny consistency, you can add cream or salt.
Toffee is what happens when you keep on heating the butterscotch. So while the toffee is cooked at 309°F, you shouldn't heat butterscotch over 289°F.
---
Final Words
Comforting drinks often come with the best aroma, like a throwback to cozy fireplaces and homemade desserts. Toffee nut is one of the best combinations of flavors ideal throughout fall and winter.
What is toffee nut? A smokey, sweet blend of toffee and roasted nuts. It pairs well with lattes, mochas, hot chocolate, and even frozen blended drinks.
---
More Questions
Is toffee nut a nut?
No, it is not an actual nut. It's a flavoring syrup used in beverages, mostly coffees. You can buy it for at-home use.

However, it may contain nuts. Some brands specify which nuts they use in the product. Others use a mimicking aroma and an actual nut. Double-check if you're allergic to nuts.
What flavor is toffee nut?
Toffee nut is caramel-like, buttery but more smokey, and with solid nut infusion. Think of boosted caramel. The nutty notes can be more robust or milder, depending on whether real nuts are used in the syrup.

Add the syrup to a warm drink as it helps develop the full aroma of the flavor.
Does Starbucks still have toffee nut?
Starbucks has toffee nut syrup. It's among the many syrups they offer. It pairs well with hot coffees and milk-based drinks. Depending on the season and location, you can have some of their seasonal drinks. 

Toffee Nut Latte or Frappuccino are frequently introduced each year, during the fall season.
Verified Sources
Wondering where your info comes from? We totally understand. Hey Joe only obtains our information from reputable sources. Contents from this article are sourced from the following publications:
Food & Wine: https://www.foodandwine.com/desserts/candy/toffee-0