There are days when you need a sweet, warm cup of coffee. An espresso won't cut it. But you get bored with the same old options – latte, cappuccino. Until a combo catches your eye – the mighty vanilla meets caramel in a cup of macchiato. What is a caramel macchiato?
A cozy drink with a caramel drizzle that sticks to your soul.
Topics Explored
What Is A Caramel Macchiato?
A caramel macchiato is a regularly brewed espresso with steamed milk in a ratio of 2:1.
It's infused with vanilla syrup, topped with milk foam and a rich caramel drizzle. Unlike the original macchiato, this version is sweet due to the additions.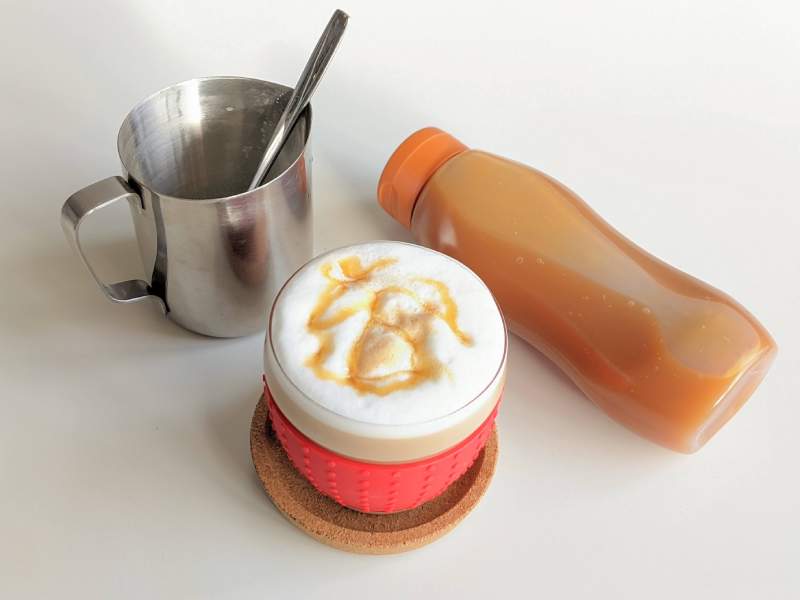 This beverage is an invention of the 20th century. It was introduced by Starbucks back in 1996 for its 25th anniversary.
The idea behind this delicious drink belongs to Hannah Su, a Starbucks barista at the time(1). Caramel macchiato soon became a crowd's favorite. A little later, different establishments launched their own versions.
---
What Does Caramel Macchiato Taste & Look Like?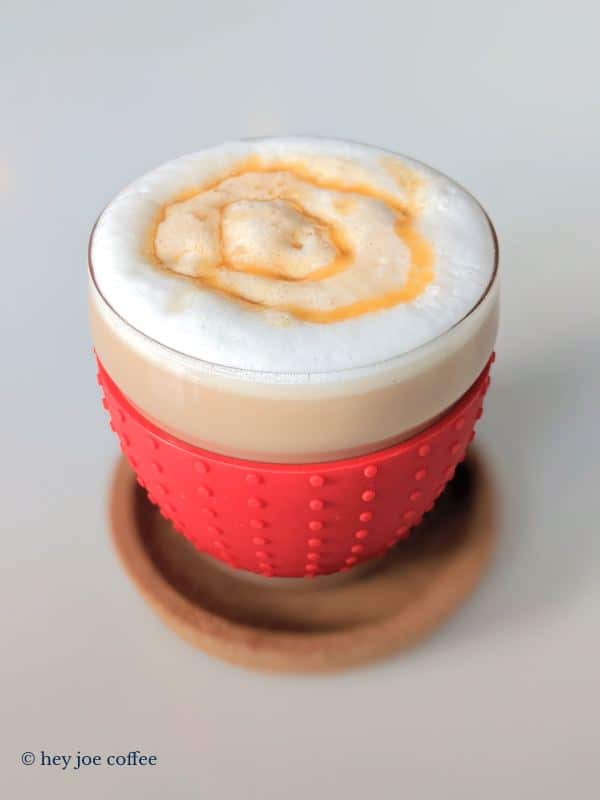 Appearance
The caramel macchiato looks like a hug in a mug! It's warm, dark beige, with an inch of milk foam on top and loads of caramel drizzle. It looks inviting, comforting – and definitely sweet.
The buttery caramel on top melts through the foam and makes its way into the drink.
Flavor
When it comes to taste, this macchiato reminds us of latte, but it's more decadent. It's warming, creamy and sweet. The caramel gives it a lightly toasted and buttery flavor.
As you sip, you get the creamy milky flavor hitting your taste buds. The coffee flavor comes through afterward. Overall it has a rounded flavor.
How Much Caffeine Is It?
The drink gets its caffeine from the espresso. Depending on the size, it can contain one or two espresso shots.
A single shot at Starbucks has 65 mg of caffeine. A grande includes two espresso shots, equaling 150 mg of caffeine. However, you can ask for decaf espresso and have your your drink with only traces of caffeine!
---
What About Calories?
The caramel macchiato calories are not to be neglected. Just by looking at the ingredients, you know you're in for a caloric bomb. The vanilla syrup, caramel drizzle, and a large amount of milk are to blame.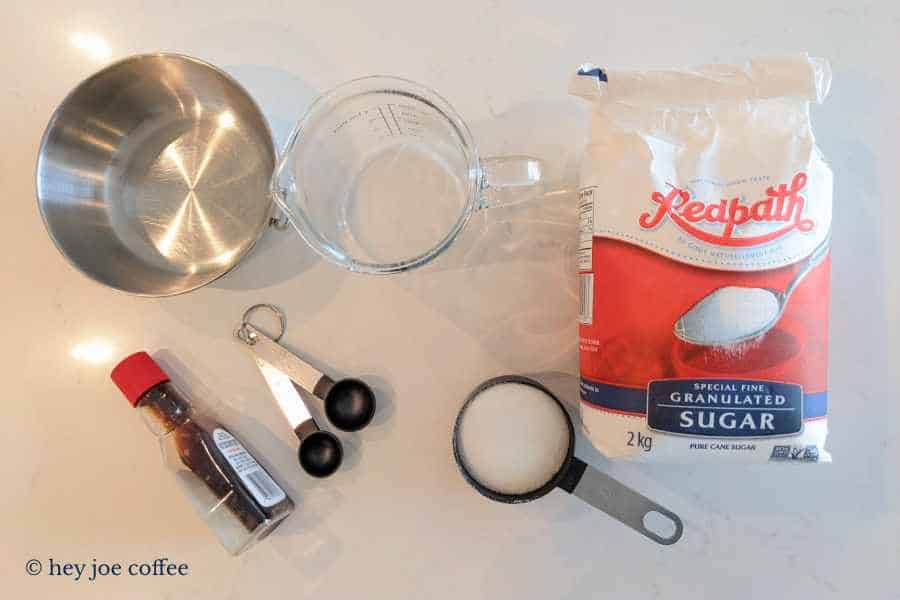 A grande of the drink has 250 calories and 33 grams of sugar! Keep this in mind if you're watching your calorie intake.
Short (8 oz): 120 cals
Tall (12 oz): 190 cals
Grande (16 oz): 250 cals
Venti (20 oz): 310 cals
---
Commonly Confused With The Caramel Macchiato
The appearance of this macchiato is not very unique. It's often confused with similar milk-based coffees. But the taste is what makes it special. Take a look at drinks most commonly associated with this decadent drink, so you don't mix your order.
1. Caramel Macchiato vs Caramel Latte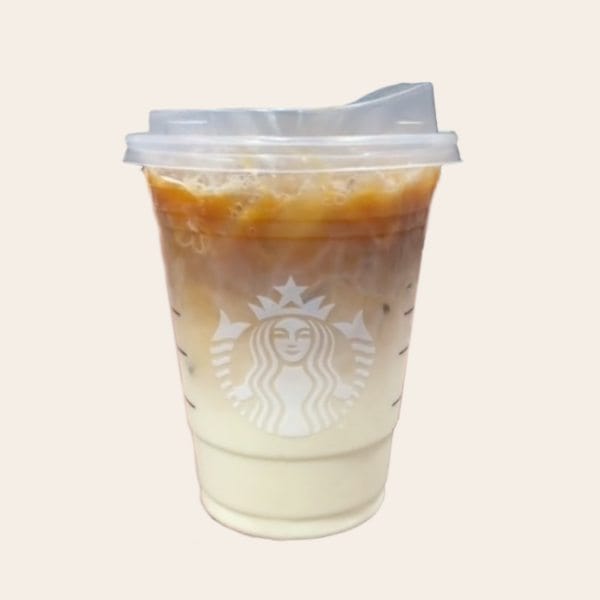 This is the most commonly confused pair. The crucial difference is in the flavor that goes in the coffee.
The caramel latte is made with caramel syrup, espresso, and steamed milk. There's no drizzle on top and no vanilla. The caramel macchiato doesn't have any caramel inside, just a drizzle on top.
How the Caramel Latte is different (TLDR):
No caramel drizzle
No vanilla flavoring
2. Caramel Macchiato vs Cloud Macchiato
Have you heard of Cloud Macchiato? It's a twist to the original Starbucks macchiato but topped with whipped cold foam instead of milk foam.
The cold 'cloud' foam is made with powdered egg whites, icing sugar, vanilla extract, and water. These ingredients remind us of meringues. You can get it iced or hot.
How the Cloud Macchiato is different (TLDR):
Comes with cold foam
Foam ingredients include egg whites
3. Caramel Macchiato vs Macchiato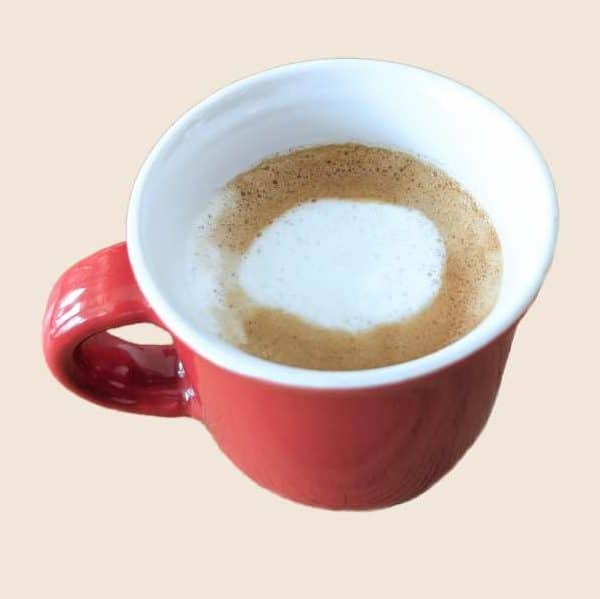 The regular macchiato is as old as the espresso. It's made in a 2:1 ratio – for 2 shots of espresso, you add 1.25 oz of steamed milk.
The strong taste of coffee is predominating, unlike in the caramel version. A regular macchiato comes in a much smaller size and contain a lot less milk.
How the Macchiato is different (TLDR):
Espresso to milk ratio
Stronger coffee taste
4. Caramel Macchiato vs Apple Crisp Macchiato
At first glance, the Apple Crisp macchiato resembles the caramel macchiato. But the flavor is very distinct.
Although both are made with espresso and steamed milk, the Apple Crisp is made with apple brown sugar syrup at the bottom instead of vanilla. It's topped with spiced apple drizzle instead of caramel.
How the Apple Crisp is different (TLDR):
Includes apple brown sugar syrup
Drizzled with spiced apple sauce
---
How to Make a Caramel Macchiato
The thing with delicious drinks is they can cost a lot. And the hassle of getting to a coffee shop can be too much some days. So we offer you a recipe on how to make a caramel macchiato at home. Minimal ingredients and preparation time, but delightful result!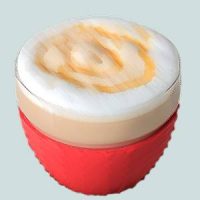 Caramel Macchiato Recipe (Lip Smacking Good)
Yield:
1 serving (~10 oz)
This Caramel Macchiato recipe is so simple and taste so darned good. It'll leave you wanting more!
Ingredients
Ground Espresso: enough for 2 shots
Milk: 1 cup
Vanilla Syrup: 1 - 2 tbsps
Caramel Sauce: for drizzling
Instructions
For the macchiato, you'll need brewed espresso. If you don't own an espresso machine, you can use a Moka pot, french press, or AeroPress.
Brew the two shots of espresso via your chosen method. Set aside and get your pitcher and milk of choice. Whole milk froths best.
Pour the milk into the pitcher and submerge the steam wand to steam it. You can also froth it in a mason jar and microwave it for 30 seconds.
Take your glass and put 1 to 2 tablespoons of vanilla syrup at the bottom - depending on how sweet you want the coffee. Fill the mug with 3/4 of the steamed milk.
Spoon the milk foam to fill the remaining quarter of the glass. Take your espresso shots and gently pour them over the milk and foam.
Get your caramel sauce and drizzle it over the foam. Enjoy it while warm, and don't forget to share the recipe with your loved ones!
---
Summary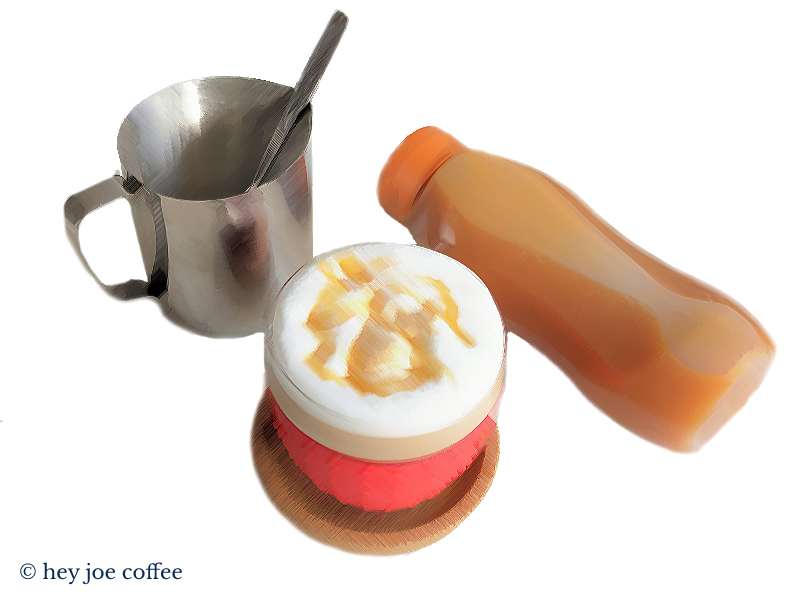 So you're ready to try something different, but what is a caramel macchiato? It's an espresso-based drink with vanilla syrup, steamed milk, milk foam, and a generous drizzle of caramel on top. It's a warming, sweet drink that holds a good amount of caffeine.
The number of calories, as well as the price, can be steep. Not sure if you're going to like it? Use our recipe to make it at home!
---
More Questions
What is a skinny Caramel Macchiato?
Want the all the flavor but not the calories? Go for non-fat milk and ask for more foam, so there won't be much space for milk. Request sugar-free syrup and even an extra espresso shot to fill up the cup.

Finally, go for the iced version – they can have ⅓ less calories.
What is an Iced Caramel Macchiato?
An iced caramel macchiato(2) contains the same ingredients but in a slightly different way. It starts with a glass filled with ice. Then you add vanilla syrup and cold milk and stir to combine them.

Finally, you pour the brewed espresso and top with caramel drizzle.
Is Caramel Macchiato a coffee?
Yes, it is a coffee. Depending on the size, it contains 1 to 2 shots of freshly brewed espresso. Each caramel macchiato has 75 to 150 mg of caffeine.

It's a good drink for those who want their caffeine share but don't tolerate the plain taste of coffee.