The Vanilla Bean Frappuccino with caramel is a delicious creme blend that combines the mild and sweet taste of vanilla with smoky caramel.
The delicate balance of sweet and smoky delivers a rich flavor with a refreshing taste perfect for summer.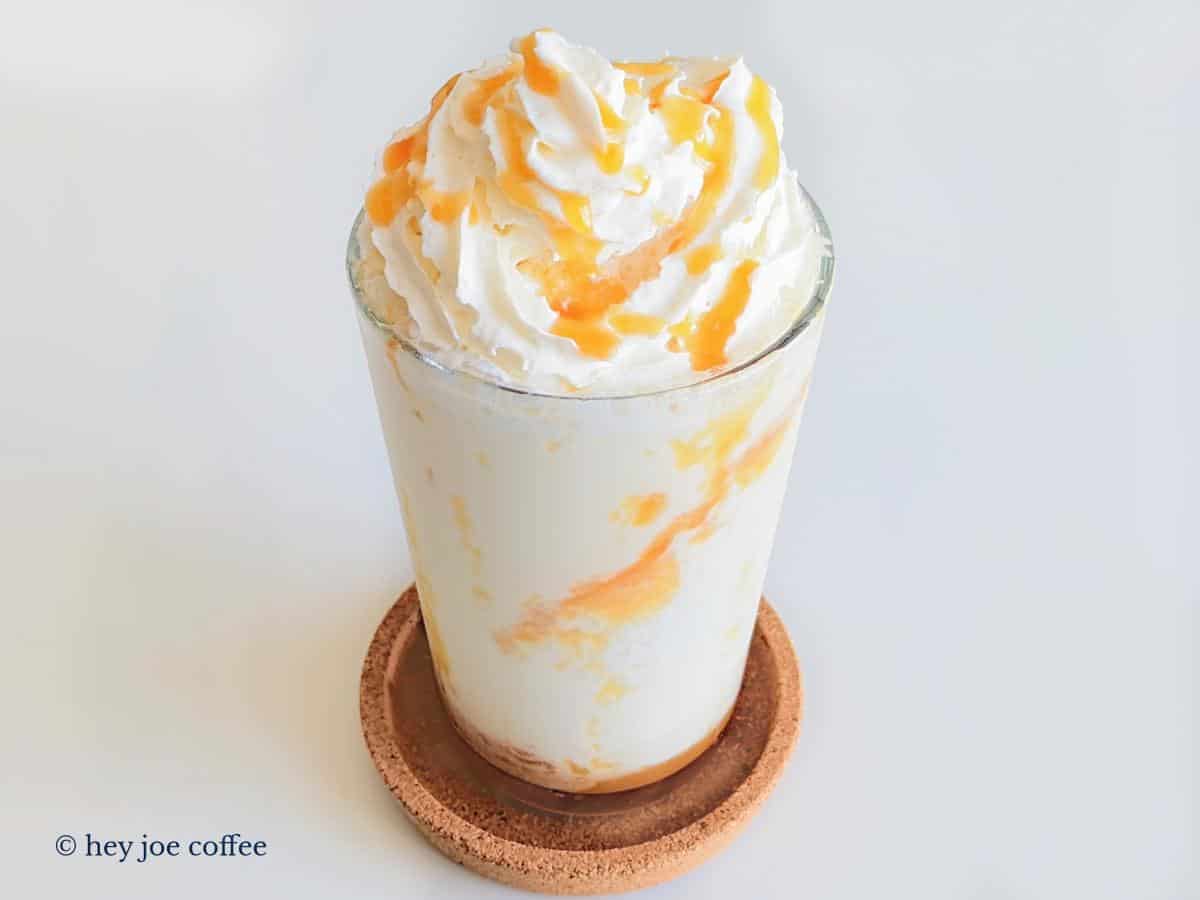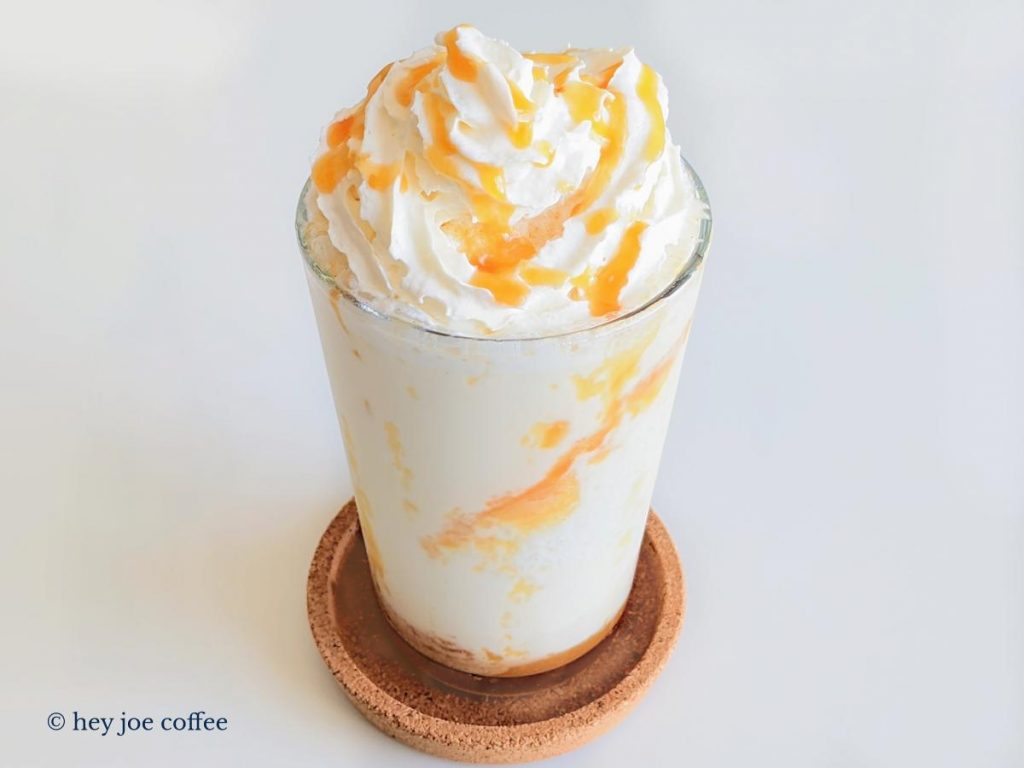 Topics Explored
Intro: Vanilla Bean Frappuccino with Caramel?
The Vanilla Bean Frappuccino is one of the most popular non-coffee frappuccinos offered by Starbucks. It's the perfect replica of vanilla ice cream embodied in a frapp!
It adds a touch of smokiness to the original Vanilla Frapp to balance the sweet vanilla flavor.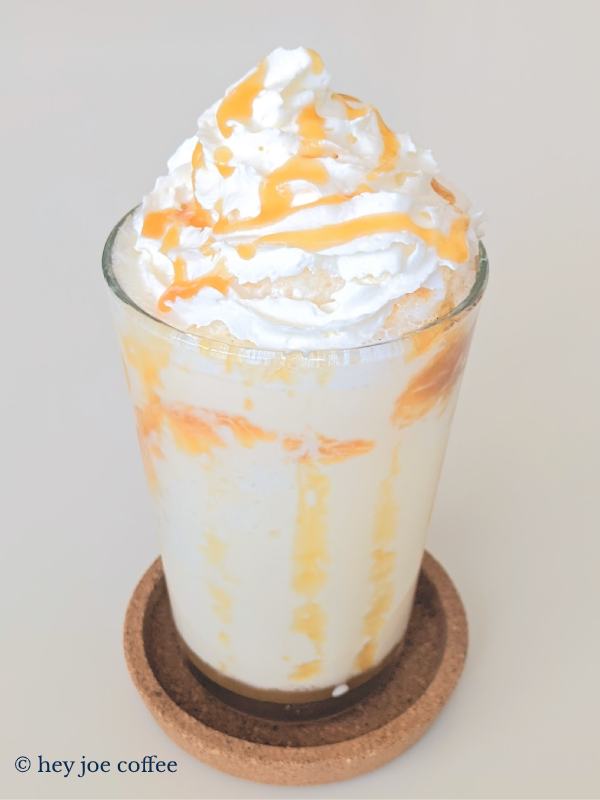 It may be hard to imagine summer without your favorite Frappuccino but these delicious drinks haven't been around too long. Starbucks started its first blend of blended crème coffee drinks in 1995 with only two flavors, coffee and mocha.
The mass appeal of the refreshing summer drink saw the Frapp grow just two flavors to a host of blends and flavors including the delectable Vanilla Bean.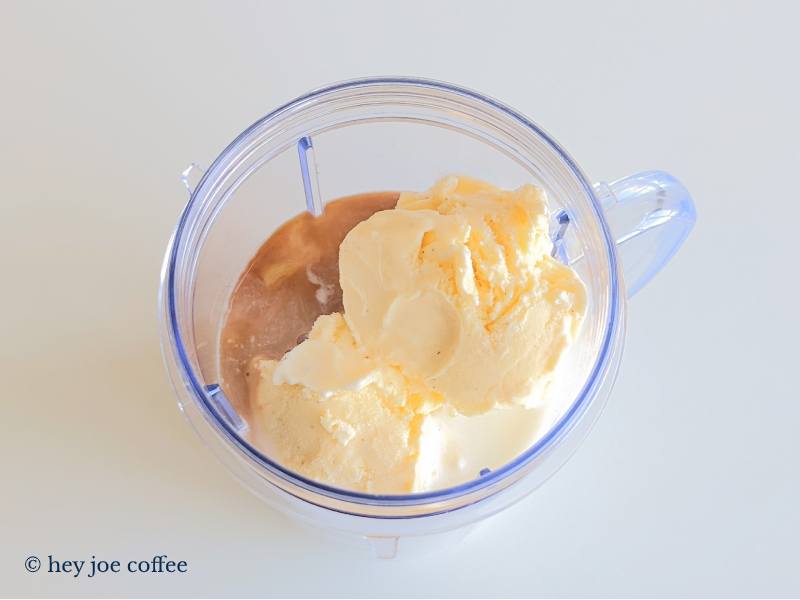 Ingredients: Vanilla Bean Frappuccino With Caramel
The ingredients in a Vanilla Bean Frappuccino with caramel include ice, milk, vanilla powder, and caramel sauce.
All the ingredients are blended together with Creme Frappuccino Syrup which binds the frapp together.
Finally, the frapp is topped with whipped cream delivering a creamy punch.
Children and the caffeine-sensitive can indulge in Vanilla Bean Frapp worry-free. There no caffeine in this frapp!
---
What Does It Taste & Look Like?
Just like a milkshake, the Vanilla Bean Frappuccino with caramel is a white creamy indulgent drink with drizzles of golden caramel.
It is reminiscent of melted ice cream in a cup and delivers just as much refreshment, especially in the heat of summer.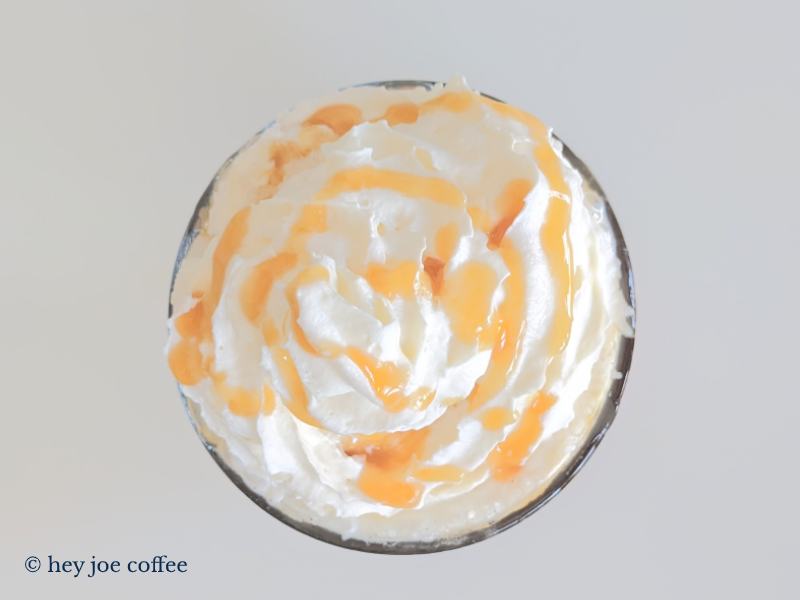 Appearance
This vanilla ice-blended drink looks like a cross between a sorbet and melted ice cream.
It is similar in appearance to a Caramel Frappuccino but with a thick white milky texture and strands of golden caramel.
Flavor
If you like the mild yet distinct flavor of vanilla, this drink is a great choice. The addition of the caramel sauce adds to the sweetness of vanilla creating a toasty and rich flavor.
The taste is like vanilla ice cream with hints of smoky caramel to create a nuanced flavor.
Caffeine
The Vanilla Bean Caramel Frappuccino doesn't contain any caffeine. It doesn't use coffee or other caffeinated ingredients.
In fact, it's perfect for those who are sensitive to caffeine and can also be enjoyed by children.
If you're ever in doubt, check with the barista before ordering.
Calories
A grande version of this drink contains 440 to 500 calories. The base drink, Vanilla Bean Crème Frappuccino (grande) contains 380 calories.
Adding 4 to 6 pumps of caramel sauce at 15 calories a pump brings the total number of calories to 440 to 470 calories.
There's also the drizzle on top that should account for 30 calories (depending on the amount of caramel used).
---
How Do I Order The Vanilla Bean Frappuccino With Caramel?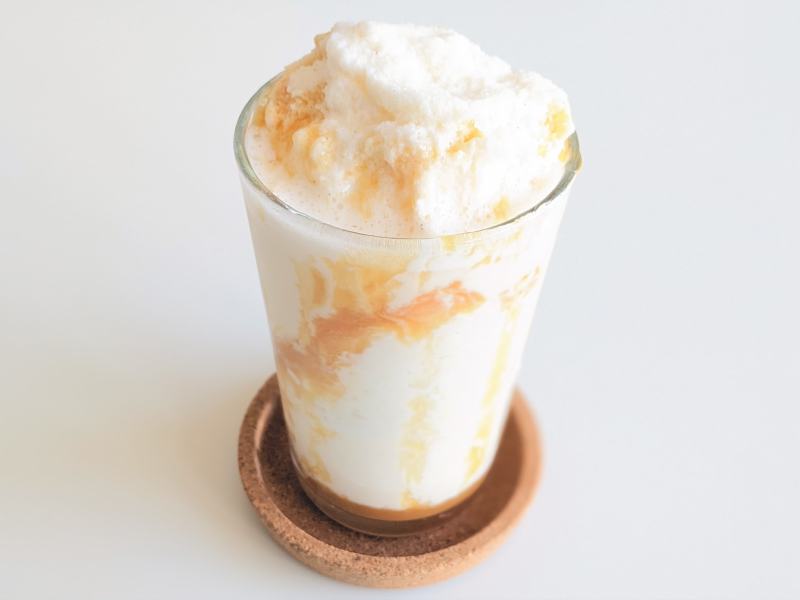 Don't get intimidated. This is one of the easiest 'secret menu' Starbucks drink to order. I'll walk you through the steps below:
Instructions:
At the till, order up a Vanilla Bean Frappuccino as the base.
Then ask the barista for caramel to be drizzled on the walls of the cup.
Finally, cap off the frappuccino with extra caramel on the top!
---
Vanilla Bean Frappuccino with Caramel Copycat Recipe
So you want to make the Vanilla Bean Frappuccino with caramel at home? We got you covered.
Our homemade recipe takes just a few minutes to whip up. You can even use leftover or melted iced cream when making this Frappuccino.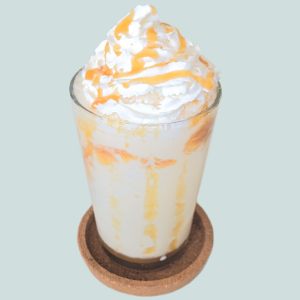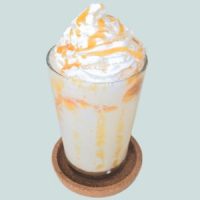 Vanilla Bean Frappuccino with Caramel Copycat Recipe
Yield:
1 serving (~16 oz)
Here is a simple step-by-step Vanilla Bean Frappuccino with caramel recipe for one to guide you.
Ingredients
French Vanilla Ice Cream: 2 scoops (melted is OK too)
Milk: 1 cup
Vanilla Extract: 1/2 tsp
Ice: 1 cup
Caramel Sauce: 4 tbsp (with extra to drizzle)
Whipped Cream (optional)
Instructions
Add the milk and vanilla extract together in a blender.
Next, add the crushed ice to the blender, then top it off with the French Vanilla ice cream and caramel sauce.
With all the ingredients in the blender, blend the mixture on the smoothie setting* or on high.
Once you have a smooth consistency, set the mixture aside. Take a tall glass and drizzle some of the extra caramel sauce on the side of the glass.
After you're done, you can now pour your blended mixture into the glass.
Top the Frappuccino with the whipped cream if desired and drizzle the remaining caramel on the whipped cream.
Notes
* You want to achieve a smooth consistency without any chunks of ice.
---
Variations of the Vanilla Bean Frapp
There are plenty of ways to enjoy the vanilla frapp flavor. If you are looking to switch things up, here are some delicious variations of this blended beverage you can try.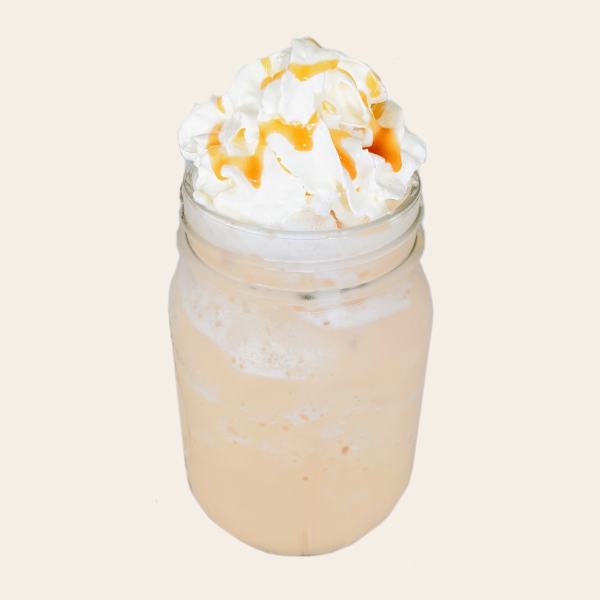 1. French Vanilla Frappuccino
Craving for more depth to your Vanilla Bean Frappuccino? Add some hazelnut syrup to make a French Vanilla Frappuccino.
Instructions:
Swap caramel sauce for one or two pumps of hazelnut syrup or sauce . Add to your vanilla frapp base (see above recipe) before blending.
Pour the mixture into a glass then top it off with whipped cream.
Finish with a light drizzle of caramel.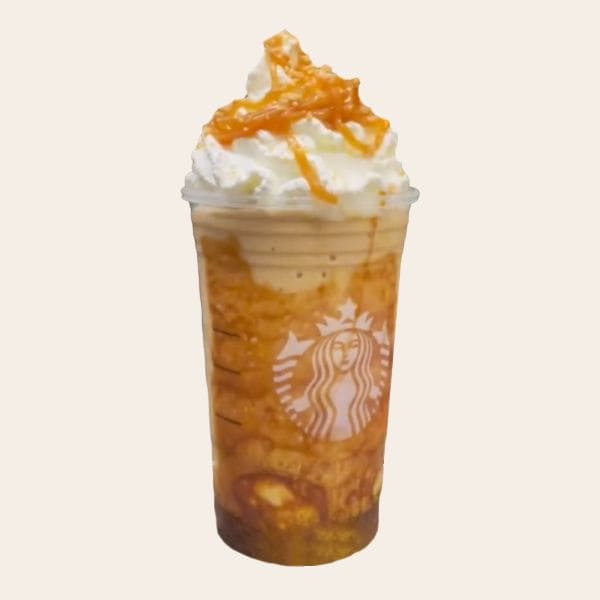 2. Caramel Ribbon Crunch Crème Frappuccino
This drink is for those that love a strong caramel punch! Now you can enjoy an even richer caramel flavor by making a Caramel Ribbon Crunch Crème Frappuccino.
Instructions:
Add some caramel syrup to your milk and ice then blend.
Grab a glass and line it generous layer of caramel sauce.
Gently pour the mixture in the glass.
Topped it off with some whipped cream.
Drizzle some caramel and caramel-sugar topping (optional) to finish.
3. Caramel Frappuccino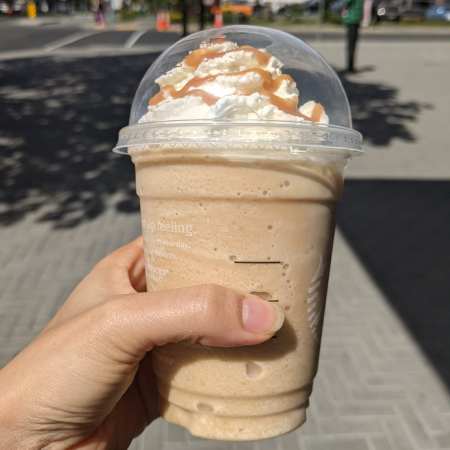 When you're feeling like a caffeine kick, you can always count on the good ol' Caramel Frappuccino.
This alternative combines vanilla bean base with added espresso to make a smooth coffee blend. Topped with whipped cream and a layer of buttery caramel for a deliciously refreshing taste.
4. Vanilla Crème Frappuccino
When you simply want the mild and refreshing vanilla flavor, the Vanilla Bean Crème Frappuccino is the way to go.
Instructions:
Stick to the same steps as Vanilla Bean Frappuccino recipe (see above) but omit the caramel sauce.
You'd want to top it off with a generous amount of whipped cream.
Resist the urge to add other toppings to make this the unadulterated version.
---
Final Thoughts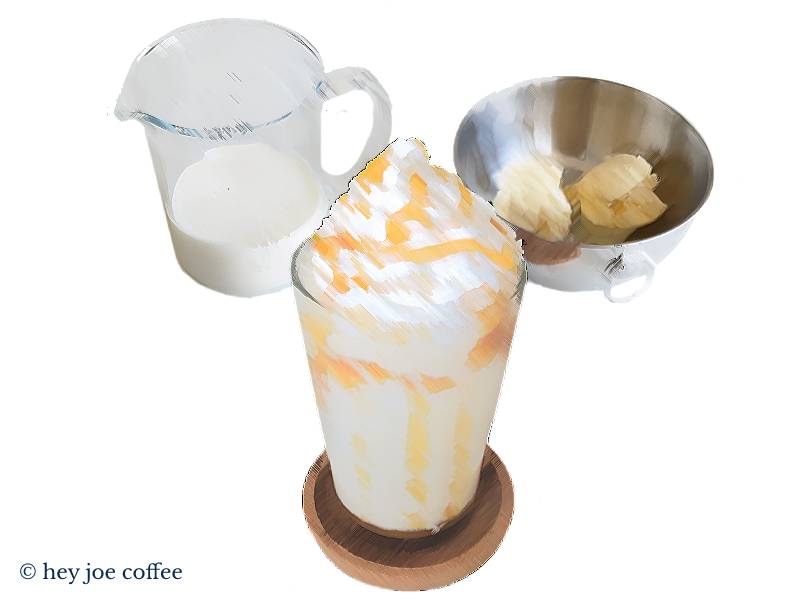 Vanilla Bean Frappuccino with caramel is a mild yet refreshing crème drink with just enough flavor to keep it interesting. You can make one right at the comfort of your home and enjoy it cold whenever you need some caffeine-free refreshment.
You can also switch up your ingredients to make delicious alternatives to suit your palate.
---