Heard of the Dutch Bros 2 for 5 deal? Well, if caffeine is your best friend, here me out. Two drinks for just five bucks—it's almost like Christmas for Dutch lovers.

Keep reading, and I'll give you all the tips to make the most of this killer deal.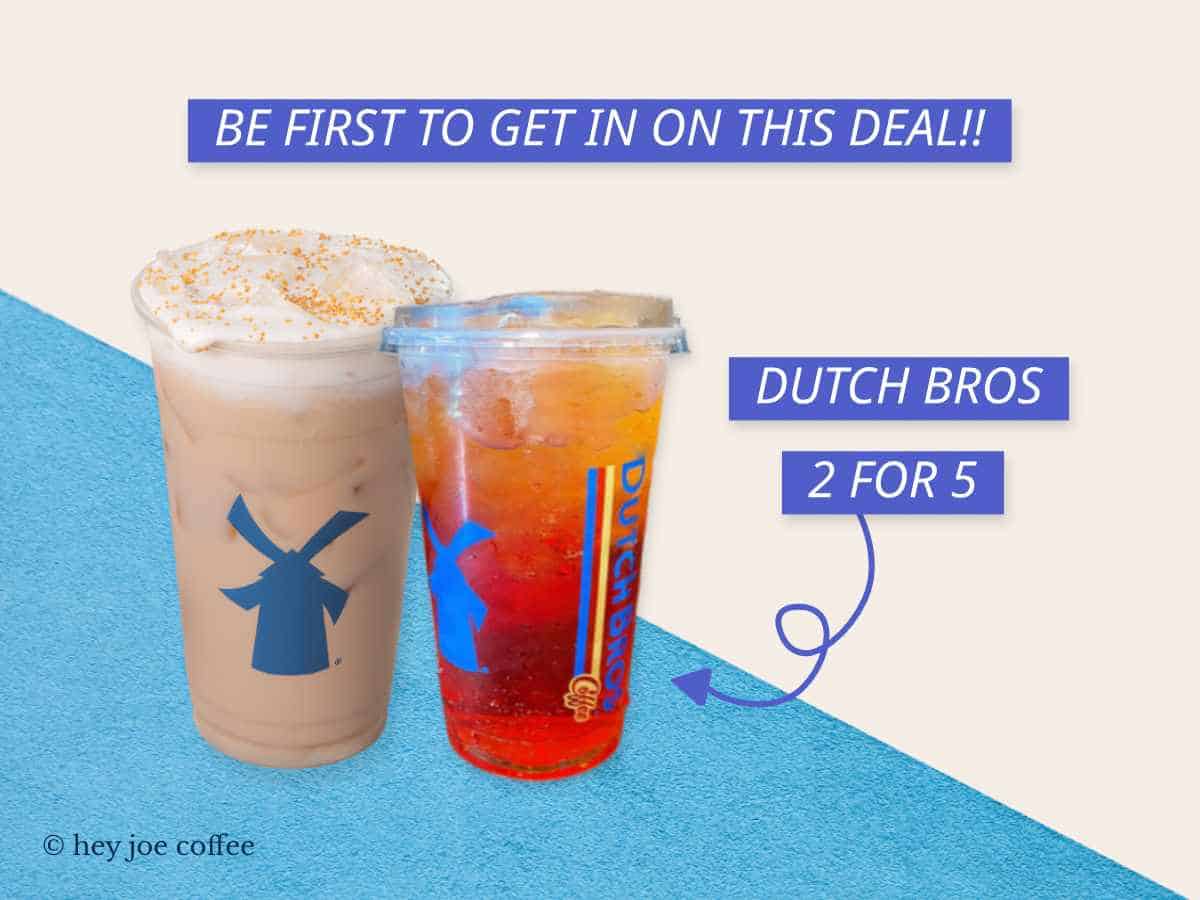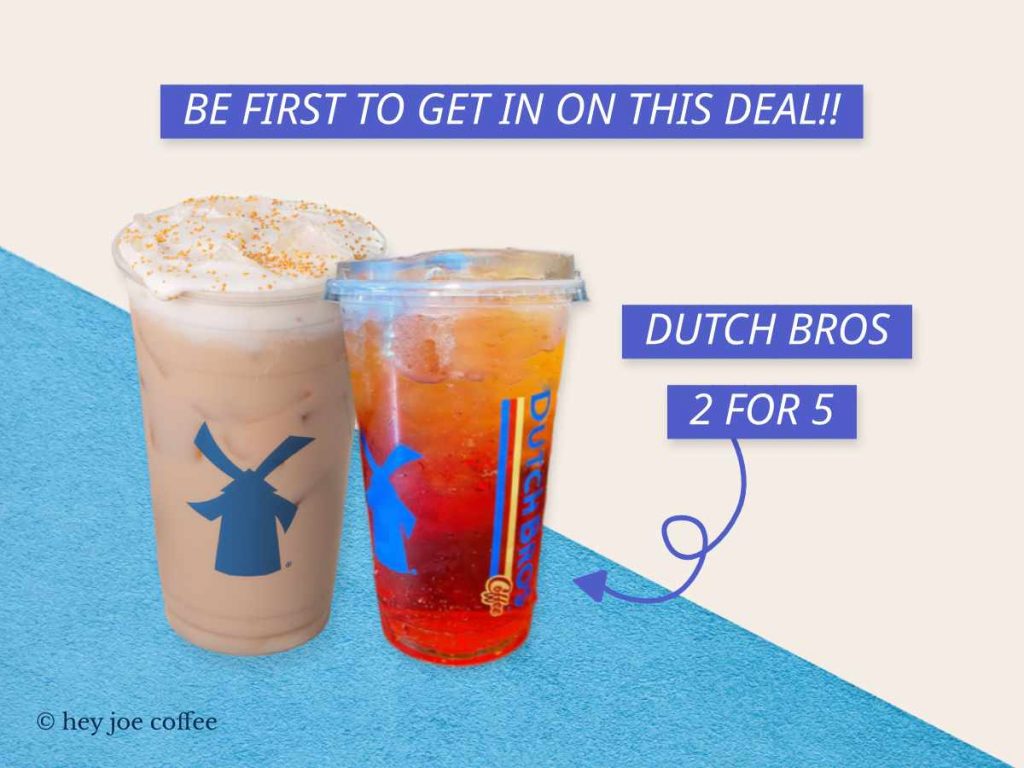 Topics Explored
What Is The Dutch Bros 2 for 5?
Dutch Bros 2 for 5 is an awesome deal where you score two drinks for only five dollars.
Think of it as a kind of happy hour but for people who can't live without their caffeine fix.

If you're driving past a Dutch Bros, definitely keep an eye peeled for this deal. It's the perfect opportunity to treat a friend, or, you know, get a double caffeine hit just for yourself!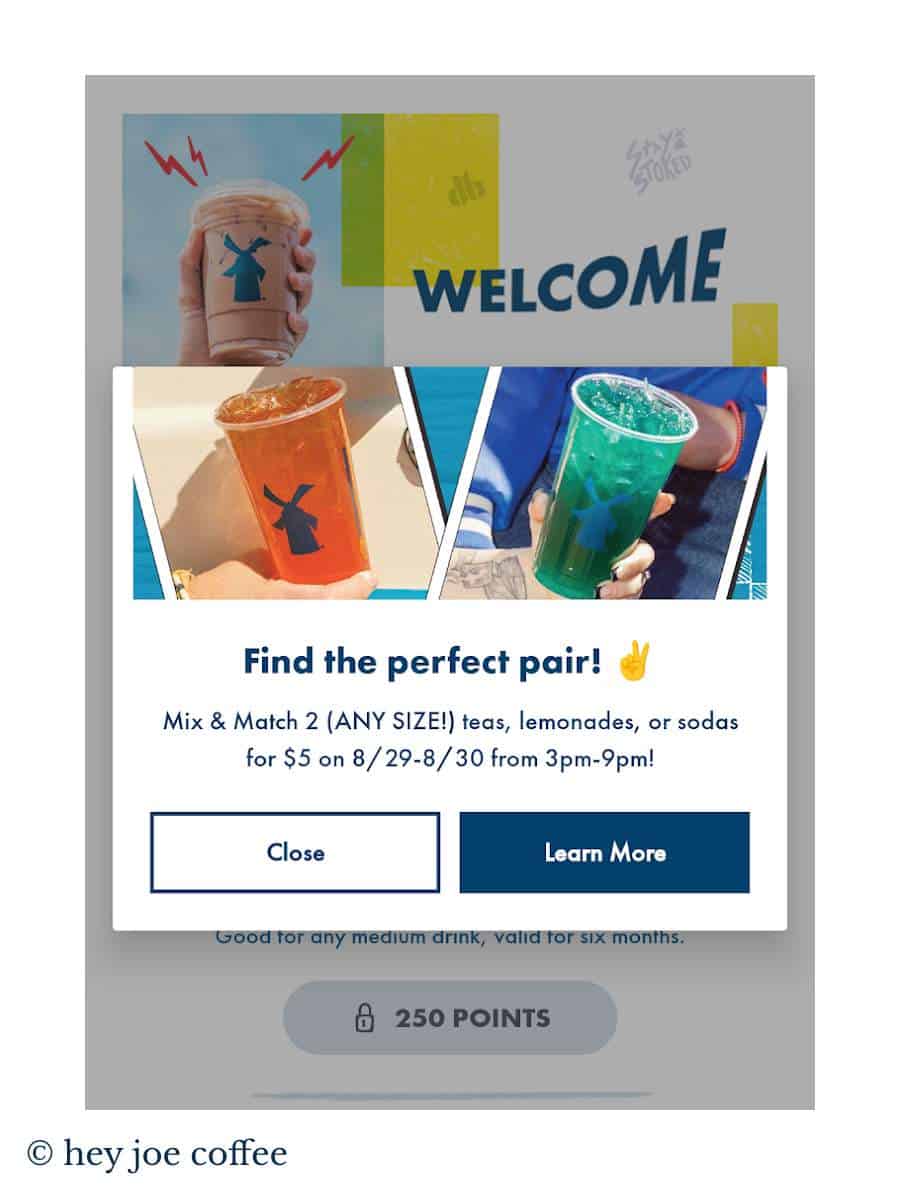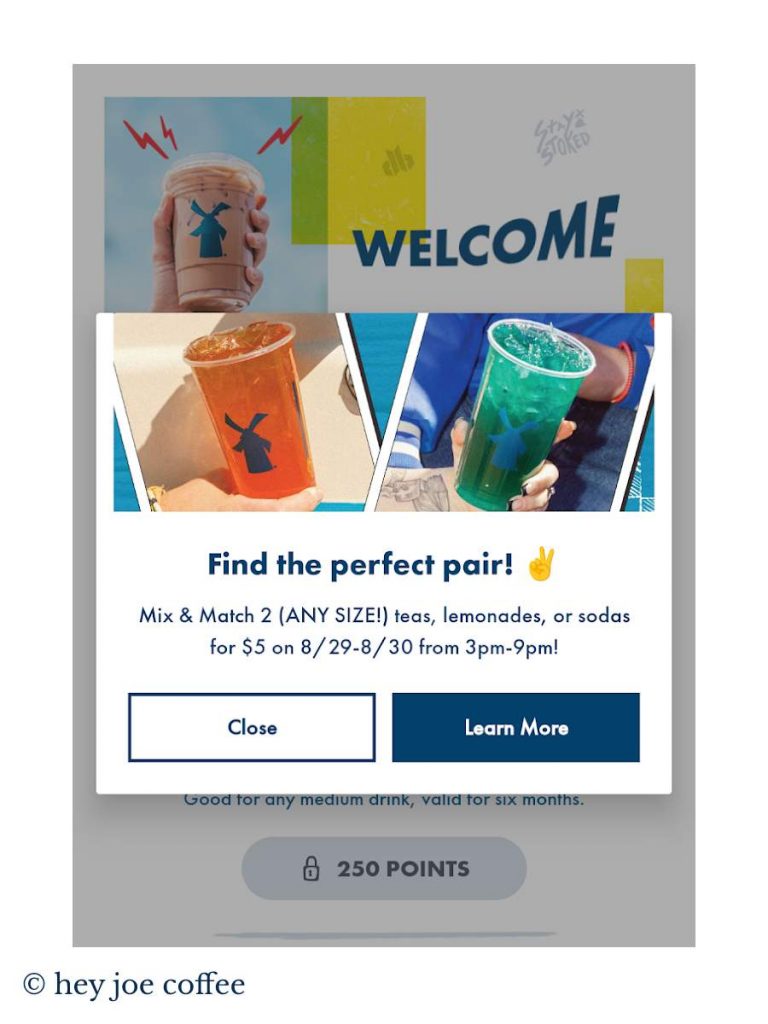 What's the Latest Dutch Bros 2 for 5 Deal?
The most recent 2 for 5 deal came around not too long ago.
For just five dollars, you had the freedom to mix and match any size of their teas, lemonades, or sodas.
What set the latest deal apart was its timing. This offer was up for grabs for three whole days in the tail end of August, between 3 PM and 9 PM.
---
Dutch Bros 2 for 5 Terms & Conditions
Before you dash for that double caffeine dose, you've got to know the rules of the game, aka the Dutch Bros 2 for 5 terms and conditions.

Each deal comes with its specific set of conditions. Here are just some common ones to watch for.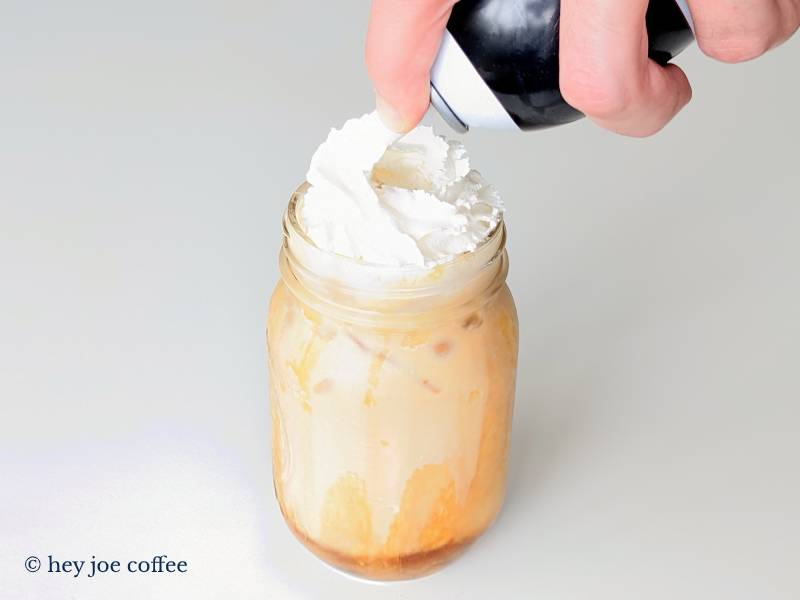 1. Time Limitations
The Dutch Bros 2 for 5 deal isn't a 24/7 thing.

Sometimes, it might just last a few hours or stretch for a few days. Always read the fine print to know the duration.

And from my experience, it gets really busy when this deal is active. Plan your visit well; you don't want to arrive just as the deal is ending.
2. Only Certain Drinks Are Eligible
It's important to know that not every drink is up for grabs. They usually limit it to certain categories.

The last deal, for example, was only good for teas, lemonades, and sodas.

Make sure you know this before you pull into the drive-thru to avoid any disappointments.
3. Size Restrictions
Also, you should be aware of any size limitations that Dutch Bros might have in place.

For example, the recent deal had no restrictions on drink size. But that's not always how it rolls. Sometimes, they limit the offer to just 16 oz drinks.

So many people get caught off guard by this! It's smart to double-check the details before you place your order.
4. Participating Locations
Another thing to keep in mind is that NOT every Dutch Bros location participates in the 2 for 5 deal.

Because Dutch Bros is a franchise, each spot can decide whether to jump in on the offer or not.

It's a bit tricky because you can't just call them to find out. But you can try reaching out on social media platforms like Facebook or Instagram. They sometimes respond there.
5. Adds On Are Extra
Lastly, if you're thinking about customizing your drink with some extra syrup or a specialty milk, just know that'll cost you a bit extra.

The 2 for 5 deal makes it clear that add-ons aren't part of the bargain. So keep it simple if you want to stick to the five-dollar budget.
---
How Do You Even Find Out About It?
Finding those elusive 2 for 5 deals can feel like a scavenger hunt. I've missed out on awesome deals until my friends mentioned it.

So, I've done some legwork for you, pinpointing where these golden deals tend to pop up.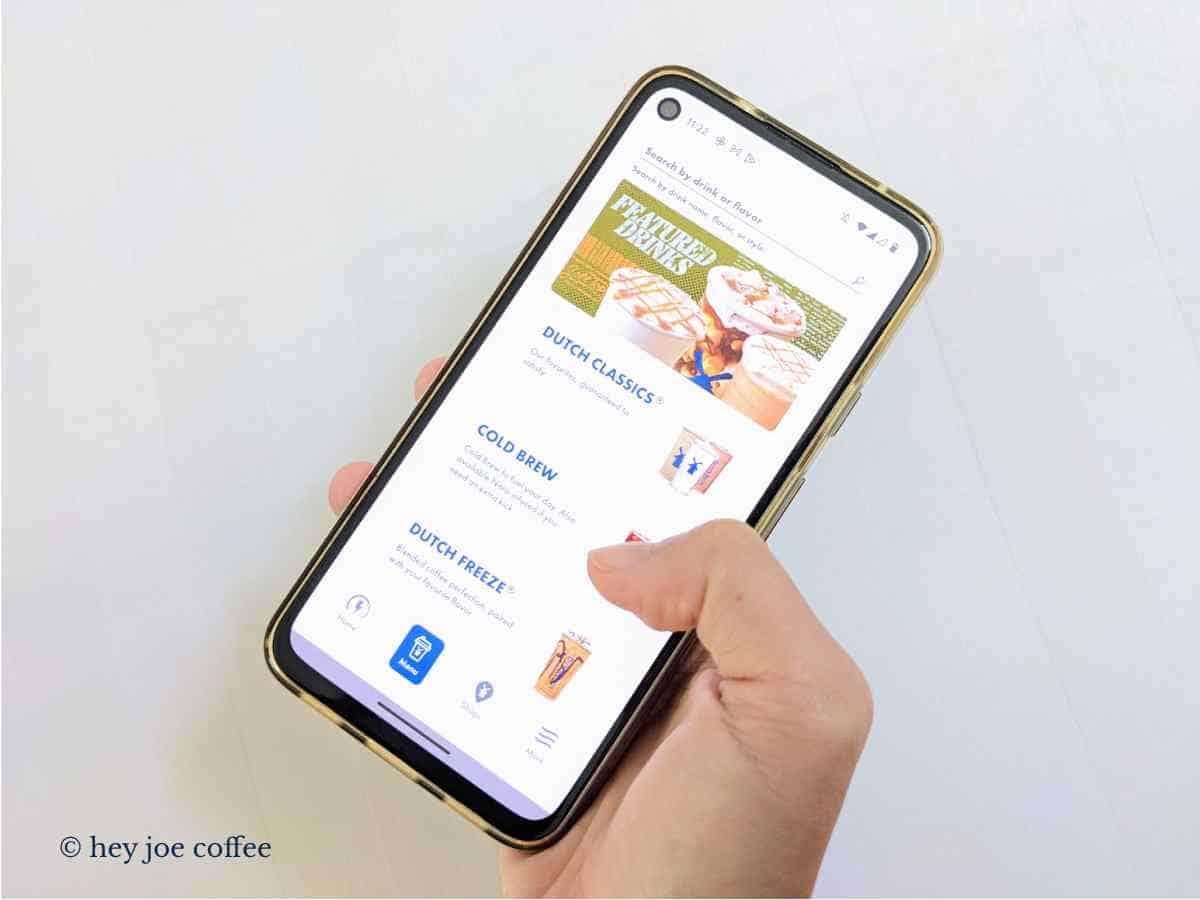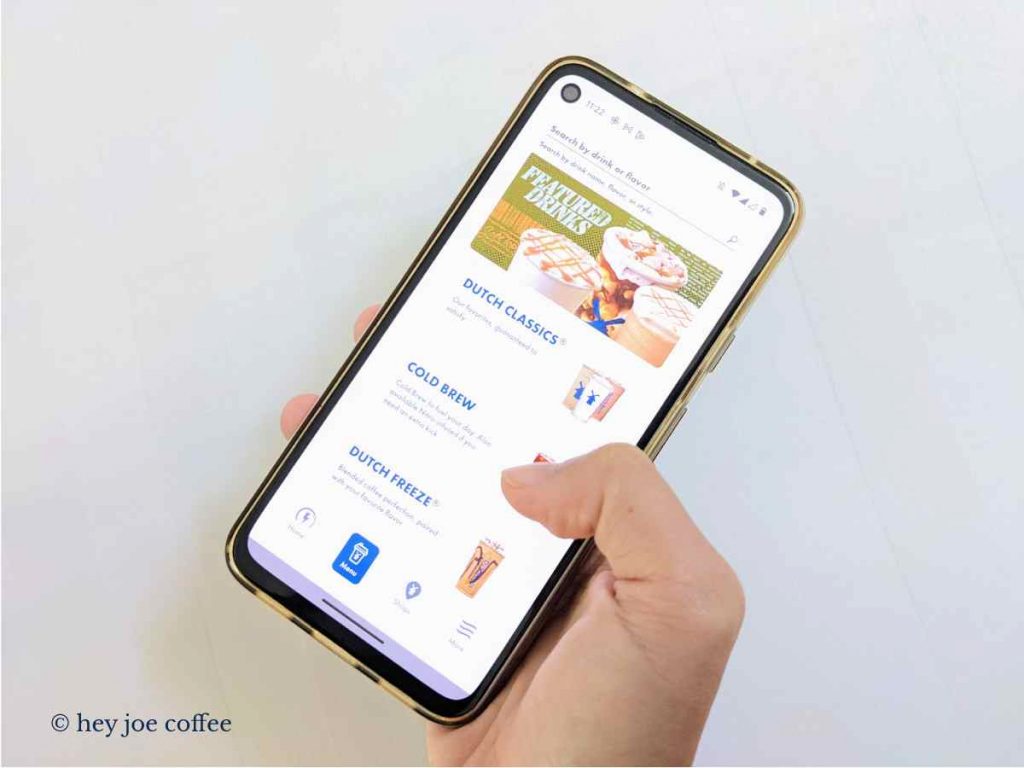 Social Media
Most of my Dutch Bros 2 for 5 info comes directly from their social media accounts. They're pretty active on platforms like TikTok and Instagram(1), where they post all their latest promos.

Occasionally, they even surprise me with a Facebook ad about their deals. Following them on social media is a no-brainer if you're into bargains like me.
Dutch Bros App
Another way I keep tabs on these deals is through the Dutch Bros app. Their promotions and reward (like their birthday drink) usually shows up as a banner on the home screen.

To make life easier, I've set up push notifications so I get alerts for deals like the 2 for 5. But, be ready, sometimes these notifications can get a bit much.
Website
The last way I keep up with Dutch Bros offers is through their official website.

While it's not always the most up-to-date, it has its moments. They'll sometimes post about nationwide promotions there.

It's hit or miss, but hey, I've stumbled upon other good deals on their site.
---
How To Claim Dutch's 2 for 5 Mix and Match
Claiming the 2 for 5 Mix and Match deal is straightforward. No hoops to jump through, just some basic common sense.

Here's how it's worked for me.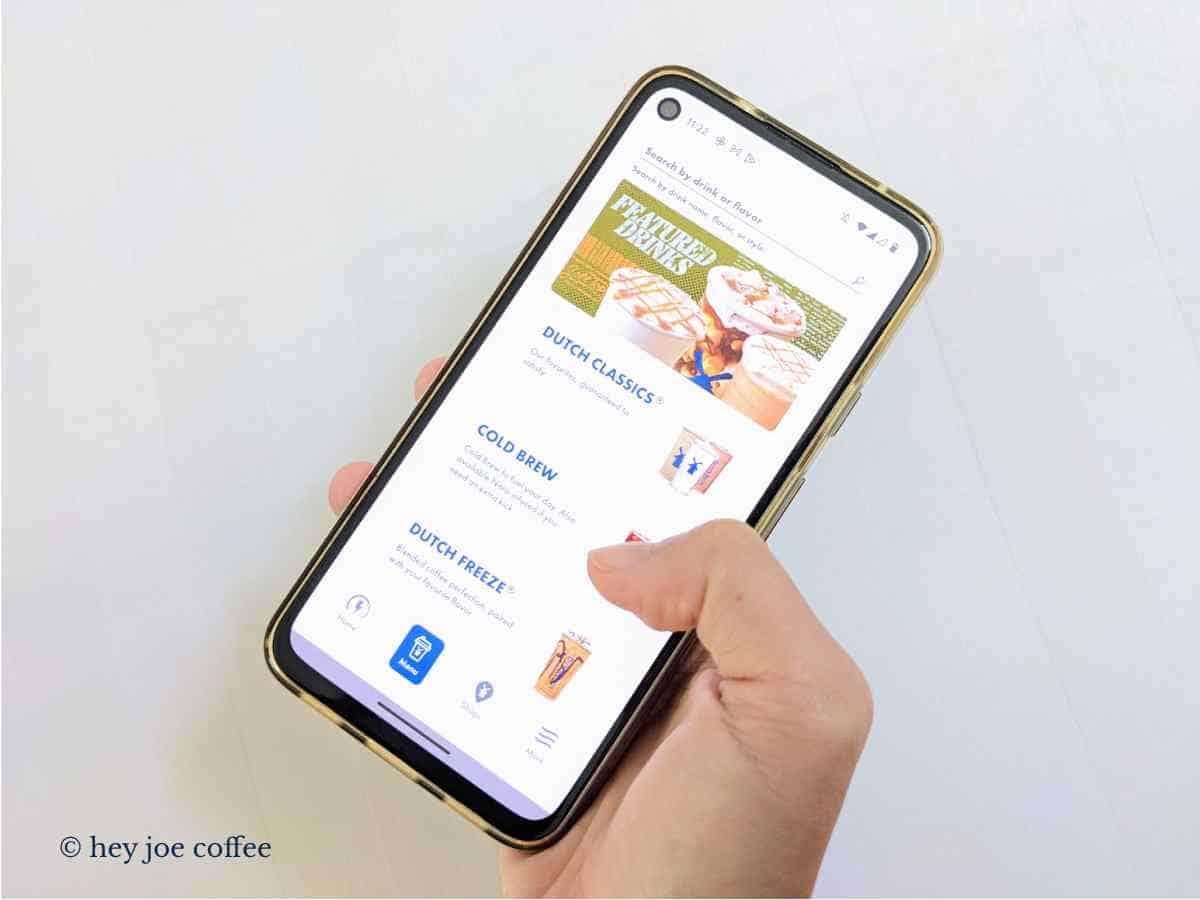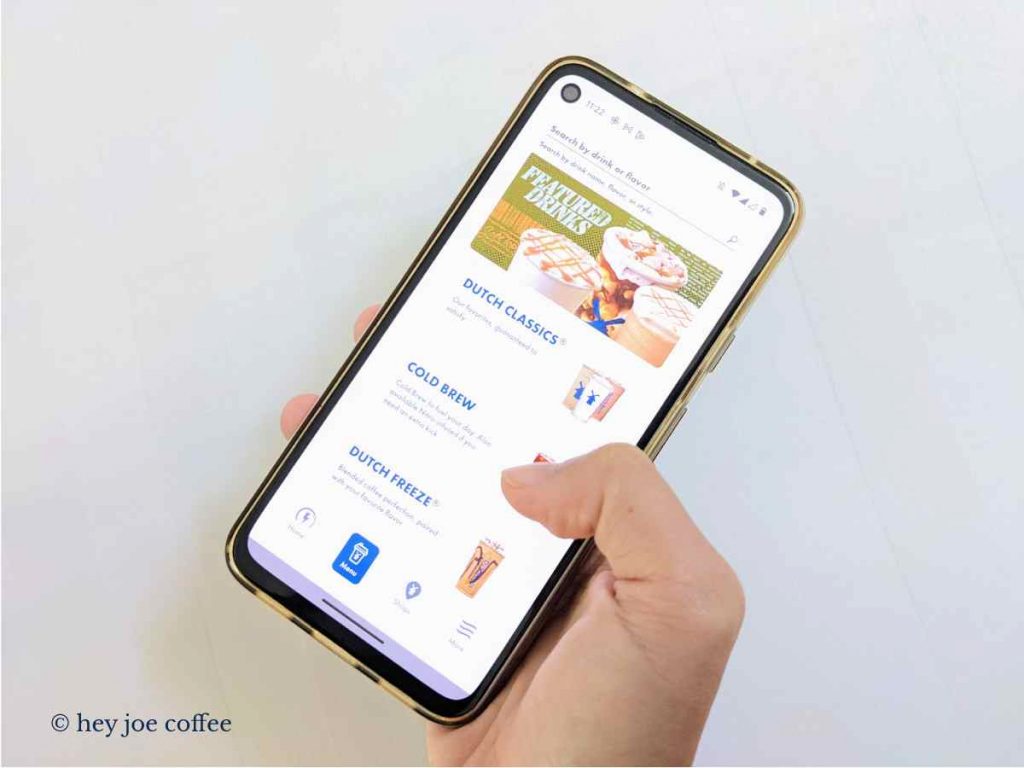 Step 1: Time It Right
Figuring out the best time to go is your first move.

The Dutch Bros 2 for 5 deal usually pops up at specific times and days. Sometimes, it only lasts a few hours, and let me tell you, the lines can stretch out the door.

From my own experience, heading there early ups your chances of getting in on this deal.
Step 2: Pre-Select Your Drinks
Next, decide on your drinks before you get in line. Nobody likes waiting behind someone who can't make up their mind.

I'd even pick a backup option in case my go-to drink is out of stock. That happened to me once, and man, did I have to fumble my way through their menu.
Step 3: Order Your Drink
When you get to the counter, just let the barista know what you've picked. If you have dietary restrictions, feel free to customize your order. Otherwise, I'd keep it simple to keep the line moving.
Step 4: Be Explicit About The Deal
Make sure you tell the barista you're going for the 2 for 5 Mix and Match offer.

Usually, they're clued in about ongoing deals, so you might not even need to show them the offer on your phone. But have it on hand as a backup.

And just like that, your drinks and deal are good to go.
---
More Tips for Maximizing Your 2 for 5 Experience
Ready for some extra tips? This next part is packed with clever ordering hacks and ways to keep a bit more money in your wallet.

I'm all about making your Dutch Bros outing even better.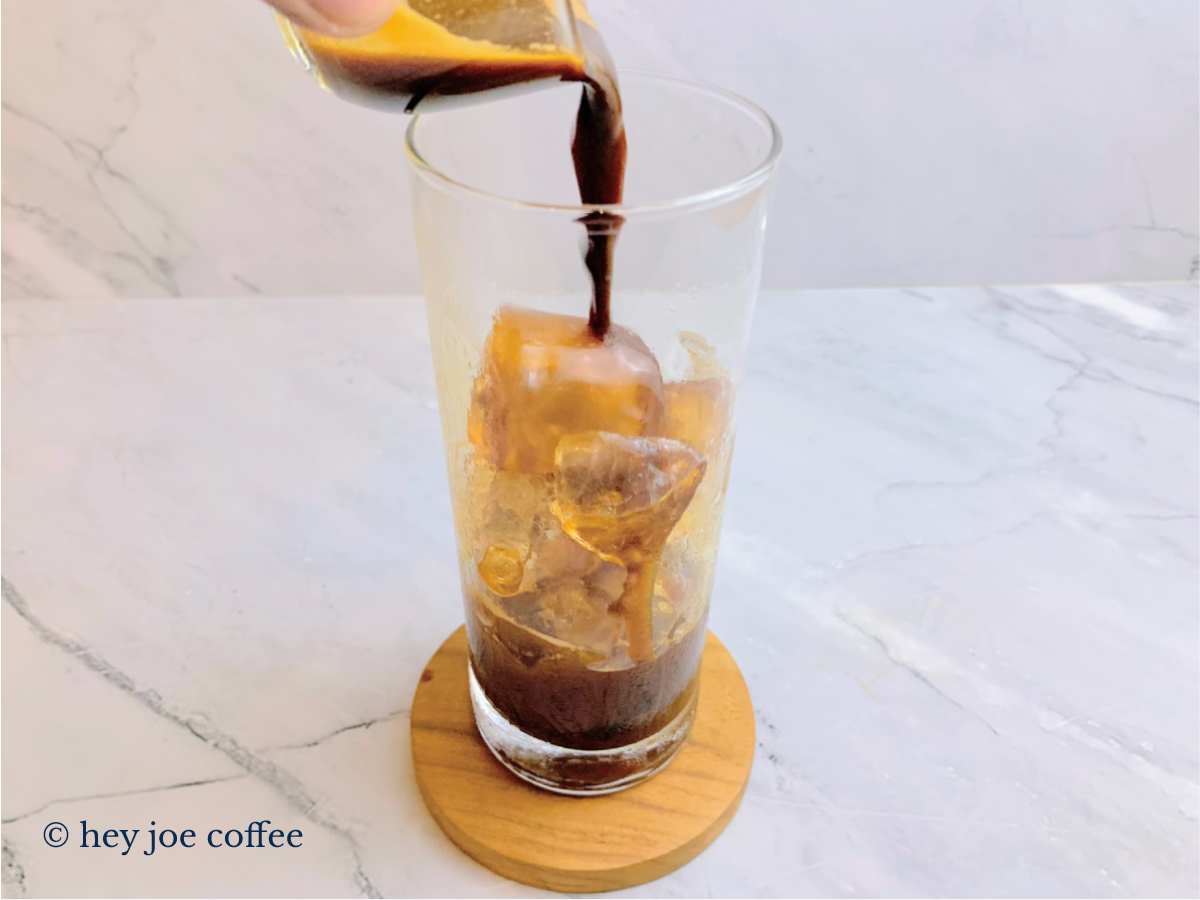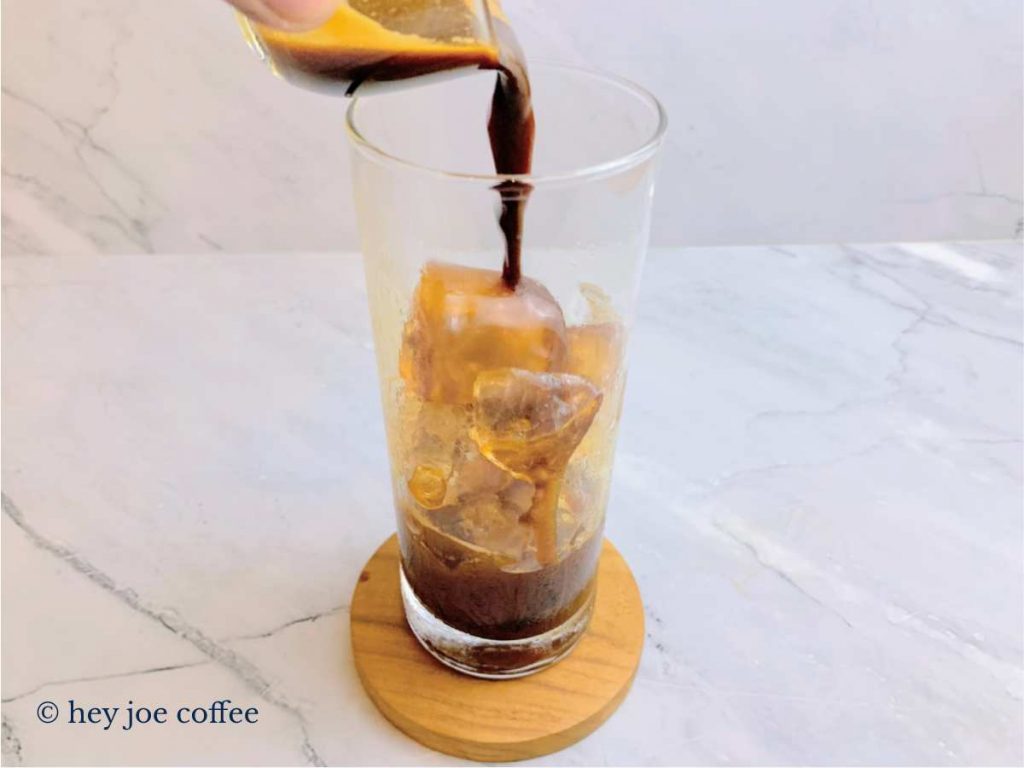 Share the Deal With a Friend
First up, consider going halfsies with a friend. It's a smart move. You each end up paying just $2.50, and you get the added bonus of hanging out.

Take it a step further by tagging your friends in social media posts about the deal.

You'll not only be saving some bucks, but also creating fun memories while sipping on your favorite drinks.
Choose Drinks That Are Normally Pricier
For those looking to get the most value, aim for the pricier drinks.

This way, you can enjoy your top-tier favorites without emptying your wallet. You're basically getting premium drinks at a discount, and who doesn't love that?

It's like having your cake and eating it too, but umm… with drinks.
Save One Drink For Later
Here's another tip: think about saving one of your drinks for later. This isn't just about stretching your dollar; it's also about prolonging the enjoyment.

I usually go for drinks that have a longer shelf life, like Rebel or lemonades. I ask for no ice and then stash it in my fridge for later enjoyment, sometimes even the next day.

It's a handy trick to keep the Dutch Bros love going a bit longer.
Go For The Biggest size
And don't forget this final tip.
If the 2 for $5 deal covers any size, getting the largest size is a no-brainer. You're getting more liquid happiness for the same five bucks.
If you can't finish it all at once, that's totally fine—just save the rest for later. You're not only maximizing your immediate experience but also extending it into the future.
How awesome is that?
---
Capping It Off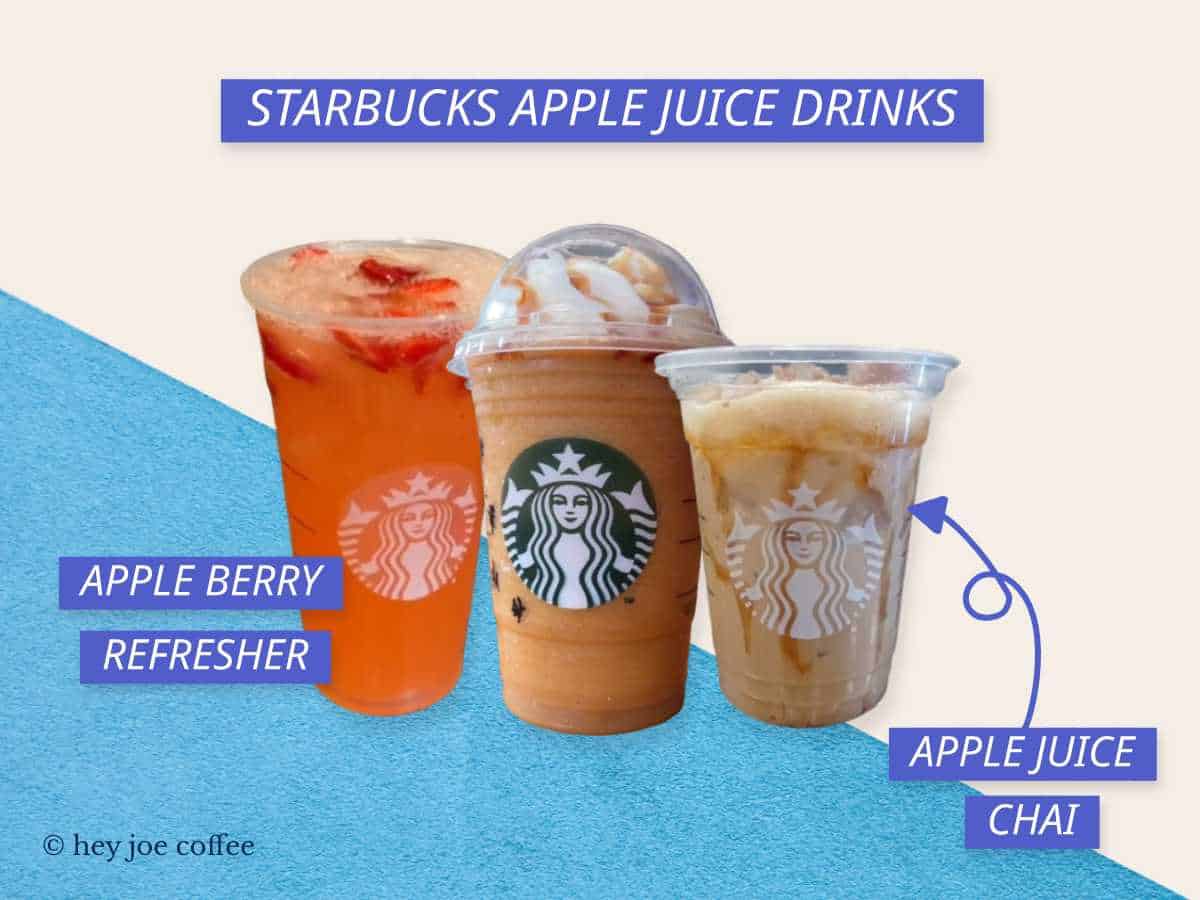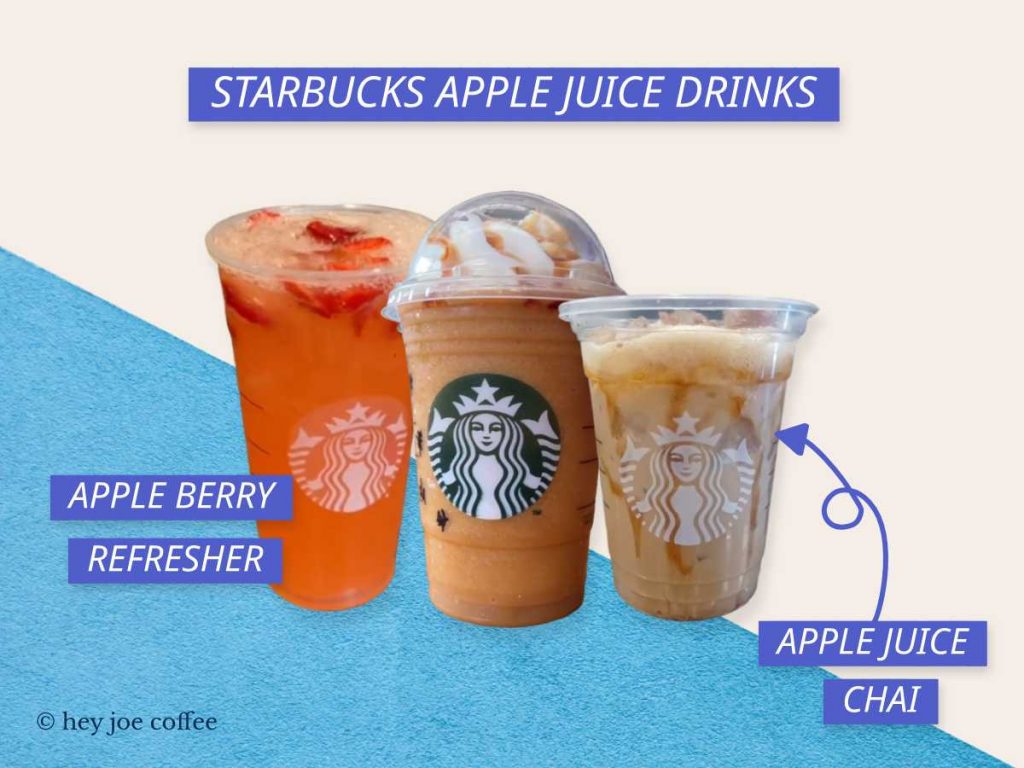 Ready to score big with the next Dutch Bros 2 for 5 deal?

This blog has armed you with all you need, from grabbing the deal at the perfect time to making savvy drink choices.

Now, you're set to get the most bang for your five bucks the next time you swing by Dutch Bros.
Verified Sources
Wondering where your info comes from? We totally understand. Hey Joe only obtains our information from reputable sources. Contents from this article are sourced from the following publications:
Instagram: https://www.instagram.com/dutchbroscoffee/