Banana may not be everyone's first choice when it comes to drink flavors, but our readers' love for Dutch Bros banana drinks changed my perspective completely.

In this guide, I'll share my top picks from standard to secret menu items. So, are you ready to re-evaluate banana as a drink flavor?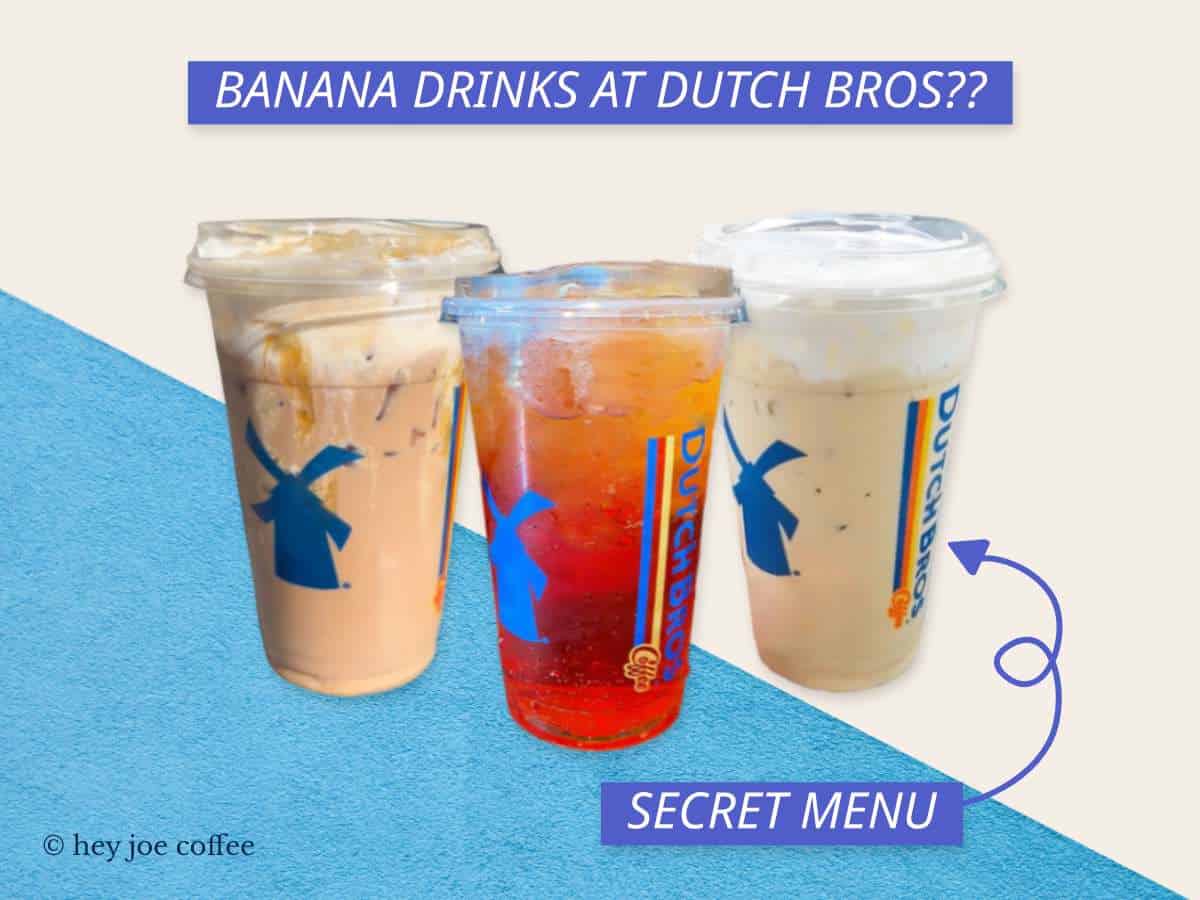 Topics Explored
Banana Drinks At Dutch Bros
Dutch Bros offers so many varieties of banana drinks to satisfy your every need. So for this article, I've had to narrow it down quite a bit.

I'm only focussing on drinks where banana takes center stage as the main flavor. These drinks incorporate banana-flavored syrups to create your favorite fruity experience.

Now, drinks with banana as a garnish or sideshow don't make the cut!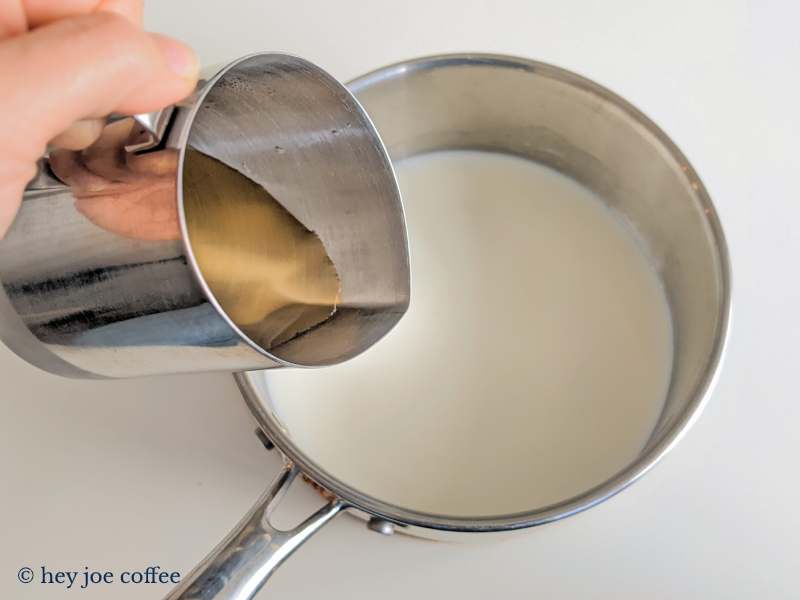 Banana drinks can come in many forms. Think coffee, Dutch Frosts, and Freezes. You can also enjoy banana-flavored Dutch Rebels or teas. beverages.

However, keep in mind that the banana syrup at Dutch Bros is not sugar-free. So if you're looking for a low-calorie drink, it may not fit the bill.
---
Standard Menu Dutch Bros Banana Drinks
Go on a flavor-packed journey with these Dutch Bros banana drinks. From tropical getaways to nostalgic trips, these beverages are guaranteed to be a hit.

From Dutch's classic offerings or to their secret menu banana drinks – the choice is yours. Ready to discover your new favorite banana-infused treat?
1. Banana Bread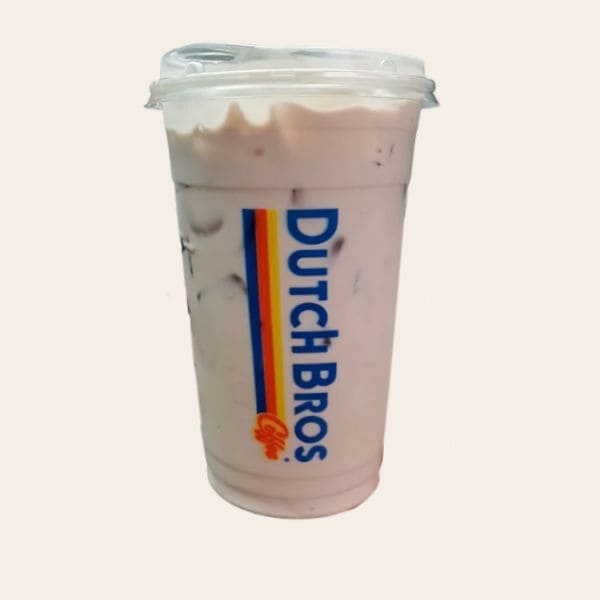 Love freshly baked banana bread like me? Get ready for an absolute treat!

Dutch Bros' Banana Bread drink is a deliciously comforting drink combining banana and hazelnut flavors.

Want to amp up the taste? Try it as a Chai – it really pumps up the banana flavor, making it taste even more like your favorite slice of warm, buttery banana bread. Enjoy your favorite drink without the need to bake or slice!
Ingredients:
Banana syrup
Hazelnut syrup
Chai
2. Irie
Escape to a tropical paradise with the Irie, a refreshing and fruity drink. If you're like me, sipping this blend of banana and coconut will have you feeling like you are on vacation.

You can turn it into The Bob (another drink with poolside vibes) by adding dark chocolate to the mix.

Sip, sit back in your car and let these drinks transport you to a sunny destination.
Ingredients:
Banana syrup
Coconut syrup
Iced coffee
3. Fire Lizard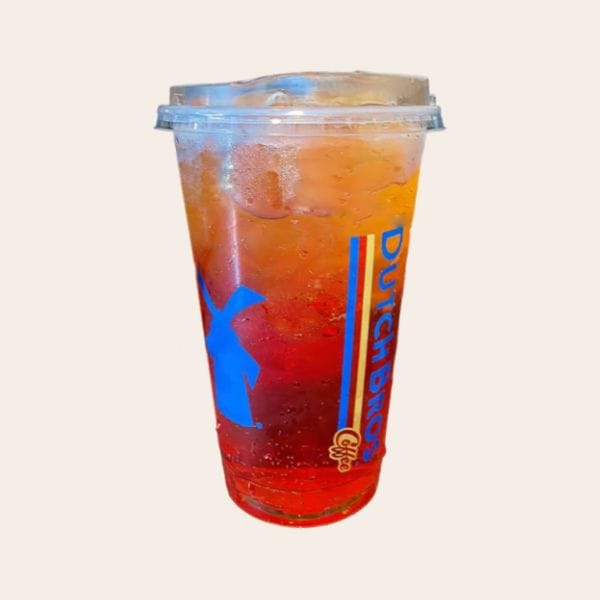 The Fire Lizard is not just another pretty drink. It's a sweet and vibrant fusion of strawberry, banana, and orange flavors.

When your energy levels need a boost, enjoy it as a lively Rebel.
For more relaxed vibes, have it as a Dutch Soda or tea – but don't forget the soft top!
Ingredients:
Banana syrup
Strawberry syrup
Orange syrup
Dutch soda
Soft top (optional)
4. Ba-nay-nay
The second stop on our list is a drink that combines sweet banana and rich dark chocolate flavors. Introducing the Ba-na-nay.

Taste-wise it's pretty similar to The Bob for me.
So if you're feeling like a stronger banana punch, order it 2x the flavor. Or you can add vanilla to turn it into the Banana Split.
Ingredients:
Banana syrup
Dark chocolate sauce
Iced coffee
5. Banana Cream Pie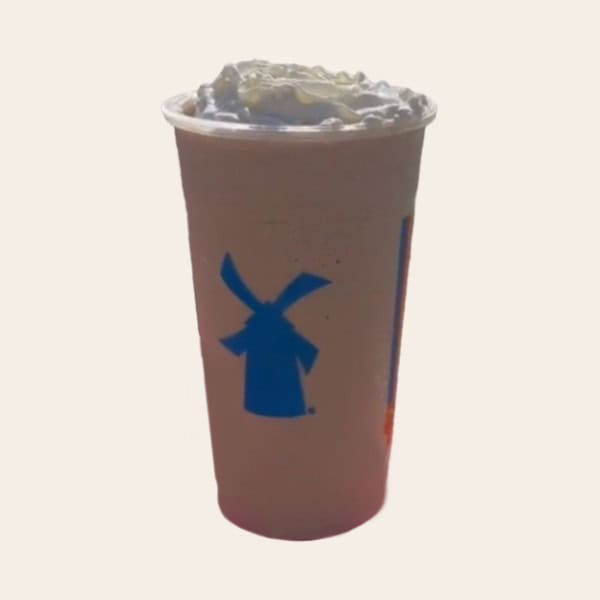 I had high hopes for Dutch Bros' take on Banana Cream Pie as I'm a sucker for this classic dessert. (1)

Thankfully, it didn't disappoint! The drink combines banana and vanilla – a match made in heaven.

For the ultimate indulgence, I recommend having it as a frost with extra whipped cream or parfait-style.
Ingredients:
Banana syrup
White chocolate sauce
Blended coffee
6. Bubblegum
The Bubble Gum is a quirky Rebel that sparks the nostalgia of your gum-popping days. Admittedly, it tastes a smidge artificial (shocker, right?).

While not my personal favorite, I know folks who are simply die-hard fans.

Made with a tantalizing trio of banana, strawberry, and vanilla flavors, it'll have your taste buds doing a walk down memory lane.
Ingredients:
Banana syrup
Strawberry syrup
Vanilla syrup
Rebel
Secret Menu Dutch Bros Banana Drinks
7. Golden Banana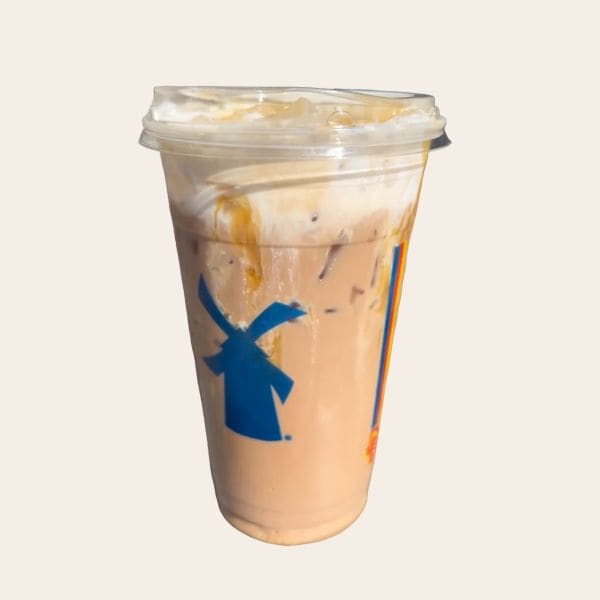 The Golden Banana menu drink is our first secret menu treat for banana lovers. It's a play on the Golden Eagle but with an exciting twist – a splash of banana flavor!
If you like caramelized bananas, this drink is for you. This beverage delivers the perfect balance of sweetness and creaminess.

Want to elevate your experience? Try ordering it with oat milk for an extra velvety mouthfeel.
How to Order:
Ask for Golden Eagle breve or latte with banana flavor
Swap regular milk or kick-me-mix for oat milk
8. Banana Flapjack
Want your breakfast on the go? This cup of goodness blends banana, salted caramel, and white chocolate for a tasty morning treat.
A hint of vanilla ties everything together! Add cinnamon or make it a chai version to spice things up.
Grab one and experience the joy of having your favorite breakfast flavors in a single sip.
How to Order:
Ask for a Chai Flapjack with banana flavor
Top it with cinnamon sprinkles
9. Banana Split Mocha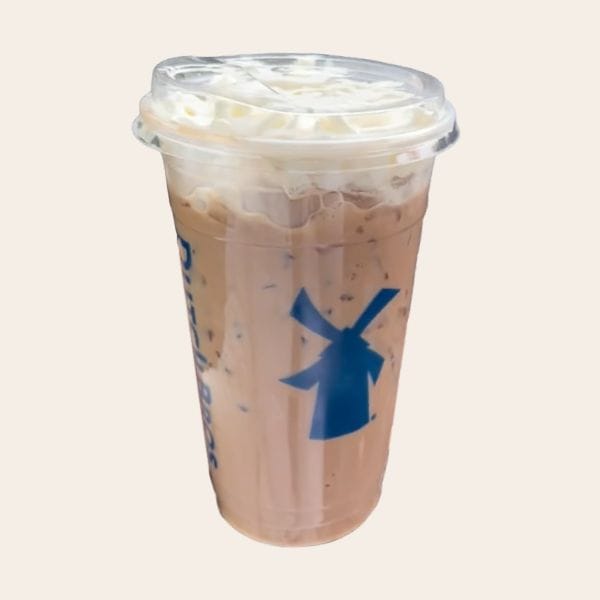 Last on our list is the Mocha Banana Split, a hidden gem from Dutch Bros' secret menu.
It's a fusion of banana, rich dark chocolate, and smooth vanilla syrup, all mixed in with coffee and Dutch chocolate milk. Just order it as "banana split mocha freeze," when you are at the till.
I recommend having it as a Freeze or trying it as Frost for an extra touch of creaminess. And don't skip the whipped cream.
How to Order:
Ask the Bro-ista for a Banana Split Freeze but make it mocha
Top it with whipped cream
---
Go 'Bananas' With Customizations
There's a world of customizations waiting to jazz up your Dutch Bros banana drinks. In this section, I peel back the layers (sorry, I can't help it) of options in this flavor-filled ride.
Whether you're craving an extra kick of banana, exploring dairy-free alternatives, or yearning for a creamy dollop of indulgence, I've got you covered.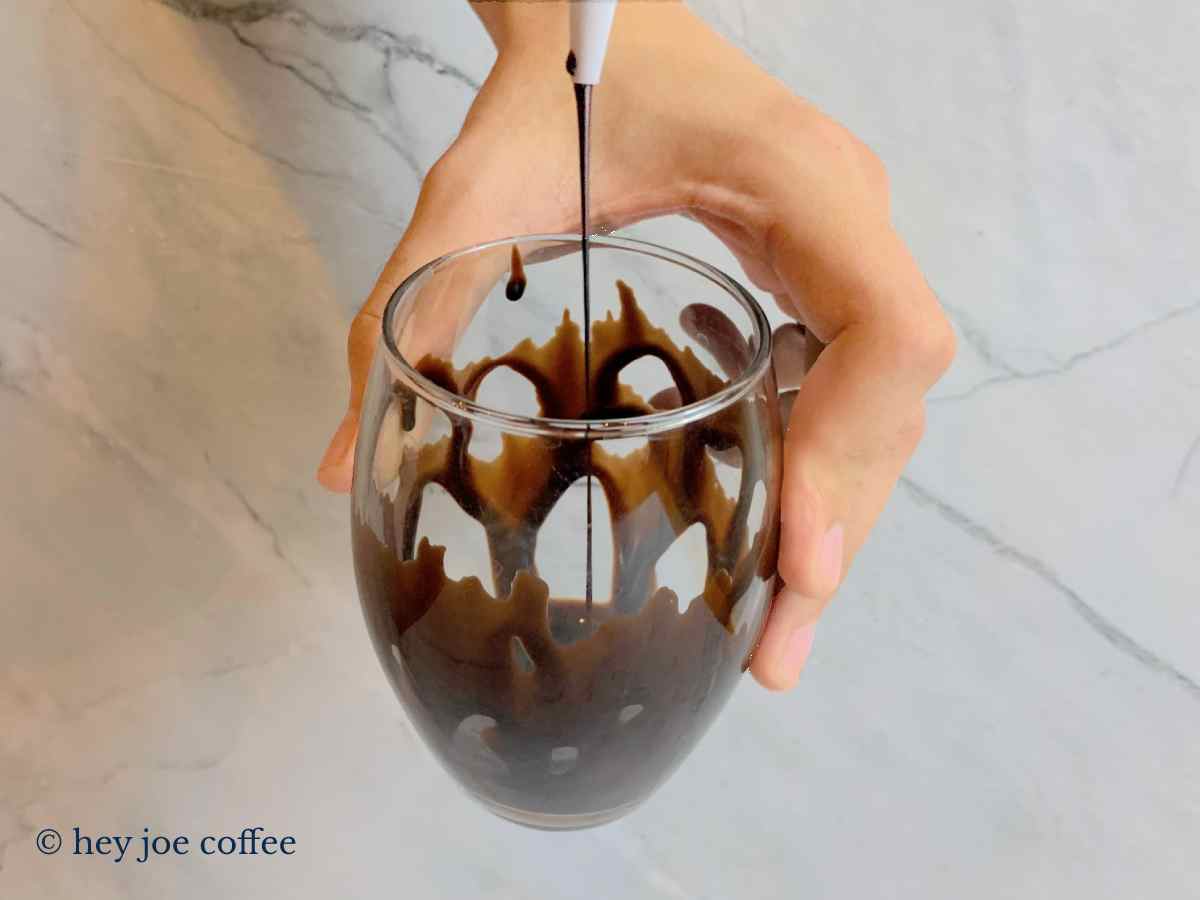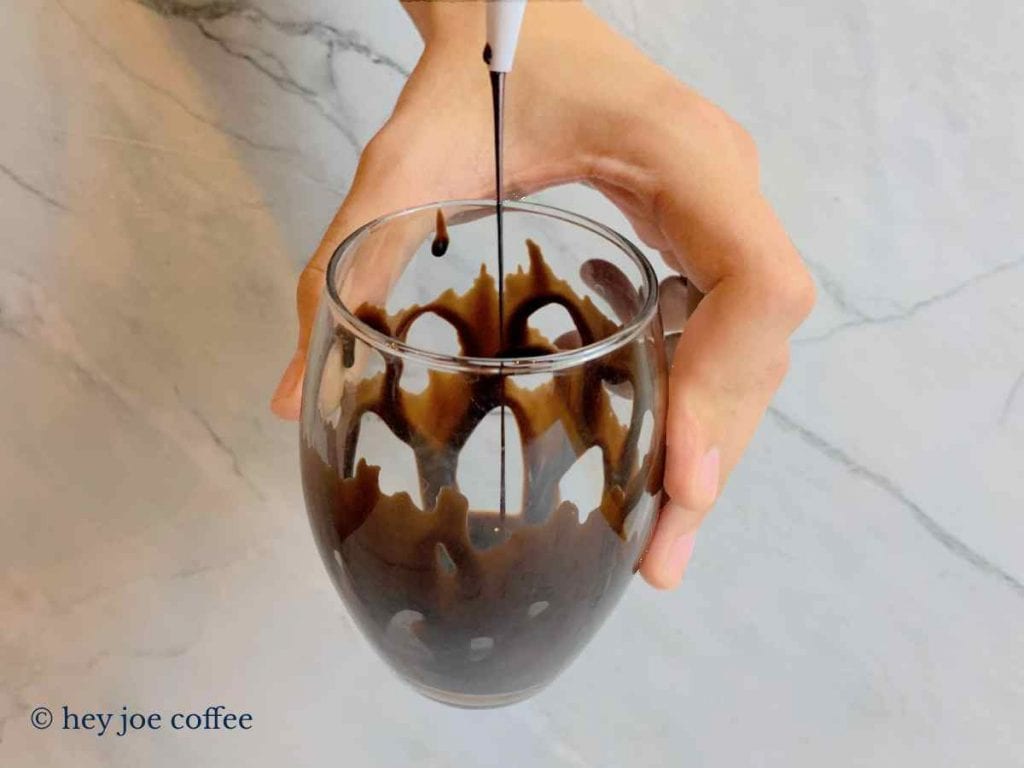 1. Add Extra Flavor
Here's our first customization tip for your Dutch Bros banana drinks.
Go stronger with the banana flavor, especially in drinks with bold, competing tastes. Simply ask your friendly Bro-ista to add 2 to 3 times the syrup.
But remember to watch out for those sneaky extra calories as they can add up with each pump.
2. Get It Dairy-Free
Love 'banana' but need a dairy-free option? I have good news.
Technically, their banana syrup doesn't contain any milk products but you can always confirm with the bro-ista.
Swap regular milk for plant-based alternatives like almond or oat milk (oat's our fave—it's pretty similar to the real deal).
Most flavors taste fab as a Dutch Rebel, soda, or tea so you don't have to run out of options.
3. Whipped Cream & Soft Tops
If dairy works for you, try adding extra whipped cream or soft tops to your favorite banana beverage.
Honestly, the milky and creamy notes complement the banana flavor so darn well!
It's an almost sinful upgrade that boosts both the flavor and texture of the drink, turning it from beverage to dessert.
The banana syrup used in Dutch Bros drinks is not sugar-free.

If you're looking for a sugar-free option, their banana-flavored beverages may not fit the bill. It's always a good idea to check with your bro-ista for the most current and personalized menu options.
---
Summary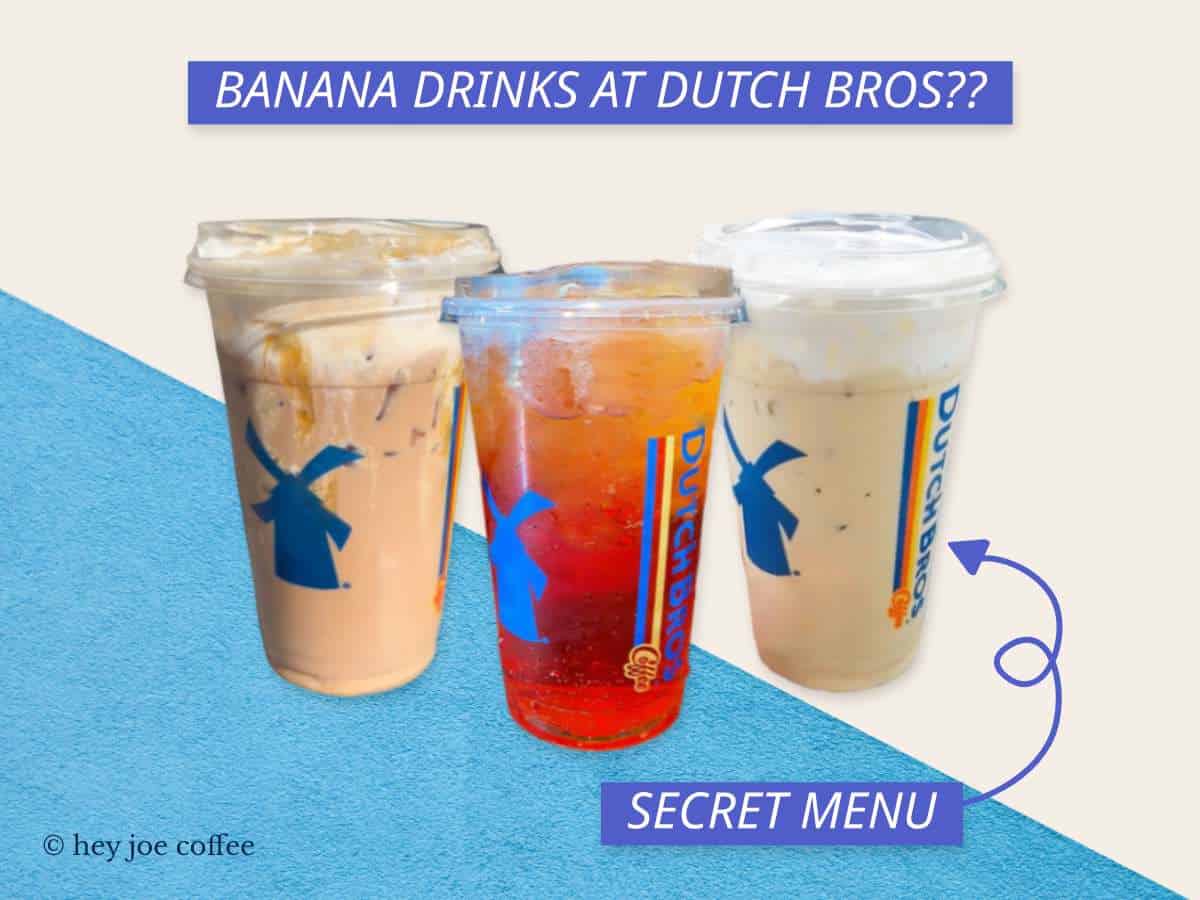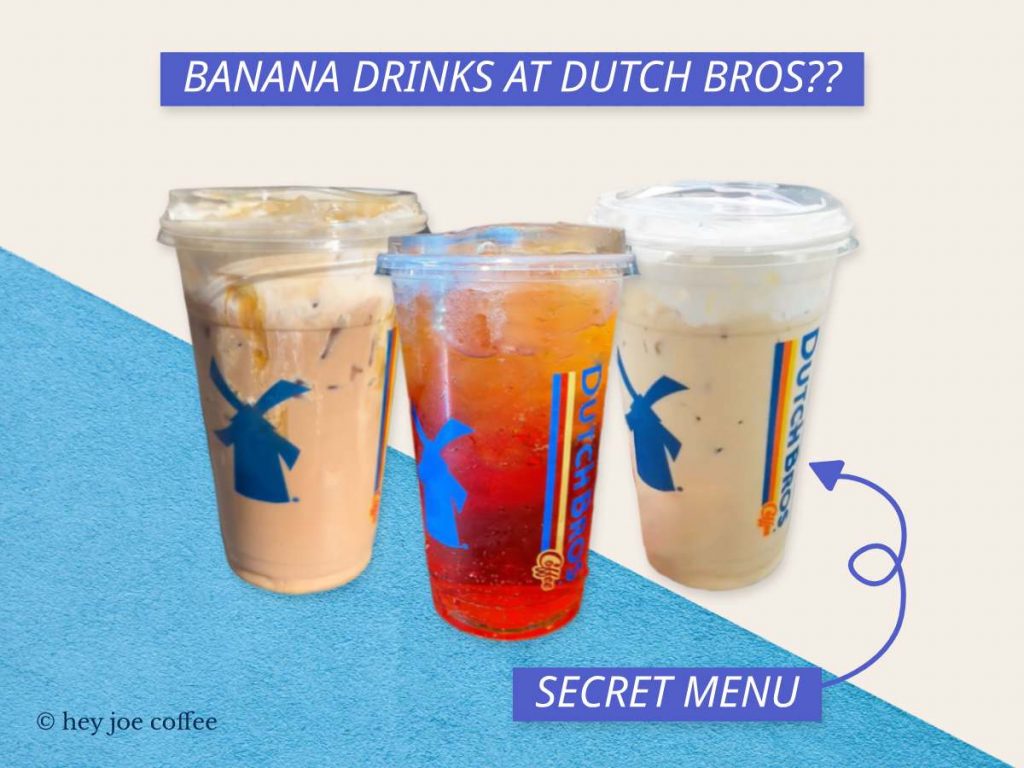 Having explored Dutch Bros' banana drink universe, I'm thrilled to say my perspective has completely shifted. The bold, adventurous flavors have proven that banana is a front-runner in the beverage game.

With customization tips and secret menu surprises, I hope this guide inspires you to explore these tropical delights.
---
Verified Sources
Wondering where your info comes from? We totally understand. Hey Joe only obtains our information from reputable sources. Contents from this article are sourced from the following publications: