We know there are few drinks more satisfying when you need a sweet treat than those from the Dutch Bros Chai range.
With the option to have them hot or iced, they're the perfect drink for any time of day!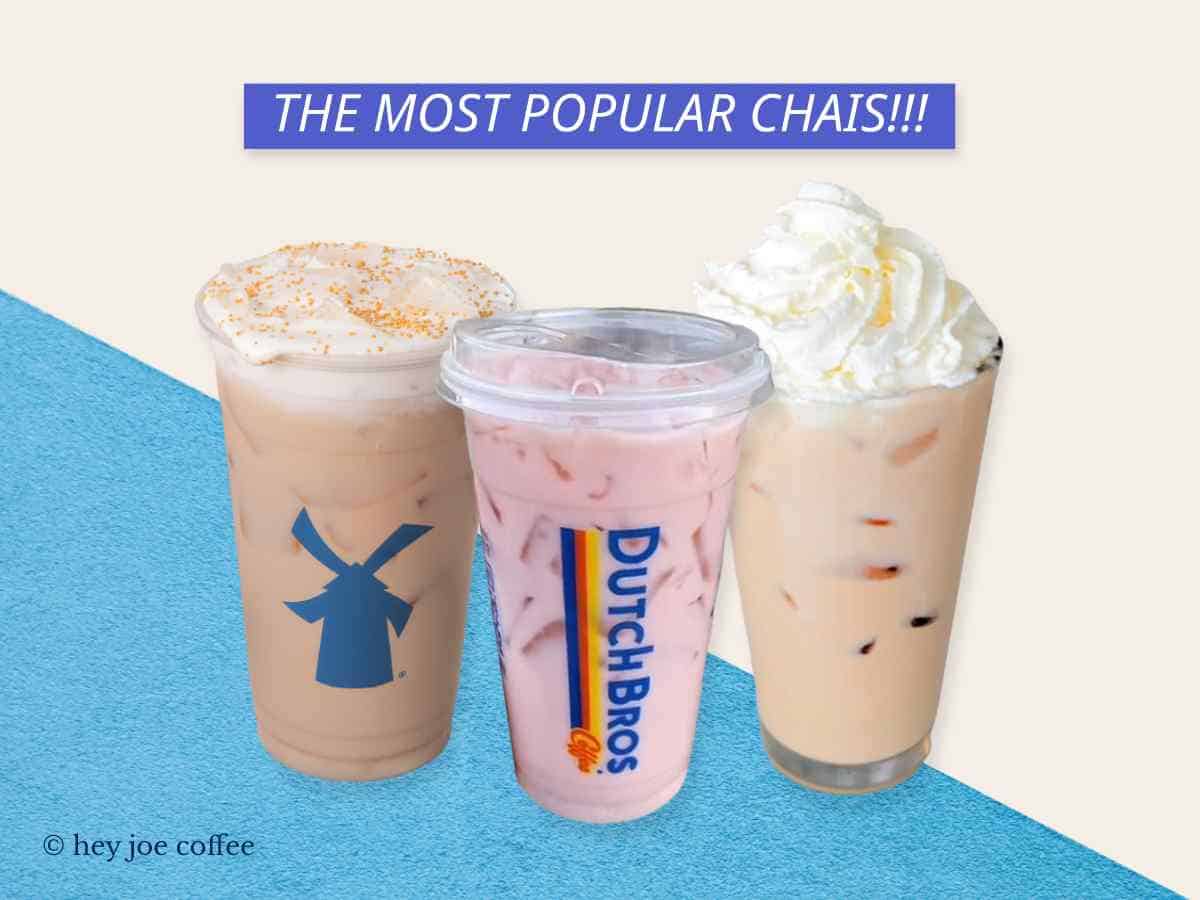 Topics Explored
Is Dutch Bros Chai Good?
Their range of Chais are one of their most popular drink categories and they even use them as featured drinks for their brand.
I think Dutch's Chai-flavored drinks are really good but each one comes with a slightly different taste profile.
You'll just have to try each flavor out to determine which one you like best!
What Makes Their Chai SO Special?
Their chais are chai tea Breves which is a tea latte that's made with half and half as a substitute for milk.

It's much richer and creamier than other milk options and is what gives Dutch Bros drinks the velvety texture we love so much.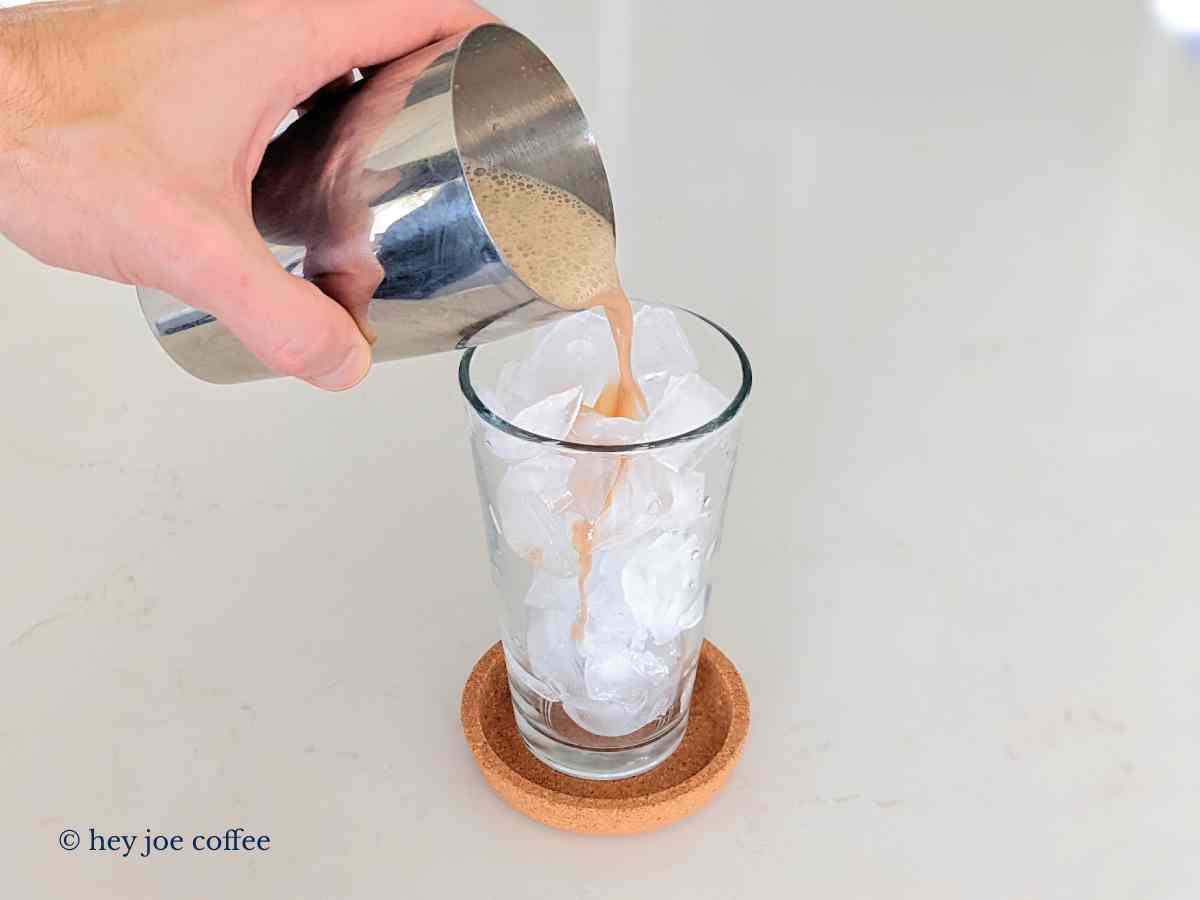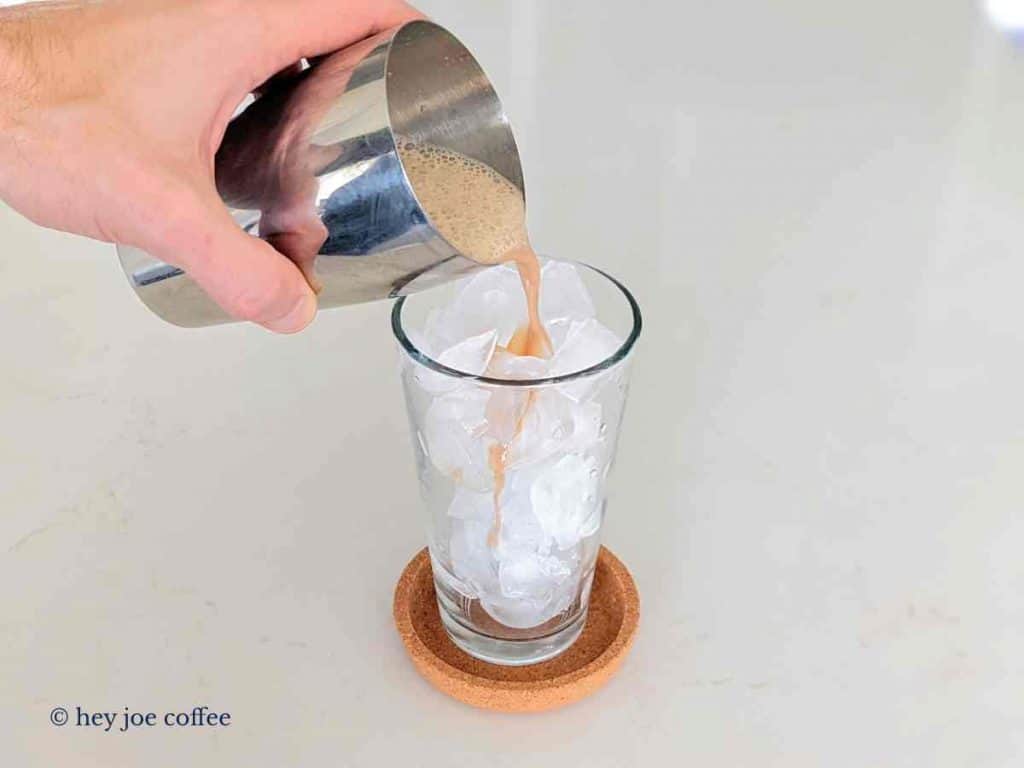 What Chai Do They Use?
Dutch Bros uses a chai concentrate from Oregon Chai.
Each sachet of Oregon chai pre-mix combines black tea, clove, cardamom, cinnamon, and ginger.
If you're thinking of making your own Chai drinks, I recommend starting with the this premix.
Does It Have Sugar?
The Oregon chai blend comes with added sugar.
Most Dutch Bros sauces and syrups also contain sugar so if you have a preference, ask the bro-ista if they carry a sugar-free replacement.
---
Most Popular Dutch Bros Chai Drinks
Chai drinks are super popular with their customers.
I've compiled a list of their best ones as well as a few secret menu items so you can get an idea of what you're in for when you order and customize your drink!
1. Christmas Morning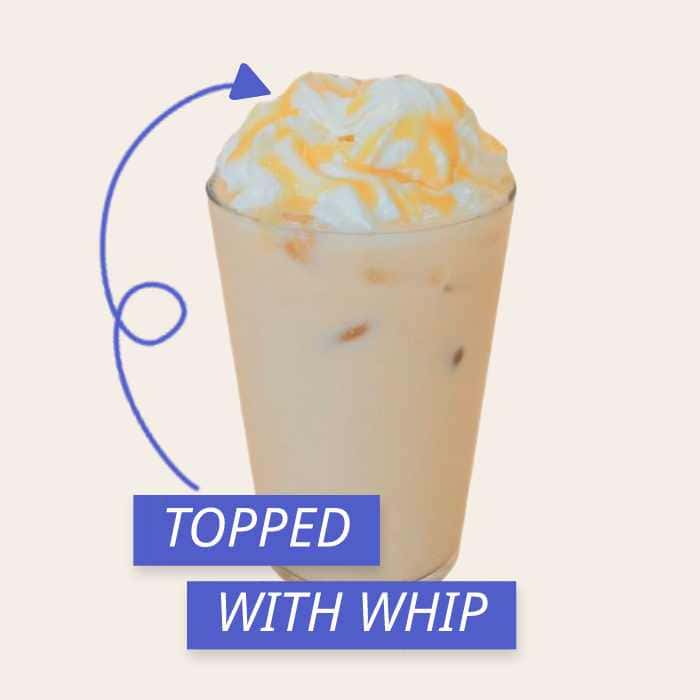 This drink literally tastes like Christmas!
If you're someone who loves the festive season and can't wait until the end of November to get your hands on one of these, you'll have to try to make this Christmas-inspired drink at home.
Flavor Profile:
Rich and creamy
Chai flavors coming through the rich, creamy texture
Chai spices make it taste like Christmas!
How It's Made:
Chai
Milk
White chocolate and caramel sauce
Cinnamon syrup
2. Horchata Chai
The Horchata Chai is the perfect combo of something delicious and milky with just the right amount of spice to break through the sweetness.
If you want to make it extra special, I recommend adding an extra shot of coffee for a real flavor whirlwind.
Horchata Chai Flavor:
Strong flavors of chai and cinnamon
Spice complemented by hints of coffee with white chocolate undertones
Thick creamy texture in the mouth
How It's Made:
Oregon Chai
2% Milk
White chocolate and caramel sauce
Cinnamon syrup
3. Golden Eagle Chai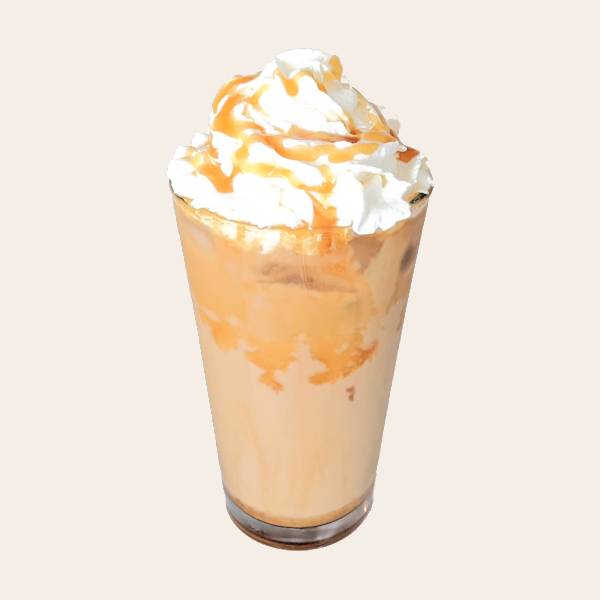 The Golden Eagle is one of Dutch's featured chai drinks and is also one of the most popular with their customers.
Who wouldn't love a delicious amalgamation of vanilla, caramel, and sweet chai tea flavors?
Flavor Profile:
Caramel flavors from the caramel sauce
Hint of vanilla
Chai spices round off the taste nicely
How It's Made:
Chai tea
Milk
Vanilla syrup
Caramel sauce
4. Sweater Weather Chai
Don't be fooled by the color of their white coffee, their Sweater Weather Chai actually has more caffeine in it than their traditional blends!
This defo gave me the spring in step I needed to kickstart your day.
Sweater Weather Chai Flavor:
Low-acidity coffee with nutty undertones
White chocolate, cinnamon, and chai
How It's Made:
Chai
Milk
White chocolate sauce
White coffee shots
Soft top
Nutmeg & cinnamon sprinkles
5. Caramel Pumpkin Brulee Chai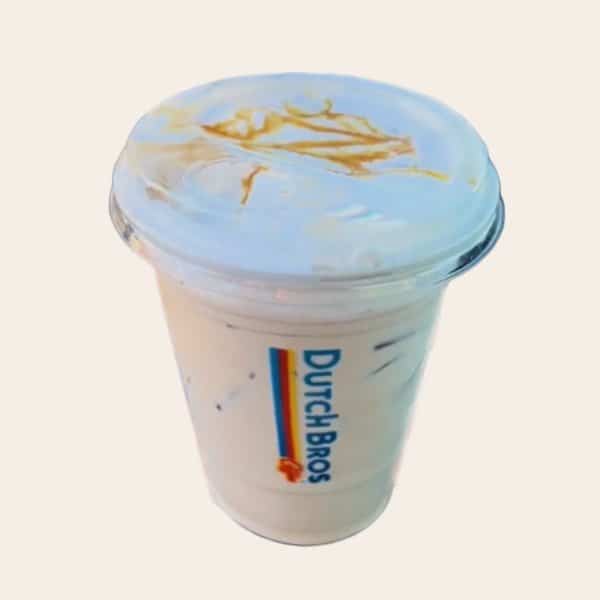 I'm obsessed with the Caramel Pumpkin Brulee Chai. It has all the flavors of the fall that make us feel super cozy inside.
The caramel and pumpkin tastes are the perfect flavors to put a bright smile on your face – even if you're drinking this treat in cold weather.
Flavor Profile:
Sweet pumpkin and caramel
Strong cinnamon and chai
Rich creamy textures with subtle coffee follow through
How It's Made:
Chai
Milk
Espresso
Pumpkin & salted caramel sauce
Soft top
Pumpkin drizzle
6. White Zombie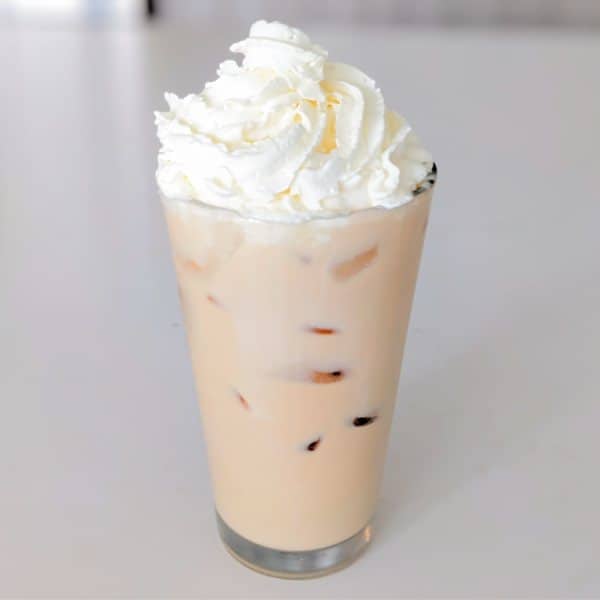 This drink is the ultimate dessert drink with all my favorite sweet flavors combined.
The White Zombie is an elegant balance of white chocolate and vanilla flavors and is ideal for the sugar rush we all sometimes need.
Flavor Profile:
Rich white chocolate and vanilla
Coffee undertones with milky finish
Rich velvety texture with whipped cream option
How It's Made:
Chai
Milk
White chocolate sauce
Vanilla syrup
7. White Chocolate Chai
Not to be confused with the White Zombie, White Chocolate Chai is a simple but delectable combo of chai tea, melted into white chocolate and steamed milk.
White Chocolate Chai Flavor:
Sweet white chocolate flavors with hints of vanilla
Rich and creamy texture when you take a sip
How It's Made:
Chai
Steamed Milk
White chocolate sauce
---
Secret Menu Chais
If you thought you knew chai, prepare to be amazed by Dutch Bros little known secret menu chais.
8. Dirty Chai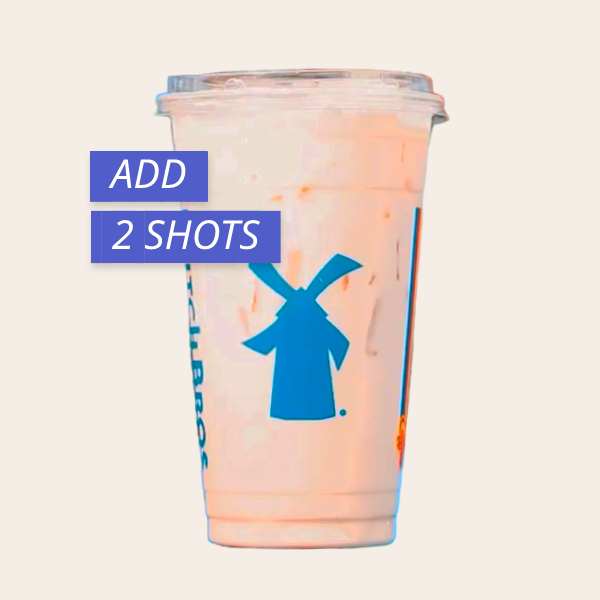 A dirty chai is one of the easiest chai drinks to make but it's not directly available as a menu item.
It's simply a combination of chai concentrate, coffee and any kind of milk you want.
I recommend simply leaving out the whipped cream and adding a shot of espresso straight over the top.
Flavor Profile:
Coffee-led with undertones of chai spices
Flavors from your milk of choice
How It's Made:
Any DB chai drink
Espresso (shots)
Leave out the whipped cream
9. Peach Cobbler Chai
The Peach Cobbler Chai is a fantastic secret menu drink concocted by a creative fan. The yummy peachy flavor that comes through is the perfect balancing taste that offsets the strong chai spices in the drink.
This is a great option if you want to try something different.
Peach Cobbler Chai Flavor:
Sweet canned peaches and cream
Chai complements peaches for a spicy twist
Nutty undertone from macadamia nut
How It's Made:
Chai
Milk
Peach & chocolate macadamia nut syrup
White chocolate sauce
Soft top
10. Strawberry Horchata Chai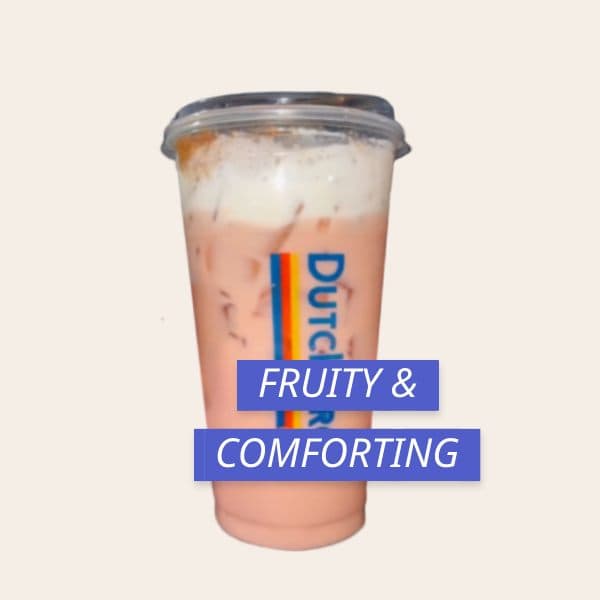 The Strawberry Horchata Chai is definitely something different – but who doesn't love something different every now and then?
For fruit, spice, and all things nice fans, I suggest getting the iced version of this perfect summer drink on an afternoon stroll.
Strawberry Horchata Chai Flavor:
Prominent strawberry and fruity taste
Chai spice comes through the fruitiness to round it off
How It's Made:
Chai
Milk
Caramel & white chocolate sauce
Cinnamon & strawberry syrup
Soft top
---
Make Dutch Bros Chai Your Way
If Dutch Bros have taught us one thing, it's that there are so many ways with combining flavors! It's so easy to give chai drinks your own flair!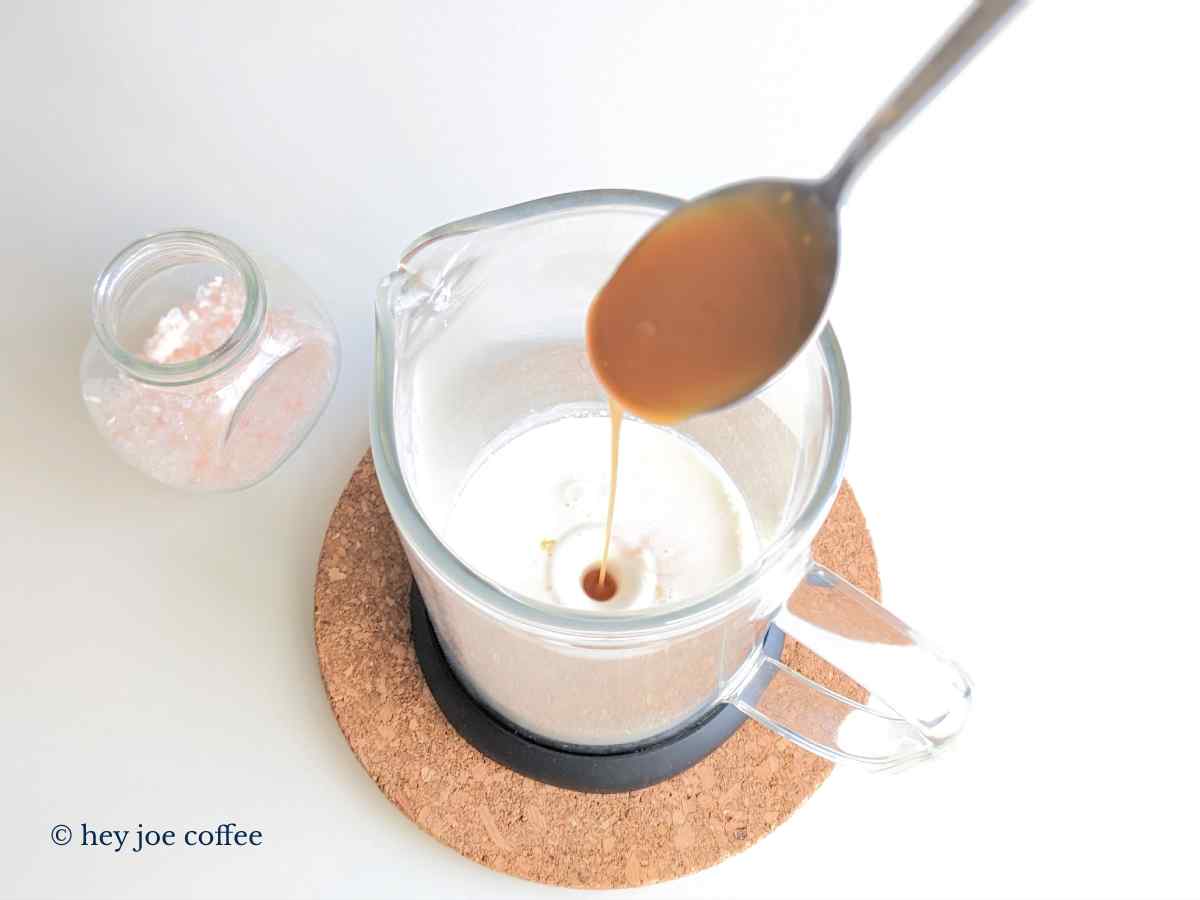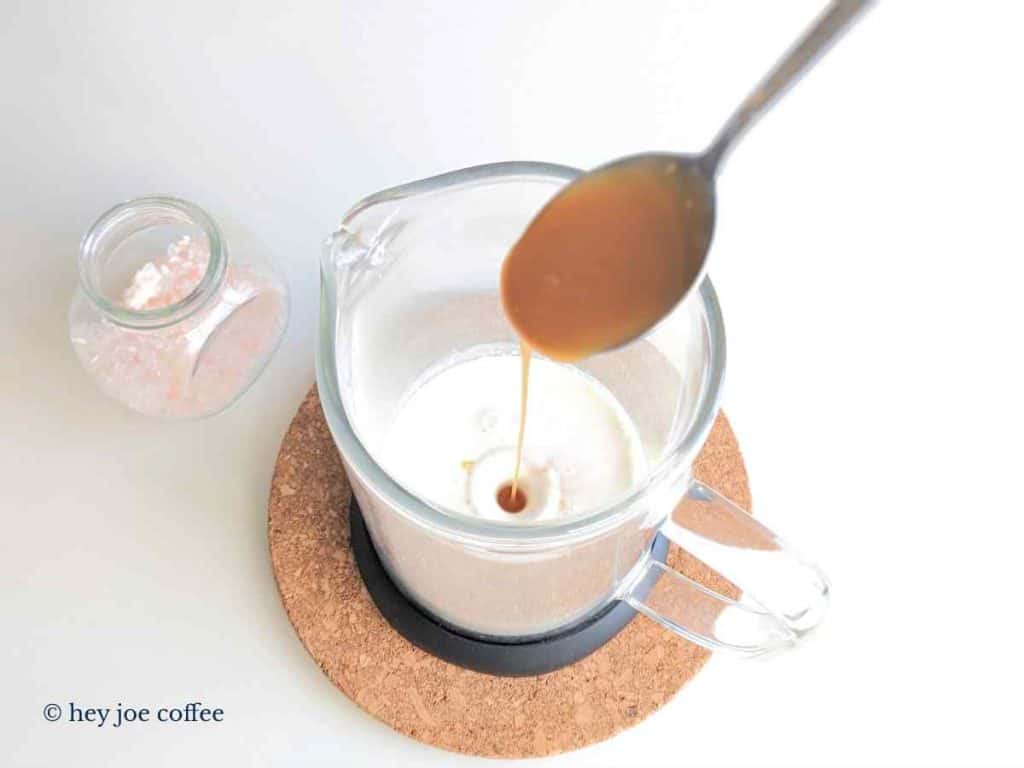 1. Toppings
If you're a fan of iced chai drinks, you absolutely have to top it off with a soft top.
You can buy the same soft top Dutch Bros uses online which is Rich's On Top®.
A chai latte, iced or hot, would not be the same without a little bit more added spice.
I like to add some sprinkles or extra cinnamon and nutmeg to really bring out that delicious chai-ness.
2. Milk Options
Half and half is richer and creamier because – let's be real – it has a higher fat content than full cream or 2% milk.
If you're a fan of richer, creamer chai drinks, you should try out Dutch Bros' kick-me-mix.
Looking to treat yourself but want to watch that calorie count? Swap the full-cream stuff for almond milk or non-fat milk. Oat milk(1) is also great for a tasty vegan option.
3. Make It Dirty
Coffee and chai are two flavor combinations that we know work well together. If you want to make any chai drink dirty, simply ask the bro-ista to add a shot of espresso.
Domino shots are also a Dutch Bros specialty! Basically, it's just a shot of white coffee and one shot of regular espresso – some days you just need caffeine, chai, and more caffeine.
4. Add More Flavors
Really want to add your own spin to your chai beverage? Try playing around with different taste profiles.
For example, white mocha sauce or hazelnut syrups are my favorite flavors pair with my chai-flavored drinks.
I also like to add extra depth to my Dutch Bros drinks by adding hints of chocolate and caramel.
5. Make It Blended
Yes, any Dutch Bros chai drink can be made blended.
It completely changes the texture and to a certain degree, it's flavor too. Be sure to drink it fast so it doesn't get watered down.
Just ask your friendly bro-ista to make your drink frozen if you're feeling like something a little different.
---
Summary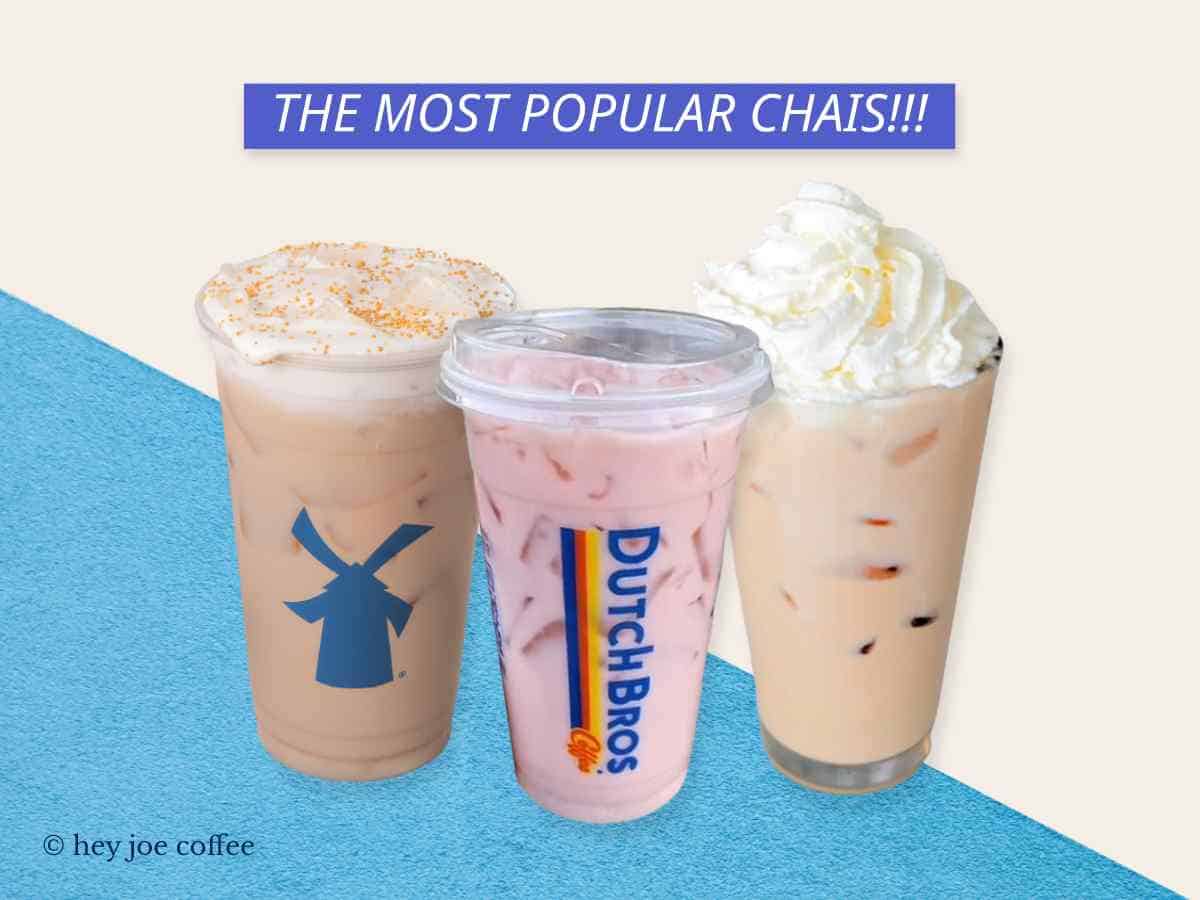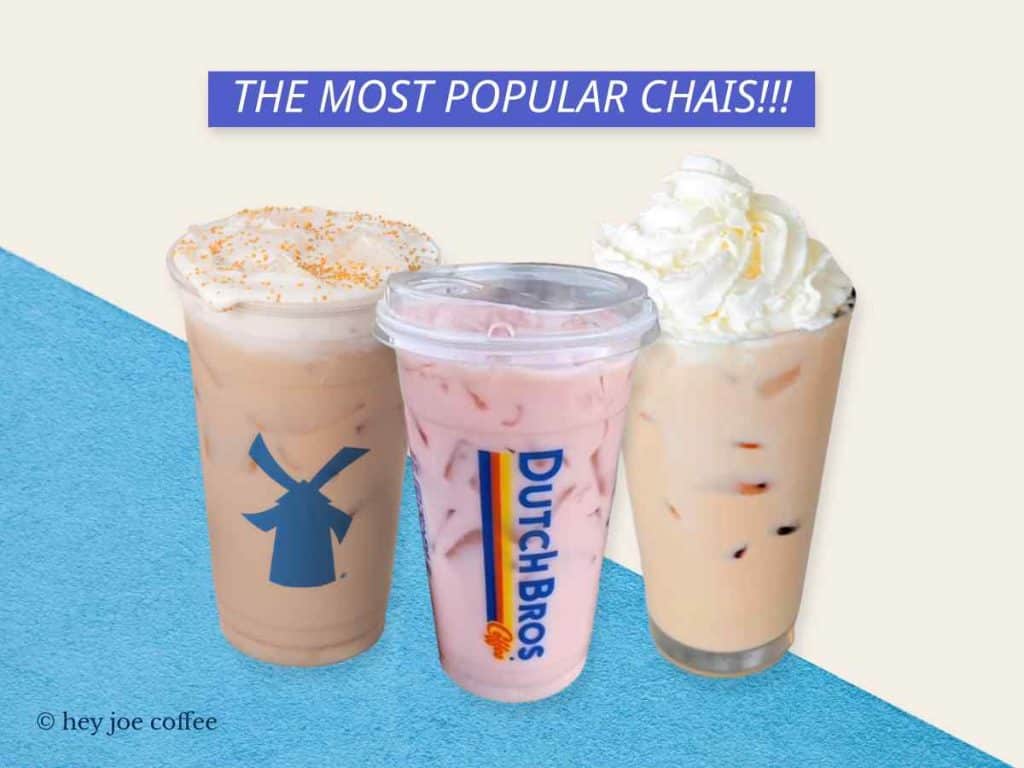 I love the Dutch Bros Chai menu and all the different flavor combos they use.
But, who ever said there's anything wrong with wanting to add your own, personal touch to their already-epic drinks?
---
Verified Sources
Wondering where your info comes from? We totally understand. Hey Joe only obtains our information from reputable sources. Contents from this article are sourced from the following publications: