The Golden Eagle by Dutch Bros might sound like a mystical creature rather than a creamy, caramel goodness. But that's exactly what it is: an irresistible blend of espresso, milk, caramel, vanilla, and whipped cream.
(Heads Up. Our posts may contain affiliate links. As an Amazon Associate I earn from qualifying purchases.)
Here's what drew us to this drink and why you need to make this recipe at home!
– or scroll so you don't miss all the goods 🙂 –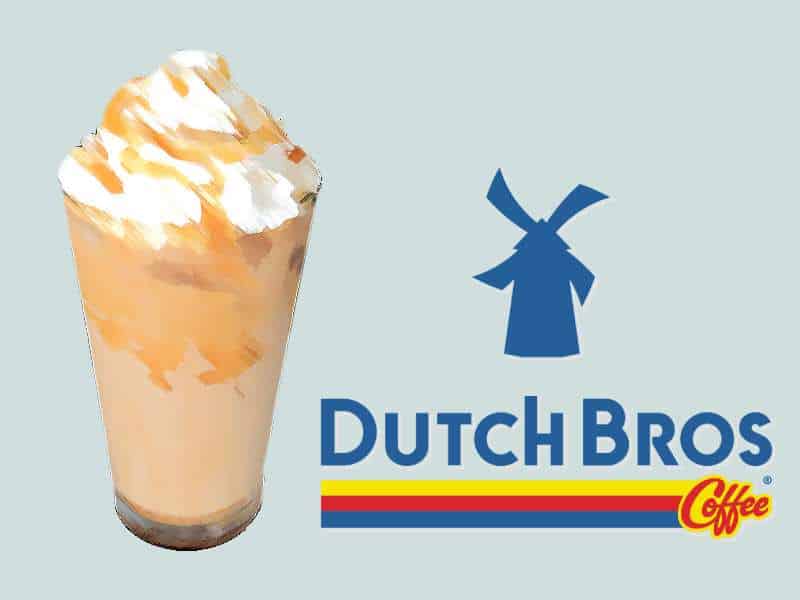 Topics Covered
What is the Golden Eagle at Dutch Bros?
The Golden Eagle brings together a shot of espresso enriched with vanilla syrup, followed by half and half, and completed with buttery caramel sauce.
It's a versatile drink; you can get it hot, iced, or blended with ice as a rich refreshment. The chilled versions come with a dollop of whipped cream and an extra caramel drizzle on top.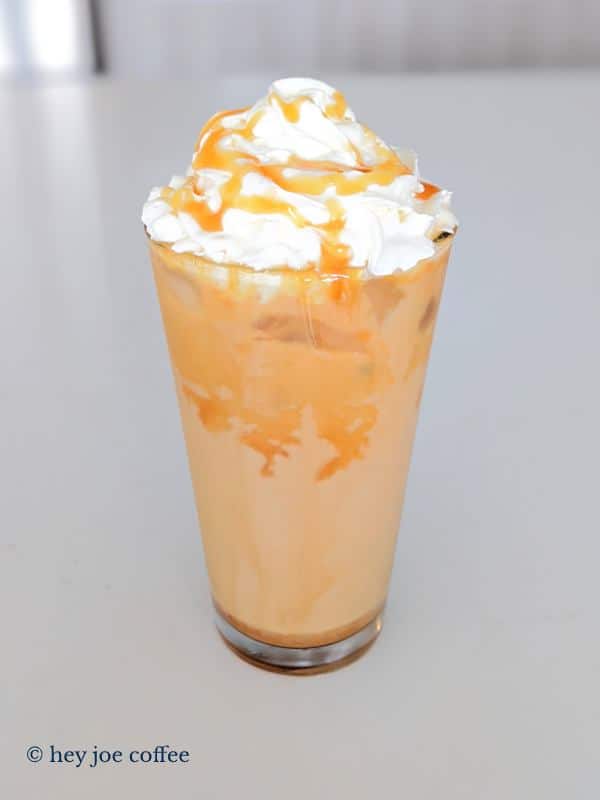 It's no secret that Dutch Bros' popularity grows by the hour. The key lies in their excellent customer service and their bro-istas that take the time to customize your drink and answer all your questions.
The unique choice of drinks is addicting and refreshing compared to the classics.
What is in the Dutch Bros Golden Eagle?
The Golden Eagle combines classic flavors like caramel sauce and vanilla syrup with a base made from staple coffee ingredients: espresso and half and half.
The final touch is whipped cream and a caramel drizzle, both added to the iced and blended version of the drink.
---
How Many Calories is in a Dutch Bros Golden Eagle?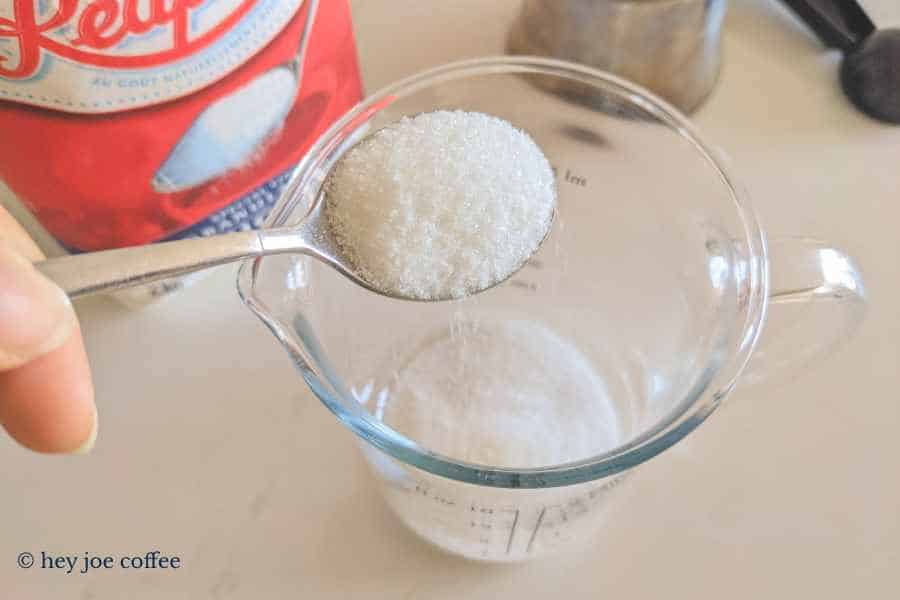 Keeping in mind the ingredients, you can expect a high calorie count. However, it depends on the size and preparation method, whether you're getting the Golden Eagle iced, hot or blended.
The small size iced Golden Eagle is the lightest, while the large blended is the most calorie-dense, reaching 1,000 calories!
Dutch Bros Golden Eagle Calories:
Hot (Medium): 620 cals per 16 fl oz
Iced (Medium ): 480 cals per 24 fl oz
Blended (Medium): 780 cals per 24 fl oz
---
What Does the Golden Eagle Taste & Look Like?
The appearance of the Golden Eagle depends on the preparation and additions. While the taste doesn't vary much, the texture is entirely different in the blended and hot versions.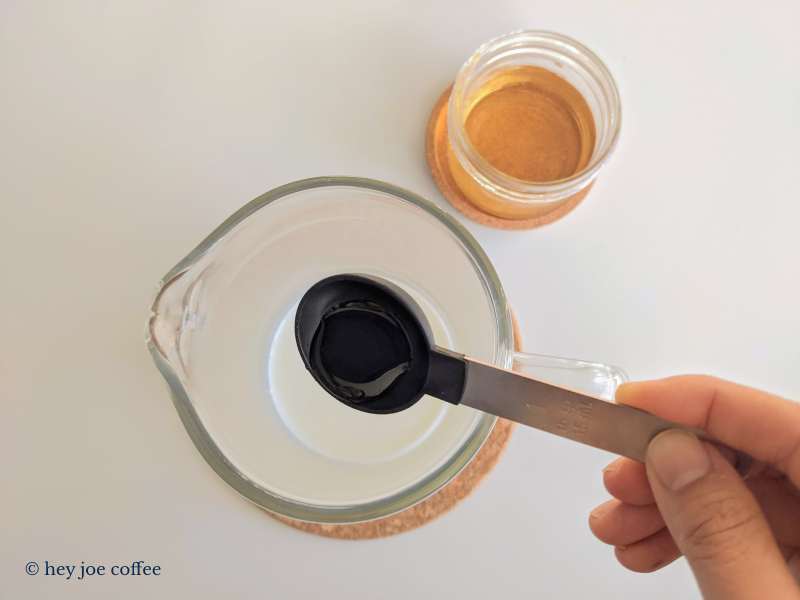 Appearance
Thanks to caramel and espresso, the Golden Eagle has a deep tan color. The blended version has a more shake-like, grainy texture, while the hot and iced options are well mixed.
The blended Golden Eagle is topped with whipped cream, while the hot is finished with milk foam. You can optionally complete the iced version with whipped cream.
Flavor Profile
The Golden Eagle has pronounced caramel and creamy notes. The flavor of the iced version comes close to that of a caramel macchiato.
The blended Golden Eagle is almost a dupe for the caramel frappuccino at Starbucks. You can't taste the vanilla as much, but it does round out the final flavor.
---
Dutch Bros Golden Eagle Customizations
If you think there's no way to make the Golden Eagle better, we're here to let you in on a little secret. Several customizations can make the drink even more superior. Read on for the best swaps!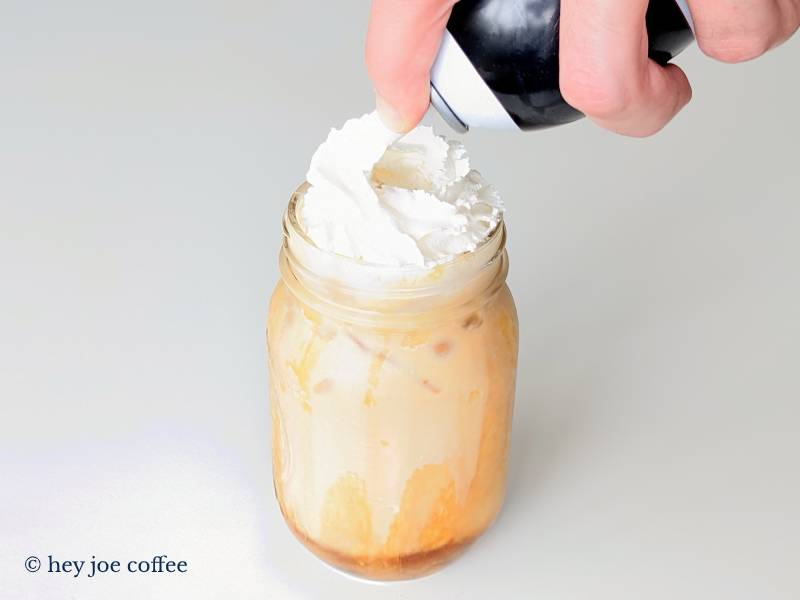 1. 'Lower Calorie' Iced Golden Eagle
An iced Golden Eagle that fits in your diet? You can have that too! Swap half and half for oat milk; it has half the calories of whole milk.
Ask for sugar-free vanilla syrup and caramel sauce. Omit the whip and get it iced, and there you have the low-calorie Golden Eagle.(1)
How It's Made:
Espresso
Oat Milk
Vanilla syrup (sugar-free)
Caramel sauce (sugar-free)
Ice
2. Golden Eagle with Chai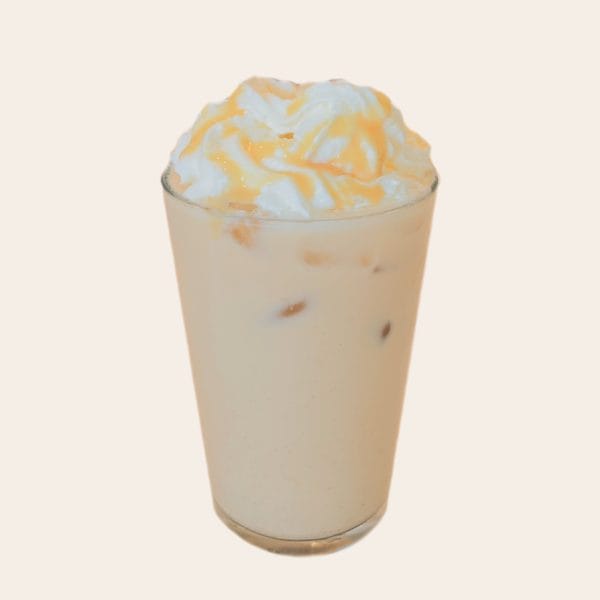 Available as iced or hot, the Golden Eagle Chai is a creamy, milky and delicious option. It combines the breve base but swaps the espresso for chai tea.
When it comes to flavors, the chai Golden Eagle uses caramel sauce and vanilla syrup.
How It's Made:
Chai
Half and half
Vanilla syrup
Caramel sauce
Ice
Whipped cream
3. Upside Down Golden Eagle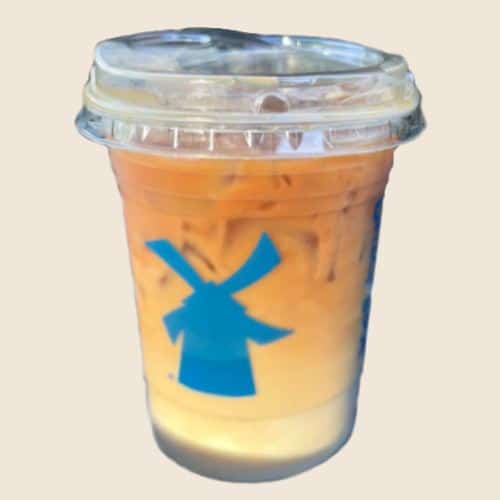 Turn the Golden Eagle upside down by asking for the milk to be added at the bottom and the espresso on the top.
You get all of the same ingredients but in reverse layers. You can also find it as an upside-down breve or latte.
How It's Made:
Espresso
Half and half
Caramel sauce
Ice
4. Golden Eagle with Soft Top
Swap the whipped cream for something more decadent. The soft top at Dutch Bros is marshmallowy and easy to make at home too.
Add it to an iced or blended Golden Eagle and finish with some extra caramel on top.
How It's Made:
Espresso
Half and half
Vanilla Syrup
Caramel Sauce
Soft Top
Ice
5. Keto Golden Eagle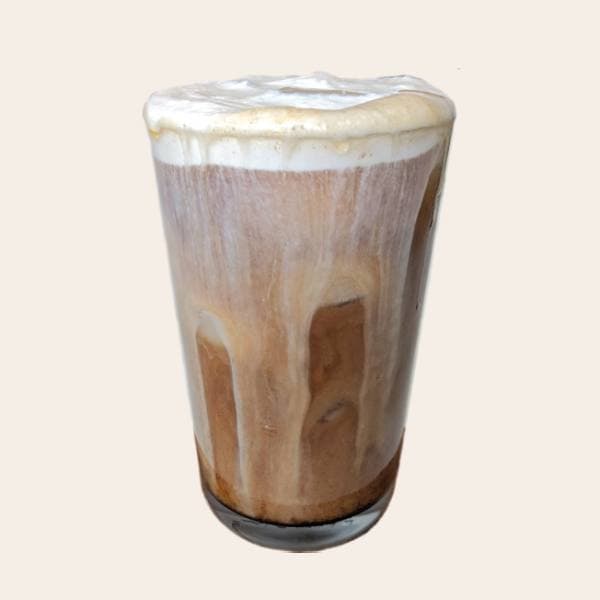 We know how calorie-dense is the Golden Eagle, but there's an option to make it keto. Start with nitro cold brew, and add a splash of cream.
Don't miss the flavor; add sugar-free vanilla syrup and sugar-free caramel sauce.
How It's Made:
Nitro cold brew
Cream
Vanilla syrup (sugar-free)
Caramel sauce (sugar-free)
---
Dutch Bros Golden Eagle Recipe
Ready for an easy Dutch Bros Golden Eagle recipe? All you need is some espresso, milk, and a few simple steps to get that rich sip of caramel-flavored goodness.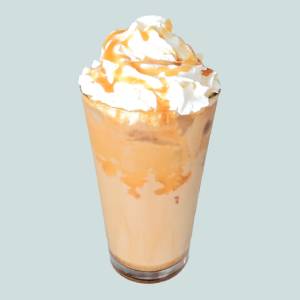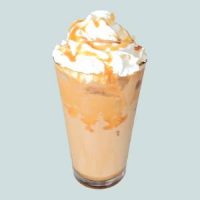 Dutch Bros Golden Eagle Recipe
Yield:
1 serving (~16 oz)
With this Dutch Bros Golden Eagle recipe, you wouldn't be able to tell that it's homemade!
Ingredients
Half & half: 6 oz*
Ice
Whipped cream (optional)
Instructions
Start by brewing 2 shots of your favorite espresso. We suggest using Dutch Bros Private Reserve or a dark roast as it's rich and bold and won't get as overpowered by the milk.
Once the espresso is made, add ½ oz of the caramel sauce to the cup and stir to mix in. The hot espresso will help melt the buttery caramel sauce. Set the cup aside.
Take a tall serving glass and drizzle some caramel sauce on the inside of the glass walls and all around. Fill at least 1/2 of the cup with ice.
Add the caramel espresso to the cup, followed by the vanilla syrup.
Let it settle and then add the chilled half and half.
Make it more decadent, and get your whipping cream. Add a dollop on the top and finish with a drizzle of caramel sauce.
Dutch Bros Golden Eagle Recipe: Items You'll Need
---
Final Words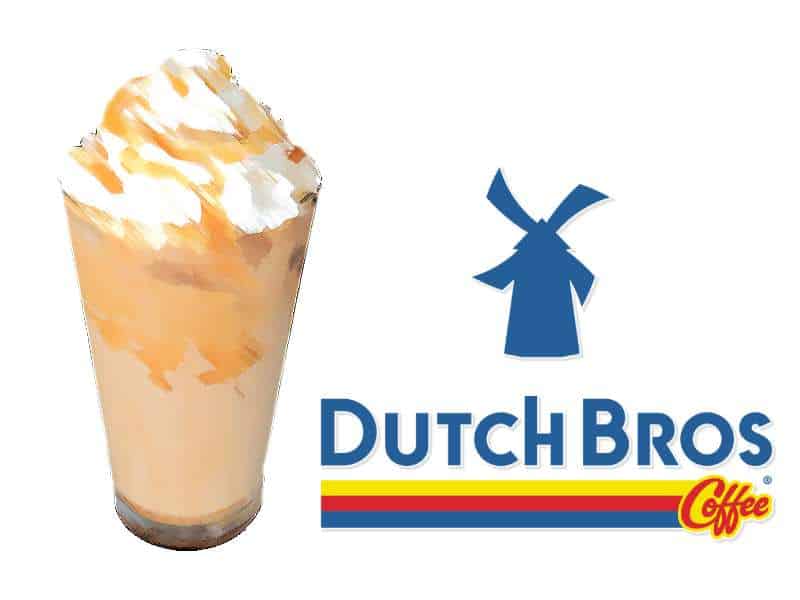 The Golden Eagle Dutch Bros has is one of their classic drinks. It's a rich, creamy drink with a good caffeine punch and sweet caramel.
You can get it every season; in winter as a hot comforting drink, in spring as an iced coffee, or in the summer heat as a blended, frappucino-like drink.
---
Golden Eagle Dutch Bros FAQs
How many shots are in a Golden Eagle?
A small and medium-sized Golden Eagle has 2 shots of espresso. The large size has double or 4 shots of espresso per cup. 

If you're not a fan of dark roasted espresso, you can swap it for white coffee. But beware that it has a higher amount of caffeine.
Is the Golden Eagle at Dutch Bros good?
Taste is a personal preference, but we have to say we love it. It's part of the Dutch Bros classics for a reason – it's one of their most popular drinks.

It's always on the menu as part of the 7 classic drinks, and it's suitable for every season and taste regarding drink temperature!
How much caffeine is in a Golden Eagle
A Golden Eagle at Dutch Bros contains between 2 and 4 shots of espresso, depending on the size. According to USDA, a single shot of espresso has 63 mg of caffeine. (2)

According to this data, a small or medium Golden Eagle has 126mg of caffeine while a large one has 252 mg.