Fans of Starbucks know everything there is to know about coffees and pink drinks. But have you heard of the Starbucks Blended Strawberry Lemonade?
That's right! The blended strawberry lemonade is part of the chain's offering. And we think it's one of the most underrated drinks on the menu.
In this article, we'll teach you how to make this refreshing beverage from the comfort of your home!
– or scroll so you don't miss all the goods 🙂 –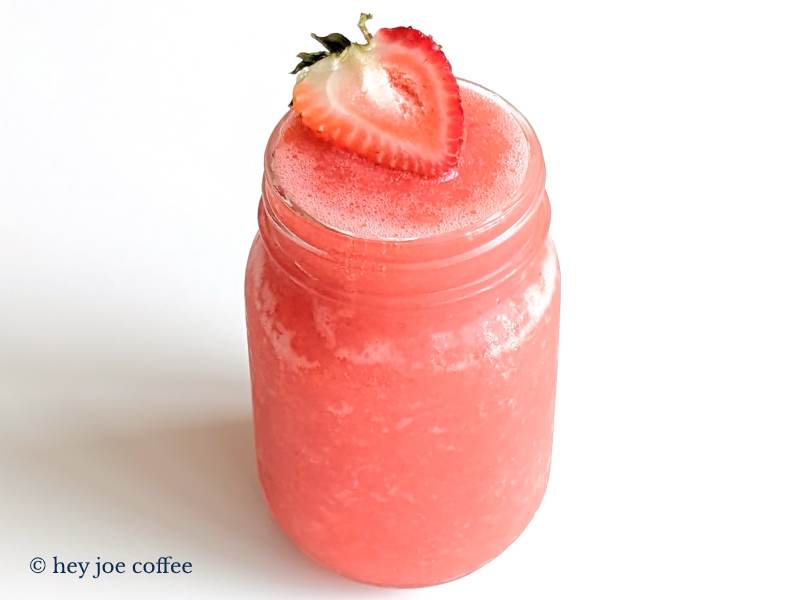 Topics Explored
What is Starbucks Blended Strawberry Lemonade?
The Starbucks Blended Strawberry Lemonade is made of ice, lemonade, and strawberry puree sauce.
The in-store version contains creme frappuccino syrup which doubles up as a sweetener and binds the drink together. However, you can skip this ingredient with our recipe below.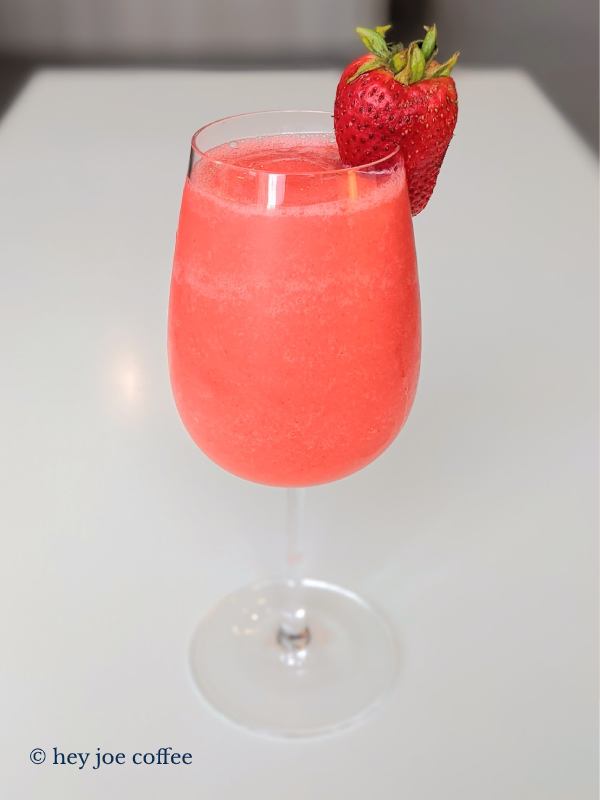 The blended strawberry lemonade is not only delicious but moderately low in calories. You don't need to worry as much since one serving (12 oz) contains only 130 calories.
So if you haven't tried it, what are you waiting for?
---
Taste & Appearance
Many people describe the Blended Strawberry Lemonade as tangy, cold, and slushy.
But that doesn't do the beverage justice. We say it is the perfect summer escape on a miserable winter's day.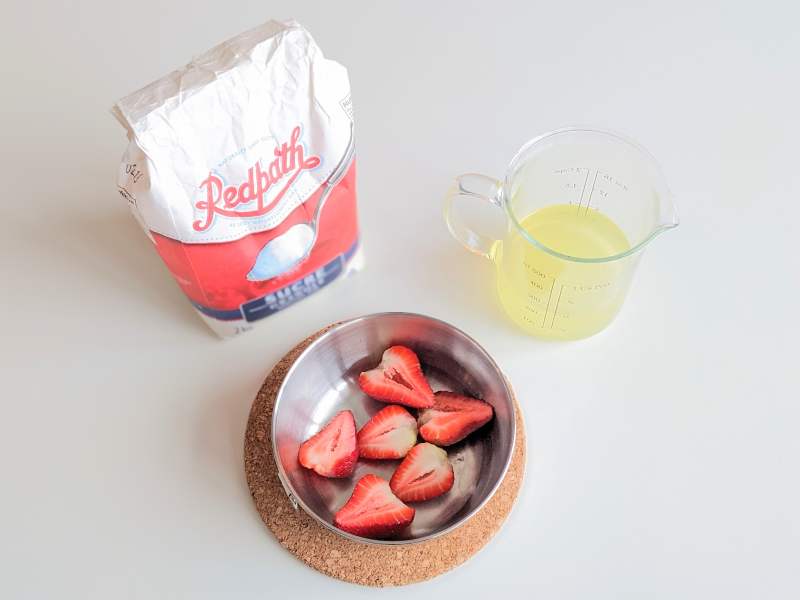 Appearance
Starbucks Blended Strawberry Lemonade is a thick, smooth, pinkish blended drink.
If you're thinking of a smoothie, it's a little different since it's diluted with lemonade. Since the creme frappuccino syrup contains xanthan gum as a thickening agent, it keeps the strawberry puree from separating.
Flavor
This sunny drink has a fruity, delicious strawberry flavor but can be combined with other flavors as well.
You can add toppings that appeal to your taste buds, such as whipped cream, caramel drizzle, or white chocolate sauce.
---
Similar Beverages
If you want to try refreshing strawberry drinks that aren't frappuccinos, we prepared a must-try list for you. Here are our top 5 Starbucks strawberry drinks:
1. Strawberry Açaí Lemonade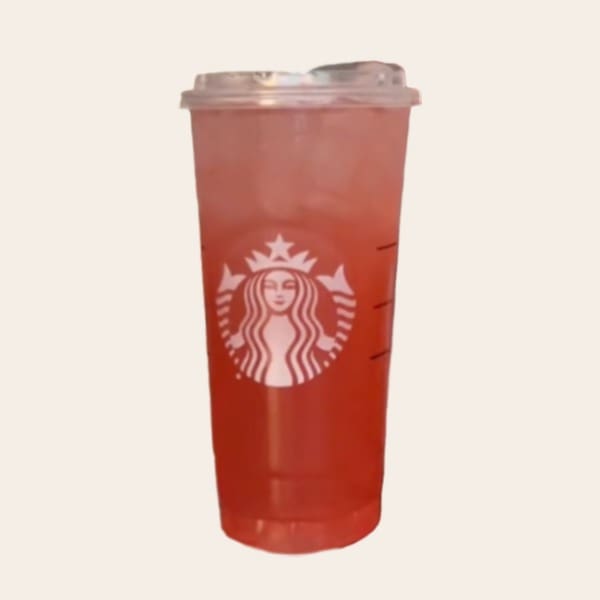 Drink Description:
This tangy and refreshing drink needs no introduction. Strawberry Açaí Lemonade is so popular that it has made it into a regular feature on the Starbucks menu.
How It's Made:
A combination of lemonade, strawberry acai base, and freeze-dried strawberries might seem ordinary at first, but a pitch of green coffee bean powder gives it a distinct caffeine kick.
2. Strawberry Golden Monkey Black Tea Lemonade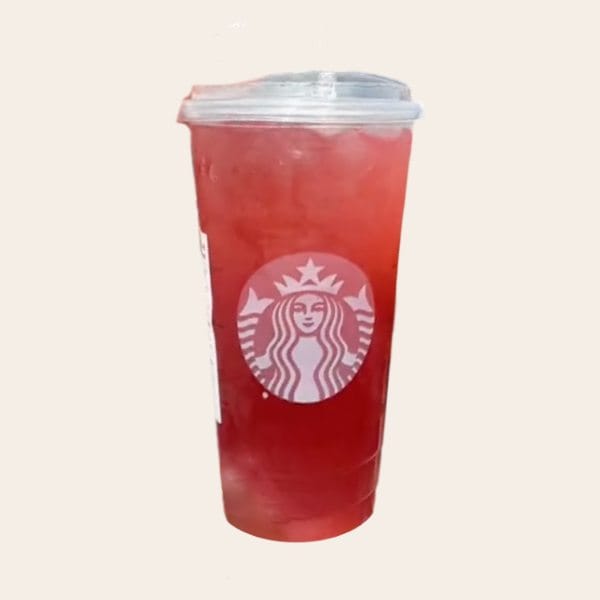 Drink Description:
We could not help but notice there are many delicious Starbucks beverages only available in certain parts of the world. Unfortunately, this summer treat is only available in Singapore.
How It's Made:
To prepare the Golden Monkey tea, you simply combine strawberry syrup, black tea, and lemonade.
3. Strawberry Lemonade Refresher (Can)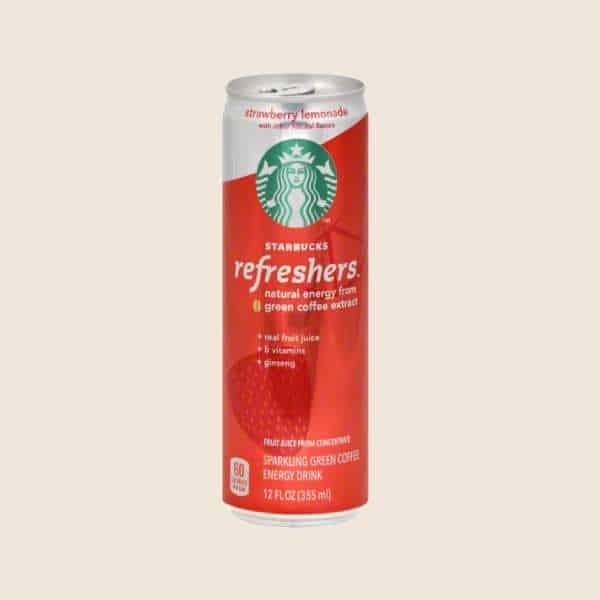 Drink Description:
Amazon describes this Strawberry Lemonade Refreshener as a "sparkling juice blends, distinct and lightly bubbly fruit flavors that will lift you up when you're on the go." Who are we to argue with Amazon?
How It's Made:
This drink is already available as a ready-to-drink beverage. You can pick it up in certain Starbucks locations, or you can order it from Amazon.
4. Strawberry Sunset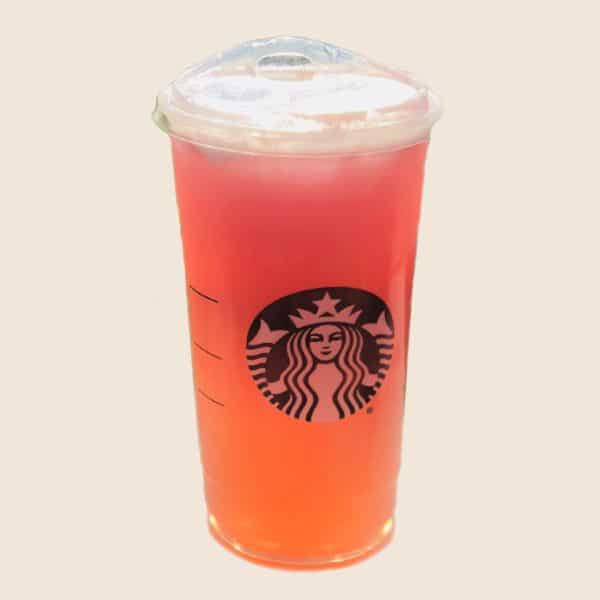 Drink Description:
Inspired by Tik-Tok, sipping on Strawberry Sunset will transport you to the beach in a heartbeat. Listen to the lapping waves while the setting sun kisses the sea goodbye.
How It's Made:
The sunset drink is made using lemonade, green tea, strawberry and peach puree.
5. The Pink Starburst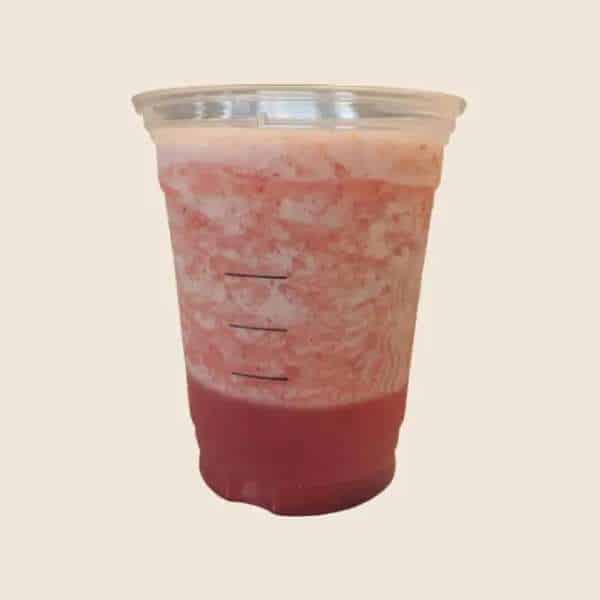 Flavor:
There is no better way to describe The Pink Starbust but as a Starbucks classic. It's fruity, sweet, and tangy at the same time.It's the perfect choice for lovers of the classic strawberry vanilla flavor.
How It's Made:
Combine lemonade, strawberry flavoring, vanilla bean powder, and raspberry syrup. Blend with ice and serve it icy cold.
---
How to Make Starbucks Blended Strawberry Lemonade
Whether or not you've tried Starbucks Blended Strawberry Lemonade, you could try to make it at home.
Just follow our instructions, and you'll learn how to make this treat in no time.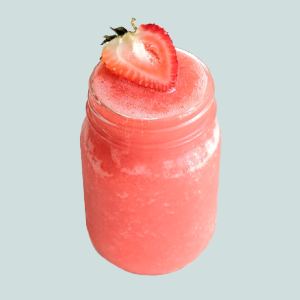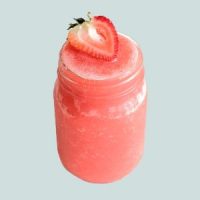 5-Minute Starbucks Blended Strawberry Lemonade
Yield:
1 serving (~12 oz)
This Starbucks Blended Strawberry Lemonade recipe only takes 5 minutes to make! Don't bother with complicated ingredients.
Ingredients
Strawberry Puree (see below)
Lemonade: ¾ cup
Ice: 1 cup
Strawberry Puree Ingredients:
Strawberries: ¼ cup
Sugar: 2 tsp
Water: 1 tbsp
Instructions
Place the strawberries, sugar, and water in a food processor or blender. Then puree the strawberries for around 1 minute.
Add the lemonade* to the puree.
Give the mixture a few pulses to combine all the ingredients. Next comes the ice.
Add 1 scoop of ice and blend everything for another 1 - 2 minutes. Blend it together until you get the right consistency. The drink is supposed to be slushy, remember?
There you go! Your Starbucks Blended Strawberry Lemonade is ready. You only need to pour it into a cup of your choice and enjoy your new favorite drink.
Notes
* If you're using frozen or powdered lemonade, you can make it as light or concentrated as you like.
** Starbucks uses a creme frappuccino syrup which contains xanthan gum and potassium sorbate. These are emulsifiers used to keep the ice separating from the drink. 
For convenience, we skipped this ingredient.
---
Summary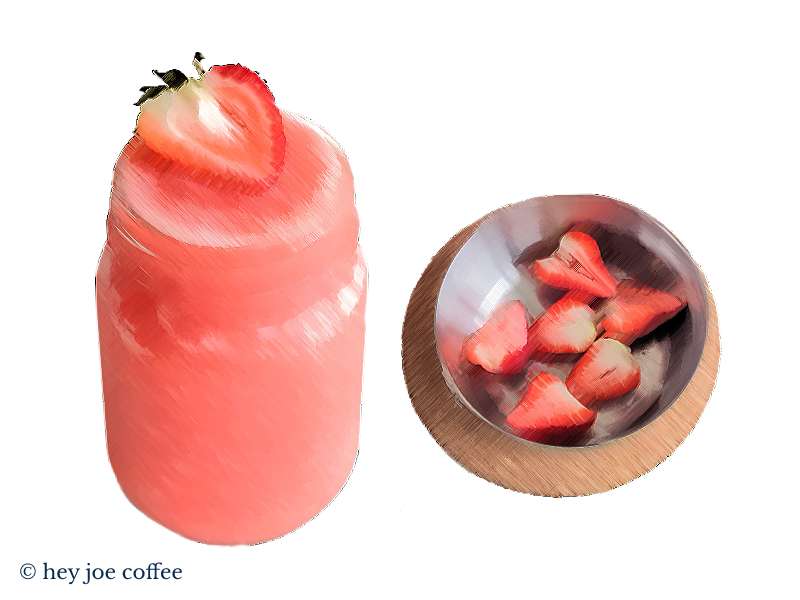 Now that you know how to make the Starbucks Blended Strawberry lemonade, you can give yourself a pat on the back.
Maybe you'll even qualify for a job at Starbucks!
But before that, sit down and enjoy the perfect icy summertime treat. You definitely deserve it!
---
More Questions
Does Starbucks Blended Strawberry Lemonade have caffeine?
The Blended Strawberry Lemonade is sometimes mistaken for Strawberry Acai (pink drink) because of its pinkish color.
The Strawberry Acai is made of ice, freeze-dried strawberries, and an acai base containing a green coffee extract.
The Blended Strawberry Lemonade, on the other hand, is completely caffeine-free.
How many calories are in a Starbucks Blended Strawberry Lemonade?
The Blended Strawberry Lemonade can be ordered in three sizes: tall, grande, and venti.

The calorie-conscious should know that a tall or a 12-ounce cup has 130 calories. A grande or a 16-ounce cup amounts to 190 calories. A venti or 24-ounce cup is said to have 260 calories.
How much sugar is in a Blended Strawberry Lemonade from Starbucks?
This information is useful for people on a low-carb diet.

According to Starbucks(1), the total amount of carbohydrates in Blended Strawberry Lemonade is 46 grams, out of which 45 is sugar.

The amount exceeds the daily sugar-amount limit of 36 grams for men and 25 for women.
Verified Sources
Wondering where your info comes from? We totally understand. Hey Joe only obtains our information from reputable sources. Contents from this article are sourced from the following publications: