Have you seen the tall Dunkin Donuts cups filled with a slushie-like drink? That's Coolatta, a classic Dunkin's beverage available on their menu for over 22 years! What is a Coolatta?
A sweet frozen blended drink that keeps you cool when the sun shines a little too bright.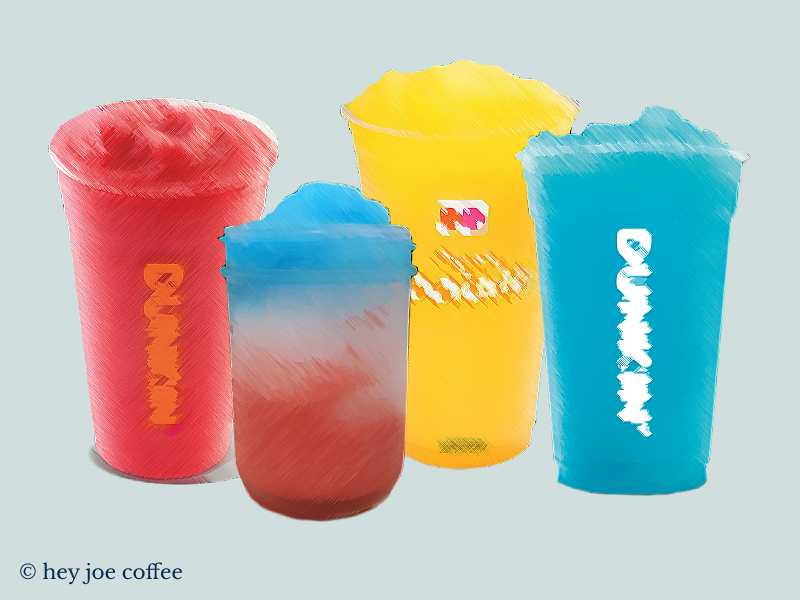 Topics Explored
What is a Coolatta from Dunkin'?
Coolatta is a frozen blended drink made with a base and fruit juice, syrup, or fruit concentrate.
There are 3 staple options on the menu, including Blue Raspberry, Vanilla Bean, and Strawberry.
Dunkin introduced many variations and coffee flavors seasonally through the years, and clients have crafted some interesting secret menu versions!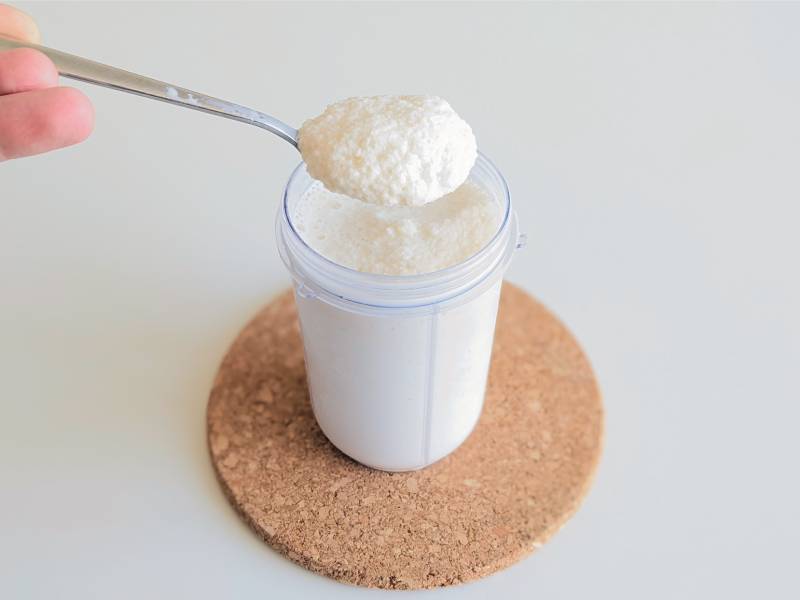 Coolatta was created back in 1997 as a response to Starbucks' introduction of the Frappucino.
The frozen drink was available in coffee flavors as well as fruit and classics like vanilla. During the years, over 24 different flavors were introduced and rotated.
Dunkin also introduced the Lite version, which came at ⅛ of the original calories.
The Coffee Coolatta
After decades of their initial introduction, Dunkin decided to discontinue the coffee Coolattas, claiming they just weren't good enough. The coffee slushies just weren't up to par with the Frappucino.
As a replacement Dunkin now carries frozen coffee with a slightly more intense coffee flavor than the Coolattas.
---
What Are Coolattas Made Of?
So what goes into the colorful frozen drink?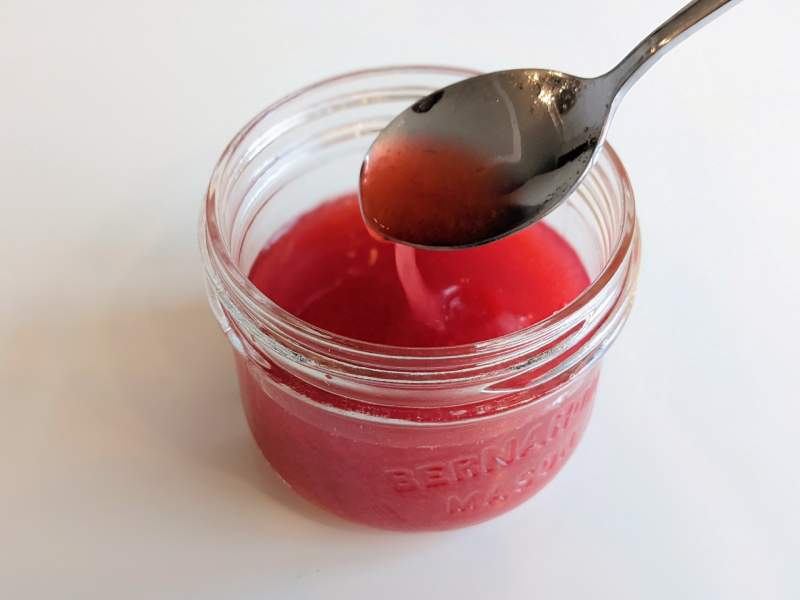 The base recipe is simple: water, flavor concentrate or syrup, and liquid cane sugar. The flavor syrup comes with a pump, and it's dispensed straight into the blender.
Depending on the type of flavor, there can be some extra ingredients or toppings.
---
What Are Some Coolatta Flavors?
Let's introduce you to the basic flavors available at Dunkin worldwide and some extra treats.
Beware that there are only 3 staple flavors; the rest have to be custom-made by your barista.
1. Blue Raspberry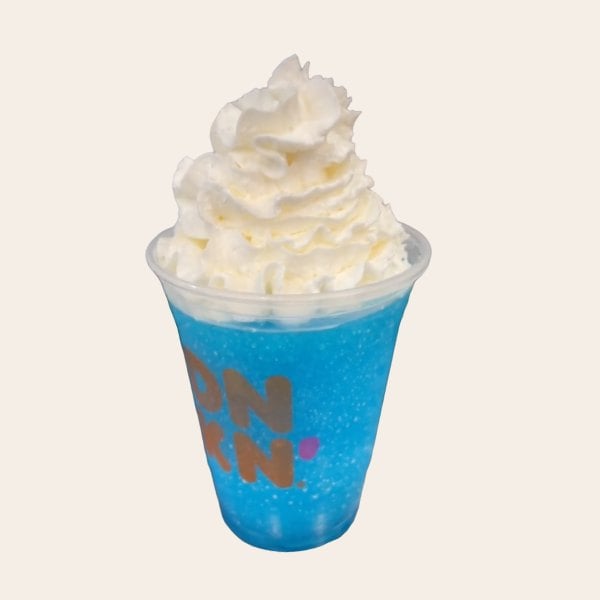 The Blue Raspberry has been around since 2010, but there are some divided opinions on its taste.(1) Some claim it tastes too much like artificial flavoring, while others find it refreshing and not too sweet.
It's made with Blue Raspberry Coolatta concentrate, liquid, and pure cane sugar, water, and preservative.
2. Strawberry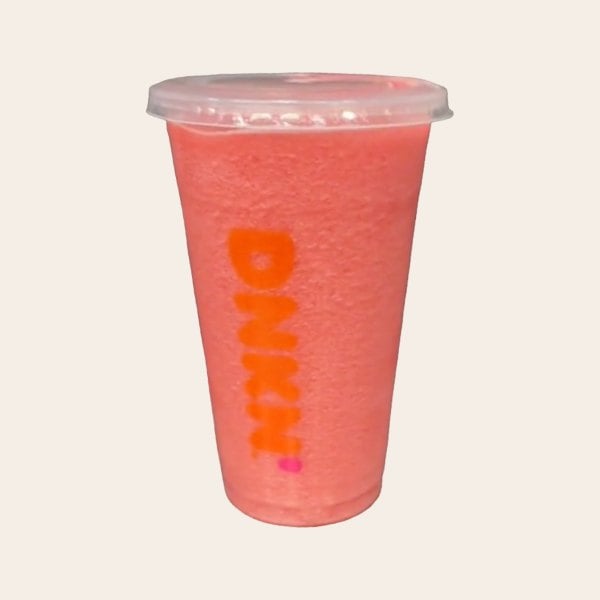 Strawberry Coolatta is the second staple on the menu and a crowd favorite. The consistency comes closer to a slushie rather than a smoothie and doesn't include real fruit.
Besides the base, it also includes lemon and lime juice concentrate, carrot concentrate, and paprika extract for color.
3. Vanilla Bean
Vanilla Bean is a classic that surprisingly tastes great blended frozen. This is the perfect option if you long for the taste but don't like a heavy drink. It's refreshing and creamy with a strong vanilla flavor.
Unlike the fruit flavors, this Coolatta contains dairy.
4. Cosmic Strawberry (Secret Menu)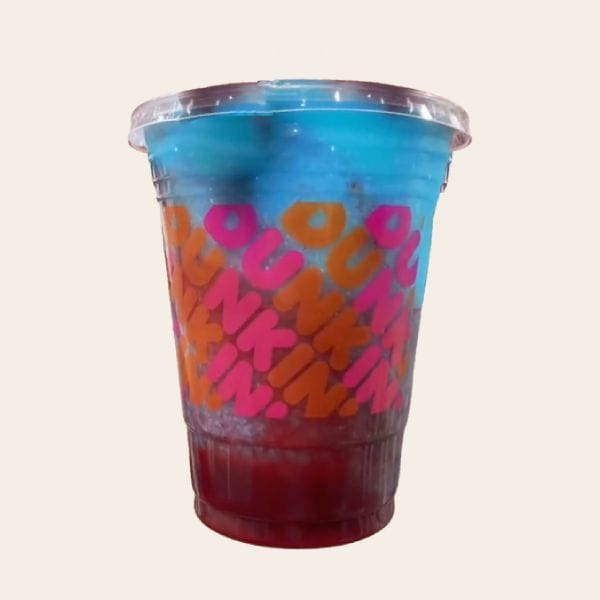 The Cosmic Strawberry is no longer part of the regular menu, but it can be custom-made. Ask the Dunkin crew if they can custom mix the flavors for you.
The recipe is simple, just mix Strawberry and Blue Raspberry Coolatta in equal amounts.
5. Strawberry Shortcake (Secret Menu)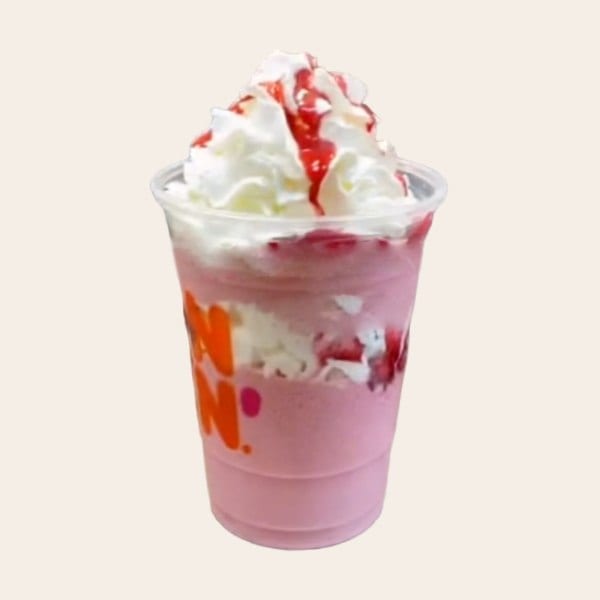 The strawberry shortcake is another secret menu item, but it's easy to order. Simply ask for 50% strawberry and 50% vanilla bean Coolatta in the same cup.
Treat yourself and add whipped cream on top for an extra creamy sip.
Orange Creamsicle (Secret Menu)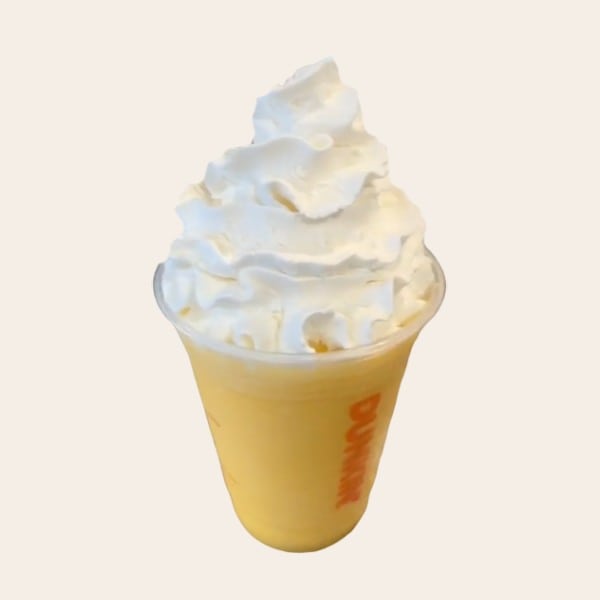 The orange creamsicle requires some extra effort on your side, but if you're a creamsicle fan, you'll love it. Order a Vanilla Bean Coolatta, an orange juice, and an extra cup. Mix the two in the empty cup.
Make it even creamier with a dollop of whipped cream.
Red, White, Blue (Secret Menu)
It can be 4th of July everyday at Dunkin'. This colorful drink combines all three staple flavors to create an insta-worthy drink.
Ask for a Strawberry Coolatta to be filled in the bottom third of the cup. Follow that with Vanilla Bean and finally Blue Raspberry in equal amounts!
---
Summary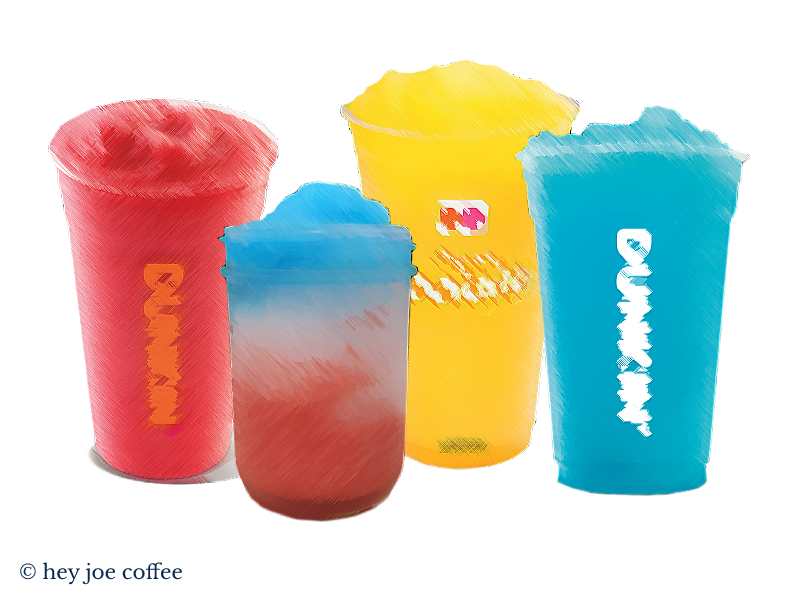 If you're not familiar with Dunkin's drinks menu, you probably wonder what is a Coolatta? The frozen blended drink emerged as a competitor to the frappuccino and evolved into a fruity refreshment.
There are 3 primary flavors at the moment, but you can mix and match them to create a new favorite.
---
More Questions
What is in a Coffee Coolatta from Dunkin Donuts?
The Coffee Coolatta is no longer available at Dunkin as of 2017.(2) According to management, they were not of satisfactory quality. Therefore, they discontinued them to introduce the new and improved frozen coffee selection.

The frozen coffee blends together Dunkin's coffee extract, liquid cane sugar, dairy, and ice.
Is a Coolatta a smoothie?
Coolatta is not a smoothie as it doesn't include real fruit. Instead, the texture is more like a slushie, lighter and watery. 

Instead, it is made with syrup or flavor concentrate which is then blended with ice. The ice is essentially what gives the frozen drink its texture.
Does a Coolatta have caffeine?
The current flavors don't contain any caffeine, as they don't include tea or coffee. However, Dunkin used to carry coffee Coolattas which were basically frozen coffees.

If you decide to customize a Coolatta with add-ons such as espresso or mocha, it will be caffeinated.
Verified Sources
Wondering where your info comes from? We totally understand. Hey Joe only obtains our information from reputable sources. Contents from this article are sourced from the following publications: