If you're looking to introduce something new to your palate this season, we suggest introducing Starbucks caffeinated teas. They can provide the caffeine boost you want with a zestier flavor.
Let's dive into the types of teas Starbucks offers and which are the caffeinated ones.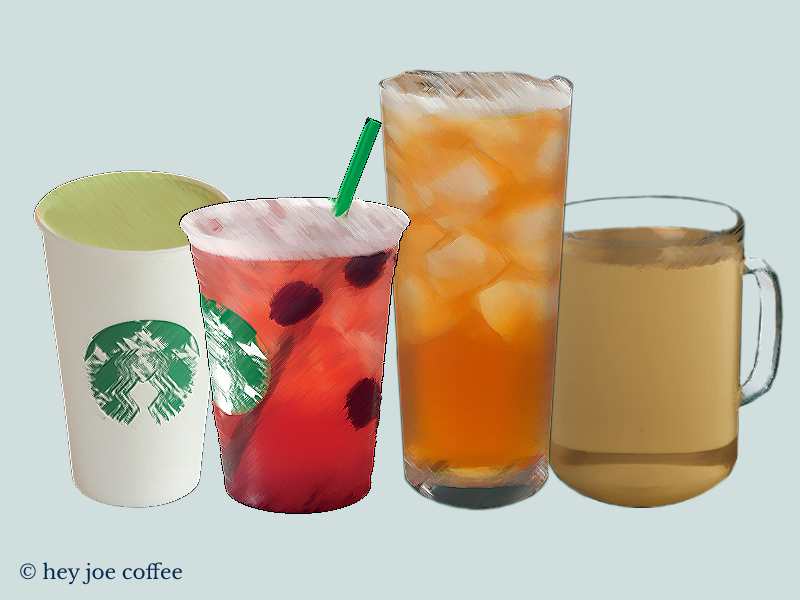 Topics Explored
Do Starbucks Teas Have Caffeine?
To clear things up, not all Starbucks teas are caffeinated. Starbucks has a long list of teas, including purely herbal teas that only include herbs, not tea leaves.
On the other hand, Starbucks teas and drinks made with tea leaves like matcha, black and green tea are rich in caffeine.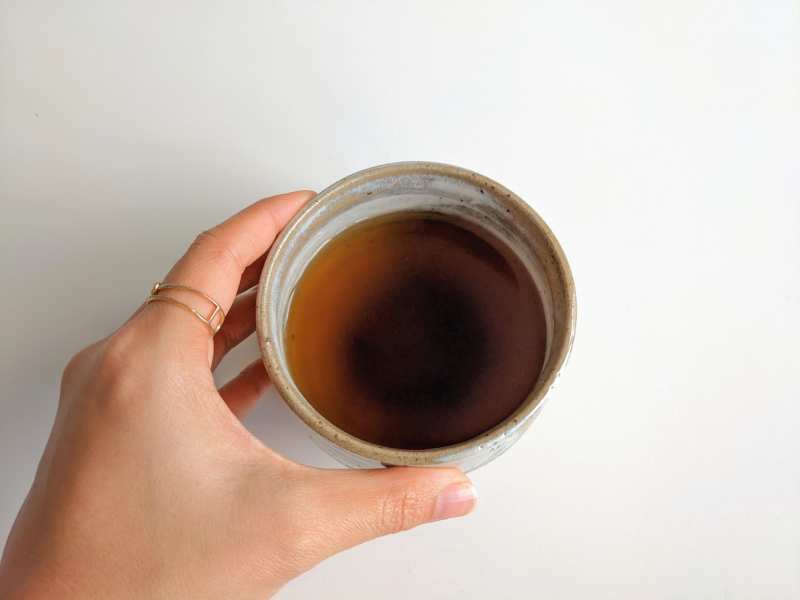 Starbucks started as a shop selling coffee beans, teas, and spices. However, the main focus switched to coffee until 2013, when Starbucks bought the tea company Teavana and put a greater emphasis on its teas. (1)
Although Starbucks closed all Teavana locations only 4 years later, it still offers a long list of iced teas and tea-infused beverages.
---
Top 10 Starbucks Caffeinated Teas
Sometimes coffee just doesn't seem appetizing, but you need that caffeine.
Introducing Starbucks caffeinated teas, with so much flavor and that punch you're looking for. We've included the caffeine content in a grande for each choice.
1. Iced Chai Tea Latte (95 mg)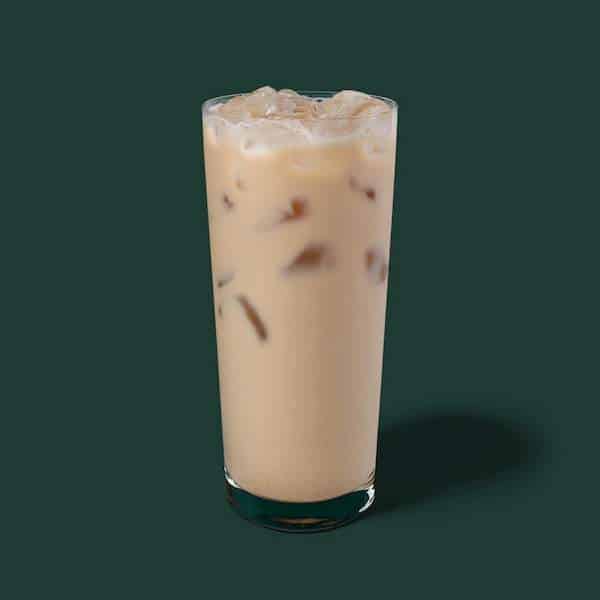 Iced chai tea latte is the most caffeinated tea Starbucks offers. A grande iced chai tea latte has the same amount of caffeine as an espresso shot, all coming from the pre-made chai syrup. The syrup contains black tea and other spices.
The hot version is slightly less caffeinated with 70 mg per grande.
Caffeine Amount:
Tall: 70 mg
Grande: 95 mg
Venti: 145 mg
2. Iced Matcha Tea Latte (80 mg)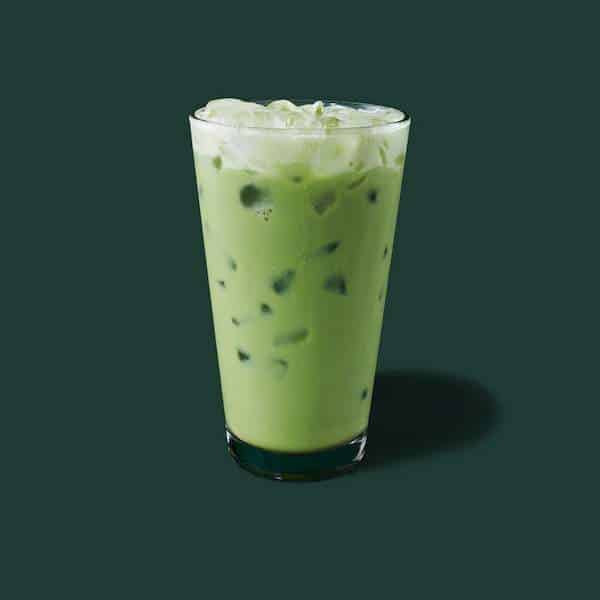 Iced matcha tea latte is made with matcha powder which is essentially milled green tea leaves. The rest of the ingredients include ice and milk, which leaves the caffeine content relatively at 80 mg per grande.
If you want to cut some caffeine, go for the hot version, which comes at 50 mg of caffeine per grande.
Caffeine Amount:
Tall: 55 mg
Grande: 80 mg
Venti: 110 mg
3. Iced Matcha Lemonade (80 mg)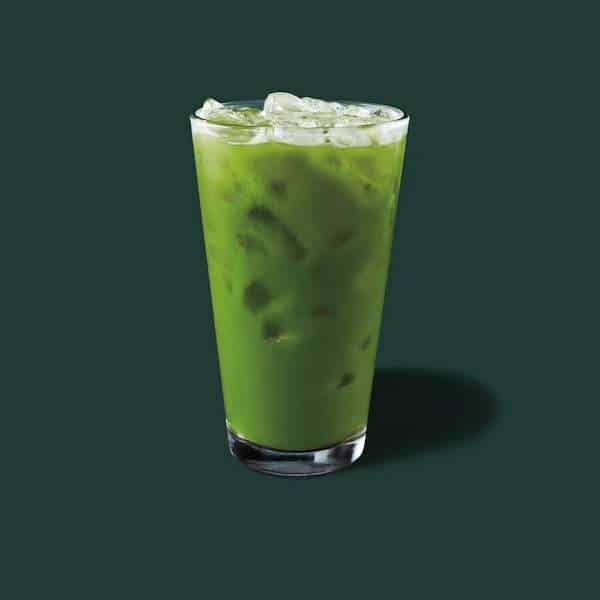 Iced matcha lemonade comes in third and includes the same ingredients as matcha tea, except the milk. Although there is a significant difference flavor-wise, there's no difference in the amount of matcha powder.
The caffeine content of the iced matcha lemonade is the same as the iced matcha tea.
Caffeine Amount:
Tall: 55 mg
Grande: 80 mg
Venti: 110 mg
4. Chai Tea (40 mg)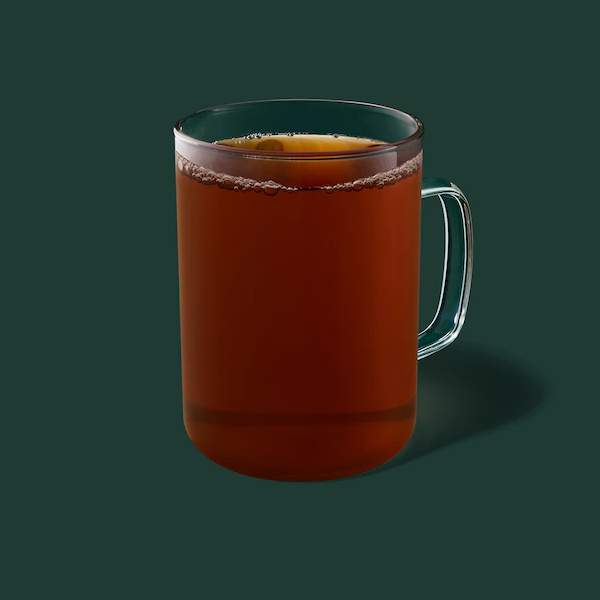 Chai tea is steeped black tea infused with a handful of warming spices. The caffeine comes purely from the black tea leaves.
The overall caffeine content is lower than chai tea latte, as the chai tea bags release less caffeine than the premade syrup.
Caffeine Amount:
Tall: 40 mg
Grande: 40 mg
Venti: 40 mg
5. Iced London Fog Tea Latte (40 mg)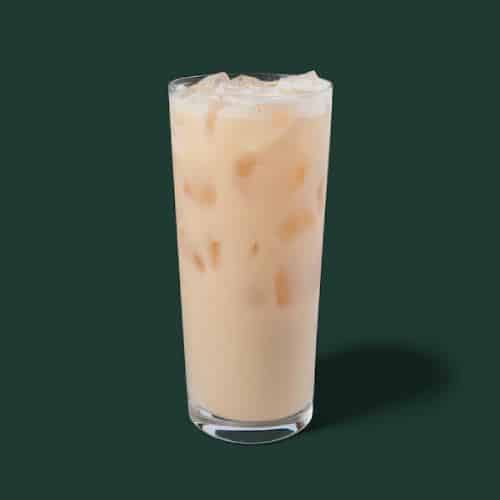 The iced London fog tea latte is made using the classic Earl Grey tea bags, vanilla syrup, milk, and ice. The caffeine in the drink comes solely from the Earl Grey tea.
The hot version of the London fog latte has the same amount of caffeine as the iced one.
Caffeine Amount:
Tall: 40 mg
Grande: 40 mg
Venti: 40 mg
6. Royal English Breakfast Tea (40 mg)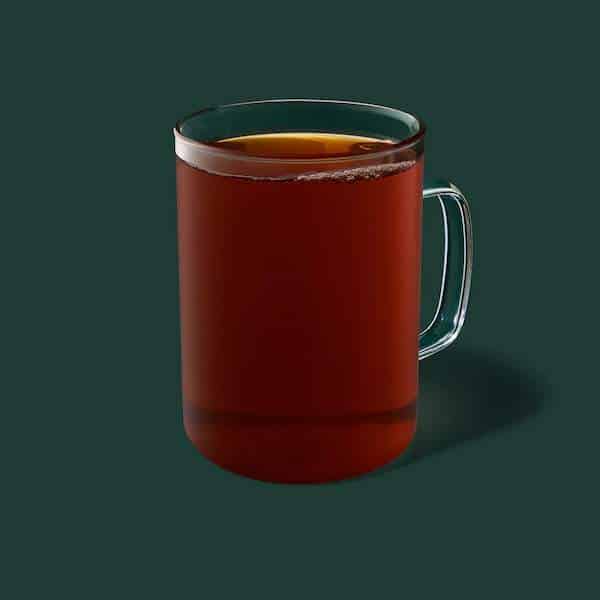 Steeped English breakfast tea bags with added milk make this royal tea experience. The caffeine comes from the tea blend, which includes various types of black tea.
The iced and hot versions of the royal English breakfast tea contain the same amount of caffeine.
Caffeine Amount:
Tall: 40 mg
Grande: 40 mg
Venti: 40 mg
7. Iced Black Tea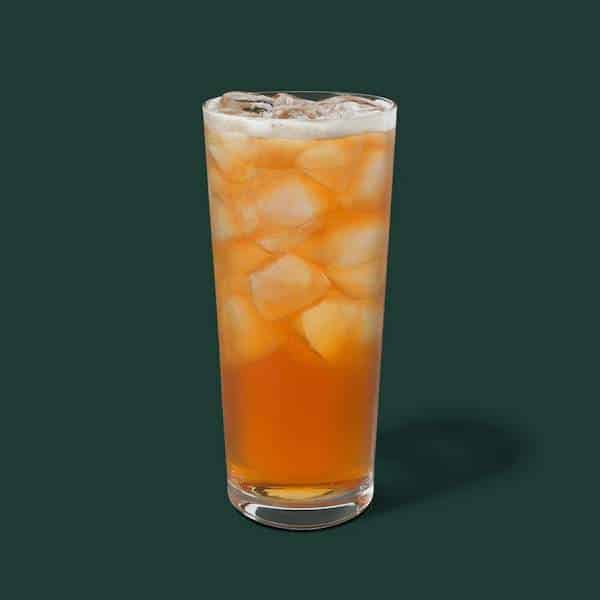 Iced black tea is one of the healthiest teas you can get at Starbucks. It contains no additions like sugar, sauces, and syrups.
Additionally, it comes with one of the lowest caffeine content, only 25 mg per grande.
Caffeine Amount:
Tall: 20 mg
Grande: 25mg
Venti: 40 mg
8. Iced Peach Green Tea Lemonade (25 mg)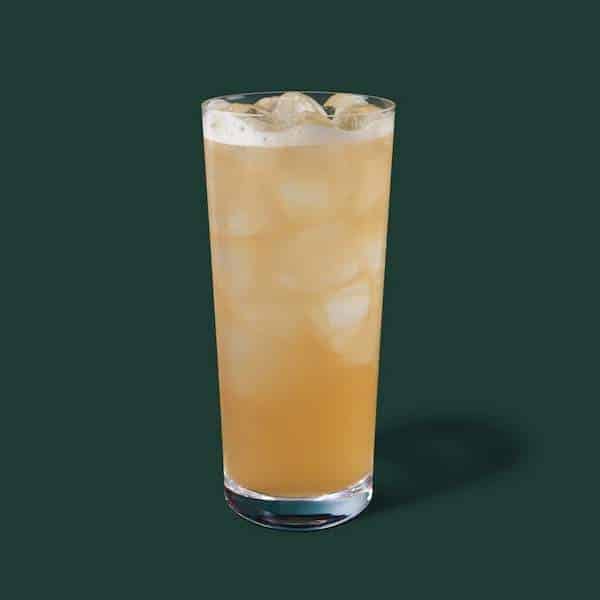 Iced peach green tea lemonade is an infusion of flavors, including peach juice, lemonade, and the Starbucks refresher base. The caffeine comes from the refresher base, which includes green coffee.
The non-lemonade version has the same amount of caffeine. Beware that this tea drink comes with a slightly higher calorie count.
Caffeine Amount:
Tall: 20 mg
Grande: 25mg
Venti: 40 mg
9. Jade Citrus Mint Brewed Tea (16 mg)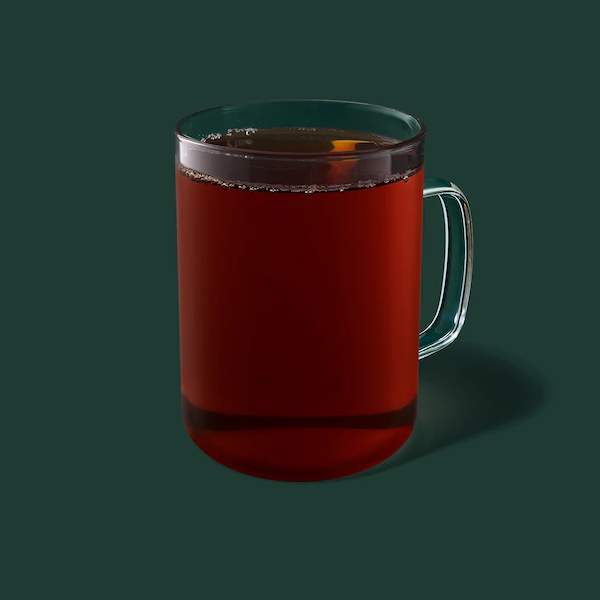 Jade citrus mint brewed tea is made by steeping a blend of green tea, mint, lemongrass, and lemon verbena. The tall and grande sizes include one tea bag, while the venti is made with 2 tea bags.
The caffeine comes from the green tea leaves, which are not dominating, so there's only 16 mg of caffeine.
Caffeine Amount:
Tall: 16 mg
Grande: 16 mg
Venti: 40 mg
10. Emperor's Clouds & Mist (16 mg)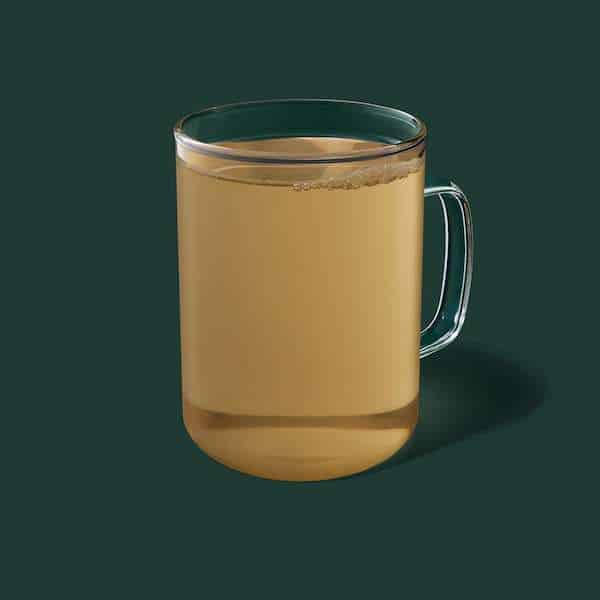 The Emperor's Clouds & Mist comes in last in caffeine count. Behind this mystic name is a soft, mild green tea blend with smoky and floral notes. The grande and venti sizes are made steeping 2 bags in water, while the tall uses only one tea bag.
The caffeine comes only from the green tea, so the tall size is the least caffeinated.
Caffeine Amount:
Tall: 1 mg
Grande: 16 mg
Venti: 16 mg
---
Other Popular Teas & Their Caffeine Content
The list of Starbucks teas doesn't stop here. Some are quite popular, like passion tea, hibiscus tea, and more. If you're interested in their caffeine content, read along.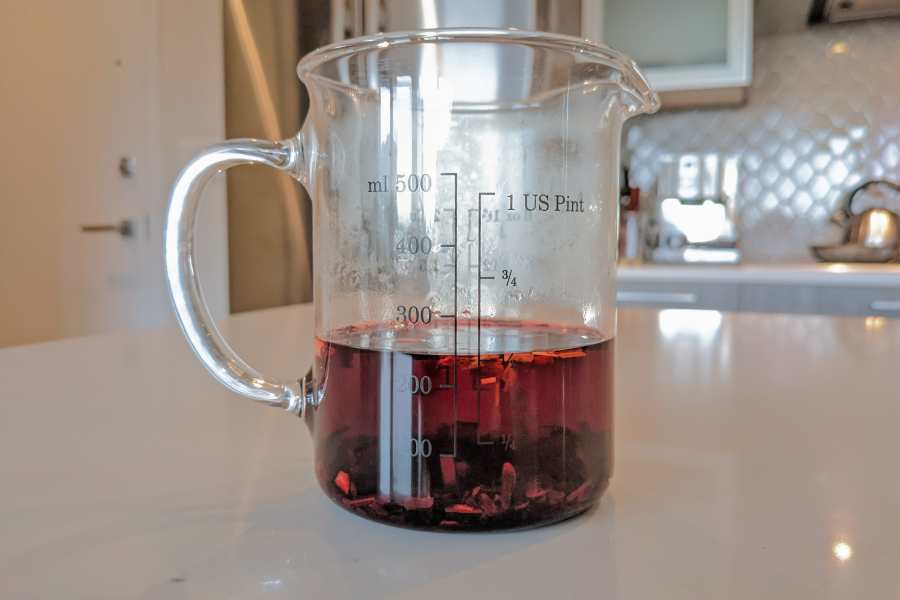 Does Starbucks Passion Tea have caffeine?
Iced passion tea is a herbal tea, an infusion of hibiscus flowers with the addition of fruit juice extract, lemongrass, and some spices like cinnamon. It's available in a bottled version in major grocery stores.
There's no caffeine in the iced passion tea you can order at Starbucks and the bottled version.
Does Starbucks green tea have caffeine?
Green tea naturally contains caffeine, so the green tea at Starbucks comes at 25 mg per grande. The caffeine content comes close to the Starbucks black tea. (2)
Matcha is made from green tea leaves raised in the shade with higher chlorophyll levels and has substantially higher caffeine content, almost double the caffeine of regular green tea.
Does Starbucks Hibiscus Tea have caffeine?
Hibiscus tea is herbal tea, so it doesn't contain caffeine on its own. You can even buy Teavana hibiscus tea, which Starbucks uses in store, from major grocery chains.
However, if you're thinking about Hibiscus Refreshers, those contain caffeine coming from the refresher base which is made with added green coffee extract.
---
Summary: Starbucks Caffeinated Teas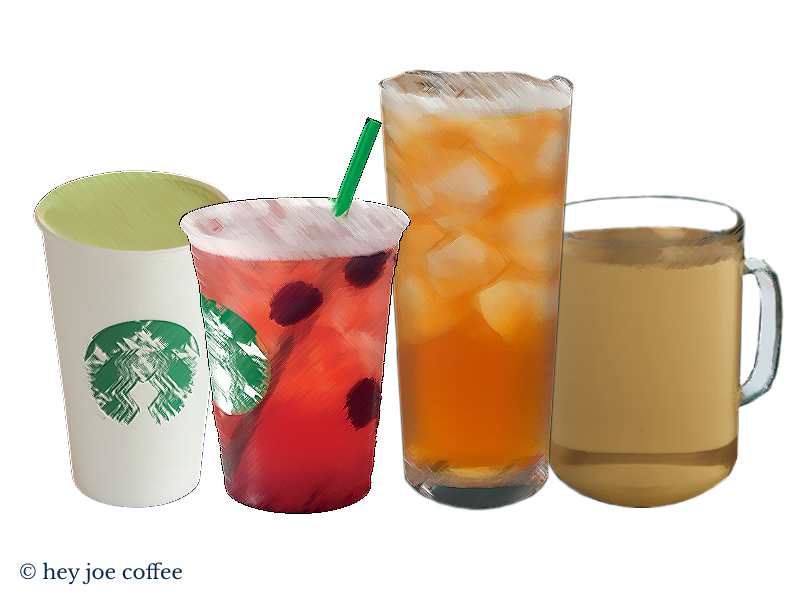 Starbucks caffeinated teas do a great job at providing pleasing flavor and a good caffeine punch. Some are more caffeinated than others, so if you're looking for a midday pick-me-up, go for iced chai or matcha tea latte.
For the evenings, play safer and pick a cup of Jade citrus mint or iced peach green tea.
---
FAQs
What Starbucks tea wakes you up?
If you're looking to swap your morning espresso for tea, go for a chai tea latte or matcha latte. They're both packed with caffeine, around 95 and 10 mg per grande.

Although the flavor is different, the caffeine will give you a similar jolt as a cup of brewed coffee.
Does Starbucks Peach Tranquillity tea have caffeine?
Peach Tranquility doesn't contain any caffeine. It's a herbal tea with no addition of black or green tea.

Each tea bag contains apple, pineapple, and peach chunks, chamomile, rose hip, and lemon verbena. You can find them at any online retailer, at Starbucks locations, or large retailers.
Which Starbucks iced tea has the most caffeine?
The Starbucks iced teas with the highest caffeine content are the chai tea latte and matcha latte. 

If you like more caffeine, you can even add a shot of espresso to the chai tea latte, making it dirty chai. This will bring the overall caffeine content of a grande to 150 mg.
Verified Sources
Wondering where your info comes from? We totally understand. Hey Joe only obtains our information from reputable sources. Contents from this article are sourced from the following publications: