Caramel will always be the holy grail of condiments, whether as a topping or blended into coffees. There's no middle ground with caramel – you either love it or despise it. We happen to love caramel, and our newest obsession is any Caramel Iced Coffee Starbucks offers.
Why? The vast selection of drinks allows you to mix and match until you get to that sweet spot.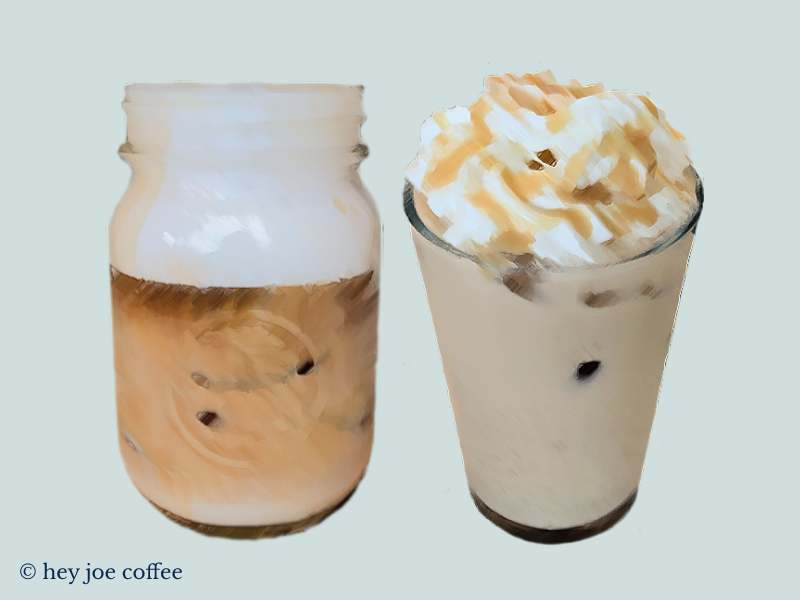 Topics Explored
What Are Caramel Iced Coffees At Starbucks?
An iced caramel coffee at Starbucks is any coffee with added caramel flavor. The flavor comes from caramel syrup or sauce, depending on the recipe.
It's one of the most popular ingredients at Starbucks and is often requested as an add-on.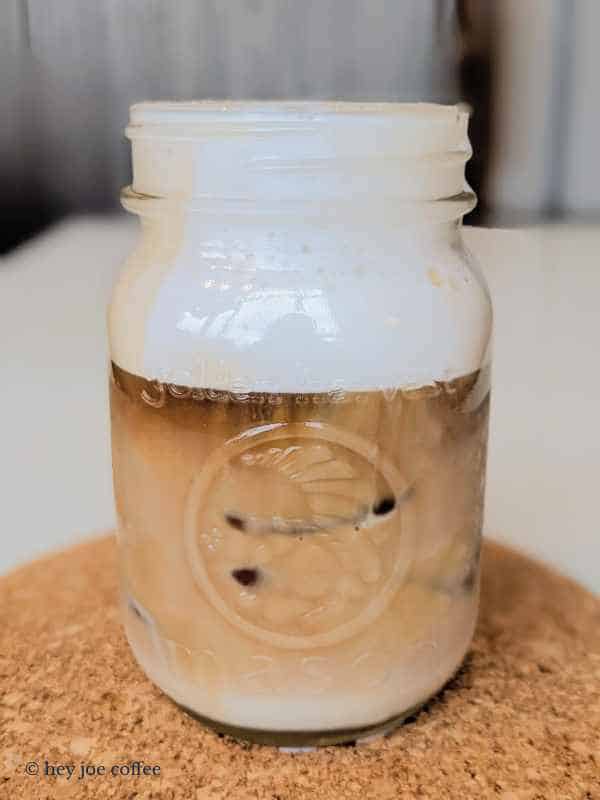 Caramel frappuccino put the spotlight on caramel flavoring in iced coffees. For reference, frappuccinos were introduced back in the 1990s.
Many new drinks that included caramel ensued, but most of them were hot versions. Frappuccinos traced the path for the iced coffee and caramel cross. Today you can experiment with caramel shots in any iced coffee.
---
Caramel Iced Coffee Starbucks (Full List of Drinks)
If you're not keen on experimenting, you should try some Caramel Iced Coffee Starbucks already offers.
The choice can be overwhelming, so we explain what goes into each and what to expect. If you're a caramel fan, you'll go through the list quickly!
Iced Caramel Macchiato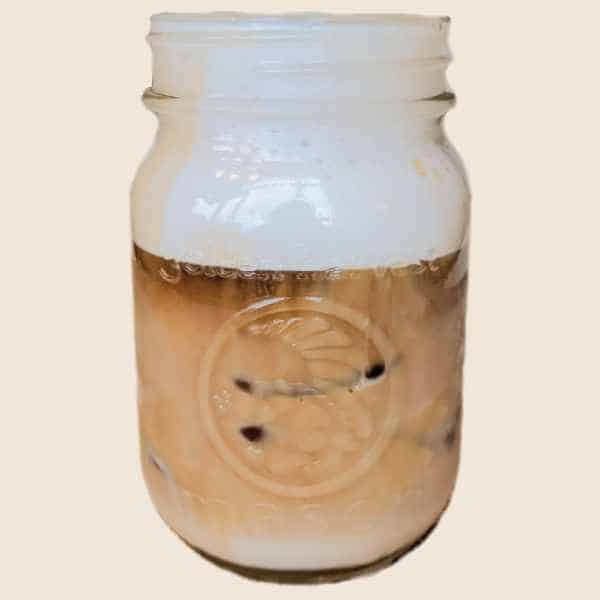 The iced caramel macchiato starts with vanilla syrup, milk, ice, and two espresso shots for a Grande size. It's finished with a rich caramel drizzle.
Ask the barista to make it upside down if you want more caramel flavor, so the caramel drizzle comes at the bottom. You can also get it stirred, but that adjustment takes out some caramel.
Salted Caramel Cream Cold Brew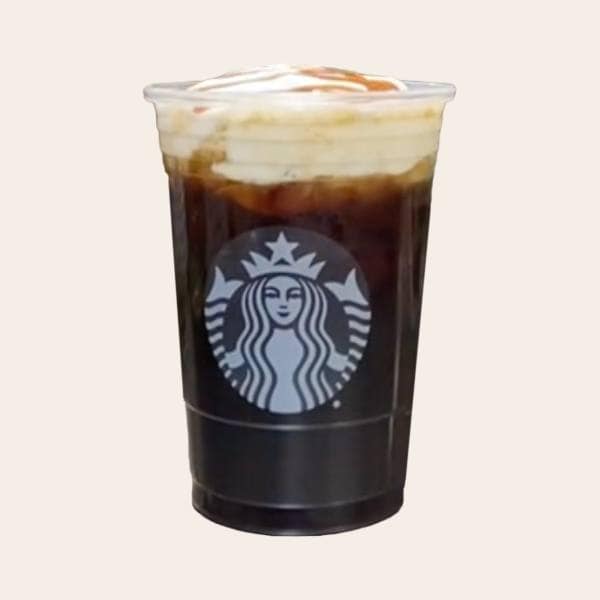 This drink combines iced cold brew with vanilla syrup and salted caramel cold foam. If you like this flavor combination, you'd probably enjoy the coffee.
When the two parts combine, you end up with a creamy, slightly sweet drink. But it's not for all taste buds as the salt can be overpowering, defeating the caramel flavor.
Caramel Frappuccino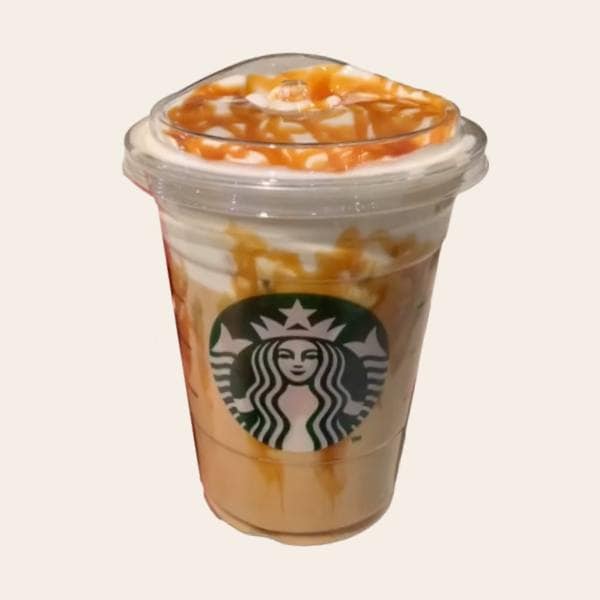 The Caramel Frappuccino is what endorsed caramel flavoring. It includes frap roast, milk, caramel syrup, caramel drizzle, and whipped cream.
This blended iced drink packs a lot of caramel flavor but lacks coffee. If you want it more caffeinated, ask to have it affogato style with an espresso shot on top.
Iced Caramel Brûlé Latte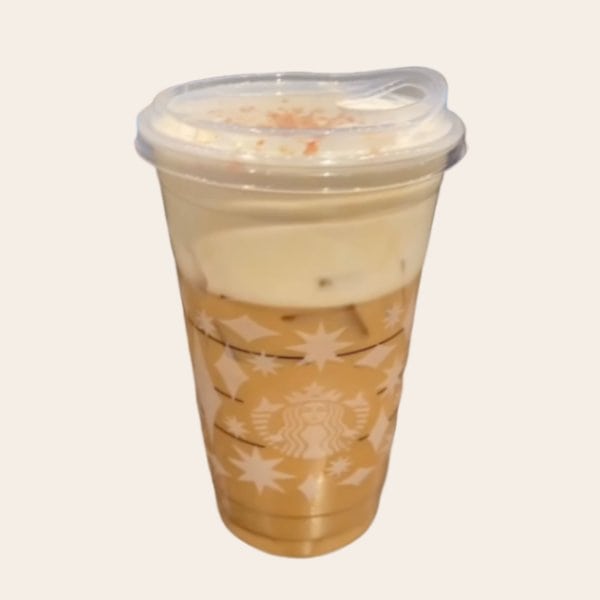 If you have a sweet tooth, you'd love the iced caramel brulée latte. It brings together 2 espresso shots, milk, and 4 pumps of caramel brulée sauce.
The best is saved for last – whipped cream topped with caramel brulée bits! You can also ask to get it in a frappuccino version.
Caramel Ribbon Crunch Frappuccino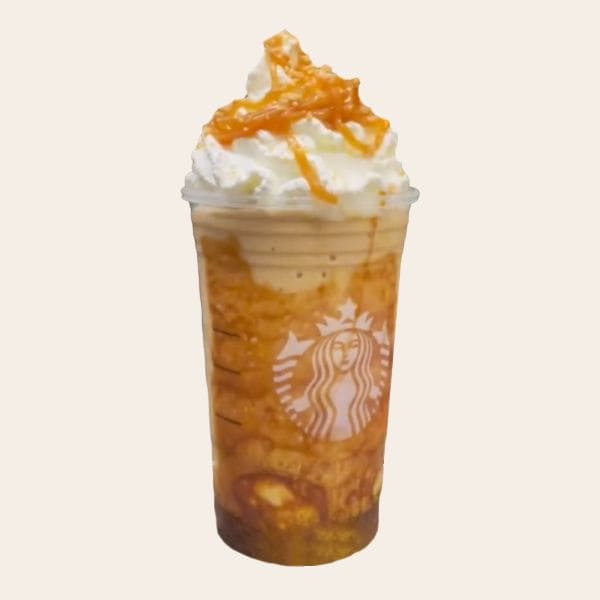 Get all the caramel with the caramel ribbon crunch frappuccino. The frap roast gets blended with caramel syrup, milk, and ice. Then it's topped with dark caramel sauce, whipped cream, caramel drizzle, and caramel sugar.
Taste-wise it comes close to the classic caramel frappuccino. However, the dark caramel gives it a bitter note.
Iced Shaken Espresso With Caramel Syrup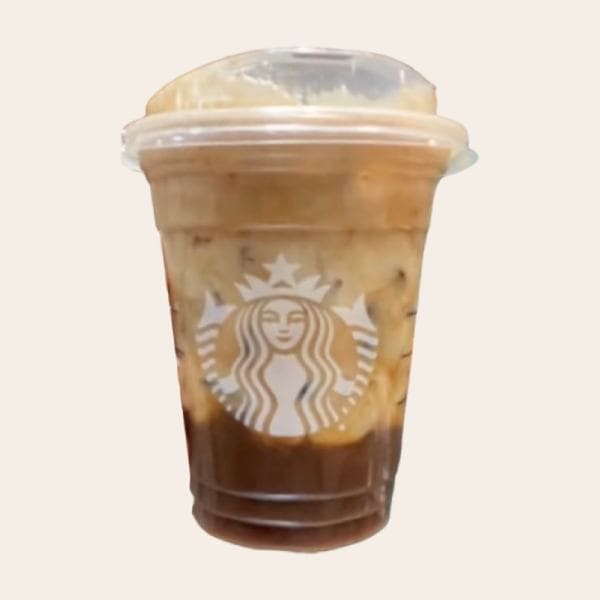 The iced shaken espresso is a relatively new drink. A Grande includes 3 espresso shots, 4 pumps of caramel syrup, a touch of milk, and ice.
It's a very sweet coffee with an intense caramel flavor and creamy texture. The high caffeine content combined with the sugar is a guaranteed pick me up.
---
How To Make An Iced Caramel Macchiato (Elevated Version)
Take your love for caramel drinks to the next level and learn how to make an iced caramel macchiato with our foolproof recipe. It includes simple ingredients, an easy process, and a glass full of deliciousness. Let's dive in!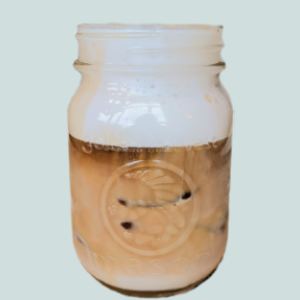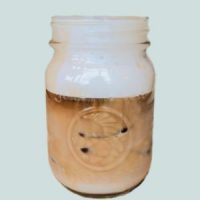 Elevated Iced Caramel Macchiato (Starbucks Copycat)
This twist on the Starbucks Iced Caramel Macchiato recipe will have you sinking your lips into pillowy milk foam at every sip.
Ingredients
Ice
Whole Milk: ½ cup
Espresso: 2 shots
Vanilla Syrup: 1 oz
Caramel Sauce
Instructions
Get your favorite Vanilla syrup. Since it's one of the most popular syrups, Starbucks sells it at almost all of their locations and online.
In a tall glass pour 1 oz of the vanilla syrup. Then add the ice. Fill up ¾ of the cup leaving enough space for the liquids.
Get your milk and a handheld frother (or a french press* in our case). You're going to froth the milk cold. Frothed milk gives a creamier texture to the drink.
Transfer the milk to the glass with ice and vanilla syrup. Now brew your espresso shots. You can use a moka pot, regular espresso machine, or even capsules.
Pour the espresso shots gently over the milk. If you frothed the milk well, the espresso would fall to the bottom of the glass.
It's time for the final touch. Take your favorite caramel sauce and drizzle a good amount on top. Drop a reusable straw in and enjoy!
Notes
* To froth your milk in a french press, simply pour in the milk and pump the plunger vigorously.
---
Caramel Sauce vs Caramel Syrup
Caramel Sauce
Caramel Syrup
Flavor & decorative purposes
To flavor drink
Higher viscosity
Less runny
Low viscosity
Runny
Ingredients:
– Butter
– Heavy Cream
– Sugar
– Water
Ingredients:
– Sugar
– Water
Caramel Sauce
Caramel sauce and syrup often get confused.(1) Caramel sauce is thicker and adds more body to the drink. But it also clumps up in iced drinks.
You can use it to coat the glass walls before pouring the drink. Unfortunately, the sauce is harder to find as Starbucks doesn't sell theirs. But you can find other brands online or do it yourself.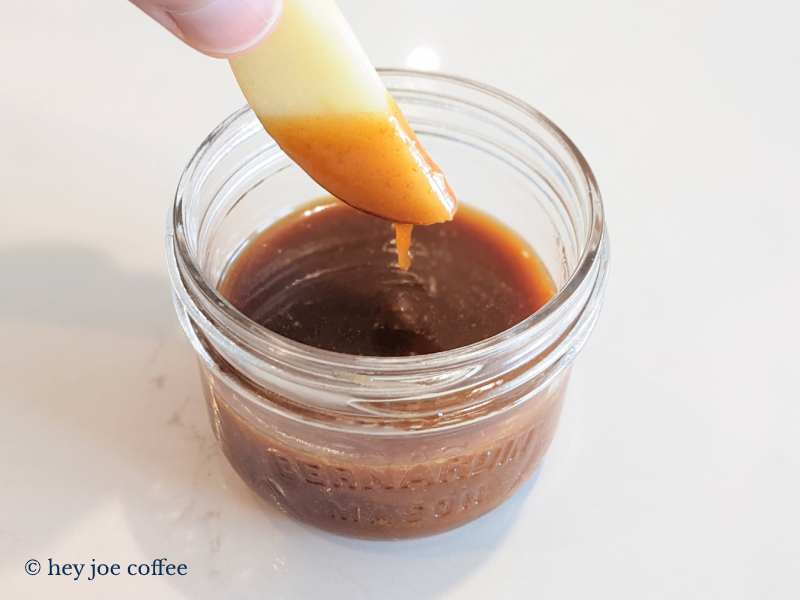 Caramel Syrup
Caramel syrup is more fluid since it's made of sugar, water, and flavoring.(2) Due to its low viscosity, it blends well in iced and hot drinks.
You can't use it for decoration, but it finds many uses around the kitchen, such as baking. When you order a flavored coffee in Starbucks, the flavor most likely comes from a syrup.
---
Final Words
You know that coffee and caramel are a winning duo. But, until the introduction of caramel frappuccino, the flavor was reserved for the warm, comforting drinks.
Today, the frappuccino is not the only caramel iced coffee Starbucks offers. The vast list provides choices for all taste buds. You can even ask for a shot in your regular iced coffee.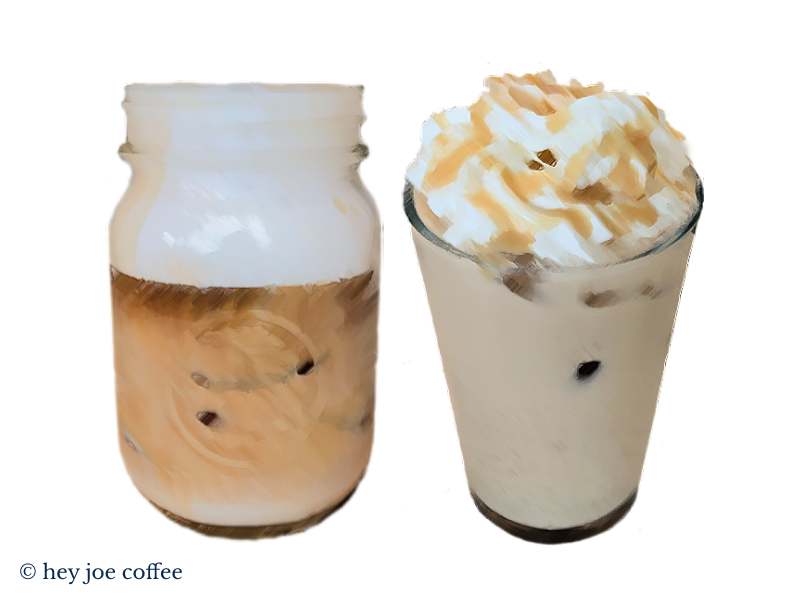 ---
More Questions
Does Starbucks have caramel iced coffee?
Starbucks has a long list of caramel iced coffees. The caramel frappuccino and the iced caramel macchiato are among the most popular choices.

Depending on your liking, you can get a more caffeine-rich option like the iced shaken espresso. If you prefer a sweeter choice, go for the iced caramel brulée latte.
What is in Starbucks caramel iced coffee?
It's hard to answer with certainty as there are many caramel iced coffees. However, they all have some common ingredients: ice, coffee or espresso, and caramel syrup or sauce.

The coffees can contain regular or alternative, plant-based milk. Some of them are topped with whipped cream and toppings like caramel bits.
How to order a caramel iced coffee at Starbucks?
The simplest way is to read our list and choose some options. If you don't find something you like, you can make your own iced caramel drink.

Order an iced coffee, like cold brew, as a base. Ask your barista to add caramel syrup instead of classic. Ask for a caramel drizzle on top.
Verified Sources
Wondering where your info comes from? We totally understand. Hey Joe only obtains our information from reputable sources. Contents from this article are sourced from the following publications:
Roasty Coffee: https://www.roastycoffee.com/starbucks-sauce-vs-syrup/