You know that feeling when you're craving something sweet, refreshing, and oh-so-satisfying? Well, that's exactly how I feel about Dutch Bros Frost drinks.

Since they are only an occasional treat for me, I'm super picky about what I order.

So today, I'll be sharing my handpicked list of Dutch Frost favorites. And just for you, I've also got some secret menu items up my sleeve!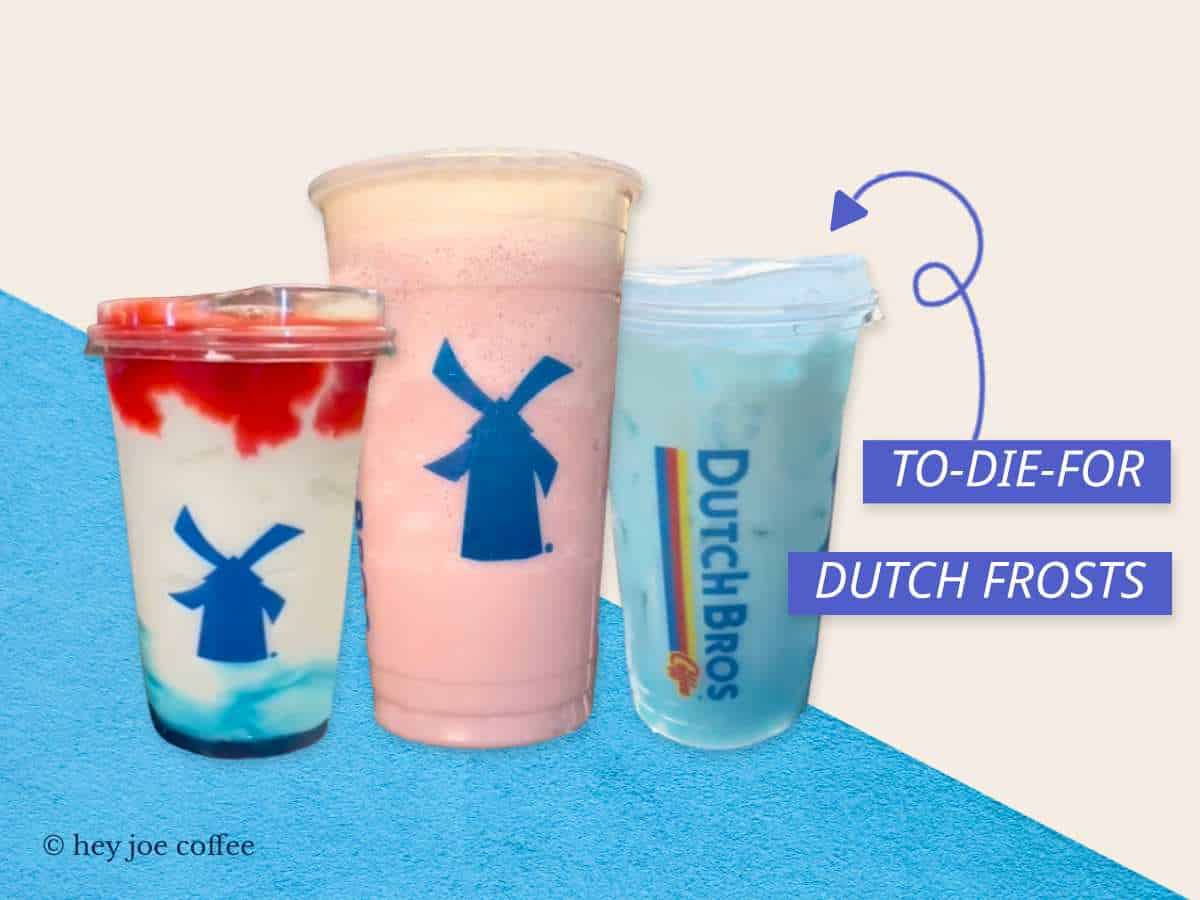 Topics Explored
Dutch Bros Frost 101
Let's begin by explaining what a Dutch Frost essentially is.

For the uninitiated, it's a sweet, milky, blended shake with countless flavor combinations to explore.
The best part? Almost any Dutch Bros drink can be transformed into a frost – just ask your bro-ista.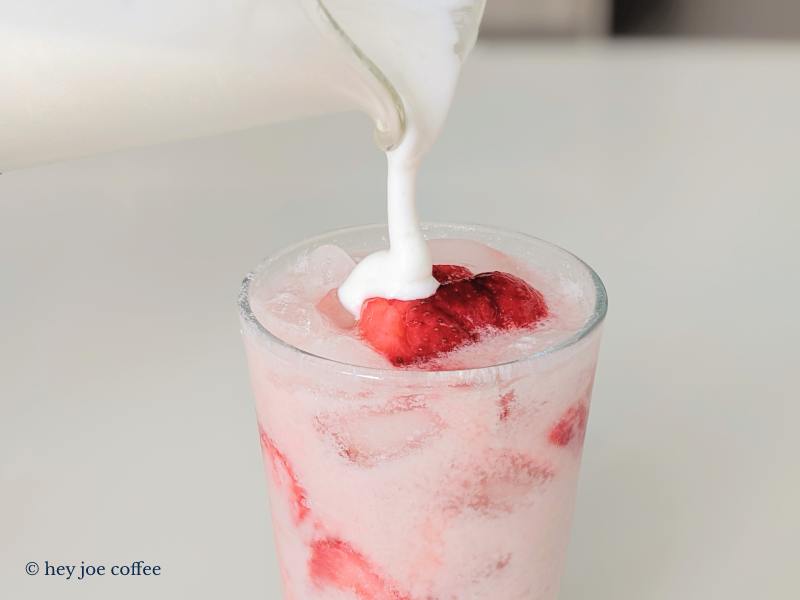 I still remember my first taste of Dutch Frost. It was during a visit to Seaside, a charming town on the Oregon Coast.

I kept it simple and ordered the classic strawberry frost. But what made it truly special was savoring it while gazing out over Cannon Beach.
Is a Dutch Frost a Milkshake?
I found myself asking the same question at first. And the answer is yes. The frost is indeed a milkshake but with a unique twist!
As Dutch Bros' own rendition of a classic shake, you can expect something exciting and out-of-the-ordinary.
The main ingredient is ice cream, but their flavors and mix-ins take the Frost to a whole new level of deliciousness.
---
Dutch Frost: Drink Profile
Having explored the basics, we'll look into the four characteristics that make up the Frost.
We'll uncover the distinct ingredients that lend it its character, explore its unique taste profile, and walk you through its preparation process.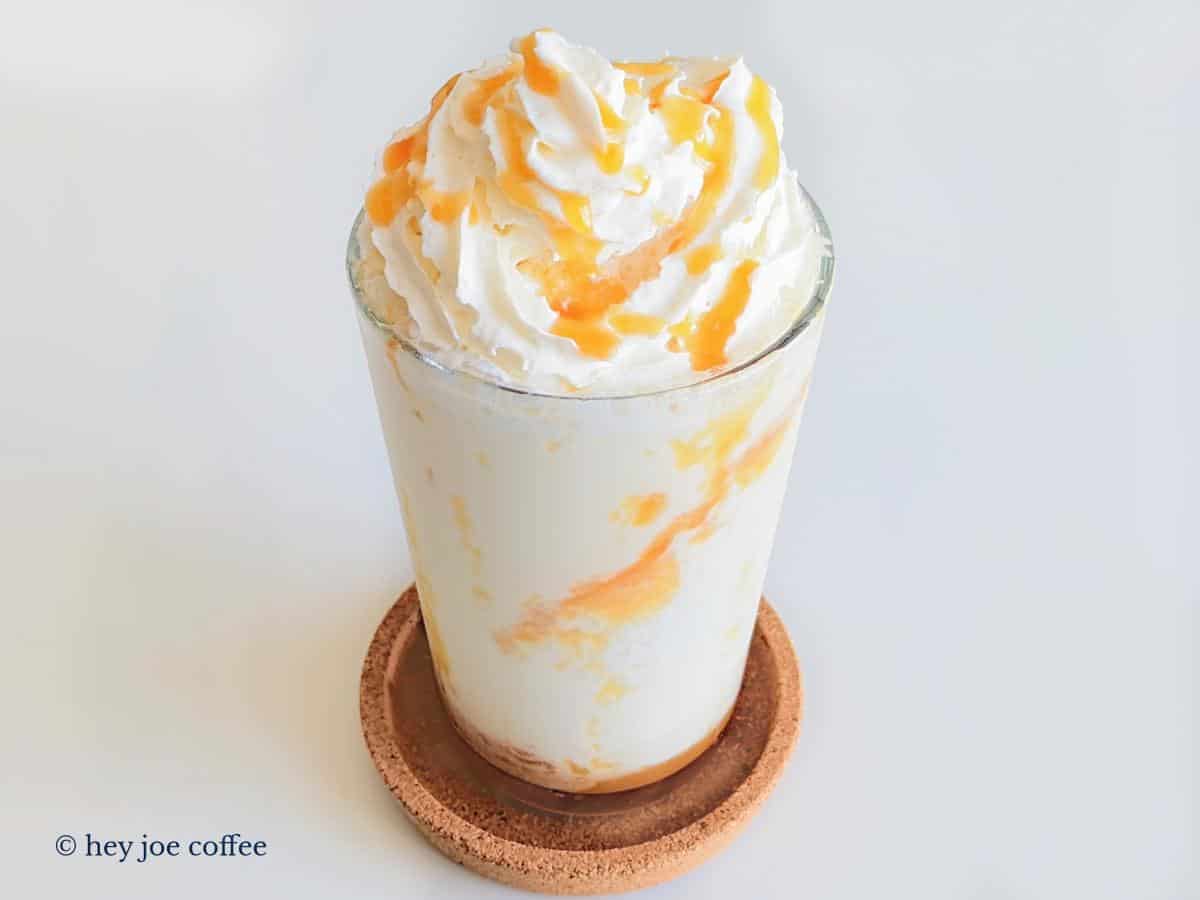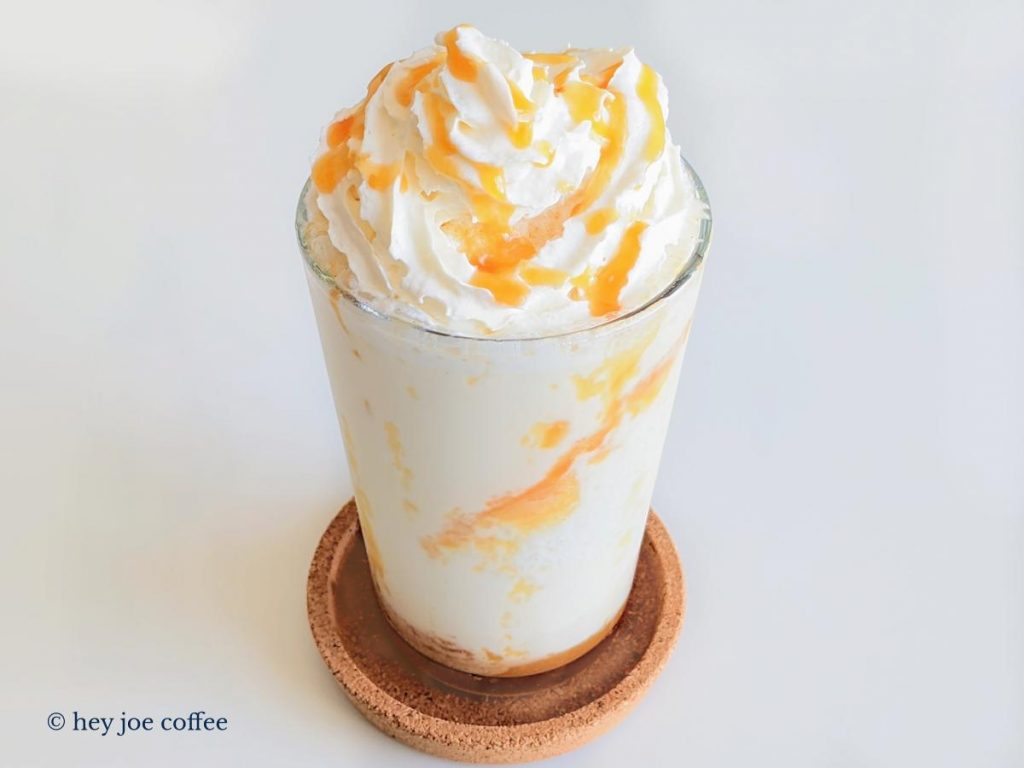 Ingredients
First, Dutch Bros' ice cream mix takes center stage.
This frosty base gains its distinctive flavor from various syrups and sauces, blended together to create a smooth and creamy texture.
You'll find fruity, chocolatey, and classic options to choose from. Plus, you can even customize your frost by adding a variety of toppings and drizzles.
What It Tastes Like
Dutch Bros Frost is a creamy delight with a taste that varies based on the flavor syrups you choose.
A vanilla-like ice cream mix is the base, its sweetness, and creaminess setting the stage. Choose a flavor from the menu or pick your own, and the Frost transforms into a next-level treat.
Want it extra sweet or with extra flavors? Just ask! The bro-istas will amp up the flavor and sweetness, making your Frost even more irresistible.
How Its Made
Each Dutch Frost begins with their proprietary ice cream mix.
Next, the bro-istas blend in flavor syrups based on your order. Any flavor customizations will also be added at this stage.
Finally, it's topped off with whipped cream. However, you're in control! You can choose to swap the whipped cream for a soft top or add an extra drizzle of flavor.
Nutrition information
Yes, it is a tasty treat, but be mindful of the calories!

These delicious drinks pack quite a punch, ranging from 400 to a whopping 1000 calories all thanks to the ice-cream mix.
Enjoy your Frost, but remember to keep it balanced!

Your choice of flavor and size makes a big difference. So, if you're watching your waistline, consider opting for a smaller size or a lighter flavor.
---
Best Dutch Frost Drinks: Standard Menu
Ready for our frosty adventure?

From the minty coolness to creamy, rich vanilla or the nostalgic sweetness of your childhood – get ready to explore the deliciously diverse world of Frosts.
1. Cotton Candy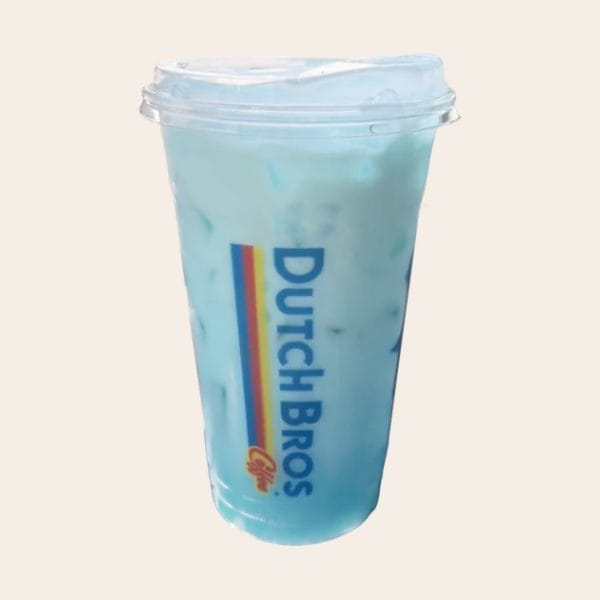 The taste of the Cotton Candy Frost may come across as a tad artificial to some. However, it carries a nostalgic flavor that I personally find enjoyable.

It's typically made with blue raspberry flavor and white chocolate sauce.
Pro Tip:
Here's the exciting part – if you request a switch from blue to red raspberry, you'll be treated to a vibrant pink drink.
Ingredients:
Blue raspberry syrup
White chocolate sauce
Ice-cream mix
2. Ninja Frost
Prepare yourself for the Ninja Frost—a minty blend of creme de menthe syrup and luscious white chocolate sauce.
The closest comparison I can draw would be the peppermint white mocha or a Thin Mint cookie. So if you're in the mood for something refreshing, give this frost a try.
Pro Tip:
Although creme de menthe is typically alcoholic, this version is alcohol-free, making it suitable for all ages.
Ingredients:
Creme de menthe syrup
White chocolate sauce
Ice-cream mix
3. Snickerdoodle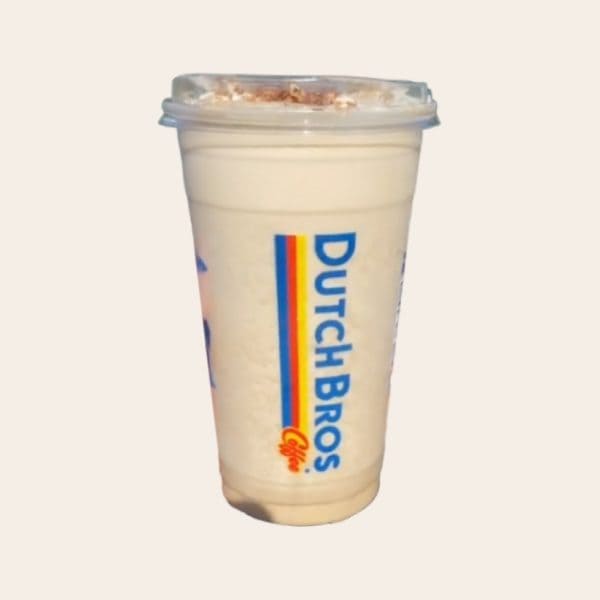 Combining cinnamon, white chocolate, and chocolate macadamia nut syrup, the Snickerdoodle is a match made in Frost heaven.

It's a creamy blend of warm flavors contrasted with the cold ice cream mix, reminiscent of fall in an icy cup.
Pro Tip:
For a unique twist, add a shot of espresso. And voila, you've got yourself a cinnamon coffee crisp
Ingredients:
Cinnamon syrup
Chocolate macadamia nut syrup
White chocolate sauce
Ice-cream mix
4. White Zombie Frost
As a White Zombie lover, ordering the Frost version is a no-brainer (dad joke of the day!)

The drink is made from a blend of vanilla and white chocolate syrup, creating a creamy and cakey flavored beverage.
Pro Tip:
Love cappuccinos? I recommend adding a shot of espresso to the Frost for a cappuccino-like milkshake.
Ingredients:
Vanilla syrup
White chocolate sauce
Ice-cream mix
5. Strawberry Lavender Frost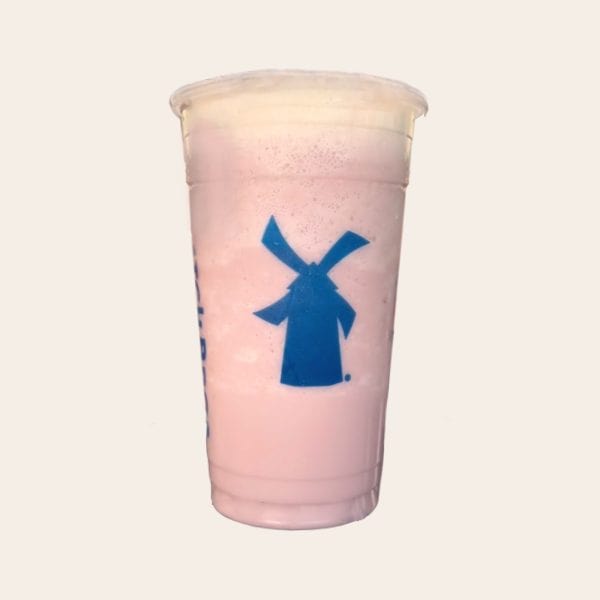 Now, let's talk about a new kid on the block – Dutch Bros Strawberry Lavender Frost. The drink is a blend of fruity and floral notes.

Some might find it slightly perfumey, but I don't mind it. The strawberry is sweet and refreshing, while the lavender reminds me of Earl Grey.
Pro Tip:
If the floral taste is not your thing, you can ask for more strawberry or extra whip to balance it out.
Ingredients:
Strawberry syrup
Lavender syrup
Ice-cream mix
Dutch Bros Frost: Secret Menu
6. Freedom Frost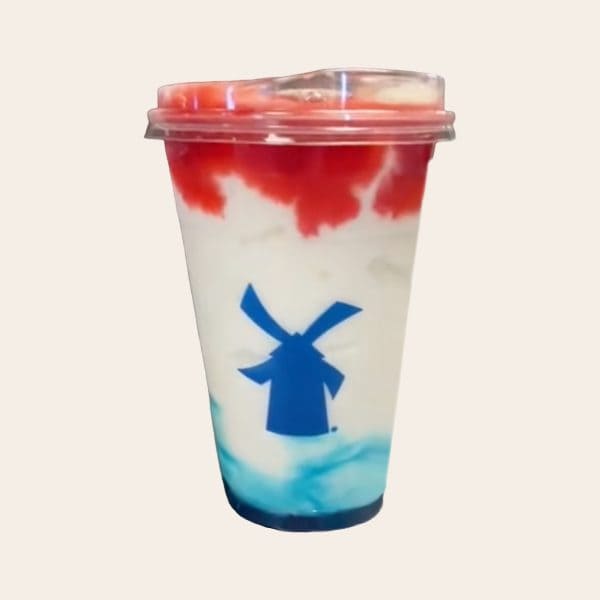 Every day can feel like the 4th of July with the Freedom Frost, a secret menu frost bursting with raspberry, blue raspberry, and white chocolate flavors.
Imagine sipping on a strawberry milkshake while watching fireworks light up the sky. That's kind of the vibe.
Pro Tip:
Ask the bro-ista to layer the flavors (rather than mixing them), creating a stunning red, white, and blue striped drink.
Ingredients:
Raspberry syrup
Blue raspberry syrup
Vanilla syrup
Ice-cream mix
7. Horchata Frost
Okay, the cinnamon flavor really stands out, adding a sweet and spicy kick to this frost. I usually order the chai version but this one is a strong contender.
The Horchata Frost blends caramel, white chocolate, and cinnamon, creating a nice balance of refreshing and warm flavors.
Pro Tip:
I recommend asking for extra cinnamon and nutmeg sprinkles – it makes the drink even more 'spicy' and enjoyable (if that's your thing).
Ingredients:
Cinnamon syrup
Caramel syrup
White chocolate sauce
Ice-cream mix
8. Peach Ring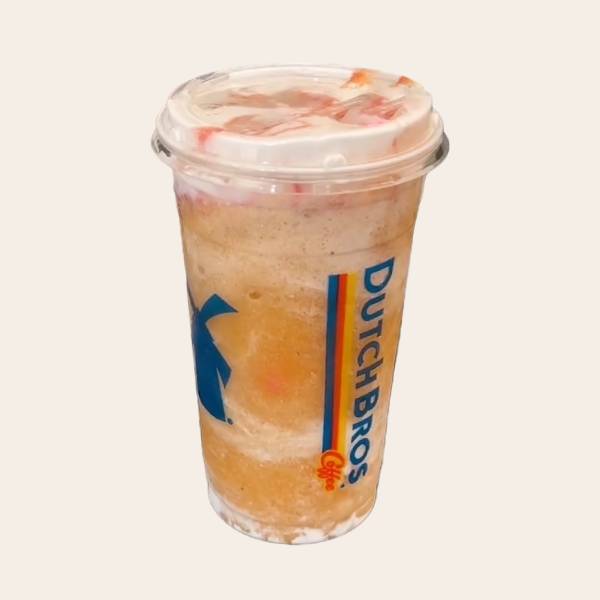 If you're hankering for a candy fix, the Peach Ring Frost could just be your next favorite.
Made with a dreamy combo of white chocolate, passion fruit, and peach drizzle, this drink does taste exactly like the candy.
Pro Tip:
I found that the syrup tends to settle at the bottom quickly. Give it a stir before enjoying to re-combine the flavors.
Ingredients:
White chocolate sauce
Peach syrup
Passionfruit syrup
Ice-cream mix
9. Cap' Crunch
Captain Crunch Frost will have you feeling giddy like a kid again. It tastes just like the breakfast cereal we all know and love, with a fruity aftertaste.
It's the perfect casual treat that'll have you reminiscing about simpler times and Saturday morning cartoons.
Pro Tip:
Want it extra flavorful? Order it Mafia style for extra sweetness and double the espresso shots.
Ingredients:
White coffee
Chocolate milk
Strawberry syrup
Hazelnut syrup
Ice-cream mix
10. Birthday Cake Frost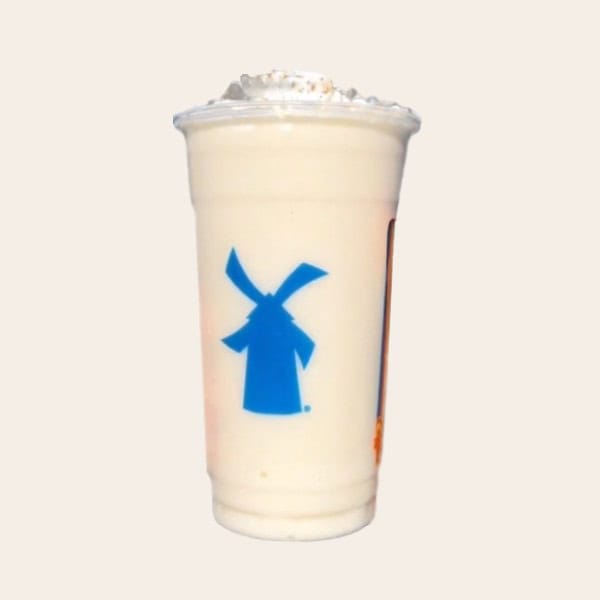 Buttery, vanilla-y, with a silky mouthfeel. That's how I'd describe the Birthday Cake Frost.
Crafted using almond roca syrup and white chocolate sauce, this frost will have you thinking funfetti cake.
The topping of whipped cream and confetti sprinkles (both optional) adds a playful touch, making every sip feel like a celebration.
Ingredients:
Almond roca syrup
White chocolate sauce
Confetti sprinkles
Ice-cream mix
---
Customize Your Frost
Now that you have an idea of your next order, let's unlock the secrets to customizing these frosty treats.

From enhancing flavors to tweaking textures, we'll explore the options that'll make your Frost experience truly one-of-a-kind.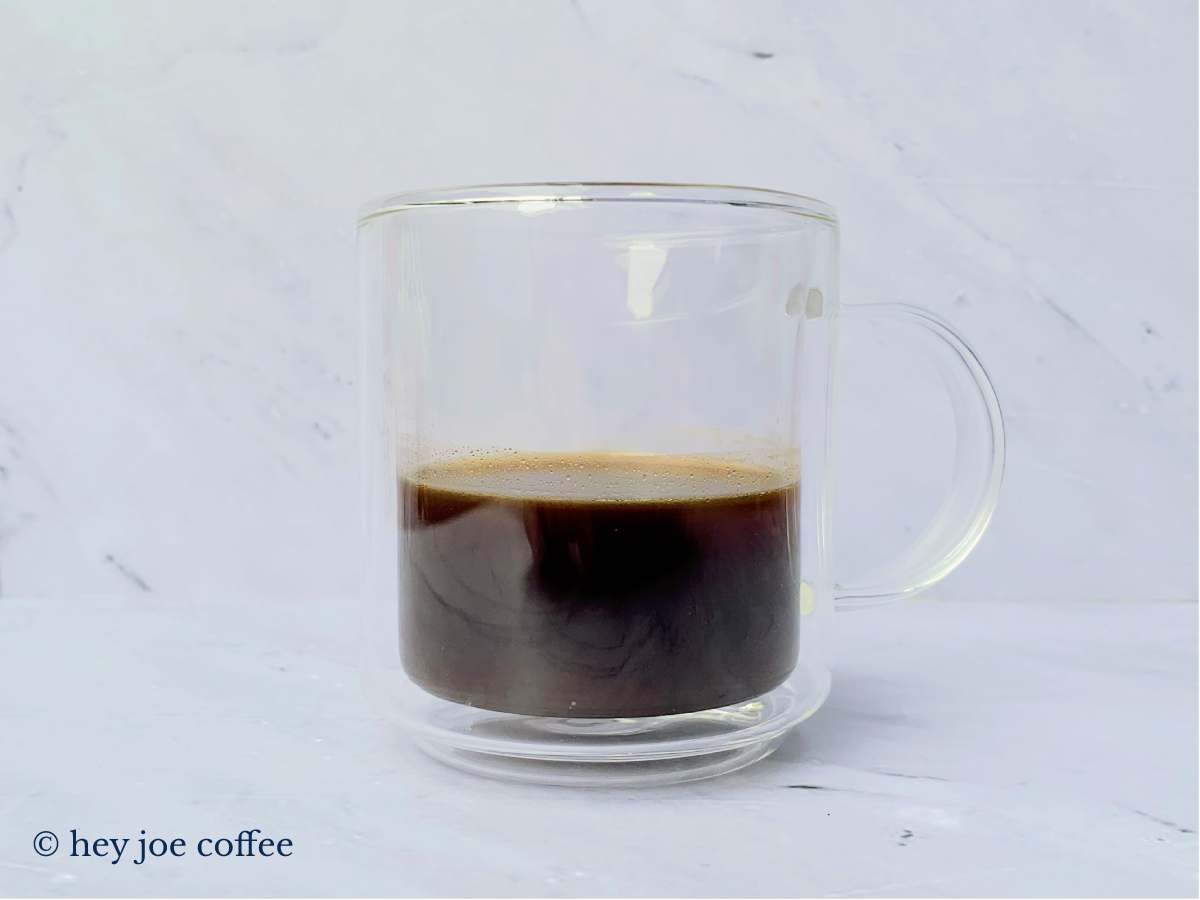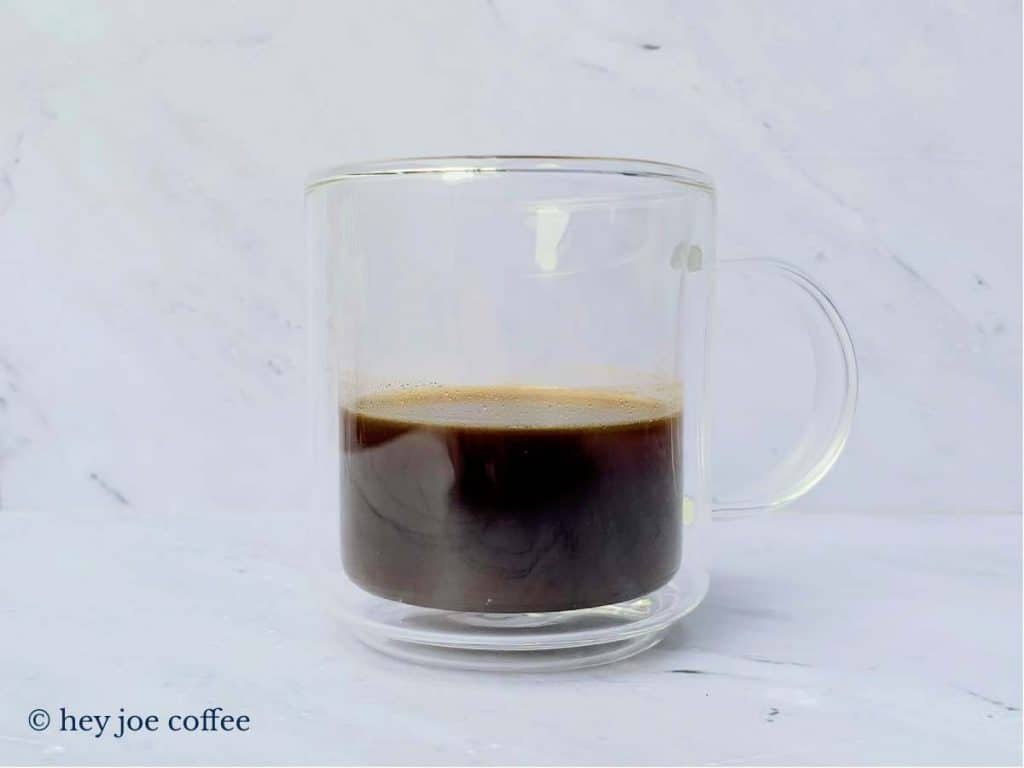 Make It Caffeinated
Elevate your Dutch Bros Frost experience with espresso shots. Simply ask your Bro-ista to add regular or white coffee to your frost.

You can even opt for white coffee if you enjoy a more mellow taste and a higher caffeine boost.

Espresso shots work best in flavors such as the Snickerdoodle, German Chocolate, White Zombie, and Dutch Canyon.
Add Extra Drizzle
If the flavor in your Frost feels a little flat, treat yourself to an extra touch of drizzle. Sauces and drizzles can pump up the flavor profile significantly.

Drizzles are typically topped over the finished drink but you can ask for it to line the cup.

Make sure to choose a drizzle flavor that complement your Frost. Consider popular options like strawberry, caramel, or chocolate for a safe bet.
Make It Parfait-Style
Getting your order parfait-style is another way to elevate your Dutch Frost experience.

This luscious customization involves layering whipped cream within the drink, creating a delightful contrast of textures.

Perfect for those who crave extra creaminess and decadence, a Frost parfait-style adds a touch of indulgence to your favorite beverage. I highly recommend this pro move!
---
Summary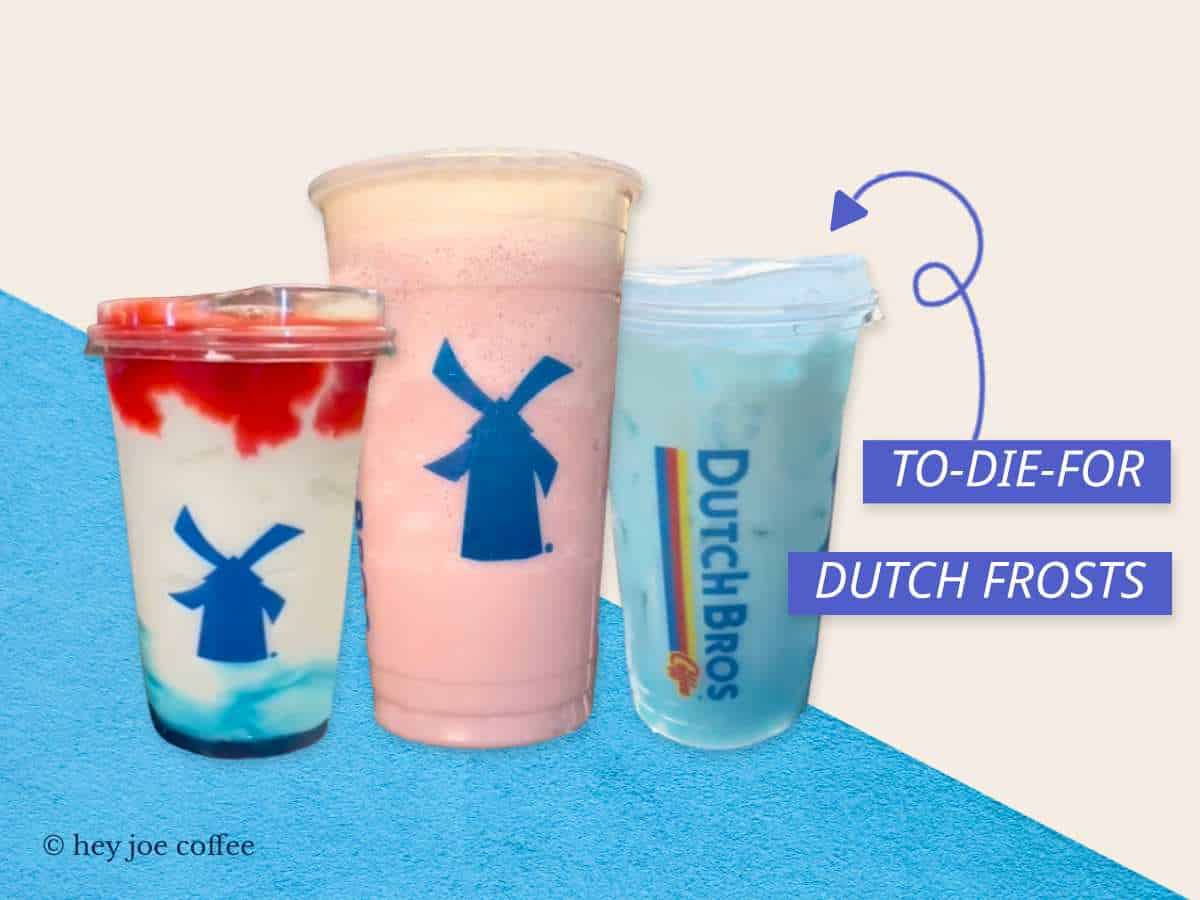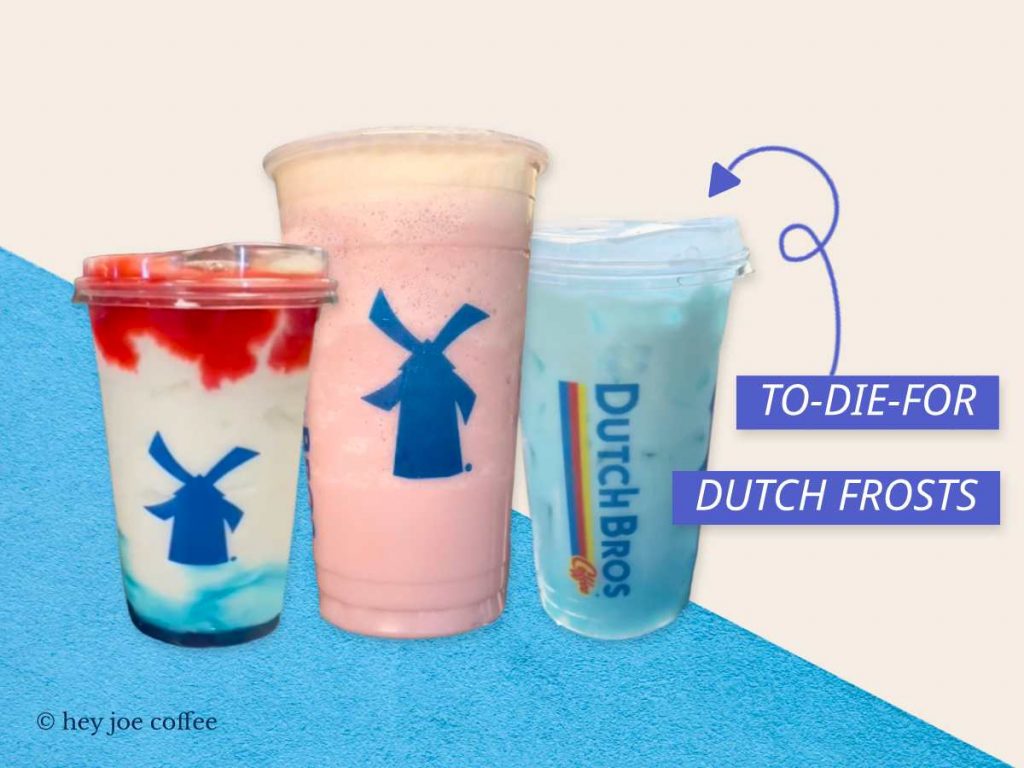 And there you have it! A scrumptious guide to the Dutch Bros Frost drinks.
Whether you're a Frost newbie or a seasoned sipper, I hope this post has stirred your curiosity and maybe even revealed a few secret menu items you didn't know about.
Here's to finding your frosty favorite.
---
More Questions
Do Dutch Bros Frosts have caffeine?
Good news! Dutch Bros Frosts are caffeine-free since they don't contain coffee.

However, if you're craving that extra energy boost, you can always ask the bro-ista to add espresso shots to your Frost.

Just remember, this may slightly change the consistency, but it'll give you the caffeine kick you're looking for.
What is the difference between a frost and a freeze at Dutch Bros?
At Dutch Bros, a 'frost' is a blended ice cream beverage, while a 'freeze' is a blended coffee drink with ice.

You can think of a Freeze(1) as a frappe or frappuccino and the Frost more as a milkshake.

Frosts are sweet, rich, and calorie-dense, whereas Freezes provide a refreshing, caffeinated kick, perfect for coffee lovers seeking a cool treat.
Does a Dutch Frost Have Ice Cream?
Yes, Dutch Bros Frosts contain ice cream.

Their proprietary ice cream mix is the main ingredient in all Frost beverages. If you prefer to skip the ice cream, try the Dutch Freeze instead.

Alternatively, you can ask the bro-ista for a Kick-Me Mix, but keep in mind that it still contains dairy.
Verified Sources
Wondering where your info comes from? We totally understand. Hey Joe only obtains our information from reputable sources. Contents from this article are sourced from the following publications:
Dutch Bros Freeze: https://www.dutchbros.com/menu/freeze