Ever tried the White Zombie Dutch Bros offers on their menu? The name reminds me of the White Walkers of Game of Thrones.
Thankfully, the drink itself is not scary at all. In fact, it's a sweet and comforting. I was intrigued, so here is my attempt at a copycat recipe.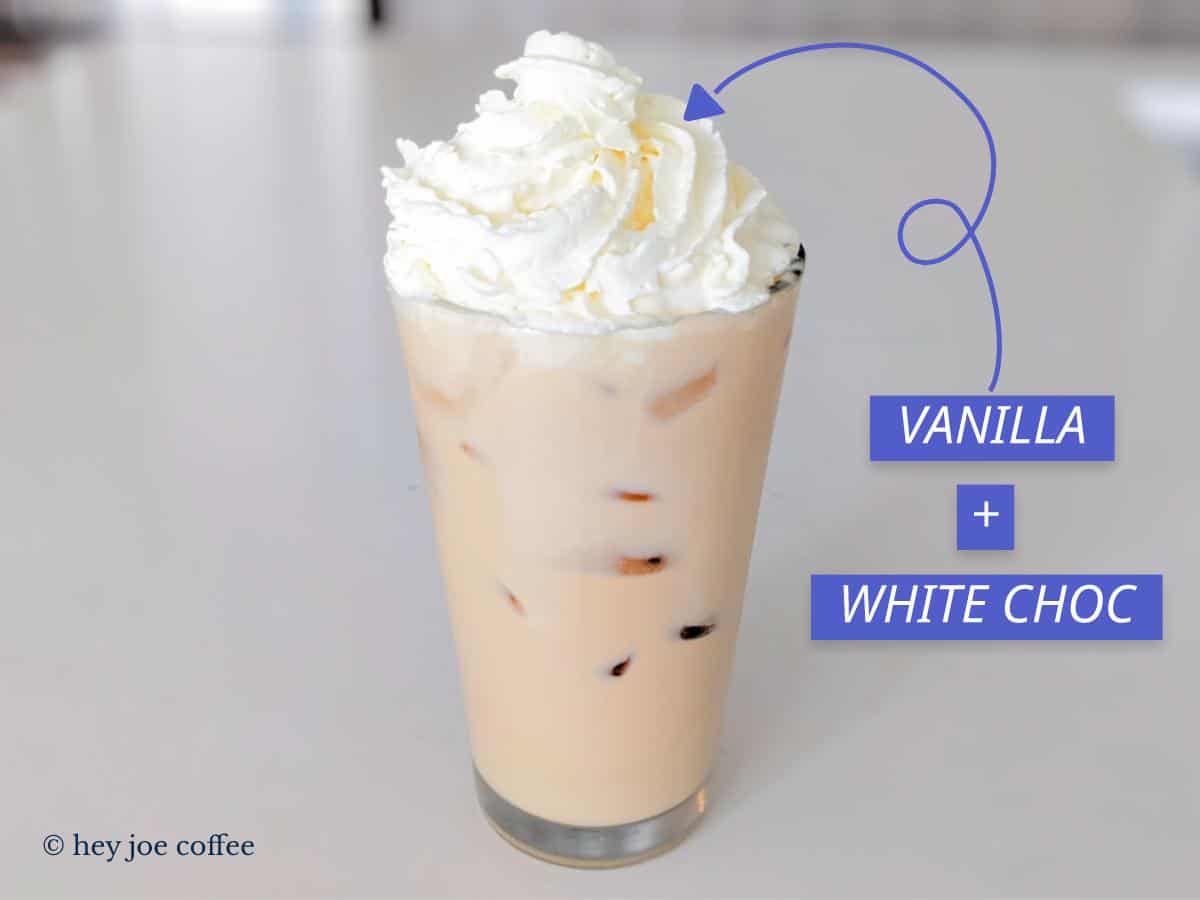 Topics Explored
White Zombie Dutch Bros
The White Zombie is an espresso breve with flavoring. Breve is the term for espresso with half and half at Dutch Bros.
You can have it iced, hot, or frozen.
White Zombie tastes sweet and milky with notes of vanilla.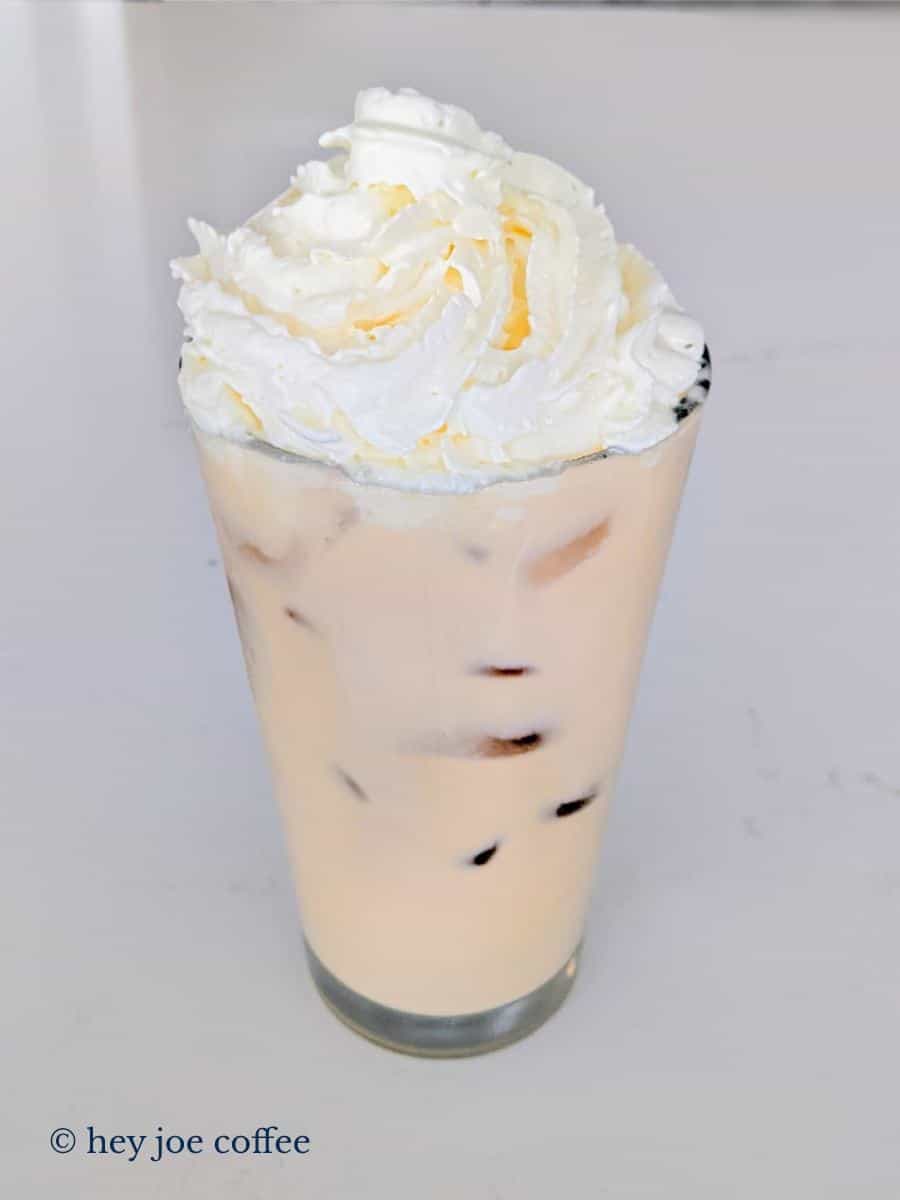 Make no mistake – the White Zombie is not the lightest drink!
The small 16 oz version has 260 calories.
The medium (24 oz) and 410 calories, while the large one has 550 calories per 32 oz.
What's In A White Zombie?
The basic version of White Zombie brings together their signature white espresso or regular espresso and half and half instead of milk.
The sweet flavor comes from the white chocolate and vanilla flavoring.
The freeze version comes with whipped cream on top.
---
Dutch Bros White Zombie Recipe
The Dutch Bros White Zombie recipe we have for you is for the iced version. If you're having doubts if you'll like it, we suggest making it at home first.
Then you can experiment with the hot and blended versions!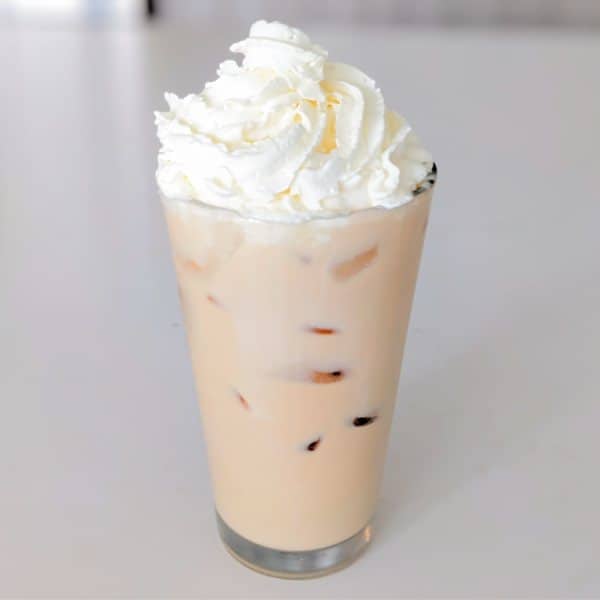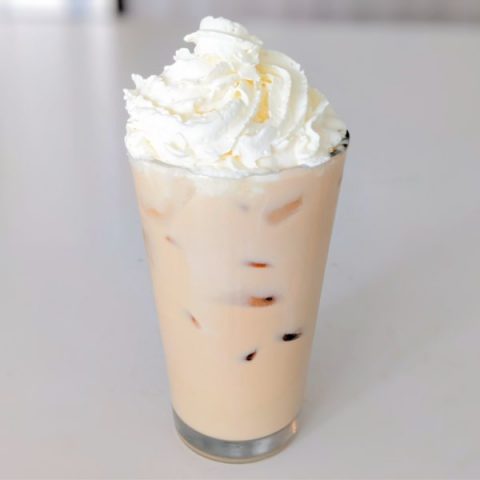 Dutch Bros White Zombie (Copycat Recipe)
Yield:
1 serving (~16 oz)
Our Dutch Bros White Zombie recipe will have you going from half-dead to kicking and alive in 10 minutes.
Ingredients
Espresso: 2 shots
Half and half: ~ 6 oz
White Chocolate Sauce: 1 tbsp
Vanilla Syrup: 1 tbsp
Ice
Whipped Cream: optional
Instructions
Start preparing the drink with the espresso. Extract 2 shots using your method of choice, but aim for a strong and flavorful brew.
Add the white chocolate sauce to the hot espresso and stir to dissolve completely. Set it aside to cool while we prepare the rest.
Take a tall large glass and fill it with ice. The end volume of the drink is 16 oz, so pick a suitable glass.
In a shaker, combine the vanilla syrup, half and half, and the espresso we previously mixed with white chocolate sauce.
Shake to mix well for 20 to 30 seconds. Then pour the mixture into the glass over the ice.
Optionally, you can finish the drink with whipped cream on top for some extra creaminess. It's best enjoyed on a hot summer day. Enjoy!
Notes
* I use Torani brand white chocolate sauce
** You can use any brand vanilla syrup or make your own by combining vanilla extract and simple syrup. 
---
Secret Menu Variations & Suggestions
Thanks to the creative coffee enthusiasts who have thought of and tested different combinations, you can enjoy White Zombie in more than one way.
Here are a couple of suggestions.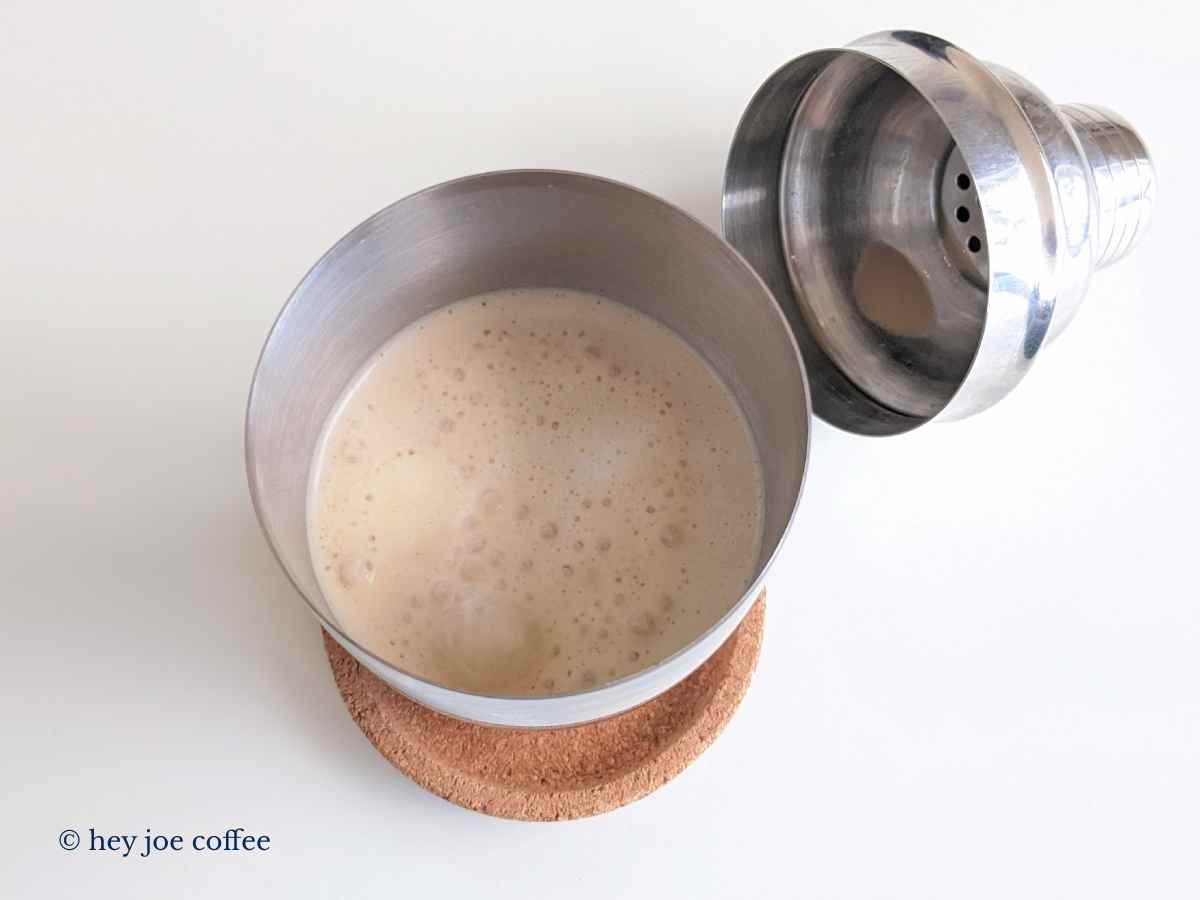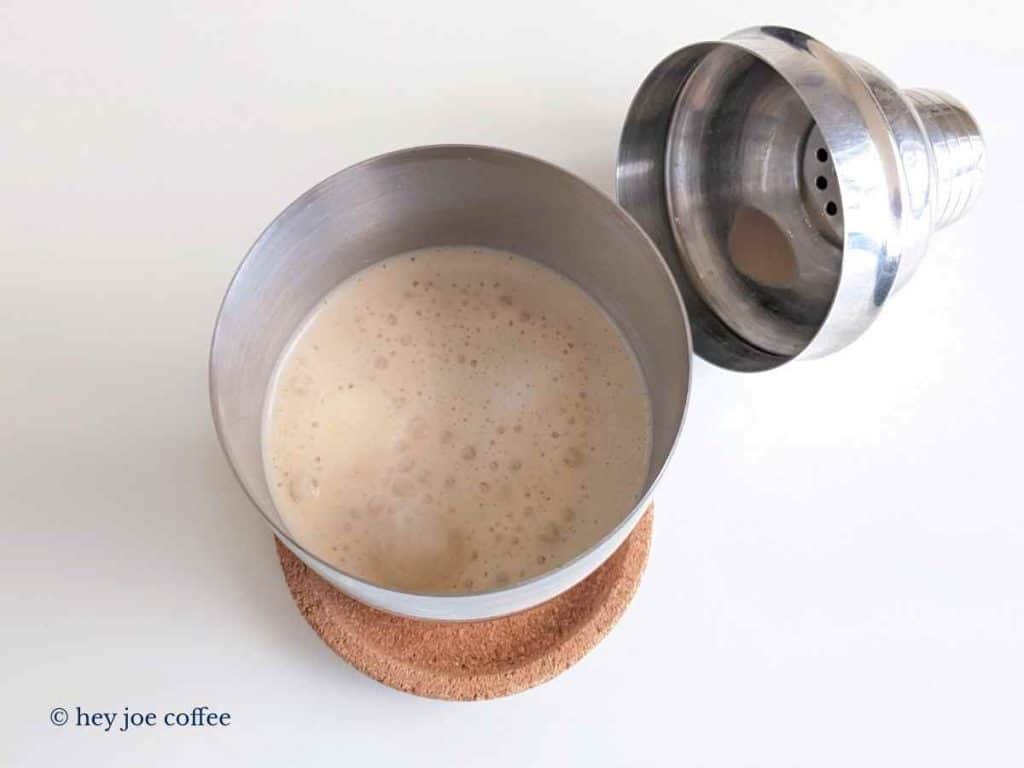 1. Cold Brew White Zombie
As the name implies, this version of the White Zombie swaps espresso for cold brew.
It's significantly more refreshing, but it still has that caffeine punch.
How to Order the Cold Brew White Zombie:
Ask the bro-ista for a White Zombie with cold brew instead of espresso
Add a soft top for extra indulgence
2. White Zombie Chai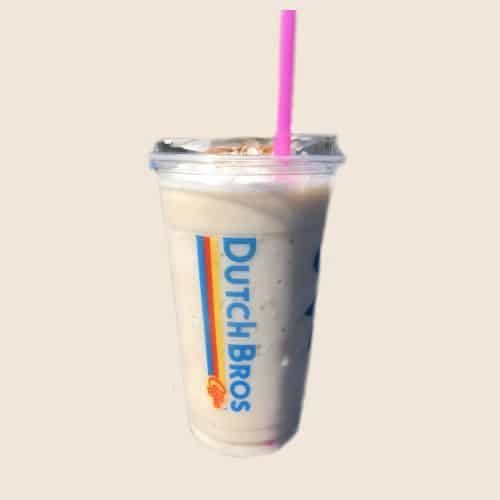 The White Zombie Chai swaps espresso for chai, giving it a more spicy flavor and lower caffeine content.
Hey Joe's Pro Tip:
If you're missing the coffee, you can have it 'dirty'; the broista will add an espresso shot and the chai mix.
How to Order White Zombie Chai:
Order the White Zombie Chai off the menu
Give the bro-ista instructions on whether you like it regular or 'dirty'
3. Caramel Zombie
The caramel modification works best with iced White Zombie.
The buttery caramel complements the vanilla and white chocolate flavors, creating a sweet, comforting drink.
How to Order the Caramel Zombie:
Ask the bro-ista to line the cup with caramel drizzle
Fill the cup with an iced White Zombie
Finish with more caramel syrup
4. White Zombie Mocha
The White Zombie mocha is a chocolate lover's favorite. Instead of the half and half it uses chocolate milk.
It still has that coffee flavor, but it's much creamier and sweeter!
How to Order the White Zombie Mocha:
Order the White Zombie Mocha off the menu.
If the bro-ista is not familiar with it, ask for a White Zombie but swap the kick-me-mix for chocolate milk.
---
Summary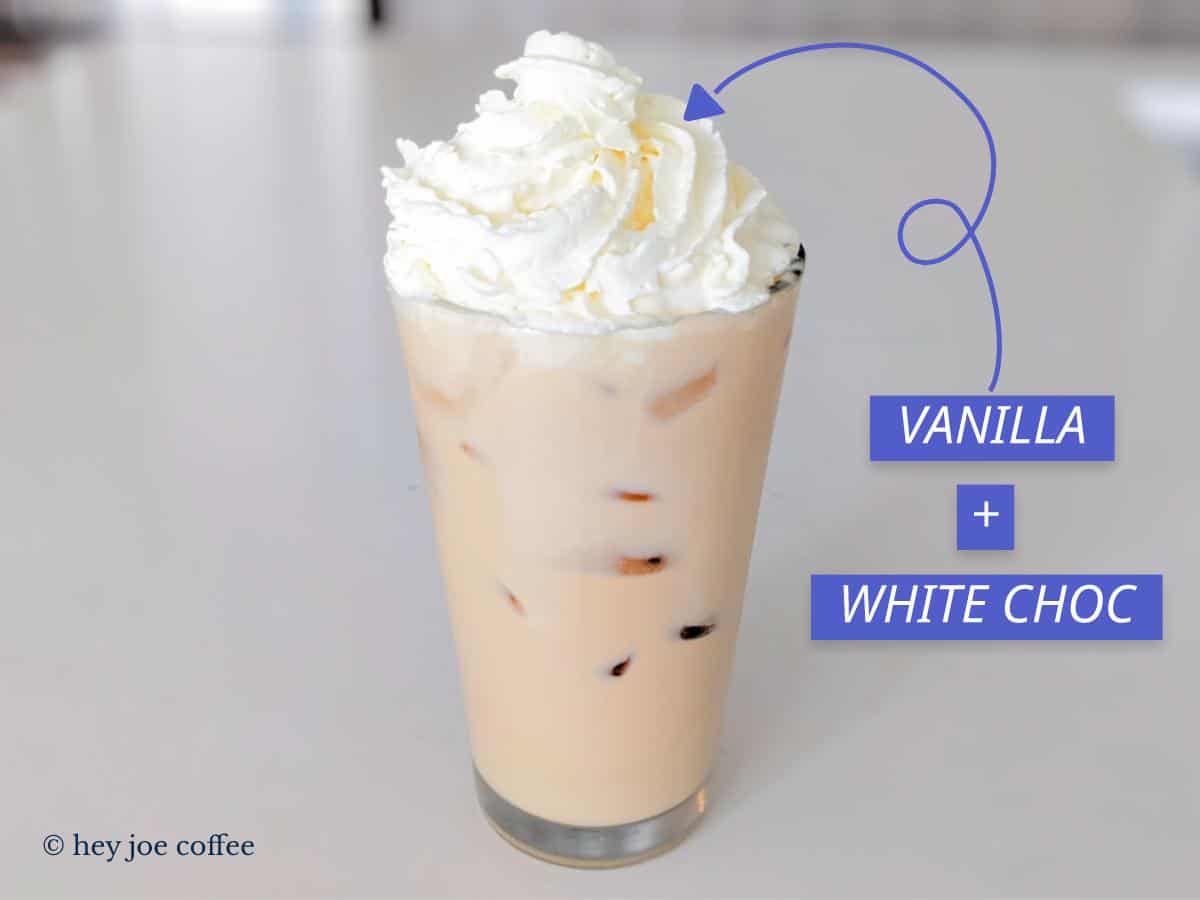 We've solved the mystery; the White Zombie Dutch Bros offer is actually a sweet and refreshing drink rather than a scary one.
It's versatile, too; have it iced or as a freeze in summer and warm and comforting in fall.
Give the slightly altered versions a try, or make it at home following our copycat recipe.
---
FAQs
What does White Zombie taste like?
The White Zombie is a creamy and sweet drink with gentle notes of vanilla. It has similar qualities to the cappuccino but with added vanilla flavor and a hint of chocolate.
White Zombie tastes great iced or blended, still sweet, not diluted, but much more refreshing.
What is a White Angel at Dutch Bros?
The White Angel is similar to the White Zombie. It has all the same ingredients plus coconut syrup.
It's equally sweet but with delicate coconut notes that make it somewhat tropical.
You can also get the White Angel as a freeze, iced or hot. It's part of the regular menu at Dutch Bros.
Does Dutch Bros have white espresso?
Yes, Dutch Bros have their signature white espresso in most locations.
The coffee beans come from the Dutch Bros private reserve, so they rely on themselves for stock.
If you've never had it, ask your bro-ista if they carry it in your location.