Dutch Bros has one of the most extensive beverage menus when it comes to coffee chains. But when it comes to Dutch Bros vegan drinks, how wide are your options? 
Let's see what we've dug up.
Topics Explored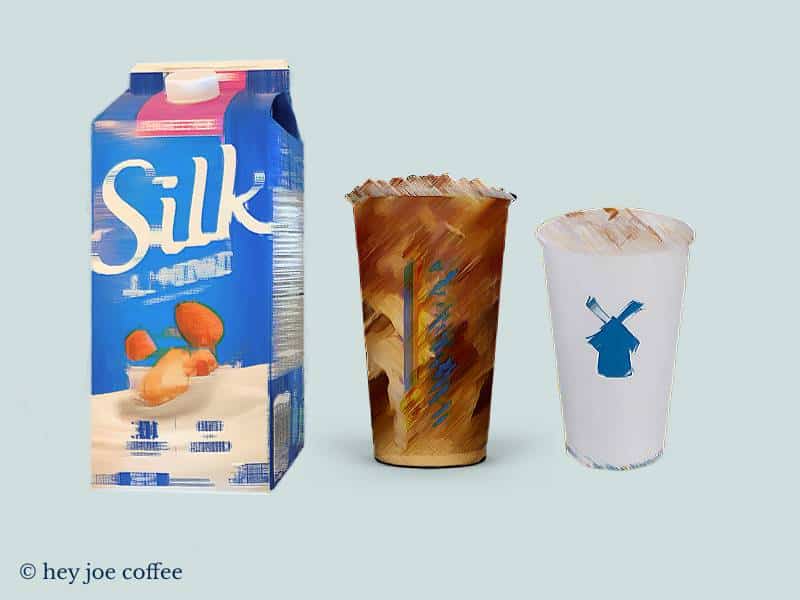 Our posts may contain affiliate links. As an Amazon Associate I earn from qualifying purchases.
Dutch Bros Vegan Drink List (TL;DR):
* Please read each drink description for full list of substitutions *
---
Do Vegan Drinks Even Exist?
Yes, vegan drinks do exist at Dutch. However, the variety of drinks you get to enjoy depends on how strict your diet is. What do we mean?
Some ingredients are non-dairy and vegan but have come into contact with animals or animal products, like honey.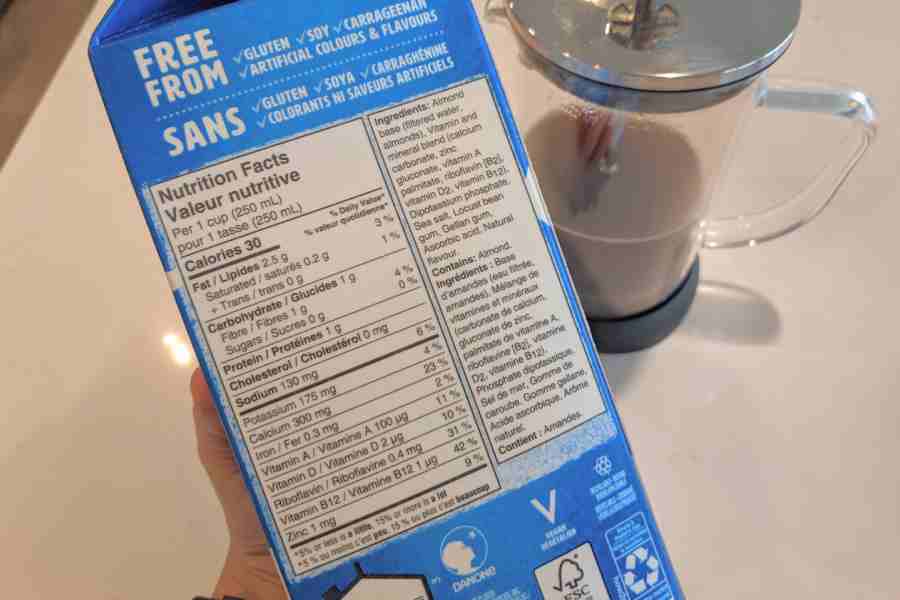 You can get most drinks that contain dairy with plant-based milk. Some drinks contain no dairy at all, so they're an easy choice.
---
Vegan Dutch Bros Drinks
This list of vegan beverages should have you covered, but it's always a good idea to double-check with your bro-ista before ordering.
Also, note that ingredients can vary from time to time or by location, so it's always best to confirm.
1. Oat Milk Kicker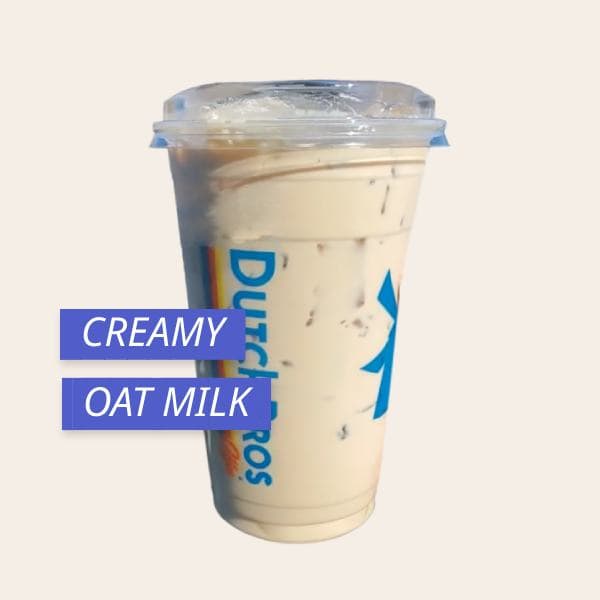 The Oat Milk Kicker is an excellent pick-me-up option that fusses rich espresso with creamy oat milk and Irish cream syrup for an extra kick.(1) I like mine iced.
Although fairly new, it's already one of the most famous vegan drinks.
Substitution:
None needed. The oat milk kicker is good as-is.
Ingredients:
Espresso
Almond Milk
Irish Cream Syrup
2. 911 (with almond milk)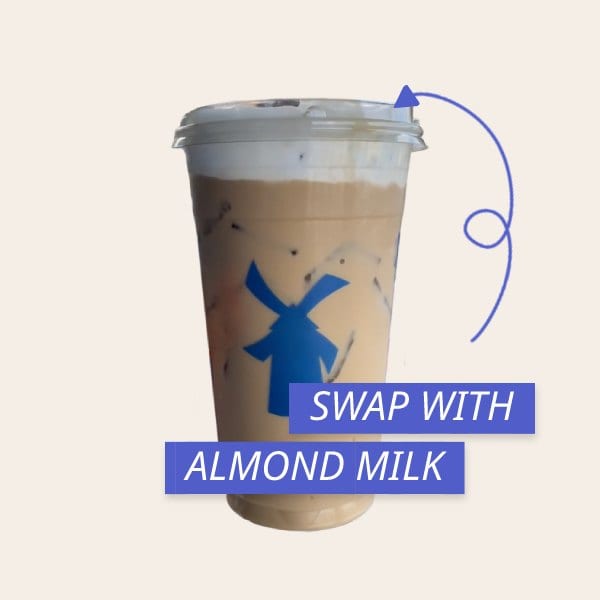 For those exceptional cases of urgency, reach for the vegan 911. The original comes with 6 shots of espresso, Irish cream syrup, and half and half.
Here's how you make it vegan. Swap the half and half for almond milk.
Again, iced tastes best in our opinion but any version is guaranteed to alert all your senses.
Substitution:
Ask the bro-ista for almond milk instead of half and half.
Ingredients:
Espresso
Almond Milk
Irish Cream Syrup
3. Cold Brew & Nitro Cold Brew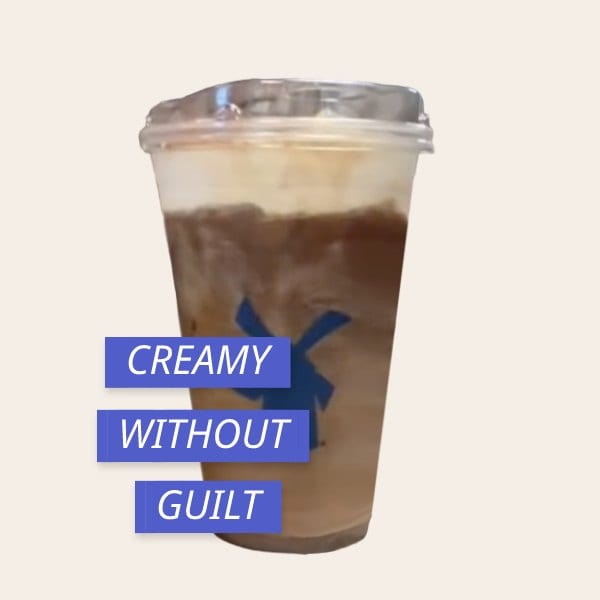 Plain cold brew and nitro cold brew are vegan-friendly. They're made with simple, vegan ingredients: coffee ground and water.
Sometimes we find plain cold brew boring, so we like to add a splash of coconut milk or a flavoring syrup.
Substitution:
None needed but you can spice it up with vegan syrups.
Ingredients:
4. Iced Soy Annihilator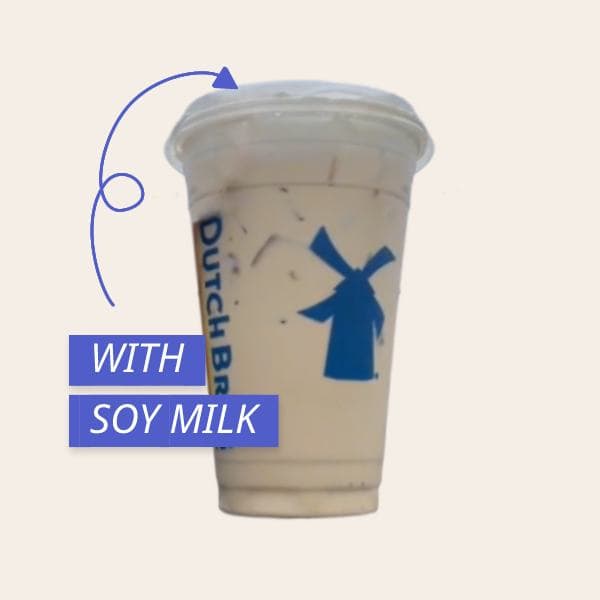 The Annihilator at Dutch Bros is a chocolate-nutty blend that's comforting and delicious.
The original comes with full-bodied espresso, chocolate macadamia nut syrup, and half and half. To make it vegan, swap the breve for soy.
Trust us, it tastes pretty good!
Substitution:
Swap half and half for soy milk.
Ingredients:
Espresso
Soy Mlik
Chocolate Macadamia Nut Syrup
5. Cinnamon Swirl Oat Milk Latte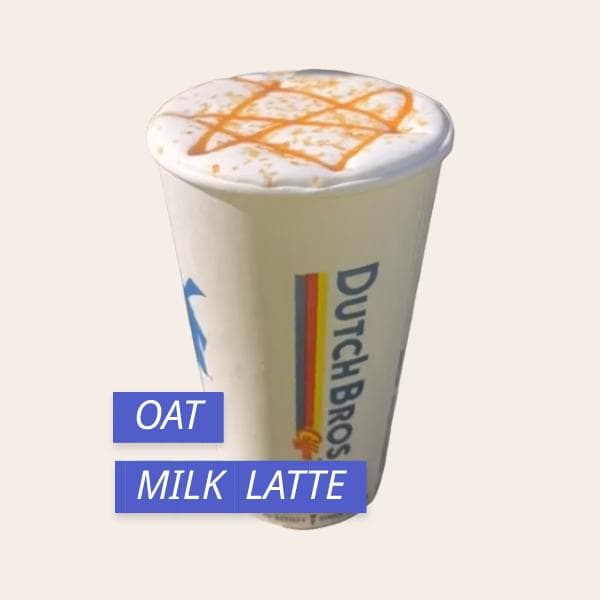 That's right – the heartwarming fall flavor is available in a vegan version! The Dutch Bros Cinnamon Swirl Oat Latte is the perfect combination of espresso, cinnamon, oat milk, and vanilla.
Switch things up and have it iced for a whole new experience.
Substitution:
It's already vegan. Drink away!
Ingredients:
Espresso
Cinnamon
Vanilla Syrup
Oat Milk
6. Americano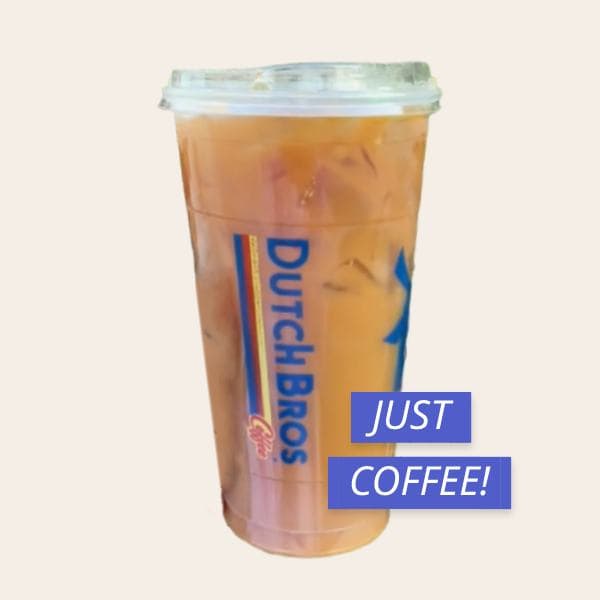 The Americano is a no-brainer when it comes to vegan choices. The Dutch Bros version is no different – just plain espresso and hot water.
If you're like me and longing for some more flavor, add a vegan-friendly syrup like vanilla or hazelnut.
Substitution:
It's just plain old coffee. You're good!
Ingredients:
7. Coconut Banana Bread Dutch Freeze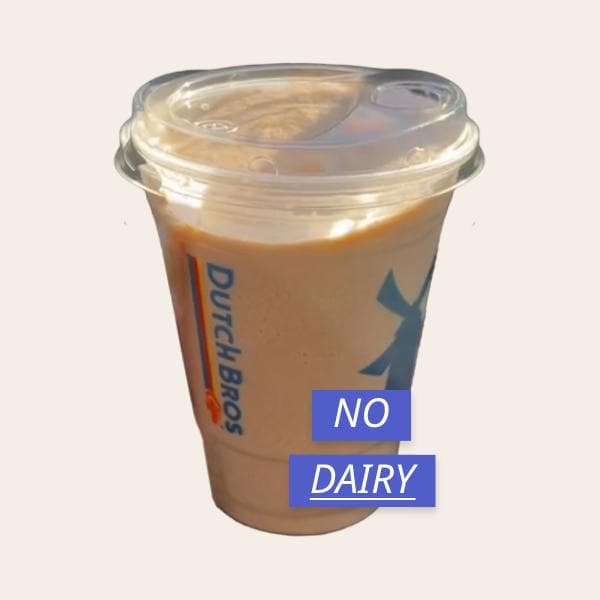 We recently learned about 'carburetor-style' drinks, which means they'll skip the pre-made freeze mix. The mix contains dairy.
Ask the bro-ista for coconut milk instead. And there you go enjoying a coconut-banana flavor with hints of espresso.
Substitution:
Ask the barista for a carburetor-style version. Then add coconut milk.
Ingredients:
Blended Espresso Mix
Hazelnut Syrup
Creme de Banana Syrup
Coconut Milk
8. Teas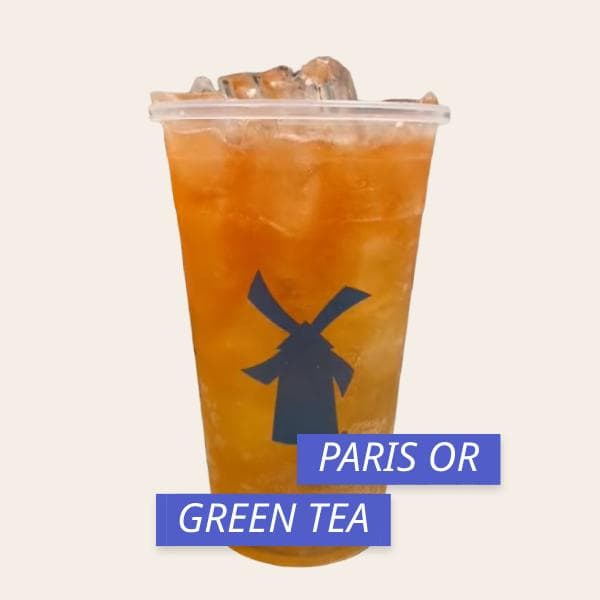 Their teas are vegan as long as you don't add almond roca syrup in them. Also, as much as it hurts us to say this, stay away from soft-tops or cream; they're not vegan-friendly.
Our favorite flavor is the Duch Mojito Tea, made with coconut, lime, and creme de menthe.
9. Lattes & Cappuccinos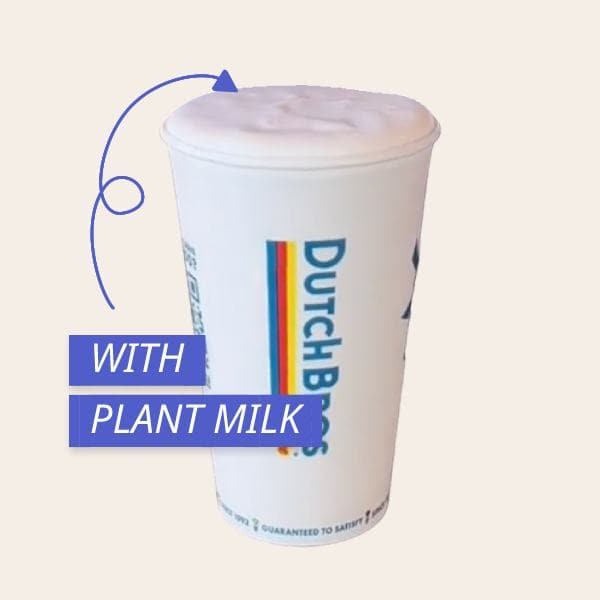 You don't have to deprive yourself of the classics, as long as you swap the breve or milk with the plant-based options. Dutch Bros provide coconut, almond, or oat milk for your lattes and cappuccinos.
Almost all syrups, except for almond roca, are vegan-friendly.
Substitution:
Swap the breve version with any of Dutch's plant-based milks.
10. Smoothies (Hold the Whip & Ice-Cream Mix)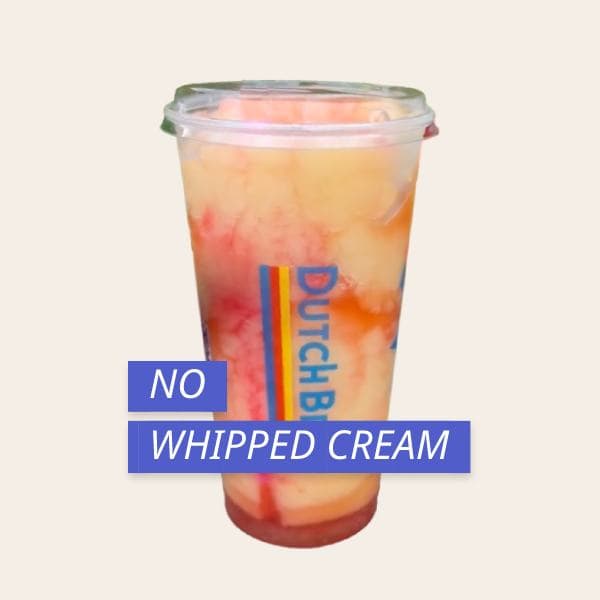 The smoothies at Dutch Bros are made with a dairy-free Torani smoothie mix. However, to keep the smoothie vegan, avoid whipped cream topping.
Do double-check with the bro-ista if your flavor contains dairy. Some flavors are blended with ice cream, which obviously includes dairy.
Substitution:
Ask the bro-ista for a non-dairy version and hold the whip!
11. Dutch Sodas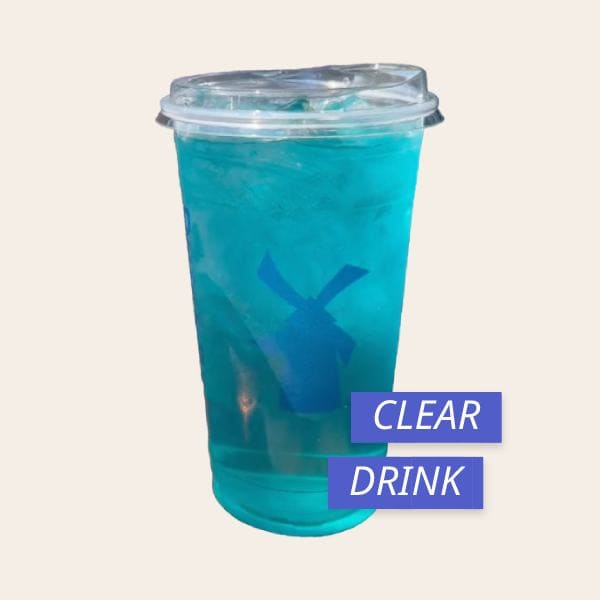 Craving a refreshing and non-caffeinated drink from Dutch Bros? Dutch Sodas might be just what you're looking for.
All of the Dutch Rebel flavors are available for sodas as well. I'm a simple person, so my favorite is straight up Watermelon!
Substitution:
*Important* Ask the bro-ista to skip the whipped cream topper.
---
Dutch Bros Drinks: Commonly Used Ingredients
Consider making your own Dutch Bros coffee at home? Here are the most commonly used ingredients in Dutch Bro drinks.
---
What Are Items To Avoid?
Even though there are many vegan options and swaps, some drinks can't be made vegan since their base is irreplaceable.
Read the options below before you get confused, or go for a drink that's impossible to make vegan.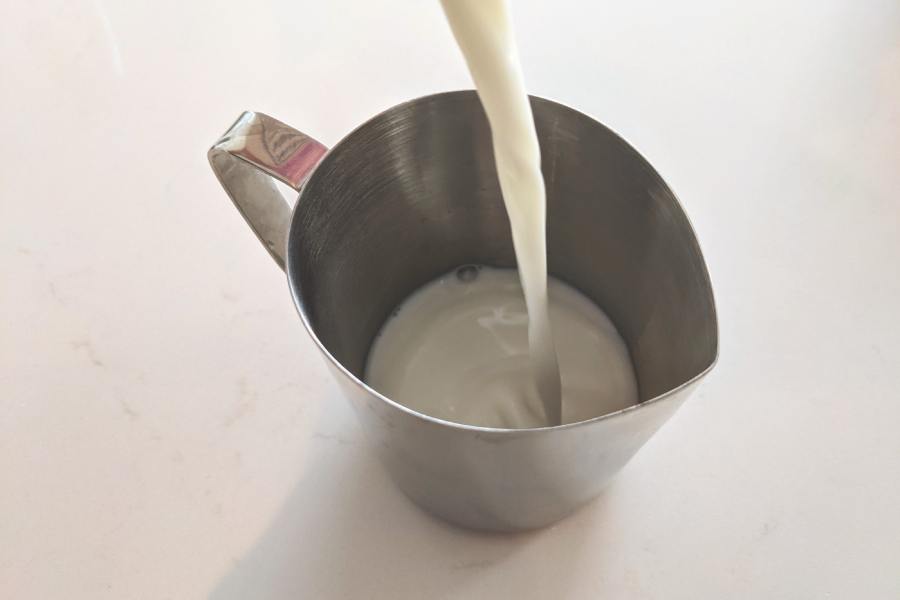 Dutch Frosts
Vegan frosts are impossible to make since their main component is their ice-cream mix. There's no vegan substitute.
The frosts come with whipped cream, which is not dairy-free. If you want another frozen blended drink go for a carburetor-style Dutch Freeze instead.
Some Sauces
Torani makes the sauces used at Dutch Bros.(2) As a vegan, you need to stay away from the white chocolate sauce, caramel, and pumpkin pie sauce.
All of them contain dairy in the form of skim milk, condensed or non-fat milk.
Any Milk-Based Toppings or Additions
The dairy toppings are evident to seasoned vegans. However, the slang Dutch Bros uses may obfuscate the real ingredients. To stay in the clear, avoid drinks with 'Soft Tops', 'Kick Me Mix' or 'Freeze Mix'.
The soft top is a softly whipped buttermilk. The Kick Me mix is half and half. The Freeze Mix is whole milk used in Dutch Freeze drinks. I know… it's a lot to take in.
Cocoa
The entire category of cocoa drinks is a no-go for vegans. They make their hot cocoa with the Dutch Bros chocolate milk.
Unfortunately, there's not an option to swap it for vegan milk. In addition, some drinks contain sauces or syrups that are not vegan-friendly.
How To Order Vegan Beverages At Dutch Bros
I always order my usual drink but ask if they can make it vegan.
The friendly 'bro-istas' are usually super helpful and will suggest substitutions or even a different drink altogether.
Just be aware that some of the non-dairy milk options might come with an extra charge.
---
Summary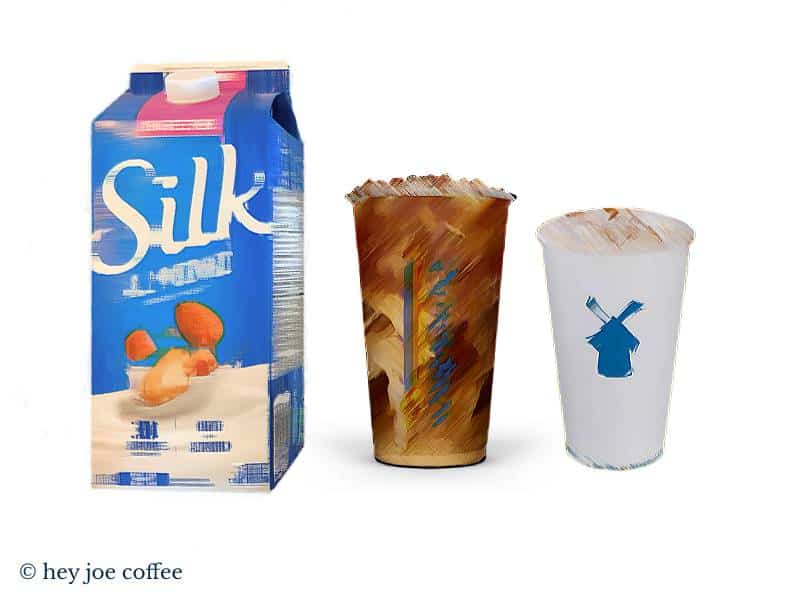 Looking for a vegan Dutch Bros drinks can baffle you. With their specific names and slang, it's hard to detect what ingredients go in your beverage.
A few years ago, Dutch introduced plant-based milk, broadening the vegan options. However, some drinks will never be vegan friendly since their main ingredient is dairy.
Pick some of our suggestions, but still ask your bro-ista for confirmation.
---
Verified Sources
Wondering where your info comes from? We totally understand. Hey Joe only obtains our information from reputable sources. Contents from this article are sourced from the following publications: