A good pick-me-up doesn't always have to be a cup of caffeine-rich coffee. The Dutch Bros smoothie is one of our frequent go-to's, and for a good reason – you can't get bored with the choice!
If you're feeling overwhelmed looking at the menu, you're at the right place. Scroll down for our best flavor choice.
Our posts may contain affiliate links. As an Amazon Associate I earn from qualifying purchases.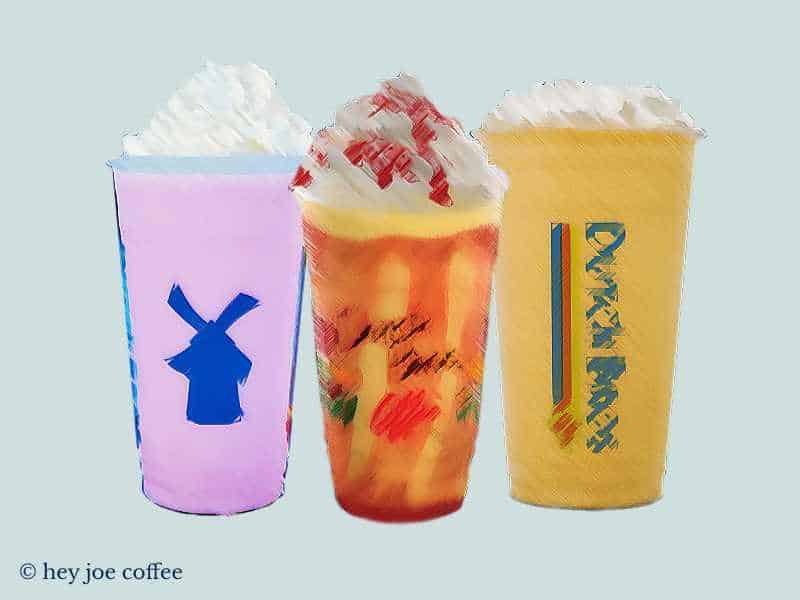 Topics Explored
Smoothies At Dutch Bros
Dutch Bros has a wide choice of decadent fruit smoothies, with 4 staple flavors: green apple, mango, strawberry, and peach. But it doesn't stop here; they also have seasonal smoothies like Lava Flow.
Other options like wild berry are often in rotation. Of course, they also have some enticing secret menu smoothies!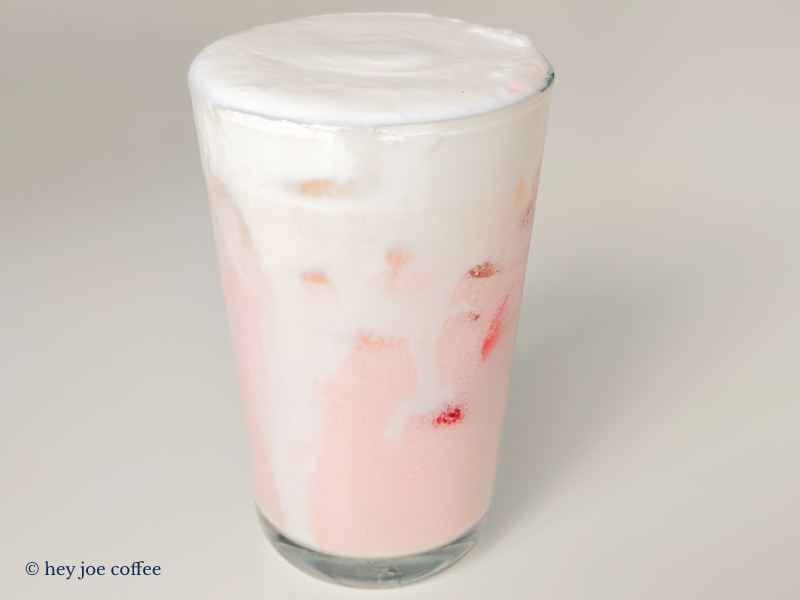 While tasty and refreshing, Dutch's smoothies are also high in calories. They're made with fruit purée and ice, and a medium-size smoothie can reach as high as 700 calories!
If you're watching your sugar intake, beware, all medium-sized smoothies have over 100 grams of sugar, some reaching 150 grams.
---
Drink Profile: Dutch Bros Smoothie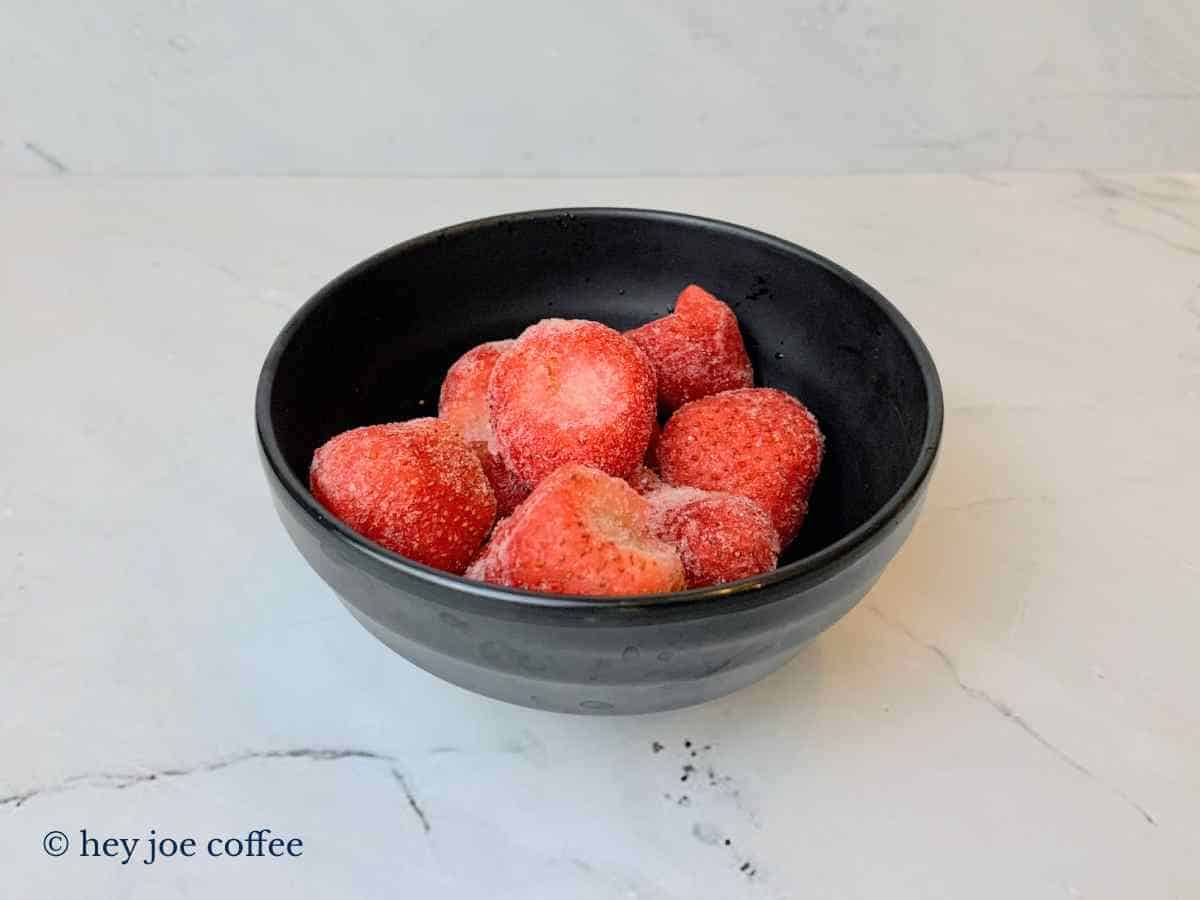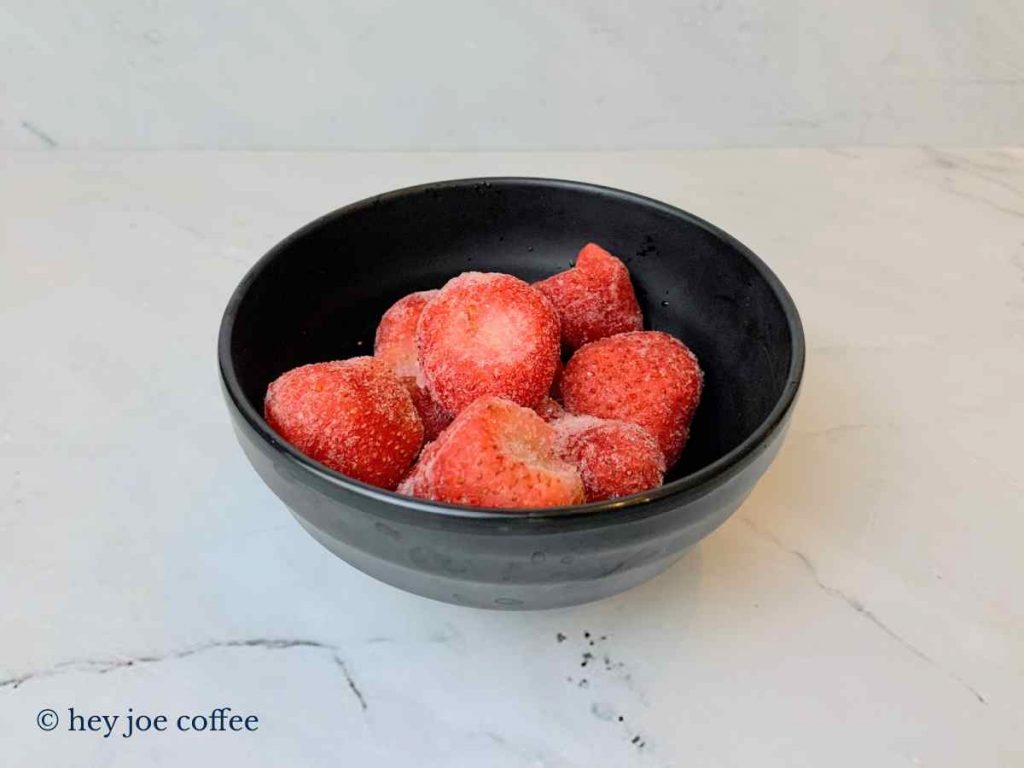 Ingredients
Smoothies at Dutch Bros are made with fruit syrup or purée blended with ice, which gives them that smooth texture.
Some more extravagant smoothies are blended with ice cream and topped with whipped cream.
Dairy Content
The base of most Dutch Bros smoothies is fruit purée and ice. However, some smoothies contain their branded ice-cream mix, whipped cream, or soft top.
If you like a particular drink, ask the bro-ista if they can make it dairy-free. But beware, omitting the cream will alter the taste.
Calories
Dutch Bros smoothies are high in calories.(1) Almost all of the calories come from the large amounts of sugar since there's no protein and very little fat in the staple options.
The strawberry smoothie is the lowest in calories with 500 per medium-sized, while the peach is calorie-dense with 680 for the same size.
Caffeine
There's no caffeine in the their smoothies as is. In fact, they're the safest option for those avoiding caffeine since none of the ingredients contains even a trace amount.
But if you decide to customize them and add a Rebel, espresso shots, white coffee, or chai blend, you'd be adding caffeine.
---
Ways To Amp Your Dutch Bros Smoothie
Fruit smoothies easily get boring, so Dutch tackled this issue by providing customizations to level up your daily fruit serving.
You can choose from simple add-ons to drizzles that make the smoothie look like a tropical cocktail. Here are our suggestions.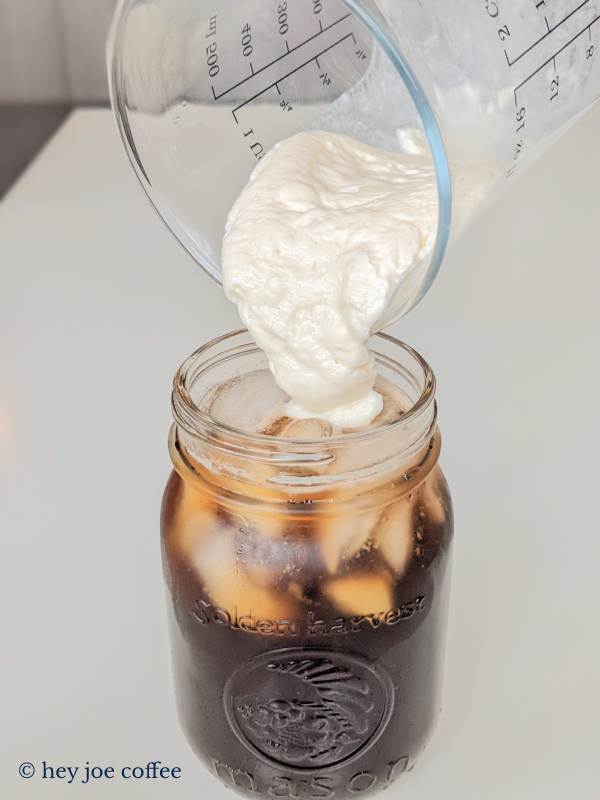 1. Parfait-Style
Parfait-style smoothie means the whipped cream is mixed into the smoothie, not only piped on top. There are distinct layers of smoothie and whipped cream, resulting in a dessert-like drink.
These smoothies are creamier and have a lighter texture than the regular.
2. Soft Top
The soft top at Dutch Bros is upscale whipped cream. At first glance, it might look like whipped cream, but once you taste it, you'll recognize the marshmallow-like texture.
It's made from buttermilk, sweetener, and locust bean gum which makes it fluffy and springy.
3. Drizzles
Drizzles are not only for coffee; you can add them to your smoothies. They add an extra flavor and sweetness to the drink but also make it prettier.
Drizzles work best with frost and freezes, as they stay on longer without melting into the drink. The most common drizzles are chocolate and caramel.
---
Top 10 Dutch Bros Smoothie Flavors
Can't bother to customize your Dutch Bros smoothie? We have prepared some suggestions that will tingle your imagination.
Some of these are already on the menu, while some have to be ordered step by step. Let's dive in!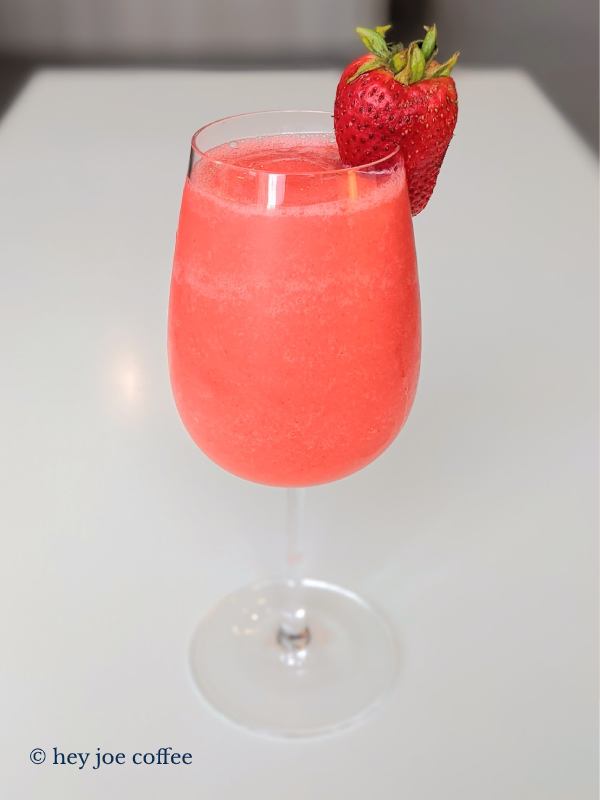 1. Mango Smoothie
Why We Like It:
The mango smoothie is an all-time favorite flavor. It's made with mango purée and ice; it's sweet, tropical, and topped with whipped cream.
Opt to have it parfait-style with the whipped cream layered though out to make it lighter and prettier!
Ingredients:
Mango Smoothie
Whipped cream
2. Pink Flamingo
Why We Like It:
The Pink Flamingo is adapted from the Rebel version and is also available as a frost. If you like the taste but don't like caffeine, this smoothie is your chance to enjoy the Pink Flamingo flavor.
Omit the whipped cream to make it dairy-free.
Ingredients:
Strawberry smoothie
Peach smoothie
Whipped Cream
White Chocolate
3. Strawberry Smoothie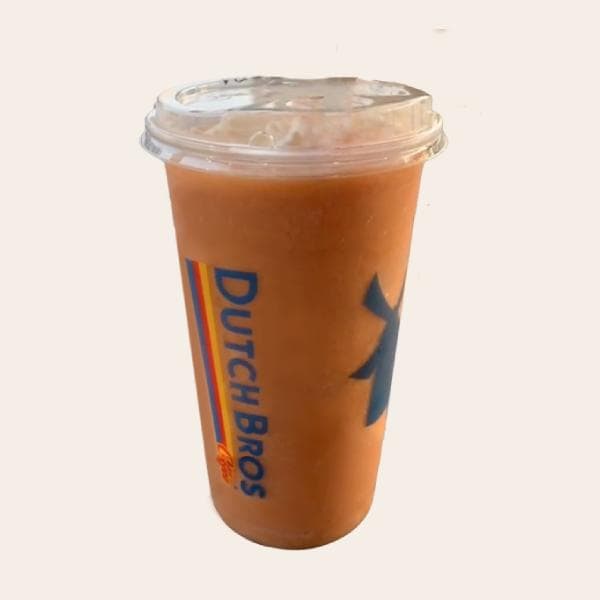 Why We Like It:
The strawberry is a staple item, but it's still a crowd favorite. It's a simple flavor but versatile, available in a dairy-free version or parfait style.
Since strawberries work great with cream, ask to have it made parfait-style!
Ingredients:
Strawberry smoothie
Whipped cream
4. Peaches & Cream
Why We Like It:
Here's the ultimate summer smoothie, refreshing peaches blended with creamy goodness. To order it start with the classic peach smoothie. Then ask the bro-ista to add the Dutch Bros ice-cream mix Avalanche.
Finish with a white chocolate drizzle, and enjoy.
Ingredients:
Peach smoothie
Ice-cream mix
White chocolate drizzle
5. Peach & Mango Smoothie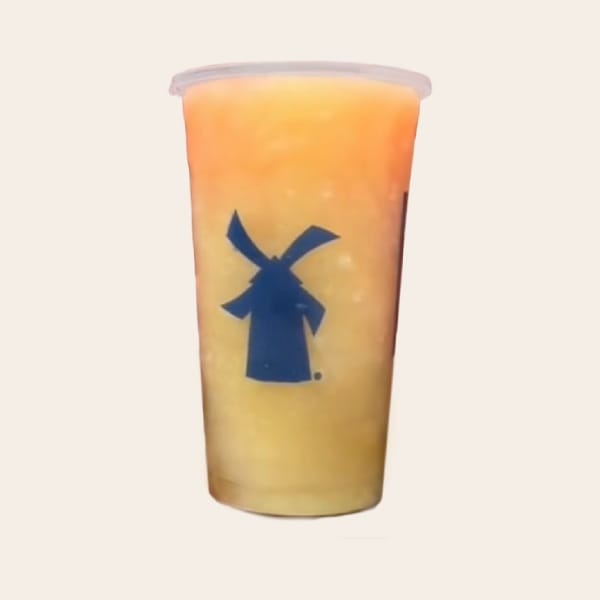 Why We Like It:
Peach and mango work surprisingly well in this summer smoothie as they have a matching flavor. The smoothie brings together equal ratios of peach and mango.
If you want to change it up and add a little tang, opt for a pomegranate drizzle.
Ingredients:
Peach smoothie
Mango smoothie
Whipped cream
Pomegranate drizzle
Secret Menu Smoothies
6. Caramel Apple Smoothie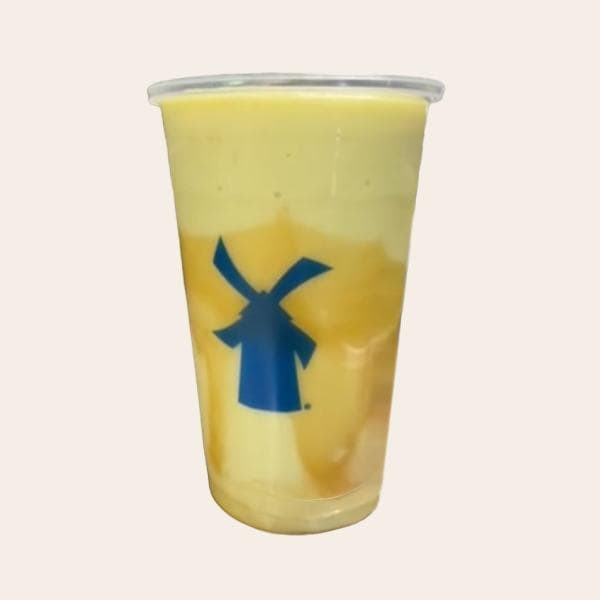 Why We Like It:
This typical fall flavor is one of the most popular at Dutch Bros. Taste-wise, it comes close to a slice of apple pie, but it also packs some tartness.
This drink brings together the classic green apple smoothie, whipped cream, and a buttery caramel drizzle.
Ingredients:
Green apple smoothie
Whipped cream
Caramel drizzle
7. Wild Berry Smoothie
Why We Like It:
The wild berry is rumored to be on the chopping block, as Dutch Bros has run out of in most stores.
Here's our suggestion, while it won't taste entirely the same, it can be replicated. Order a strawberry smoothie and add blackberry, raspberry, and blue raspberry.
Ingredients:
Strawberry smoothie
Whipped cream
Blackberry
Raspberry
Blue Raspberry
8. Sour Apple
Why We Like It:
If you're a fan of sour drinks, you'll love this smoothie. It's a twist on the original green apple, and it's made with ½ green apple and ½ blended lemonade.
To soothe some of the tanginess, top it with whipped cream.
Ingredients:
Green apple smoothie
Lemonade (blended)
Soft top
9. Lava Flow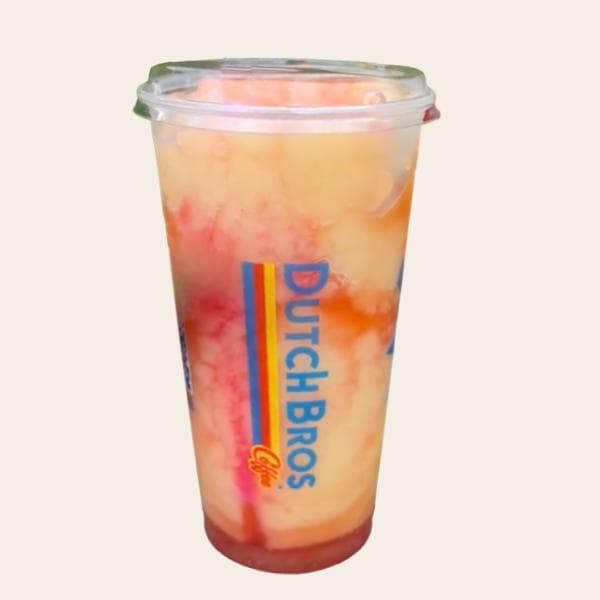 Why We Like It:
Lava Flow is a very old drink that only true Dutch Bros devotees remember. If you want to try it, it can be revived with a few customizations.
Start by ordering a mango smoothie and add a strawberry smoothie concentrate or strawberry drizzle.
Ingredients:
Mango smoothie
Whipped cream
Strawberry drizzle
10. Hawaiian
Why We Like It:
The Hawaiian is another adaptation from Rebel, without the caffeine. It tastes like the name suggests, a cocktail of fruity flavors and freshness.
To order it start with ½ peach and ½ strawberry. Ask the bro-ista to add banana and orange flavor.
Ingredients:
Peach smoothie
Strawberry smoothie
Whipped cream
Orange
---
Dutch Bros Drink Staples
Consider making your own Dutch Bros coffee at home? Here are the most commonly used ingredients in Dutch Bro drinks.
---
Final Words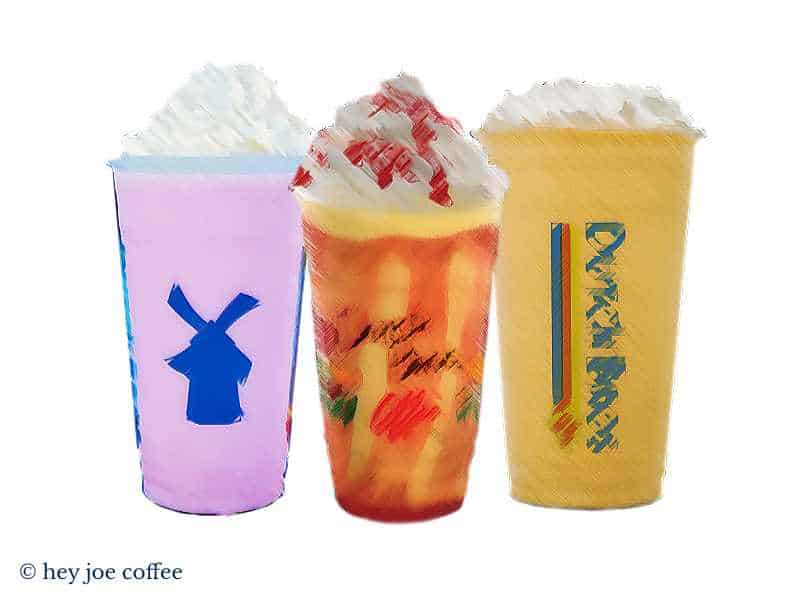 A Dutch Bros smoothie is something between a dessert and mid-day pick me up. It's not the first thing you'd think to order at the chain, but unlike classic fruit smoothies, the their versions come with many customization options.
You can enjoy yours with whipped cream, ice cream, or completely dairy-free.
---
Verified Sources
Wondering where your info comes from? We totally understand. Hey Joe only obtains our information from reputable sources. Contents from this article are sourced from the following publications:
Dutchbros: https://www.dutchbros.com/menu/smoothie