Craving something new? I'm letting you in on the world of pomegranate drinks at Starbucks that you never knew existed.

From seasonal favorites around the world to secret menu hacks right here at home, this guide has everything you need to quench your pomegranate thirst.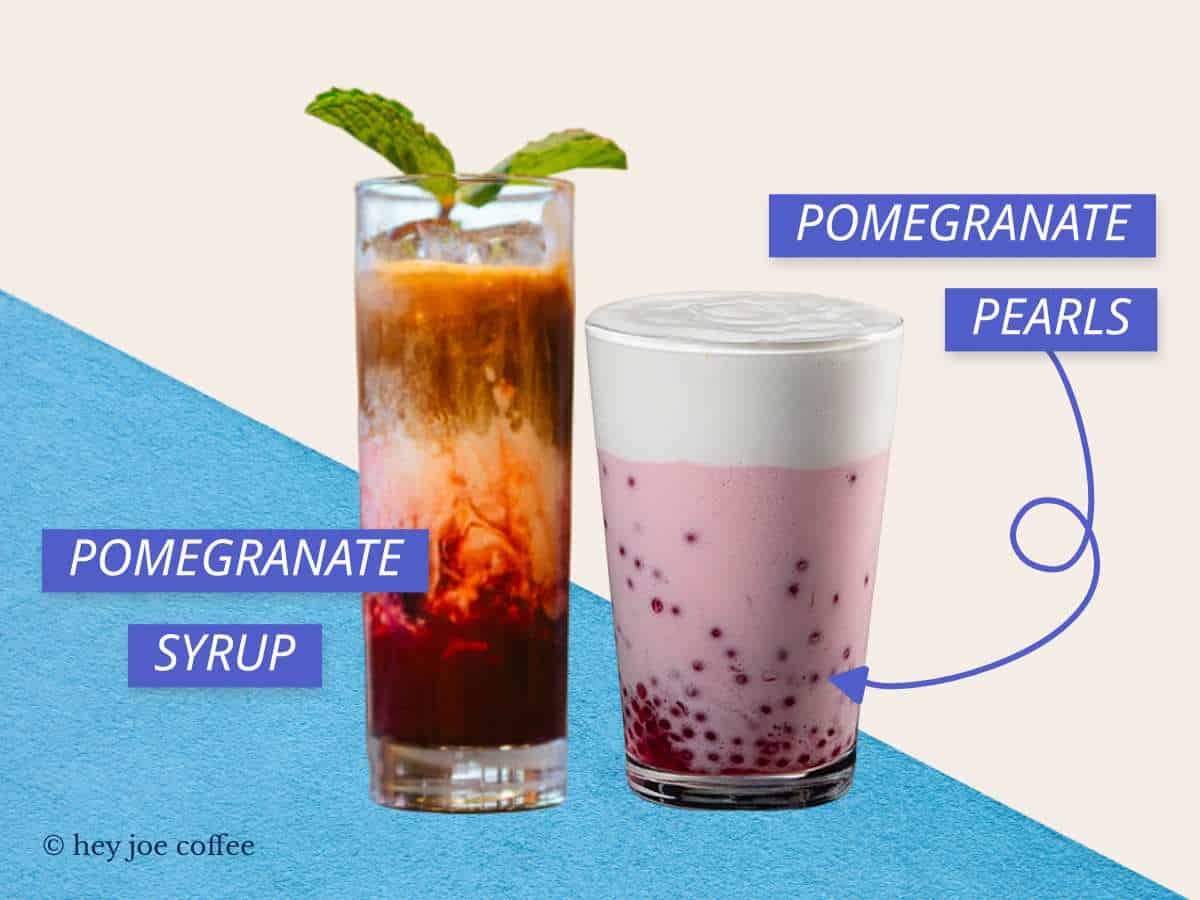 Topics Explored
Does Starbucks Have Any Pomegranate Drinks?
If you're in North America, you might be out of luck—Starbucks doesn't currently offer standard pomegranate drinks on the menu.

But don't lose hope! If you find yourself in other parts of the world, you're in for a treat. Pomegranate drinks are a thing there.

And even in North America, Starbucks has been known to feature pomegranate drinks as seasonal offerings, usually during the summertime.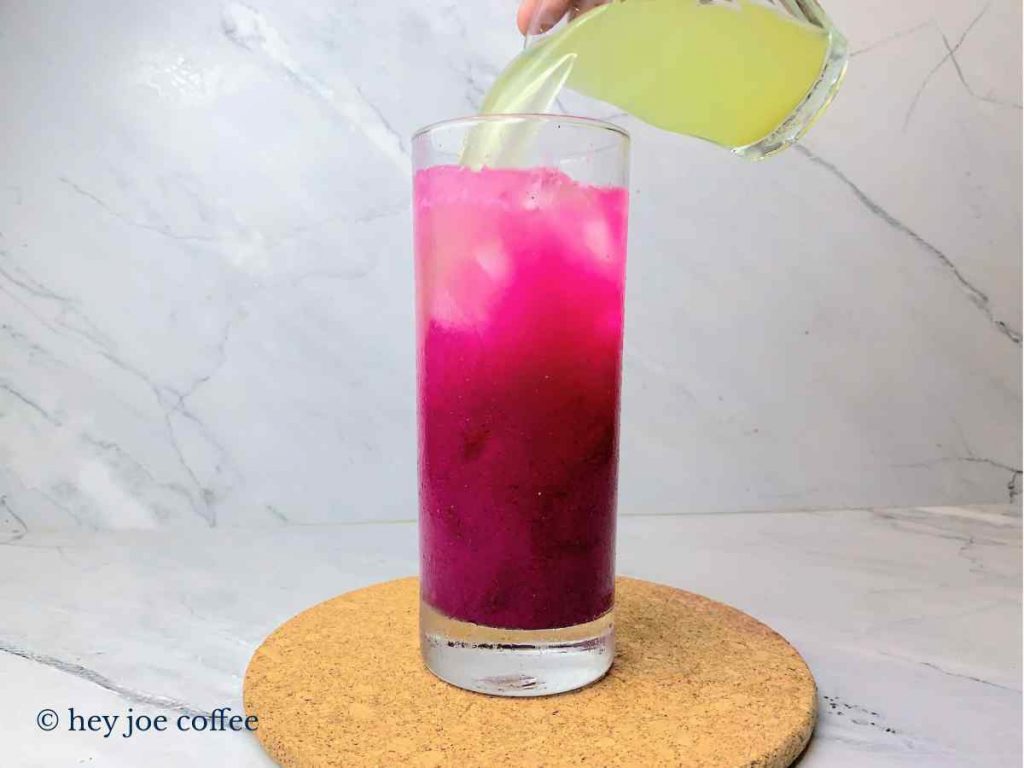 What is the Starbucks Pomegranate Drink Called?
Starbucks doesn't limit itself to just one pomegranate drink. But the one that's getting a lot of buzz right now is the Iced Shaken Hibiscus Tea with Pomegranate Pearls.
It's not just your average tea; it's a seasonal promotional drink that comes with popping pearls filled with pomegranate juice.
Sounds fun, right?
---
Standard Menu Pomegranate Drinks At Starbucks
Love exploring new flavors? You'll be thrilled with this round-the-world guide to pomegranate drinks at Starbucks.

I'm unearthing everything from exotic teas to energy-boosting refreshers and old favorites. I've even tried a few of these myself, and let me tell you, they're worth the sip
1. Shaken Hibiscus Tea with Pomegranate Pearls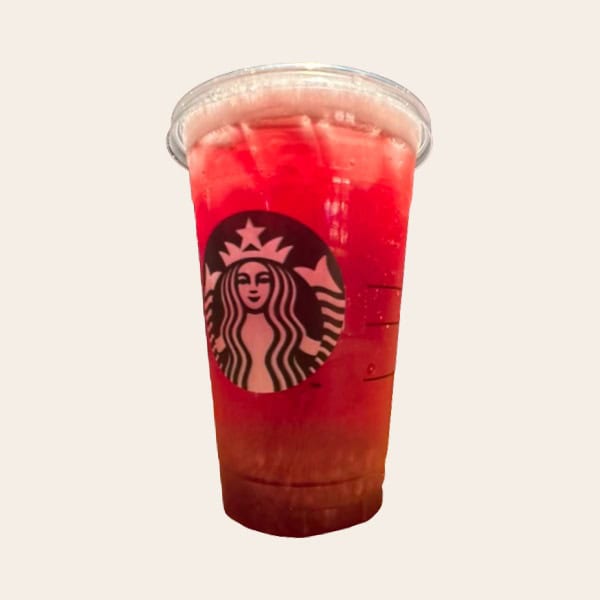 If you're a tea lover, you'll want to know about this. Starbucks in Asia offers a unique range of iced shaken teas, including the Hibiscus Tea with Pomegranate Pearls.

This drink combines floral notes of hibiscus flowers and rose petals with tropical flavors of papaya and mango.

And the best part? It's topped with pomegranate pearls that burst in your mouth. Talk about a flavor explosion!
Ingredients:
Hibiscus Tea
Pomegranate Pearls
Ice
2. Starbucks Refresher Raspberry Pomegranate
This one's a bit different. It's a ready-to-drink beverage that combines tangy pomegranate and juicy raspberry flavors.

It's not just about the taste; it's also about the energy boost. These drinks contain a moderate amount of caffeine and even include ginseng.

If you're looking for a pick-me-up that's not coffee, this could be it.
Ingredients:
Raspberry Juice
Pomegranate Juice
Ginseng
Green Coffee Extract
3. Strawberry Pomegranate Frappuccino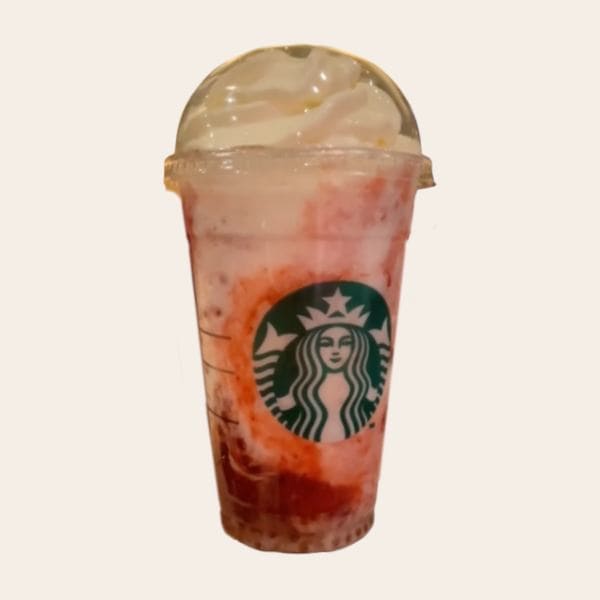 Frappuccino fans, this one's for you.
The Strawberry Pomegranate Frappuccino(1) is like a tropical vacation in a cup. It starts with a base of strawberry sauce and coconut milk, and then here comes the fun part—pomegranate pearls.
They're layered in the middle and add this amazing tartness that balances out the sweetness. And to top it all off, there's a layer of coconut milk cold foam. It really is as good as it sounds.
Ingredients:
Strawberry Sauce
Coconut Milk
Pomegranate Pearls
Coconut Milk Cold Foam
4. Pomegranate Frappuccino Juice Blends
Back in 2006, Starbucks had this Pomegranate Frappuccino Juice Blend on their summer menu.
It was a mix of freshly brewed Tazo green tea, pomegranate, peach, and just a touch of mint.
It wasn't just tasty; it was also kind of good for you. You'd get a bunch of antioxidants and almost half of your daily vitamin C needs from just one serving.
Sadly, you can't find it on the menu anymore, but if you had it, you know it was the perfect way to cool off.
Ingredients:
Green tea
Pomegranate
Peach
Mint
Ice
5. Passionfruit Pomegranate Espresso Dolce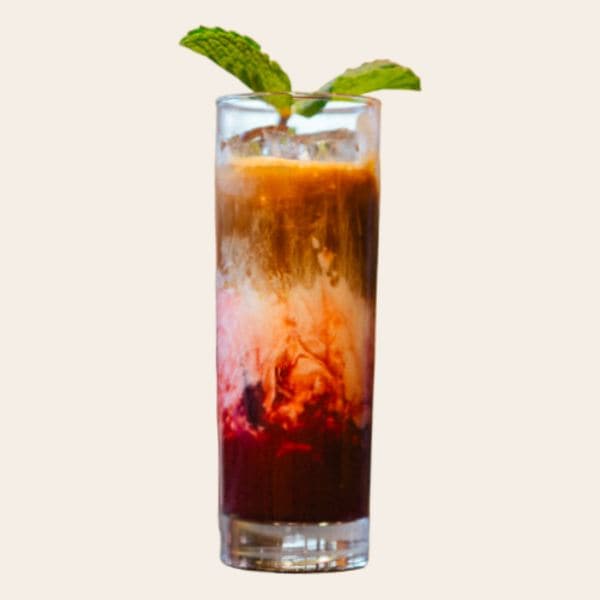 If you're someone who likes to switch up your coffee routine, you'll want to hear about this.

The Passionfruit Pomegranate Espresso Dolce is a unique offering at Starbucks Reserve Roasteries and Reserve store locations.

This drink mixes together passionfruit, pomegranate, and blood orange on ice. Then it gets even better with a dollop of fior di latte, which is just a fancy way to say sweet cream. To finish it off, they add Starbucks Reserve espresso.

The drink is both nuanced and intriguing, offering a taste of the exotic with every sip.
Ingredients:
Passionfruit
Pomegranate
Blood Orange Juice
Sweet Cream
Starbucks Reserve Espresso
Ice
---
Secret Menu Pomegranate Drinks
Now, who doesn't love a good secret menu hack? Today, we're focusing on some pomegranate-infused delights that you won't find on the standard menu.

Whether you're in North America and feeling a bit left out of the pomegranate offerings or just looking for a new twist on your go-to order, I've got some creative options for you.
1. Pomegranate Pink Drink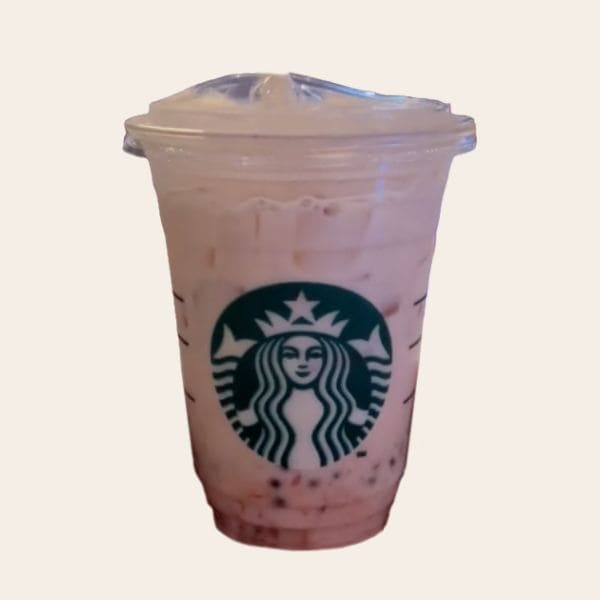 If you're already a fan of the Pink Drink, here's a twist you'll want to try.

Order your usual Pink Drink but ask them to skip the strawberry inclusions. Instead, go for pomegranate pearls (or add your own POM juice if you're in North America). Optionally add a dollop of matcha cold foam on top.

The result? A unique blend of pomegranate and green tea flavors that's both refreshing and Instagram-worthy.
Ingredients:
Strawberry Acai Base
Coconut Milk
Pomegranate Pearls or Juice
Ice
2. Pomegranate Mango Tea
Missing out on the pomegranate drinks at Starbucks? No worries.

Just order an Iced Passion Tango at the store and bring your own POM 100% pomegranate juice.

Mix it in, and you've got yourself a healthier version of a pomegranate drink. Since it's 100% juice, you're skipping all those artificial flavorings.
Ingredients:
Teavana Mango Black Tea
Pomegranate Juice
3. Strawberry White Chocolate Mocha With Pomegranate Pearls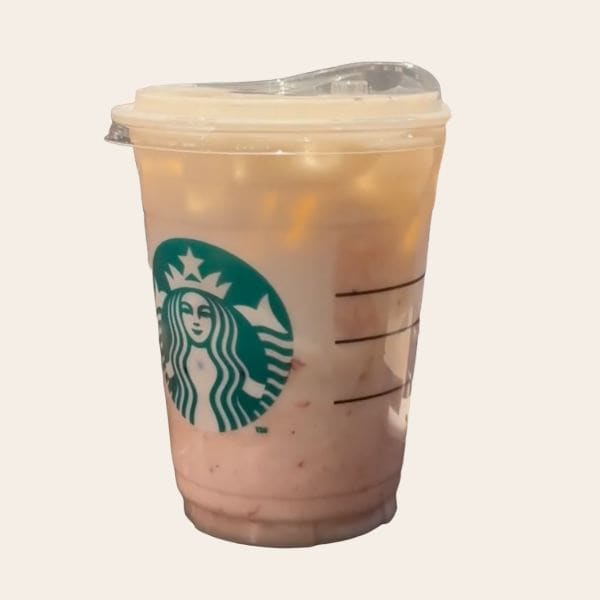 For those who have a sweet tooth, this one's a must-try. Order a Strawberry White Chocolate Mocha but add a layer of pomegranate pearls.

The drink is super sweet, creamy, and downright refreshing. The best part?

The pomegranate pearls are like hidden treasures—you won't taste them until you bite in.
Ingredients:
White Mocha Sauce
Strawberry Sauce
Milk
Pomegranate Pearls
Ice
---
Level Up Your Starbucks Pomegranate Drinks With These Tips
Ready to level up your Starbucks pomegranate drink game? Whether you're ordering off the secret menu or customizing a seasonal favorite, here are my tips to make your drink even more delicious.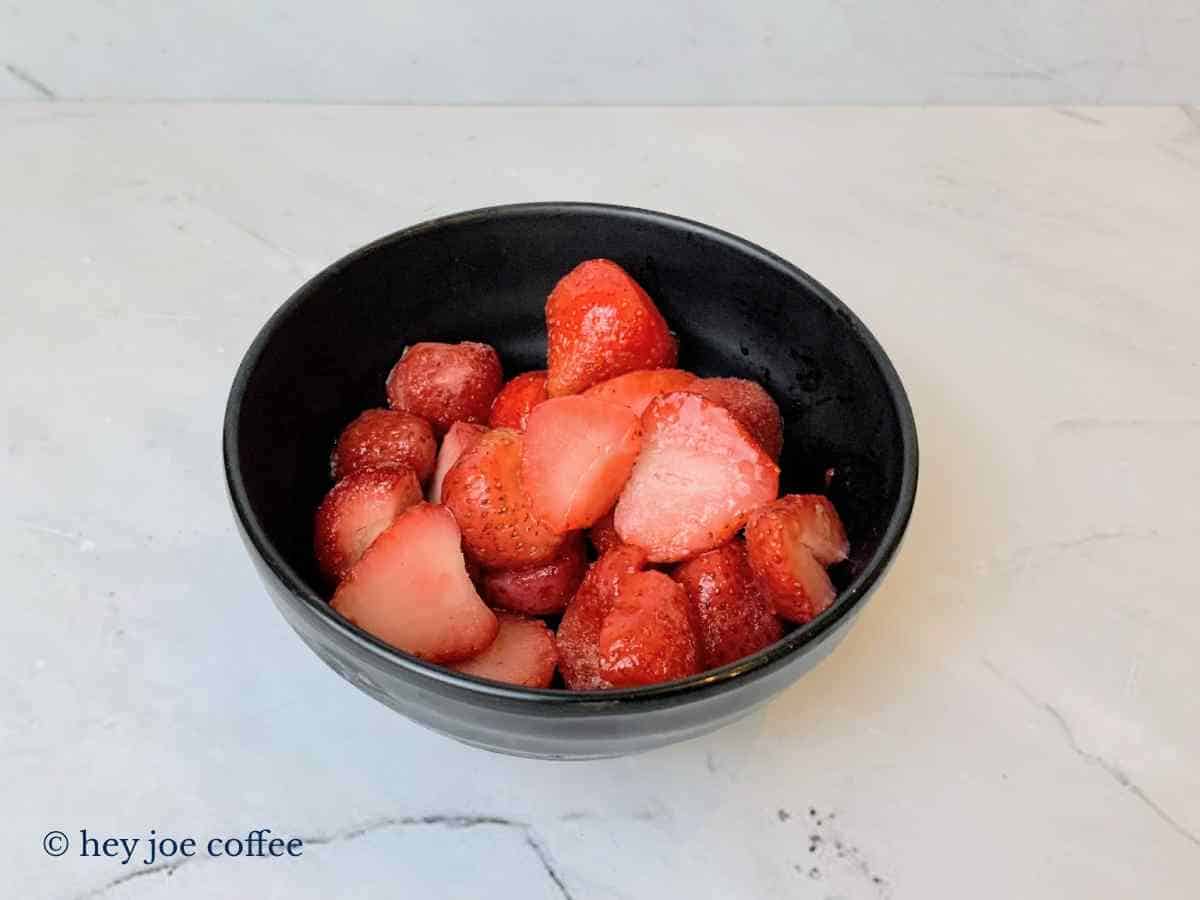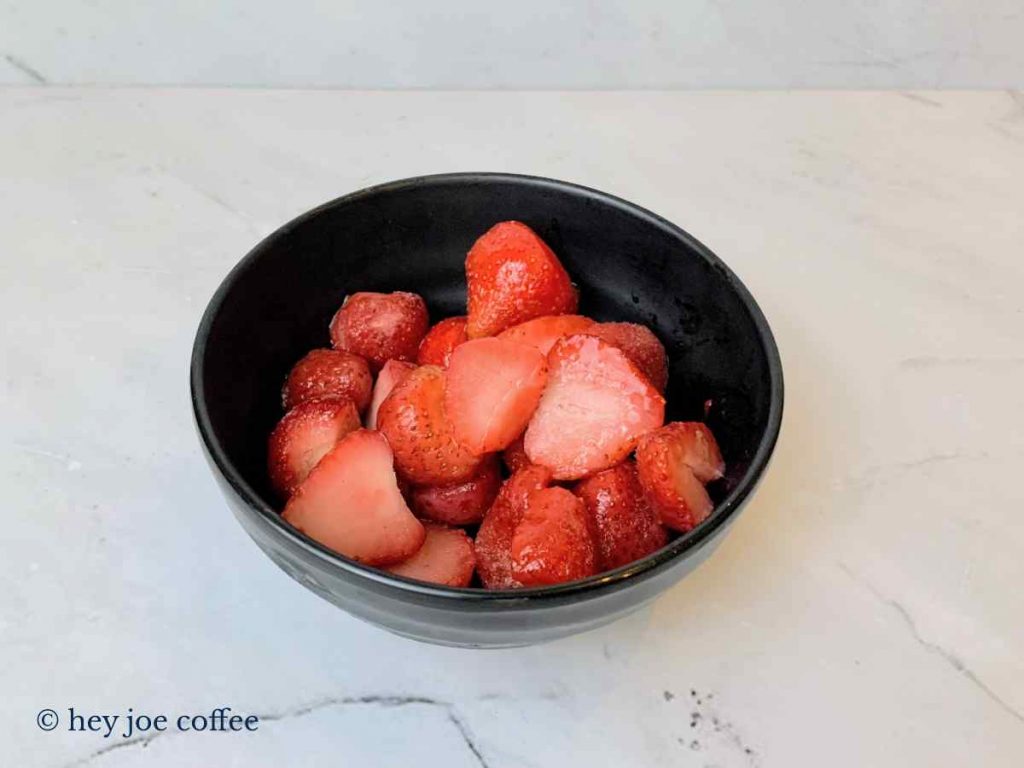 Replace Iced Tea With Lemonade
If you're looking to switch things up, try replacing the hibiscus tea in your shaken iced tea with lemonade.

It adds a refreshing twist that pairs incredibly well with the popping pomegranate pearls.

Just a heads-up, though—this substitution might cost you a bit extra.
Make It Dairy-Free
If you're lactose-intolerant or just prefer plant-based milk, you're in luck.

Use coconut milk in any Starbucks pomegranate drink that usually comes with milk.

Coconut milk has this tropical vibe that goes really well with pomegranate. Just make sure to specify coconut milk when you're ordering.
Mix Pomegranate With Other Berries
Want to add more layers of flavor?

Try mixing pomegranate with strawberry or raspberry syrup. It adds a different kind of sweetness and fruitiness that's just amazing.

People are already trying out pomegranate in their pink drinks, and they're loving it (see secret menu hack above)
---
Summary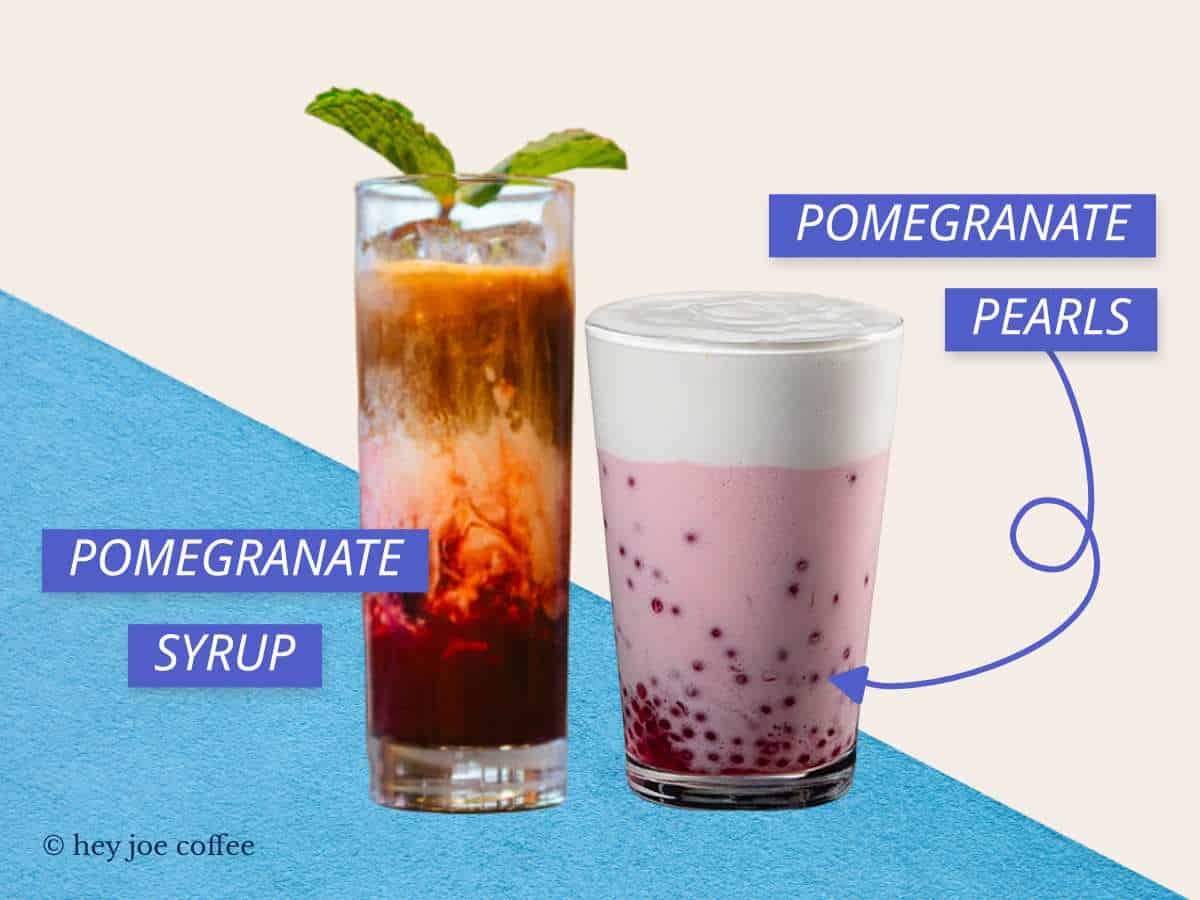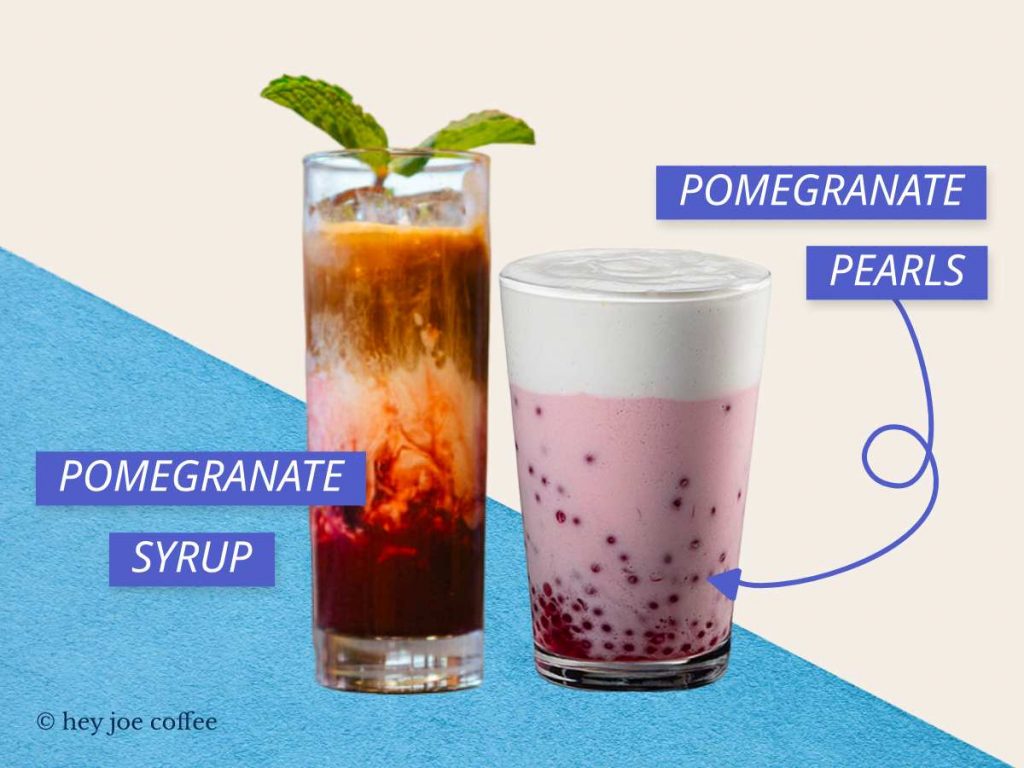 When it comes to pomegranate drinks at Starbucks, you've got options—even if they're not on the standard menu.

From secret menu hacks to seasonal offerings, there's a pomegranate drink for everyone. And with these tips, you can make each sip even better.
Verified Sources
Wondering where your info comes from? We totally understand. Hey Joe only obtains our information from reputable sources. Contents from this article are sourced from the following publications: