I'm a massive fan of Cinnamon Rolls. When I heard about the Cinnamon Roll Frappuccino as a secret menu item, I knew I had to get one.
Yeah, I was super skeptical at first. How can a drink bring together the flavor of cream cheese frosting, the pillowy dough, and caramelized cinnamon sugar?
Here is my revelation in a copycat recipe.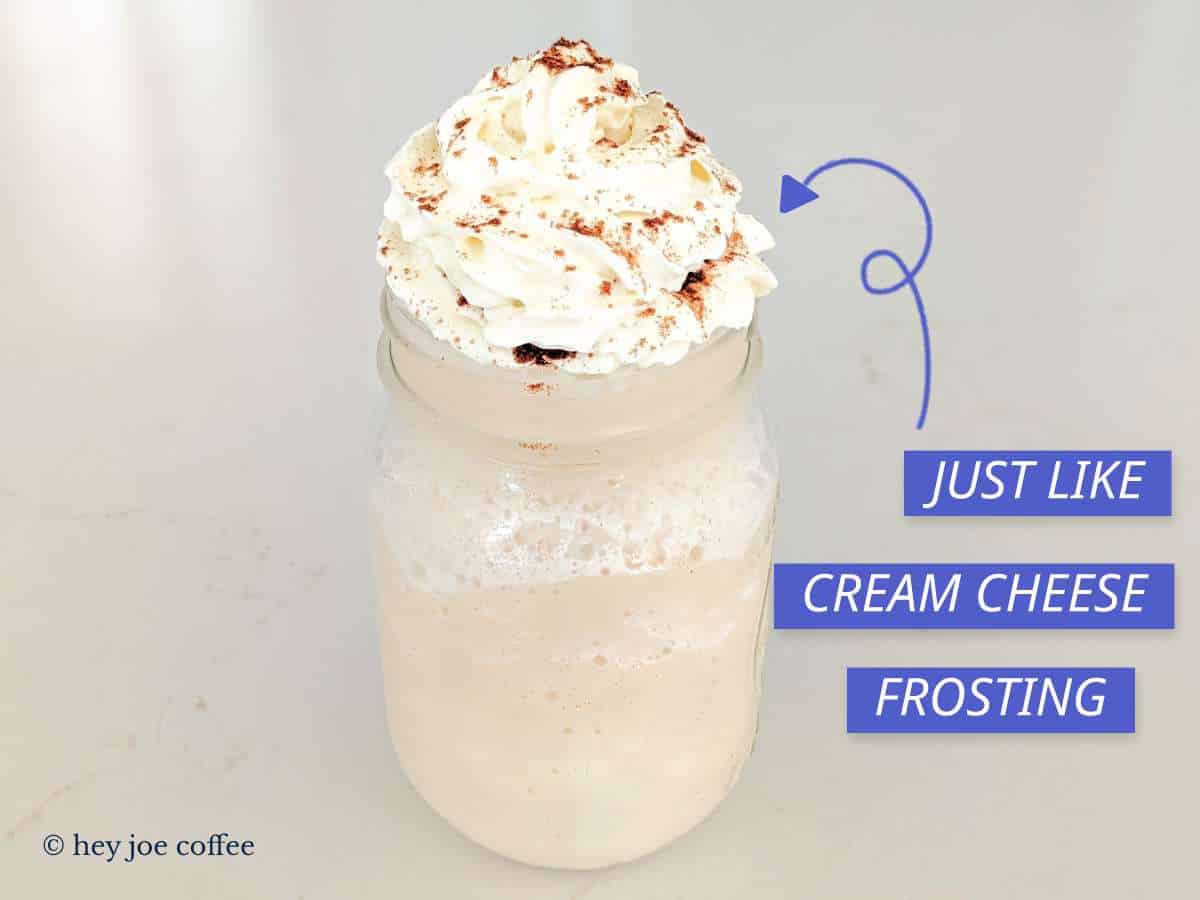 Topics Explored
Background: Cinnamon Roll Frappuccino
The Cinnamon Roll Frapp is a vanilla bean frappuccino blended with white mocha syrup and cinnamon dolce syrup.
It's then topped with whipped cream and cinnamon dolce powder.
You won't find this frappuccino on the menu, as it's a secret menu item. This means you need to instruct your barista step by step.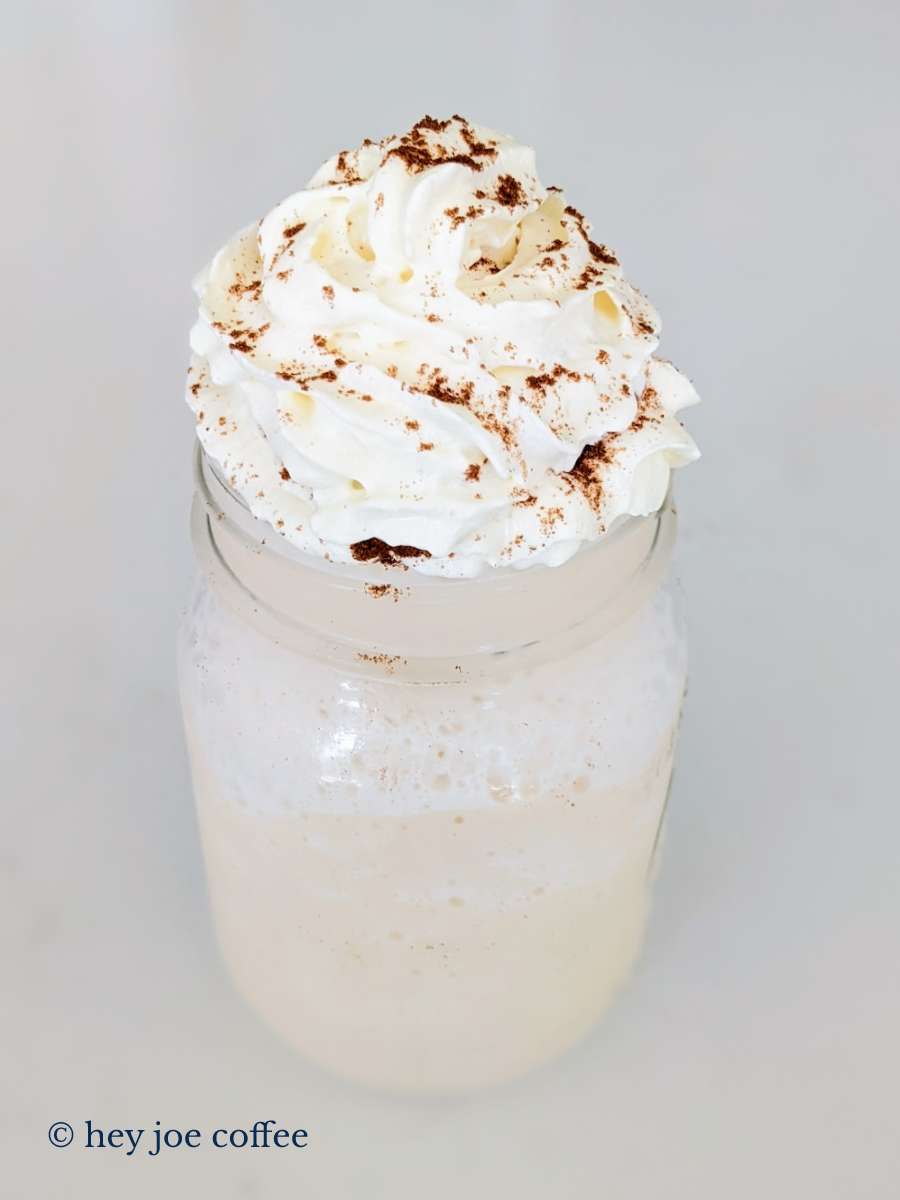 This frappuccino emerged a few years ago as a secret menu item and gained popularity mainly because it had to be handmade.
Like many other secret menu items, it took social media by storm, and people, including me, wanted to try it out.
It followed the path of other viral secret menu items like the Pink Drink, Strawberry Foam Matcha Latte, and Sour Patch Kid drink.
---
How to Make Cinnamon Roll Frappuccino From Home
It took some trial and error, but this homemade version is as delicious as the real deal.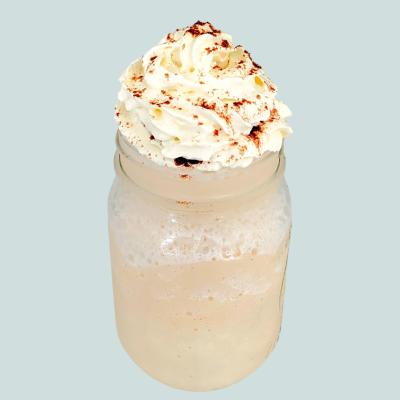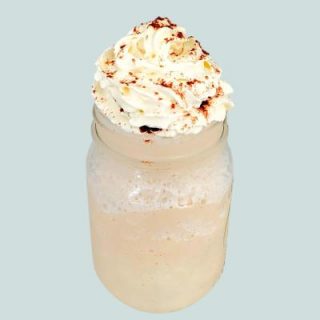 Copycat Cinnamon Roll Frappuccino
Yield:
1 serving (~16 oz)
Below you'll learn how to make a Cinnamon Roll Frapp for one, so if you're willing to share, double the ingredients!
Ingredients
Vanilla Ice Cream: 1 cup
Milk: ⅓ cup
White Mocha Sauce: 1 tbsp
Cinnamon Syrup (see below): 3 - 4 tbsp
Ice: ¾ cup
Whipped Cream
Cinnamon Powder
Cinnamon Syrup Ingredients
Granulated Sugar: ¼ cup
Brown Sugar: ¼ cup
Water: ½ cup
Cinnamon Powder: 1/2 tsp
Vanilla Extract: 1 splash
Instructions
Start by preparing the cinnamon syrup. In a saucepan, combine the sugars, water, vanilla extract, and cinnamon powder. Cook over medium heat for 15 minutes.
Remove the saucepan from the heat and let the syrup steep for 10 minutes. If you want your syrup to be clear, strain it using a cheesecloth.
In a blender, combine the milk, White Mocha sauce, and chilled cinnamon syrup. Pulse for a few seconds to mix well.
In the same blender, add the vanilla ice cream and ice. Blend until the mixture is smooth. If it looks too thick, add more milk.
Once the frappuccino is done, transfer it into a tall glass. You might have to scoop it as it's thicker than regular coffee drinks.
Top the frappuccino with whipped cream and sprinkle some cinnamon powder on top. Pick a wide straw and enjoy your frappuccino.
---
Taste & Appearance: Cinnamon Roll Frapp
At first glance, it looked like any other frappuccino I've had from Starbucks.
But a few looks and sips later, I've found out what makes the Cinnamon Roll Frapp special.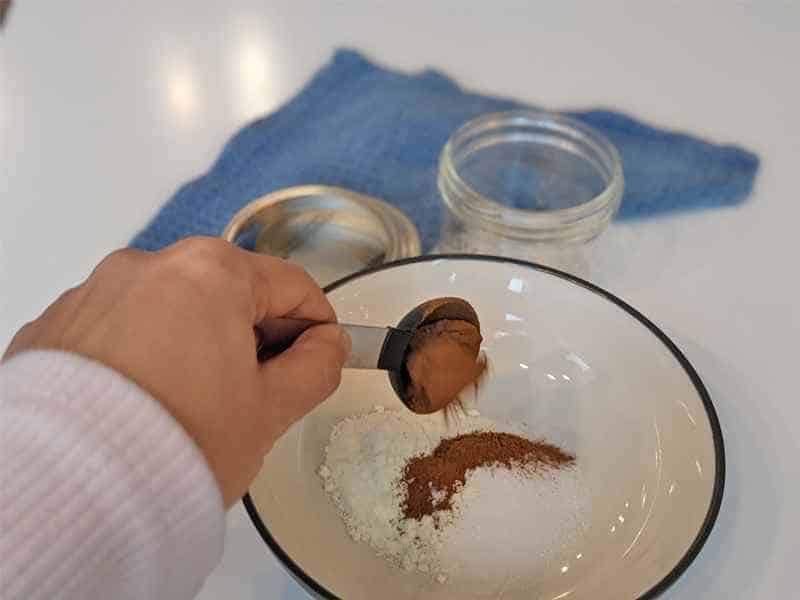 Ingredients
The ingredient list is not overly complicated; we have the base, syrups, and toppings. The base is the Vanilla Bean Frappucino: vanilla powder, milk, and ice.
The syrups are white mocha sauce and cinnamon dolce, 1 pump each for tall, 2 for grande, and 3 pumps for venti.
The toppings are whipped cream and cinnamon dolce sprinkles or powder.
Appearance
The top exceeded my expectations!
The cinnamon dolce powder gets into the crevices of the piped whipped cream, and it almost looks like a cinnamon roll.
The whipped cream is a cream cheese frosting dupe while the cinnamon dolce sprinkles substitutes the caramelized cinnamon sugar.
Flavor
Flavorwise I wasn't expecting a lot, and the cinnamon came through.
If you've ever had a Cinnamon Dolce latte, the flavor is similar, but the blended ice makes the frappuccino more refreshing.
Overall, it's a nice frozen treat to get once in a while.
---
How To Order A Cinnamon Roll Frappuccino At Starbucks?
If you get anxious about ordering this drink or any other secret menu item, we have your back. Just repeat these steps to the barista politely.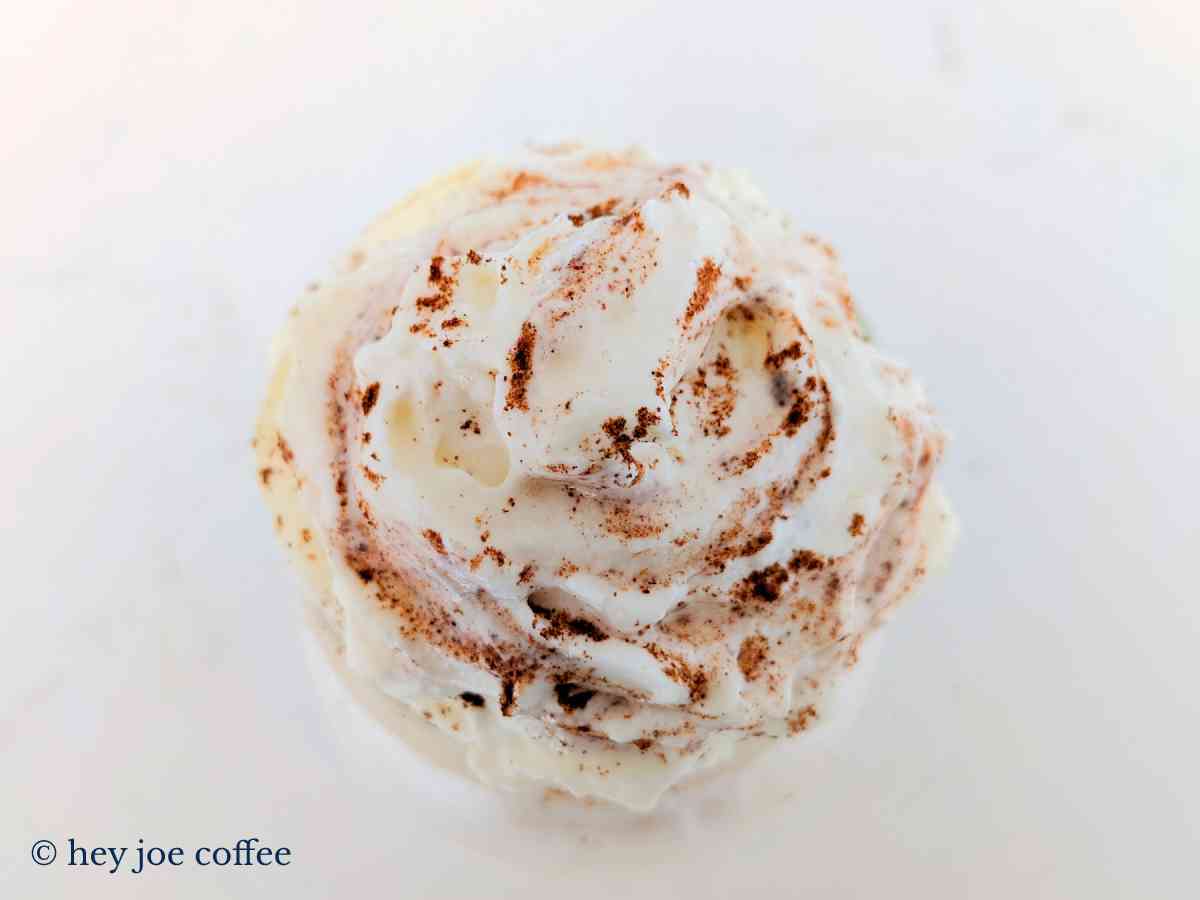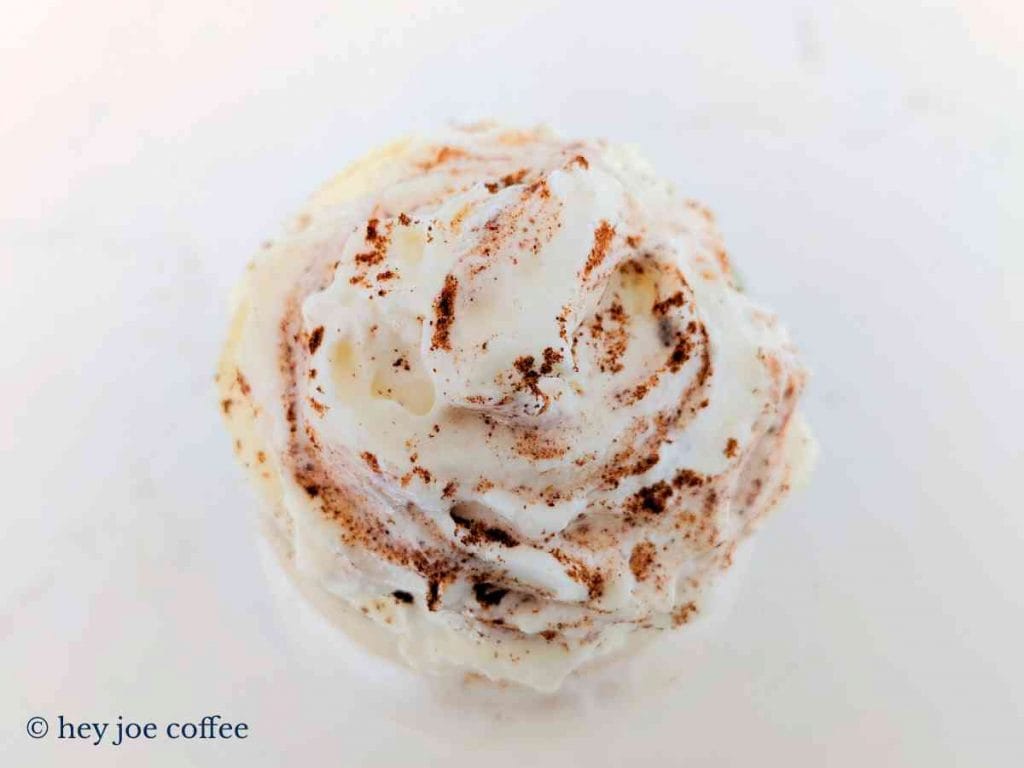 1. Choose Drink Size
Start by deciding on the drink size. Then order a Vanilla Bean Frappuccino in that size. Ask to make customizations.
2. Add White Mocha Syrup
Ask the barista to add 1 pump of White Mocha syrup for a tall, 2 pumps for a grande, or 3 for a venti.
3. Add Cinnamon Dolce Syrup
Ask the barista to add Cinnamon Dolce syrup in the same ratio as above and blend the drink.
4. Add Whipped Cream & Cinnamon Dolce Powder
Top the drink with whipped cream and Cinnamon Dolce powder. Thank the barista for their patience and enjoy your frappuccino!
---
Other Cinnamon Frappuccino Variations
Cinnamon in coffee is not a groundbreaking discovery; in fact, there are already a handful of frappuccinos with cinnamon.
If you like this warming, sweet spice, I'd recommend trying the following drinks.
1. Cinnamon Toast Frappuccino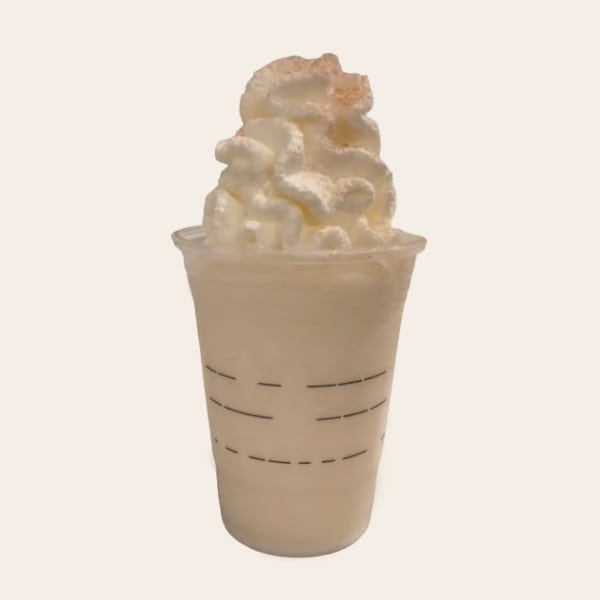 Cinnamon Toast Frappuccino is a coffee version of the popular cereal. If you enjoyed it as a kid, this drink is for you.
Ask for a White Mocha frappuccino; add Cinnamon Dolce Sprinkles, Cinnamon Dolce syrup, and hazelnut syrup.
The syrup ratios are 1 pump for a tall, 1.5 for a grande, and 2 for a venti. Don't forget to top the drink with whipped cream and Cinnamon Dolce powder sugar. (1)
Ingredients:
Coffee Frappuccino Roast
Milk
Ice
White Mocha Sauce
Cinnamon Dolce Syrup
Hazelnut Syrup
Whipped Cream
Cinnamon Dolce Sprinkles
2. Snickerdoodle Mocha Frappuccino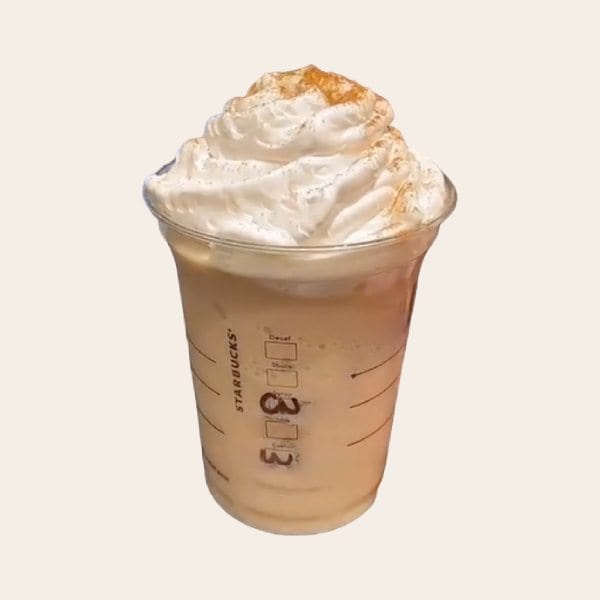 The Snickerdoodle Mocha Creme Frappuccino is easy to order as it's not a secret menu item but part of the regular menu at Starbucks.
It's made with their creme base, whole milk, toffee nut, Cinnamon Dolce, and caramel syrup.
The mocha sauce is layered in the middle and topped with whipped cream. Of course, there are Cinnamon Dolce sprinkles on top.
Ingredients:
Creme Base
Milk
Ice
Cinnamon Dolce Syrup
Caramel Syrup
Toffee Nut Syrup
Mocha Sauce
Whipped Cream
Cinnamon Dolce Sprinkles
3. Pumpkin Spice Frappuccino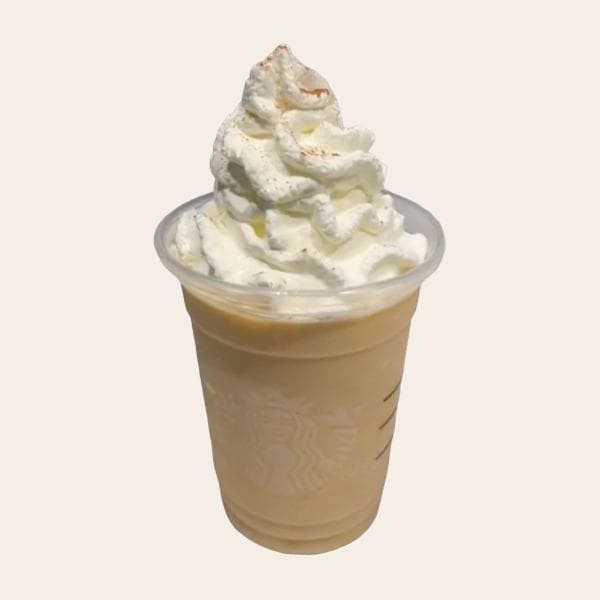 Did you know that the Pumpkin Spice Frappuccino features cinnamon powder and Cinnamon Dolce Sprinkles?
As a seasonal special, this frappuccino is also heavy on the pumpkin and cinnamon flavors.
But unlike the PSL, this frapp doesn't leave you feeling like you have over indulged. (2)
Ingredients:
Coffee Frappuccino Roast
Milk
Ice
Pumpkin Spice Sauce
Whipped Cream
Pumpkin Spice Topping
---
Summary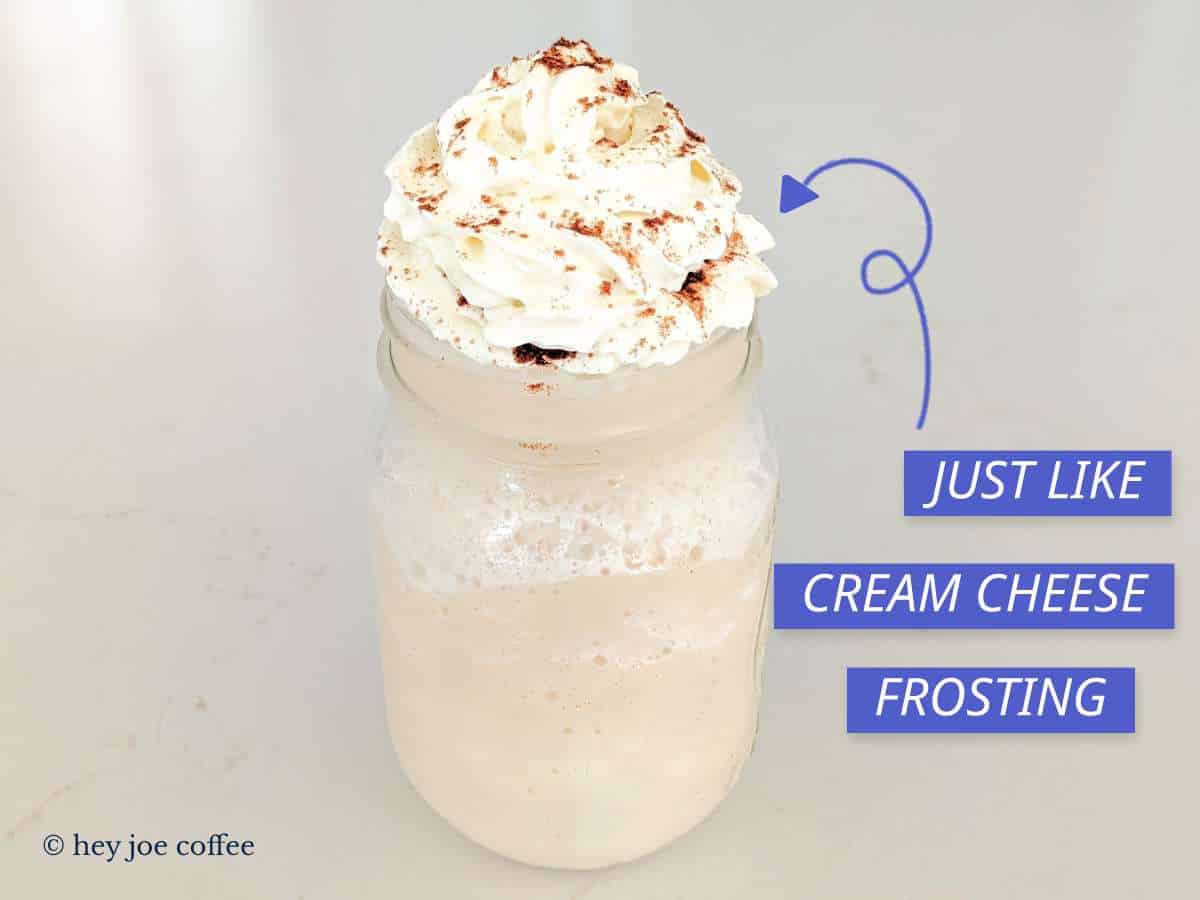 The Cinnamon Roll Frappuccino was another viral drink that almost lived up to its hype.
While it doesn't taste like a bite of a warm cinnamon roll, it's still delicious and refreshing. With our homemade recipe, it's even cheap to make!
---
More Questions
Is the Cinnamon Roll Frappuccino good?
It tastes good, almost like a Cinnamon Dolce latte, but frozen and lighter.

The top resembles an iced cinnamon roll thanks to the Cinnamon Dolce sprinkles and whipped cream. It's the closest it can get to an actual cinnamon roll.
Does the Cinnamon Roll Frappuccino have coffee in it?
No, this frappuccino doesn't contain any caffeine. While most frapps at Starbucks are made with their frapp roast, the creme-based frappuccinos don't have any caffeine.

It uses the Vanilla Bean Creme Frappuccino as a base, therefore, it's caffeine-free.
Does Starbucks have a Cinnamon Dolce Frappuccino?
The Cinnamon Dolce Frappuccino was introduced as a seasonal item, and it was discontinued in 2021.

However, it's easy to recreate it by ordering a Coffee Frappuccino and adding Cinnamon Dolce syrup, whipped cream, and Cinnamon Dolce sprinkles on top. The only downside is that stores often run out of Cinnamon Dolce syrup and sprinkles.