Cinnamon is the number one spice that works perfectly with coffee. Whether you're having a latte or cappuccino, a sprinkle of cinnamon on top always makes it better. Coffee chains have gone a step further and introduced cinnamon dolce sprinkles.
The ideal mix of fragrant cinnamon and sweetness takes your favorite cup to a new level.
Dare to try? We have the precise recipe.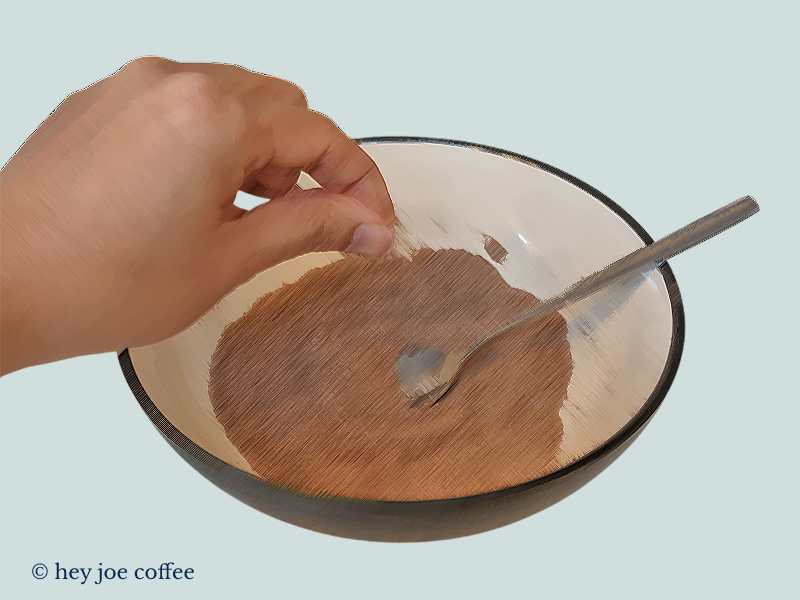 Topics Explored
What Are Cinnamon Dolce Sprinkles?
Cinnamon dolce sprinkles are a topping made with cinnamon, granulated sugar, salt, butter extracts, or powdered milk. At first glance, it looks like cinnamon sugar, but it has a more specific taste.
The ingredients form slightly larger granules than cinnamon sugar, but you can still dust it over your favorite drink. It's used chiefly over whipped cream in lattes or cappuccinos.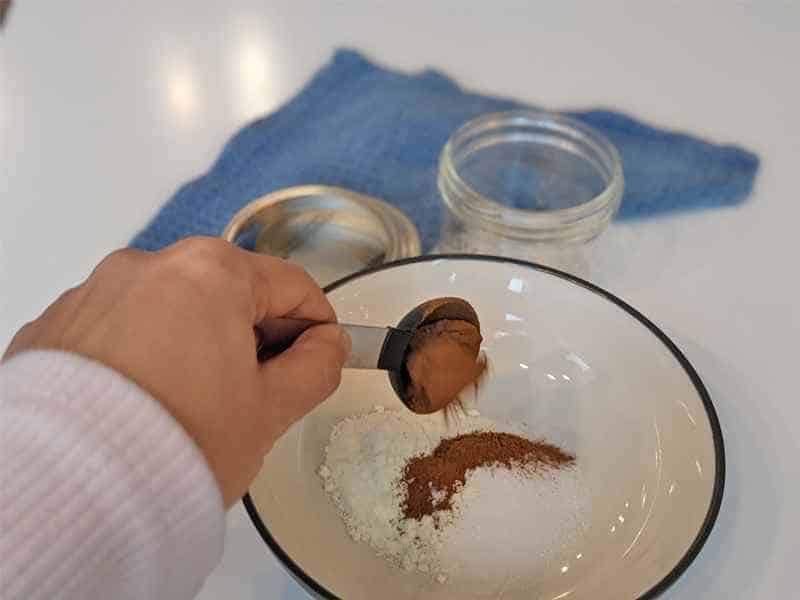 One coffee chain made the cinnamon sprinkles very popular. Starbucks dolce sprinkles are a staple topping they introduced as a final touch to their Cinnamon Dolce Latte.
Nowadays, you can get it as a topping to almost all drinks, even iced ones. Beware that they may come at an extra charge.
---
What Is In Cinnamon Dolce Sprinkles?
You don't have to go far to find out what's in this delicious topping. On their site, Starbucks states that their cinnamon sprinkles are made with sugar, cinnamon, salt, extractives of butter, and natural flavoring.
Unfortunately, the exact measures aren't available, and the other natural flavor remains a mystery.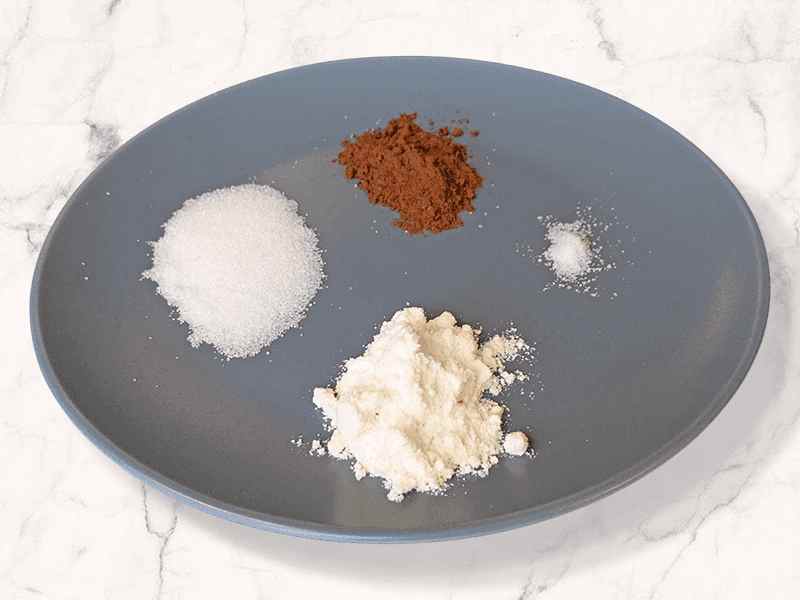 What The Heck Is Butter Extract?!
The butter extract(1) is made from butter and vanilla, and it's intended to give the drink depth of flavor.
Bakers use it to mimic the taste of butter in cookies, so in the drink, it might remind you of cinnamon rolls or crumbs.
In our opinion, you can't really tell the difference. You can always skip it, or follow our example and make a small switch.
---
Cinnamon Sprinkles vs Syrup vs Powder
People tend to confuse cinnamon sprinkles with syrup and powder. They all have one thing in common – cinnamon.
But the form, use, and availability are entirely different. To make sure you're getting what you ordered, make sure to learn the difference.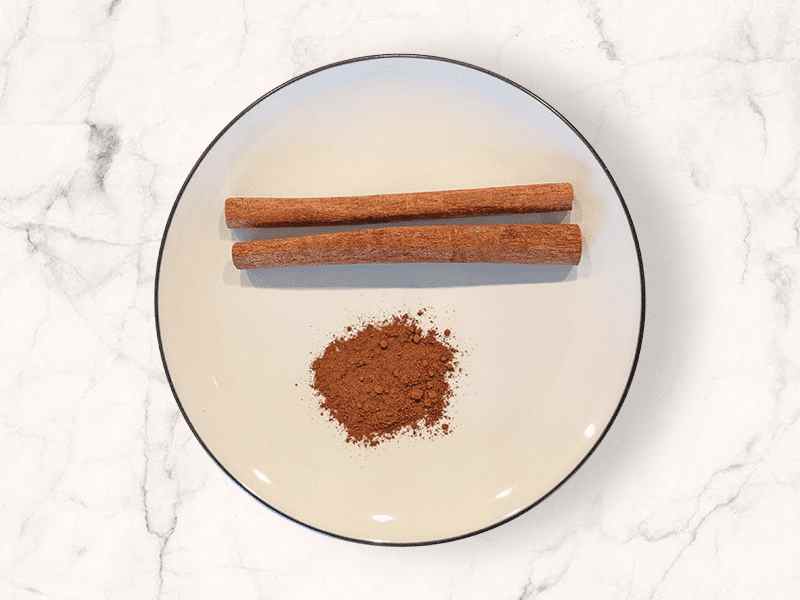 Cinnamon Powder
Cinnamon powder is something you probably have in your pantry right now. It's the common spice used in lattes, baking, and so on.
It found its common use as a topping over froths, foams, and whipped cream. Starbucks offers it as a free topping, and you can find it on the self-serve condiment station.
Cinnamon Dolce Syrup
The cinnamon dolce syrup is the flavor base of the cinnamon dolce latte, so it goes in your coffee, not on top. It's made from sugar water and flavorings.
You can ask for a pump of cinnamon dolce syrup in your regular latte too. It gives the drink some sweetness and that comforting 'hint of fall'.
---
What's Milk Powder and Where Can I Find It?
Milk powder(2) is essentially dried milk that has been dehydrated to a powder form.
With a low moisture content, milk powder has a long shelf life and doesn't even need to be refrigerated.
It's usually found in the baking or bulk aisle at any grocery store.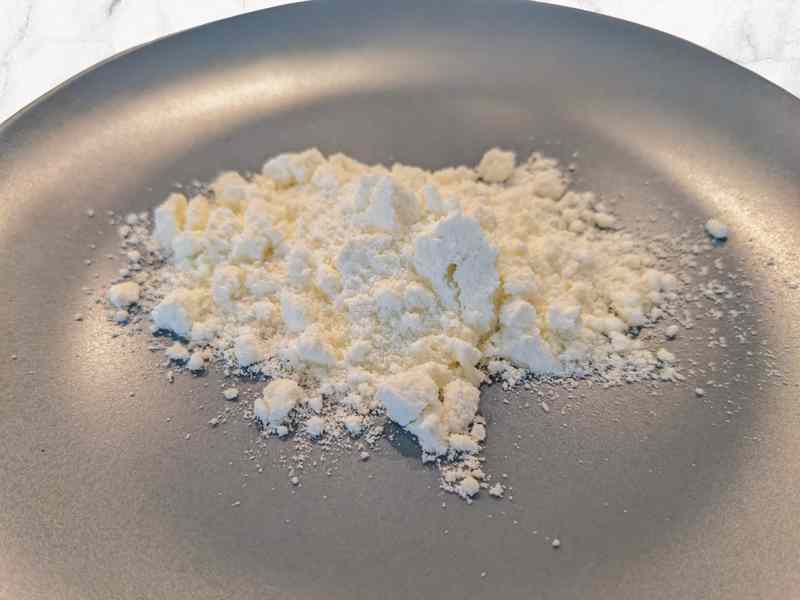 ---
Cinnamon Sprinkles Substitutions
If you can't find some of the ingredients or have a dietary restriction that stops you from consuming cinnamon sprinkles, you can make some switches to the recipe. Or you can go with a completely different topping that delivers a similar taste.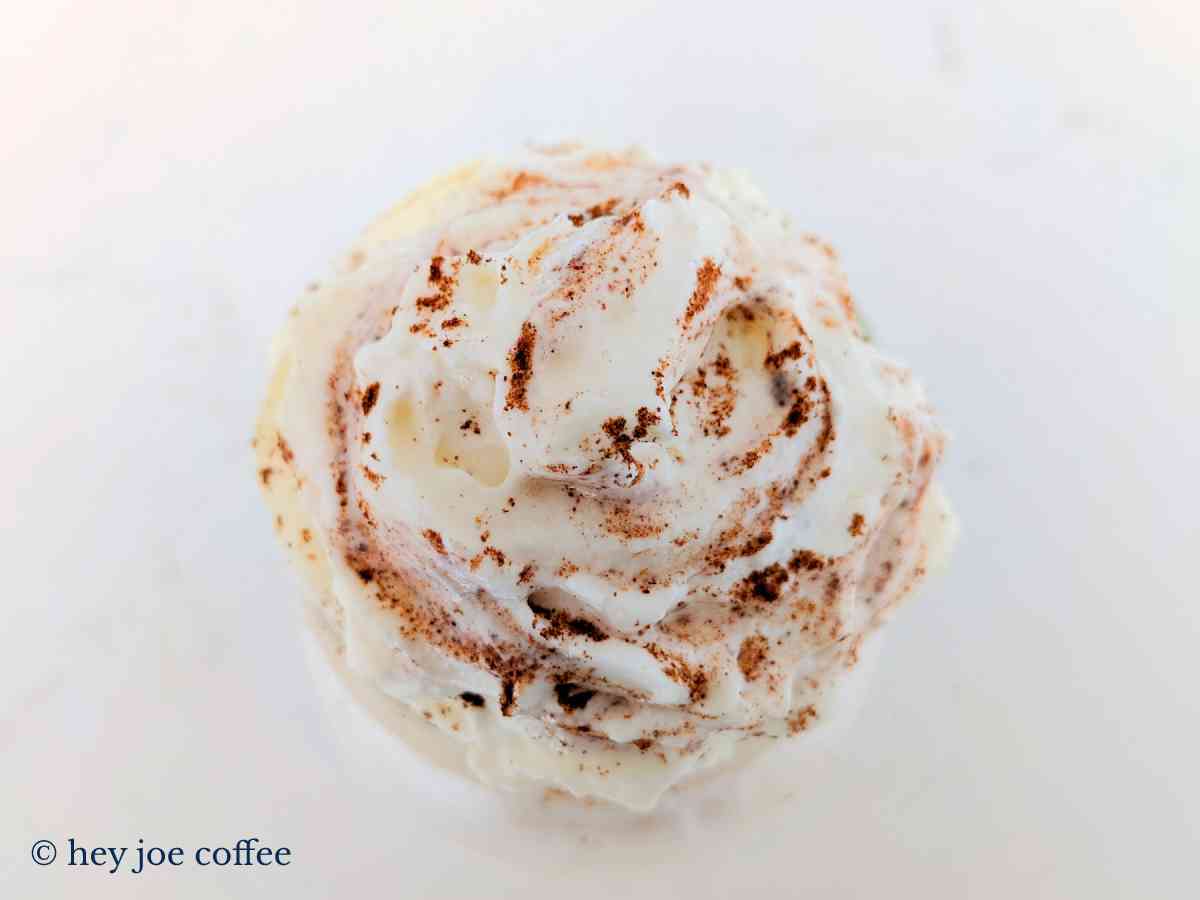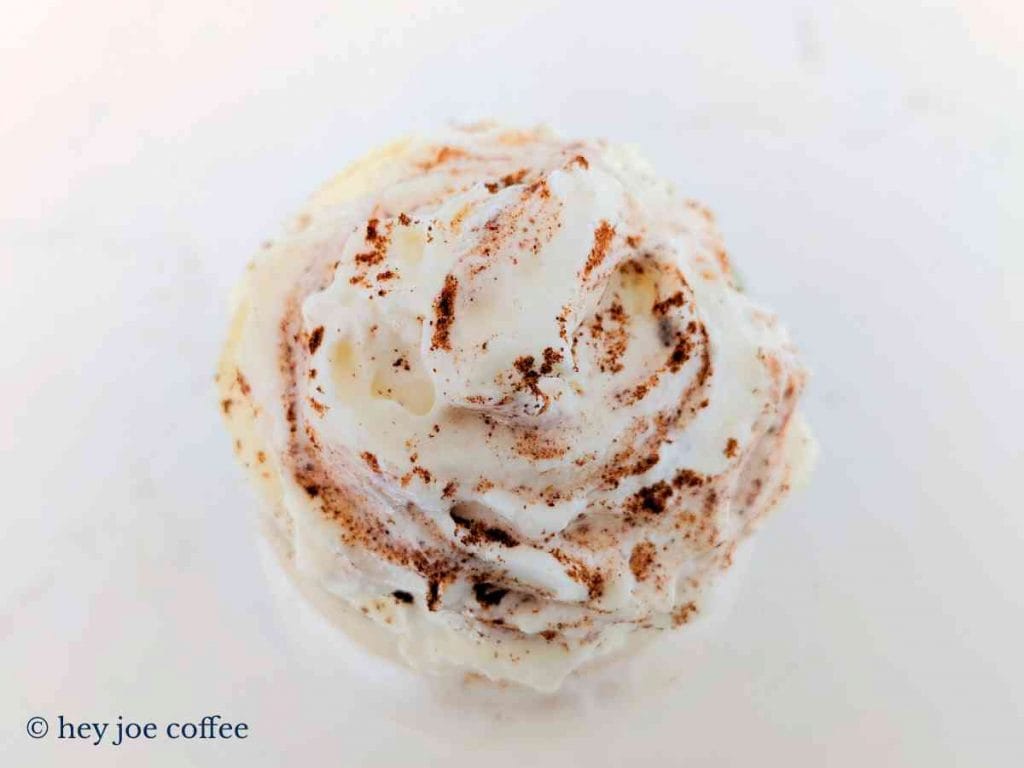 Cinnadust
Cinnadust is a premade blend of cinnamon, sugar, vanilla, and graham cracker flavoring. It's designed to replicate the taste of cinnamon crunch toast.
It sounds crazy but Cinnadust is served as a coffee topping too. You can combine it with your coffee to make a cinnamon latte or sprinkle it on top.
Cinnamon Sugar
You're no stranger to cinnamon sugar as it's often used in baking. Using it as a coffee topping is probably something that crossed your mind when Starbucks starting popularizing the Pumpkin Spice Latte.
When making cinnamon sugar, the correct ratio should be 1 part cinnamon and 4 parts sugar so it's still sweet enough. It has an unlimited shelf life as long as you keep it in an airtight container.
Pumpkin Spice Blend
Pumpkin Spice is a blend of spices that includes cinnamon in a large quantity. If you want to skip the sugar and added calories, this is a good substitute.
To make the blend combine 1 teaspoon cinnamon, ¼ teaspoon each nutmeg, ginger, and cloves. Mix well and store in an airtight container.
---
How To Make Cinnamon Dolce Sprinkles
Unfortunately, you can't purchase them as Starbucks doesn't sell them. Other brands still haven't made an effort to provide a good substitute. But we have your back!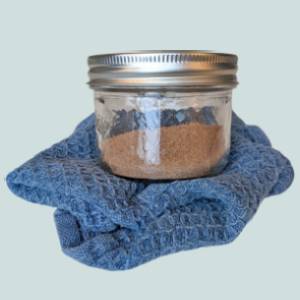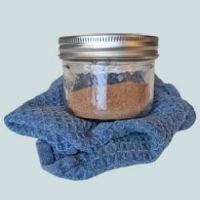 Cinnamon Dolce Sprinkles
Learn how to make cinnamon dolce sprinkles in minutes. Here's our short, comprehensive recipe that includes pantry staples.
Ingredients
Cinnamon: ¼ cup
Granulated Sugar: 1 cup
Milk Powder: ¼ cup
Salt: Small pinch
Instructions
Get a small jar with a good seal, wash it and dry it thoroughly. You don't want any moisture, as it will cause your sprinkles to clump later.
Combine the granulated sugar, cinnamon, and milk powder in a bowl. Mix with a spoon until all the ingredients are incorporated.
Add the smallest pinch of salt into the mixture and stir the ingredients again. Give it a taste. If you like it a bit saltier, add another small pinch.
Transfer the mixture to the jar you have prepared or another air-tight container so it won't clump. Keep it in a cool and dry place.
And you have your new topping! Before use, shake the jar to break off any clusters. Then, sprinkle generously over your favorite drink and enjoy.
---
Final Words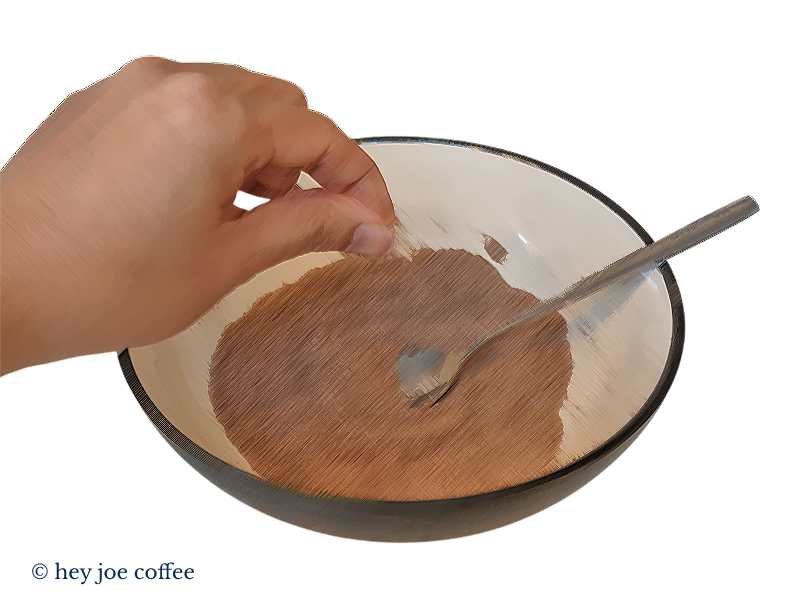 The taste of cinnamon is comforting, festive and works well with almost all coffee types. When looking for a way to incorporate it into the beverages, baristas came up with these cinnamon sprinkles.
It's a topping made with sugar, cinnamon, a pinch of salt, and butter extract. Try making them at home with our simple recipe since you can't find them for commercial use.
---
More Questions
Are Starbucks Cinnamon Dolce Sprinkles free?
These cinnamon sprinkles come at an extra cost. They're considered a topping, just like whipped cream or cold foam. The price and availability depend on the location you're visiting.
One sure giveaway is to see if Cinnamon Dolce Latte is on the menu. If it's there, then they have the sprinkles on tap.
Where can I buy Cinnamon Dolce Sprinkles?
Starbucks doesn't produce or sell them for commercial use. If you can't be bothered to make them, you can opt for some of the substitutes.
The closest premade replacement you can buy is cinnamon sugar. It's available everywhere, online on Amazon or other major retailers. 
What is in Starbucks Cinnamon Dolce topping?
The cinnamon dolce topping is a combination of Cinnamon Dolce Sprinkles and whipped cream. The drink is topped with whipped cream and then dusted with the sprinkles. But it's not limited to those two ingredients. There are many toppings you can add, like a caramel drizzle.